Greek Debt Chicken Game
Published
February 6, 2015
|
By
RE
Off the microphone of RE
Follow us on Twitter @doomstead666
Friend us on Facebook
Aired on the Doomstead Diner on February 6. 2015
Discuss this Rant at the Podcast Table inside the Diner
Diner Special Lunch Menu
Souvlaki                  or                    Strudle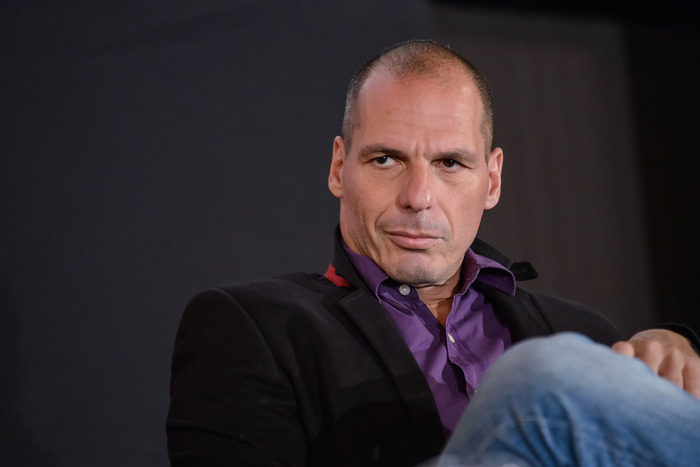 Snippet:
…Once again, the Greeks have taken the Center Stage in the Collapse Kabuki theater, with the newly elected Syriza Goobermint under the leadership of Alex Tspiras attempting to follow through on their many promises to throw off the Debt Choke Hold held on them by the Brussel Sprouts.

The new "Rock Star" player in the game here is the new Greek FinMin, Yanis "Souvlakis" Varoufakis. Yanis is making a lot of headlines in the Econ blogosphere since Syriza took power, first with the threat to outright default and lately with some more creative phrasing of concotions like "perpetual bonds" in some kind of new game of debt musical chairs.

On the other side of this nonsense is Yanis' Evil Twin, the Kraut FinMin Wolfgang "Strudle" Schauble. Wolfy won't take any shit from Yanis, and has made it clear he thinks the Greeks are responsible for every penny of the debt that the ECB and by extension the Kraut population extended to the Greeks, despite of course the reality that the Krauts never had the money before the last Greek Goobermint of Bankster Sock Puppets signed for it…
For the rest, LISTEN TO THE RANT!!!
Who CHICKENS OUT first?
Prior Rants on the Greek Debt Kabuki Theater you may have missed:
Posted in
Home
|
Tagged

Brussels, Debt, ECB, EU, Germany, Greece, Italy, Mario Draghi, PIIGS, Portugal, Spain, Syriza, Wolfgang Schäuble, Yanis Varoufakis
3 Responses to Greek Debt Chicken Game