Exclusive: Refugee Tent Cities in Kos
Off the keyboard of RE
Follow us on Twitter @doomstead666
Friend us on Facebook
Published on the Doomstead Diner on September 13, 2015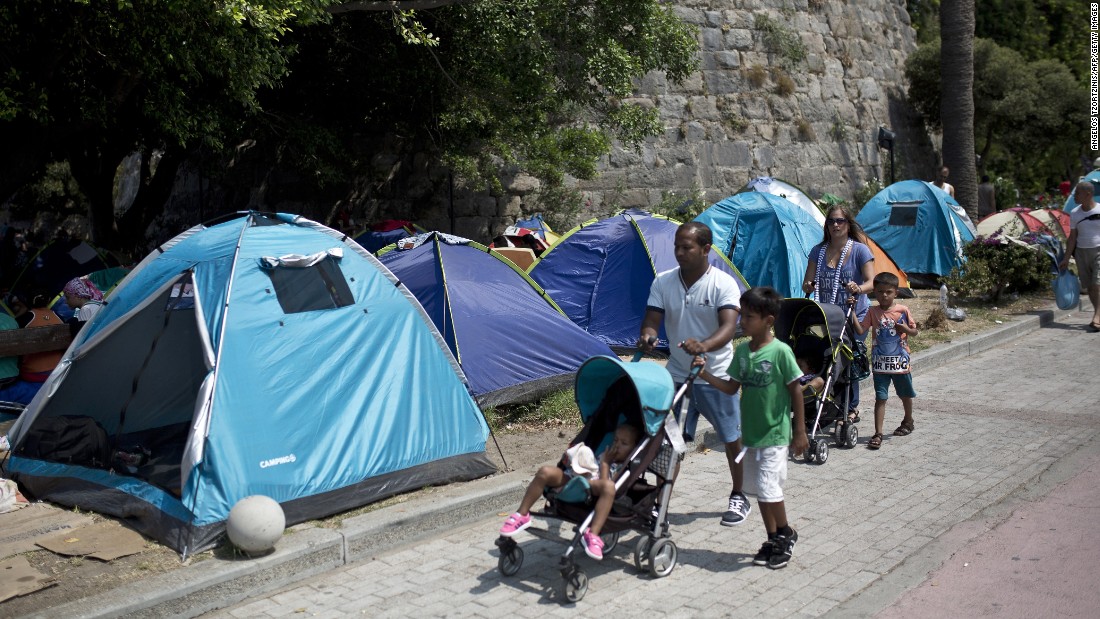 Discuss this article at the Geopolitics Table inside the Diner
SURVEY CLOSES MONDAY! GET COUNTED!
Where's Kos? It's not a place too many folks on this side of the Pond are familiar with.
Kos is one of the plethora of Greek Islands sprinkled around the Greek mainland, which is part of the European Continent. It's been part of Greece for at least 3 millenia, but it actually sits much closer to Turkey than continental Greece, where the capital of Athens is located..
It's a place many Europeans are familiar with though, because like many of those islands, Kos has beautiful beaches and is a great spot for German touristas to spend their Euros. Well, at least it used to be.
The nightlife for the Tourista is also fabulous! Retsina and Ouzo by the Amphora full!
Not only do they have gorgeous beaches for the touristas to frolic on, they also have Clasical Greek ruins you can take the kids to and get them excited about History and Western Civilization! At least if mom & dad are not too hung over from the Ouzo and Retsina anyhow.
Kos is even great for the Doomer Tourista! You can charter a yacht for a week (captained or bareboat, depending on your sailing prowess) and imagine yourself a Sea Gypsy escaping doom in your trusty sailboat, living off Dates and Fish!
One small problem with all of these things these days in Kos, that is the proximity to Turkey. Turkey is a main transit station for Syrian and Afghani Refugees seeking to make their way to the Promised Lands of Germany & Sweden. Unless they are positively loaded and can afford a Chartered Jet flying straight from Istanbul to Stockholm, they first gotta make it into Europe, and the shortest way with the least risk at the cheapest price is via water transport into Greece.
Where's the closest and easiest Greek island to get to? You guessed it, KOS! It's so close any old rowboat or canoe can make this trip, about 2.5 miles. Hell, good swimmers can swim that one, or you could paddle a surfboard or use a Windsurfer to make the crossing!
Not that I really think most of the refugees are escaping on Windsurfers or Swimming it, I'm just demonstrating a point. The boats they really do travel on are mostly old fishing boats of various sizes and capacities, or various categories of inflatables. I'm not joking, this is an actual photo of refugees arriving at Kos in an Inflatable.
They're Comin' to Kos in Greece! They're Comin' to Kos in Greece! TODAY!
OK, so now they are IN EUROPE! FREEDOM! In principal anyhow. Unfortunately, in physical miles and water miles and cash outlays to get to the mainland, they still have a long way to go, and once hitting Kos, they are kinda stuck there until they get Registered as a Refugee and get some kind of permission to move onward to the Promised Land of Germany, where they will all surely own Mercedes and drive the Autobahn at 100 Km/H! Refugees have dreams too!
So what you have here is a classic Bottleneck situation, and the Refugees are stacking up in Kos, which is not so good for their regular Tourista Trade. It might not be too bad for the overall Kos economy though, as long as the recent arrivals come into shore with a bagful of Euros.
These folks can't spend those Euros TOO FAST though, because if they burn through what they have on Kos, they won't have spare Euros to buy passage on the next, hopefully bigger and somewhat sturdier boat that will bring them over to Athens for the next leg of the Journey. So they are not wasting the precious Euros on luxury hotels on the scenic beaches. Rather, they are setting up cheaper accommodations, TENTS. A small city of tents already.
Recently, the Diner received Boots on the Ground footage from this week in Kos from our informant, Deep Kos. Here's the latest from the streets of Kos:
Note: If you have Boots on the Ground Video or Pics from the front lines (Greece, Hungary, Italy et al) you wish to share with the world at large, CONTACT us on the Diner. We have means and methods to get them up securely, with the best Hackers, Encryption Junkies and Code Jockies on the Net. Do NOT upload or attach to emails prior to talking with us if your material is sensitive and you are concerned for your safety. AKA, everything you put forth across the net or your cell phone can be tracked. Always remember that fact of internet life. It can be made DIFFICULT TO TRACK though, and we will make it as hard as possible for the Enemy. CYPHER IS THE LAST FREEDOM.
Hopefully next time Deep Kos will video in Landscape instead of Portrait format. LOL.
More from Deep Kos:
Things are taking a turn for the worse in the homeland… . Golden Dawn (GD) is currying support from desperate islanders who are in fear of being overrun by waves of refugees.

"The issue of illegal migrants is becoming critical & is reaching a fateful crossroads, says GD member"
"The situation here on Kos is unbelievable says the member. The government is doing nothing, just managing PR."
"Save us, plead Kos locals."
"Vote for Us (Golden Dawn) and we'll Send in the Army to deal With this Riff-Raff."…
"Otherwise, Greece will become Pakistan, says member."

Video link: http://bit.ly/1MLXKoG
Video translation, courtesy of me…

Numbers are around 7000 at present. Most of the late arrivals have been Syrian. They are particularly well to do as they can afford luxury hotel accomodation whilst awaiting processing by Greek authorities. The ferry boat that was relocating them to the mainland, the Venizelos, hasn't been seen for some time though, so unsure what that will mean for the Syrians, although they do receive priority passage. The other refugees are roughing it in awful conditions mainly near the Police station and on along the foreshore, none have ventured out towards the villages. Business in town is dreadful, despite the hotel bookings as both locals and tourists alike are shunning the zone. Aid is being distributed by a Greek agency akin to UNICEF…
Anyhow, at least so far these vids look reasonably peaceful, and it actually does not look that much different than the early days of Occupy Wall Street.
OK, the weather was chillier in Zucchini Park in November, but otherwise quite similar.
While it remains peaceful for now, one suspects that the locals in Kos will get tired of all the tents and migrants cruising in pretty quickly. No doubt laws will be passed regarding setting up tents on the street. Then of course they have to enforce those laws, in the case of Occupy, the NYPD got the job of this.
Sadly for Kos though, unlike NY Shity, they don't have a Standing Army of 35,000 Thugs to Protect & Defend the Rights of Wall Street Pigmen to Loot the World. If Kos has a police force of 100 I would be surprised. This of course is no match for the 1000s of refugees rolling in there each week.
So at some point they bring in the Army on this, and Deep Kos has mentioned that they have Army Bases on the Island equipped with Tanks and other essential crowd control hardware.
All this does not bode well for the Tourista trade though, nor for the local residents either, who would be well advised at this point to GTFO of Kos! Sell the island to the Eyptian Wannabee Pharoah, split the cash amongst the current resident, take the money and RUN! Run Away! Run Away FAST! RUN AWAY NOW!
As long as Kos remains a part of Greece and then by extension part of Europe, it's going to be a Magnet for every refugee trying to GTFO of the War Zones and climate ravaged countries of MENA. There is no way to stop the flow short of mining all the waters, which will not be conducive to running a yacht charter biz there.
One small problem for Pharoah, the current infrastructure on the island houses a population of around 30.000. After they leave, he's gonna have a heck of a time doing upgrades to squeeze even the current 100K on the move in there. For the 30,000 current residents of Kos though, it's a great deal. If they sell him the island for $1B, they'll each get $33.3K, plenty of money to get to Germany or Sweden and make a new start! Plus they already have papers! It's Win-Win for everybody! Refugees get a new home, Kosians get out of harms way! Well, except Pharoah, who will have to keep bleeding his account building more infraastructure as the population swells.
At some point here, the countries in Europe who are being shamed into accepting refugees will stop accepting more of them. The pool of potential refugees as we move forward here is simply too large. At some point there will be a backlash, and when that occurs Kos is not a place you want to be, whether you are Resident, Tourista or Refugee.
If you can, GTFO of Kos.
TODAY.
2 Responses to Exclusive: Refugee Tent Cities in Kos