Terrorism Survey
Follow us on Twitter @doomstead666
Friend us on Facebook
Published on the Doomstead Diner on December 8, 2015
TAKE THE TERRORISM SURVEY HERE
Discuss this article at the Survey Table inside the Diner
Our latest Collapse Survey TM aims to see what the Collapse Community thinks is the best way to handle the problem of increasing Terrorism as we move further down the Collapse Highway. Before you take the survey however, it might be worthwhile to review some of the Options currently on the table, either already being implemented or being proposed by various Pols from Obama-sama to Tony Blair to Geert Wilders to Marine LePen to The Donald.
As Terrorism becomes ever more prevalent around the Globe, the population at large begs for their leaders to DO SOMETHING about this nasty problem! Over in Europe, the Pols in Charge are doing something, they are putting up electrified fences at the border crossings, dispatching NATO troops to Greece, and dropping bombs on Syria. So far of course, these actions haven't done a damn thing to staunch the flow of blood on the streets of Paris though, if anything it is only serving to increase the frequency of shootings and bombings.
Over in Brussels they put the city under Martial Law for several days officially while they went searching for the "Usual Suspects", and I'll bet the streets are still crawling with Special Forces in Camo Outfits and RoboCops in Black & Blue Pajamas.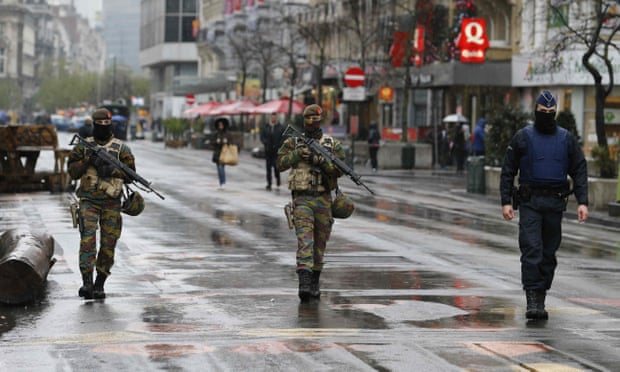 Notice these guys all have their faces covered?
Over here in the FSoA, we have the Texas Pols threatening to sue the Federal Goverment if they send any Syrian Refugees to TX and The Donald threatening to deport all Muslims once he gets elected POTUS, but neither of these ideas seems to be doing a lot to slow the tide of Campus Shoot-em-Ups and freshly radicalized and disaffected locals with their own personal armories from blowing away random citizens in San Bernadino.
Of course once again the call goes out for more Gun Control, but this is not real popular amongst the legal owners of guns first of all, and then there would be the logistical problem of trying to confiscate all the guns already out there. This is one of those horse left the barn/genie out of the bottle problems, aside from the fact that the Right to Bear Arms is one of the few Constitutional protections that hasn't been completely undermined yet.
Another faction thinks the solution would be for EVERYBODY to be Packing Heat. Sort of like the good old days of the Old West when every cowpoke Had a Six Gun on his hip. Well, except for Lucas McCain, who carried his modified Winchester Lever Action Rifle with him and could hit a beer can at 1000 yards without even aiming. LOL.
Better than a Kalishnikov!
Then of course you also have a crew of people out there with the FINAL SOLUTION to Terrorism, Glaze over all of MENA with "Surgical" strikes with "Tactical" Nukes, thus wiping out the breeding ground of Terrorists!
To be fair, there are Peaceful Solutions being proposed and even undertaken, like sending $Billions$ in Aid to build spanking new Refugee Camps in Turkey along with Truckloads of MREs so the Terrorists won't keep trying to migrate to Europe, they'll be happy to live in a Refugee Camp where the average length of stay is now up to 17 years!
Homemade Self Organized Refugee Camp
Upscale Goobermint Organized Refugee Camp. This one in Kenya supposedly houses around 300,000 Human Souls!
Seventeen years: the average length of stay in a refugee camp. The figure came up in a conversation last week with a French journalist who's making a documentary about camps, but I'd heard it many times before—perhaps you have, too. Here are a selection of international sources quoting this figure, which I turned up with a bit of cursory googling in English and an even briefer bit in French:
Granted, there is some dispute over the 17 year figure, but I think most of the statisticians would agree it is over 5 years for sure, and IMHO anything more than maybe 2 years and all these camps become is a breeding ground for still more Terrorists. But of course, as long as we can keep them all on the Turkish side of the border, we should be OK, right?
So there is no shortage of suggestions on how to solve or at least reduce the Terrorism problem, but the question is will any of them work at all? Will one at least work better than the other ones? Are there other solutions to this growing problem that could be undertaken? If so, what are they? These questions and more appear on the Terrorism Survey TM, and this is your opportunity to be heard (if only by a tiny number of Kollapsniks) on this very important topic. Your Vote is IMPORTANT here! VOTE TODAY!
5 Responses to Terrorism Survey