Bugout Bags 2
Follow us on Twitter @doomstead666
Friend us on Facebook
Published on the Doomstead Diner on February 28, 2016
Discuss this article at the Doomsteading Table inside the Diner
In the first installment of this series, we looked at the different types of bags available for your Bugout Bag last ditch set of preps that you can take with you, absent having a car for transportation, or gas becomes unavailable thus rendering the car worthless.
The other criteria in this analysis is the Bugout Bag arrangement is NOT designed for a Wilderness style Bugout where you plan on going out into the Bush to do your best Bear Grylls style survival attempt. For that kind of thing, you need a much different type of bag setup, something along these lines:
A travois system like this allows you to carry substantially more than with even the largest of backpacks, and unless you plan on climbing mountains is going to be negotiable through most back country bugout scenarios. Most of us however are unlikely to be heading for the bush when TSHTF in your neighborhood, the more likely scenario is the kind of migration being undertaken by Syrian Refugees, which employs a variety of public transportation systems, mostly boats, trains and buses.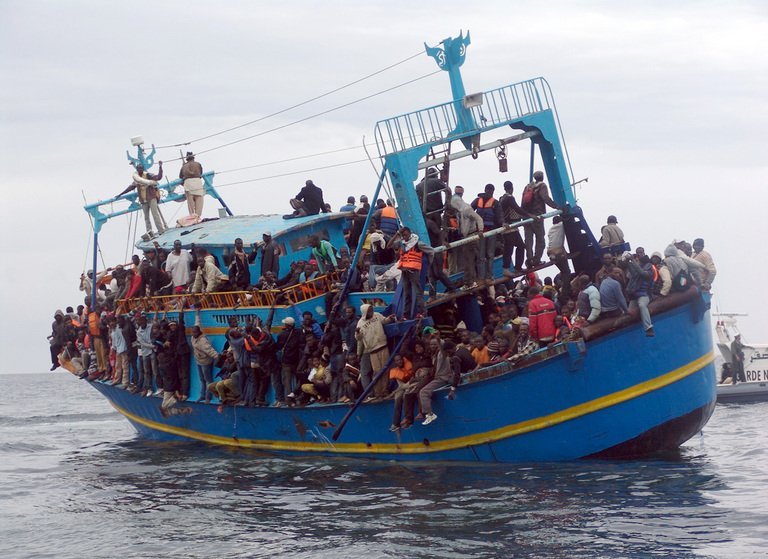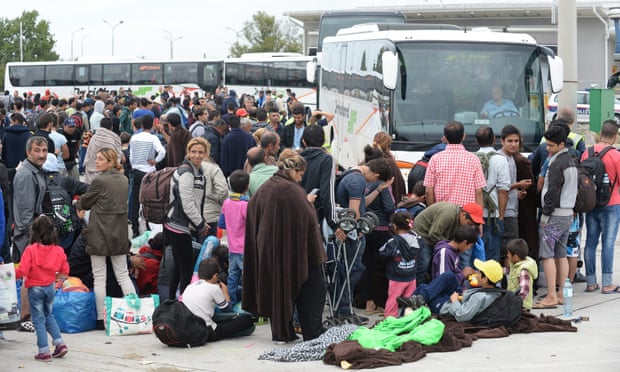 If you're a bit more well off than most of these folks, you might be employing air travel as well, in which case you need to comply with a variety of rules issued out by both the airlines themselves and the TSA. So you want your bag arrangement to comply with those rules. In part 1 we discussed many of the choices available for bags that fit the profile and 3 basic bags meet all the criteria well, so in this part we will limit to those 3 bags and what you might want to have in them.
The choices will vary between individuals and also depend on the type of SHTF scenario, but in just about all cases will not include items that are considered essential for Wilderness bugouts, tools like Hand Axes, Campsaws and animal traps for instance. In this type of bugout you are not aiming for a place that is off grid and primitive, rather you are aiming to get away from one neighborhood where industrial civilization has already broken down catastrophically and get to another neighborhood where it is still semi-functional and you might be able to find work, or at least not be in daily peril of having Death from Above dropped on your head by NATO bombers.
Our Industrial Society Bugout Bag set consists of the following:
Personal Item Backpack Carryon Wheely Bag Large Hard Size Suitcase
The total volume for all 3 bags comes in around 10,000 cubic inches, and we set the maximum total weight distributed through all 3 bags at 150 lbs. In fact you'll want to try and come in under that, because besides the $25 per bag basic charge on an airplane, you also get overweight charges for bags over 50 lbs. Alaska Airlines for instance adds a $75 charge for bags weighing 50-100 lbs. If you do have more weight than 50 lbs (including the suitcase) in the checked bag, it's better to have a duffel folded inside the big suitcase, and then when flying distribute the weight between the two bags. Then you'll only pay $25X2 for $50 total instead of $25+$75 for $100 total with overweight charges. When you collect the bags off the luggage conveyor you put it all back in the hard side case for further travel around on shuttles and in taxis and on trains. Of course, if you are going to be hoisting an 80 lb bag onto trains you better be in good shape! lol. Realistically, 50 lb in the big suitcase, 35 lb in the wheely bag and 15 lb in the personal item backpack is a better way to go. The lighter you can travel, the better.
Now that we know our bags and their limitations, we can start to plan what to drop in each bag for the Final Bugout. One important principle is to have a certain amount of redundancy with each bag, each one should have the ability to function at least partially on its own with important items like a flashlight, some extra socks and underwear, a Swiss Army Knife etc. Of course, when travelling on the plane you have to put all your knife type tools in the checked bag, unless they are super tiny. With the latest TSA rules, you can bring on really small knives and multitools where the blade is less than around 2". I haven't tried this yet, but that is what the rules read on my last trip down to Oregon a couple of weeks ago.
As mentioned above, choices will vary considerably between preppers as to what should go in the bags, my selections are heavily weighted towards electronics used for web communications and photography and video. So I have more laptops and cameras than most people would have. Otherwise though, my selection of stuff should be pretty universal for most people. With that caveat in mind, let's go through the contents of the bags, starting with the smallest up to the largest.
Personal Item Backpack
Small Electronics: Cell Phone, chargers (AC, DC, Hand Crank), Folding Keyboard, Blue Tooth Mouse, small camera, GPS, SW Radio
Emergency Tools: Flashlight, Lighter, Swiss Army Knife, Small Leatherman Multi-tool, Hobo Knife, Small Adjustable Wrench, Wire Saw, Carabiners, paracord, Stainless Steel Water bottle,Mylar Emergency Blanket
Clothing: Xtra socks & underwear, gloves, rain hat, emergency poncho, scarf
Food: Energy Bars or Gorp, Fruit, Sandwich, small hard salami or jerky
Carryon Wheely Bag
Electronics: Small Laptop, chargers, webcam, Folding Solar PV Array, extra batteries (rechargeable with wall charger), HD Camcorder, 200W DC–>AC inverter, FRS Walkie Talkies, spare cell phone
Emergency Tools: Flashlight, Lighter, Large Folding Knife, Large Leatherman Multi-tool, Hobo Knife, Wire Saw, Folding Scissors, Small Socket Wrench set, Crank Up Emergency light/radio/charger, Water bladder or folding water container
Clothing: 1 X-tra set of clothes, pants, shirt, thermal insulated polypropylene socks, underwear, long underwear, Zip-up sweatjshirt, Winter Hat, Balaclava, Insulated Gloves,Gore-tex Rain Jacket, Sneakers
Cooking Tools: Folding Camp Grate, Small Aluminum pot, Sterno Cooking Fuel (except during air travel), tea light candles, 12V Immersion heater
Food: Energy Bars or Gorp, Freeze Dried Mountain House or Bear Creek Soup, Hard Salami
Large Hard Side Suitcase
Electronics: Large Laptop, chargers, Interchangeable Lens Camera, 4-channel Audio recorder, microphones, headphones, Bluetooth Speakers, 5W AC–>DC Transformer, 500W DC–>AC Inverter
Emergency Tools:Flashlight, lighter, Screwdriver set with interchangeable bits, Hammer with claw, Wire cutter, small electric drill & hand crank drill, Hacksaw, clamping pliers, rope, paracord, monoline filament, piano wire, bungees, wire ties, carabiners, tarp clips, Gorilla Tape, Folding Water container, Water filter
Shelter & Sleep: Sleeping Bag, sleeping pad, Bivouac or Tube Tent (1) Tarps (2), Aluminized Insulated Emergency Blankets (2) Folding fiberglass tent poles (3), tent stakes (8)
Clothing: Xtra clothing set, Insulated Vest, Winter Jacket, snow pants, underwear and socks, sandals
Cooking tools: Single Burner Electric Hotplate, Single Burner Propane campstove, Propane Cannisters (except during air travel), tea light candles, sautee/fry pan
Food: Energy Bars or Gorp, Bear Creek Soup, Dried Rice, Dried Legumes, Beef Jerky, Hard Salami
As you can see, each bag has at least some food, and some container for water. They all contain some fuel for cooking/heating food as well, at least Tea Light Candles. With the large case, you can probably carry up to a month's worth of emergency food, though hopefully you don't have to access it too often and can acquire food while on your migration.
You also have emergency shelter if necessary, although again hopefully you won't need to use that either, but rather be able to shelter cheap motels, hostels, churches and even in train stations and bus depots and the like while on the move. When you finally make it to the Promised Land (wherever that might be for yourself), you'll obviously need to find more permanent shelter of some type.
One final note for this installment, in each of the bags I listed some small items which I actually do not usually have in the bags, but rather carry on my person utilizing Cargo Pants and a Cargo Vest. That will be the next chapter in the Bugout Bags series.
2 Responses to Bugout Bags 2