This Week In Doom: American Nightmare
From the keyboard of Surly1
Follow us on Twitter @doomstead666
Like us on Facebook
Originally published on the Doomstead Diner on January 29, 2017
"Unless someone like you cares a whole awful lot,
Nothing is going to get better. It's not."
― Dr. Seuss, The Lorax."
---
The first full week of the Presidency of Donald J. Trump was both cruel and absurd. Nothing about this should be surprising. Trump is a singular example of the cult of personality, a manifestly unfit individual whose path to power has enabled a hidden phalanx of anti-democratic hedge-fund plutocrats and white supremacists to get their paws on executive power. These political apostates have funneled into the palaces where the wheels and gears of power are kept, like the mob storming Versailles, the better to finger the crystal and steal the silver.
The first week of the Trump administration marks the violent reassertion of the prerogatives of White Males against the legacy of Barack Obama and the Great Arc of History. This crowd's capacity for brutality is unimaginable by middle class Americans who grew up on the legacy of the New Deal and amidst the prosperity engendered by winning World War II. Truly, who among us ever thought we'd have to beat Nazis again in this lifetime?
The first realization of the coming kleptocracy dawned as Trump announced his cabinet choices, resembling nothing so much as the Dread Pirate Roberts naming the plunder all star team to crew a new pirate ship.
Now, the owners of this glittering casino and their gum-toothed spawn are clawing back their presumptive place at the top of a so-called "meritocracy" that rewards their gene pool with the sweet perks of "freedom" and "capitalism," which is political code for one class prospering off the suffering of another. The subsequent rewriting of laws then institutionalizes the grift and makes it like, official, dig?
If you've spent the week under a rock, here's a summary of week one executive actions:
"No hate! No fear! Refugees are welcome here!"
or a variant
"Say it loud and say it clear! Refugees are welcome here!"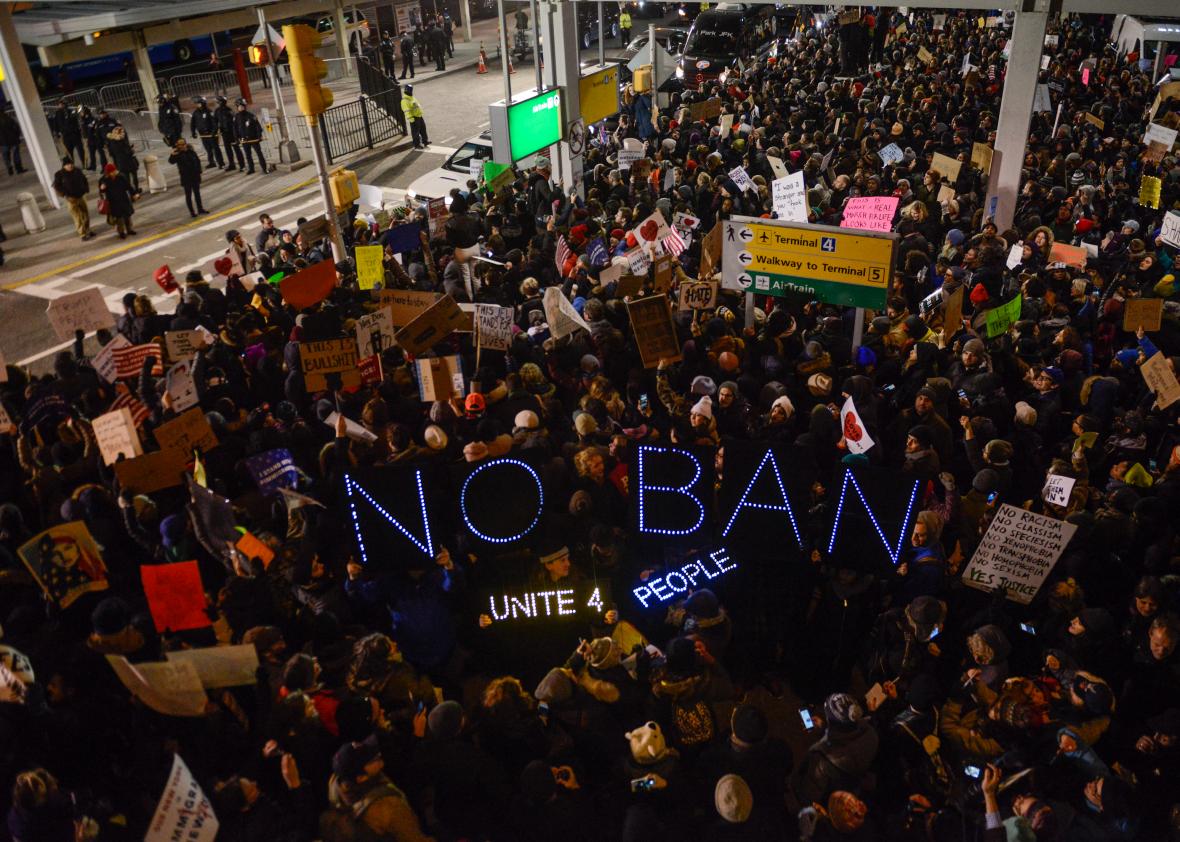 The order also bars legal permanent residents of the U.S. from returning home if they are now travelling overseas, even though they already went through "extreme vetting" procedures to get their green cards.
Late Saturday night, Federal Judge Ann Donnelly in New York issued a nationwide temporary injunction, halting the implementation of part of Trump's executive order on immigration and blocking the deportation of travelers with valid visas detained at airports. This in response to a suit brought by the ACLU.
The judge further ruled that the government must immediately stop deporting travelers from the named nations, including refugees who already went through a rigorous vetting process, and provide a complete list of all those detained. The Intercept published an update.
Suffice it to say that when Michael Moore, Dick Cheney, and the Pope are all on the same side of an issue, and you're on the other side, you've crossed the line: you're an asshole.
Hours after Trump signed this executive order heralding this global descent into barbarism, a mosque in Texas went up in flames.
The Islamic Center of Victoria was set on fire around 2 a.m. on Saturday, according to local reports.

Victoria Fire Marshal Tom Legler told the Victoria Advocate he had no theories about the cause of the fire, but he is seeking assistance from state and federal fire investigators.
Just week one.
While Bannon writes, Trump tweets and Washington burns, the left continues to squabble about assigning blame for the Trumpenkrieg to various Hillbots or Berniebots or Steinswine. This endless circular firing squad, which obtains any time three of more "progressives" share the same space, is why we can't have nice things. And why we have Trump.
One of the great shortcomings of the age derives from late stage capitalism. It is the keenness of focus on measurement at the expense of all other values. Remember working in businesses when profitability was enough? No more: now profitability must be maximized. How it works: most American industries are mature indistries, which over time become less profitable. These mature industries exist at a time of little real growth and the end of cheap energy. In this environment profitability comes from two sources: 1) squeezing more out of your current operation, and 2) stealing share from your competitors. Our "business leaders" conjure results from these two foci though spreadsheet worship, and concoct strategies by which they can wring the last erg of energy out of a workforce, all in the name of "efficiencies." Enter automation, Amazon, and subcontractors.
American political philosopher Richard Rorty saw this coming. In his 1998 book "Achieving Our Country," now much quoted in the New Yorker and around the internet, he observed our present circumstances:
"Members of labor unions, and unorganized and unskilled workers, will sooner or later realize that their government is not even trying to prevent wages from sinking or to prevent jobs from being exported. Around the same time, they will realize that suburban white-collar workers—themselves desperately afraid of being downsized—are not going to let themselves be taxed to provide social benefits for anyone else.

"At that point, something will crack. The nonsuburban electorate will decide that the system has failed and start looking around for a strongman to vote for—someone willing to assure them that, once he is elected, the smug bureaucrats, tricky lawyers, overpaid bond salesmen, and postmodernist professors will no longer be calling the shots. . . . Once the strongman takes office, no one can predict what will happen. "
No one can predict what will happen. But if Trump's first week is predictive of the future, the cruelty and absurdity of this week will continue until Robert Mercer and the Koch brothers determine he is too loose a cannon and needs to be impeached. Which will install President Pence. Remove Pence? There's Ryan. With Orrin Fucking Hatch in the on deck circle. Vote them out in 2018? Talk to your Republican governors about who will actually be allowed to the polls in 2018.
By 2020, don't be surprised if the franchise is not restricted to white male property owners with a net worth of $1 million. As God intended. And there are still assholes out there who will argue that voting doesn't matter.
---
Surly1 is an administrator and contributing author to Doomstead Diner. He has squeezed out numerous rants, screeds and spittle-flecked invective here and elsewhere, and once quit barking and got off the porch long enough to be active in the Occupy movement. Where he met the woman who now shares his old Virginia home and who, like he, is grateful that he is not yet taking a dirt nap, and like he, will be disappointed to not be prominently featured on an enemies list compiled by the current administration.
41 Responses to This Week In Doom: American Nightmare