Cometh Civil War? & Cancelled Infrastructure
Off the keyboard of Thomas Lewis
Follow us on Twitter @doomstead666
Friend us on Facebook
Published on The Daily Impact February 5 & 8, 2017
Discuss these articles at the Kitchen Sink inside the Diner
Podcast: Play in new window | Download
Subscribe: iTunes | Android | RSS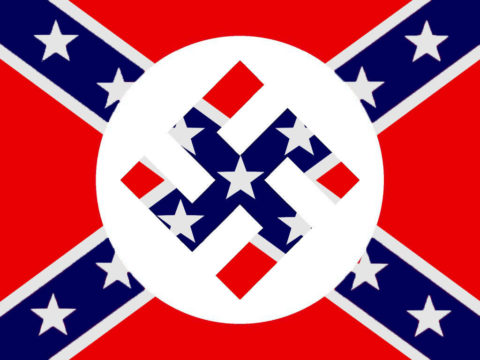 New York attorney Gregory Locke boarded the subway last Friday night and was appalled by what he saw. Every window in the car, every advertisement and map, had been defaced with a swastika. And there were slogans, such as "Jews belong in the oven."
"The train was silent," he said in his Facebook post about it, "as everyone stared at each other, uncomfortable and unsure what to do. One guy got up and said, 'Hand sanitizer gets rid of Sharpie. We need alcohol.' He found some tissues and got to work. I've never seen so many people simultaneously reach into their bags and pockets looking for tissues and Purel. Within about two minutes, all the Nazi symbolism was gone.
"Nazi symbolism. On a public train. In New York City. In 2017.
"I guess this is Trump's America," said one passenger. No sir, it's not. Not tonight and not ever. Not as long as stubborn New Yorkers have anything to say about it."
Two Americas. Using the same subway car in close succession on a Friday night in February, each leaving their mark. Each with something very important to say to us.
First, consider the swastika drawers, who were not very good at it — they inadvertently drew the sacred Hindu character for "good fortune" (it has to be tilted 45 degrees to the right to become the Nazi icon). But that's an important thing to understand about haters and bigots: they're not very good at anything.
One of the first courses I took in Sociology 101 taught me an invaluable lesson I have never forgot. It was a study of inter-racial relations among the (primarily Vietnamese) shrimp fishermen and the people of South Florida. The study found a strong, direct and inverse relationship between the state of the local economy and the quality of the interactions among ethnic groups. When times were good people were tolerant and welcomed diversity. The worse the economy became, the more bigotry appeared, and if it got bad enough there were outbreaks of violence.
Everything I have seen in the ensuing decades has confirmed for me the simple fact that people choose racism primarily when they are experiencing financial hardship, and want — no, need — someone to blame. Some "other" kind of person. easily identifiable as an enemy. The worse the hardship, the more violent, widespread and prolonged the expressions of blame/hate.
Is this Trump's America? Yes and no. It is remarkable that hate crimes, including attacks on synagogues and mosques, and the defacing of public spaces with swastikas, have increased dramatically since his election. But it would be a serious mistake to attribute this only to him and the people who voted for him.
Despite what they say, political leaders do not run the economy, they cannot "create jobs" or "bring back industries." They cannot make better the severe conditions that bring out in us our impulses to blame and punish. What they can do is summon us to our best efforts, to our better natures, to the rational tolerance and good will that tamp down our more hateful urges.
Or they can do what tyrants and would-be tyrants do. By encouraging the notion that we are experiencing hard times because of the Jews/Mexicans/Muslims/terrorists, the WBT (Would Be Tyrant) can more easily make the case that he, and he alone, can save us. All we have to do is give him the power. Unrestrained, absolute power. Beyond energizing his supporters to bristle at the "others," the WBT also enables — by hinting, repeating, winking, implying, berating and just saying — many others to allow barely-restrained frustration to blow sky high.
In my own neighborhood last week a young mother described on Facebook how her (colored) child was suddenly berated in a public place by another (white) child, a total stranger, and told to go back where he came from because nobody wants him here. The white child's grandmother corrected the white child, not for being rude or expressing racism, but because "we don't say those things outside the house."
Don't worry, little precious, soon you may be able to say all those things everywhere, while decorating everything with swastikas, when it truly is Trump's America.
But maybe not. Consider the second group of people on the subway car, with their tissues and hand sanitizers. They live in the America that I have always lived in and loved, and they have signaled their determination to keep it. I wonder if we can.
Podcast: Play in new window | Download
Subscribe: iTunes | Android | RSS
Watch closely any group involved in dealing with a disaster — let's say, a fire company battling a structure fire — and you may catch the moment when they share a glance that says, "You know what, we're not going to win this one." Their conduct changes almost imperceptibly from "balls to the wall, we can do this," to "watch where you step, and back away from the walls, she's gonna burn to the ground."
Such a moment may well have come this week for the people who still believe — or have believed since Donald Trump was elected president — that we are going to experience a Great Recovery of this country's rotting roads and decrepit bridges, which will in turn create millions of jobs, restore the middle class, eliminate poverty, homelessness and cancer, save the economy and make it 1958 in America once more. And Mexico is going to pay for it. (Actually, candidate Trump promised $50 billion for the purpose, double Hillary Clinton's proposed spending. But neither of them explained where they were going to get the money.)
No one questions that this massive construction program is not only necessary but urgent. Our entire economy, all of it, travels on the backs of 18-wheelers, and if anything at all interferes with their tightly scheduled travel, we are all in the soup, neck deep and right now. The American Society of Civil Engineers, the people who would do this work if they were hired, has been warning us for years about the deterioration. The Interstate Highway system (900,000 miles) and all its bridges (600,000) and overpasses, came with an expiration date stamped on them, just like so many quarts of milk. Their life expectancy was 50 years when they were built — 60 years ago.
The civil engineers are very civil when they try to tell us why their hair is on fire: "by 2024, the U.S. will face an infrastructure funding gap of $1.4 trillion." It's not in their nature to draw pictures of empty stores, food riots, endless lines for gasoline, and various other civil insults, because they don't want to trigger the general panic that the situation deserves. Instead, we will just agree that it's a heckuva problem, Brownie.
And now there's hope, right? Maybe the Child President will remember his concern about the roads (infrastructure is way too long a word, get outta here) long enough to try to do something about them. Maybe his excellent Cabinet can come up with a way to pay for fixing them (Rex Tillerson could just write a check, but that would probably be a conflict of interest).
But here's the thing. In a few weeks, this massive project won't even be possible, even if Canada pays for it in cash. Because the largest asphalt plant in the United States is shutting down for lack of business. According to Bloomberg, Axeon Specialty Products is converting to other uses a plant in New Jersey capable of producing 50,000 barrels of asphalt per day. U.S. consumption of asphalt has been hovering below 350,000 barrels a day since 2009. To support a meaningful overhaul of the road system the county would need to manufacture at least an additional 200,000 barrels per day.
With Axeon's New Jersey plant gone, there is no way that is going to happen. Even if Canada does pay for it. The engineers are looking at each other funny — it may be time to back away from those walls before they fall on us.
3 Responses to Cometh Civil War? & Cancelled Infrastructure