Bucket List
Follow us on Twitter @doomstead666
Friend us on Facebook
Published on The Doomstead Diner on March 12, 2017
Discuss this article at the Frosbite Falls Table inside the Diner
Seems like there is some new Anniversary or significant date arriving almost monthly these days. We had the New Year's Recap of the events of 2016 to review, then the 5 Year Anniversary of the founding of the Doomstead Diner. Upcoming in August is my 60th Birthday, which is a miraculous longevity for me given the way I lived my life and all the Close Encounters with the Grim Reaper I had along the way. I never figured to make it past 50. However, on all occasions to date, the Finger of God stepped in and kept me above ground level walking the Earth for another day to see another Sunrise.
This month marks another Anniversary, my second full year in Retirement. In fact it was on the Ides of March that I walked out the doors of a gymnastics school as a coach for the last time.
Beware the Ides of March
I got to retire early because I became disabled after taking a fall at work and injuring my neck. Resultant from that are physical issues too numerous to mention, which preclude things like hiking the Bush here in Alaska, circumnavigating the Globe in a Sailboat or even retiring on a Golf Course in Florida to play a round of golf every day. lol. My retirement such as it is consists mainly of puttering around my digs and writing about Collapse here on the Diner. So it's not exactly the retirement of my dreams from my youth, when I hoped to be retired by 50, buy a nice 36' or so yacht and sail the various playgrounds of yachties, from the Greek Islands to the Bahamas and the South Pacific. I never got that dream, at least not long term. I did have a few good sailing adventures of a couple of weeks at a time in my younger days though.
Today, even if I did get the dream, it's not so dreamy anymore to be living the Yachty life. You have the dangers of kidnapping by Pirates, as one German couple found out for the second time this year. You have increasingly bad weather with rogue waves around that can take out a small boat in the blink of an eye. The Greek Islands are not the place they were when I sailed them in the 1980s, now they are piled up with Syrian refugees. South Pacific Islands are sinking under rising ocean waters and are battered regularly by Super Typhoons. So maybe it's better I didn't get that dream after all, at least in terms of living a bit longer anyhow.
Besides that though, I don't really have much of a "Bucket List" of things I always wanted to do but never got a chance to do. In terms of travel, I saw all of Europe, most of South America, the South Pacific Islands and Australia. Never got to China or to Africa, but never really had the desire to see either of those places. Today, I DEFINITELY would not want to travel to either one, in China you are lucky if the air is clean enough to breathe on a given day and in Africa your lucky not to contract Ebola or have your head lopped off with a machete. Besides, are there any Lions or Elephants even left there to see on Safari? I can watch a nice National Geographic documentary on You Tube from the 1970s and see Africa as it once was, I don't want to see it as it now is. Besides it's fucking HOT in Africa, and I hate hot weather.
Speaking of not wanting to see things as they now are, another place I don't want to go is back to NY Shity to see my old neighborhoods and haunting grounds. My old neighborhood of Flushing, Queens isn't even recognizable in pictures I Google up. The great clubs I frequented like CBGBs and Max's Kansas City are all long gone, and even if they still existed I wouldn't want to be an old guy wandering around a music den stuffed with 20-somethings these days with the type of music that is popular now. Everybody pierced up and tatoos from head to toe is just repulsive. OK, I am sounding like Jimmy Kunstler now so I'll get off this topic. LOL.
So besides Travel, what are other things retirees put on their Bucket Lists? Great Adventures doing something EXCITING! Well, first off I would need to be healthy and not a cripple to do these things, but once again assume I was healthy.
Do I want to jump out of an airplane with a parachute? No, unless forced to do that because the plane is crashing, that is just a fucking stupid thing to do. Do I want to climb Mt. Everest or K-2? Another fucking stupid thing to do, they don't call it the DEATH ZONE up there for nothing you know. Most of the lesser adventures like White Water Rafting or hunting for Bear I already did, so they are not on a Bucket List of things I never did but want to still do.
Bottom line here is I have no Bucket List at all, and I'm quite happy to be living peacefully in my digs, keyboarding Collapse on the Diner. I have all the Food, Beer and Smokes I consume every day that I need, and the place is warm and cozy. At least most of the time anyhow, except when the heat went out during the cold snap we had a couple of weeks ago anyhow. lol. However, that was fixed inside a day by the maintenance man, and it never actually got below 49F in the digs, so I was in no danger of freezing to death at the time. It was just a little uncomfortable. I usually keep the heat down fairly low anyway, since I like it colder and it keeps my heating bill down too. However, 49 and dropping is just a little too cold. Low 60s is good for wandering around the digs in Flannel Pajamas or sweats, wearing some nice warm slippers.
So even though being disabled is no fun, I don't feel like I missed out on anything because of it, but what I did get out of it was EARLY RETIREMENT! I am now at 2 years and still running without having to work, getting up each day to do mainly as I please, with the exception of having the continuing headache of litigating my SS-WC Case and making trips to the doctors as necessary. Fortunately there seems to be no major life threatening problem at the moment, just the continuing annoyances. My keyboard fingers still work fine though, and I think I have most of my marbles left so my prose comes out OK when I keyboard. At least most of the feedback seems to indicate that anyhow in the blog commentariat, although I do get criticized for being nuts on the forum by a few people. lol. So I am doing what I enjoy doing, I got no boss over me telling me what to do, I don't even have to get out of my Flannel Pajamas most days! Only if I need to go on a Prep Run to pick up some Food or Beer do I need to get semi-decent in street clothes!
Getting to this point was not EZ though, for the first 7 months of this retirement I had no income and had to live off my savings, which fortunately I had enough of so I did not end up as a Homeless Cripple Freezing to Death on the Streets of Palmer, Alaska. More than half of the people in the FSoA could not have negotiated such a lengthy time with no income, most could not even make it for a month. So I was anxious and worried for this whole time, and anxious and worried is even worse than physical pain and disabiity, so that was not a great time in my retirement. However, once my SS came through and then I won my WC Case and then got my Early Retirement Pension from the Union I worked for rolling in, my financial worries dissipated for the most part, although like with all people concerned about the financial end of collapse, that money is pretty ephemeral. The money in the Credit Union Account could disappear any day the Credit Union or the whole financial system fails. My Union Pension could disappear when the Pension Fund goes bankrupt. My SS Bennies could disappear when SS goes tits up. I do have enough food preps to keep going for a good year or so if/when all that occurs though, and at this point in my relatively long and crippled life, all I really want to live long enough to see is the collapse of the system that I was unhappy with for the entire time I walked the earth in this iteration in this corporeal host. When the system goes down, I will go down with it, along with many others. So it goes in a Civilization Collapse.
The thing for me is, despite being a cripple now and not having the most dreamy of retirements, at least I GOT one, and now 2 years running! As we move forward in collapse, retirement will be a thing of the past for all people, you will have to work in one sense or another until the day you die. If it goes tribal and you are well respected as an Elder in the tribe, you may be supported by the tribe as a person who settles disputes and who advises on where to hunt, or where to plant crops etc, but that's still work, intellectual and social work. If you are a useless hunk of old meat, one day you will wake up and the rest of the tribe has taken off on the move and left you behind. Also as it spins down on the other end of the lifespan, many infants will be left exposed on moutaintops if the tribe cannot afford to support them or they are too deformed. Or they will be dropped in a dumpster or garbage can. Dieoff of a Civilization is not a pretty thing to contemplate, but nevertheless these are things you need to grasp hold of if you are to be one of those few who can make it through the Zero Point.
I cherish my days of retirement, despite my disabilites. I was lucky in when I was born and where I was born and to who I was born. I walked the earth for near 60 years now, and got to see and do many things that most others who walked the earth never did. Few if any who follow me will get to do all that either, and certainly not in the kind of world I was living in before it was totally consumed by industrial civilization. If I had one wish that could have been granted, it would be to have been born 10-20 years earlier than I was, and been pushing 80 now instead of 60 and lived through the times Leonard Cohen did before he bought his ticket to the Great Beyond this year at 82. I wish I was old enough to have been there in the Summer of Love in Haight-Ashbury. I wish I had made it to Woodstock, but I was only 12 and my plans to run away from Summer Camp to go there were derailed. I wish I had been on the bus with Ken Kesey and the Merry Pranksters, I wish I had been there to hear Allen Ginsburg read his poetry in some seedy Greenwich Village bar. Alas, I was born a bit too late for all of that, but I did get to experience a whole lot that came after it, so I am grateful for that.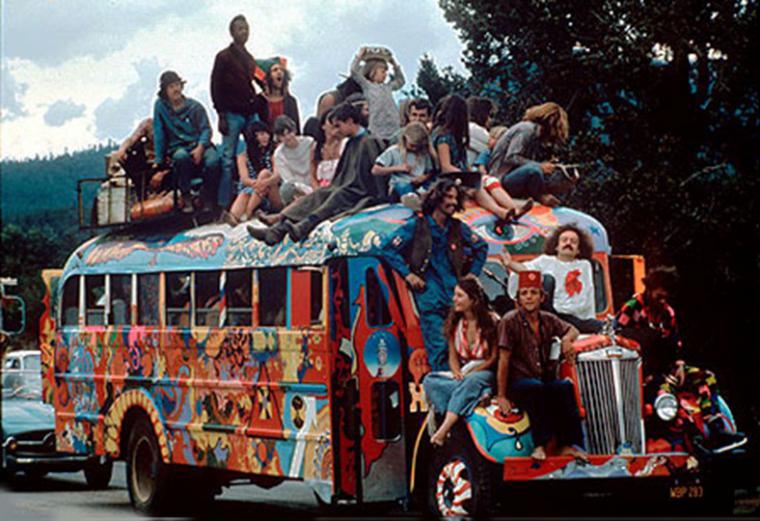 For the current generation of 20-somethings, these are the "good old days", assuming they live long enough to wistfully remember them. As good old days go though, they are not so good for most of them stuck in dead end jobs as Starbucks Barristas or Fast Food workers or Checkout Clerks at Walmart. They don't have health care insurance and they'll never get any time in retirement, crippled or not. They will have a heck of an adventure in trying to stay alive though, and hopefully a few of them will manage to do that.
Now I will close this nostalgic post, because I need to change out of my Flannel Pajamas and go buy some beer on my mailbox money and craft a new letter to SS to try to find out WTF is going on with my case, and then Medicaid to see if I can get my damn ID card so I can find a new Primary Care Physician since my old one retired on Dec 31st and couldn't find a young doctor to take over his client list and practice. This shit occupies my time in retirement, along with writing about the Collapse of Industrial Civilization on the Doomstead Diner. Who could ask for a better retirement than that?
4 Responses to Bucket List