Sin Taxes & Not your father's Cold War
Off the keyboard of Thomas Lewis
Follow us on Twitter @doomstead666
Friend us on Facebook
Published on The Daily Impact March 1 & 3, 2017
Discuss these articles at the Kitchen Sink inside the Diner
Podcast: Play in new window | Download
Subscribe: iTunes | Android | RSS
In the 1970s, Republicans discovered they could reliably win elections by pronouncing taxes to be anathema, which is to say, evil, irredeemable, on a par with the seven deadly sins. Henceforward, they declared, there would be no new taxes and no tax increases. Also henceforward, members of the other party would be referred to exclusively as "tax-and-spend" Democrats. It worked so well that now, Republicans are in control of everything.
But taxes, it turned out, were essential to the functioning of a free republic. Our nation's roads, bridges, airports, trains, water pipes, sewer mains and power grid have rotted almost completely away for lack of maintenance, repair and replacement. Yet taxes remain anathema.
When, from time to time, in the brief interludes between elections, the Untaxables had to come up with some money to keep a school open here and there or put a bridge back up (just enough to get the torches doused and the pitchforks put away), they found they could get away with imposing a tax — although it was a very great sin to do so — as long as they imposed the taxes on a sin. Cigarettes became a favorite, after Big Tobacco became too poor to own and operate legislatures like it used to, and today in West Virginia, for example, there is a tax on each pack of cigarettes of about $25,000.
The thing about sin taxes is, they tend to be self-extinguishing: the rising cost of sinning reduces the number of people who can, or will, indulge. There are only about six people left who can afford to be smokers of commercial cigarettes in West Virginia, everybody else is smoking oak leaves. Now West Virginia at the moment — and I do mean this very moment — has a budget shortfall of half a billion dollars. The federal debt has reached $20 trillion, and in a couple of weeks the debt limit (the law Congress passed that says, "stop us before we borrow again") is once again going to throw a monkey wrench into the government money-printing press.
Our legislators are laboring mightily to solve these problems by not raising taxes, even on sins. The West Virginia solons are urgently debating prohibiting bestiality and making the Bible the state book. I swear I am not making these things up. Go ahead, check the links, I'll wait.
What we need here, obviously, is a new sin to tax. As it happens, I have a candidate. No sin has done more damage to the Republic, the world, or indeed to the souls of men, than unearned wealth.
Those who become wealthy through pure dumb luck — those who inherit fortunes, or marry them, or win the lottery or pick a stock — are a worse plague on the world than pollution. Insulated from the real world by their wealth, they never learn anything about how the world works. Nevertheless, surrounded by sycophants, they develop an overinflated opinion of themselves. Unable to actually use more than a small fraction of their money, they send the rest of it off, in the hands of hedge fund operators and personal wealth managers and other con men, in search of outrageous profits, thus inflating and exploding various financial bubbles around the world.
These periodic tsunamis of money that create and then pulverize vast fortunes in dot-coms, shale-oil, farmland, residential real estate, high tech, on and on, are the modern day equivalent of the periodic plagues of locusts described in the Bible. Whatever brief benefits there are, go to the already wealthy. When the bubbles collapse the pain is felt only by those already poor.
Solution: A confiscatory tax, 90 per cent would be about right, on all inherited and otherwise luck-induced wealth. Including lottery and casino winnings, such as stock trading profits. It would be a lot of money, that could fix a lot of highways and bridges, while preventing a great deal of destructive behavior around the world.
And it's not like it would be hurting anybody. Most of these people have no idea how much money they have or where it is. All they know is, they want more.
Let us go forth, and tax sinners. There simply is no down side.
Podcast: Play in new window | Download
Subscribe: iTunes | Android | RSS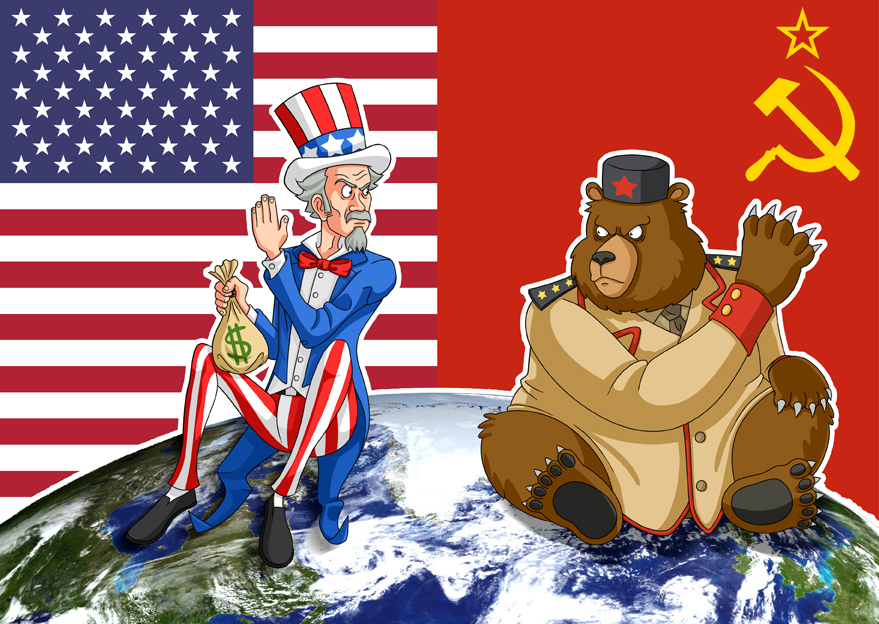 It all has such a familiar feel. Russia is once again our primary enemy in the world. Implacably, tyrannically, cunningly, it plots our downfall, engineers our destruction, and prepares for war without ceasing. It's déjà vu all over again, we even catch ourselves referring to them as Soviets, and Godless Communists, which is silly, they are no more Communists than Trump is a Republican. But the thrill is the same as it used to be, the thrill of the monster under the bed, the nameless, faceless dread from which only Mom, or Saint Ronald of Reagan, or The Donald, can save us.
Nothing that feels so right and familiar has to make sense, and that must be a good thing, because none of this does. Start with the fact that the $600 billion elephant (that's what America spends on "defense" every year) is pretending to be terrified of a $50 billion mouse. That's right — The Donald's proposed increase in military spending for the next budget equals the entire annual Russian defense budget.
The Russians have one — count it, one — aircraft carrier, so old and decrepit that when they "deployed"it to Syria last year they sent a tugboat along in case the carrier crapped out before it got home. We, on the other hand, have 19 carriers and just launched the world's most expensive and most technologically advanced warship, the guided-missile destroyer USS Zumwalt. Which crapped out in the Panama Canal on its maiden voyage and had to be towed to a nearby naval base for extensive repairs. Um, where were we? Oh, yeah.
Listen, granted the Russians have a formidable air force, nuclear weapons, a ton of tanks, and about half the people under arms that we do. But that does not explain why the mouse is suddenly terrorizing the elephant. Most likely, something is going on in the elephant's mind. So let's review how we got here:
During the election campaign, The Donald expressed a mystifying and definitely non-Republican admiration for Vladimir Putin. But most of what Trump said was mystifying, and he never pretended to be a Republican.

In the final stretch of the campaign, some emails came to light that were somewhat embarrassing for the Clinton campaign, and some fake news stories were circulated that were even more so, and these were alleged to have come from Russian sources.

When, to everyone's astonishment, Trump actually won the election, the only explanation that made sense to HIllary's people was that the Russians did it. To say that Trump was smart enough to have done it, or that Hillary was dumb enough to have blown it, made no sense to them. So for them and their friends in and out of government, "the Russians hacked the election."

Now, it is being revealed that the Trump Campaign had an amazing number of meetings, before and after the election, with Russian officials. The Trumpits are first denying, then failing to remeember, then reluctantly admitting to these contacts, which colors them all nefarious whether they were or not.
What does all this amount to? Probably much less than meets the eye, although it compares favorably with the new season of Homeland for entertainment and diversion (if not yet for firefights).
But one thing is sure — the Cold War is on again. The armed men and tanks that we shipped home from Europe after the fall of the Soviet Union are going back. The defense budget that withered after our detentes in Iraq and Afghanistan is headed back up. Pretty soon we'll be having "duck-and-cover" civil defense exercises in elementary schools again.
Why? Forget Trump's election. Whatever the Russians tried to do on his behalf had roughly the effect of trying to turn a hurricane with a snowplow. Forget Putin. He is, as Obama correctly labelled him, the leader of a regional power who loves to pretend the Soviet Union is back. It's not. If we did with Russia what we finally learned to do with Sarah Palin, and just ignored it, we could soon forget it altogether.
The old Cold War was about empire, about world domination. The Soviets lost because they could not afford to continue, let alone win. Now we are intent on world domination, and we are going to lose this quest, regardless of what Russia does, for the same reason. We can't afford it.
If you want to understand why we have gone so far back to the future, why our world is focussed once again on the Cold War, you must ask qui bono? Who benefits?
The arms dealers, the builders of aircraft carriers, warships, airplanes, tanks and guns, the makers of ammunition and caskets, the provisioners and suppliers of war and war preparations. They are having their way with us again, and we're letting them do it.
And this time, in this Cold War, there is and will be no moral high ground. It will not be the side that invades sovereign countries, and executes regime change when it feels like it, and kills civilians and women and children, and ignores the rules of civilized warfare, torturing people and putting them in concentration camps and assassinating people who end up on its lists; while the other side preaches democracy and treats everyone well and strives for peace, good will on earth.
No, this is not your father's Cold War.
2 Responses to Sin Taxes & Not your father's Cold War