60: Life & Times of a Boomer Doomer 3
Follow us on Twitter @doomstead666
Friend us on Facebook
Published on The Doomstead Diner June 8, 2017
Discuss this article at the History Table inside the Diner
The Public School Teaching Years
This was the shortest era of my life, around 3 years. Teaching science and math seemed like a good choice in changing careers, teachers of these subjects were in notoriously short supply since anyone really knowledgeable went into private industry where the salaries were higher. It also matched up well with my Hobby-Job of coaching gymnastics, since Skule finished the day in theory at 3PM, and coaching usually got underway around 4PM. Except I often had detentions to do after school, so I was often late for practice.
The problems I faced during this period were endless. First off, because I was being sent to two different schools (a Junior High and a High School), I didn't have my own clasroom. Instead, what I got were two rolling lecterns (one in each school) in which I was supposed to keep all my student records, my lesson plans and graded tests and homework assignements, and roll the lectern around from classroom to classroom that happenned to be empty while the main teacher assigned to that classroom had a prep period. Needless to say, these lecterns were stuffed full of papers I couldn't find all the time. I stopped giving homework assignments as a starter to get this under control. lol.
Worse than this were the kids I was trying to teach though. 90% of them in any given class first of all had little interest in learning Physical Science or Math, and their preparation coming out of elementary school was horrendous. Students in 9th Grade could not solve the Density equation Density=Mass/Volume except if you gave them Mass and Volume and a calculator to do the division. They couldn't rearrange the equation if you gave them Density and Volume for instance. So I couldn't really teach the curriculum, I spent much more time doing remedial work that should have been finished 7th Grade the latest.
The problem here now becomes one of Behavior and acting out in the classroom. If you are going over the heads of the unprepared kids who are also disinterested, they become behavior problems and disrupt the lesson. They are lost and bored. If you start teaching down to them and trying to remediate, you lose the few kids who are interested and decently prepared. There are fewer of them, so you mostly teach down, and then to keep everyone somewhat entertained you do demos like a Thermite reaction, or you make rockets out of plastic soda bottles and rubbing alcohol. Everybody likes that stuff! lol. You can't do that every day and actually learn anything though.
Then there were the battles with the Administration, and if your kids were bigger behavior problems than the next teacher, YOU got called on the carpet for this! It was YOUR fault they weren't interested enough to pay attention! When a parent came in to complain, the Parent Was Always Right, like customers in a retail store. It was a total No-Win situation, and the hours turned out to be endless. Because I taught science, I had labs to prepare and clean up. I had to get to the skule a full 2 hours at least before class actually began to get labs ready. Then there were the after skule detentions as mentioned, then after getting home from coaching around 9PM, I usually had a good 2 hours of grading papers and preparing lesson plans. This went on day in and day out for 3 years, and if I got 6 hours of sleep with no recreation time at all I was doing good. I turned in my resignation after the 3rd year of this insanity.
After resting up for a month, I forwarded out some resumes to gyms around the country for a full time coaching position, but also a couple to Elite Private Skules for the Rich, specifically, Choate, Phillips Exeter, Phillips Andover and the Horace Mann School. I got interviews at Choate and Horace Mann, and was offered a job at Horace Mann. I was shown my Physics Classroom and Lab, which would have been all mine. Every toy in the catalog was in the cabinets. Class sizes all 20 or less, averaging around 15. Upper Class kids who were expected to do well in School by their successful parents. A $35K/year salary, which was competitive at the time with Public Schools as a starting salary. I turned the job down. Why?
Mainly because the 3 prior years had thoroughly burned me out, and I supected there would be similar if not worse administrative issues. Rich parents have tons of clout in a Private Skule, and if their prized little brat complains to them that you're not grading them fairly or teaching them right, they can do more than a Public Skule parent can, they can threaten to take the kid out of your expensive skule and send them to a different one. You gotta make the customers happy, and these are BIG PAYING customers! Tuition at Horace Mann for elementary through High School even in those years was comparable to Ivy League tuitions for college.
So came another major crisis in my life, and now I was nearing 40 years old. Too late now to really go back to grad skule once again for yet another degree and training for some other field. So I elected to try going out as a Full Time Competive Gymnastics Coach in the growing industry of Private Gyms. I had the experience and knew many people in the field after years of doing this part time. I got my first job full time where my sister had moved to and my mom retired to, in Springfield, MO.
The Full Time Gymnastics Years, Round 1
Coaching Gymnastics is tons of fun and very rewarding in a non-monetary way. You have a very significant impact on the kids you work with, often for several years, much more time than a school teacher does. It's also very challenging, particularly to teach higher level skills, and it's FUN! It's not like having to work in a Coal Mine or garb up in a Monkey Suit to cheat pensioners out of their life savings on Wall Street. Unfortunately, it's also a very low paying profession in general, unless you manage to open your own gym, in which case you can become quite successful. Unfortunately, I never got together enough money to do that after my early bankstering years. I was fortunate through most of the time to just keep a roof over my head.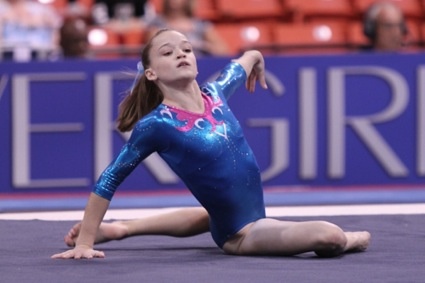 However, I did move my way up pretty quickly to the higher end of a low paid profession as a Head Coach and Program Director at a pretty large gym outside of Chicago, after 2 years coaching as an Assistant Director to the gym owner in Springfield. It was a decent middle class salary and included medical bennies, which mostly you do not get in these type of jobs. However, I had disputes with the owner and the owner's daughter who was my assistant coach, and you never win when it's family you are dealing with and they write the paychecks. I quit that job and moved onto another one.
Similar result the next time out, although this time I was fired rather than quit. I bounced through about 2 more of these jobs in different places before I finally became fed up with both not making much money nor being able to sufficiently control the direction of the program to achieve my goal, which of course was to coach an Olympic level gymnast. For the second time in my life, unemployed and with little money in the bank and still a good deal of credit card debt overhang I returned to livng with my mom, now retired with a rented 2 bedroom apartment in Springfield MO.
Approaching the age of 40, with an Ivy League education and a Master's Degree, I started sending out the resumes. Over about 4 months of time, I got exactly one interview for writing technical journals and advertizing for a pharmaceutical company and did not get the job. I was starting to feel quite hopeless for my future. Then, perusing through the Help Wanted pages of the Springfield News-Leader (this was before the internet job seeking system with monster.com and other sites got rolling), I spied an Ad for Schneider National Trucking company, recruiting Over the Road Truck Drivers. I went to the recruitment meeting, held at a Bates Motel in Springfield. I met the requirements, I had a clean driving record with no DUIs, I had no criminal record, I was a HS graduate and Amerikan Citizen and I could drive a standard transmission car. All I had to do was get my ass up to Green Bay, WI for FREE training and promise to work for them for a year to pay off that training for the low, low slave driving wage of the era of 21 cents/mile. So I packed up my 10 year old Toyota Tercel 4WD Wagon (a kind of early mini-SUV) and drove from Springfield to Green Bay the following week. Thus began the next 7 year era of my life as an OTR Big Rig Driver cruising the Eisenhower Interstate Highways, along with occasional dispatches into Mejico and the Great White North of Canada.