60: The Life & Times of a Boomer Doomer
Follow us on Twitter @doomstead666
Friend us on Facebook
Published on The Doomstead Diner August 9, 2017
Discuss this article at the History Table inside the Diner
My 60th Birth Anniversary Month of August has arrived, and I am getting Prepped for a trip down to the Lower 48 to see the TOTAL ECLIPSE OF THE SUN☼ My original plan was to post this Full Biography on August 31st, my Birthday after I get back, but these days I am not sure I will make it through until tomorrow, much less down to Idaho or back up here to the digs after that. Every day is a challenge staying above ground now. In the Drafts here on the Diner is my Self-Obituary. One of the other diner Admins will need to publish that after I Buy My Ticket to the Great Beyond.
So to tidy up here just in case TONIGHT is the one the Grim Reaper finally arrives, here's the Full Autobiography of RE. It's only around 13,000 words, so not complete detail here, but it should give the casual reader some of the Flavor of my Life these last 60 years. There are also many other autobiographical articles of mine posted up here to the DoomsteadDiner.net Blog.
I have enjoyed tremendously being a analyst of Collapse over the last decade. I made a few friends, and a LOT of enemies in the process. I continue to alienate people to this day because I am a very uncompromising sort of guy and I never quit on an argument. Most people just cannot handle the truth of their lives and their beliefs, and if you tell it to them they get angry with you. So it goes.
Anyhow, hope you enjoy the story below of 60 Years Walking the Earth as a Boomer-Doomer.
RE
Unbelievably, I (almost) made it to the Big 6-OH, my 60th year walking the Earth as a Homo Sap Meat Package in this iteration of incarnations of my immortal soul. My last Big Birthday Party on the Diner was 5 years ago when I turned 55. That was when we first launched the Diner, and now it is getting close to 6 years old itself, 10% of my total lifespan. That's a pretty significant chunk of my life!
Actually, my focus on Doom predates the Diner by quite a bit, I got started down this Rabbit Hole after the collapse of the investment bank Bear Stearns in early 2008. Actually a bit before that since I was observing the lead up to this in 2007. So call it a solid Decade now as a "Kollapsnik". Given I am now 60 years old, that is 1/6th of my life or 16.66%, even more significant.
I can break up my life into defined segments, each of which almost is a life unto itself. When I look back on these segments, it's almost like I am looking at another person entirely, they each are so different in their own ways. But I do know it was always "me" in that body at that time, it just morphed as time went by. To begin this autobiographical post, I'll start with the beginning and work through the stages of my life, to date. Then maybe some speculation on the future for me, although I don't think I have much of one of those left anymore in this meat package.
As it turns out here after finishing this tome, it came out a lot longer than I figured it would when starting it. It's LOOOONG, even by my standards. So rather than waiting until my actual Birthday of August 31st, I'll start publishing installments in EZ to Bite off chunks of my life over the next few months, rather than all at once. I will publish the whole thing together though on my 60th Birthday, so if you want to wait until then to read the whole thing all together, feel free to skip over these installments. Feel free also to skip over the complete story too if you aren't curious about how I got to where I am today. From my POV though, it's a pretty entertaining story! lol.
This has advantages, for both me the writer and you the reader. For me, first off it gives me a lot more in the way of weekly material to drop on the Diner, rather than slamming it all down in one post. On a non-fiction level, it's like my serial novel How I Survived Collapse. Having a lot of material "in the can" takes the pressure off feeling like you have to write something every day, although I just about always do so it's not a problem for me to have material to drop on the Diner each week. Besides that though, I always feel like I might be dead tomorrow, so getting this stuff out before I actually croak and having a chance to talk about it with friends is a nice bonus before my trip across the Great Divide.
For the reader, the advantage is obvious, it comes in small enough chuncks you can read it over Morning Breakfast on a workday or Sunday Brunch or while on a coffee break at work on your smart phone. You don't need to dedicate a whole lotta time to reading my life story in any given week and being bored to tears by it. lol.
By itself, it's not a Book-length autobiography, but if you patch it together with all the other autobiograpical stuff I have dropped on over the years like the Over the Road Trucking series, the Pump Up the Volume Pirate Radio adventures and the Excellent Mexican Dental Adventures, along with all the stuff in my Online Diary (Diners Only) about my Health issues and Legal Battles, you could easily get a full length book out of that. I'll leave it to some historian of the future to put that one together though.
Meanwhile, here is Part 1 of my autobiography…
————————————–
Stage 1- Birth in NY Shity – Age 5
My Birth in NY Shity until Age 5 living in attached type town housing. Bedrooms were on the second floor, there were 3 of them, my parent's bedroom, my sister's bedroom and my bedroom and the bathroom in which I was toilet trained. I vaguely remember that. On the ground floor there was a foyer entry, living room, dining area and kitchen. Below ground was a basement and garage. We had a small backyard and I remember a clothesline that my mom would hang the laundry out to dry on, we did not have a dryer in those years.
We did have a car though, a 1957 Buick Convertible, same year I was born. It was red, gigantic and had the tailfins on the back. It was bought used in around 1960 I think by my Dad, who was building his career as a Pigman Vice President at Chase Manhattan Bank, now known as JP Morgan Chase after numerous Mergers & Acquisitions. Manufacturers Hanover Trust and Chemical Bank were both subsumed into Chase Manhattan, then Chase and JP Morgan merged later on.
The Buick lasted almost to when we left for Brazil, and I remember the numerous trips to Rockaway Beach during the summer we took in it. There were no seatbelts in the car, and there was a big bump in the road we would always hit and my dad would speed up the car to hit it so we all went flying up out of our seats, singing "Here we go loop-de-loop, Here we go loop-de-lie". On one of these trips to Rockaway Beach when I was around 3, my dad took me out for a walk on the jetty and made me throw my Baby Bottle into the ocean. That was my first major contribution to ocean pollution. He felt I was clinging on to the baby bottle too long and this was a good symbolic way to get me to mature some. It didn't work, I am still immature. lol.
I have numerous memories from this period, crashing my tricycle into the back wall of our underground garage; locking myself in my parents bedroom while trying to "fix" the latch mechanism; bouncing myself off my bed I was using as a trampoline and smashing my skull open; Bowling with plastic Bowling pins in the upstairs hallway, making popcorn and chocolate cake with vanilla icing with my older sister in the kitchen etc. I remember watching cartoons on TV and my mom taking me to the filming of the Bozo the Clown show in a NYC Studio, where I was frightened to death by the real life Bozo who looked nothing like the cartoon character, and we never went in to see the show because I was crying. Waste of money on those tickets.
I remember also the pack up for our move to Brazil, when I was forced to give up my Bunk Beds that I had just got and had coveted for probably a year before I got them. I cried over that one too, but when we got to Brazil my parents bought me a new Bunk Bed so I was happy again. Which brings us to Stage 2.
Stage 2 – The Brazil Years
This was an almost idyllic time in my life, because of the difference in Economics between Brazil and the FSoA in the 1960s my dad's salary bought us a much more luxurious life than it did in NY Shity. We had a full floor luxury apartment, a Maid, a Cook and a Driver. The apartment was less than a block away from Ipanema Beach, and I spent almost every day after school for a couple of hours at the beach body surfing and building sand castles.
I went to a Private School for brats of the Military, the State Department, the CIA and Bankster Brats, "Escola Americana", chartered by the UN as a "United Nations" school. My 3 best friends were the kids of the FSoA Ambassador to Brazil, a Military brat and a brat who was son of a man who ostensibly worked for the Fisheries Dept of the UN, but in fact was likely CIA.
I was however blissfully unaware of most of this at the time, and enjoyed my days body surfing at the beach, reading a lot of Sci-Fi in Kid Book form mostly, the Adventures of Tom Swift series and also the Hardy Boys Detective series. My dad bought me subscriptions to Popular Science and Popular Mechanics and Scientific American at this time also as my reading skills and comprehension improved. He also taught me to play chess around age 6 and we played regularly until I started beating him regularly around age 8. lol.
The first Star Trek episodes came on our Black & White TV in the later years as well, dubbed into Portuguese. I became a big Star Trek fan in those years, in fact what was known after it went off the air as a "Trekkie". I went to the first Star Trek Convention in NY Shity after I got back to NY, but that is skipping ahead to the next portion of my life. I identified heavily with the Spock character, and prided myself on being analytical and logical. I dressed up as Spock for a couple of years for Halloween once returning to the FSoA.
I also got my first witnessing and understanding of class difference as I played futbol (soccer) with the boys from the favelas on the beach and saw the way they lived as opposed to the way I lived. Mostly we all were friendly, but there was an undercurrent of resentment you could always sense, even at 8 years old. Similarly, although the servants in our household were always deferential to me, you could sense their resentment as well.
I began to get somewhat politically aware then in my last years in Brazil, as one of my friends (son of the CIA guy) was 3 years older than me and he was very into the music of the era, including a lot of Folk Protest music including the likes of Phil Ochs, Bob Dylan, Pete Seeger, and many others. Upon my return to the FSoA, this political aspect of my life grew quite a bit.
Stage 3 – The Junior High Years
This period actually includes late Elementary school 4-6 grade as well as Junior High 6-9 grade which I actually did in 2 years not 3, courtesy of the "SP" or Special Progress track the NY Shity Public Skules ran at the time for "gifted" students. So roughly a 5 year portion of my life in the Age of Oil.
It wasn't quite as idyllic as the Brazil period, my parents got divorced and with my mom we took a big hit in lifestyle and economics. No more maid, cook or driver of course. More than that, at least in the first couple of years no car either. Mom did get a small McMansion in Queens out of the divorce settlement though, and overall we were better off than most of the folks in the lower middle class neighborhood of Flushing, Queens this McMansion was located.
It was at this point in my life I got identified as an "IGC", or "Intellectually Gifted Child". This because on a standardized IOWA test in the 4th grade I scored off the charts with a college level reading ability and math ability. I'm pretty sure I didn't get a single question wrong on that test, as I recall it was fantastically simple and I finished it in about 30 minutes of the 2 hours alloted to the test to fill in the dots with my #2 Pencil. So began a 4 year episode of meeting with shrinks who were testing me all the time, every Saturday during the school year at a center in Jamaica my mom dutifully brought me to on the subway. Since the IOWA test wasn't good enough at discrimination, I got my first try at the SAT in the 5th grade. Then a variety of IQ tests too, and interviews. I was a fucking lab rat for 4 years. By year 4 I was sick of it and started puposefully answering questions wrong and being terrifically uncooperative with the Shrinks. I think I was 12 or 13 not sure. I got let out of the cage at the end of that year. lol.
The other important aspect of my life over those years were the Summers spent at Camps of two varieties. One was a "Primitive Skills" camp that was all Boys which I attended for 2 of those years, and then a ritzy camp for upper class kids run by a fellow named Werner Rothschild. Not sure if he was related to the general Rothschild clan, but he probably was. Camp Merrimac in New Hampshire, near the town of Contocook, pronounced "contokit". It was mostly populated with Jewish kids, I was I think the only Unitarian at the Camp in those years. I got my first sexual experiences at this camp, and I also got to watch Neil Armstrong make "One Small Step for Man, One Giant Leap for Mankind" on a TV dragged into the main barn where our Socials and Dances were held every Friday. Every Friday Night at the end of the Social, I danced with my Amour of the Week to the strains of "Sealed With a Kiss", and then scooted off to behind the Science Cabin for some SEX action, where I normally regularly dissected living frogs knocked out with a little choloroform to attempt Heart Transplants on them. None of the frogs ever lived through one of those operations. lol. Me and the girls survived our sex experimentation though, fortunately.
The all Boys primitive skills camp wasn't quite as entertaining on the sexual exploration level since there were no girls around to do this with, although there was a director at the camp who had a fondness for taking photos of me while naked showering and such. LOL. Other than getting photos of my naked body recorded on film though, I never got molested during this period.
What was real fun about the primitive skills camp though was learning all the techniques for survival in the wilderness, although granted we had nice industrially produced knives and tents and canoes to use in the learning. The wilderness areas we hit back in the 1970s were still pretty pristine and not over camped, and I remember many occassions filling up my canteen with water straight from a clear running stream, no boiling or water purification tablets.There were frogs everywhere and we often ate frog's legs for breakfast and dinner.
As I moved into my early teens, I became a lot more politically aware and music aware, and my friend Randy from Brasil moved to my neighborhood with his CIA dad when he was transferred to work at the UN Headquarters. Thus began my Pirate Radio adventures, which I have written about before here in Pump Up the Volume.
Stage 4 – The High School Years
In the middle of my 9th Grade year in JHS, they gave us another standardized test to see if we qualified for any of the Magnet schools that the NY Shity public schools were running at the time, Sutyvesant, Bronx High School of Science, Brooklyn Technical High School, the High School for Art & Design and the Highs School of the Performing Arts (The FAME School). As usual I aced this test and had my choice of schools and picked Stuyvesant, because it was a Science & Math skule and I was a nerd.I picked it over Bronx HS of Science and Brooklyn Tech because from where I lived it was much easier to get there by Subway, although still a pretty long trip of around 1.5 hours every day. For the other two schools, the only way to get there was by buses which weren't all that dependable or EXTREMELY long subway commutes.
Stuyvesant turned out to be a great choice on the academic level. The best teachers vied for positions at Stuy High, and I got some really good ones. Frank McCourt who went on to write Angela's Ashes was my Journalism teacher and main mentor as in a teacher I went to for advice and just to talk. Later when I went to college I would meet up with Frank at McSorley' Old Ale House, an Irish bar in downtown Manhattan not far from where Stuy was located. I had a great Organic Chemistry teacher in Mr. Price (don't remember his first name), and because I had done Orgo already once in HS, it was easy for me to Ace in college while it gives a lot of people fits. They weren't all stars though, my History teacher Mr. Lowenthal was ANCIENT, probably in his 70s and boring as all hell.
I also had some great classmates. Eric Lander who sat right in front of me in many classes because of the spelling order of our last names and in gym class was a real genius who won the Westinghouse and eventually went on to founded the Whitehead Institute at MIT and did major work on the Human Genome Project. In sophomore year, we were partners in biology lab.
Gym and athletics though took a real hit during the HS years, Stuy had a really crappy gym space in the downtown NY Shity building it was housed in, and a school packed with nerds doesn't field very good sports teams. lol. So I didn't do any organized sports during my HS years. My main after school clubs were the Chess Club and the Debating Team. There we were VERY competitive, and the finals for the NYC Public School System nearly always came down to a battle between Stuy, Brooklyn Tech and Bronx HS of Science.
Stuy also was not very good for my incipient love life, as it had only gone co-ed 3 years before I got there, and only with a sprinkling of girls, not 50-50. More like 80-20. All the new girls were snapped up by the Seniors, leaving not much for Sophomore and Junior boys. I did manage to get a date for the Prom though at least.
However, I made up for this lack of Amour during the HS years from school in a few ways. First off, there was summer camp where I met girls who lived in the general NYC broad metro area, and I would take the train to see them for dates once in a while. Then I also got flown down to Oz twice a year to be with my Dad the Pigman for his court ordered visitation rights, and being an Exotic Amerikan, Aussie girls found me interesting. Finally, in my local neighborhood of Flushing, there were still girls I knew from Junior High around, so I wasn't totally bereft of female companionship for those years.
The other main aspect of this period of my life was it was the Pirate Radio years with my friend Randy which I wrote about in Pump Up the Volume, so I won't rehash the story again here. Just to encapsulate though, that period represented my main political awakening period.

The Bacchanalian Years
This was about a 6-7 year Era in my life, which included the College Years at Columbia and the first 3 years after college working on Wall Street.
While studying in school was the ostensible reason for being there, the REAL reason that consumed most of my time was PARTYING! I got to college at the ripe old age of 16, and even then you weren't supposed to be able to legally drink alcohol until you were 18, but nobody at bars or liquors stores ever checked your ID, and if they did any old ID you whipped up with a fake birthdate would work. We ran "Happy Hours" in the social room of the Dorm on the ground floor every week, and about every night one floor or another in the dorm would run a "Floor Party". I remember one floor party where I got the job of rolling joints from a quarter pound of Ganja, which took me quite a few hours during the week to get done. I got real good at rolling joints though as a result of this. By the time I was done, they were almost as uniform looking as smokes out of a pack of Camels! lol.
Just as important as Partying though was GETTING LAID, and I bounced through a few one night or one week stands before I finally met my first true love in Sophomore year, who I refer to nowadays as the Illuminati Spawn. She was a transfer student in Sophomore Year from Bennington College in Vermont to Barnard College, the women's school associated with Columbia before they went Co-Ed, but I think both schools still exist as separate entities to this day even so. She was a brilliant polyglot, could speak fluently in a good dozen languages and could read Ancient Greek, Latin and Sanskrit. Her dad was a math professor at MIT, and actually he and I got on better most of the time than I did with his spawn, except when we were fucking. She was pretty unstable overall, and dishes would fly if she got mad. lol. Still we mostly stayed together through Senior year, though with a number of episodes of cheating by both of us. We broke up on graduation though, when she went to Washington to pursue a career in the State Department and I took my first job on Wall Street at Merrill Lynch, courtesy of connections from Dad the Pigman (a pal of his from the Executive Training Program at Chase in the 1950's had ended up as CEO of Merrill).
In terms of getting laid, this was even better than college! I was making gobs of money, hitting clubs like CBGBs and Max's Kansas City and fucking half the dancers in the Joffrey Ballet Company! There were mile long lines of Coke laid out on mirrors at every party and the food wasn't potato chips and dip like in college. It was caviar, canapes, smoked salmon and fresh sushi and sashimi. Afternoon lunches were picked up by Merrill Lynch as long as I got myself invited to sit at the table with the big wigs, which I usually was able to do because my dad's buddy who got me the job was the CEO! What's not to like about this life?
The JOB and the people I worked with, that's what was not to like. A bigger bunch of assholes gathered together in one skyscraper could not be imagined. Everybody was out to fuck everybody else, especially "low hanging fruit" investors, but also each other as they tried to climb the corporate ladder. I also couldn't stand dressing up in the Monkey Suit every day, getting my shoes shined and bringing my costume to the Dry Cleaners every week. So one fine clear September morning I just couldn't walk through the door and into the lobby, and took the subway back home. Thus ended my short years as a rich and privileged scion destined to someday become a Master of the Universe.
The Medical Technologist, Chef, Part-time Gymnastics Coach & Marriage Years
I did have some savings after the Bachannalian Years, but not much since I spent most of the income on blow and booze at the clubs. Expenses were pretty high too, it's not cheap to get all your suits dry cleaned and your shirts washed & pressed at the Chinese Laundry every week you know. I also still had a good 8 years left to go on my college loans.
However, I quickly hooked on as a Medical Techologist in a lab at a Hospital I had done some Research Assistant work in the Cardiology Department as a Work-Study job during the college years, and this met most of the basic bills fairly well. I had a very interesting schedule of 2 16 hour shifts over the weekend, starting at 4PM on Saturday and 4PM on Sunday, separated out by 8 hours where I caught some sleep.
I also caught a good deal of sleep on the job as well, since my lab was independent and isolated from the rest of the Chemistry Labs in the hospital, it was in the Cardiology Department, closed and locked down for the night other than the Blood Gas lab.During the Midnight-8 shift, few samples came in usually, maybe 5-10 a night on average, and they would take about 5 minutes to run, record in a log and report the results to whoever it was that sent you the sample. Samples came from the ER, SICU, MICU and NICU. If you don't know what these medical acronyms mean, look them up on Google. lol. There were even nights I got no samples at all and could sleep straight through the whole shift and get paid for it!
Although it was paying around enough to cover all my bills, first off I was bored the other 5 days a week and second did not have enough spare income to go out doing too much else. So I looked around for a 2nd job to take and found a job as a Sous Chef at Capsuto Freres, a very classy restaurant in Chelsea which I had frequented during the Bacchanalian years and knew the Head Chef.
I also used my free time to work out at a Y in Westchester where they had a Trampoline and an incipient Gymnastics Program starting up run by my eventually to become wife and then ex-wife. I met her initially working out in the weight room pumping iron, getting myself back into shape after years of neglect since High School Daze, and found out she was Head of the Gymnastics Program they were starting up. She was an ex-Elite gymnast whose dad had been on the Hungarian gymnastics team in the 1940s or 1950s not sure and had trained here under Muriel Grossfeld for a while. So I asked her if I could use the Tramp while it was set up for practice. The gym at this time was similar to many, a "set-up & take-down" gym that was in the normal Basketball gym space in this Y. This was before there were many dedicated Private Gymnastics Clubs with permanent setups around. That didn't start exploding until after Mary Lou Retton won the All-Around Gold Medal in 1984 (an Olympics boycotted by the Ruskies).
Like riding a bicycle, once learned gymnastics tricks are not forgotten by your Reptilian Brain. You may lose the physical ability to do them, but the motor control is with you for most of your life, until the brain itself starts to decay. So after getting myself back in shape (I was still in my 20s at the time), I was able to throw fulls and double backs on the tramp, and she was impressed! We became an "item", and she asked me to help her coach tumbling, vault and bars skills, all of which I understood perfectly well even though I had no formal training as a gymnastics coach. There was in fact no such formal training available in those years, and there still is very little. It's something you learn as you grow up, from others who tried these things before you. I had additional background in Physics, Mechanics, Biology and Child Psychology which helped as well on the theoretical end for developing drills for learning the skills, and for training the mind to be fearless enough to try them.
RE with a future National Team member, Age 5
So I left the world of Haute Cuisine and took on as my part-time job coaching gymnastics. After 3 years of dating and living together, we married. After another 3 years, we divorced. Why?
Not long after getting married, things started to go south economically. My Union went on strike for 6 months, and I couldn't meet all the bills we had accumulated. We took a great and memorable Honeymoon in Europe for 6 weeks, we bought a Condo and the only new car I ever bought in my life, a Chevy Astro Van so we could ship our gymmies around in bulk periodically, sort of like a Soccer Mom & Dad on Steroids. I also still had college loans to pay off.
To cover this shortfall, I ran up my credit card bills, paying my Student Loan by taking cash advances on the CCs. The lack of money put a crimp in the lifestyle both of us liked, which was still a lot of partying. Arguments over money ensued, wife started cheating on me and I started cheating on her. We got to where we couldn't stand each other, so finally I left her a note on the Kitchen Table, a Music Mix on a Cassete Tape I recorded of breakup songs, and left her with the condo and took off in the Astro Van, which I lived in for about 6 months before quitting on that lifestyle and moving back in with my mom in the McMansion in Flushing, Queens in NY Shitty.
I got out of the marriage pretty cheap as those things go, we mutually agreed to end it and no lawyers involved. I filed all the paperwork myself and it was over for about $250 in filing fees. I agreed to pay my half of the mortgage payment on the condo until we could get it sold, which took about another 6 months.
Once the marriage was over, I found another part-time gym coaching job at a new private gym not far from my mom's house in Flushing, and then my Union finally settled the strike and I was back to full income and able to pay all my regular bills, although the credit card balance I had worked up did not come down very much. I plodded through another couple of years this way.
Then there was a re-organization in the Hospital, and my lab was moved in to be part of the regular Chemistry Lab. No more sleeping on the job and getting paid for it! I determined at this point this was not the way I wanted to spend the rest of my life, and determined to go back to school to get a Teaching degree. It was the Reagan Era and they were crying for Science and Math teachers to keep the FSoA "competitive" with the Chinese and other nations who were starting to surpass the education system here even back then. While I had all the undergrad credit hours in four different HS specialization areas necessary for certification (Math, Chemistry, Biology & Physica), I did not have the Education courses you are required to take for a teaching license. I also didn't really want to be a HS teacher, I wanted to teach Elementary School. However, my advisor in the Ed Dept in the Master's program at Queens College advised me that I was way over-qualified to be an Elementary School teacher and should go for a Secondary School license. Sadly, I followed that advice. I might have lasted a bit longer teaching elementary school.
The two years it took to get all my coursework and certifications in place were thoroughly exhausting. I was coaching from 4PM to 9PM at the gym, I was in the Lab from Midnight to 8AM, and then I was in class from around 10AM to 3PM, although not continuously every day. I got what little sleep I got during this time in the back of the Astro Van, between jobs and between classes.
Once finally fully Certified as a Public Skule Teacher, I made my applications and got a job in the Valley Stream Long Island school system, teaching Junior High through High School Science and Math, in two different schools. Thus ended this period of my life, which was the longest in one general paradigm, about 15 years.
The Public School Teaching Years
This was the shortest era of my life, around 3 years. Teaching science and math seemed like a good choice in changing careers, teachers of these subjects were in notoriously short supply since anyone really knowledgeable went into private industry where the salaries were higher. It also matched up well with my Hobby-Job of coaching gymnastics, since Skule finished the day in theory at 3PM, and coaching usually got underway around 4PM. Except I often had detentions to do after school, so I was often late for practice.
The problems I faced during this period were endless. First off, because I was being sent to two different schools (a Junior High and a High School), I didn't have my own clasroom. Instead, what I got were two rolling lecterns (one in each school) in which I was supposed to keep all my student records, my lesson plans and graded tests and homework assignements, and roll the lectern around from classroom to classroom that happenned to be empty while the main teacher assigned to that classroom had a prep period. Needless to say, these lecterns were stuffed full of papers I couldn't find all the time. I stopped giving homework assignments as a starter to get this under control. lol.
Worse than this were the kids I was trying to teach though. 90% of them in any given class first of all had little interest in learning Physical Science or Math, and their preparation coming out of elementary school was horrendous. Students in 9th Grade could not solve the Density equation Density=Mass/Volume except if you gave them Mass and Volume and a calculator to do the division. They couldn't rearrange the equation if you gave them Density and Volume for instance. So I couldn't really teach the curriculum, I spent much more time doing remedial work that should have been finished 7th Grade the latest.
The problem here now becomes one of Behavior and acting out in the classroom. If you are going over the heads of the unprepared kids who are also disinterested, they become behavior problems and disrupt the lesson. They are lost and bored. If you start teaching down to them and trying to remediate, you lose the few kids who are interested and decently prepared. There are fewer of them, so you mostly teach down, and then to keep everyone somewhat entertained you do demos like a Thermite reaction, or you make rockets out of plastic soda bottles and rubbing alcohol. Everybody likes that stuff! lol. You can't do that every day and actually learn anything though.
Then there were the battles with the Administration, and if your kids were bigger behavior problems than the next teacher, YOU got called on the carpet for this! It was YOUR fault they weren't interested enough to pay attention! When a parent came in to complain, the Parent Was Always Right, like customers in a retail store. It was a total No-Win situation, and the hours turned out to be endless. Because I taught science, I had labs to prepare and clean up. I had to get to the skule a full 2 hours at least before class actually began to get labs ready. Then there were the after skule detentions as mentioned, then after getting home from coaching around 9PM, I usually had a good 2 hours of grading papers and preparing lesson plans. This went on day in and day out for 3 years, and if I got 6 hours of sleep with no recreation time at all I was doing good. I turned in my resignation after the 3rd year of this insanity.
After resting up for a month, I forwarded out some resumes to gyms around the country for a full time coaching position, but also a couple to Elite Private Skules for the Rich, specifically, Choate, Phillips Exeter, Phillips Andover and the Horace Mann School. I got interviews at Choate and Horace Mann, and was offered a job at Horace Mann. I was shown my Physics Classroom and Lab, which would have been all mine. Every toy in the catalog was in the cabinets. Class sizes all 20 or less, averaging around 15. Upper Class kids who were expected to do well in School by their successful parents. A $35K/year salary, which was competitive at the time with Public Schools as a starting salary. I turned the job down. Why?
Mainly because the 3 prior years had thoroughly burned me out, and I supected there would be similar if not worse administrative issues. Rich parents have tons of clout in a Private Skule, and if their prized little brat complains to them that you're not grading them fairly or teaching them right, they can do more than a Public Skule parent can, they can threaten to take the kid out of your expensive skule and send them to a different one. You gotta make the customers happy, and these are BIG PAYING customers! Tuition at Horace Mann even in those years was comparable to Ivy League tuitions.
So came another major crisis in my life, and now I was nearing 40 years old. Too late now to really go back to grad skule once again for yet another degree and training for some other field. So I elected to try going out as a Full Time Competive Gymnastics Coach in the growing industry of Private Gyms. I had the experience and knew many people in the field after years of doing this part time. I got my first job full time where my sister had moved to and my mom retired to, in Springfield, MO.
The Full Time Gymnastics Years, Round 1
Coaching Gymnastics is tons of fun and very rewarding in a non-monetary way. You have a very significant impact on the kids you work with, often for several years, much more time than a school teacher does. It's also very challenging, particularly to teach higher level skills, and it's FUN! It's not like having to work in a Coal Mine or garb up in a Monkey Suit to cheat pensioners out of their life savings on Wall Street. Unfortunately, it's also a very low paying profession in general, unless you manage to open your own gym, in which case you can become quite successful. Unfortunately, I never got together enough money to do that after my early bankstering years. I was fortunate through most of the time to just keep a roof over my head.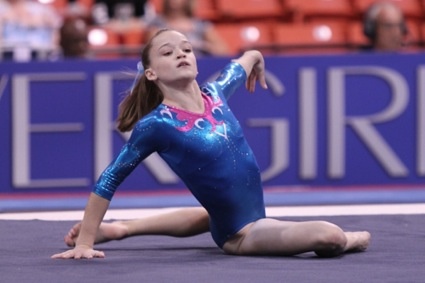 However, I did move my way up pretty quickly to the higher end of a low paid profession as a Head Coach and Program Director at a pretty large gym outside of Chicago, after 2 years coaching as an Assistant Director to the gym owner in Springfield. It was a decent middle class salary and included medical bennies, which mostly you do not get in these type of jobs. However, I had disputes with the owner and the owner's daughter who was my assistant coach, and you never win when it's family you are dealing with and they write the paychecks. I quit that job and moved onto another one.
Similar result the next time out, although this time I was fired rather than quit. I bounced through about 2 more of these jobs in different places before I finally became fed up with both not making much money nor being able to sufficiently control the direction of the program to achieve my goal, which of course was to coach an Olympic level gymnast. For the second time in my life, unemployed and with little money in the bank and still a good deal of credit card debt overhang I returned to livng with my mom, now retired with a rented 2 bedroom apartment in Springfield MO.
Approaching the age of 40, with an Ivy League education and a Master's Degree, I started sending out the resumes. Over about 4 months of time, I got exactly one interview for writing technical journals for a pharmaceutical company and did not get the job. I was starting to feel quite hopeless for my future. Then, perusing through the Help Wanted pages of the Springfield News-Leader (this was before the internet job seeking system with monster.com and other sites got rolling), I spied an Ad for Schneider National Trucking company, recruiting Over the Road Truck Drivers. I went to the recruitment meeting, held at a Bates Motel in Springfield. I met the requirements, I had a clean driving record with no DUIs, I had no criminal record, I was a HS graduate and Amerikan Citizen and I could drive a standard transmission car. All I had to do was get my ass up to Green Bay, WI for FREE training and promise to work for them for a year to pay off that training for the low, low slave driving wage of the era of 21 cents/mile. So I packed up my 10 year old Toyota Tercel 4WD Wagon (a kind of early mini-SUV) and drove from Springfield to Green Bay the following week. Thus began the next 7 year era of my life ast an OTR Big Rig Driver cruising the Eisenhower Interstate Highways, along with occasional dispatches into Mejico and the Great White North of Canada.
The OTR Trucking Years
I covered this period of my life in extensive detail in my 5 part Over the Road series back in the early years of the Diner. I won't rehash that stuff here, although there are a few stories I left out.
The first is that prior to going out in the truck, after years of headaches with Student Loans and Credit Card bills, I finally got out of debt. I was completely broke with no assets at all they could take in a bankruptcy. I only had my 10 year old Toyota, and they can't take your primary transportation. Besides it was worth almost nothing. The Student Loans were gone, over the years I had transfered them to the Credit Cards. So I didn't have the problem of Student Loans not being disharchargeble in a bankruptcy. If you get a big enough CC limit over the years to do this, I highly recommend the method! lol. So at the time of the BK, all my debt was in unsecured CC loans, and it wasn't that huge either by today's standards. Around $7000 at the time as I recall, which is probably around $12K in 2017 dollars. This may not seem like much, but when you are totally broke and the interest charges and penalties keep piling up, it just gets worse all the time. The Banks did not even bother to show up for this piddling bankruptcy though, and I walked out of the courtroom in 15 minutes, free and clear of debt for the first time in my adult life! What a load off my shoulders! I had a clean slate and a new job lined up as an OTR Trucker for Schneider National! I never went in debt again for anything, and never held a Credit Card since.
Next is how this period which lasted around 7 years changed me psychologically. Up until that time I had been a fairly gregarious person, enjoyed hanging out with friends, going to parties, etc. However, when you are trucking you spend all day driving or getting loaded or unloaded for weeks at a time and don't talk to anybody. In the truckstops where all the truckers congregate, I had nothing in common with them other than the fact we all drove big rigs. Even if I did have something in common with them, it's a different crew of people every night so it's not like hanging out with friends. More like going to a bar and talking to whoever sits down next to you. The only person you might have regular conversations with and get to know some is the Bartender.
I got used to being alone this way, and actually came to enjoy it over time. I did have the internet, it was just getting into the Truckstops in the era, before Wi-Fi. There was a company called Park n View which put little hubs into the asphalt you could get cable TV and a phone line. It was dial-up modem era, and all text. However, that was enough for me then, and I ran my Yahoo Groups and Forums in areas of interest to me at the time, primarily Gymnastics. I maintained contact with coaches who were friends, and parents of some of the gymmies I had coached who kept me updated on their progress. Three of them went on to become Elite Gymnasts and two made the National Team.
In addition, whenever I made it to Central California, I would take a few days off to go in and guest coach at a friend's tiny gym in the relatively poor Ag land area around Madera. It was a small gym serving the mostly Mexican community, and she was persistently broke. Not a super successful gym owner, she wasn't real good at bizness and she set up in the wrong neighborhood to make any money from the sport even as an owner. She lived in a barn loft with 1 bedroom I think she paid around $300/mo for. She also was a heavy smoker, and then shortly after I left trucking a couple of years later, she died from an embolism in her brain. Around 45 years old at the time.
Of all the things I did not cover in the Over the Road series though was that this period featured the last real "relationship" I had with a female, as in something more than just a one night stand or one week stand. After a year of slaving for Schneider at 21 cents a mile, I turned in my resignation a day after my anniversary, took a month off and then went to work for JB Hunt, first at 48 cents a mile as a company driver, then 2 years later as an Owner-Operator. JB financed this if you were a clean driver who made his deliveries on time with no accidents, which was me. In the first couple of years with JB I was already doing quite well and had virtually no expenses besides my truck expenses, and these were all tax deductable. No rent, no mortgage, no utilities to pay on a McMansion. No kids to buy clothes for, and the Med Insurance from JB was all paid for by them. I was still pretty healthy at this time anyhow, and didn't need to see doctors except for my annual driving check up. My Savings Account was piling up the FRNs.
So one day I hit the Petro in Joplin MO, one of the nicest truckstops out there and a favorite of mine to stop at whenever driving the I-44, which I did often because my terminal was in Kansas City and this route was one of their biggest. On this day when I rolled in, I went in to hit the Buffet for dinner, and a REALLY cute young waitress came to take my order. The Old RE came back from the dead and I made some jokes and flirted with her. She laughed and made some jokes of her own. I decided not to order the Buffet, but instead order a dish off the menu so that I would see her again. More flirting when she brought the meal, more when she refilled my water glass and more when she brought me desert which I usually never order but it gave another opportunity to chat. By this time I had found out she was attending the local community college and had grown up on a small farm outside Joplin. She was half my age, but when she brought the check I asked her for her phone number and she gave it to me. Thus began the last romance of my life, which lasted around a year and a half.
To her, I was a successful Trucker, I took her out to nice places and took her on the road with me a few times when she was off from school. After a few months of this, she started talking about the Big M, Marriage. I put it off, I said we should be dating at least a year before tying the knot. I didn't want to dash her hopes entirely, I really enjoyed being with her and talking, she was a great listener although kind of quiet herself most of the time. The sex also was quite good. lol. She accepted this idea in her own quiet way and the talk of getting married stopped, until I had almost forgotten about it. But then almost to the day I first met her the next time I rolled into Joplin up the topic came up again.
"So, it's been a year. Don't you think we should set a date?"
I almost said "Date for what?", but I knew what she meant. So I said, "Yes, I suppose we should. How about when school lets out in May?"
A HUGE smile broke out on her face and she gave me the biggest hug EVAH! It was only around 4 months away! We would drive to Vegas and get hitched there. She was happy, I was happy…for me for about a month.
Then all the old memories came back to me of my first marriage, while I was alone in the truck driving the endless miles of the Eisenhower Interstate. On top of all those issues I thought about the new ones with this marriage. As a trucker, I would be away from home most of the time, with a young and attractive wife at home, unless I took her with me on the road, and did I really want to be living inside a Freightliner 24/7 365 with ANYONE? We would need a McMansion, and there would go all the savings I was piling up. What if she got Pregnant! Just like wanting to get married, she surely would start talking about having kids inside a year or two. These questions all floated through my brain every day, even as we chatted on the cell phone making plans for the Big Trip. The Butterflies in my stomach flapped their wings harder every day.
The fateful day finally arrived, and as I approached the Joplin Exit on the I-44, I realized I just could not do this, and I drove right by it. We spoke on the phone and I made an excuse I got delayed and would be there in a couple of days. I called her a couple of days later and told her the truth. There were a lot of tears. We spoke a few more times in the months after that, but the phone calls finally drifted into history.
Athough I often wonder how my life would have gone had I taken that exit off the interstate and it breaks my heart every time I think about it, in the end I think I made the right choice on this one, for her and for me as painful as it was and still is for me at least. About a year or so later 9-11 went down, and freight dropped off the map for a while. Income dropped precipitously. Not as bad a situation as when my Union had gone on strike financially for me during my first marriage since my expenses were so low, but had I been married that would not have been the case. Besides that, I was quite sick of driving by this time, it's just an endless grind and doing it for the rest of my life was not something I wanted to do anymore than I had wanted to do battle with administrators and recalcitrant, unprepared and unruly students as a teacher for my whole life either.
So out of the Truck I got, and moved on to the next and last period of my Working life, a return to the World of Gymnastics as a Full Time Coach. It also coincides with the years where I metamorphosed into a Doomer.
The Gymnastics Rerun & Early Doomer Years
After getting out of the truck, I had a nice buffer of savings and took a nice two month break from work while I figured out what to do with the rest of my life. I finally settled on returning to gymnastics, as even though the pay wasn't great, at least I enjoyed the job and with money in the bank as long as it was enough for my bills, it would be fine. So once again I called up old coaching friends and lined up a job in WI as Asst Head Coach for Optionals with the Team Director there, who was a friend of my friend. It was a community owned gym, so she wasn't the Owner, just another employee except she had the right to hire and fire other coaches, with the approval of another employee, the overall Gym Director. We came to a salary agreement I felt I could make ends meet on, which was hourly but guaranteed me a minimum of 30 hours a week of coaching time. No medical bennies or retirement account or sick days, no pay for when the gym was closed for holidays, but generally enough to get by on.
This went fairly well for a couple of years, although there was the usual Gym Drama between coaches who all do not usually agree on the best means and methods for developing the gymmies. lol. Still, our gymmies did pretty well, we took a couple to Nationals at Level 10 and we had a strong Compulsory level program in the younger age groups.
Unfortunately, the area was not doing well economically, it was in the lead-up to the Financial Crisis in 2008, in the years 2005-2007 or so. Enrollment in the rec & preschool programs were low, and the Gym Director called me in one day and told me she had to cut my hours back to 20/week, just Team. I told her I couldn't live on that, and she told me there was nothing she could do, they just weren't making enough money. So I started checking the Ads in USA Gymnastics Magazine (still not fully digital job seeking yet on the internet), and found one for a gym in Alaska looking for a Head Coach. A week or so later after sending out the resume via Snail Mail I got a call from the owner, and we had several more long phone calls after that discussing philosophy and how to build a good high level gymnastics program. He then invited me to fly up for a test week, paying for my plane ticket and expenses. The test week overall went well, he offered me a Salaried Position with bennies and I immediately quit the job in WI on returning and made plans to move to Alaska the following month.
I moved up here with no car, no furniture, just the 5 bags of personal stuff I usually carried with me during my years as an OTR trucker. It was just before they started dropping charges on checked baggage on the airlines, so the 3 bags that went in the baggage compartment did not cost me any money on that trip. It was in February of 2007 that I made my migration as a refugee from the lower 48. lol.
Things were not precisely as the owner had made them out to be when I arrived, as I soon found out. He indicated the old Head Coach who had been with him from the early days of the gym wanted to step back to spend more time with her family, but in fact she did not want to at all and was very resentful of me. We had a kind of shared Head Coaching responsibility, and we battled often the first year. We reached a raproachment of sorts in the second year, and the gym began to turn around from perennial loser to State Champion at several levels. Things were looking OK, but then I got my first real medical issue, Peripheral Artery Disease in my legs. I had to take time off for a rotor rooter job on the femoral arteries, and in the meantime the Owners Daughter (again!) took over responsibility as Head Coach. The original HC had by this time quit and gone into teaching PE in the Pulic Schools. Once I had recuperrated and came back in, things were way worse than they ever were with the original HC, me and the Owner's Daughter were like Oil and Water and just could not mix.
My gymnastics responsibilities were reduced, and my job was redefined to help grow the Private-Homeschool Academic program the Owner had dreams of building, as addition to the Day Care program he already ran that went from Infancy to Pre-K. I lasted an additional 2 years this way, spending part of the day teaching the Homeschoolers through 3rd through 6th Grade, and the other half teaching developmental gymanstics to pre-team level gymmies. This kept me and Owner's Daughter from butting heads much over team, although it was distressing for me to watch her eviscerate the program I had been building.
It might have persisted a while longer, except the Homeschool program was losing money. Not enough parents wanted to pay for this service that was supposed to bridge the gap in cost between Public & Private School. So at the end of the second academic year of this, the Owner gave me my walking papers.
So, now I am past 55, and the likelihood I can find anyone down in the lower 48 to hire me at a decent paying position with bad legs and overall diminished mobility necessary for spotting in gymnastics is quite small. However, there was a recently opened gym by another former employee, which had grown some and moved into a new facility. I went over there and talked to the fellow who opened it, a New Owner. We came to an agreement of my old hourly, but only 20 hours/week to start. Not enough to cover my bills, but not draining my savings too fast either, so I figured in a couple of years we would grow the program and I would get more hours.
Grow the program we did, and once again the gym went from perrenial loser to State Champion in the 3 years I was there. Team Doubled in size. That's a LOT of additional income over that time period. Did I see any raises or any more hours? Nope. Instead in year 3 said owner invested his additional income in expanding the gym and buying tons of expensive new equipment.
In the same year, I took a fall while spotting on the Uneven Bars and injured my neck. Consequences from this began to crop up, extreme pain for a while, then my right arm became semi-paralyzed, then walking started getting difficult, etc. I was trying to hang on long enough to take my last bunch of gymmies to State Championships, but then just a couple of weeks before that me and the owner had one more big argument and my career as a gymnastics coach was over. It would have been over anyhow in a couple of weeks, the doctors told me it was too dangerous to continue, but there was just no way I could go into work the next day after that argument. Fortunately, the gymmies were well prepped and they all went on to win the State Championships at all 3 levels I had been coaching.
During this whole decade of time, simultaneously I became a Doomer, and that began right after I moved up here. Even though it occured at the same time, I'll give it a separate category, the Beginning Doomer Years.
The Beginning Doomer Years
Right after I moved up here in 2007, the Investment Bank Bear Stearns began to have serious problems. I picked up an article on the web about it, don't remember where. I started following the story, and by June they were in the deep doo-doo. I began to research the causes for this and eventually came on an article by the notorious Goldbug Antal Fekete, "The Twilight of Irredeemable Debt". Further Link Surfing brought me to the PeakOil.com forum in late 2007-early 2008, not sure when. By then I was sure Bear Stearns would fail, and fail they did, and then Lehman Brothers after them. Then the full blown Financial Crisis of 2008 came around October, and by then I was a full blown Doomer and predicting the Collapse of the Monetary System within a year. It didn't play out that way of course.
The Smartest Guys in the Room like Henry Paulson, Larry Summers, Ben Bernanke along with pissing in their pants politicians pulled out the Big Bazooka. They conjured up 100s of $Billions$ out of thin air to bail out AIG and other TBTF Banks on the brink of toppling over the cliff like Bear & Lehman did. They got it patched together and BAU resumed, with one exception. Instead of each year a few 10s or 100s of $Billions" of debt being added to the system, now every year $Trillions$ were being added. Along with that, Quadrillions in derivatives bets on the whole House of Cards. That continues to this day, although it's not doing a whole hell of a lot to fix the economies of any country in the world at all. Every last one is in deep debt, and the weakest ones with the least ability to manipulate the credit creation system are being triaged off first, places like Greece and Venezuela.
All of this of course has had increasing Geopolitical consequences and Social consequences as well, with more brush Wars between Proxy Nations of the Big 3 of China, Russia and the FSoA and more Shoot-em-Up Postal events occuring all the time, along with numerous Bankster Suicides and domestic violence and Homelessness increased. The only question at this point is when the Tipping Point for the whole system will come and what event or events will be to really send things into a tailspin. Will it come from a failure of one of the TBTF Banks, as it did with the failure of Lehman in 2008? Will it come from the failure of a major European state like Italy or Spain? Will it come from a direct military confrontation between the FSoA and Mother Russia over Syria? China and the FSoA over the Spratly Islands and South China Sea? A Nuke pitched out by North Korea? There's no good means to predict this, all you can say with assurance is something is gonna give here at some point, and the timeline doesn't look too far into the future.
Anyhow, while I began my Doomer years as a typical commenter on the Peak Oil forum, being very opinionated and often a contrarian to the Group Think there, I eventually got my ass booted off the site, not once but twice. I began there under the Rogue Economist ID, and after being banned with that one returned a couple of months later under the Reverse Engineer ID, the one I use to this day on all the sites I either run myself or participate in the Commentariat. Often just using the "RE" initials.
At that time I set up the Yahoo Group Reverse Engineering, where I invited a few friends and maintained off and on from 2009 to 2012 when we opened up the Doomstead Diner for serving Doom up to the World Wide Web on a daily basis. lol. I also blogged for a while on Jimbo Quinn's blog, The Burning Platform as a counterpoint to the racist, alt-right claptrap he serves up there on a daily basis. We had numerous arguments and falling outs, and he owned the site, so eventually I got the Permanent Ban, after a few shorter duration ones, and a brief rapproachment after we started the Diner and we cross posted each other's blogs. When he sticks to economics and CPA style analysis, Jimbo is actually a very good and detailed blogger. However, his political views are so putrid it overwhelms his accounting analysis overall and his commentariat is a complete sewer of shit throwing monkeys, which he encourages. That is his own term to describe the participants in the commentariat of TBP.
While the Reverse Engineering Yahoo group was congenial and small, it was a Private Group not open to the general public, and just a few people read it, maybe a dozen or so the most at any given time during it's operation. Overall I was pretty happy with it though as it gave me a place to write and a few people of similar mindset to discuss ideas with without the discussions turning into Napalm Contests. I probably would still be there if not for one thing…YAHOO BOTS!
I put up a couple of posts discussing racial inequality and racism in general, and used the word "Nigger" in the posts. This is in a Private Group mind you, not a generally accessible public forum. My goal with the posts was to show why one group (the Niggers themselves) can use the word without a taint of racism to it, but a Honky cannot do so. It was overall a word analysis post. It never went up. Then I had a couple of other posts not see the light of day for similar reasons, and I mentioned this to Peter, who I had met on Karl Denninger's Ticker Forum and who was quite the computer wizard, amongst his many other Wizardly skills. He said he could set up the kind of blog & forum I wanted, with all the bells & whistles I wanted. I agreed to do this, and the Doomstead Diner was born in February of 2012.
Retirement and and the Recent Doomer Years
I have written any number of blogs about all the nonsense I have been through over the last couple of years with respect to my exit from the working world, my hassles with the medical and insurance industries and all the Goobermint nonsense you need to negotiate your way through to get your bennies. Crap which I still am dealing with, it's still not done after over 2 years of battling the bureaucracies involved. Along with my Diner tasks, this also keeps me bizzy. lol. Even more on this topic (MUCH MORE!) is written in my Personal Diary Inside the Diner titled "RE is Dying". It's on a restricted board though, so only visible to mods and long term respected Diner contributors. So again, I won't rehash that shit in this compilation of autobiographical stories.
For me though, this switchover to the retired life changed my priorities, while still employed the Diner was just my Doom Hobby and not my primary focus. Nowadays though, it is basically what I LIVE for. If I didn't have the Diner, I would be bored out of my skull as a mostly home-bound cripple with little to do but eat, sleep and excrete. As it is with the Diner, every day I have something new to ponder on and write about, and I also am always finding new friends to discuss ideas with and new enemies to argue with! I have tons of tech maintenance issues always to deal with and always getting new BRAINSTORMS on ways to get the message out to more people to fulfill my stated goal of "SAVE AS MANY AS YOU CAN". These days beside the Diner Blog & Forum itself we have Facebook and Twitter channels, a Reddit Channel, several Paper.li Newz Agreggations and a Soundcloud Channel for Audio Podcasts. I'm not responsible or Admining all of them though, my partner in crime Surly handles the Facebook, Twitter and main Newz Aggregation curation site of Doomstead Diner Newz. He is not too pleased with me these daze though. lol
At the same time though, it's not like this is the typical job where I have to get up at any specific time to do Diner tasks; nor am I obligated to a Boss to please him to keep my job and keep my Weekly Paycheck incoming. I can on any day simply not "show up for work" and it doesn't make that big a difference, although I usually do not do that under normal circumstances. If I am travelling or other medical shit is going down, those are the only times I won't show up on the Diner to drop in my humble opinions on a given day on EVERYTHING! lol. So it's really the ideal job for me that I always wanted, just I don't get paid for it and it costs ME money to keep it running! lol. However, it's not an onerous amount of money at the moment, and since I spend little in other ways I can afford it even on a Poverty Level income. I could in fact do it for free for the most part, although it would not be so customizable and I wouldn't have as much control over the data that way.
Besides continuing onward with the Diner as a means to "Save as Many as We Can" (aka inform people of the shit that is coming down the pipe so they can prep for it), the other aspect of these retirement years is the SUN☼ Project, which is a non-profit 501c3 corporation we set up originally back in my Stage 1 Doomer years, but are now trying to lift off the ground and actually get some kind of resiliency system and forming community IRL to combat the problems we see on the horizon. Not an EZ thing to do for many reasons, $MONEY$ being the #1 obstacle on this one. I am leaving behind a substantial amount of money to get it off the ground, but I do not know how the other Officers of the Foundation will spend this money after I Buy My Ticket to the Great Beyond. Unlike a website to form a virtual community in cybersace which is within reason on a poverty level budget, setting such a thing up IRL on a real piece of land with all the preps you need to give it a reasonable chance of success takes a decent piece of change and I only have enough for a small part of it. Then there are the number of people you need to bring aboard the project, as I have hammered down on many times the individual Doomstead is a fantasy in terms of its long term sustainability. Even in Cyberspace we are nowhere near that number of committed Diners, much less getting such a number together IRL, which would be around Dunbar's Number of 150 at minimum. The Diner has plenty of lurker-readers, but the number who are committed to the SUN☼ Project remains in the single digits.
However, I always council patience on this sort of thing, Rome was not built in a day after all. lol. As long as the internet remains up and BAU continues, there'sd still opportunity to keep growing the project and getting it to fly. The Wright Bothers crashed a lot of kites and gliders before they got that first plane to fly at Kitty Hawk you know.
As things progressively deteriorate, if there is not a sudden meltdown and instant fast crash, more and more people will become interested in the ideas we have been cultivating with the SUN☼ Project. It remains a worthwhile project as far as I am concerned, at the very least like the Diner it keeps me bizzy and thinking aout plausible solutions to the predicament we findourselves in these days.
SUN☼ has already produced significant IRL results, it provided a reason for the first Diner Convocation in April of 2014, where all of us who had never met IRL got together for a week of learning and celebrating our online friendships. Last year in September of 2016 many of us got together again for a second convocation in conjunction with our first real life sales pitch to the Movers & Shakers of the Inman City Council, which went very well politically speaking even if it did not raise the money we need to get the project off the ground. Even without the money though, it provides a Foundation to work from and brings more supporters into the project, so that is progress. Hopefully in this next year we will see more progress, we're working on a Greenhouse project in Inman at the moment.
——————-
PHEW! After over 13,000 words, this more or less encapulates my life and how I got to this point, still semi-ambulatory and above ground. I did not cover the many times I should have died before I hit 60 in this autobiography, although I have detailed a few of them Inside the Diner. Perhaps if I make it to 65 that will be the next autobiographical post. I have also over the last few weeks thoroughly pissed off and aliented some of the Diners with my opinions. The basic problem is that generally speaking people cannot handle the TRUTH of their lives. Because I am on my way out the door, I tell them the truth they do not want to hear. So I may very well leave this iteration of walking the Earth in a Meat Suit with no friends left. So it goes.
Where does it go from here?
Given my wide variety of medical issues, I don't give myself many more years walking the earth as a corporeal meat package. It's a race to see which collapses first, my biological functions or the global industrial economy? lol. I do HOPE I live long enough to witness the kind of fast collapse of the monetary system that I think will occur at some point in the timeline, and I MIGHT live just about long enough to see that. If not, I will witness it instead from the Bleacher Seats of the Great Beyond. The Daily task of walking around inside this decrepit Meat Suit is no fun though.
In the meantime, I have the Diner to write on and a great perch here on the Last Great Frontier to observe the chaos as it spirals out of control through the rest of the world. Here it still is quite peaceful, the shelves are stocked full of food I usually don't have much appetite for but is nice to look at as I cruise around the aisles of 3 Bears on my Ewz. I am getting better at passing up bargains on sales of Ribeye Steaks and Baby Lamb Chops, I am out of freezer space for more meat and I can never finish a package before it goes bad.
On the uplifting and positive side, the SUN project still slogs onward, and there are new projects to undertake with that to keep me bizzy and my mind occupied. I have a nice new Dell All-in-One computer with a HUGE monitor screen, the biggest one I ever had in all my years as a computer and electronic gadget junkie. The internet is now more or less at its Apex, it's getting increasingly more intrusive but you still do have the freedom to write and have others read it. At least as long as you stay within some boundaries anyhow, you won't last long if you advocate for terrorism for instance. You can however make analysis of why terrorism exists and what the motivations are for terrorism. Besides the somewhat circumscribed freedom to write, as much as Google is a collector of YOUR information on YOUR life intruding into your personal privacy, it's also a fucking AMAZING search engine. With a well composed query of a few words, I can get answers to questions I am thinking about in a few seconds, depending how fast my ISP is moving, not how fast Google processes the packets. Besides that, when composing my material, I am no longer limited to just text, I can also search up and include pics, videos and audio to illustrate the points I am trying to make, and of course if a Picture is worth 1000 words, a Vid clip of just a minute in length is worth 1800 pics at 30 frames/sec, which makes it worth 1.8M words! It would take me a long time to write that many words! lol.
Seriously though, for all it's faults and problems, the internet is still a pretty decent communication medium, and at least for now I remain reasonably able to communicate with the rest of the world. The Diner actually is still below the Radar of sites banned in China, we even make it through to there. It also continues to grow, and ovverall readership at the moment is around 400 users/day, which far as I am concerned is plenty of people to be reaching every day (although I would like more of course!).
If the internet does crap out before I do, I'll have to evacuate my digs here and get together with some of the other Diners in the Lower 48 or I'll go completely stir-crazy (I'm halfway there already). Hopefully though, the crapout does not occur before I tidy up the last of my legal battles with the bureaucracy, hopefully again by the end of this calendar year. Then it will be off to another adventure of my life in the Age of Oil, likely the Last Great Adventure.
It's been a blast though, and I was a very lucky individual to be born when I was, where I was and to who I was, along with the gifts given to me by God. Regrets? I have a few, but then again, to few to mention. I did it MY WAY.