Campfires in Collapse 2
Follow us on Twitter @doomstead666
Friend us on Facebook
Published on The Doomstead Diner September 6, 2017
Discuss this article at the Bugout Plans Table inside the Diner
Here in the second installment of the Campfires in Collapse series, we look at the issues ofr acquiring fuel for your fire on the cheap, as well as making a campfire suitable for cooking on, which really big bonfires generally are not too good for other than roasting marshmallows. A big Bonfire makes tons of heat, but for cooking you need a controlled heat which is stable over typical cooking times, usually in the 1/2 hour to 1 hour range for most meals besides stuff you slow cook, which can be much longer and generally take other methods to accomplish out in the field where you don't have a working electric slow cooker that will deliver just the right amount of energy when you set the temperature so you don't have to go over and mind the fire every 5 minutes to make sure it's not burning too hot or too cold.
Back in my main camping years which went from about the age of 11 until age 30 or so, I did most of my cooking at campsites over open fires, not using campstoves of either the old pump style pressure stoves or the more recent version of propane fired camp stoves. In this period, I always made a separate cooking fire from the larger campsite bonfire we would sit around after dinner and before bedtime and swap Ghost Stories or sing Folk Songs and roast marshmallows. lol. Good cooking fires are made with much smaller diameter wood pieces, generally from downed branches no more than about an inch thick. Once the fire is going, you feed these in a little at a time to keep the temperature fairly constant while you cook. When settling down in our campsite for the evening, after getting the tents set up the next priority was to gather wood, both for the cooking fire and the bonfire. Bonfire people got to find big downed trees (you weren't allowed to cut them down and besides green wood sucks for making a fire) cut them into manageable chunks and split the wool. Cooking fire people got to collect lots of twigs and small branches and cut them into smaller chunks to fit the cooking fire surface. The Bonfire job was the more physically demanding one because of all the chopping and splitting you had to do, but the cooking fire job took a lot more trips over a wider area so also had it's physical demands. This was all particularly annoying after an exhaustng day hiking over Mt. Katahdin and just about the time you hit the campsite it starts to rain. Setting up old fashion Pup Tents in the rain and getting your fires going in the rain is no fun at all, and neither is collecting and chopping up wood.
So usually we would quit the hiking or canoeing around 4PM or so to get going on setting up camp for the night. It usually took around 30 min to get the tents up and then another hour collecting wood for the night and for cooking the next morning. I became Head Cookie (what a campsite chef is usually called) in my 2nd year at the Primitive Skills camp at the age of 12, very young for a Head Cookie at this camp, usually they were 14 or 15. This because cooking became an interest of mine very young, and I practiced year around out on my porch over a small cast iron charcoal hibachi. In fact I snubbed Propane as a cooking fuel for years because it just doesn't deliver the flavor that charcoal does. However, I got lazy after around age 30 and went to mostly propane. lol. Head Cookie was a great position to have, because once enough wood was collected to begin the fire, you didn't have to go out searching for it anymore, your job was to start the fire and make it ready for cooking, which takes some time and tending to, especially in the rain. It usually takes around 30-45 minutes to get a wood fire ready for cooking, charcoal is a bit faster, especially if you are liberal with how much kero you will pour over it to get it going. lol.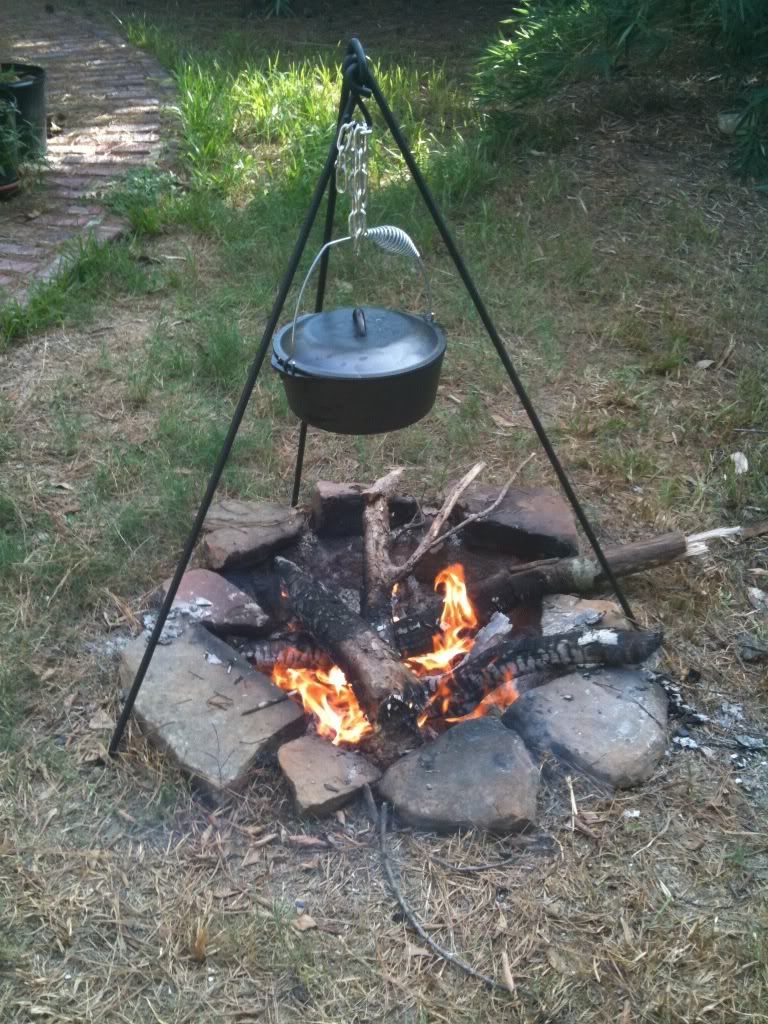 Cooking over a Bonfire is something I only started working on in the later years, and takes a whole different set of techniques and equipment. In the videos, I only discuss a few of them. The main way I do discuss is simply to wait for the fire to burn itself down to coals until it is at the right temperature for cooking. However, with a big fire you have to wait a while for that. Dinner comes pretty late if you go with this method. Another way is to raise up your cooking surface, a Camping Tripod is a good way to do that, I have one of those. However, you are limited mainly to stews and soups and other stuff you can do in one big batch in a Dutch Oven. You generally can't get close enough to the fire to do stuff like sauteing or even just flipping your burgers. You can roast weenies on long forks though with this kind of fire.
The advantage to doing this is you get dual use out of the Bonfire, not only does it provide heat for the campsite (and it can get quite cold at night in NH, VT & ME even in the summer), but you get cooking heat out of the same fire, conserving both wood and human effort. In recent years, I developed a 3rd use for the same heat, which is to heat thermal mass (rocks) to keep your temporary domicile warm overnight too. If you follow the series here, you will find more information on those techniques.
The most important thing here to consider is that in all mobile living arrangements, fuel for heating and cooking is an important consideration, and often will cost you money. You CANNOT do outdoor fires if you are Boondocking a Walmart parking lot! If that is where you park for the night, my main advice is to eat cold food like cheese and maybe some hard boiled eggs and fruit, or just a Subway Hero that night. That is no muss, no fuss. If you insist on having something hot for dinner in this situation, use a kero or propane fired stove inside your Bugout Machine to heat a can of Chunky Soup. Also no muss, no fuss. For Gourmet Road Cooking, wait until you are in a location you can set up your full 9 yards of equipment. If I put out all my portable cooking gear, I can cook up OTR any thing I ever did at Capsuto Freres, and in some cases better because I had no Smoker there at the time. For myself though these days, I never do that. I am happy if I can munch down 1/3rd of a Subway Spicy Italian for dinner now.