The Strafing Run of Mother Nature
Follow us on Twitter @doomstead666
Friend us on Facebook
Published on The Doomstead Diner September 8, 2017
Discuss this article at the Environment Table inside the Diner
Here you have it in one animated gif from the NOAA.
The Virgin Islands are already TOAST from the hit from Irma, José is coming in for a 2nd Strafing Run in a few days. Next up on the hit list tonight from Irma are the Bahamas. A few of the islands may get a direct hit from the Eye of the Storm, but all of them are within range of the massive 160 mile diameter of Hurricane Force winds. They will all also be TOAST by tomorrow morning.
Although generally speaking most of the Tourista Hotels on these islands are built from reinforced concrete and can stand up to anything but a full on hit from a Cat 5, you have to remember that most of the people who work in the service industry supporting that tourista bizness don't live in near such sturdy buildings, although the management is at least kind enough to open up their stairwells as shelter during the height of the storm to locals as well as Honeymooners in the Tropical Paradise. Once the storm passes by though, the locals gotta leave the stairwell (if in fact that stood up to the storm and they are still alive) and figure out where they will get the MONEY to rebuild their homes, particularly considering the Tourista bizness they made a living from is pretty much gone in infrastructure. Who is going to finance the rebuilding of this industry in these places? Can the Insurance Companies even afford to pay off all the claims from all the Hotels that were wiped out all along the Strafing Run?
The costs haven't even BEGUN to mount up yet though, because Irma still hasn't even made it to Miami, where the Storm Surge alone is expected to put it under 10 feet of water, and that is without a direct hit, which looks probable at this point based on the fabulous graphics provided by Jeff Masters at Weather Underground. If they do get a smack dab dead on hit in Miami, Irma will still be at least a Cat 4 and maybe even retain Cat 5 status at landfall. In that case, all the hi-rise condos at the beachfront will at the very least lose all their glass, if they aren't knocked down completely. Nobody Boards Up all the windows in a 20 story Hotel before a Hurricane.
The 160 mile wide swath of Hurricane Force Winds is large enough to swallow the whole Panhandle, all the way across to the Gulf Coast. That means everybody who lives in a trailer home all the way across Florida even if they aren't on Beachfront or Golf Course adjacent property is going to be smacked by these winds, plus of course the rainfall which actuall gets worse in the outer bands, and more potential for Tornadoes to be spun off too. There are going to be a lot of wrecked Trailer Parks in Florida that look something like this Marina in St. Maarten's for Yachties:
But, that's not all Doomfans! Irma isn't going to JUST leave the Strafing Run after decimating Miami. Oh no, she is taking a track straight up the coast of Florida and will likely maintain Hurricane Strength the whole way because the Eye looks like it will remain over the warm waters surrounding the Florida Beaches the whole way. Not so far off the coast though that the massive winds won't be packing at least Cat 2 strength at the coastline. Besides that, everybody along the way gets hit by DIRECT onshore wind as it approaches, due to the counter-clockwise circulation of a Hurricane in the Northern Hemisphere. That jacks up the Storm Surge. Depending on the time it arrives in a given location, if that matches the High Tide of the neighborhood, then you go under at least 5' and perhaps as much as 15' in some locations.
Due up after Miami are such places as Ft. Lauderdale and Jacksonville, to name only a few of the major population centers along the Atlantic Coast of Florida. Not only are there enormous populations at risk here, you ALSO have not one but TWO Nuke Puke plants in the direct path of Irma and her Storm Surge, Turkey Point and St. Lucie. Both are great candidates to be the next Fukushima.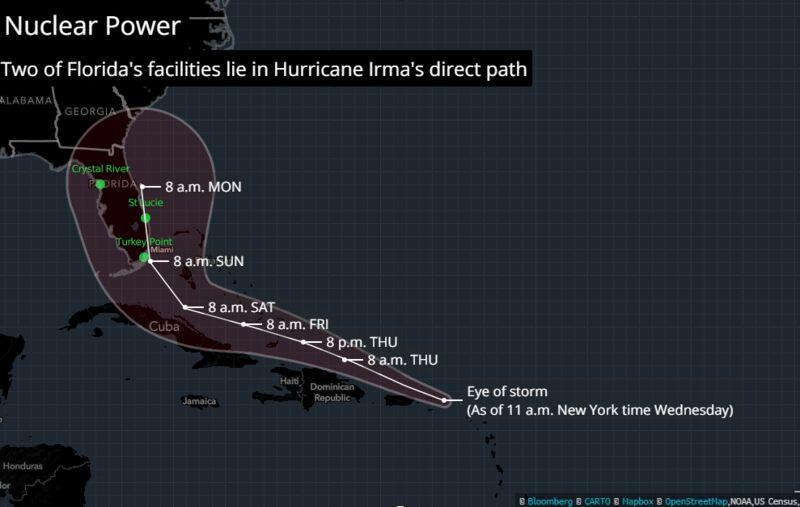 The Storm Surge these plants will be subject to is not that far of from the Tsunami that hit Fukushima, plus they have the added hazard of all the wind they will be subject to. Of course, Nuke Puke plants are structures built from really thick rebar reinforced concrete and one would not expect them to be knocked down by even Cat 5 strength winds alone, but in combination with storm surge it is hard to predict. Even without a full on knockdown though, cracks could develop allowing in water, and then pumps could fail with the failure of the electric grid and backup generators, which themselves may go under water. In any of these scenarios, you get a repeat of the Fukushima Clusterfuck.
Even in the less-than-worst case scenario, these plants will be offline for quite some time after Irma. That is a LOT of JUICE currently serving to power all the HVAC units cooling all the homes and biznesses in Florida. Even once they manage to retring all the wire knocked down, it's questionable how quick they can bring all the power plants back on line to feed the voracious maw of power consumption necessary to make life down in the Tropical Zone compatible with Industrial Civilization. With luck, maybe they can do it in a month if they throw enough funny money and resources at the problem, which POTUS Trumpovetsky has promised to do, along with promising to send Houston the $125B or so currently estimated (sure to be far more , of course) to fix their mess up. None of this money is "given" away though, it's all issued out as, you guessed it, MORE LOANS! Our friends the TBTF Banks will make an ENORMOUS profit off this! Assuming of course the Monetary system holds up in the aftermath, which is no certain outcome at this point. Meanwhile, the numbskulls who want to rebuild on this patch of the earth will have to go in more debt than they already are in, to start off with just to replace their damn carz!
Again, you need to look at the BIG PICTURE here, which is quite obviously first off this is not a one-off disaster. In fact you have two major ones ongoing at the same time here in the FSoA, not counting the vast devastation through all the Carribean islands, which in the Insurance Industry language have been "totalled". As in a total loss. None of these economies were doing too good before Irma strafed them, definitely not Puerto Rico which currently has over $1M people without electric power and no hope of getting the lights back on anytime too soon. POTUS in Residence Donalditry promises recovery money Houston, now to Miami too and eventually he will promise to send the FRNs to every last city and town sprinkled along the Strafing Run of Irma too! EXCEPT, currently at the moment although it is overwhelmed by the ACTION ongoing in the Climate Realm of Collapse is that even before these disasters struck the Pols in charge of Da Goobermint were ALREADY unable to come to any kind of an agreement on how to resolve the budget problems they face, and a Goobermint Shutdown looms as a result. Now they have to add in at LEAST $300B in disaster relief for all the communities that are going to be devastated by Irma, and that is a Lowball Estimate if it follows the track that Jeff Masters, Bob Henson and the rest of the Weather Junkies at Weather Underground are predicting, and they are pretty good as far as Weathermen are concerned. OK, sorry, they are "Meteorologists" now. I never could figure out that one, WTF does the Weather have to do with Meteors?
A much more realistic estimate is in the neighborhood of $1T if you were to really try to rebuild all these communities and the infrastructure that has been destroyed or severely damaged. This is far more of course than could ever be paid off in any sense of the word, and every "loan" that is made here in this collapse scenario will end up as another "NPL", or "Non-Performing Loan", AKA defaulted on debt. Can They, Will They issue out the debt to these levels to try to keep this failing system running?
The Masters of the Universe will certainly TRY to do this, because unless they do the whole House of Cards the monetary system is constructed from will COLLAPSE. If they do this though, it makes transparent to all that the "money" is ephemeral and can be conjured out of thin air whenever whoever is in control of it cares to do so. If you can work up $100B to Bailout AIG or fund the Pentagon every year to the tune of $1T, WTF can't you conjure up the money to bailout Unemployed people and do a bit better than 6 months of UE Bennies IF you can even qualify for them before you are DESAPERECIDO off the counted members of the Unemployed and become one of the increasing number of people who are "out of the worforce"?
What will happen of course in due time if they do make these enormous loans to rebuild is that at some point confidence in the monetary system will be lost not just by J6P (who really doesn't matter as far as TPTB are concerned), but also by various members of the Elite class who hold all the debt as Assets on their books. They won't be getting paid back for these loans, which came from money they never had to begin with, it was just leveraged up on other assets they "owned", at 10:1 or more often enough and on multiple loans too! See Donalditry Trumpovetsky for a good example of this shit.
Is this event the BIG ONE that will finally send the Industrial Economy and Civilization off the Cliff to the next plateau downward as we exit the Age of Oil? I can't answer that question, but this one is a mighty big Fly in the Ointment. I do know one thing though for sure. In the time it has taken me to write this article, FAST COLLAPSE has ARRIVED for the Residents and Touristas of the Turks & Cacos Islands. They are now smack dab under fire from the Strafing Run of Mother Nature.
Irma will arrive with FAST COLLAPSE somewhere around Miami on the continental FSoA on Sunday. About the same time, José looks set to take a second Strafing Run across the Virgin Islands and the rest of the Carribean. No real good idea of where José goes after that. Based on the progress of steering currents in the upper atmosphere I see from Weather Underground and the NOAA website, it seems to me José might go for Norfolk or NYC as a Cat 3. If I get that one right, I am beating the best computer models around, because that is a good 2 weeks away and they only go 5 days out. lol. If I get it right, I am the Gary Kasparov of Weather Prediction. I beat Deep Blue, at least once.
The strain on the monetary system from all of these disasters is ENORMOUS. It is quite difficult for me to see how the Masters of the Universe will pull another Rabbit out of the Hat to cover the costs of recovery for this. It's just too BIG. It makes Katrina look like a Sunday Picnic.
More coming on this for my Sunday Brunch article, which coincides in Publication Schedule to right about the time Irma should be hitting Miami Beach. I'll keep it updated with the latest in Doom as this plays out over the next couple of days.
9 Responses to The Strafing Run of Mother Nature