The Strafing Run of Mother Nature 3: The Dimming Bulb Aftermath of Irma
Follow us on Twitter @doomstead666
Friend us on Facebook
Published on The Doomstead Diner September 12, 2017
Discuss this article at the Environment Table inside the Diner
A while back I wrote a series of articles called "The Dimming Bulb", discussing our decreasing ability to keep electric power moving through the copper wires of our electric grids to the end Konsumer as we slide down the Seneca Cliff on the far side of the Age of Oil. This aspect of energy decline in availability and affordability is often overlooked in the face of all the problems that come from the transportation industry and lack of fuel for the Carz and Trux. In fact though, it may well be that lack of ability to keep electricity moving through our metro areas with high populations and a voracious need for this power may be what brings TEOTWAWKI before lack of gas for Happy Motoring does.
Just about everything in our society depends on having electricity on demand. To begin with, the residential konsumers of the JUICE in Florida are currently watching their freezers defrost and if they are not cooking or drying the meat they have stored, they are going to lose a lot of food to begin with. All the large municipalities have sewage treatment plants that use gobs of electricity. How well and how long these can be run on backup generators is an open question.
You definitely CANNOT run all the streetlights of a city like Miami or even fucking Naples on backup generators, so until you have general grid power restored those suckers are LIGHTS OUT. Would you feel safe walking around the streets of Miami with no streetlights functioning?
A day after the Big Event everyone is breathing a "sigh of relief" here that they "dodged a bullet", but the real problems of recovering from such a broad swath of devastation remain ahead. It remains an open question exactly how quickly Florida Power & Light can restore the grid statewide, and until they do BAU for people without power just isn't possible. How many currently have potable water coming out of the taps? No statistic on that is available AFAIK. How many have had their carz ruined and can't get to work, if they still have a job to go to? Somehow I doubt many people will be stopping at Starbucks tomorrow for a Frappucino on the way to work. How are people who have little to no savings and live paycheck to paycheck going to pay their rent if they lose the next 2 weeks of work?
I woke up just in time this morning to see Irma make landfall in the Florida Keys here in the FSoA. Not much in the way of Newz or Info coming out of the Keys since then. I imagine Key West was pretty much flattened St. Maarten's style, although maybe not quite so bad since she hit in Key West at low Cat 4 wind speeds. She picked up some translational speed from the crawl speed across the north Cuban coastline, scooting up to 14 MPH to make the rest of the trip across the straights to make a second landfall near Naples, FL on the West Coast.
This location for GROUND ZERO disappointed some Doomophiles who were hoping for a full on Eyewall decimation of the skycrapers and hotels in Miami, which did not occur. The concept that we "dodged a bullet" here or that this event was a "dud" because Miami wasn't completely wiped out is only in the mind of the Kollapsnik who was looking forward to total devastation of that city.
What occurred instead was a much more widespread event, over the whole of the Florida Peninsula. It could have been much worse of course, either a run up the east or west coast would have kept hurricane strength longer and brought more storm surge in. Instead, after making landfall in Naples, Irma worked her way into the interior, more or less targeting Orlando and Disney World while the wind speeds dropped to Cat 1 and then to tropical force winds. As I write this now, she is just south of Orlando, and points north of the former center and eye are still being hit with powerful rain bands, along with possible Tornadoes hitting along that route.
From here, she is scheduled to head north into Georgia still packing Tropical Force winds and a lot of rain is destined to fall around Atlanta with some decent remaining wind behind it, so you are going to get more flash flooding and more downed power lines in that neighborhood as well by the end of the week. All of which speaks to the INFRASTRUCTURE problem, which is the real problem here, not the wind speeds Irma had on landfall in one particular location. This is a behemoth which is affecting the entire Florida peninsula and beyond.
The main issue already obvious tonight is that 7M Florida Power & Light Konsumers of Energy are currently without power. This exceeds the record previously held by Wilma with about 3.5M customers without the JUICE, and that is a LOT of wire to restring over a very broad area. Currently, Houston 2 weeks after Harvey STILL has about 200K Energy Konsumers without power, and they didn't lose near so many with Harvey, and distributed over a much smaller area. Irma has basically taken out the electrical system of the entire state of Florida!
In any number of ways, you can say FL "dodged a bullet" here, in that it could have been much worse if Irma hadn't decided to do a Strafing Run on Cuba before heading for the FSoA. Heading for the West Side of FL, Miami was spared the worst of a dead on hit from the eye wall, although they still lost 3 cranes, have plenty of flooding and the power is out to most of the county. The West Coast track turned out less bad than expected also, as the Eye moved inland pretty early so Tampa/St.Pete was spared inundation from storm surge.
Less Bad than Expected was of course much less bad as what occured in St. Martens and Barbuda, and also apparently across the north Cuban coastline inclduing Havana, where stories are still sketchy from at this point but they are apparently still under a lot of water, with many of the new Tourists Hotels in bad shape. I don't think anyone will be booking vacations in Cuba anytime in the near future.
Far as Florida is concerned, although no single location got the ULTIMATE in destruction (well, except maybe Key West which probably got flattened). 7M 12M customers without electric power is a LOT of wire to re-string! According to the "authorities", they have 17,000 linemen including an undisclosed number from out of state ready to spring to the job on Monday Morning of getting the JUICE back to their Florida customers, who are currently sweltering in the Florida heat & humidity without HVAC while their Frozen TV Dinners go bad in the Freezer. Considering after 2 weeks there are STILL around 200K people without power in Houston, one can figure it will take at least a month to get the full grid back online in FL, since the outages are spread over a much wider area.
Waking up Monday morning, we are in the post-coital phase of the intimate contact with Irma, and for the most part the pols are indeed crowing about how we "dodged a bullet". Miami took some flooding, sure, but they flood all the time these days. OK, we lost 3 cranes, but we have dozens of them! OK, the power is still out, but no problem, the crews from Florida Power & Light will have the lights back on in a jiffy! Back to BAU in Miami in no time! 🙂
The NEW UPDATE though is that it's not 7M without power, now it's up to 12M! That's basically the whole fucking state of Florida, they only have a total population of 20M! From WaPo:
That was the grateful mantra on the lips of many on Monday, even as an estimated 12 million Floridians prepared for a dark night without air conditioning in the muggy post-storm swelter. Though there was significant property damage in the Florida Keys and in some parts of southwest Florida, officials said it was remarkable that so far they are investigating just a small number of fatalities that came as the storm made landfall. It was unclear how many were directly related to the storm.

The lack of electricity across most of South Florida was the most pressing and crippling problem. Millions could remain in the dark for days or even weeks as utility companies struggle to navigate impassable roads and floodwaters to slowly restore power.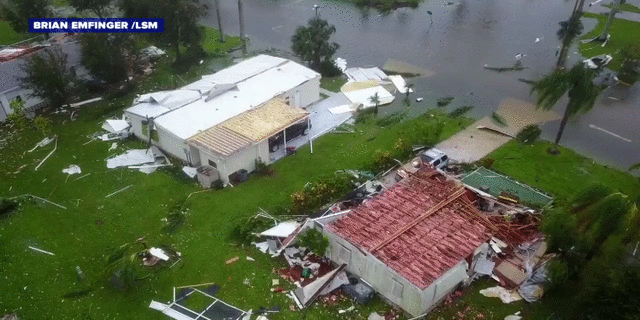 Things not so good over in Naples though, and even worse down in the Florida Keys, where the "authorities" won't be letting anyone back in until at least Tuesday while they asses the integrity of all the bridges connecting this string of low-lying islands built up as Tourista Resorts over the course of the Age of Oil. This is the "Margaritaville" neighborhorhood Jimmy Buffet made famous. When Jimmy first hit it big time as a rock star, the first thing he did was buy himself a yacht and park it in Margaritaville as a getaway if things ever went south for him. After that he got into planes too. As has become obvious here, Magaritaville and the Banana Republics may SEEM like bucolic safe havens in the good times, but they have their own set of risks and overall are not sustainable in the least in the way they are currently inhabited.
Doing still WORSE than the Florida Keys are the Tropical Paradises of St. Maartens and Barbuda, which actually did get hit full on by Irma while she was a Cat 5 packing 185 MPH wind speeds. Both islands basically LEVELLED, and now descending into chaos while their various Colonial Owners the Brits, Frogs and Little Dutch Boys scramble to organize up food aid and police protection from roving gangs of Zombies. All three countries are sending in additional Police/Military to try and restore "order" on these islands. Ex-Pats are huddled in their McMansions in fear of the next Home Invasion, although they probably have nothing left to eat either, since anyone stupid enough to be living in a McMansion in one of these places probably did not have a large supply of Preps either. These are the type of folks who go out the day before a hurricane is due to hit to buy batteries and bottled water. That is prepping up to them.
Economically, it's hard to see how these islands will ever recover to be the Retirement Paradise they were for apparently about 75,000 Brits, not sure how many Frogs or Dutch Boys. The cost to restore Barbuda was estimated in one article to be around $100M. There were something like 1600 people living on Barbuda when Irma came knocking on the door for a short vacation there, so that comes to $62,500 per person, which includes the poor locals who serve as maids and cooks and drivers as well as the retirees who are mostly living on pensions. You think any of them has $62,500 to pony up here to rebuild the infrastructure? Hell no, the Brit Goobermint will have to do it, and they can't even maintain the infrastructure on their own island these days.
Beyond this, MOST if not all of the Ex-Pats whose Mailbox Money incomes drove the economy will not stay in these places now, they are going to grab the first plane flight or boat ride out of there and never go back. Carnival Cruise lines is already sending ships for them. The infrastructure won't be rebuilt for a long time, if ever. The Brits, Frogs and Dutch are not going to fork over the money necessary to rebuild these places, they are total money losers now and for the forseeable future. The income generation capability they had as Tourista destinations is gone. All they will do is try and get the current set of Ex-Pats out of the place and then let the locals Twist in the Wind. Best they can hope for is that their citizenship as a Homo Sap born in one of these colonies will allow them to move to the Home Country, but they don't have much money to make that trip and probably no relatives or support structure to grab onto once they get there. They have a bit higher status than the refugees from Syria and Afghanistan, but not much.
There probably will be consolidation of these people on the islands that did not take such a bad hit, which will of course only serve to strain their resources also. The destitute Newbies will be despised by the locals and a drain on their own limited resources.
Electric power is only part of the problem of course, MOLD & MILDEW are a bigger problem long term. One has to remember that many of the flooded "buildings" aren't buildings at all, they are trailer homes which if they were flooded, the owner simply waits for the water to recede then puts all his stuff out to dry in the hot Florida SUN. Except by the time he does this a few days later, the MOLD has already taken hold, and it is almost impossible to get rid of when it does in a trailer. McHovel owners can strip out drywall and MAYBE eradicate mold, but getting it out of a trailer when it takes a grip is about impossible. You have to TOTAL it at this point and send it to the Land of Away in some junkyard or landfill, but the people who own them and live in them usually can't afford to replace them. Add another Human Soul to the list of Homeless People.
Because this wasn't the "Ultimate Disaster" it might have been, the MSM will likely quickly forget it as they have already forgotten about Harvey & Houston despite the fact more than 200,000 people remain without power and over 20,000 are still in shelters. There will be a new and better disaster to focus on in short order. It will likely take quite some time to get all the electric power restored, if they can even do that before the next one rolls ashore. Meanwhile, these repair bills don't come free you know, Da Federal Goobermint doesn't just hand out free money to fix up your local grid. The money is loaned to the Municipal Goobermint, which then has to raise taxes in order to pay for this new Bond Issue. Problem here would be that local Municipal Goobermints in FL (and everywhere else) ALREADY can't collect enough taxes for bills they ALREADY have! You think cutting a few more Teachers of Sanitation Workers off the payroll will pay to restring all the wire in Florida? Not too likely. However, for BAU to continue forward, these loans MUST be issued out, and they will be backed by the Full Faith & Credit of Da Federal Goobermint, which of course itself is ALSO quite bankrupt.
This will keep working until it doesn't.
6 Responses to The Strafing Run of Mother Nature 3: The Dimming Bulb Aftermath of Irma