The Great Tombstone Adventure
Follow us on Twitter @doomstead666
Friend us on Facebook
Published on the Doomstead Diner on December 3, 2017
Discuss this article at the Medicine & Health Table inside the Diner
Day 1:
The Adventure Begins…
I am off in about 6 hours from now on the Great Tombstone Adventure down to Seattle-Tacoma, to meet with my Pro Stone Cutters and also to spend some time over Thanksgiving with K-Dog.
The last couple of days have been pretty hectic (for me), getting my final packing done and also getting the Digs cleaned up some so in case there is an unannounced Home Invasion next week while I am away the management will not be unhappy with the state of things. I didn't mess it up too bad from the last time I brought in the Pro Cleaners, about 6 months ago I think. I got the bathroom tub and toilet all scrubbed out with Ajax and all the dishes are done and the sinks clean and empty and all kitchen counters scrubbed down. It's not a perfectly organized typical dwelling of course since it is mainly stacked with boxes of Preps and not Furniture, but IMHO it doesn't look too bad.
The other big deal for today was to get cleaned up for this trip so I don't stink everybody out. Showering and changing my clothing is a real ordeal for me these days, and I do it as rarely as as I can manage and still stand my own stink. Particularly difficult is changing my socks, because first off it is difficult for me to reach so low, second picking my legs up to get the sock on when I don't have my hands to help (because they are holding the sock) also a real challenge. Elon Musk needs to invent a sock-putter-oner Robot for cripples.
I did real good today, it only took 15 minutes to get the old socks off and 30 minutes to get the new socks on.
Total showering and dressing time today was only around 2 hours.
After the dressing adventure, I headed out in a minor snowstorm to send off a contract to the Cemetery in Springfield for my Casket Vault. MO requires a Concrete Bunker for your corpse and casket to be dropped into when you Buy Your Ticket to the Great Beyond. This is true for many states.
My regular Limo Driver James is due to pick me up between 6AM-6:30 for the drive down to Ted Stevens Airport in Anchorage. Weather and road conditions are dicey, so we are leaving early. It's not REALLY a Limo of course, it's James' used SUV, but when I close my eyes it looks just like a Limo!
James has shipped my crippled ass back and forth from Ted Stevens for the last 2 years. I have his direct phone number and pay him cash off the books. On this trip, I packed him up a Food Present for the holidays, I unloaded my freezer of numerous Ribeye Steaks I will never eat, as well as some Mooseburger from the last time I went hunting before the accident. That's the last of the game meat RE will ever hunt down. It probably has freezer burn because I didn't vaccuum seal it, so it may go in the trash or to the dogs. Steaks are all vacuum sealed though, and last time I BBQed one up (about a year ago) it was still as good as the day I dropped it in the plastic and froze it.
Besides the Care Package I put together for James, I also boxed up a good deal of food for Thanksgiving Week at K-Dog's place. Remains an open question as to how much of this we will cook up However, this was a GREAT opportunity to empty out my Freezer!
OK, it's not empty yet, only 1/4 empty, but at least now there is some ROOM in there!
I also rented a Cripple Cart for myself for the week down there so my mobility would be enhanced. I fit on the small ones the Rent-a-Cripple-Cart people offer, only $175/wk!
They bust up into 5 pieces which weigh no more than 25 lbs each and do around 8 miles on a single charge at walking speed of 4mph or so. This is much more walking around than any normal person does in a day, so should be just fine assuming it is as EZ to get in and out of the Carz as the salesman sez it is.
Assuming all goes well on my delivery to the airport, I will update once I am safely esconced in the waiting area for my flight to Seattle. Actually, this time first I get to stop off in Juneau. That's a first for me, I've never had anything but non-stops to Seattle before. Chalk up another location I have hit on my global travels in this iteration of my immortal soul.
Day 1:
I am safely inside the terminal at Ted Stevens Airport and past the TSA gropers and Peeping Toms. 8:30 AM, we started out at 6AM, I got up at 4:30 AM to finish packing my bags. Mainly to get the food in packed in a small cooler with a frozen bottle of water. Should easily be good for the day. Plane boards at 10:30AM, stops off in Juneau the on to SeaTac for a 5PM arrival time and meet up with K-dog.
Main last minute corrections was I underestimated the weight in food and when I tried to lift my big suitcase onto the wheels I couldn't do it. I'm not talking picking it up, just getting it from lying flat to standing up. It was definitely overweight by at least 10 pounds.
I made this mistake last time going down for the TOTAL ECLIPSE OF THE SUN☼. The bag ended up costing me $100, $25 bag fee + $75 overweight fee. It's $50 to check 2 bags. So I go out the next smaller size suitcase to move the food into. Problem was, by this time James was due to arrive and I don't pack very fast. Ended up James came in and repacked the bags for me.
Once packed up, the drive was pretty OK, a few slick spots but not snowing and traffic was light. Downsides, I forgot my neck pillow and food goody bag for the flight. James stopped for gas so I had him buy me a bacon/egg//cheese muffin and a coke. For the neck pillow, I sprung for another one inside the airport, at twice the price you pay at Walmart. Oh well.
I've got my wheelchair parked across from the bathroom with my carry on bags on it, which also serves as desk for the laptop. The Wheelchair Jockey doesn't stay with you when you are waiting for the plane, so cripples are on their own at this point, until the plane loads when they get another WJ to wheel you down the ramp to the plane. Then you gotta walk yourself into the plane, which I can still do as long as somebody wheels in my carry-on. Not sure what they do if you have ZERO use of your legs.

OK, gotta pack up the gear and take a bathroom trip before I go wait for the plane.
Probably won't check in again until I make Seattle.
Day 2:
Got in to Seattle a couple of hours late, due to a snowstorm in Juneau. I have been flying the Anchorage-Seattle leg for the last decade, and in all those years I NEVER got a stop in Juneau. they were all non-stop. This time I got this stopover on the "local" which after Juneau stops at Ketchikan and Sitka before finally ending up in Seattle. This is mainly a flight for people doing intercity travel in Alaska. For those of us heading all the way to Anchorage, you switch planes in in Juneau for a direct flight the rest of the way. Anyhow, by the time this plane got loaded up, the snow volume had increased to maybe 2"/hour and visibility down to a quarter mile and the wings were all iced up.
So we got put in a queue to get deiced, they had to clear the runway, and we had to offload some weight and the load had to be rebalanced. Two people got booted off (airline employees deadheading), and the rest of the weight was offloaded from the freight on the airplane. Once we did get off the ground, the rest of the flight was routine, although K-dog had some trouble locating me at the right baggage carousel. Despite the fact I had been up since 4:30 AM and K-Dog had worked all day, we still stayed up until around 12:30 AM discussing Doom.
The following morning we decided not to go out to do any shopping but just hang out and wait for the delivery on the rental Cripple Cart I ordered up for the week. The Wheelz4Feet folks were right on time at 2PM and I took a quick spin on it just to test it out. K-Dog did some raking of the leaves out on the lawn and I swept some off the porch. After that I took and hour nap until the cart arrived and we got a quick lesson on how to disassemble and reassemble it for storage in your car trunk. This model comes apart into 5 pieces, none of which are supposed to weigh more than 25 lbs so I should be able to get them in and out of the minivan myself.


I took it for a quick spin before we went out for errands, and it doesn't go very fast (max 4mph), but it has pretty good torque and was able to haul my crippled ass up some pretty steep hills in K-Dog's neighborhood. It has an 8 mile range on a single charge, which is more than I will use it for in a single day. I didn't need it yesterday at all because all the places we had on the agenda either had their own cripple carts or were short walks from the parking lot through the front doors of wherever we were going and not a lot of walking around. It should get more use touring around homeless neighborhoods to shoot some pics and also we plan to go to the Museum of Flight over at Boeing on Friday and that place is HUGE. K-Dog has actually never been there even though he has lived in Seattle for 40 years. Hope to get some good pics in the museum.
Tomorrow I drive to Tacoma to meet with the Tombstone people, and Tuesday is a free day, not sure what I will do. Wednesday & Thursday are Thanksgiving dedicated and Friday is the museum. On the weekend we will probably do more toruing of Seattle.
OK, next up for this morning is to go drive over to pick up the minivan from Enterprise, which I need to get ready for. I'll try and update again tomorrow.
Day 3:
Monday was the BIG DAY for the meeting with the Chief Cutter for my Tombstone at their Tacoma facility, about 30 miles from where I am staying, an Quality Inn in Renton outside of Seattle. I moved out of K-Dog's place because couch surfing for 10 days had a few problems, not the least of which was getting up off the couch itself to get to the throne. This hotel is excellent, and I got it for the same bargain price or $75/night I paid for the Bates Motel on the TOTAL ECLIPSE OF THE SUN. They gave me an EXCELLENT Cripple Room, right across from the Elevator and the Ice Machine. This place will be my new Seattle Digs when I visit down here.
K-Dog also had to go back to work on Monday, so I was on my own with my Dodge Grand Caravan Rent-a-Car and my Wheelz4Feet Rent-a-Cripple-Cart esconced in 5 parts in the back, plus my computer bags with all my drawings and specs loaded in the car, which is very nice. Backing Camera and everything!

If I were to buy (or lease) a new car to finish out my years as a Happy Motorista in the Age of Oil, it would be a DGC. Dodge basically invented the Minivan with the Caravan, and they have refined the concept over the years to the point now it is PERFECT for what it is designed for as a family transport vehicle, but also as fabulous Cripple transport.
My favorite part is that it has the Big Sliding Doors on BOTH sides, and they are powered so take no strength to open or close these doors, or the rear hatchback, also run by servo motors. This means your remote Key Fob will also open and close these doors for you. You can add any electronics you like of course besides the backing camera, like an on-board nav system and wi-fi. The only minor deficiency for me as far as Alaska is concerned is it no longer comes in an AWD model, they got rid of that option to make room for the Stow-n-Go seating. However, FWD operates OK in the snow, especially for the kind of Plain Jane snow driving I will do on mostly cleared and flat roads. I can get a lease on one of these brand new for under $300/mo, which is in my budget. If I can manage to bring SaVANnah down to the Lower 48 next spring as my vehicle for travel there, then I am seriously considering splurging on one of these for my Alaska Wheelz. I'll keep my 2002 Ford Explorer SUV as my true 4WD vehicle for the winter days that are super sucky and I need to drive somewhere.
Back to the Adventure, Seattle-Tacoma traffic is bad in any weather due to geography issues and perennail road construction and repair issues, but add in the New Normal Regime of intense rain just about all the time and it's a nightmare. It was raining Cats & K-Dogs when I left the motel, but I left after the main Rush Hour and so it wasn't too bad heading for Tacoma, moving along around 50mph generally. The problem came when I made it to Tacoma an my Nav Queen on the smart phone told me to get off at Exit 134, which was CLOSED due to construction. I couldn't get off either until Exit 130, over 4 miles down the road, and on the OTHER side going back, the traffic was Bumper-2-Bumper. So it took me 45 minutes to make it down from Seattle to Tacoma, now I figure it will take me another whole hour just to make it back to the exit I was told to get off but couldn't.
I lucked out here though. As I neared Exit 130, the Nav Queen re-routed on back roads off the interstate to my destination, which was actually in between exits 130 & 134. So this little detour only cost me about 10 minutes, and I was pretty much On Time for the meeting with my Cutter Pro from Dover, Tom.


We had a nice long chat about the specifications for the Tombstone, and I got a little tour of the facility from Tom of the Sandblasting machines,which are quite neat. Putting this thing together looks quite possible, the main issues are what the costs will come to and how long it will take to get hold of all the stones for final assembly. The latter looks like 6-9 months. That's a LOOONNNGG time for me to have to keep this decrepit Meat Package above ground to see the results of all this design work! lol.
On the way back from Tombstone Planning, I made a stop-off and Prep run to Walmart for some Food items I needed for dinner with K-Dog and his son, and also was able to drop some food goody bags on a couple of homeless people outside Walmart. Our own meal for the night was a Tomato-Olive-Feta Greek Salad, Alaskan King Crab with Drawn butter & Fresh Lemon and Rack of Lamb with Cabernet Sauce. Unfortunately, we were so busy chatting doom and prepping and cooking food I neglected to shoot pics of this fabulous meal.
OK, that's all for Day 3, and right now Day 4 is just hanging out in the motel. I will probably do a wash to fill the time until K-Dog gets off work.
Day 4:
Tuesday was Day 4 of the Great Tombstone Adventure and was supposed to be one of the days I went out to hand out food goodie bags to the Homeless. Unfortunately it turned into a classic Seattle full day with no breaks of driving rain and the Homeless were all hidden away, who knows where? There are plenty of them of course, but the Gestapo keeps razing the camps just about as fast as they get established. So I gave up on this tactic and returned back to the motel for a day of domestic chores until K-Dog got off work.
First on the list was laundry, which is a pain in the ass to do at my digs because the laundry room is in another building. In the motel here, it's just down the hall past the breakfast room, and actually cheaper than my home laundry. So I didn't have much, but what I did have with me is now nice and clean and fresh smelling from the scented laundry detergent they gave me for FREE at the desk.
My next project was to repack my big Checked Bag, which had to be done for several reasons.
First off, it was already messed up from digging through it for various items since I arrived, but more important the second checked bag I brought along mainly for the food I brought down with me is History and has been sent to the Land of Away. One of the containers I used to hold some frozen fish leaked some of the water that melted from the fish, and the bag STUNK! It was a pretty old bag anyhow and not a size I use usually because it's too big for carry-on but smaller than you want to use for checked bags, where if you are going to pay a fixed price of $25 you want to use the biggest bag you can and still stay under the 50# limit.
Third reason I had to repack was because I had to fit in a Hand Blender kit I had shipped to K-Dog which is great for making soups and sauces. This one is the top-of-the-line, stainless steel kit from Kitchen Aid which is better than the El Cheapo I have at home.


The box it came in was quite large and I was a little concerned I would not be able to get the blender and all the attachments into the bag, but once out of the box the whole kit is pretty compact in its own little carrying case for the Traveling Chef and it fit in the suitcase OK, now with neatly folded and washed clothing and a few other odds and ends. I am pretty sure I am still under my 50# weight limit as well.
After that I did some web surfing to look up churches and shelters that are handing out food or holding free Thanksgiving dinners to go around to and hand off my food goodie bags for further distribution today. So after I finish this diary entry, that is the project for the early afternoon today. After that I am going out to do some more Food Shopping
for tonight's dinner, which will feature Alaska Sockeye Salmon and Maryland Crab Cakes made with Alaskan King Crab. On Monday we feasted on Rack of Lamb with Cabernet Sauce, King Crab Legs with Lemon Wedges and Drawn Butter and a Tomato-Olive-Feta Greek Salad which we will have again tonight because we made a big batch. I forgot my camera to get some pics of Monday's Cooking Fest, I'll remember to bring it tonight. I did get some pics of the still Frozen crab legs and salmon I took out last night to put in the fridge for defrosting overnight though.


Are those the BIGGEST crab legs you ever saw or WHAT? Before I sectioned them up, they were about 3' long each. That was one MONSTER size King Crab!
Thanksgiving Dinner itself tomorrow still remains an Open Question & in dispute as to what will be cooked if anything. I personally have already eaten more food in the last 4 days than I do in a month at home, so I am not too concerned with this. Also have already cooked up most of the food I brought down with me from Alaska, so that won't go to waste. K-Dog & Son fortunately both have very expansive appetites and can put away Mass Quantities. lol.
OK, gotta get rolling on the day here and look for food giveaway places.
Happy Turkey Day Diners!
Day 5:
One of my objectives here in coming down to WA besides the Tombstone and sharing Turkey Day with K-Dog was to hand out some FREE food to the local street people who don't always show up at the shelters to get the help they need. So we made up Lunch Bags with a Turkey-Swiss sandwich on Rosemary Bread, Red Potato Salad and a piece of fruit (Orange or Banana). This was the bag lunch type my mom sent me to school with through Junior High (except she didn't use artisan baked Rosemary bread, it was white Wonder Bread).
The bags are EZ and convenient to pass out the car window when a panhandler at a stop light is asking for money. Giving them the food directly, they can't spend the money on drugs or booze. Unfortunately though as I mentioned, we're getting the typical New Climate Regime here of near constant inundation with wet precip, and the panhandlers and street people are in hiding.
So I had to go to Plan B on this, which was to find a Food Pantry or Soup Kitchen that would hand the bags out for me, and I found a place in Renton called Hopelink which does that.


The Hopelink manager inspected my box of bags of sandwiches, potato salad and fruit and it passed muster, so she promised to hand them off for me. Mission Accomplished!
I'm going to try the direct approach again on Friday & Saturday, maybe the rain will cooperate and let up some.
If you are going to do some charity work, I highly recommend researching local organizations like this and giving directly to them rather than big corporate charities like the Red Cross or Christian Children's Fund. Definitely avoid giving any money to the Holy Roman Catholic Church, which is the apotheosis of Evil.
The other main errand for yesterday was making another Prep Run for Food, for the Crab Cakes and Panko Encrusted Salmon I intended on whipping up last night for dinner, as well as maybe some fixin's for the BIG ONE, Thanksgiving Dinner today. K-Dog did finally make an Executive Decision that the Turkey Day festivities would go forward regardless of objections, but the menu was not established as of around 2pm yesterday.
I saw ON SALE at Safeway some Bone-In Choice Standing Rib Roasts for the bargain price of $6.99/lb, but K-Dog had picked up a Turkey on the way to work and left it in his trunk to begin defrosting. Not being a veteran cook or Turkey selector, he bought a pre-cooked whole Smoked Turkey, so we don't really have to cook this one,just re-heat. I'll spruce it up some though in the reheat and it will be interesting to see how it shapes up.
Far as the Crab Cakes and Panko Encrusted Salmon go, K-Dog Jr. went out to the Movies last night so we put off making those dishes for Turkey Day, which besides the Turkey itself will be mostly non-traditional, but still a cornucopia of food for mass consumption in the Thanksgiving tradition. Later this morning we will go out for some final fixin's to add to the current All-Protein menu. Well, not quite all-protein, we do have the Greek Salad in the fridge which has been marinating overnight.
Rest of the day should be spent pleasantly in a Cook-Fest, shooting the shit about Collapse and other topics. Then tomorrow a visit to the Boeing Flight Museum and trying to hand out more sandwiches and probably leftovers from the dinner, which we probably won't start actually eating until late afternoon or early evening.
Hope you all are having as pleasant a Turkey Day as I am this year, as we walk our way a little further down the Collapse Highway.
Day 6:
The BIG DAY of the holiday week arrived yesterday, the day we all here inside the Belly of the Beast celebrate the Cornuopia of FOOD provided to us by agribizness and the Thermodynamic Energy of Fossil Fuels.
As conspicuous consumption holidays go though, Thanksgiving is a reasonably worthwhile one to celebrate, it IS nice to have plenty of food to eat with family & friends, and aside from the usual drunk relatives and arguments around the Turkey, it was always one of my favorites growing up. We had the biggest McMansion on my mom's side of the family after the divorce along with a big Dining Table about 8' long made of a solid slab of Jacaranda hardwood from the Rainforest in Brazil we had imported back here when we returned via the Moore-McCormick shipping line which plied the trade between South America and North America in the 50's-70s mostly. The boats took passengers as well, and I returned from Brazil with my mom on one of these boats with the furniture over about a week of time, where I watched the movie "Flight of the Phoenix" with Jimmy Stewart, Richard Attenborough and Hardy Kruger about 11 times. It showed twice a day. lol.
Anyhow, we would usually have over anywhere from 20-30 relatives, lay out the Turkey in the middle of the big table with the side dishes dishes surrounding it and eat it Buffet Style around the living room. A few times when we had smaller crowds around 12 or so, we would have a sit-down meal at the Big Table which sat around 10 Adults, and set up a couple of card tables for the kids for another possible 8 this way. In either case though, beginning at Age 11 right after we returned from Brazil, I became the Chief Turkey Carver for our Thanksgiving Food Fest. I took great pride in carving the Turkey and then laying it out in a decorative fashion to be appetizing looking. I also became the Chief Turkey Cook shortly thereafter, because my mom always over-cooked it and dried it out.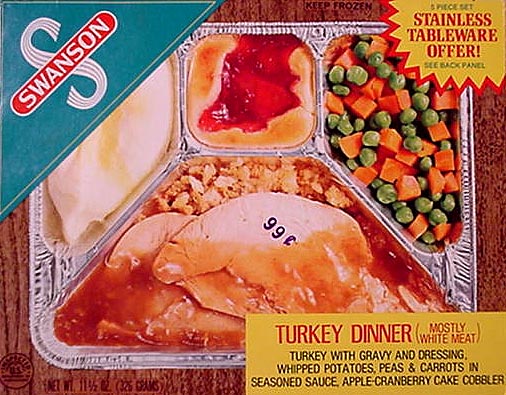 Recent years since my move to Alaska have seen me invited over to a few Turkey Day Dinners held by families of gymmies I coached or by owners of the gyms I worked for through the period. At first I accepted these invitations, but I found being the "Lonesome Old Guy with No Family" at these gatherings to be quite depressing overall. It definitely did not improve my attitude for the day over staying home and eating a Swanson Turkey TV Dinner or Subway Turkey Hero. So I stopped accepting such invitations several years back and along with Christmas just "celebrate" the day on my own in my own way.
This year was a bit different, I got an invitation to Thanksgiving Dinner at the McMansion of a fellow Diner, and I had to travel down there anyhow to do my Tombstone Planning with the Cutters I have contracted to do this job. I also wanted to make another effort at a SUN project, and hand out some Food to the Homeless. The first project was pretty successful, the second not so successful due to a lot of Negative Waves being thrown in my direction. The best laid plans of Mice & Men oftime go astray this way. No big deal though, I rearranged the plans and mostly was able to get rid of all the food I bought for this expedition.
It did reinforce with me though that I will never again accept an invitation from somebody else's family for Thanksgiving. They have their own baggage that comes along to these Food Fests, and I am not a part of that baggage, nor do I want to be. Family HAS to be together during these celebrations, it's part of being a family. You are stuck with these folks whether you like them or not. Friends can generally dodge this obligation, and I will dodge it from now on again until I Buy My Ticket to the Great Beyond.
Day 8:
The Great Tombstone Adventure is basically over, the only thing left is the trip back to the Last Great Frontier. I am back in my Biz Hotel in Renton, and have a pickup from a cab scheduled for 4:30AM for a 7:30AM flight to Ted Stevens Airport in Anchorage, where James my Limo Driver should be there to pick me up at 10:30 and deliver me back to the digs for a successful round-trip completion of this Journey, still above ground level.
I returned the Cripple Cart yesterday and the mini-van this morning, then K-Dog picked me up at the rental car location and we went to get some Cinnamon Rolls from his favorite Diner and Baker of these culinary delights to go with your morning coffee. After that we took another touring drive in the Mercedes, this time up to Redmond to visit the Microsoft "Campus" HQ of the Big Gorilla. After all these years consuming BG software to run my laptops, making a pilgrimage to the Mecca of Microsoft was almost a Bucket List essential. LOL.


K-Dog used to work there as a Contract Employee, and he doesn't have a whole lot of nice things to say about the Big Gorilla, from the way they treat their employees as Serfs to the crap they serve up as software, but I never ended up working for them at any point and mostly their stuff has worked OK for my purposes over the years. My main beef with the BG is the Digital Copyright Protection they were instrumental in creating along with Apple with the attendant limitations on the free exchange of ideas and human knowledge.
The campus is dropped on 500 now VERY expensive acres of property in Redmond, which the BG bought up from farmers who used to inhabit that neighborhood. There are a few "Gentleman Farmer" Hobby Farms still in the neighborhood on maybe 5-10 Acres, likely owned by upper level management personnel with fat paychecks who like to keep horses or raise pigs or do some gardening to relieve stress. Those places probably go $5M-20M, and there isn't a McMansion in the neighborhood I think that sells for less than $1M, particularly if it has a water view or is carved into a mountain side like an Anasazi Cliff Dwelling home prior to their disappearance.


After the tour of Redmond, we headed back for the Biz Hotel, with a stop off at Panera Bread for our final meal together on this trip. The next time I expect to be down in the Sea-Tac neighborhood is when all my Stones have come in and are ready for Final Assembly into the Tombstone. That probably will take 6-9 months according to the Pro Cutters, hopefully I won't Buy My TIcket to the Great Beyond before that. After that, the next trip would be around a month later to MO to see the Tombstone placed on its plot where it will rest until it is incinerated when the SUN☼ Goes Red Giant. OK, maybe not that long, but it should last a pretty long time and be around for Great Homo Sap Population Knockdown & Genetic Bottleneck, which IMHO will come before the end of this Century. My living, breathing corporeal meat package is unlikely to see anything but the very beginnings of this, which will take some time to play out.
Anyhow, gotta do my final packing for the trip home, this time non-stop to Anchorage no stop in Juneau fortunately. Main question is whether I stayed under my 50lb limit on the checked bag. I will check in again from the gate waiting area after I pass through the TSA Peeping Toms & Gropers.
Day 10: Coda
I am back in the Digs at my familiar position at the Diner Command & Control Center of my desk and the Dell All-in-One Big Screen computer.
The trip went like clockwork, cab driver was On Time at 4:30 and we made it to the Alaska Airlines check-in in about 20 minutes. Only traffic we hit was on the airport ring road itself, since lots of Biz Travelers take these early morning flights on Monday Mornings. $23 cab fare, plus I gave a generous $7 tip.
I flagged down a baggage handler as soon as I completed the automated check-in at the kiosk and had him radio for a Wheel Chair Jockey to push me over to the bag check area to get my big suitcase into the belly of the plane. I got to jump a fairly long line here to have the bag weighed and put on the conveyor.
It turned out to be 2 lbs overweight, but I was able to shift out the overage into my carry-on bags and did not get an overweight charge.
From there it was off to TSA Peep & Grope, and again I got to jump a long line waiting to go through security. Being a Cripple probably saved close to an hour of time waiting at these two locations. I didn't get a Pre-Approved Pass from TSA again, so I had to take off my shoes and take my laptop & tablet out of the carryon, but they did at least let me keep my belt on so my pants didn't fall down. It's hard enough keeping them up even WITH the belt! I have NO ass left and NO hips.
So I got groped a bit and swabbed, and then was freed to be rolled to the gate, which we made it to by around 5:45 for a 7AM boarding time. Again, Cripples Go First in Boarding, so I got rolled down the jetway and the flight crew helped get my carry-ons stowed, and the plane took off on schedule, in fact about 5 minutes early. Only 3:20 minutes with a tail wind and we arrived around 10 minutes early. James was there with the Limo to pick me up, and no traffic coming up to the valley. Checked both my cars, they both start.
I'm going to spend the rest of the day today resting & recuperating, and same all day tomorrow. Then I will get moving on the remaining projects, tele-conferencing on the Tombstone and gping in for Round 50 with the Docs to try and get some handle on the edema in my legs, which has moved up past the knee and into the thigh and prevents my knee joint from operating properly and is amazingly painful. There must be some Med Skule Grad out there who can figure this one out and find some way to at least treat the symptoms if not address the cause. If I don't get some relief, the end of my walking days on Earth is probably no more than 6 months away. The downhill progress over the last month has been amazing!
I'm also going to see if I can get some In-House help that Medicare will pay for, and find out what other services are available for Cripples here in the Valley. I'm going to hold off buying a new Cripple Cart for myself around here until I get some answers to these questions, and also until Spring when I don't have to deal so much with inclement weather.
Overall though, I am very satisfied with this trip and its outcomes. I am reasonably sure now I will get the Tombstone I want whether I am above ground long enough to see it completed or not. I had a great time with K-Dog as usual, and I actually did a bit better than usual with the eating. I actually ate 3/4s of a full size Tuna Sandwich at the Boeing Museum of Flight, made some pretty good crab cakes and a tasty salad.
Now that I made it back home, even though the legs are hurting and the rest of the Meat Package doesn't feel too good either, I am quite happy. I have tidied up my life pretty well. I can take my Final Walk into the Great Beyond at Peace with myself and this iteration of my Immortal Soul on Earth. I am ready now for the Grim Reaper when he arrives at my doorstep. I will offer him a Beer, and then go with him to see what is in store for me when I cross the Great Divide.
SEE YOU ON THE OTHER SIDE