Eat it Raw
Follow us on Twitter @doomstead666
Friend us on Facebook
Published on the Doomstead Diner on December 17, 2017
Discuss this article in the Diner Pantry
As regular readers of the Diner know, I have numerous health issues stemming from my spinal injury. Among these issues for me is an almost total loss of appetite and difficulty eating more than just a few bites of food at any time. Also a reduced ability to actually taste the food I eat. I was thrilled down in Seattle when I actually managed to eat about 3/4s of a Tuna Sandwich at the Museum of Flight. It was a very good Tuna Sandwich too, consistency wise. For someone who was as big a Foody as I was, this is perhaps the most depressing aspect of my injury, even worse than the issues with walking. The only upside to it is I am not getting fat despite my lack of exercise, in fact I am steadily losing weight.
At home in order to get some nutrition down my pie hole, I have experimented with numerous gimmicks and enthusiasms of various foods I can tolerate eating a little at a time. For a while it was Soups. I would heat a can of one of my favorite Progresso or Campbells Chunky Soup, and then spend a couple of days eating it by the spoonful right out of the pot on the stove. I would reheat as necessary, and add a little water to replace the water that boiled off during each reheat. However, I got tired of this and bored with it and 2 days on the stove turned into 3, then 4. I started having to put the soup in a tupperware and refrigerate it to keep it from going bad. Then this leftover soup started sitting in the fridge for a week or two and going bad anyhow. I stopped opening cans of soup at this point.
My next enthusiasm was Salads, mostly augmented Greek-Style Tomato salads. I could buy just 2 or 3 Roma Tomatoes in the produce aisle, a block of Feta Cheese, a Red Onion and Kalamatta Olives in a jar and this formed the basis for my salad. The only thing perishable in there that doesn't last that long in the fridge are the tomatoes, everything else will last a month and more with a vinagarette dressing of some type. Keep your block of Feta wrapped up tight in plastic, that lasts a couple of months easy. Kalamatta Olives in the Jar? Probably last a year in the fridge even after you open the jar. Further augmentation came from canned gourmet veggies like marinated artichoke hearts, hearts of palm, straw mushrooms etc. These salads lasted easily a week in the fridge a few bites at a time, but I became bored with them too.
Then I went on a Fresh Fruit & Cheese enthusiasm. Clementine Oranges (the small ones, didn't they used to call these tangerines?), Bananas. Cubed Watermelon & Seedless Grapes mostly for the fruit; Brie (and other soft cheeses), Havarti, Gouda, Gorgonzola and really whatever appealed to me in the Gourmet Cheese display at Fred Meyer or was on a half-price sale. The Bananas don't last long, you have to eat all of them inside a week or so or they start to turn black and get mushy inside. Grapes and Clementines last pretty long in the fridge, but they start dehydrating and after about 3-4 days are not so juicy. Cubed Watermelon lasts a surprisingly long time in a tupperware container in its own juices, up to a couple of weeks it is still pretty crunchy, sweet and juicy. The cheeses you have to remember to wrap well in plastic after you cut off a hunk for a meal, and always use a nice clean knife rinsed with hot water to remove bacteria on the knife. Not a bad idea to hold the blade over the stove fire either to further sterilize it. This also important later for the meat and fish cutting. If you do all that, your wedge or block of cheese should last in the fridge at least a month before you start seeing Green Mold growing on it. You can often just cut this off, because it is only growing on the outside surface, the interior is still fine. In fact, you can eat the part with the mold on it too, that won't kill you and it doesn't change the taste that much. Just looks a little gross.
This brings us to my current enthusiasm, RAW ANIMAL PROTEIN.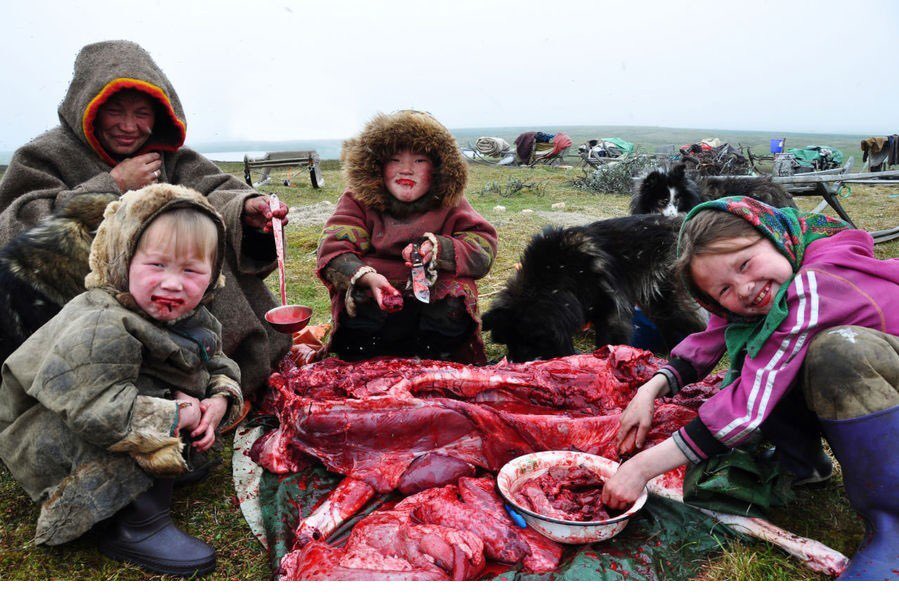 I moved to this enthusiasm for a couple of reasons. First was the EXTREME Edema (swelling due to fluid retention) condition I have in my legs, which on top of the spinal injury and general loss of strength from that has brought it to the point I can't even stand up if I don't have hand holds and bracing to do it with. The Nurse Practioner I was seeing as my Primary Care Provider before I ditched her for a Physician's Assistant who is equally clueless suggested that the Edema problem might stem from a lack of protein in my diet. I am fully aware of this nutrition problem, however she did not have a good suggestion on how to SOLVE it since I can't hardly eat anything at all. I pitched the idea of a feeding tube, but she informed me Medicare won't pay for that unless you are on your death bed in hospital. So I have to get the right foods down my own gullet myself, somehow.
So, OK, on the assumption a lack of protein is the proximal problem causing the edema, how can I increase my protein intake? Well, I have always liked Fish, and even got into eating Raw Fish in the form of Sushi & Sashimi in my college years when I started haunting Japanese Restaurants around NY Shity. Today, there are Sushi Bars in the major Food Superstores which provide a pre-rolled Sushi plate for anywhere from $8-$15 depending on the type of fish and the size of the plate. So I started with this.
Of course, due to my low appetite, I can't finish a typical Sushi Lunch plate from Fred Meyer, which usually has about 2 rolls worth of some decorative Sushi concoction that appeals to the Amerikan palate. Around here, this is mainly Tuna Rolls, Salmon,and California Rolls which have the fake Crab Meat in them with some avocado and cream cheese. Thing is, while the fish inside is still good the second day, the rice starts to dry out very fast and the texture isn't as nice. Still edible even after 3 days, but really only good the 1st day. Besides that, these rolls are MOSTLY rice, the amount of fish in them is pretty small. I am interested in JUST THE FISH, not all the decorations or the rice either.
This vid is the shorter one which doesn't show half what gets pitched out when sectioning up a Salmon for Sashimi. I figured I would spare you watching the head, spine and skin getting pitched out also. Waste, Waste, Waste.
Back in Edo Japan, I suspect Sushi was what the Peasants ate, while Sashimi which is JUST THE FISH is what the Samurai ate. The fish was the expensive part of the meal, the rice was filler and calories so the Peasants would have enough energy to work and feed the Samurai. Samurai needed the fish protein to develop big strong muscles to wield swords with which they could behead the peasants. The Sashimi JUST THE FISH meal is made even MORE expensive by the fact that in preparing sashimi, only the very BEST parts of the fish are used. You can't believe the amount of WASTE when a Sashimi artist goes about filleting and slicing up a fish to lay out on a decorative plate. In modern restaurants, I suspect most of the parts discarded by the Sashimi artist go in the trash, not even composted. However, going back to Edo Japan, I suspect these parts were collected to make Fish Broth, which again the peasants got to use to make soups and supplement their protein intake above the pitiful amount of fish usually contained in a Sushi Roll.
The only platters that have a little more fish on them in the plastic containers at Fred Meyer are the Nigiri Sushi, which is basically a slice of raw fish on top of a pile of rice. You only get 8 pieces total though, again up here usually Ahi Tuna and Salmon. The box costs you $12, and I suspect there is no more than 1/4 lb of fish there. That is working out to $48/lb! They don't serve a straight Sashimi plate at Freddie's, for that you have to go to the Sushi Bar at our local Japanese Restaurant, Tokyo. Here you will pay around $25 now for around 12 pieces of fish, usually Ahi Tuna, Salmon, Yellowtail and Octopus. Maybe about 1/3rd lb total here.
So, I decided that instead of shopping for my Sashimi at the Sushi counter, I would go straight to the Fresh Fish counter! Bring it home and slice it up myself! This cut the cost for JUST THE FISH by at least half. There are pluses and minuses here with doing this.
Some fish like the Tuna is really EZ to slice up into nice bite size pieces to dip in your Wasabi-Soy Sauce dipping mixture and eat with a bit of pickled ginger. You do now have the added cost of buying the wasabi and soy and pickled ginger, which all comes included on the pre made Sushi plate, so this reduces your savings, plus you have the work of slicing the fish so the savings aren't quite as much as you hoped for overall.
Salmon is much harder to slice into nice Sashimi size chunks. It tends to fall apart as you slice, plus you have to get the skin off the back side of the fillet. They also use larger salmon at sushi bars than you normally find at the fish counter or would buy just to feed yourself. There is no way I can get the size chunks of salmon equal to the size of the tuna with the salmon I have bought for this so far.
Octopus is usually not available at the fish counter here, and neither is Yellowtail. So recently I tried Sea Scallops, which I never had in a Japanese restaurant as part of a Sashimi plate. Had them cooked as an appetizer Scallops Bata Yaki which is quite good, but not raw. I didn't like the texture raw too much, they are a little too soft eaten raw for me. I am now sticking to cooking the scallops in butter and garlic which is pretty fast and EZ to do. Finally, I am trying Rockfish (Striped Bass), but it is still in the freezer so I can't report on that one yet.
Speaking of Freezing, this is a significant aspect of eating all raw meats and fishies, unless you catch them yourself right out of the water or hunt it down and eat the meat right after the kill. Raw fish and Raw meat can contain bacteria and parasites which can be quite harmful and even cause death. Most of the time they don't, and in my long history of eating this stuff raw, I have never had so much as an upset stomach, whereas I got Tomaine Poisoning twice off of cooked meat which practically killed me. Only in recent years have I taken to the practice of freezing and thawing raw meats before eating.
The reason is this. If there are parasites and bacteria inhabiting your fillet, if you freeze to -4F for about 4 days, this will kill them as effectively as cooking does, and it doesn't destroy the flavor or texture like cooking does. So as an additional security/health measure here, I do the Freeze/Thaw before slicing up my Sashimi. In fact, just about all the "fresh" fish you buy at the fish store nowadays has already gone through one or more of these cycles. The fish are collected up on large industrial fish processing ships where they do the fillet work, vacuum seal them and throw them in a Liquid Nitrogen Bath which flash freezes them down to something like -321F (-196C). Then they go through a series of transports generally finally ending up on a Reefer truck where the temp inside the box maybe is around 20F, depending how hot it is outside. When they get to the Food Superstore, they go in another Freezer, this one down to maybe -10F until they are ready to sell it. Then it thaws slowly in a refrigerator set around 35F over a couple of days and is put out in the refrigerated display counter for sale. Pretty much no bacteria or parasites live through this, and your fish is generally quite safe to eat raw right out of the counter, assuming the minimum wage paid fish mongers working behind the counter clean as they are supposed to every night on closing. I basically took to doing an additional Freeze-Thaw cycle after buying just to add a little insurance here, but at least for Freddie's Fish, I would eat it raw straight out of the counter.
This brings us to the next RAW counter down at Freddie's, the MEAT counter. I actually took to eating raw meat quite a bit before I got into eating raw fish in my college years as the Japanese restaurants proliferated around NY Shity. After returning from Brazil in my late preteen years, I missed the Churascaria's we often ate at there, where the meat was brought to you on the spit at your table and sliced off right onto your plate. So I took to BBQing meat myself on a little cast iron Hibachi in the small back yard we had in our NY Shity Queens McMansion which mom got as part of the divorce settlement. I started with Hamburgers of course, and quickly discovered that a really JUICY burger should have a nice pink inside. For me, pink turned to RED after a while, although for anyone else I was cooking a burger for I kept it to pink or even well done if they asked for that. I could never understand that though, well done dries the meat out and it's like eating leather, albeit in the case of burgers its ground up leather. A well done steak though is like eating the soles off a Cowboy Boot.
Once I realized I liked my meat on the BBQ "Pittburgh Rare" (charred on the outside, still mooing on the inside) I started experimenting with eating the meat RAW right out of the package immediately after I brought it home from the grocery store when it was still nice and bright red straight out of the grinder. Just ground beef for hamburgers at first on this, and it was DELICIOUS! Just a pinch or two at a time at first also. I didn't get sick, even though I had already heard about all the dangers of eating raw meat. Then I read about "official" gourmet meals like Steak Tartare which featured raw meat, and I decided it was OK to eat this stuff. After all, carnivores in nature who don't have control of fire eat their meat raw all the time. I suspect by eating it a small amount at a time for a while I built up my gut so it could digest the stuff well without my getting sick.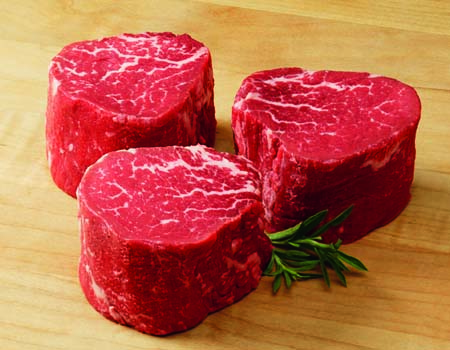 With the beef, I tried some other cuts besides hamburger raw, but really unless it is ground up the only one that is any good for raw eating is Fillet Mignon, which is fairly expensive. Around here these days it comes in aroun $16/lb. Good ground sirloin though you can get for $4/lb on sale, and the taste and texture are pretty close to the same as Fillet Mignon. I do occasionally buy the Fillets though, because when you slice them up they LOOK a lot nicer and the visual component of eating is part of the pleasure, one of the parts I can still enjoy. Up at the top of the page here you see one of my Steak Fillets sliced up Sashimi style, with some Au Jus dipping sauce.
It's the dipping sauces that throw a fly in the ointment as far as keeping your costs down when going with the raw eating, both with fish and with meat. These days, if you mosey on down the sauces and marinades aisle in the Food Superstore, the choices are endless and these bottles go from anywhere from around $2/bottle if you catch a sale to $8/bottle. You don't really NEED a dipping sauce of course, and some of the time I will do without a dip to just enjoy the flavor of the RAW MEAT by itself. However, many of these sauces are REALLY good and enhance the raw eating experience.
On the upside to this, once you buy a bottle of a particular kind of sauce it lasts a long time. You only need about a tablespoon worth for a whole fillet for dipping as you go. My current methodology on this is to pick one sauce I haven't tried yet each time I shop and buy a bottle of that, hopefully ON SALE. One that came in very cheap recently was Dumpling dipping sauce and it's my current favorite. Thai Peanut sauce is also very good, and of course Teriyaki sauce. I've had a few failures too, I thought Chinese Hot Mustard might be good, but it was too overpowering for the meat. The choices are pretty endless here particularly in the Asian Foods aisle, just find your own favorites.
While I am comfortable with both Beef and Fish raw, I don't eat either Pork or Chicken raw. With pork, I have been told too many stories about Trichonosis and never could bring myself to trying it. On the BBQ, I always cooked it through until there was no pink showing in the middle, still trying to keep it juicy though. Similarly with chicken, a few times early on I under-cooked my chicken on the BBQ and it was still gooey and slimy on the inside when I bit into it. This grossed me out and I always make sure my chicken is cooked through now, however I prepare it.
Now that I have given a not so brief history of how I developed a taste for eating RAW animal protein, I'm going to tie it into collapse issues. As with my prior post on Luggage, it might not be immediately clear how my diet relates to collapse. It doesn't really HAVE to relate, since the Diner is both a Collapse Blog and my personal blog, but in this case there is a connection.
One thing for me personally is that these days I am more consumed with my own personal issues of Health Collapse than the collapse of the society at large around me. When you have the Grim Reaper stalking you all the time it's tough to fix your mind on anything else but fending him off for another day. However, there are many issues with the food consumption here which apply more generally in the World of Collapse.
The first issue is one of COST. The fact here is that despite not being a very rich Amerikan (in fact a pretty poor one by measures here), I CAN afford to buy what are some of the most expensive cuts of meat and fish on the market to try and up my protein intake. That's partly because I don't buy much of them because my appetite is so depressed, but much more it is because producing this food is so heavily subsidized in Amerika, and relative to income food is a pretty small part of your daily living expenses, even if you are fairly poor. If you are SUPER poor and qualify for a SNAP Card, you can STILL afford these foods if you are wise about how you spend your monthly food budget. I have demonstrated that on numeros occasions in the SNAP Card Gourmet series. For the vast majority of the world though, these foods are out of the question, they have daily food budgets in the $2/day range (and even less!). In all probability these foods aren't even available in the markets to buy, even if you had the money. I doubt sashimi quality Ahi Tuna steaks are available at the markets in Rio, for instance.
The next issue is the cost to the environment. As most of us Kollapsniks are aware, cattle ranching is extremely water intensive and overall pretty destructive to the local ecosystems. The space the cows take up and the land used to grow their feed is land taken away from all the other creatures that might be living there. Over in Brazil, square miles of rainforest are burned every day to make room for more cattle ranching. This argument is often made by vegans who want to get the whole human population to swear off eating meat.
Here in Amerika though, this leads you to a major Economic problem if Amerikans actually did this. Meat is the staple food of the Fast Food industry, from Burgers to Tacos. Every Mickey Ds and Taco Bell would have to shut down. Those places are among the few still employing people! I doubt you could convert them over to selling fast food Bean Sprouts and Soy Burgers either, the consumers would riot. "What? No BEEF? It's What's for Dinner!"
Not only do you lose the fast food workers, you lose all those people employed in the Feedlots and Slaughterhouses as well, not to mention the folks doing the local butchery and packaging up the meat into scrumptios looking foam & plasic containers! While many of them might be re-employed growing bean sprouts, this will take a while in transition. Shifting the Food Economy here off its focus on Meat is not something you could do overnight, anymore than you can shift the Carz & Trux economy back to Oxen drawn carts.
Finally in terms of the Collapse Blogosphere, this brings up an old debate I had with Gail Tverberg, and one which in fact led to my quitting her website and quit cross posting her blogs.
Gail is a pretty good actuary, and she had some good insights early on to the direction things were going. However, she also fancies herself to be an Anthropologist and she is a believer in Near Term Human Extinction as well, although she doesn't explicitly admit that in her blogs. You can read it in the subtext though of the commentary on Our Finite World.
Gail has a theory that because Homo Saps have evolved Small Jaws, we have to cook our food and thus require fire to survive. So in her opinion, once we can't access fossil fuels anymore, Homo Saps will burn down all the remaining forests on earth in order to cook their food and heat their homes. This is just nonsense. Homo Saps will die off much too fast to burn down all the forests, and where most of the remaining forests are is where most Homo Saps are NOT. Mountainous regions, regions with no available ground water, etc. No way to transport the wood from where it is growing to the places people live for them to burn it.
The fact is of course, small jaws or big jaws, you don't need to cook most foods for them to be digestible by a current Homo Sap. My current diet is just about ALL raw foods, or fermented ones. Besides the Raw Meat & Fish, the fruits I eat are all raw and the cheeses are all fermented. I don't eat grains that need to be cooked. My diet is basic Paleo, Fat and Protein. I don't think I turned my stove on once in the last month, and I am not starving (although granted I am losing weight). If my appetite was better though and could eat more, I would have no problem existing withough cooking my food, and in fact without most most of my teeth either!
The need to heat your home is also a pathetic argument. Inuit and Aleuts up here had almost no fuel to work with, they simply lived in small dwellings where their own body heat kept the domicile warm enough through the winter to survive. Gail is so thoroughly middle class she can't even imagine that, I doubt she has ever been winter camping a day in her whole life. So to her, when she can't get heating oil for her McMansion, she will go Extinct one winter as she freezes to death.
In order to live on this kind of diet though, those foods you can eat raw do need to be available for you to access. So if you are going to survive on raw fish, you do need to live near the coast and have a boat to go out and collect fish with. If you are going to eat raw meat, you either need to be raising it yourself or live in a neighborhood where there is wild game sill roaming around. If you are going to eat fermented cheeses, you need to be raising Goats or Cows that provide the milk for this. If you are going to live on fresh fruits, you need to live in a warm climate where these things grow on trees reasonably rapidly. Finding ONE spot where you can get them ALL is pretty tough of course.
Also true is that currently there are too many people walking the earth to live this way. That however will NOT be true moving into the future. A significant percentage of the population is bound to die off. As more people go to the Great Beyond, there will be more food resource for the remaining population. Unclear at the moment is precisely how big a percentage of the population needs to buy the farm before this becomes feasible, but I suspect a 99% Dieoff would do it. That would still leave 75M Homo Saps walking the Earth, which is a long way from Extinction.
Meanwhile, for myself it is a challenge every day to find stuff I can eat to keep this meat package motoring along for another day while I chronicle Doom on the internet. The RAW MEAT is the current leader of the pack here for me these days, in some tasty dipping sauce. YUM!
20 Responses to Eat it Raw