2018: The Year of the BIG ONE?
Follow us on Twitter @doomstead666
Friend us on Facebook
Published on the Doomstead Diner on December 31, 2017
Discuss this article at the Kitchen Sink inside the Diner
It's Christmas Eve 2017 as I begin this blog, which I will publish next week on New Year's Eve as my 2017 wrap up blog and maybe some predictions for 2018. Unfortunately, both looking backward and forward, I'm not terrifically motivated nor do I have any great new insights to keyboard out I haven't keyboarded 1000 times before. Not like there is any shortage of collapse material though, in fact 2017 was a Banner Year for Collapse on many levels! I don't think any year since the shit show began in earnest in 2008 has had as many good Collapse stories as 2017. So motivated or not, I will squeeze out a year's worth of collapse turds, and then tomorrow flush them down the toilet to make room for another load coming soon to our world.
By himself, from his Inauguration onward, Donalditry Trumpovetsky has filled the newz pages of the MSM and the Blogosphere with a steady stream of complete bullshit and insanity. The Hill has done me the favor of compiling a Top 10 list of Trumpofsky Turds.
The Memo: The Top 10 Trump controversies of 2017


© Getty Images
This list of course barely scratches the surface of Trumpsky's gaffes and daily Twitter embarassments. The issue here is these stories come so fast and furious that they get pushed out of the newz stream after a day or two to make room for the next one. Besides the "Top 10" Controversies with El Trumpo, we also have lists of his Top 10 Impeachable Offenses too! However, with both houses of CONgress pwned by the Repugnants at the moment, any kind of move to actually impeach his Trumpness is unlikely to gain any traction. So we are probably stuck with him dropping Trump-Turds all over the White House through 2020.
This does not however answer the question of what will occur in CONgress in the 2018 Midterm Elections. Several Diners have expressed the opinion that the Deplorables remain enamored of Trumpty-Dumpty despite his many falls and shattered eggshell and will continue to vote Repugnant no matter how quickly it impoverishes them. They also make the case the districts are so well gerry-mandered the color coding is about impossible to flip anywhere.
There is a lot to be said for these arguments, but in this case @DonaldDumbkopf is so pathetically awful it's hard for me to imagine how the Repugnants can maintain control of BOTH the House and Senate in 2018. They currently only hold the Senate by a pathetic single seat. Trumpovetsky's popularity numbers continue to plummet, pretty soon they will be in the negative imaginary numbers. CONgress Critters are announcing their "retirements" by the truckload, either because they can't stand working under Trumpsky or because they grabbed some intern's ass in 1968, or both. So I think the 2018 elections are a real crapshoot and pretty tough to call. You can be sure though that if one or both of the houses of CONgress fall to the Demodopes, the current lockup in Goobermint will get an order of magnitude worse.
Speaking of ass-grabbing and other sexual "harrasment", I can't help but be astounded how quickly this took off and became a first class Witch Hunt forcing numerous Politcos, Hollywood Movie Stars and Corporate CEOs to resign their positions. Not that I have much sympathy for these folks, but I also am astounded how quickly they all capitulated to just being ACCUSED of something that in most cases happened over a decade earlier. No criminal charges were brought back then, and for the most part no criminal charges are being brought now because unless they actually RAPED somebody, what they were doing wasn't illegal and still isn't. You can certainly argue that there is a lot of abuse of power here and that women have been the proponderance of the victims of this, but that was the way the culture was organized. The "casting couch" in Hollywood goes back to its earliest years, if a young actress didn't put out for the Film Director or the Studio Head, she was back to waitressing in a Diner in no time.
One thing I don't understand is why some of these guys don't just DENY the accusations? Who is around to testify whose ass got grabbed at what 1980s party where everyone was wired up on Coke? You don't even have to lie, just use the "I do not recall" defense, because you were probably so wasted you DON'T recall grabbing some ass at a party! However, just about uniformly they have all capitulated to the #MeToo foks and resigned or been fired from their juicy high paid jobs.
The height of this nonsense came with the shit-canning of Garrison Keillor of Prairie Home Companion fame. Garrison was a well known introvert and hardly fraternized with ANYBODY over the 40 years he told his stories over PBS radio shows. One fucking woman says he "touched her naked back" 20 years ago and Garrison gets the boot? WTF?
Moving into the future, I can't see how any male could function in a work environment with this Sword of Damocles hanging over your head all the time. Where do you meet women if not on the job? Just about anything can be considered "unwanted attention" or "sexual harrasment". Nobody can have any FUN anymore!
The Strafing Run of Mother Nature
Moving off the Political Clown show of 2017 and over to Climate & Disasters, we had a steady train of these all year, and for a while there in Novemeber not a day went by without some community being completely wiped out by a hurricane and then the aftermath of infrastructure damage. A full 3 months after Puerto Rico got levelled by Irma/Maria, they STILL don't have electricity restored to the whole island. In many places, "restoration" of electric power doesn't mean the grid is back up, it means the Army Corps of Bozos has brought in generators to bring some power back to individual communities. Also entrepreneurial Ricans are doing well selling generators & inverters these days too!
Not too much followup Newz on what is going on in the FSoA and Brit Virgin Islands these days, but my guess is they are mostly still swimming in shit. On the upside, if you are looking for a cheap sailboat, many of these slightly damaged floating homes can be purchased for pennies on the dollar now.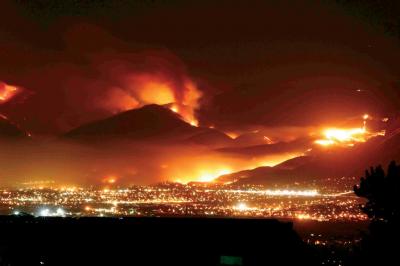 The Hurricane Parade of 2017 in the Carribean was followed closely by the CA Wildfires, culminating with the Thomas Fire which became the largest fire in modern CA history, chewing up over 270,000 acres of real estate and at least 1000 or so expensive McMansions. Endless great Armageddon style pictures from these conflagrations every day, if this didn't drive home to the Newz Consumer that there is a slight problem with sustainability of the suburban lifestyle in CA I can't imagine what will.
What you can see from the diagrams of the fire is where the CA Fire folks set up their fire lines. Huge swathes are left to burn, and what they do is circle the wagons around the rich enclaves with a lot of expensive McMansions built on them. Getting Special Attention and a LOT of firefighting help from CA Prisons are neighborhoods with people like Oprah Winfrey, Ellen DeGeneres and Rob Lowe living in them. So mostly these Jeweled Communities were "saved" by the brave Firefighters/Prisoners working for $2/day and/or some time reduced from the sentence.
However, even though the structures of the Rich & Famous were mostly Saved, they still had to breathe the air until they finally blew out of town to take an air conditioned hotel suite in Phoenix. The McMansion is still gonna stink like smoke unless they can get the insurance company to total it, raze it to the ground and build a new one, even though it didn't burn at all.
Precisely how many tons of carbon were released into the atmosphere by these fires I do not know, but given the fact that SoCal looked like China for 2 straight weeks and they were handing out filter masks like confetti it was pretty significant. Not even all the carz driving around LA every day make the atmosphere look THAT bad. However, at least this acreage is unlikely to burn again next year, but you can't say the same thing about some new Hurricanes dropping in on the Carribean and the GoM next season. I really wonder what the response will be if Houston gets hit by ANOTHER hurricane next year? $Billions$ already spent this year, now you gotta go fix it AGAIN? How many times will people rebuild in the Land of Perpetual Mold Spores?
The last of the Collapse Storiez I will cover for the 2017 Recap Edition of Sunday Brunch on the Diner is the Bubblicious Bitcoin Banquet, where speculators are still having a field day Pumping & Dumping Crypto-Currency bullshit reaching ridiulous valuations and based on NOTHING. This form of "money" didn't even EXIST a few years ago, but now is "worth" $100s of Billions if not Trillions of Dollars. Meanwhile, a new story pops in just about every week of some exchange that got hacked or some scam being run by some con artists in Hong Knog or Singapore to make some money off this mania. Somebody is going to be left with a very big bag of NOTHING when this one finally plays itself out.
There remain however numerous crypto-currency FANATICS out there who see this nonsense as the SAVIOR of money from the centralized control of the TBTF Banks controlling the global central banks. What nobody seems to grasp is that it doesn't matter WHAT you use for money, gold, paper, digibits whatever, if you don't have the resources to value the money against, it's worthless.
Anybody who actually HAS some money these days is in a frantic search for some way to protect their paper wealth from theft by Da Goobermint through Taxation or theft by the Banks through Inflation. Crypto Fanatics are basically people in the world of finance trading around a lot of virtual debt with nothing to back it up at all and besides that is incedibly energy intensive and loaded with complexity that makes it impractical for most of the population to use in any meaningful fashion.
The illusion of wealth is being perpetuated by the ever rising stock market, which really only keeps going up because more debt is pitched at it every day. Energy companies, Tesla, Amazon, Alibaba, NONE of them actually make an organic profit. All they do is expand the level of their debt every year, as does Da Goobermint as well of course. This expanded level of debt makes it appear there is a GDP increase, but there really is not. On a per capita basis, each year we all are incrementally poorer and deeper in debt. Anyone who believes all this debt can EVER be paid off is in serious need of a Reality Check.
So as we move onward here into 2018, some sort of Reset has to come, but will it actually arrive in 2018? What form will it take, and how pervasive will the effects be through the economy as a whole? It's really a Fool's Game to try and predict this, what you really need to do is Hedge as best you can against the possibility this IS the "Year of the BIG ONE".
So, how do you hedge? Here are a few suggestions, more or less in order of importance.
#1- Have a stockpile of long lasting foods and alternatives for producing electricity at least through temporary disruptions. You don't need a full blown off-grid Solar PV & Wind Turbinesystem for this, although it's a nice prep to have if you can afford it. At least have a generator and deep cycle battery and inverter though. Small emergency setups that can carry you through a couple of weeks without grid power can be put together for under $1000.
#2- Get out of/Stay out of Debt if at all possible. Many people are too far underwater on this to completely get out now, but you do the best you can and definitely don't take on new debt unless you absolutely have to just to stay alive. The last thing you want in a SHTF scenario is to see your bank account locked up because you didn't make your last mortgage payment and the bank has frozen your account.
#3- Have a decent size STASH OF CASH that can carry you through at least a couple of months where you can't access your bank account. Right now here in the FSoA we still do HAVE cash that works, the Almighty Dollar, and the paper version is not going to disappear here overnight, or even hyperinflate overnight either. It's very fungible currency and you can use it to buy more food and preps pretty much right up to the minute of SHTF Day.
#4- Have a good BUGOUT PLAN in place. If you at least have a car, you can have a decent bugout plan to GTFO of Dodge if your neighborhood happens to be the latest one to be leveled by Floods, Tornadoes, Hurricanes, Wildfires, Drought or Political Upheaval. Have a selection of different destinations depending on how things shape up, and alternative routes to get there. Hopefully have friends/relatives at the other end of your bugout plan to join up with. Have provisions for shelter on the road and for cooking.
#5- Have PERSONAL PROTECTION that is sufficient to at least keep the average Zombie at bay. You don't need a fucking arsenal for this, but a good semi-auto pistol, a shotgun and a rifle with a scope is probably not a bad idea to have in the car with you. You can leave the RPGs at home if you don't have room. lol.
I would NOT suggest anyone currently employed in the Industrial economy quits their job to go live in the Tropical Rainforest or the Alaska Bush, even if you are fairly conversant with living the Full Primitive. You would have to be Cody Lundin to make it out there by yourself or even with a small Tribe. You will need to see how society reorganizes and become part of some group to be able to make it through the Zero Point.
These principles are timeless and do not prevent you from living a "normal" life for as long as BAU continues. They don't cost a fortune either, you don't need gobs of money to buy your own Doomstead and set it up with off grid power systems, etc. You just need to remain flexible, mobile and out of DEBT. It's about the best you can do, and when TSHTF in your neighborhood, then you can get to the task of figuring out what you will do in the aftermath.
Maybe it comes in 2018, maybe it takes to 2020 or 2025, but a reset is coming down the pike here, as sure as the SUN☼ rises each day over the horizon. Be ready for that day when it comes.
Remember the Boy Scout Motto. BE PREPARED!
4 Responses to 2018: The Year of the BIG ONE?