Death of a Mall Man
Follow us on Twitter @doomstead666
Friend us on Facebook
Published on the Doomstead Diner on January 7, 2018
Discuss this article at the Economics Table inside the Diner
Death of a Salesman was written by Arthur Miller in 1947, and is widely considered one of the greatest plays of the 20th Century. It's a play about broken dreams and the lifetime failure of the protagonist, Willy Loman. It's a sad and depressing play about the failure of the American Dream which doesn't seem too odd now, but this play was written in 1947, right after the end of WWII and at the beginning of the grand explosion into suburban housing, car mania and endless consumerism we live in today. Some folks hitched a ride on the great bandwagon of prosperity that came with this expansion, but many did not and ended up much like Willy Loman did.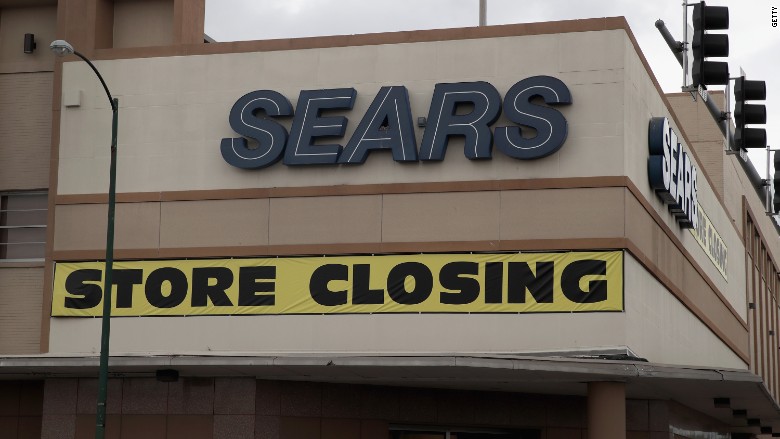 Nonetheless, despite the fact that the Great Consumer Culture never really was the great success it was made out to be, the illusion continued to be sold from the 1950s onward, right up today with the online retail giants of Amazon and Alibaba. The illusion is falling away though now, most significantly in the form of Mall closures all around the country. The "Anchor" stores of large retailers like Macy's, Sears and JC Penney are all downsizing as fast as they can to avoid Bankruptcy, with new store closures announced on a monthly if not weekly basis. This will not of course avoid bankruptcy in the end, but it does drag it out and delay it, in some cases long enough for Vultures like Eddie Lampert to strip mine the rotting hulk for whatever assets are still left.
Although folks just a decade or two younger than myself may not believe this, there once was a time here in Amerika before Malls dotted the landscape and before rampant consumerism became the cultural religion. When I first returned from Brazil in the late 1960s, there were no Malls at all. The consumerism in those days was happening in the Department Stores like Macy's, which were the first outlets for all the merchandise being produced in the aftermath of WWII. In fact you can say the whole "Black Friday" sales gimmick was kicked off by Macy's with their Thanksgiving Day Parade in New York. The Media of the era backed this up with films like "Miracle on 34th Street", with Edmund Gwynn playing a Macy's Santa and the young Natalie Wood playing a little girl who really BELIEVED in Santa Claus. The film was a completely shameless promotion of the lifestyle being sold, complete with the perfect Suburban House being handed by Santa Claus to Natalie and her parents at the end of the film
For the Millenials who like to drop in and blame the Boomers for the rampant consumer culture we have now, catch the date on "Miracle on 34th Street", it was produced in 1947 also, the same year Arthur Miller wrote Death of a Salesman. Sense a little cognitive dissonance here? Which narrative do you WANT to buy into? Most people want to believe in Santa Claus, the dark side of reality is not so pleasant. In any event, this all predates the arrival of the Boomers on the scene, they were just starting to be born in 1947 and did not have a whole lot of control over the direction the culture was being pointed by those who stood to make a profit off of this type of wasteful living. It in facts predates even the Greatest Generation, the parents of the Boomers who returned from WWII to buy suburban tract housing just being built on the GI Bill. You can see the beginnings of this as early as the late 1800s with the first Sears Catalogs for buying by mail order. Sears was at one time before its long downhill slide the Amazon & Alibaba of its era rolled into one .
As I mentioned, when I returned to the FSoA from Brasil in the late 1960s there were no malls to speak of, and really this was true right through the 1970s, although I think they started to put them up at the end of the decade. The oil crisis of the early 70s was over, the Dollar was freed from the Gold standard and credit was flowing out fast and furious to the well connected. The first mall I remember going to was called I think the Galleria,and that was in the early 1980s. It seemed pretty impressive to me back then, although I know compared to some of the monstrosities built later it was probably pretty small.
The malls quickly developed their own culture, particularly among the teenagers of the time and Mall Rats were born. Generally high school age with some of the older ones sporting their own carz to haul themselves and a few friends to the Mall parking lot, it was a place to gather, smoke weed and try to pickup girls if you were a male. I was a little too old for this scene at the time, but I observed it as I walked around and window shopped all the great merchandise all in one place.
The malls had their heyday from the mid 1980s until the late 1990s and are the best example of the conspicuous consumption mania that dominated this period. More credit flowed out to build more malls, and more new roads to get to the malls which were usually pretty far out from a city center because that was the only places you could get enough land at a cheap enough price to build one. This spelt the death knell for many shopping districts in the small to medium size cities and they began to wither and decay.
You can look at this period as the "blow off top" of the Amerikan Retail market which began with Sears in the late 1800s. There was just a ton of STUFF being sold in these places and there was always something new and cool you just HAD to have, especially if you were a teenager. How were people AFFORDING all this great new stuff though?
The building mania of roads, malls and subdivisions provided many jobs in construction at a pretty good wage through the 80s and 90s, so there was some money flowing out into the suburban consumer's bank accounts, but overall it was stagnating pretty significantly. Most of the money being spent at these malls was still more debt, now Credit Card debt as Visa and Mastercard vastly expanded the number of people they would offer credit to and the computer and communication systems evolved to become all automated. "For everything you ever wanted but could not afford, there's VISA".
Everybody got a Visa card in those years, even college students with no income. Even if you were the rare person who could fog a mirror but did not qualify for a bank issued card, you could get store issued credit cards from all the major retailers, Sears, Macy's, etc. You could stack your wallet full of them, and it just seemed like Free Money. Small monthly payments at first, but the buying every time you went to the mall became habitual. Those small bills got bigger and bigger, and there were more of them coming in every month. Your total monthly bill was now more than you had discretionary cash to cover. By the time you graduated college, between the credit card bills and the student loan bills, there was no money left to pay rent with, even if you found a job. It was back to Mom's basement for the next decade while you tried to pay off the bills.
Mom & Dad also got addicted to the credit cards and shop till you drop at the mall, and they weren't making any more money either. For them though, the Banksters came up with another solution to ever increasing household debt, the HELOC loans. The equity built up over years living in a McMansion was refinanced, all the bills consolidated at a lower monthly payment and Mom & Dad were free to spend again! Unfortunately this backfired for many in 2008 when the sub-prime Real Estate market went tits up and many of these McMansions went underwater. Dad, an aging Middle Manager somewhere got laid off, the McMansion got foreclosed on and this was another formerly middle class family reduced to abject poverty. All the equity in the home had been burned up at the Mall, and now besides not having a home to live in they still had the accumulated debt on the refinanced mortgages, which were now recourse loans the banks could continue to hound them for.
Although the process started before the 2008 Financial Crisis, the process of store closures in these mega retail palaces vastly accelerated at this time. People simply had neither the income nor the credit necessary to keep up the Shop till you Drop lifestyle. Teenagers no longer got a car on their 16th Birthday as a de riguer gift from Mom & Dad, now they got a smart phone instead. Instead of gatheirng together at the Mall to socialize, they instead spent their time on Social Media. If they did have any money to buy some electronic toy or fashionable article of clothing, they did it online with the smart phone, not at the shops in the mall. Once the big retailers closed their doors in a given Mall, foot traffic decreased exponentially and the smaller shops and food courts that depended on that traffic began to shutter their doors also. Many of those Malls built in the 80s & 90s are now empty and rotting hulks, awaiting demolition if the township they are in can find the money to demolish them. Many more will close this year, and in the years to follow. This model for the culture is finished, although a few places still hang on as the local employees hope for a miracle turn around to save their jobs.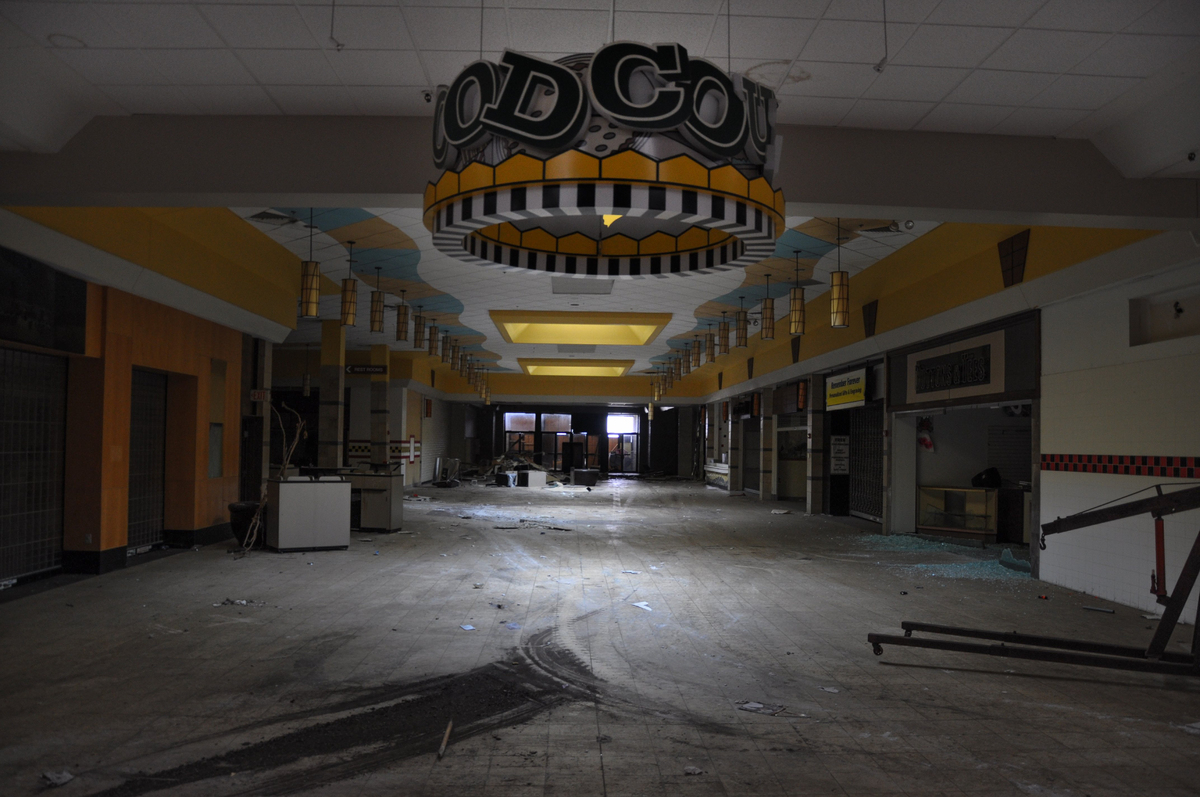 The motivation to write this article came from an article I read published by WaPo on New Year's Day 2018, First, this town lost its Macy's. Then Sears. Now, all eyes were on J.C. Penney. The article is too long to paste in its entirety, but there are a few interesting observations made I would like to reflect on.
First let's look at the location of this Mall and the economics of the neighborhood.
There were four days until Christmas, and this customer had decided against shopping online to come to a real store and talk to real people. To Barbara, that meant she had to provide something he couldn't get from clicking buttons on a computer. Could the Internet assure the customer that he was making the right choice? Could it praise him for being a thoughtful husband? Could it make sure that he was getting the best possible deal?

That was what Barbara could offer at the last remaining department store in the only mall in Hermitage, a city of 16,000 in Western Pennsylvania. J.C. Penney used to be one of three anchor stores at the Shenango Valley Mall. Then, one day last March, both Sears and Macy's shut down, becoming two of the more than 500 department stores that closed across the country in 2017. Headlines have called the shrinking of these American staples the "retail apocalypse." In Hermitage, employees called it "the funeral," because of the way it sounded as customers lined up to make their final purchases. "I'm so sorry," they said. "I'm in shock." "What are you going to do?" "What am I going to do?"

What might have been just a sign of the times in a bigger city was a life-changing and economy-altering loss for Hermitage, the kind of place too far from anywhere to be considered a suburb, but too developed to be considered rural or to attract visitors with small-town charm. The closest thing Hermitage has to a downtown is the intersection where its mall sits, surrounded by McDonald's, Walgreens and Dunkin' Donuts. The biggest buildings down the road are Kohl's, Kmart and Walmart. The retail industry is the third-largest employer in town, just behind health care and manufacturing.
So where is Hermitage? Let's look at the map.
As you can see, Hermitage sits about dead center between two "major metros", Cleveland and Pittsburgh, on what used to be some of the best farmland in the world. Somewhere along the way, probably in the 70s-80s this area was developed as a suburban bedroom community for those cities, as well as the more minor metro areas of Youngstown and Akron. However, even by the 80s all these towns were in decline in the heart of the Rust Belt.
The neighborhood has no "charm" like an old New England town or an old town along the Mississippi River that got left behind when the interstate highways were built, so it doesn't even have that going for it. It never developed any real economy outside the service economy for the locals of medical care, restaurants and retail. With retail going down the toilet, there's not much left there in the way of local employment, and it's not like you can drive to Cleveland to find a high paying job either. What is left to drive the economy there? Aging Boomers who are collecting Social Security and Pensions about covers it.
Next let us look at the Demographics demonstrated in this article. The main focus is on a Jewelry Salesperson who got her job for the Christmas Season, Barbara Cake.
Barbara Cake shows watches to customers at the J.C. Penney jewelry counter. (Dustin Franz for The Washington Post)
But come November, J.C. Penney was still open, and the most important season in retail was about to begin. Sharon Loughner, the general manager, was confident that the rush of holiday customers was on its way and, with little choice of where to go, that they would be coming to her store. She would need more workers to do all the extra fetching, folding, stacking and selling, and so she put out a call for seasonal employees.

Among the parade of well-qualified applicants from Hermitage and towns nearby came Barbara, a 67-year-old woman who seemed to represent all that retail used to be. She was impeccably dressed for her interview. She planned to wear a pantsuit each day. She talked about catering to the customer's every need. She addressed everyone, no matter their age, as "sir" or "ma'am."

For J.C. Penney to succeed, it needed employees like Barbara, whose necklace and bracelet, Sharon noticed, coordinated perfectly with her outfit. Sharon thought of the department where the sale of a single item could equal a dozen sweaters in ­revenue.

"How would you like," she asked Barbara, "to work behind the jewelry counter?"
Wait a minute…since when has a 67 year old retiree been the ideal retail saleswoman? Back in my younger days, the department store sales people were all in their 20s or 30s the most. If you weren't out of sales on the floor level and into management or working as a buyer for the store by the time you were 40 you were a complete LOSER. Now you have aging retirees lining up for these positions which pay barely over minimum wage, and they need to meet their daily quotas too! Great way to spend your retirement years! Barbara needs to do this so she can save up enough money to buy Iphones for her Grandkids.
Barbara accepted, not thinking about the arthritis in her hands that would make it hard to work the small clasps, the plantar fasciitis in her right foot that would act up if she stood for hours, the reading glasses she would need to see the small numbers on the price tags. She had been an executive secretary for 30 years, and now, a few years into her retirement, had done the math on her savings, her mortgage payment and her grandchildren's Christmas gifts and decided it was time to return to work.

The job at J.C. Penney was guaranteed only until the new year, but if she worked hard enough, she thought, they might keep her on. As a "sales associate," she would be expected to sell about $1,500 worth of merchandise a day and would bring home $8.50 an hour, before tax.

She studied up on diamond ratings and learned to lock the jewelry counter's glass cases to help prevent shoplifting. She learned not to ask if customers had J.C. Penney credit cards, but to assume that they did, so they would feel like they should. "And that will be on your Penney's card, sir?" She survived Black Friday, perfecting her response to unhappy customers: a hand over her bedazzled brooch and a sincere apology. "I'm sorry, ma'am, we don't have the Fitbit here."
It's all so pathetic and sad, particularly considering the people immersed in this decaying culture have no understanding of why it is occuring or why their hopes and dreams that things will improve in the future will not come to pass. We're not looking at a "cyclical downturn" here, this is a structural problem with capitalism and the energy intensive economy it was built on. To paraphrase Bruce Springsteen, "The jobs at the Hermitage Mall are going boys, and they ain't never comin' back".
Now Main Street's whitewashed windows and vacant stores
Seems like there ain't nobody wants to come down here no more
They're closing down the textile mill across the railroad tracks
Foreman says these jobs are going boys and they ain't coming back
To your hometown
The jobs that were available to provide money to BUY goods in the retail economy over the last couple of decades were jobs that where the work was SELLING the goods, like Barbara Cake is still trying to do in the Hermitage JCPenney Jewelry department. The jobs actually MANUFACTURING these goods disappeared in the decades before that and were offshored to places like China, India & Mexico, where labor could be purchased at a much cheaper price. So there wasn't much left in the way of remunerative work besides becoming a part of the retail/service economy already.
Paradoxically, while by the numbers retail sales have been climbing back out of the sewer since the Great Recession of 2008-10, retail jobs have been decreasing at the same time. Steve Hansen on Global Economic Intersection recently covered this phenomenon in his article, Death of Retail Employment Growth.
Pundits continue to rejoice in the improving retail sales pointing to an improving economy. But consider this: inflation adjusted retail sales per capita is barely at the levels seen before the Great Recession (blue line in graph below).

The per capital retail spending curve roughly approximates median household income (red line in graph above). Most of the middle and lower classes spend all they make. My point is that retail sales is limited by population and their income.

However, the noteworthy aspect of retail is the contraction of the retail workforce (red line in graph below) all while inflation adjusted retail sales(blue line in graph below) continues to expand into record territory.

Another way to look at the data in the graph above is the rate of year-over-year growth where the difference is more apparent.

Many blame the shakeup on Amazon's AMZN (U.S.: Nasdaq) presence in the retail marketplace. Of course, their e-commerce model coupled with their automation / robotics adoption is putting pricing pressures on the entire retail industry.
While there has been much play in the Newz about automation coming to Driving in the form of self-driving Carz & Trux that will eliminate millions of driving jobs in the Taxi and Trucking industries, in reality the retail industry is much more amenable to automation than driving is, and frankly I am surprised this hasn't gone further, faster. Most of the Grunt level jobs in retail, be it stocking shelves or running a cash register are extremely repetitive and they exist in a controlled small environment, unlike carz on the road. Robotic Pallet Jacks could easily negotiate the aisles and stock the shelves and self-checkout scanning kiosks already exist in most of the larger food stores and superstores like Walmart. So even forgetting for a moment about the transition to online retail through Amazon and Alibaba, any surviving Brick & Mortar stores have a lower potential number of retail jobs that would be available. 1 clerk can monitor 10 self-checkout kiosks instead of 10 clerks on individual registers. That's a 90% reduction in jobs right there!
I can also envision a system where you have to swipe your card and pay for an item even before you take it off the shelf. This is the way the old "Automats" used to work, where you had to drop your quarters into the slot to get the door to open and take out your Tuna Fish Sandwich. There actually was one of these places still functioning on 14th Street in NYC in the 1970s when I went to High School in the neighborhood, although they had their heyday in the 1940s to 1960s. Vending machines were the succesor to that. You already have kiosks in the airports for Best Buy where you can swipe your card and get a new Bluetooth Headset for your Smart Phone if you forgot it in the rush to get to the airport. I can easily see entire aisles in the store with these type of kiosks instead of regular shelves.
There is just about no job in the retail industry that couldn't be easily roboticized, and if BAU were to continue long enough I would certainly expect this to occur. It is however all extremely energy intensive and very complex, and besides that it still depends on the consumers having MONEY to buy the shit in the kiosks! Where are they going to get this money? This sector of the economy is about the last one with jobs left for J6P, what is left after those disappear?
At his point you need to start talking about the UBI, or Universal Basic Income. Nice idea in principle, but in practice if you pass out a fixed amount of money for people to spend, you ALSO need to control the PRICES for the items they buy with this money, at least the essentials like food, housing, transportation, communications and health care. Without price controls, the providers of these goods & services will keep raising their prices to the maximum the market will bear, leaving everyone just as impoverished as they were to start with!
Fortunately (or unfortunately, depending on how you look at it), I don't expect BAU to last long enough to see all retail and all transportation of goods to be roboticized to any significant degree. Retail is shutting down already too fast for this to occur. As I write this article, both Macy's and Sears announced new Store Closures and employee layoffs, in the case of Macy's numbering around 5000 new folks on the Unemployment lines. Both of these corporations have long been destined for Bankruptcy, and you wish somebody would put them out of their misery already. Like a lame horse, watching the suffering dragged out is quite unpleasant.
For myself, watching this aspect of our Industrial Consumer Culture head inexorably toward its inevitable death is quite similar to my visit to the Boeing Museum of Flight, where the development of the aircraft industry is celebrated. There I suffered Cognitive Dissonance between my knowledge of how the aviation industry has expanded warfare and made it more deadly on the mass scale, and my admiration for the technological prowess involved in building these machines.
In this case, while the overall Consumer Culture disgusts me, I admired the architecture and sheer SIZE of these malls when they first went up, and I LIKED having all those stores in one place to walk around to and at least window shop. At the time I was quite unaware of DOOM and how unsustainable the whole model was, it seemed like this was the mark of a successful society and economic system. After all, here in the FSoA we were shopping at STOCKED Malls, while the Soviets over in the USSR were lining up just to buy food at the grocery store! Capitalism was SUCCESSFUL! Communism was a FAILURE!
There was a certain amount of truth to that also, looked at in terms of Instant Gratification. What the system was doing though was mortgaging out the future, with the expectation of an infinitely growing economy, which is of course impossible in a Finite World. Capitalism was a fabulous model for burning through resources at the fastest possible rate, meanwhile creating waste and pollution at previously unimaginable levels. One trip to the dump or the "landfill" in your neighborhood should be enough to convince anyone with functional brain cells the model is not sustainable.
So where do we go from here? For a time, Amazon & Alibaba and other online retail will replace the Brick & Mortar retailers, but they also are limited in their lifespan and will last an even shorter period of time than the malls did, which if you count it from the very beginning in 1980 or so to say 2020 was 40 years. From my POV, the online model gets max 10 years from now, but that is only assuming there isn't a collapse of the Monetary System or a major Thermonuclear War. Even without those cataclysmic events though, if the consumers are not being issued out enough credit to buy the merchanidse, it just won't sell. An ever decreasing percentage of the population has access to such credit, generally issued out in the form of wages. Without a UBI or something similar to keep the commerce going, it's finished. As mentioned above though, UBI has its own set of problems, and besides that the political and financial Elite are not predisposed to handing out Free Money to anyone but themselves. If all else is failing though, it may be undertaken and work for a short period of time.
What comes after this is anybody's guess, although it is likely to be a much more local system utilizing direct barter rather than money. Also nearly certain at this point is an enormous reduction in the global population as the overall syatem of money and trade fails in ever larger circles beyond just the retail goods sold in malls. In fact in many of the poorer countries, large segments of the population are already being priced out of affording food, which leads to increasing political destabilization in those countries. Some quite large countries like Iran and North Korea can be included here, and these countries have means to strike out militarily if existentially threatened by food shortages, which seems likely.
Until this does turn into an armed conflict though, the best the local in any neighborhood can do is to try and develop some Food Security with long lasting foods in storage or means to grow your own, or both. If you have lived inside it for a lifetime as I have, don't feel too guilty about mourning the demise of the Malls and all the great stuff they were selling for the last 40 years. It was a dream, a hallucination, a mirage sold to all of us by those who stood to make an enormous profit from it and live richer than any King, Pharoah or Emperor from the past. Unfortunately with such dreams, you eventually do wake up from them, and reality sets back in. Then you gotta deal with that.
5 Responses to Death of a Mall Man