Knuts 4 Knives – Dagger Disease
Follow us on Twitter @doomstead666
Friend us on Facebook
Published on the Doomstead Diner on January 20, 2019
Spoiler Alert – The Bowie Knife Wins
Discuss this article at the Doomsteading Table inside the Diner
I'm taking a break this week from doing more survey analysis on the 2019 Collapse Survey to cover a favorite Prepper Topic of mine, KNIVES! I am a sufferer of DD, Dagger Disease, listed in the DSM V as BOD, or Blade Obsessive Disorder. I am not the only sufferer of this malady here on the Diner, C5 also is a victim of this psychological dysfunction. Recently he wrote an article detailing some of his issues, which I published on the Diner this week. I decided I should expand on the topic some, since although our syndromes have quite a bit in common, there are also significant variations in the etiology of the disease in both of us. More on that in the main body of the article below.
Far as the Survey goes, I've been at that project for over a month and I needed a break. However, we still have a good deal of analysis to do, and I will get back to it likely for next Sunday Brunch article. Next article will be an overview of the Political Sewer we find ourselves in, not just in the FSoA but all across the globe in both the "rich" 1st World Industrialized Nations as well as their Slaves mired in 3rd World poverty. Results on this portion of the Survey come in quite as interesting as the Energy questions and the Demographic breakdown The Survey remains OPEN at this time, so you can still get your opinions counted in the final tally if you take it.
Now onto the topic for the day, KNIVES!
RE
As tools go for the Prepper, there is nothing more important than having a good knife. Eustace Conway or Cody Lundin might be able to survive out in the wilderness without a knife, but about nobody else could. Even Eustace said it would be a lot easier with his knife.
Knives along with the Hand Axe are our oldest tools, dating back to just after we came down from the trees to overrun the Earth with our Biomass.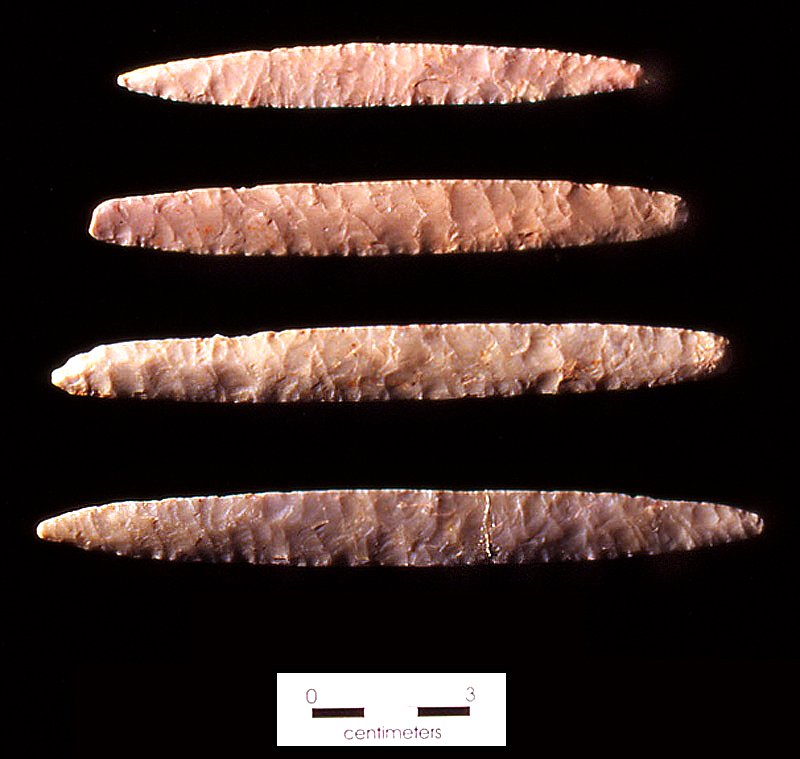 In the intervening time, Knife Technology has substantially changed of course, the biggest change coming from the development of Metallurgy around 10,000 years ago, the same time period where Homo Saps left the world of the Hunter-Gatherer to become a Sedentary Agricultural Civilization. Also around the same time the Wheel was invented and warfare became much larger in scale also. I have written on this topic in the past, all these things are closely intertwined in the "progress" of Human Civilization. Today though we are just focusing on Knives, the most basic form of a bladed tool. I'll go into more about the history of knives and the development of derivative bladed tools in an article in the future some time, if I stay above ground long enough to write it anyhow.
Anyhow, in his recent article, C5 put on display some of his collection of knives, which is quite impressive overall.
Do you notice something in common about most of these blades?
They are almost all BIG. Make that HUGE in some cases!
This because besides suffering from BOD, C5 also has a severe case of BMD, Big Man's Disease. C5 measures in around 6'3", and for him a blade needs to big and hefty for it to be worthy of respect. In fact, people with BMD generally only respect other things and people that are also big. However, on the Diner, C5 comes in rather average to small in height.
Diner Lucid Dreams tops the stratosphere rolling in at 6'6".
Diner Roamer comes in at 6'5".
Diner Surly comes in around 6'4".
Diner Eddie sniffs the thin air at 6'3".
Diner K-Dog also around 6'3"
(heights listed are all visual estimates, I never took a tape measure to this)
Left to Right: RE, Eddie, Haniel, Lucid Dreams, Bertie. The two Tall Guys are the ones standing. The 3 Small Guys are the ones relaxing reclining against the Dome. Photo taken at the first Diner Convocation at Monolithic Domes down in Texas in 2014.
Now, if we were assembling a Basketball Team, we would be doing pretty good, at least at the Collegiate Level anyhow. A little small overall by NBA standards, but really we only need to recruit one 7 Footer from China or Nigeria to fill the role at Center, and we could be competitive there too. This of course is assuming we all were young and healthy and in our Prime athletic years of course, not the disfigured Cripples some of us are today. lol. LD and Surly at Power Forward. Why do I put Surly at Power Forward even though he is not as tall as Roamer? Because Surly is not just tall, he's a BIG man in many senses of the word (he has to be pretty big to put up with my bullshit all the time. lol). You run into Surly trying to drive to the basket for a layup, and it would be like hitting a brick wall. Two people in that collision, and one of them is going down, and it's NOT Surly. Really he belongs on the Defensive Line in the NFL with the Purple People Eaters of Alan Page, Carl Eller, Jim Marshall and Gary Larsen, not in the NBA on the Diner Team, but we're assembling a Basketball Team here, not a Football Team.
Where does RE fit in on this team of Big Men? I am the Diner small man, coming in at 5'7" before I started shrinking due to my spinal problems. So I would probably be the Manager of the Team. Small men often fill this role. For instance, both Julius Caesar and Napoleon Bonaparte measured in at 5'7" along with RE.
Alexander the Great came in a Meat Package even smaller than that, measuring in at an even 5'0".
If all it took to be Competitive in the survival game over the Millenia, small men like myself would have been bred out of existence in the distant past, but that didn't happen because there are many advantages to being small. For instance, you fit way better into Compact Carz and Airplane seats! I get a good chuckle every time I have a Big Man sit down in the seat next to me on the Jet as he tries to wedge himself into the seat with his knees about an inch away from his chin. lol. If we ever are to get off the Earth and colonize the Final Frontier of Outer Space, it will be small men who do it, we fit better on Rocket Ships also and consume less resources
However, I wouldn't be happy just managing the team, I wanna Play Ball too! So RE would take the role as Point Guard in the back court as ball handler, stealer and fast break man and passer to the Big Men. The role played by Calvin Murphy, along with "Tiny" Nate Archibald , two of the best guards in NBA history measuring in at my height of 5'7"..
Do you know at one time I could stuff a basketball? Who says White Men can't Jump? Back in HS playing after school ball on the courts of Stuyvesant Town which was right across the street from Stuyvesant, my HS, I decided I need to learn to stuff the ball. What a great sure fire method of getting 2 points! I was always jealous of the Big Boys who could do this so I set myself the task of being able to do it also. At the time Stuy Town was owned by Metropolitan Life, they went Bankrupt in the 2008 Financial crisis though.
Anyhow, it took me most of my Sophomore year to be able to do this. Besides having to get some serious altitude off the ground when you are my height, I also had the problem my hands are too small to palm the ball. About the biggest ball I can palm is about Volleyball size. So I had to develop the technique of carrying the ball palm up while flying to the basket, then turning it over right before I stuffed it. I needed a decent run up for this, I couldn't do it from standing, so it only happened a few times on a fast break when playing full court, which wasn't often, mostly we played 3-on-3 man half-court B-Ball. It was a great thrill for me the few times I pulled it off. Everybody was suitably impressed, including the girls watching the game. 🙂
At one time I could also do Standing Backflips. That's me on my Honeymoon in the central square in Nice at the right pulling off this stunt. My wife also could do it. How many of the Big Men here were ever able to do that? Not many if any I would wager. There are many reasons why gymnastics is for the world of the small, many biological and physics reasons for this, I won't go into it now. At any rate though, the skills you develop in that sport serve you very well in many other disciplines in the world of sports and in the Martial Arts. Unfortunate I became a Cripple in my dotage here, it would have been a great challenge combatting the Zombies with my Knives and my athletic skills of yesteryear. Oh well. 🙁
So now we get to see my collection of Knives along with C5s. I come from a different world than he does in the Land of Blades, I come from the Cooking end of it. We're the Panty Waists of the Knife World, not only do we Eat Quiche, we make it too! However, among knife experts, there is probably nobody better with a Blade than a Japanese Sushi Chef, not even Surgeons are generally this good
I am not this good of course, but I'm not too bad either. Back when I worked at Capsuto Freres, slicing, dicing, chopping and deboning the various meats that rolled in for the main chefs to cook up was my primary job. I wasn't one of the lead chefs, I worked "on the line" of 2nd and 3rd level chefs in the kitchen. I wasn't a culinary school graduate, no Credential here for me. The Head Chef was a friend of mine though from when I was working on Wall Street and would spend copious amounts of money ordering up the meals they served while I wined and dined the Twyla Tharp dancers, and he got me the job when I walked away from that life as a future Master of the Universe Bankster. So here below is my main selection of Knives I use regularly when cooking nowadays:
Working our way down the line here from Left to Right, the biggest knife I will use with any regularity is the 7" Meat Cleaver. It's not as long as the 10" Chef's Knife next to it, but it is substantially thicker and heavier. It's big enough to whack through any bones I ever have to deal with, anything bigger they whack through it with a meat saw at the Butcher shop and do a much cleaner job of it. If I am doing this rather big job out in the field, I use a Hacksaw, not a Knife. Or I would just hack it apart with a hatchet. I don't see any need for a really BIG Knife when cutting up a mammal carcass. The 10" Chef Knife is a great Utility blade in the Kitchen, you can do most normal tasks with it if you keep it sufficiently sharp. It's a little bigger than most professional Chefs work with though, the standard there is usually an 8" Chef's Knife or a Santoku design for the Japanese. Your wrist doesn't get as fatigued when doing a lot of slicing, and the smaller knives are generally more maneuvarble. These days because I generally only prepare small portions for myself, I usually work with a 5" Santoku as my Go-To Knife. I keep this one wicked sharp, you could shave with it. I would never do that though, I have razors for that task.
The 11" long blade is a Slicer, which you use for such tasks as slicing up your Thanksgiving Turkey for a nice presentation on the Table before that traditional Pig Out event of Mass Consumption, or for nicely thin slicing a fillet of Salmon for Gravlax or of Cold Smoked Nova Scotia Lox for your Bagel. The smallest blade there I use is a Paring Knife, good for things like coring Apples or getting the seeds out of Green Peppers before you stuff them with pork sausage, mozzarella cheese and marinara sauce. Yum!
You'll notice that I don't keep my kitchen knives in the typical Butcher Block style countertop organizer sold with many knife sets, this because I bought most of my knives individually over time and also because I like the portability of the roll up carry bag I have for them. This is the type of bag Culinary School students use to carry their tools to school every day, where you are often required to have your own set of knives and the instructor will come around and test them for sharpness as well. Besides Knowledge, there is nothing more important in the kitchen than having the right knife for the right job, and that it is honed to the right level of sharpness for that job also. You do NOT hone a Meat Cleaver to the same degree of sharpness as a a slicer, filet knife or even a Chef's Knife. You'll dull the blade after 2 or 3 chops through even smaller bones like chicken legs. You want a medium level of sharpness here, most of the work gets done by the mass you are moving and how fast you chop.
One Blade you do NOT see in this collection of Kitchen Knives is the Bowie Knife I have pictured with the Carrot at the top of the page. This because of course about NOBODY uses a Bowie Knife in the Kitchen, and frankly I can't see any reason for them at all unless maybe you are Crocodile Dundee going Mano-a-Mano with Alligators in the Aussie Swamps of Northern Queensland. Or maybe if you are Kwai Chang Caine in a Knife Fight with Sam Starr the Half-Breed in a Louisiana Bar over a Cajun Queen.
The fact is that up until just recently (like 2 weeks ago), I never owned a Bowie Knife in my whole life, not even in the Hunting years. I never could see a good reason for such a knife. For skinning and boning and quartering up a carcass, a 4-6" blade is plenty. If you are the Field Farmer type, for bigger tasks something like a Machete is going to work better, and for some smaller tasks something like a Bill Hook will work better. For something like cutting grasses and grains, you'll want something with a longer handle like a Scythe. Where does a Bowie Knife fit in here?
The reason I now own this Bowie Knife is in fact not the Knife at all. I ended up getting that basically for FREE as a Bonus here. The reason I bought it was for the SHEATH. LOL. I was out shopping on the net looking for a Belt Sheath for my 10" Chef's Knife, and the cheapest one I could find that looked any good at all was $20. I wanted the sheath because when you are in the kitchen in Culinary School you often need 2-3 knives handy to work with rather than stowed in your roll-up bag. I'm hoping to go to culinary school down in the Lower 48 this summer as a late life knowledge gathering exercise and just to get better at cooking in general and have a Credential to back that up with. Courses run about 6 Weeks in length and I could get the certificate over a couple of years, if I live that long. So anyhow, I found this Bowie Knife ON SALE from smile.amazon.com for $29 (designate the Sustaining Universal Needs Foundation of Boiling Springs, SC as your Charity organization!), including FREE shipping since I am an Amazon Prime member shopper. 🙂 I judged from the photos that the sheath that came with this knife was big enough for my 10" Chef's Knife, which it is. So the Knife portion of this purchase really only cost me $5 or so, half the cost of a pack of smokes!
Here's the new Bowie Knife in comparison to some of my other knives:
In terms of weight and heft, the Bowie Knife comes in roughly similar to the Meat Cleaver, both in the 450-550 gram neighborhood, around 1 lb. Heavy knives by kitchen standards, but relative lightweights compared to the kind of blades C5 likes to buy (or make). You could in fact use the Bowie Knife for many of the same tasks you use the Meat Cleaver for, but the cleaver is a better design for this. It packs its mass into a shorter length with most of it directly behind the impact zone of the blade, while the Bowie knife is longer and distributes out the impact more. You're going to have to swing the Bowie Knife harder than the Cleaver to make the same chop.
The Physics of Chopping Knives
Leyt's do a quick review of the Physics here to explain why a Cleaver is better than a Bowie for chopping up your larger pieces of the dead animal carcass for future consumption. First the Bowie Knife:
The Knife is balanced on the scale so the Center of Mass (CoM) is right over the scale. This keeps it from tipping either way. As you can see, it comes in a little under 450 grams. I shot the image from the back side of the knife so you could see about how thic a piece of steel was used to grind out this blade. What is important to note here is that the Impact Zone, the part of the blade that contacts whatever it is you are chopping up is around 3" away from the CoM. This will cause the blade to tip upward when you make contact no matter how strong you are although a beefer forearm and wrist joint will help some. Generally speaking though you can't get the full force of your chopping stroke into the blade.
Now let's contrast this with the Meat Cleaver:
As you can see the Cleaver is actually heavier than the Bowie Knife even though it is much shorter in length coming in at 7" for this model. You can get bigger ones, but I've never had a need for anything bigger than this in the kitchen. In a Butcher shop maybe, but even there you would probably use a power saw for the really big jobs. They're kind of antiquated until we don't have the JUICE coming out of the wall sockets anymore. The reason the blade comes in heavier than the Bowie is because of the shape and design of it. Thickness of the Steel is about the same, but the Cleaver is about twice as wide as the Bowie. This shape also changes where the CoM is located and where the center of the Impact Zone is. On the Cleaver, the CoM is further forward on the blade and the Impact Zone further back, so they are only about an inch apart. Hardly any torque at all on your wrist when you make contact, and much less fatiguing if you got a lot of Dead Moose to chop up. Small guys don't use brawn to get the job done, we use our brains and good knowledge of the principles of Physics. :).
About the only advantage the Bowie has here is that because of its leength you can develop more speed with it, which affects the Kinetic Energy you are delivering to the meat by a Square Law. K.E.=1/2 MV2 where M is the Mass of the Knife and V is the Velocity it is moving at when it contacts the Beef carcass. However, this is not that great an advantage because the Fulcrum of the swing is around your shoulder joint, which is around 2' away from the Impact Zone of the knife. The difference here in length of the Radius is only maybe 3", or about 12.5% increase. This doesn't speed it up all that much.
You also have to of course consider the DANGER involved in swinging around a fucking Bowie Knife in a Butcher Shop, or even out Field Dressing a Moose. You don't wanna be anywhere NEAR the guy swinging that fucking behemoth! lol. Comparitively speaking although also not without its own risks, the Cleaver is a much safer and better design for choping than a Bowie is, which is why Bowie Knives are not found in the Kitchen! lol.
It's even longer than the 10" Chef's Knife, and you could use it for slicing stuff up with also, although this would get tiring if you had a lot of slicing to do on your shift. It has another problem besides this though when you buy one, it's DULL. One of the reasons these big knives come in so cheap is the manufacturers don't put the time into the finishing process to send out a really sharp blade. They save time and money this way, probably at least 25% of the cost of the blade. All my cooking knives and my Damascus Steel Skinning knife you see in the photo above came straight outta da box sharp enough to use without any additional work by the new owner, although in my case I always give them some additional sharpening to really make them quality tools for Culinary School. More on Blade Sharpening in another article at some point. The Bowie Knife though took a couple of days of sharpening work to get it up to speed even as just a Chopping Knife. Do NOT try doing the Tomato Test with this knife! It's not sharp enough for that, but then I am never going to slice paper thin tomato slices with it either. DEFINITELY do not try to Shave with it, unless you want to pull the hairs out by the roots rather than cut them off. In fact, after this little demonstration, I'll probably never use it in the kitchen again, but it was fun doing this little experiment. 🙂
Now the moment you have all been waiting for… I put the freshly sharpened Bowie Knife up against a Carrot to do some Chopping with. If you try this at home, make sure you keep your fingers out of the way, they have about as much chance as the Carrot had in this demonstration. The Carrot lost the contest badly. It was a rout. In Slow-Mo to fully appreciate the Power of the Knife.
Wouldn't it be nice if those chops were Bankster Necks and not a Carrot? Still, there are better knives for that task also. A nice Katana Blade from the Edo Period in Japan would be ideal for that job.
2 Responses to Knuts 4 Knives – Dagger Disease