The Week in Doom February 26, 2019
From the keyboard of Surly1
Follow us on Twitter @doomstead666
Like us on Facebook
Anthony Freda
Originally published on the Doomstead Diner on February 26, 2019
"I am dreaming of a way to kill every last person on earth"
― Christopher Paul Hasson, white nationalist domestic terrorist
---
Last week was really a week for doom-related news!
Bernie Sanders checked in to a 2020 presidential bid, Karl Lagerfeld checked out. Big week in sex crimes, as the Pope presided over a summit on clerical abuse at the Vatican, Patriots owner Robert Kraft endured his second deflated-balls episode when he was charged with soliciting prostitution as part of a sex trafficking sting in a Florida spa, and singer R. Kelly was arrested for sex with underaged girls. California led 16 states in lawsuit against Trump's spurious emergency declaration, Republicans finally found an example of "voter fraud" when North Carolina ordered a new U.S. House election after a vote 'tainted' by corruption…by Republicans. Roger Stone got slapped with a gag order for posting a picture of the presiding judge in his case with crosshairs. Shooting started in Venezuela as the closed the border with Colombia..
But we're not going to review the headlines, because no matter how much havoc is being wreaked by Trump, his minions, and his adoption of the neocon agenda in Venezuela, there are real existential threats to review. Climate change, the loss of biodiversity and food supply, and an active duty white nationalist and would-be mass-murderer/ Trump avenger focus the attention elsewhere.
---
But We Can't Be Out of Food: We Still Have Chips

One of the common themes the weird rest of this franchise is that collapse is already here. We are living through a slow-motion collapse in terms of climate, biodiversity, and threats to our way of life that simply does not conform to our limited attention spans or are readily observable timeframe.Common Dreams published a summary of a first-of-its kind report by the Food and Agriculture Organization of the United Nations (FAO).highlighting the rapid, widespread loss of many of the world's plant and animal species. This poses a direct threat to the food supply of human beings.
What we often fail to realize is that our farming practices, especially industrial agriculture, is a monoculture reliant on a very small subset of foods. Currently only nine crops account for 66 percent of total crop production, according to FAO.
"Our forests are shrinking. As they disappear so do the plants, insects, and animals they host…Now is the time to act."
They breathlessly announced that,"This should be at the top of every news bulletin and every government's agenda around the world." But since we hear it all the time, we tend to yawn, check our watches, and change the channel. But here is the nut of the report:
According to FAO's study of 91 countries around the world, the loss of thousands of plant and animal species is affecting air and water quality, tree and plant health, and worsening the spread of disease among livestock—all with dangerous implications for the human population and humans' food sources.

"Less biodiversity means that plants and animals are more vulnerable to pests and diseases. Compounded by our reliance on fewer and fewer species to feed ourselves, the increasing loss of biodiversity for food and agriculture puts food security and nutrition at risk," said Jose Graziano da Silva, FAO's director-general.
It gets worse. FAO blames changes in land and water management, pollution, the warming and the ongoing climate crisis as factors for a catastrophic loss of biodiversity.
Out of 6,000 plant species that can be cultivated for food, fewer than 200 are used significantly as food sources. Where countries, particularly in the third world, lose wild or native food sources, they rely more heavily on industrially-processed foods. Which provides vibrant export market opportunities for Midwestern agribusiness interests. What a coincidence. It's a miracle.
Reports like this come in, and we read them, rub our collective chins, and wonder what is to be done. But as long as Harris Teeter remains open down the road, we're not really out of food, in the same way that if I still have checks, I can't possible be out of money.
---
Xraymike is back after a long hiatus, with an article entitled, The Inconvenient Truth of Modern Civilization's Inevitable Collapse. And he wastes no time in getting directly to the point:
Today's global consumption of fossil fuels now stands at roughly five times what it was in the 1950s, and one-and-half times that of the 1980s when the science of global warming had already been confirmed and accepted by governments with the implication that there was an urgent need to act.
He points out that the 20 warmest years on record have been in the past 22 years, with the last four also being the top warmest years, according to the World Meteorological Organization (WMO). Global warming leads directly to Ice loss. In Antarctica ice loss has sextupled since the 1970s and Greenland's pace of ice loss has increased fourfold since 2003. As the Arctic warms, new commerce comes to the top of the world. The Arctic Ocean has lost 95% of its old ice and total volume of ice. But opportunity knocks, for business and tourism.
Meanwhile microplastics enter the food supply with unknown effects. showing up even in Arctic birds. And these are the plastics too small to be seen. The plastic crap large enough to be seen is a different story:
There are five massive oceanic gyres filled with pelagic plastics, chemical sludge and other human detritus; one of the these gyres, named the Great Pacific Garbage Patch, is three times the size of France and growing exponentially.
And of course governments are ill-equipped to do anything about it, because who runs the government? Also, extractive industries pay for well-funded climate disinformation campaigns, and the prevaricator in chief has made his business to put his tiny, if meaty, thumb on the scale.
At a time when compassion, cooperation, and scientific reasoning are needed to deal with the multiple crises we face, politicians are instead conjuring up xenophobia, racism, and conspiracy theories. As inequality grows and the once-stable climate continues to unravel, expect the super-rich to barricade themselves behind heavily fortified mansions while treating climate refugees and the most vulnerable among us with extreme prejudice.
Migration from Latin America is near a 40-year low. But we still intend to build "that big beautiful wall," otherwise known as "the last Confederate monument," an erection dedicated to xenophobia and white rage. And to reelection in 2020.
There is more in this article, which is well worth the read, but let's just have Xraymike bottom-line this for you:
Humans recognized decades ago the threats they are now facing, yet nothing was done due to political inaction and industry malfeasance which continues to this very day. The scientists who wrote The Limits to Growth decades ago were expecting our political institutions to take action back in the 1970s, but they were met with ridicule and now we stand at the doorstep of modern civilization's collapse. Political inaction and regulatory capture by the fossil fuel industry appear to be intractable barriers that have condemned the human race to a hellish future. Anyone waiting for some sort of seminal climate change event that is going to galvanize the world's leaders into action will be tragically disappointed. If seeing the world's coral reefs dying, its glaciers disappearing, permafrost melting, and the steady uptick in extreme weather and wildfire events does not spur them to action, it is much too late to hope that any single event will ever do so.
The point being that, in terms of "collapse," we are well and truly in it, and there is little to be done about it, because the time for action has passed. And now here's Tammy with the weather.
---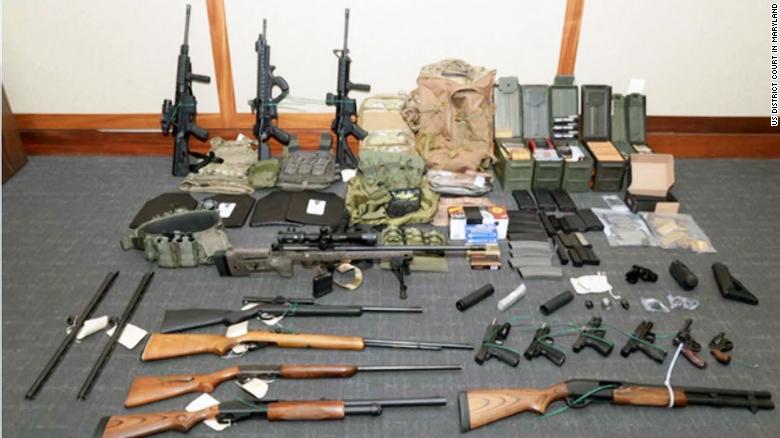 A 49-year-old Coast Guard lieutenant charged with stockpiling weapons and drugs is described as a "domestic terrorist" planning "to murder innocent civilians on a scale rarely seen in this country." But since terrorists in the post-truth era are never white, that story is pushed out of the news cycles by the tale of Jussie Smollett and his self inflicted hate crime, prompting release of the already-written stories that, see racial violence really doesn't exist in the United States. The families of Philando Castile, Tamir Rice and Eric Garner were not immediately available for comment.
This guy was planning to unleash a version of hell rarely seen outside of the Middle East. Court documents filed in the case indicate Christopher Paul Hasson espoused extremist and white supremacist views for years — aspiring to establish a "white homeland" — and say he is a "domestic terrorist bent on committing acts dangerous to human life that are intended to affect government conduct," including leading democrats and media figures.
Hasson, a self-described white nationalist living in Silver Spring, Md., was amassing firearms since at least 2017, while cultivating plans to launch a widespread attack on prominent Democratic lawmakers, including House Speaker Nancy Pelosi, and several high-profile television anchors from MSNBC and CNN.
"I am dreaming of a way to kill every last person on earth," Hasson wrote in a draft email dated June 2, 2017, that was uncovered by investigators. He researched the most effective methods to "cause complete destruction" by unleashing a biological attack on the public, followed by contamination of food supplies. He compiled a hit list including Chuck Schumer, Elizabeth Warren, Kirsten Gillibrand, Cory Booker, Pelosi, Alexandria Ocasio-Cortez, Maxine Waters, Beto O'Rourke, Van Jones, don Lemon and Joe Scarborough.
Investigators said Hasson conducted online searches that included "what if trump illegally impeached" and "civil war if trump impeached" after accessing computer files at his suburban Maryland home, according to Politico. He was apparently ready to spring into action to foment such a war.
"Much blood will have to be spilled to get whitey off the couch. … They will die as will the traitors who actively work toward our demise."
For all of this, the story is slipping into the memory hole despite many unanswered questions about Hasson and his racist goals. Yet few in the media aside from Arizona sites, where Hasson had local ties, are continuing to cover this apparent case of domestic white terrorism. An internet search on Feb. 26 revealed no updates outside of Arizona.
---
Berkshire Hathaway CEO Warren Buffett, the "Sage of Omaha," released his annual letter to shareholders. It is an optimistic letter in which he credits "the American tailwind" for BH's successes. He defends stock buybacks; he acknowledges the massive write-down from Kraft Heinz; and he addresses government debt and deficits while also taking a jab at gold-touting doomsayers. But almost as an aside, while assessing risks in insurance business, he warned about,"the big one." That would be some major catastrophe, fueled by climate change, that would cause economic losses in the trillions of dollars.
"When such a megacatastrophe strikes, we will get our share of the losses and they will be big — very big."
Buffett says the catastrophe may take the form of a natural disaster or could be something more surprising, like a cyber attack. But Buffett says Berkshire Hathaway "will be looking to add business the next day."
---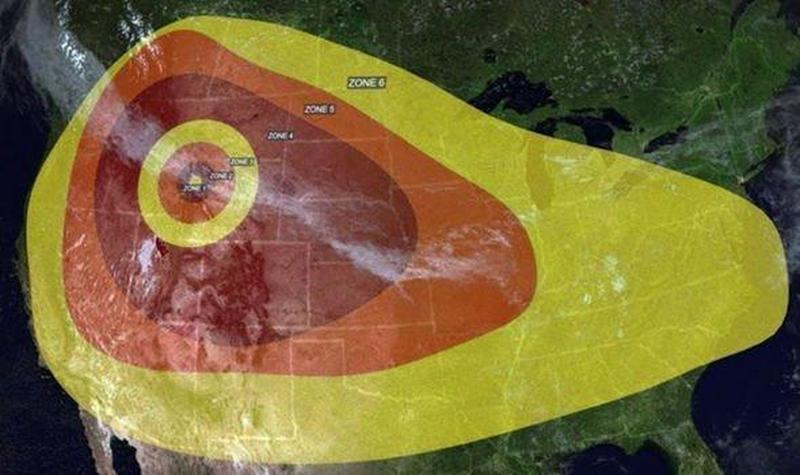 If things ever get too quiet around the collapsosphere, you can always rely on Yellowstone. That seismic mess continues to bubble under the earth's surface, and can always portend catastrophe on a slow news day. Michael Snyder tells us via Zero Hedge that scientists assure us that one day the absolutely massive Yellowstone supervolcano will once again experience a Category 8 eruption, and if it happened today it would "literally tear the guts out of the United States of America." That is why what has been happening at Yellowstone in recent months is so alarming.
We know that the ground has been rising and that "a 465-mile-long piece of molten rock" is moving upwards directly under Yellowstone. And we also know that the major geysers at Yellowstone were more active last year than in any other year in any of our lifetimes. Are these signs that an eruption is coming? We better hope not, because as Dr. Michio Kaku recently told Fox News, there is "a sleeping Godzilla underneath Yellowstone"…
The image of a slumbering Goliath ready to rip apart the US is always good to stoke fear. Kaku posits that the Yellowstone caldera would not blow all at once, that we'd get a warning. But what if we have already received warnings, and are sleeping through them?
Steamboat geyser erupted more times in 2018 than in any other year in history. The following comes from National Geographic…

The Yellowstone Volcano Observatory reports that Steamboat has now set a record by erupting a whopping 32 times in 2018, a personal best for the geyser for a single calendar year. Previously, this geyser made it as high as 29 paroxysms back in 1964.

Prior to last year, there had not been an eruption of the Steamboat geyser for three and a half years.

It is indeed possible that when Yellowstone finally erupts that we will get more of a warning than this. But it is also possible that we will not.
If Yellowstone blows, life as we have known it would instantly be over. Snyder estimates that "the immediate kill zone," or Zone 1, a radius of 100 miles, could see 70,000 people die instantly. Zone two, which starts after 100 miles, would be covered in 10ft of volcanic ash at 450C. After the second zone, one's chances of surviving increase, but would still find people heading east on impossibly clogged roads..
Is Yellowstone likely to blow this week or the next? No. Snyder suggests that Mt. Rainier and Mt. Fuji are better candidates. Such handwringing can sell books if you have them on offer, as Snyder does. But for those people who wish to imagine collapse around a single life-changing event, you could do much worse than a category eight super volcano erupting out of Yellowstone. But not this week.
---
Surly1 is an administrator and contributing author to Doomstead Diner. He is the author of numerous rants, screeds and spittle-flecked invective here and elsewhere. He lives a quiet domestic existence in Southeastern Virginia with his wife Contrary. Descended from a long line of people to whom one could never tell anything, all opinions are his and his alone, because he paid full retail for everything he has managed to learn.