A Bloody Week in Doom– March 17, 2019
From the keyboard of Surly1
Follow us on Twitter @doomstead666
Like us on Facebook
Originally published on the Doomstead Diner on March 17, 2019
"The old world is dying and the new world struggles to be born. Now is the time of monsters."
― Antonio Gramsci
---
The latest monster came to call in Christchurch, New Zealand in a story that dwarfed all others this week. I had some other ideas for what might fill this space this week, then the news from Christchurch, New Zealand, followed by the one-two punch of a Twitler emission rendered all moot. Brenton Tarrant strapped on a helmet camera, loaded a car with weapons, drove to a mosque in Christchurch and began shooting at anyone who came across his line of vision. His helmet-cam helped broadcast the act of mass terror live for the world to watch on social media. As of Sunday, the death toll had reached 50.
Tarrant thus joined the roll call of monsters alongside Stephen Paddock (Las Vegas), Anders Breivik (Norway), Robert Gregory Bowers (Tree of Life Synagogue, Pittsburgh), Omar Mateen (Pulse, Orlando), Adam Lanza (Sandy Hook), Nikolas Cruz (Marjorie Stoneman Douglas high school), Devin Patrick Kelley (Sutherland Springs church in Texas), James Holmes (Aurora), Dylann Roof (Charleston, SC), and, of course, Eric Harris and Dylan Klebold, who kicked off the 21st century with the Columbine massacre.
In ancient Rome, an interregnum was a period between stable governments when anything might happen, and the "the blood-dimmed tide" might be loosed: civil unrest, competition between warlords, power vacuums, wars of succession. In 1929, in such an interregnum found Italian Marxist philosopher and politician Antonio Gramsci languishing in a fascist prison, writing about the forces tearing Europe apart. He anticipated civil unrest, war between nations and changing political fault lines.
Interestingly, it was Gramsci who gave us the term "hegemony" now in use. Hegemony is a three dollar word representing a simple idea: the coercion of smaller fish by bigger fish. When the powerful use their influence to convince the less powerful their best interest lies in doing what is actually in the best interest of the powerful, that's hegemony. When we consider the above list of overwhelmingly white terrorists with a nationalist/supremacist bent, we can see terror is one way the powerful preserve their hegemony when they feel their power begin to wane when frightened by demographic changes posed by immigration.
Trump has the sensibility of a spoiled child tearing the wings off of flies. When asked whether white nationalism has anything to do with the tragedy in Christchurch, he replied in the negative. Echoes of "good people on both sides," a la Charlottesville. The prime minister of New Zealand indicated late Friday coming changes to New Zealand's gun laws. A striking contrast that makes one wonder how many will have to die, again and again and again, until our own politicians, beholden to the NRA and their sea of laundered rubles, are moved to similarly act.
You'll recall that when it was his time to serve in Vietnam, the self proclaimed White House tough guy came up missing like Dick Cheney and his five deferments. Chickenhawks like Cheney always find "other priorities" to service, but are eager to send the disposable sons and daughters of the poor into harm's way, because what else are they for but cannon-fodder? Real military men who have seen battle are loath to commit their fellow citizens to needless battle; but chickenhawks, untroubled by loss or nightmares, send their non-relatives readily into the Valley of Death.
The mob-boss stylings of Citrus Caligula make a tough sound, especially when talking to the far right media like Breitbart.
Trump said: "I can tell you I have the support of the police, the support of the military, the support of the Bikers for Trump – I have the tough people, but they don't play it tough — until they go to a certain point, and then it would be very bad, very bad. But the left plays it cuter and tougher. Like with all the nonsense that they do in Congress … with all this investigations]—that's all they want to do is –you know, they do things that are nasty. Republicans never played this."
When you can't bully a majority of the people and the House of Representatives into accepting your will as fiat, that is apparently vicious tactics. Especially on the part of Speaker Nancy Pelosi, who Trump refers to as "Nancy."
"So here's the thing—it's so terrible what's happening," Trump said before discussing his supporters. "You know, the left plays a tougher game, it's very funny. I actually think that the people on the right are tougher, but they don't play it tougher. Okay?"
Uh, not OK. This is Trump engaging in stochastic terrorism, or
the public demonization of a person or group resulting in the incitement of a violent act, which is statistically probable but whose specifics cannot be predicted.
Trump is actively encouraging people taking the law into their own hands, in the same way Putin has his Night Riders (see below), as Mussolini had his black shirts, and Hitler his brown shirts. The purpose is unmistakable: to be bullyboys who operate outside of the law and through violent intimidation. For the last two years we've had a president who fundamentally does not believe in democracy, and whose recent utterances show no loyalty to either the Constitution or the traditions of American governance. This IS a time of monsters. And now this:
Trump told Breitbart there could be biker violence against leftists. It sounded even worse after Brenton Tarrant's mosque massacre manifesto called Trump "a symbol of renewed white identity." It does not get much clearer than that.
The Daily Beast Explains the Putinesque origins of Twitler's latest veiled threat:
"They call themselves The Night Wolves, "a new kind of motorcycle club," or, sometimes, "Putin's Angels." And just as much as the Orthodox Church or the military, the Wolves have become a symbol of Vladimir Putin's Russia. But the idea that they might be used as his extra-legal enforcers in times of trouble is usually implicit—embedded in their flag-waving Putinized patriotism—never really spelled out….Trump is not so subtle, however, especially when he takes his cues from the Kremlin. Leave it to him to put the potential for violent defense of his interests by a motorcycle gang front and center in the public view."
On Friday morning, as news broke of the massacre, the murderer's manifesto called Trump "a symbol of renewed white identity and common purpose," the Breitbart tough-guy tweet came down. Note a wider pattern of American racists and white supremacists looking to Russia for both moral and tactical support.
---
Outside a mosque in Christchurch on Friday. Mark Baker/Associated Press

Charlie Warzel noted that the attack marks a grim new age of social media-fueled terrorism.
A 17-minute video of a portion of the attack, which leapt across the internet faster than social media censors could remove it, is one of the most disturbing, high-definition records of a mass casualty attack of the digital age — a grotesque first-person-shooter-like documentation of man's capacity for inhumanity.

Videos of attacks are designed to amplify the terror, of course. But what makes this atrocity "an extraordinary and unprecedented act of violence," as Prime Minister Jacinda Ardern described it, is both the methodical nature in which the massacre was conducted and how it was apparently engineered for maximum virality.
Even though Facebook, Twitter, and YouTube scrambled to take down the recording, they were no match for the speed of their users or for their algorithms which make connections for people consuming such content. In minutes, the video was downloaded and mirrored onto additional platforms, and ricocheted around the globe.
Warzel notes,
Internet users dredged up the alleged shooter's digital history, preserving and sharing images of weapons and body armor. The gunman's apparent digital footprint — from the rantings of a White Nationalist manifesto to his 8chan message board postings before the murders — was unearthed and, for a time, distributed into far-flung corners of the web.

The killer wanted the world's attention, and by committing an act of mass terror, he was able to get it.
It was not the first act of violence to be broadcast in real-time. Yet this one was different because ofd the perpetrator's apparent familiarity with the darkest corners of the internet. The recording contains numerous references to online and meme culture, including name-checking a prominent YouTube personality. Tarrant knew his audience.
Tarrent's digital trail depicts a white supremacist motivation for the attack. His 87-page manifesto, for instance, is filled with layers of commentary apparently written to specifically enrage the communities that appear to have helped radicalize the gunman in the first place. It seems he understands both the platform dynamics that allow misinformation and divisive content to spread but also the way to sow discord.
I recently came across an article by Ezra Klein who identifies an ecosphere of YouTube prophets and avatars who populate the "intellectual dark web:" The rise of YouTube's reactionary right: How demographic change and YouTube's algorithms are building a new right. Many right wing publishers benefit from YouTube's algorithms to build the new right.
YouTube's recommendation engine follows the digital footsteps we all make. And it sees connections, not context. It knows when audiences repeatedly come together, but does not grasp why. And it predicts what they're likely to view next. Thus are the "mainstreams" of conservative thought brought into proximity to the far right fringe.
As Klein has it,
"Many of these YouTubers are less defined by any single ideology than they are by a "reactionary" position: a general opposition to feminism, social justice, or left-wing politics."
On YouTube, tomorrow's politics are emerging today. Tarrant noted this and made the online community work in the gunman's favor. Our brown shirts are now digital: not only has their conspiratorial hate spread from the internet to real life, it's also weaponized to go viral.
---
It stretches from Christchurch to Pittsburgh and extends out in every direction.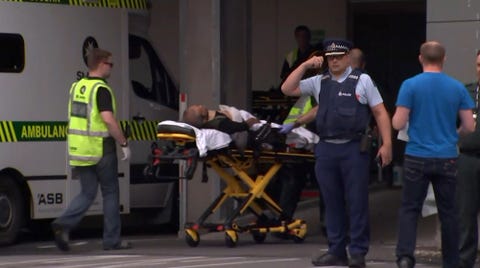 The always-dependable Charlie Pierce noted that Anders Breivik, the murderous white-supremacist who killed 72 people in Norway in 2011, has become one of the most significant figures in international terrorism by providing a template for the modern white-supremacist mass murderer.
From Ted Kaczynski, he borrowed the idea of publishing a manifesto. From the Columbine killers, he borrowed the idea of using both bombs and guns. And from the international white-supremacist networks, he borrowed the murderous rage and bloodthirsty rhetoric necessary to carry out acts of mass murder, and to justify his crimes through an elaborate bullshit ideological exoskeleton that he wore like body armor. He put all of this together and created the modern mode of mass political murder, one that was carried out again Thursday in Christchurch, New Zealand.
Pierce notes that Tarrant's latest manifesto
reads like a vicious form of grandiose trolling. But there seems to be little doubt that the crimes themselves speak loudly of the basic truth that this was a right-wing act of war against a target population. And, because of that, we should take the following passage very seriously. The alleged shooter called the President* of the United States "a symbol of renewed white identity and common purpose."
When asked if the rise of white natonalism or white supremacy posed a rising threat around the world, Trump replied,
"I don't, really. I think it's a small group of people that have very, very serious problems, I guess. If you look at what happened in New Zealand, perhaps that's the case. I don't know enough about it yet. But it's certainly a terrible thing."
On Sunday, Mick Mulvaney and other staffers made the rounds and insisted that Trump was "Not a White Supremacist." Which speaks volumes.
White supremacy now poses an international terrorist threat stretching from Norway to Pittsburgh, from Christchurch to Las Vegas, sharing objectives with the Night Riders or the Bikers for Trump, but better armed and more purposeful. Brownshirts used to intimidate; the new generation attacks to sow terror in targeted groups. This poses an existential threat to the very notion of liberal democracy. Today the target is Muslims; Tomorrow's target will be…?
For our purposes this week, Charlie Pierce gets the last word:
From [white supremacist terrorism] runs on a parallel track with the rise of a xenophobic rightwing nationalist politics that is conspicuously successful in a number of putatively democratic nations. Liberal democracy is under attack and, like any revolution, this one has both a respectable political front and a violent auxiliary that operates on its own imperatives. That one of those auxiliaries cites both a Norwegian mass murderer and the President* of the United States as inspiration for killing 49 people is not only evidence of the width of the threat, but also the depth of its commitment to the cause. This is the everyday al Qaeda of the angry white soul, and it's growing.
Now is the time of monsters.
---
Surly1 is an administrator and contributing author to Doomstead Diner. He is the author of numerous rants, screeds and spittle-flecked invective here and elsewhere. He lives a quiet domestic existence in Southeastern Virginia with his wife Contrary. Descended from a long line of people to whom one could never tell anything, all opinions are his and his alone, because he paid full retail for everything he has managed to learn.
3 Responses to A Bloody Week in Doom– March 17, 2019