Are Climate Activists who Fly on airplanes HYPOCRITES?
Off the keyboard, microphone & camera of RE
Follow us on Twitter @doomstead666
Friend us on Facebook
Published on The Doomstead Diner May 5, 2019
Audio Only:
(audio-only MP3 provided in case you want to multi-task and listen while sitting in traffic on the way to work in your cubicle or digging post holes for your fencing on the Doomstead or kneeling by the throne and Praying to the Porcelain God. mp3 Audio can be downloaded from Diner Soundcloud.)
Discuss this Video at the Collapse Morning Wake-Up Call Table inside the Diner
It's Cinco de Mayo today, a day of celebration for a small band of Mexicans who defeated the French army in the Battle of Puebla in 1882.
" Cinco de Mayo (pronounced [ˈsiŋko ðe ˈmaʝo] in Latin America, Spanish for "Fifth of May") is an annual celebration held on May 5. The date is observed to commemorate the Mexican Army's victory over the French Empire at the Battle of Puebla, on May 5, 1862, under the leadership of General Ignacio Zaragoza.[1][2] The victory of the smaller Mexican force against a larger French force was a boost to morale for the Mexicans. A year after the battle, a larger French force defeated Zaragoza at the Second Battle of Puebla, and Mexico City soon fell to the invaders. "
Today there is another war going on between a small army and a much larger army, and the outcome is anything but certain. It is the war between the Climate Change Activists (CCA) who wish to get a Global commitment and action to reduce carbon emissions in order to slow if not stop climate change, vs Climate Change Deniers (CCD) who seek to ignore all the evidence of Climate Change and Ocean Warming and continue on with BAU. "Drill Baby, Drill" is the motto of this crowd.
Both sides have a vested interest in winning this war, on the Climate Change Activist side they would NOT like to see Planet Earth prematurely changed from a Blue & Greem Marble hurtling though space into a lifeless hunk of rock like all the rest of the planets we know about so far. Far as the Climate Change Deniers are concerned, they don't want to give up the creature comforts afforded to Homo Saps from burning Fossil Fuels, particularly the Capitalist Oligarchs in charge of the planet who derive outrageous amounts of wealth from the burning of this one-time store of energy buried beneath the palnet surface.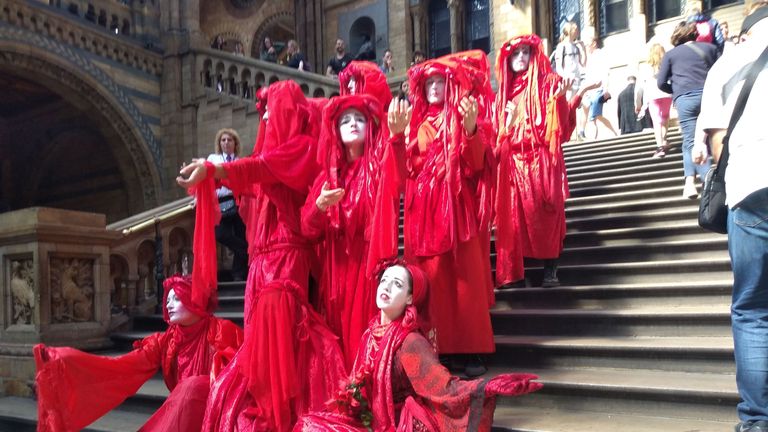 Various tactics are taken by both sides in the battles being waged thus far. On the CCA side most recently in the UK in London, a new movement Extinction Rebellion carried on a week long series of Protests & Demonstrations to raise awareness of the problems, doing a variety of photogenic acts like gluing themselves to trains and doing Dance Performances garbed in Red Hoodie Capes on the steps of the Natural History Museum to try and get some attention from the Brit Goobermint, which is still mainly consumed with partisan bickering over the Brexit issue. I discussed this movement and its goals last week in the Morning Wake-Up Call Extinction Conundrum. Whether this will have any effect on Brit Goobermint policy or gains further traction internationally remains to be seen.
On the CCD side, they have been employing a variety of tactics for years if not decades to undermine every climate related movement that ever gained any traction at all, beginning with Rachel Carson's Silent Spring in the 1960s, through the Back to the Land Movement of the 1970s and the celebration of "Earth Day" every year since 1970. The main tactic in this aspect of the battle was to employ a small cadre of "scientists" who would provide "evidence" that everything climate change researchers had elucidated was not occuring to combat the vast preponderance of scientists who said it was happening and providing evidence for it. The media is complicit in the obfuscation, presenting those arguments to J6P as equal in validity.
In recent years, another tactic has been employed, which is for the CCDs to attack the CCAs as "Hypocrites", since they often fly on airplanes to go to the conferences where evidence is presented, climate issues are disussed and remedies proposed. This methodoly got its beginning when Al Gore produced the Inconvenient Truth documentary, but has since been extended to any scientist or activist who flies on an airplane to go to one of these conferences. In today's Colllapse Morning Wake-Up Call, I discuss (OK…RANT on…LOL) whether these charges of hypocrisy are really valid arguments? Do you agrre with me or disagree? If you have an opinion on this topic, JOIN US Inside the Diner and let us know.
In case you missed it, here is last week's discussion of these issues, Extinction Conundrum:
Also be sure not to miss this week's Recipe from the Cooking Zone of the Doomstead Diner:
Sous-Vide Short Ribs without the fancy Sous-Vide Cooking Apparatus