Sous-Vide Short Ribs with Portabella Mushroom Teriyaki-Cabernet Sauce
Published
May 9, 2019
|
By
RE
Off the keyboard, microphone & camera of RE
Follow us on Twitter @doomstead666
Friend us on Facebook
Published on The Doomstead Diner May 9, 2019
Discuss this Video at the Cooking Zone Table Inside the Diner
A few weeks ago I became enthused with a relatively new cooking method, Sous-Vide. It's mainly used for cooking meats, maintaining them at the ideal temperature for developing the amount of "doneness" you like, be it rare,medium rare, medium, medium welldone or welldone. If you like your meat well done, you can skip these vids, just throw it over the heat until it has the texture of leather. Bleccch! I refused to cook any piece of meat well done my whole life, the only times they came out like that was by accident, I got distracted or something during the cook.
Sous Vide offered the opportunity to get a perfectly done piece of meat every time, with a lot of latitude on the cook times so getting distracted while cooking is not an issue. Using really long cook times, you can tenderize tougher cuts of meat, much as you would on the BBQ cooking "low & slow". However, that method generally only works with cuts like ribs, which you cook to well done. Similar with cooking Brisket as Corned Beef or Pastrami, again you cook long but the meat is well done at the end. I wanted rare meat at the end of the cook, which I prefer, but also tenderized for the tough cuts.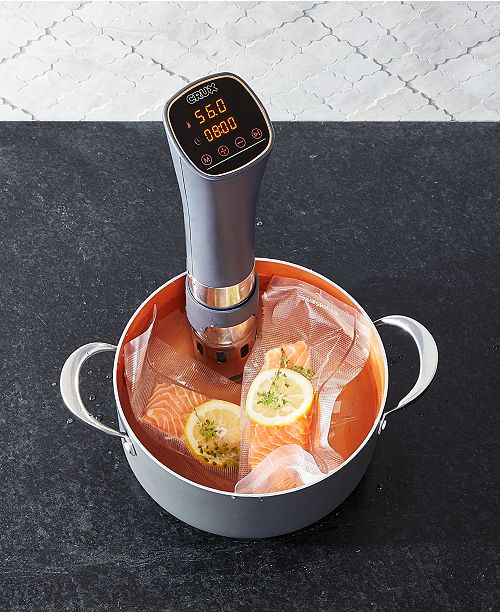 The issue with Sous Vide is that generally it takes an immersion heater that thermostatically keeps the water bath at a constant temperature for the entire cook. The devices have been pretty epensive, $100-$200 in price, and when I started these experiments I didn't have one. Got one now though, ON SALE from Jeff Bozos at Amazon for $90. 🙂 Great electric cooking device, lightweight and small and now one of my package of Electric Bugout Cooking Apparatus preps.
In this video and cook though, we do things with traditional equipment, Cast Iron cookware over a typical gas range. Controlling the heat here and getting it to hold at the right temperature is pretty tricky though, even for a trained biochemist like myself. I wouldn't recommend it for the average cook, I don't even recommend it for myself because it's such a hassle to set it up. The Sous Vide apparatus is getting cheap enough now so it should be affordable for most people who haven't yet fallen off the economic cliff. When Black Friday rolls around, I'll bet you can pick one up on Amazon for $50, unless of course trade with China is completely fucked up by El POTUS, Donalditry Trumpovetsky.
The results are fantastic, with every cut of meat I have tried thus far. It doesn' obviate all the traditional methods, but is a great addition to them. Once you try it, you'll be addicted to it. At least you will if you are a Meatosaurus and not a Vegan.
Eat well in collapse. You'll need the energy.