A Journal of the Plague
From the keyboard of Surly1
Follow us on Twitter @doomstead666
Like us on Facebook
Originally published on the Doomstead Diner on April 5, 2020
"The taverns are fair full of gadabouts making merry this eve. Though I may press my face against the window like an urchin at a confectioner's, I am tempted not by the sweetmeats within. A dram in exchange for the pox is an ill bargain indeed."
— Samuel Pepys, 1665
---
Watching Covid-19 unfold is like watching the approach of a slow motion catastrophe. We cannot run, nor hide. We can only wait. The math is immutable, and inexorable. The confirmed infection counts and death tolls double every three days. Tick-tock.
We are told to practice "social distancing," to wear masks, to wash our hands continuously, to not touch our faces, and most of all to #Staythefuckhome. Most do. Some, including notorious ignorami, assorted MAGATs, and fundamentalist preachers whose addiction to positive cash flow depends on filling their megachurches, do not. These people should be treated as if they want you dead, judging from their actions, they do.
On a warm spring day last weekend they could be found packing cars going God-knows-where, on sidewalks with kids in tow, even going house-to-house to talk to neighbors! Amidst all the people on their bikes taking advantage of a sweet spring day to go out and provide disease vectors for the unsuspecting, I noted that a friend posted on Facebook that the parking lots down at the Virginia Beach Oceanfront were absolutely packed. Leaving the cynical person to wonder, "what the hell is wrong with people?"
We are linear thinkers; we do not do the exponential function very well. (Part of the reason Einstein, when asked to identify the most powerful force he had seen in a lifetime of discovery, replied, "Compound interest.")
The very next day, Virginia Gov. Ralph Northam issued a stay-at-home order for Virginia in an effort to further stop the spread of the coronavirus. Better late than never.
Being first to lock the state down seems to have worked for California. I saw a clip by Gavin Newsom on TV saying as much, that the lockdown flattened the impact. He/they just had the good sense to employ the only weapon available. California bought themselves time, and kept the outbreak from swamping their health system. The less the infection penetrates the population in advance of a vaccine, the better.
My inner hunchback is waiting for karma to arrive in Arkansas, Missouri, Mississippi, and the other states that insist on staying "open for bidness" in the face of the trump Plague. I wish I were a better person. I am not.
In a recent book review, Charles Baxter observes,
Mania rules in many American classics. Like it or not, in what has been taken to be our national literature, the notable white male characters are often in the grip of obsession. From Captain Ahab, to Frank Norris's McTeague, Fitzgerald's Gatsby, Faulkner's Thomas Sutpen, Nabokov's Humbert Humbert, Philip Roth's Portnoy, and James McBride's John Brown, we are in the presence of men who want only one thing and have sold their souls to get it.
We are all maniacs now: maniacs to stay alive, to remain beyond the reach of a silent killer with near universal reach, and whose lethality will disproportionately affect the elderly and the infirm. And while we may not sell our souls, we have certainly turned our vigilance up to "10."
---
Samuel Pepys (pronounced: "Peeps"), a capable administrator of British naval affairs and Member of Parliament in the seventeenth century, kept a diary as a young man. He recorded his daily life for almost ten years, and his record is often regarded as Britain's most celebrated diary.
Historians have for years been mining Pepys' insights about details of everyday life during the seventeenth century, as he documented the coronation of King Charles II and the Restoration, the Anglo-Dutch war, the Great Plague, and the Great Fire of London. It is his descriptions of the London plague years of 1655-66 that we care about here.
The Great Plague of London killed between 75,000-100,000, roughly 20 per cent of the population. Pepys' diary is filled wth what might today be called, "hot takes:"
On hearing ill rumour that Londoners may soon be urged into their lodgings by Her Majesty's men, I looked upon the street to see a gaggle of striplings making fair merry, and no doubt spreading the plague well about. Not a care had these rogues for the health of their elders!
As noted above, on a clear weekend day I noted cars filled with people leaving the neighborhood… going where, exactly? And beheld the sight of a neighbor working out on another neighbor who had the good sense to hide behind a storm door while the sputum-deliverer held forth. I swear, had he crossed the street I'd have used a rake to oblige him to keep his distance.
Great fears of the Sickenesses here in the City, it being said that two or three houses are already shut up. God preserve us all.
We are all shut up in our houses now. Aside, that is, from a few states in the south and west who wish themselves part of the Neo-confederacy. Persuading an entire country to voluntarily stay at home is not easy, and without clear direction from an unwilling White House, mayors, governors, and business owners have rolled their own.
Thus this month ends, with great sadness upon the public through the greateness of the plague, everywhere through the Kingdom almost. Every day sadder and sadder news of its increase. In the City died this week 7496; and all of them, 6102 of the plague. But it is feared that the true number of the dead this week is near 10000 – partly from the poor that cannot be taken notice of through the greatness of the number, and partly from the Quakers and others that will not have any bell ring for them.
As to myself, I am very well; only, in fear of the plague, and as much of an Ague, by being forced to go early and late to Woolwich, and my family to lie there continually.
The death toll in the US as of this writing is over 9100. The number of US confirmed cases is over 321,000. Look for these rates to double every three days until the disease peaks. Soon, most everyone in the US will know someone who has been infected. Like 9/11, the pandemic has already imprinted itself upon our psyche as a defining moment.
The pandemic has shattered the myth of American "greatness." As the first among equals of rich, strong, developed nations, the supremacy of American health care is held as an article of faith. That illusion has been shattered. In spite of months of advance warning as the virus tore through other countries, when America was finally tested by COVID-19, it failed.
Countries like South Korea, Singapore, and Hong Kong followed the playbook: develop a test, use it to identify the infected, isolate them, and trace those they've had contact with. Wash, rinse, repeat. As Alexis Madrigal and Robinson Meyer reported, the CDC developed and distributed a faulty test in February. No one could have imagined that as the American caseload shot into the tens of thousands, only hundreds of people would be tested. This created an epidemiological hole from which we have never emerged. Lack of a reliable test deployed early enough is the single point of failure that undermined every other countermeasure, and that has led to the immutable, exponential math.
Bet your mortgage that the impacts on economic, social and political aspects of our lives from coronavirus will be long lasting. And compounded, given the chaos, corruption, and cronyism that heralded our blundered entry into this crisis. Few have ever seen anything like this, and only a few cranks and miscreants (aside from professional planners) have even bothered to contemplate it.
The London plague continued into 1666.
Thanks be to God, the plague is, as I hear, encreased but two this week; but in the country in several places it rages mightily, and particularly in Colchester, where it hath long been, and is believed will quite depopulate the place.
Italy and Spain offer grim warnings about an American future. Hospitals are rapidly running out of room, supplies, and staff. Health-care workers are already seeing dwindling equipment, growing waves of patients, with doctors and nurses themselves becoming ill. And they are operating without a gaunt, shiny-faced, porcelain-doll wannabe-Dauphin to bollix up supplies of medical equipment, and to MBAsplain coronavirus to the nation's Governors. Trump and Bolton terminated the Pandemic staff and have given the portfolio to Richie Rich for on-the-job training. God help us all.
By 1667 Pepys' plague had burnt out, but still lived in recent memory:
One at the table told an odd passage in this late plague: that at Petersfield, I think, he said, one side of the street had every house almost infected through the town, and the other, not one shut up.
During a time of "social distancing," we are reduced to staring off the porch or out the window. Like the denizens of Plato's cave, we watch the electronic shadows dance off the wall, while we attempt to make sense of them. Even more difficult is imagining how we might begin to recover from a virtual shutdown of economic life. As we try to restart an all-but-stopped economy dependent upon an engine of ceaseless consumption, we run the risk of renewed disease flareups as seen in China, Singapore, and other Asian countries that briefly seemed to have the virus under control. All it takes is one case to reignite fresh infections.
My best guess is that until a vaccine can be produced (probably 18 months), we'll continue to play a protracted game of whack-a-mole with the virus, stamping out outbreaks as they occur.
---
The slow response to the virus by some Trumpophile governors will be telling. Virus hot spots in are South poised for disproportionate suffering. With many Southern states only recently implementing stay-at-home orders, there is a chance that a later wave of infection could swamp local facilities. Even sparsely populated counties could soon have more cases than their health care systems can handle.
"There is no city anywhere in the world that can withstand the outbreak that would occur if there isn't rigorous social distancing," said Tom Frieden, a former Centers for Disease Control and Prevention director.
In Virginia, the governor is both a Democrat and a physician, so he imposed social distancing earlier than some. But some children of privilege and exception haven't taken it seriously.
The Columbia University model also identified the area around Hampton Roads and Newport News, Va., at risk of having its health infrastructure swamped. Though the number of cases in those counties is currently low, Virginia is not expected to experience peak conditions until late May, and has so far received just a tiny fraction of the medical equipment requested from the federal government.

On Friday, state leaders confirmed that the tidewater region has some of the highest community spread in the state, and that it would be one of three areas designated for a field hospital to take pressure off the local medical system. The "alternate care" site in the Hampton Roads Convention Center will be able to hold up to 360 acute care beds or 580 non-acute beds, Gov. Ralph Northam said.
---
This Week in Doom:
Like the pandemic itself, the economic effects are just getting started. Strap in. Nobel-winning economist Paul Krugman sees unemployment soaring to 20% in a matter of weeks.
WE'RE NUMBER ONE! The US just recorded the highest single-day death toll in the world
Just when you thought it might be safe to peek out off your bunker… this asshole, again. Robertson Blames Coronavirus On Oral Sex, 'Lady Chemicals'
Amid reports that the federal stockpile of medical supplies is "nearly exhausted" and production of new equipment is unlikely to come soon enough, it now appears that the Trump administration may be playing favorites, distributing supplies to political allies and states important for the president's reelection campaign. How bad will the fallout be? Frank Rich: Trump's Potemkin Recovery
Karma Comes to Cousinfuck Country. Mississippi Now Has the Highest Rate of Coronavirus Hospitalizations in the United States
Are there no lampposts? No nylon rope? New disclosure reveals Sen. Kelly Loeffler and her husband dumped retail stock and bought shares in a company that manufacturers medical supplies. Loeffler and her husband dumped hundreds of thousands in stocks before the market dropped over the coronavirus outbreak.
Trump's budget director stands by plan to cut CDC budget by 15 percent during the coronavirus pandemic The acting director of the OMB seemed unperturbed when asked about if it was wise to cut the CDC during a pandemic.
Karma, your table is ready. Liberty University Brings Back Its Students, and Coronavirus Fears, Too
Americans are doing what they do best: buying guns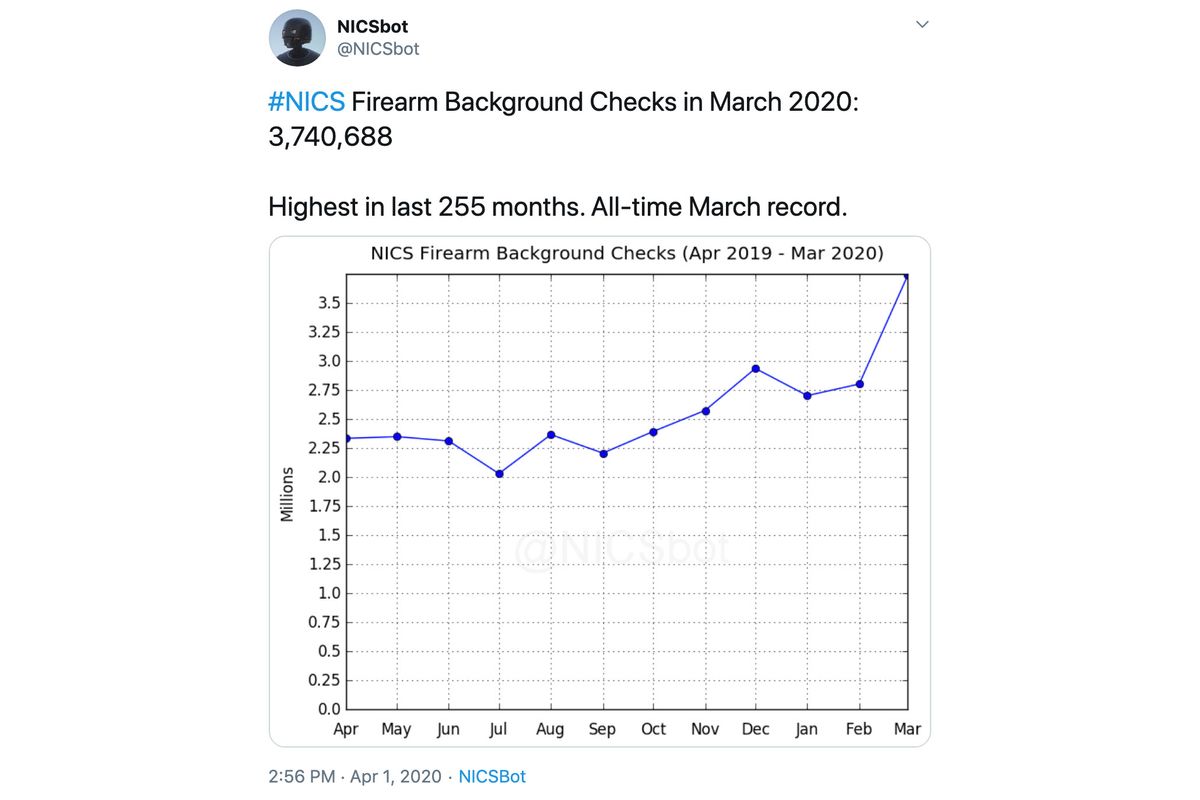 For unbiased information, Just found this. No interpretations, no politics. Just data, visualized: https://covid19.healthdata.org
Stay informed and protect your own.
---
Surly1 is an administrator and contributing author to Doomstead Diner. He is the author of numerous rants, screeds and spittle-flecked invective here and elsewhere. He lives a quiet domestic existence in Southeastern Virginia with his wife Contrary. Descended from a long line of people to whom one could never tell anything, all opinions are his and his alone, because he paid full retail for everything he has managed to learn.
One Response to A Journal of the Plague