Search Results for:
dimming bulb
Follow us on Twitter @doomstead666
Friend us on Facebook
Published on The Doomstead Diner September 12, 2017
Discuss this article at the Environment Table inside the Diner
A while back I wrote a series of articles called "The Dimming Bulb", discussing our decreasing ability to keep electric power moving through the copper wires of our electric grids to the end Konsumer as we slide down the Seneca Cliff on the far side of the Age of Oil. This aspect of energy decline in availability and affordability is often overlooked in the face of all the problems that come from the transportation industry and lack of fuel for the Carz and Trux. In fact though, it may well be that lack of ability to keep electricity moving through our metro areas with high populations and a voracious need for this power may be what brings TEOTWAWKI before lack of gas for Happy Motoring does.
Just about everything in our society depends on having electricity on demand. To begin with, the residential konsumers of the JUICE in Florida are currently watching their freezers defrost and if they are not cooking or drying the meat they have stored, they are going to lose a lot of food to begin with. All the large municipalities have sewage treatment plants that use gobs of electricity. How well and how long these can be run on backup generators is an open question.
You definitely CANNOT run all the streetlights of a city like Miami or even fucking Naples on backup generators, so until you have general grid power restored those suckers are LIGHTS OUT. Would you feel safe walking around the streets of Miami with no streetlights functioning?
A day after the Big Event everyone is breathing a "sigh of relief" here that they "dodged a bullet", but the real problems of recovering from such a broad swath of devastation remain ahead. It remains an open question exactly how quickly Florida Power & Light can restore the grid statewide, and until they do BAU for people without power just isn't possible. How many currently have potable water coming out of the taps? No statistic on that is available AFAIK. How many have had their carz ruined and can't get to work, if they still have a job to go to? Somehow I doubt many people will be stopping at Starbucks tomorrow for a Frappucino on the way to work. How are people who have little to no savings and live paycheck to paycheck going to pay their rent if they lose the next 2 weeks of work?
I woke up just in time this morning to see Irma make landfall in the Florida Keys here in the FSoA. Not much in the way of Newz or Info coming out of the Keys since then. I imagine Key West was pretty much flattened St. Maarten's style, although maybe not quite so bad since she hit in Key West at low Cat 4 wind speeds. She picked up some translational speed from the crawl speed across the north Cuban coastline, scooting up to 14 MPH to make the rest of the trip across the straights to make a second landfall near Naples, FL on the West Coast.
This location for GROUND ZERO disappointed some Doomophiles who were hoping for a full on Eyewall decimation of the skycrapers and hotels in Miami, which did not occur. The concept that we "dodged a bullet" here or that this event was a "dud" because Miami wasn't completely wiped out is only in the mind of the Kollapsnik who was looking forward to total devastation of that city.
What occurred instead was a much more widespread event, over the whole of the Florida Peninsula. It could have been much worse of course, either a run up the east or west coast would have kept hurricane strength longer and brought more storm surge in. Instead, after making landfall in Naples, Irma worked her way into the interior, more or less targeting Orlando and Disney World while the wind speeds dropped to Cat 1 and then to tropical force winds. As I write this now, she is just south of Orlando, and points north of the former center and eye are still being hit with powerful rain bands, along with possible Tornadoes hitting along that route.
From here, she is scheduled to head north into Georgia still packing Tropical Force winds and a lot of rain is destined to fall around Atlanta with some decent remaining wind behind it, so you are going to get more flash flooding and more downed power lines in that neighborhood as well by the end of the week. All of which speaks to the INFRASTRUCTURE problem, which is the real problem here, not the wind speeds Irma had on landfall in one particular location. This is a behemoth which is affecting the entire Florida peninsula and beyond.
The main issue already obvious tonight is that 7M Florida Power & Light Konsumers of Energy are currently without power. This exceeds the record previously held by Wilma with about 3.5M customers without the JUICE, and that is a LOT of wire to restring over a very broad area. Currently, Houston 2 weeks after Harvey STILL has about 200K Energy Konsumers without power, and they didn't lose near so many with Harvey, and distributed over a much smaller area. Irma has basically taken out the electrical system of the entire state of Florida!
In any number of ways, you can say FL "dodged a bullet" here, in that it could have been much worse if Irma hadn't decided to do a Strafing Run on Cuba before heading for the FSoA. Heading for the West Side of FL, Miami was spared the worst of a dead on hit from the eye wall, although they still lost 3 cranes, have plenty of flooding and the power is out to most of the county. The West Coast track turned out less bad than expected also, as the Eye moved inland pretty early so Tampa/St.Pete was spared inundation from storm surge.
Less Bad than Expected was of course much less bad as what occured in St. Martens and Barbuda, and also apparently across the north Cuban coastline inclduing Havana, where stories are still sketchy from at this point but they are apparently still under a lot of water, with many of the new Tourists Hotels in bad shape. I don't think anyone will be booking vacations in Cuba anytime in the near future.
Far as Florida is concerned, although no single location got the ULTIMATE in destruction (well, except maybe Key West which probably got flattened). 7M 12M customers without electric power is a LOT of wire to re-string! According to the "authorities", they have 17,000 linemen including an undisclosed number from out of state ready to spring to the job on Monday Morning of getting the JUICE back to their Florida customers, who are currently sweltering in the Florida heat & humidity without HVAC while their Frozen TV Dinners go bad in the Freezer. Considering after 2 weeks there are STILL around 200K people without power in Houston, one can figure it will take at least a month to get the full grid back online in FL, since the outages are spread over a much wider area.
Waking up Monday morning, we are in the post-coital phase of the intimate contact with Irma, and for the most part the pols are indeed crowing about how we "dodged a bullet". Miami took some flooding, sure, but they flood all the time these days. OK, we lost 3 cranes, but we have dozens of them! OK, the power is still out, but no problem, the crews from Florida Power & Light will have the lights back on in a jiffy! Back to BAU in Miami in no time! 🙂
The NEW UPDATE though is that it's not 7M without power, now it's up to 12M! That's basically the whole fucking state of Florida, they only have a total population of 20M! From WaPo:
That was the grateful mantra on the lips of many on Monday, even as an estimated 12 million Floridians prepared for a dark night without air conditioning in the muggy post-storm swelter. Though there was significant property damage in the Florida Keys and in some parts of southwest Florida, officials said it was remarkable that so far they are investigating just a small number of fatalities that came as the storm made landfall. It was unclear how many were directly related to the storm.

The lack of electricity across most of South Florida was the most pressing and crippling problem. Millions could remain in the dark for days or even weeks as utility companies struggle to navigate impassable roads and floodwaters to slowly restore power.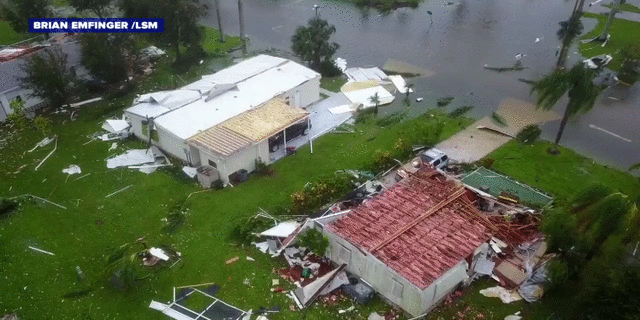 Things not so good over in Naples though, and even worse down in the Florida Keys, where the "authorities" won't be letting anyone back in until at least Tuesday while they asses the integrity of all the bridges connecting this string of low-lying islands built up as Tourista Resorts over the course of the Age of Oil. This is the "Margaritaville" neighborhorhood Jimmy Buffet made famous. When Jimmy first hit it big time as a rock star, the first thing he did was buy himself a yacht and park it in Margaritaville as a getaway if things ever went south for him. After that he got into planes too. As has become obvious here, Magaritaville and the Banana Republics may SEEM like bucolic safe havens in the good times, but they have their own set of risks and overall are not sustainable in the least in the way they are currently inhabited.
Doing still WORSE than the Florida Keys are the Tropical Paradises of St. Maartens and Barbuda, which actually did get hit full on by Irma while she was a Cat 5 packing 185 MPH wind speeds. Both islands basically LEVELLED, and now descending into chaos while their various Colonial Owners the Brits, Frogs and Little Dutch Boys scramble to organize up food aid and police protection from roving gangs of Zombies. All three countries are sending in additional Police/Military to try and restore "order" on these islands. Ex-Pats are huddled in their McMansions in fear of the next Home Invasion, although they probably have nothing left to eat either, since anyone stupid enough to be living in a McMansion in one of these places probably did not have a large supply of Preps either. These are the type of folks who go out the day before a hurricane is due to hit to buy batteries and bottled water. That is prepping up to them.
Economically, it's hard to see how these islands will ever recover to be the Retirement Paradise they were for apparently about 75,000 Brits, not sure how many Frogs or Dutch Boys. The cost to restore Barbuda was estimated in one article to be around $100M. There were something like 1600 people living on Barbuda when Irma came knocking on the door for a short vacation there, so that comes to $62,500 per person, which includes the poor locals who serve as maids and cooks and drivers as well as the retirees who are mostly living on pensions. You think any of them has $62,500 to pony up here to rebuild the infrastructure? Hell no, the Brit Goobermint will have to do it, and they can't even maintain the infrastructure on their own island these days.
Beyond this, MOST if not all of the Ex-Pats whose Mailbox Money incomes drove the economy will not stay in these places now, they are going to grab the first plane flight or boat ride out of there and never go back. Carnival Cruise lines is already sending ships for them. The infrastructure won't be rebuilt for a long time, if ever. The Brits, Frogs and Dutch are not going to fork over the money necessary to rebuild these places, they are total money losers now and for the forseeable future. The income generation capability they had as Tourista destinations is gone. All they will do is try and get the current set of Ex-Pats out of the place and then let the locals Twist in the Wind. Best they can hope for is that their citizenship as a Homo Sap born in one of these colonies will allow them to move to the Home Country, but they don't have much money to make that trip and probably no relatives or support structure to grab onto once they get there. They have a bit higher status than the refugees from Syria and Afghanistan, but not much.
There probably will be consolidation of these people on the islands that did not take such a bad hit, which will of course only serve to strain their resources also. The destitute Newbies will be despised by the locals and a drain on their own limited resources.
Electric power is only part of the problem of course, MOLD & MILDEW are a bigger problem long term. One has to remember that many of the flooded "buildings" aren't buildings at all, they are trailer homes which if they were flooded, the owner simply waits for the water to recede then puts all his stuff out to dry in the hot Florida SUN. Except by the time he does this a few days later, the MOLD has already taken hold, and it is almost impossible to get rid of when it does in a trailer. McHovel owners can strip out drywall and MAYBE eradicate mold, but getting it out of a trailer when it takes a grip is about impossible. You have to TOTAL it at this point and send it to the Land of Away in some junkyard or landfill, but the people who own them and live in them usually can't afford to replace them. Add another Human Soul to the list of Homeless People.
Because this wasn't the "Ultimate Disaster" it might have been, the MSM will likely quickly forget it as they have already forgotten about Harvey & Houston despite the fact more than 200,000 people remain without power and over 20,000 are still in shelters. There will be a new and better disaster to focus on in short order. It will likely take quite some time to get all the electric power restored, if they can even do that before the next one rolls ashore. Meanwhile, these repair bills don't come free you know, Da Federal Goobermint doesn't just hand out free money to fix up your local grid. The money is loaned to the Municipal Goobermint, which then has to raise taxes in order to pay for this new Bond Issue. Problem here would be that local Municipal Goobermints in FL (and everywhere else) ALREADY can't collect enough taxes for bills they ALREADY have! You think cutting a few more Teachers of Sanitation Workers off the payroll will pay to restring all the wire in Florida? Not too likely. However, for BAU to continue forward, these loans MUST be issued out, and they will be backed by the Full Faith & Credit of Da Federal Goobermint, which of course itself is ALSO quite bankrupt.
This will keep working until it doesn't.
Follow us on Twitter @doomstead666
Friend us on Facebook
Published on The Doomstead Diner June 4, 2017
Discuss this article at the Energy Table inside the Diner
Read also: The Dimming Bulb, The Dimming Bulb 2
Due to my High & Mighty position as a Global Collapse Pundit, I am often asked the question of when precisely will Collapse arrive? The people who ask me this question all come from 1st World countries. They are also all reasonably well off with a computer, an internet connection, running water and enough food to eat. While a few of us are relatively poor retirees, even none of us wants for the basics as of yet. The Diner doesn't get many readers from the underclass even here in Amerika, much less from the Global Underclass in places like Nigeria, Somalia,Sudan and Yemen.
The fact is, that for more than half the world population, Collapse is in full swing and well underway. Two key bellweathers of where collapse is now are the areas of Electricity and Food.
In his seminal 1996 paper The Olduvai Theory: Sliding Towards a Post-Industrial Stone Age, Richard Duncan mapped out the trajectory of where we would be as the years passed and fossil fuels became more difficult and expensive to mine up. Besides powering all our cars and trucks for Happy Motoring and Just-in-Time delivery, the main thing our 1st World lifestyle requires is Electricity, and lots of it on demand, 24/7. Although electricity can be produced in some "renewable" ways that don't depend on a lot of fossil fuel energy at least directly, most of the global supply of electric power comes from Coal and Natural Gas. Of the two, NG is slightly cleaner, but either way when you burn them, CO2 goes up in the atmosphere. This of course is a problem climatically, but you have an even bigger problem socially and politically if you aren't burning them. Everything in the society as it has been constructed since Edison invented the Light Bulb in 1879 has depended on electricity to function.
Now, if all the toys like lights, refrigerators big screen TVs etc had been kept to just a few small countries and the rest of the world lived a simple subsistence farming lifestyle, the lucky few with the toys probably could have kept the juice flowing a lot longer. Unfortunately however, once exposed to all the great toys, EVERYBODY wanted them. The industrialists also salivated over all the profit to be made selling the toys to everyone. So, everybody everywhere needed a grid, which the industrialists and their associated banksters extended Credit for "backward" Nation-States all over the globe to build their own power plants and string their own wires. Now everybody in the country could have a lightbulb to see by and a fridge to keep the food cold. More than that, the electricity also went to power water pumping stations and sewage treatment plants, so you could pack the Big Shities with even more people who use still more electricity.
This went on all over the globe, until today there isn't a major city or even a medium size town anywhere on the globe that isn't wired for electricity, although many places that are now no longer have enough money to keep the juice flowing.
Where is the electricity going off first? Obviously, in the poorest and most war torn countries across the Middle East and Africa. These days, from Egypt to Tunisia, if they get 2 hours of electricity a day they are doing good.

Public fury over rampant outages has sparked protests. In January, in one of the largest demonstrations since Hamas took control in Gaza a decade ago, ten thousand Palestinians, angered by the lack of power during a frigid winter, hurled stones and set tires ablaze outside the electricity company. Iraq has the world's fifth-largest oil reserves, but, during the past two years, repeated anti-government demonstrations have erupted over blackouts that are rarely announced in advance and are of indefinite duration. It's one issue that unites fractious Sunnis in the west, Shiites in the arid south, and Kurds in the mountainous north. In the midst of Yemen's complex war, hundreds dared to take to the streets of Aden in February to protest prolonged outages. In Syria, supporters of President Bashar al-Assad in Latakia, the dynasty's main stronghold, who had remained loyal for six years of civil war, drew the line over electricity. They staged a protest in January over a cutback to only one hour of power a day.

Over the past eight months, I've been struck by people talking less about the prospects of peace, the dangers of ISIS, or President Trump's intentions in the Middle East than their own exhaustion from the trials of daily life. Families recounted groggily getting up in the middle of the night when power abruptly comes on in order to do laundry, carry out business transactions on computers, charge phones, or just bathe and flush toilets, until electricity, just as unpredictably, goes off again. Some families have stopped taking elevators; their terrified children have been stuck too often between floors. Students complained of freezing classrooms in winter, trying to study or write papers without computers, and reading at night by candlelight. The challenges will soon increase with the demands for power—and air-conditioning—surge, as summer temperatures reach a hundred and twenty-five degrees.

The reasons for these outages vary. With the exception of the Gulf states, infrastructure is old or inadequate in many of the twenty-three Arab countries. The region's disparate wars, past and present, have damaged or destroyed electrical grids. Some governments, even in Iraq, can't afford the cost of fuelling plants around the clock. Epic corruption has compounded physical challenges. Politicians have delayed or prevented solutions if their cronies don't get contracts to fuel, maintain, or build power plants.

Now you'll note that at the end of the third paragraph there, the journalist implies that a big part of the problem is "political corruption", but it's really not. It's simply a lack of money. These countries at one time were all Oil Exporters, although not on the scale of Saudi Arabia or Kuwait. As their own supplies of oil have depleted they have become oil importers, except they neither have a sufficient mercantilist model running to bring in enough FOREX to buy oil, and they can't get credit from the international banking cartel to keep buying. 3rd World countries are being cut off from the Credit Lifeline, unlike the core countries at the center of credit creation like Britain, Germany and the FSoA. All these 1st World countries are in just as bad fiscal deficit as the MENA countries, the only difference is they still can get credit and run the deficits even higher. This works until it doesn't anymore.
Beyond the credit issue is the War problem. As the countries run out of money, more people become unemployed, biznesses go bankrupt, tax collection drops off the map and goobermint employees are laid off too. It's the classic deflationary spiral which printing more money doesn't solve, since the notes become increasingly worthless. For them to be worth anything in FOREX, somebody has to buy their Goobermint Bonds, and that is precisely what is not happening. So as the society becomes increasingly impoverished, it descends into internecine warfare between factions trying to hold on to or increase their share of the ever shrinking pie.
The warfare ongoing in these nations has knock on effects for the 1st World Nations still trying to extract energy from some of these places. To keep the oil flowing outward, they have to run very expensive military operations to at least maintain enough order that oil pipelines aren't sabotaged on a daily basis. The cost of the operations keeps going up, but the amount of money they can charge the customers for the oil inside their own countries does not keep going up. Right now they have hit a ceiling around $50/bbl for what they can charge for the oil, and for the most part this is not a profit making price. So all the corporations involved in Exploration & Production these days are surviving on further extensions of credit from the TBTF banks while at the same time cutting back on their capital expenditures. This also is a paradigm that can't last.
The other major problem now surfacing is the Food Distribution problem, and again this is hitting the African countries first and hardest. It's a combination problem of climate change, population overshoot and the warfare which results from those issues.
Currently, the UN lists 4 countries in extreme danger of famine in the coming year, Nigeria, Sudan, Somalia and Yemen. They estimate currently there are 20M people at extreme risk, and I would bet the numbers are a good deal higher than that.

'Biggest humanitarian crisis since World War II' about to engulf 20 million people, UN says, as governments only donate 10 per cent of funds needed for essential aid

The world is facing a humanitarian crisis bigger than any in living memory, the UN has said, as four countries teeter on the brink of famine.

Twenty million people are at risk of starvation and facing water shortages in Somalia, Nigeria and Yemen, while parts of South Sudan are already officially suffering from famine.

While the UN said in February that at least $4.4 billion (£3.5 bn) was needed by the end of March to avert a hunger catastrophe across the four nations, the end of the month is fast approaching, and only 10 per cent of the necessary funds have been received from donor governments so far.

It doesn't look too promising that the UN will be able to raise the $4B they say is necessary to feed all those hungry mouths, and none of the 1st World countries is too predisposed to handing out food aid when they all currently have problems with their own social welfare programs for food distribution. Here in the FSoA, there are currently around 45M people on SNAP Cards at a current cost around $71B. The Repugnants in charge of CONgress will no doubt try to cut this number in order to better fund the Pentagon, but they are not likely to send more money to Somalia.
Far as compassion for all the starving people globally goes in the general population, this also appears to be decreasing, although I don't have statistics to back that up. It is just a general sense I get as I read the collapse blogosphere, in the commentariats generally. The general attitude is, "It's their own fault for being so stupid and not using Birth Control. If they were never born, they wouldn't have to die of starvation." Since they are mostly Black Africans currently starving, this is another reason a large swath of the white population here doesn't care much about the problem.
There are all sorts of social and economic reasons why this problem spiralled out of control, having mainly to do with the production of cheap food through Industrial Agriculture and Endless Greed centered on the idea of Endless Growth, which is not possible on a Finite Planet.
More places on Earth were wired up with each passing year, and more people were bred up with each passing year. The dependency on fossil fuels to keep this supposedly endless cycle of growth going became ever greater each year, all while this resource was being depleted more each year. Eventually, an inflexion point had to be hit, and we have hit it.
The thing is, for the relatively comfortable readers of the Doomstead Diner in the 1st World BAU seems to be continuing onward, even if you are a bit poorer than you were last year. 24/7 electricity is still available from the grid with only occassional interruptions. Gas is still available at the pump, and if you are employed you probably can afford to buy it, although you need to be more careful about how much you drive around unless you are a 1%er. The Rich are still lining up to buy EVs from Elon Musk, even though having a grid to support all electric transportation is out of the question. The current grid can't be maintained, and upgrading to handle that much throughput would take much thicker cables all across the network. People carry on though as though this will all go on forever and Scientists & Engineers will solve all the problems with some magical new device. IOW, they believe in Skittle Shitting Unicorns.
That's not going to happen though, so you're back to the question of how long will it take your neighborhood in the UK or Germany or the FSoA to look like say Egypt does today? Well, if you go back in time a decade to Egypt in 2007, things were still looking pretty Peachy over there, especially in Tourist Traps like Cairo. Terrorism wasn't too huge a problem and Da Goobermint of Hoser Mubarak appeared stable. A decade later today, Egypt is basically a failed state only doing marginally better than places like Somalia and Sudan. The only reason they're doing as well as they are is because they are in an important strategic location on the Suez Canal and as such get support from the FSoA military.
So a good WAG here for how long it will take for the Collapse Level in 1st World countries to reach the level Egypt is at today is about a decade. It could be a little shorter, it could be longer. By then of course, Egypt will be in even WORSE shape, and who might still be left alive in Somalia is an open question. Highly unlikely to be very many people though. Over the next decade, the famines will spread and people will die, in numbers far exceeding the 20M to occur over the next year. After a while, it's unlikely we will get much newz about this, and people here won't care much about what they do hear. They will have their own problems.
Follow us on Twitter @doomstead666
Friend us on Facebook
Published on the Doomstead Diner on October 18, 2015
Composite Night Image of the Earth taken by the NASA Suomi NPP Satellite in April-October 2012
Discuss this article at the Energy Table inside the Diner
LAST CHANCE TO TAKE THE ENERGY SURVEY BEFORE THE COUNT!
A few days ago, doing my usual Web Surfing for Collapse articles to link to on the Diner and our new r/globalcollapse Reddit sub, I ran into an article on the Greanville Post titled WHAT IS EUROPE. CONTINENT OR PENINSULA?
The article featured as its Header Pic a NASA image of Europe taken at night from Space. The image is actually just a crop of the much larger composite night time map of the world assembled from data acquired by the Suomi NPP satellite from April through October 2012, which I reduced in size and heads this article. The full size pic in all its glory can be accessed by hitting the link under the header photo to the NASA website.
What that article was meant to show was how Europe really isn't a "Continent", although it is defined as such in most of your Geography Textbooks, but really just a Peninsula of the much larger Eurasian land mass. However, that is not what really struck me when I looked at the Header Pic, what struck me was the vast difference between the Brightness of the Eurozone versus the Darkness of the African continent below, at least the portion of it visible in that cropping. Africa is the "Dark Continent" in more ways than one here.
During the middle of the 19th century, Africa was referred to as the "Dark Continent," because little was known about the mysterious land itself. The term "Dark Continent" was most likely used for the first time by United States explorer and journalist Henry Stanley.
Obviously, with that thin band of lights on the Northern end of Africa, it's pretty obvious they're burning a whole lot less energy there than is going on nightly on the European Peninsula. Although most often conversation amongst Energy Kollapsniks TM revolves around the availability of Liquid Fossil Fuels for powering the transportation systems we use, in reality it is the Electricity that defines the culture and lifestyle of Homo Industrialis. When you look at the whole Map of the Globe lit up like a Suburban McMansion at Christmas, you can actually track the progression of Industrialization; you can see why the countries that are in control of Industrial culture are who they are and why everybody else out there is not particularly happy these days. I have discussed this aspect of Industrial Civilization and Electricity before in The Dimming Bulb, in this installment I want to look at it from the Historical and Geopolitical perspectives.
You can easily tell where the Industrial lifestyle began, and you can trace it's march around the Globe as well. The Brightness of the lighting tells the whole story if you know just a little history, and it tells you a lot about where things are going in the future too. Before we go Back to the Future though, let's do a little review of how this all got started.
Practical application of Electricity began in the mid 1800s, and by the late 1800s the frst central power stations came online in Jolly Old England and in the Northeast of the FSoA.
Central power stations and isolated systems

The first central station providing public power is believed to be one at Godalming, Surrey, U.K. autumn 1881. The system was proposed after the town failed to reach an agreement on the rate charged by the gas company, so the town council decided to use electricity. The system lit up arc lamps on the main streets and incandescent lamps on a few side streets with hydroelectric power. By 1882 between 8 and 10 households were connected, with a total of 57 lights. The system was not a commercial success and the town reverted to gas.[16]

The first large scale central distribution supply plant was opened at Holborn Viaduct in London in 1882[17] Equipped with 1000 incandescent lightbulbs that replaced the older gas lighting, the station lit up Holborn Circus including the offices of the General Post Office and the famous City Temple church. The supply was a direct current at 110V; due to power loss in the copper wires, this amounted to 100V for the customer.

Within weeks, a parliamentary committee recommended passage of the landmark 1882 Electric Lighting Act, which allowed the licensing of persons, companies or local authorities to supply electricity for any public or private purposes.

The first large scale central power station in America was Edison's Pearl Street Station in New York, which began operating in September, 1882. The station had six 200 horsepower Edison dynamos, each powered by a separate steam engine. It was located in a business and commercial district and supplied 110 volt direct current to 85 customers with 400 lamps. By 1884 Pearl Street was supplying 508 customers with 10,164 lamps.[18]

By the mid-1880s, other electric companies were establishing central power stations and distributing electricity, including Crompton & Co. and the Swan Electric Light Company in the UK, Thomson-Houston Electric Company and Westinghouse in the US and Siemens in Germany. By 1890 there were 1000 central stations in operation.[7] The 1902 census listed 3,620 central stations. By 1925 half of power was provided by central stations.[19]
Lights UK April-October 2012
Lights NE USA April-October 2012

The wiring spread outward from there, and India got wired up pretty well.
India Lights April-October 2012
South America a bit less wired.
Lights South America April-October 2012
Africa barely got wired at all.
Lights Africa April-October 2012
So how come India got wired up but Africa did not? Ask yourself who was running the show in India in the 1800s? It was the main colony of the declining British Empire, the one the Sun Never Set On because they were running all those new Lightbulbs! LOL. The Brits were not at the time in charge of Africa, really nobody was far as Westerners were concerned, that's why it got called the Dark Continent, besides the fact it was populated by dark skinned natives.
As time went by into the early 1900s, a couple of other places got decently wired up, Japan & China.
Lights China & Japan April-October 2012
In the mid to late 1800s, the Anglo-Amerikan Industrial Empire was in an Expansionary Phase, and the Gunboats of Cmdr. Matthew Perry "opened" Japan forcibly in the 1850s to join the expanding Industrial Empire, as I covered some time back in the Mr. Peabody Visits Japan article. Still in the Coal fired period at this time, the Gunboats weren't using Oil yet. The Brits were bizzy trying to make China the same kind of colony that India was, but unfortunately had some Boxers willing to fight them on this.
Boxer Rebellion: Background


By the end of the 19th century, the Western powers and Japan had forced China's ruling Qing dynasty to accept wide foreign control over the country's economic affairs. In the Opium Wars (1839-42, 1856-60), popular rebellions and the Sino-Japanese War (1894-95), China had fought to resist the foreigners, but it lacked a modernized military and suffered millions of casualties.
The Chinese weren't happy Kowtowing to the Japanese, and the Japanese weren't happy Kowtowing to the Gaijin Imperialists either, so everybody got in a big ass fight over this eventually. The fight was called WWII, which got ended with this:
The Nips were outclassed with Industrial Killing and their well wired Island was turned into an Industrial Factory for Carz and Electronic toys, starting with Transistor Radios moving through Walkmans up to the latest in Smartphones, though of course in recent years have had serious competition on this stuff from the other slaves on the Asian Continent from Korea to Thailand to China.
However, at this point in the post-WWII years the further Wiring of the World began to slow, if not come to a complete halt. With the Victory over Japan and Germany, why was further electrification of Africa and South America not undertaken? SA is a little more wired than Africa, but not by much.
Lights South America April-October 2012
As with most places that have been wired up post WWII, it's mostly along the coastline not much going into the interior. There are a few reasons for this.
First one is that by and large, most population centers and Big Shities lie along the coastlines. Reasons for this?
1- It's easiest to do trade with many places via boats. You can put a lot of cargo on a boat and move it around the world over the oceans without using a whole heck of a lot of energy to do it. In fact in the Sailing Era, that energy was all Renewable.
Even in the modern Container Ship era utilizing Fossil Fuels, this is relatively low energy consumption. The ships can run on "Bunker Fuel", which is basically unrefined Oil.
2- Coastline areas are usually pretty flat land condusive to large scale Agriculture. The fresh water flows down from higher elevations to these neighborhoods, so you have a continuous source of water if you are at the mouth of a decent size river, long as nobody upstream is using it all or contaminating it. New York Shity at the terminus of the Hudson River or London at the terminus of the Thames river are typical examples of this.
3- It's relatively EZ to get rid of all your WASTE if you are right on the coast. The Sewage goes into the Big Sink of the Ocean.
Woolongong Sewage Treatment Plant in Oz
So the vast increase in global population since the Industrial Era began has occurred mostly at the coastlines, which of course is not Good Newz with Sea Level rising. Just ask Miami.
For the most part, the Build Out phase stopped in the early 1970s at the latest, and the last 40 years has been all about continuing to bring in the necessary energy to all the places already built out to keep running them. In some of the older industrial Big Shities like Detroit, that has already failed/collapsed.
So your next question is just how does all the energy flow INTO the places it still goes to? This is a pipeline and transport question mainly, although there are many geopolitical conseqences of trying to take energy stores from one location and move them to another one. Let's look at the current pipeline networks for Oil and NG in North Amerika and Eurotrashland.

As you can see the greatest density of pipeline networks is in the TX/LA/OK neighborhood, and then filtering up from there to the North East and Upper Midwest. This of course because in the early days, all the BIG FINDS of EZ to extract low EROEI oil in the FSoA came in these locations, and then that oil needed transport to the Industrial centers of the Midwest and to the Northeast trading ports with Europe.
As the amount of oil that could be extracted at a cheap price inside FSoA borders began to decline, those same networks were used to ship around Oil accessed/stolen from other big repositories on earth, most notably Saudi Arabia of course. The Louisiana Offshore Oil Port (LOOP) was built to be able to offload oil from VLCCs (Very Large Crude Carriers), more commonly referred to as Super Tankers.
A few more large pipelines were built as time went by to move the oil out of the ground to the places that were burning it, most notably the Alaska Pipeline:
The Trans-Alaska Pipeline System (TAPS) includes the trans-Alaska crude-oil pipeline, 12 pump stations, several hundred miles of feeder pipelines, and the Valdez Marine Terminal. TAPS is one of the world's largest pipeline systems. It is commonly called the Alaska pipeline, trans-Alaska pipeline, or Alyeska pipeline, (or the pipeline as referred to in Alaska), but those terms technically apply only to the 800 miles (1,287 km) of the pipeline with the diameter of 48 inches (122 cm) that conveys oil from Prudhoe Bay, to Valdez, Alaska. The crude oil pipeline is privately owned by the Alyeska Pipeline Service Company.

The pipeline was built between 1974 and 1977 after the 1973 oil crisis caused a sharp rise in oil prices in the United States. This rise made exploration of the Prudhoe Bay oil field economically feasible. Environmental, legal, and political debates followed the discovery of oil at Prudhoe Bay in 1968, and the pipeline was built only after the oil crisis provoked the passage of legislation designed to remove legal challenges to the project.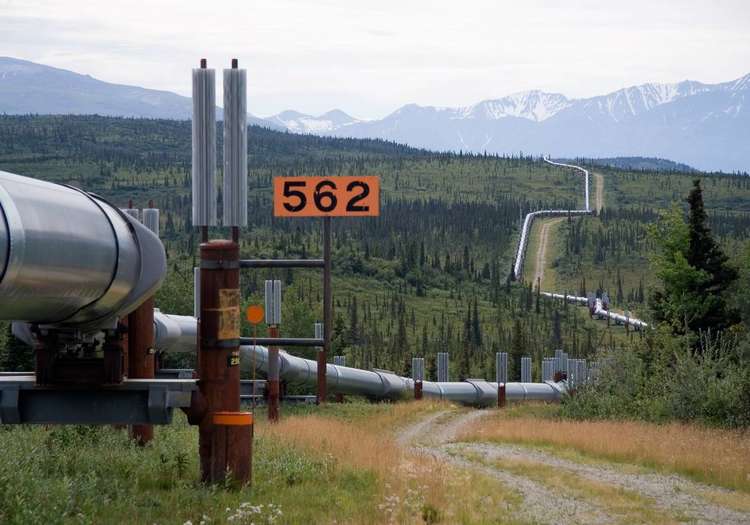 As the Wiki article indicates, it only became economical to build this behemoth of a pipeline after the Arab Oil embargo of the 1970s drove up the price of Oil. Lately there has been talk about building a natural gas (NG) pipeline out of there, either going across into Canada to join up with the current system of NG pipelines down there, or along the same route as the Oil pipeline down through Alaska, to be shipped out by liquifying the gas and dropping it onto specialized Liquified Natural Gas (LNG) ships, for sale then to the Japanese and Chinese slaves.
The problem with either of these pipelines being built is that the price you can get for NG doesn't justify the CapEx for building it. You'll never even pay off building the pipeline, much less make a profit off of it at the current prices. You would have to bet the price the consumer will pay for it will rise substantially, but how can that happen with fewer people working all the time at ever downward spiralling wages? So both projects have stalled, although the Alaska Goobernator is still pushing for it because something is necessary to keep the economy running around here as the Oil in the Prudhoe Bay fields depletes and gets lower prices all the time. He's got a huge hole in the state budget these days, and things are getting desperate down in Juneau.
Stalling also is the drive for further Oil exploration either in the Arctic Ocean or the Arctic National Wildlife Refuge (ANWR). Shell Oil recently stopped their exploration there after sinking around $9B into that White Elephant, and this week Da Goobermint decided not to offer up any leases for the oil companies to even bid on. Why not? Because they will get the same result that the Brazilians got a couple of weeks ago when they offered up leases for sale in the supposed Giant Oil Reservoirs in Deep Water off their shores. They got no bidders practically speaking. Same as the NG pipeline for Alaska, with the price of Oil as low as it is, the CapEx involved in accessing and drilling up this Oil is huge, and you can't pay it off at the prices the consumers of the oil can afford to pay. Although Environmentalists are gladdened by this decision and hope some Polar Bears will be saved, this decision has nothing to do with Environmental consciousness on the part of Da Goobermint or the Oil Companies. It's strictly an economic decision.
Now let's move over to Europe, where you see a similar history and similar economic issues as far as continuing to move the Oil from under the ground where it still remains to the places that have been burning it since Oil replaced Coal as the main energy driver for their industrial economy. First, let's look at the Pipeline Maps for Europe: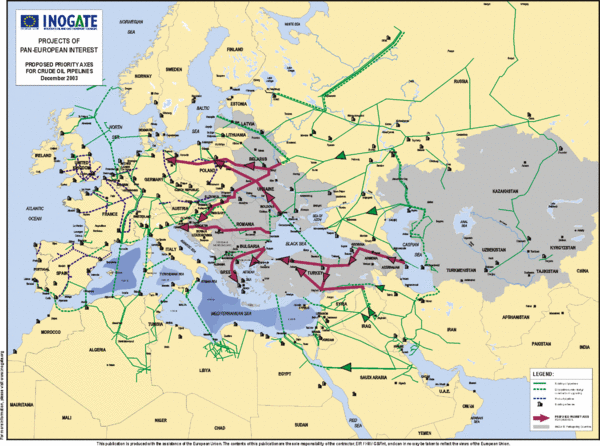 As you can see, similar to the build out of Oil Pipelines in North America from where the Oil was found down in TX and OK to where it was burned in places like Detroit and Cleveland in the early part of the 20th Century, pipelines were built to take Oil from where it was found in the Middle East and North Africa (MENA) and bring it to the Industrial Factories where it was being burned, primarily in Britain and Germany in the early 20th Century. While the Boxers were fighting in China, you had a similar battle going on in Europe over who would get to control the Oil coming from MENA, and the first big battle was fought for this, that was WWI.
The Brits won this war against the Krauts, with the assistance of their then still flush with oil former colony of the Amurkans. They carved up MENA into a bunch of random countries from the old Ottoman Empire with the Sykes-Picot Agreement to insure the flow of energy would come their way after the war.
The Sykes–Picot Agreement, officially known as the Asia Minor Agreement, was a secret agreement between the governments of the United Kingdom and France,[1] with the assent of Russia, defining their proposed spheres of influence and control in the Middle East should the Triple Entente succeed in defeating the Ottoman Empire during World War I. The negotiation of the treaty occurred between November 1915 and March 1916.[2] The agreement was concluded on 16 May 1916.[3]

The agreement effectively divided the Arab provinces of the Ottoman Empire outside the Arabian peninsula into areas of future British and French control or influence.[4] An "international administration" was proposed for Palestine.[5] The terms were negotiated by the French diplomat François Georges-Picot and Briton Sir Mark Sykes. The Russian Tsarist government was a minor party to the Sykes–Picot agreement, and when, following the Russian Revolution of October 1917, the Bolsheviks exposed the agreement, "the British were embarrassed, the Arabs dismayed and the Turks delighted."[6]
As you can see here, even prior to WWII and the Holocaust, there was an "agreement" about Palestine, later to become Israel. Essentially, Israel was designed to be the Military Base from which to maintain control over all of MENA Oil assets. Endless Military Aid has been furnished to the Israelis since WWII as a means to maintain this control, and the warfare down there between the Israelis and all the Arab states which surround them has been virtually continuous since WWII.
Despite the ongoing wars down there through the time period, overall the Oil was successfully transported through the pipeline system to the factories in Northern Europe, and even the Krauts who lost both WWI and WWII actually did fine here, since the same banksters financed both sides in the battle and after the war was finished, refinanced rebuilding of all the factories in both Britain and Germany that had been destroyed in the war to begin with! LOL.
Like North America with the building of the Alaska Pipeline, the Northern Europeans also got a fresh infusion of Juice with the discovery of North Sea Oil, and both Britain and Norway got a big bonus from this over the last 40 years, but this bonanza is starting to run thin now, and there are no new good sources of local Oil to be accessed at anything within a reasonable price range to justify the CapEx. So the Western European Nations are getting desperate for Oil and NG, and their last, best hope for this is…the RUSKIES!
Mother Russia still has a decent supply of Oil left, not just in the Arctic Ocean but out there in the vast land mass of Siberia too! What's the problem? PIPELINES! Getting the Oil from where it still is in Mother Russia to where the Eurotrash would like to burn it will take extensive construction of new pipelines, which in some cases are even longer than the fucking Alaska Pipeline! Besides that, the Eurotrash are competing against the Chinese, who would like to have new pipelines for this treasure trove of still remaining Fossil Fuel Energy piped in THEIR direction. Who if either will the Banksters finance for contstruction of said new pipelines? Just like Alaska, they won't fund either one of them, because there is no Return on Investment (ROI). in no place left on Earth is it possible to sell the energy at a price the consumer can afford to pay for it.
Knowing all of this, it is now possible to predict where the Lights will go off first and how the Powerdown off Industrial Civilization will proceed.
You have two Legacy Infrastructure Projects here, built out from the beginning of the 20th Century to move the energy around, the Electrical Grid and the Pipeline Network. Both systems are decaying, and the ROI for either fixing and maintaining what has already been built or for building new ones simply is not there anymore. It just costs too much to drag the energy out of the ground and move it over to places where fewer and fewer people all the time can afford to burn it. The persistent GROWTH necessary to finance such a system has come to a halt now. The population of Homo Sap across the whole planet has exceeded the capacity of the planet to support that population on an Environmental and Resource level, and so that population must and will contract. The easily accessed Fossil Fuel Energy that allowed for the exponential growth of this population is now all gone, it exists now as CO2 up in the atmosphere.
The population of Homo Sap will begin its decline first in the Peripheral countries, better known as the "3rd World". Similarly, the Lights will start going off first in these countries, and the Legacy Pipeline and Electrical Grid systems that deliver the Energy to the 1st World Nations will continue to function a while longer, but become ever more difficult to maintain and to continue to input new Energy to ever more impoverished consumers of the Energy, and they too will then begin to shut down one by one at first perhaps, but at some point the whole system will crash. This may occur in tandem with or shortly after the crash of the monetary system controlling this distribution of Energy.
The Last Big Shities to still have Lights On from central grid power? In all probability, Berlin,the City of London and New York Shity on Wall Street, the centers of the Finance that built the whole system to begin with. When the Lights Go Out on Broadway, you can say that TEOTWAWKI has arrived. It may take a little while yet, but you can watch the progress inward, you can see it happening in real time. It's not a conjecture anymore, it's reality.
More Econ & Energy Blogs & Rants off the keyboard & microphone of the Rogue Economist, AKA Reverse Engineer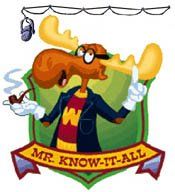 Money Valve I, Money Valve II, Money Valve III, Money Valve IV,David Korowicz Podcast:Financial Contagion & Tipping Points,Financial WWIII, Of Heat Sinks & Debt Sinks: A Thermodynamic View of Money,Theory of Everything I, Theory of Everything II, Energy-Money Equilibrium I, Energy-Money Equilibrium II, Energy-Money Equilibrium III,Da Fed: Central Banking According to RE,Kurrency Kollapse,Large Public Works Projects I,Large Public Works Projects II,Large Public Works Projects III,Waste Based Society I, Waste Based Society II, Waste Based Society III,Smokin' Economista Crack,Demand Destruction, Swissie Capitulation,Energy & Banking Criminal Racketeering,Economic Ebola,Competitive Currency Devaluation & Deflation,Inflation, Deflation & FOOD!,Financial WWIII: Secessions, Sanctions & Anti-Dollars, Anti-Dollars III: Fining Putin,Anti-Dollars II,Anti-Dollars,Eurobanksters Pray for Jesus,Wealth Confiscation & Destruction,Monetary Kabuki,Peak Credit,Fictional Wealth & Putin's Billions,Student Loan Forgiveness,Deflation Doom,The Death of Debt,Emerging Markets & Peripheral Currency Collapse,Tower of Babel Moment,Submerging Markets,Musical Dollars,Energy, Money & Gold,History & Future of Coinage & Money,The Future of Money,Whither Gold?,Conduits,The Crucifixion of Money,Banks: Unsafe at Any Speed,More Musings on Money,Liquidity Traps & Asset Class Sinkholes,Small Bizness in the Sea of Irredeemable Debt,Now Why Don't They SHOP?,Debt Monetization Economics,Financing the Industrial Revolution,Manufacturing Money,Capital Controls,F7 Print Button in Lockup,Moving Beyond Capitalism,On Dignity & Comparative Wealth,Avalanche Theory of Debt Cascade Failure,The Concepts of Money & Capital,Dollar-Oil Nexus,Hyperinflation vs. Deflation: Rebutting FFOA,Hyperinflation vs. Deflation Continued,Energy, Money & Oil: Inter-relationships,Banksters go ALL IN,History of Economic Collapse & the End of the Age of Oil,Capital Flight & Unions: 40 years of History in the FSoA,Hyperinflation or Deflation?,In the Debtrix, there is no Red Pill,
Off the keyboard of RE
Follow us on Twitter @doomstead666
Friend us on Facebook
Published on the Doomstead Diner on December 7, 2014
Discuss this article at the Energy Table inside the Diner
While all eyes are focused right now on the Oil Price Collapse, with it's numerous implications as far as the Energy Industry, Bankstering and Transportation Industries are concerned, in the background and not well reported on or chronicled statistically is the ever widening problem of Electrical Grid Blackouts & Brownouts.
Even more than liquid fuels for transportation, Electricity DEFINES the Modern Industrial Culture, and is considered an "Essential Service".
Living without electricity in today's technological world may be difficult to imagine. Yet the reality of living without computers, mobile phones and entertainment systems, and managing a transport system thrown into chaos by an absence of traffic lights, trains and subways, may become increasingly common, according to an academic study published today.

New research by Hugh Byrd, Professor of Architecture at the University of Lincoln, UK, and Steve Matthewman, Associate Professor of Sociology at the University of Auckland, New Zealand, reveals that today's occasional blackouts are dress rehearsals for the future, when they will occur with greater frequency and increased severity.

According to the study, power cuts will become more regular around the globe as electrical supply becomes increasingly vulnerable and demand for technology continues to grow at an unprecedented rate.

Professor Byrd said: "Electricity fuels our existence. It powers water purification, waste, food, transportation and communication systems. Modern social life is impossible to imagine without it, and whereas cities of the past relied on man-power, today we are almost completely reliant on a series of interlocking technical systems. Our research therefore explores what happens when the power goes off, and explains why the security of fuel supply is such a pressing social problem."

Electrical power has been defined as a 'critical infrastructure' by the International Risk Governance Council, in that it is a 'large-scale human-built system that supplies continual services central to society's functioning'. However, electricity supply is less robust than commonly supposed.
You simply cannot run any modern city without copious amounts of Electricity, most often provided by Coal Plants around the world, but with dependence also on all the forms of Fossil Fuel and Nuclear, as well as Hydro and Wind Power in selected locations.Every one of these forms of Power generations faces issues now, and the grid which distributes the power also is deteriorating and keeping it repaired and functional after every weather related problem from Tornadoes to Ice Storms and just plain old T-Storms costs every community more money they just do not have every day.
Going back to 1989 in Mr. Peabody's WAYBAC Machine, Richard Duncan developed a metric of PER CAPITA Energy, which is much more important than precisely how much Oil is coming out of the ground at any given point in time, although despite the Hype on Fracking, Oil Production globally has been FLATLINED for near a decade now, and the Fracked stuff just keeps us treading water, at an enormous price.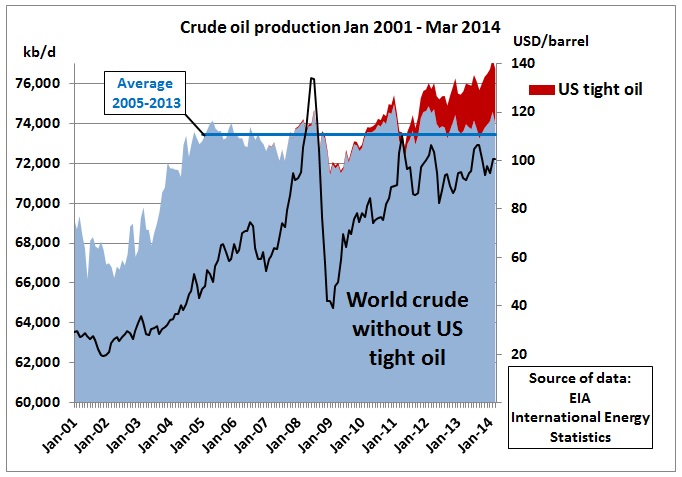 In the intervening time between January of 2005 and January of 2014 though, the Total Global Population of Homo Sapiens has increased by roughly 1 Billion People with a current total population somewhat in excess of 7 Billion, for a roughly 15% Population increase over the time period:
So, just to stay EVEN in Per Capita Energy Consumption, over this time period Energy Extraction would have needed to increase also by 15%, but obviously it has not.  The amount of AVAILABLE per capita energy has been decreasing for quite some time, due mainly to Population Increase while the extraction rate for energy has remained more or less Flatlined for around a decade now.
At this point however, as credit becomes constricted to access energy in most places of the world (Ugo Bardi for instance noted that Italy has seen a 35% drop in Oil Consumption over the last decade), it's not just Per Capita energy consumption that is on the downslide, but GROSS TOTAL CONSUMPTION as well.
You can see this in this chart from Doug Short, which shows a 10% drop in Gasoline consumption here in the FSoA over the last 6 years since the end of the Consumption Peak in 2008
So, the Demand Destruction and decreasing consumption of Energy is pretty apparent by the numbers in the Liquid Fuels area, but what about in the even more critical area of Electricity, powering the Lights, the Sewage Treatment Plants, the Elevators and the Subway systems of the major cities that have exploded in population since the Age of Oil began?
Fortunately for us observers of Energy Resource Depletion & Dissipation, we have available the Suomi NPP Visible Infrared Radiometer Suite, which has made some marvelous images of the night time Earth, including the Black Marble Image.
Here's the Flat Map of the Whole Globe, revealing clearly where industrialization has infected over the years:
Remarkable how small a portion of the world really got Wired Up here before burning through the legacy of a few million years of fossil fuel collection
After doing a bit of Googling, I found these two images of North America, one from 2012, the other from 1995.
Now, these two images were captured with different equipment, but you can see unmistakeably how much the Great Plains area has diminished in overall lighting, with one notable exception, that VERY large and bright spot I circled in Yellow.  What do you suppose that is?
That folks is the Bakken Oil Fields around Williston, ND.  It's partially increased electric lighting, but mostly NG Flaring.  Here's a Closeup View:
You can see the opposite effect if you look in the Southeast, increasing brightness down there where a lot of development took place through the period.
With the Suomi Instrument now up, detailed analysis of changing amounts of "light pollution" have been undertaken, most notably around Europe in this report published in January of 2014 in the Journal Nature:
The analysis is very thorough, and generates some very interesting data
We assessed changes in artificial lighting in terms of the extent of the areas decreasing and increasing in brightness over the region. The method was validated by the successful attribution of regions of both increasing and decreasing intensity in a calibration area in South-West England to urban and industrial developments, confirming that the observed direction and timing of change is consistent with known changes in nighttime light intensity on the ground. We then extended the approach to map areas of increasing and decreasing brightness across Europe. While the brightness of nighttime light pollution across Europe is increasing overall, clear regional differences exist, with considerable regions experiencing apparent net dimming over the period.
Here is the area around Southwest England used for calibration purposes.  Blue areas are decreasing light intensity, Red areas increasing:
Highlighted regions: (a) Annual trend in brightness for areas associated with the china-clay (kaolin) industry, (blue line); total china clay production (black line). (b) Annual trend in brightness for the urban region of Torbay (blue); total power load on municipal street lighting in Torbay (black). (c) Annual trend in brightness for Wytch Farm onshore oil field (blue); total oil production from the field (black). Map generated using ESRI ArcMap 9.2.
For Europe as a whole, here's the maps and analysis:
(a) Intercalibrated mean brightness for Europe 2005–2010. (b) 10-year change in brightness, calculated as the difference in mean values for the periods 2005–2010 and 1995–2000. Grey areas are saturated throughout the time period, so trends cannot be detected. (c) Proportions of the total land surface area for which artificial light was detected to increase (orange) and decrease (blue) by more than 3 DN units in constituent countries of Europe. *Data south of 65 degrees latitude only. Map generated using ESRI ArcMap 9.2.
Changes in European light pollution

In common with recent studies in Asia13, 16, 24, Europe has experienced a marked net increase in nighttime light pollution since satellite images first became available (Figure 2). Inferences about heavily urbanised areas must be treated with caution as the DMSP/OLS sensors saturate at high light levels; however, marked regional differences within the unsaturated rural and suburban areas exist. It has been previously noted that large areas of some countries of the former Soviet Union, such as Moldova and Ukraine, experienced a contraction in lighting following independence22; the effects of this change are still evident in this study over a more extended time period. Widespread decreases in brightness also occur in Hungary and Slovakia. Moreover, we find that several economically developed countries, including Sweden, Finland, Denmark, Norway, the United Kingdom, Belgium and Northern Germany also show areas apparently experiencing detectable localised declines in brightness.
The changes here aren't uniform, and while some are predictable based on the current economic situation, some others are counter-intuitive.  Here's a Geographical breakdown of a few selected locations:
(a) Belgium shows decreases in nighttime brightness along the motorway network, while neighbouring regions of France have increased substantially in brightness. (b) Slovakia shows marked decreases in brightness, with the exception of Bratslava and towns in the west of the country. In contrast, neighbouring regions of Poland have become substantially brighter. Map generated using ESRI ArcMap 9.2.
As you might have expected if you follow collapse dynamics, countries formerly in the orbit of the Former Soviet Union (FSU), which did not glom onto the Western economy after the fall like Slovakia see a marked Dimming of the Bulbs, whereas countries like Poland got Brighter Bulbs in the aftermath of that collapse.  Southern European Nations which saw a lot of investment over the time period got brighter, whereas aging industrial countries like Belgium and the Netherlands have grown dimmer.
Moving around the globe to the East, you can see the close relationship between power consumption and GDP by looking at the graph of Power Output versus GDP for the period from 1998 through 2012:
What can we expect moving forward here into the future?
Well, far as China is concerned, those numbers are going to continue to slide, and in all probability you are going to see the Bulbs go Dimmer in China over the next couple of years.  Even more than China, India is likely to see total lumens decreasing rapidly as time passes.
Unlike the numbers dished out by the Chinese Politburo or Da Fed and the BLS here which can be easily massaged to make it appear as though there is "Growth" where there is no real growth, the image data generated from the Suomi Satellite is harder to disguise, though of course not impossible either since both NASA and NOAA are Goobermint agencies.  At the moment however, there are probably too many scientists with access to the real time data streams to falsify the imagery, and too few people who recognize what is going on for it to matter on a political level if the Globe clearly shows a progressive and increasing Dimming effect.
If you are aware of these things though, this provides one of the BEST METRICS around to observe the collapse of Industrial Civilization.  At the moment I am unable to locate a way to access regular updated satellite imagery on this for the typical web surfer, however I am hopeful that my good friend Ugo Bardi, Professor of Physical Chemistry at the University of Firenza may have better luck through the university system.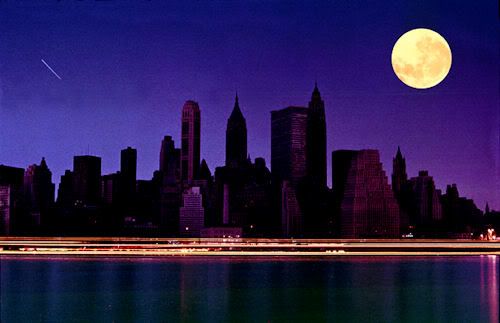 Besides watching and cateloging as cities like Detroit and Hoboken grow dimmer, another fascinating Bright Spot to watch over the next year is that Bonfire going on in the Bakken right now, which one of my friends in the industry who flies in there regularly says is simply amazing to see from the air.  With an already 40% decrease in Drilling permits being applied for as the price of Oil drops here, it seems likely that this particular Bright Light will be a lot Dimmer next year, and dimmer still the year after that.
How LONG will it take for the Planet to go COMPLETELY Dark at night?  Probably a relatively long time, but at the same time there will probably be occassions where large regions go dark simultaneously and other occassions where the overall lumens decrease rapidly in a given location as many of the lights are extinguished.  A simple example would be a struggling municipality cutting off half its Streetlights in order to save on the Electric Bill.  Or a Suburb with a lot of foreclosures having a greater number of Dark McMansions.
The Comparison Photo I put up of North America 1998 vs 2012 probably gives the best indication of how the loss of electric power will go, first disappearing from Low Population Zones and gradually spreading toward the densely populated areas.  It looks as though California is getting close to being Sunffed Out going West from Bakken, and moving Eastward the Mississipi River Population Zone will see more Dimming.  This correlates well with the ongoing Geopolitical problems in places like Ferguson, a suburb of St. Louis, and of course rust belt cities like Detroit and Gary, Indiana.
In the Final Countdown, probably only a few Major Metros of First World cities like NY Shity, London, Berlin etc will still have so many lights on they resemble Diodes on a circuit board.  How LONG will this process take though?  Absolute Light Intensity Dimming  in North America over the last 15 years is discernable, but it hasn't totally stopped BAU in the FSoA.  If the regression is a linear function, in another 15 years things would be worse, but not altogether different.
Thing is, this is probably not a linear function, as suggested by Ugo Bardi's Seneca Cliff.
Once the dropoff begins, it tends to accelerate with many positive feedback loops involved.  So in all likelihood we will see acceleration of this phenomenon around the globe over the next 15 years, and a significant portion of the currently Lit Up portions of the Black Marble will have gone dark by then.
Here in the FSoA, probably the most significant one to watch over the next couple of years is the Hoover Dam.  As of Novemeber 2014, the water level is at 1083 feet.  Here's the last few years of records for Lake Mead:
2007  1129.55  1129.35  1125.79  1120.69  1115.89  1113.50  1111.58  1111.84  1111.06  1110.95  1111.22  1114.81
2008  1116.46  1116.93  1115.65  1110.61  1107.05  1104.98  1104.42  1105.13  1105.76  1107.94  1107.33  1110.97
2009  1111.78  1111.43  1107.40  1101.26  1096.92  1095.26  1094.20  1093.73  1093.68  1093.26  1093.52  1096.30
2010  1100.02  1103.21  1100.66  1098.00  1094.30  1089.30  1086.97  1086.91  1083.81  1082.36  1081.94  1086.30
2011  1091.73  1095.78  1096.39  1095.76  1097.90  1102.38  1107.07  1113.45  1116.04  1121.00  1125.82  1132.83
2012  1134.18  1133.06  1129.41  1123.93  1119.38  1115.84  1115.92  1116.56  1115.16  1116.50  1117.24  1120.36
2013  1122.32  1122.14  1118.59  1112.91  1108.36  1105.98  1105.92  1106.13  1106.92  1104.04  1106.36  1106.73
2014  1108.75  1107.94  1101.71  1094.55  1087.46  1082.66  1080.60  1081.55  1081.33  1082.79  1083.57

Hoover reaches the "Dead Pool" level at 950 feet, still 130 feet away, but relief from the drought affecting the Colorado River watershed is nowhere in sight at the moment.
"The level of Lake Mead is supposed to drop to an elevation of 1081.75 over the next few days, which is the lowest elevation it's ever been since the lake was filled when Hoover Dam was built," said Rose Davis, Bureau of Reclamation.

Lake Mead is not only the primary water source for Las Vegas, but it's also how Hoover Dam produces power. Simply put, the lower the lake, the less electricity.

"Our concern is the ability to generate power. We've seen a 23 percent reduction in our capacity to generate power since the lake continues to drop," Davis said.

The hydroelectric facility is taking steps so its current capacity of 1592 megawatts won't go down anymore.

"We've been proactive over the last five years in putting in new equipment that operates more efficiently at low lake levels," Davis said.

Three wide head turbines have been installed, and two more are on the way in the next couple years. It's hoped they will arrive before Lake Mead gets to catastrophic levels that could bring the dam to screeching halt.

"What we call the dead pool, which is the elevation of Lake Mead where Hoover Dam cannot generate any power is about 950 feet," Davis said.
Even without complete shutdown at Hoover, a 23% Reduction in power output is already hugely significant.  Referencing back to the close connection between GDP and Electric Power however, such a large reduction in Power Output means a similarly large reduction in GDP for the neighborhoods served by Hoover, which are vast going from Vegas to Phoenix to Los Angeles.  To replace that power they have to BUY fossil fuel power off the grid, every Kilowatt Hour Hoover does not produce is more money out of the ever more insolvent coffers of everyone living in this neighborhood.
However, until Hoover shuts down completely, these issues mostly are not recognized, neither by the typical J6P nor the MSM reporting on it and not even by most Economistas.  They don't tie the ever decreasing Standard of Living to the Falling Water Level in Lake Mead.  These are disparate phenomena to them.  In fact your Standard of Living is ALL about how much Power you consume, and the higher the power consumption, the higher your 'Standard of Living", at least by the common metrics of the Industrial Era such as GDP.  The less access you have to energy, either Electricity or Gasoline to power your car, the lower your Standard of Living will be, eventually achieving 3rd World levels where the vast majority of the population has access to neither one.
How fast this will actually spin down still remains an open question, but now we do have Metrics by which to observe it, and to document that in fact there IS a Collapse in Progress, which most of the population remains in Denial about.  The end result is quite clear, it is the End of Industrial Civilization, and this is the FINAL COUNTDOWN.
Prior Collapse Cafes of Interest
Follow us on Twitter @doomstead666
Friend us on Facebook
Published on The Doomstead Diner September 17, 2017
Discuss this article at the Bugout Table inside the Diner
The recent two major Hurricane events and the Power Outages which have followed led me to writing this Prep article on being prepared for such eventualities with good lighting gear. On begining the article on Wednesday, there were still around 6.5M people without power in FL, and still 200K around Houston without power as well. Hurricane Jose is now threatening to do a Strafing Run up the East Coast of the FSoA, although at the moment a landfall doesn't seem likely.
Until you are without it, you don't think much about the necessity of lighting in industrial civilization, but it is everywhere. Many buildings have interior rooms with no windows. After dark, city streets become unsafe without streetlights. Cooking your dinner if you didn't get it done before Sunset requires lighting.
Fortunately these days, unlike A/C which requires GOBS of electric power to run, lighting only requires a tiny fraction of this and you can have enough power stored in batteries of various types to stay well lit for at least a few weeks without any power generating capacity at all. If you have only a few portable solar panels to deploy, you can pretty much go indefinitely as far as lighting is concerned in a disaster zone. Sadly of course, after a week or two, the lack of refrigeration, A/C, potable water and flushable toilets will probably become a bigger problem than a lack of lighting. Nevertheless, lighting ranks very high up in the list of preps you need to make either for a localized disaster or even TEOTWAWKI.
Portable lighting has always been a passion of mine, since my youngest years living in Brazil in the 1960s, when we experienced Power Blackouts probably at least twice a month in those years. They weren't even powering all that much really, even though we lived in an upscale Penthouse apartment right off Ipanema Beach we didn't have Air Conditioning, just ceiling fans and big windows that actually opened up. All that was being powered were the Incandescent light bulbs, the B&W 18" TV and the Refrigerator inside the apartment and then the Elevator that got you up and down from the Penthouse to the Ground Floor where you walked outside and if you had to go somewhere the Driver picked you up to deliver your Rich Fuck Little Kid Ass to your friend's house to play Cowboys & Indians or something. Which he did with a big smile all the time because he actually had a paying job and his girlfriend was the Cook and she scarfed up all the leftover food so they got fed for free too! They all went back to the Favelas at night to sleep except for one live in maid we had a room for next to the pantry. She was a teenage cousin of the cook as I recall.
When the lights went out though, it was NASTY! Not only was the TV off and you had to walk 12 flights of stairs to get in and out of your digs, there wasn't even any LIGHT to find your way from the bedroom to the bathroom to take a shit or to the kitchen to get something to eat out of the fridge before it went bad. This was very stress inducing shit for a 7 year old boy brought up in industrial culture to have to endure! It was at this point in my life Flashlights (Torches for you Brits out there) became what turned out to be a life long obsession.
Back in those days, neither the flashlights or the batteries were very good. The flashlights were cheap plastic or real thin metal casings, the bulbs were incandescent and didn't put out much light and the batts weren't even Alkalines, they were crappy Ray-o-Vacs that gave you maybe 2-3 hours of juice before the light dimmed to imperceptible. Duracell Batts weren't even on the market in those years. If you kept a spare set of Batts in the Kitchen Junk Drawer, after a couple of months you were lucky if they still worked. There were no rechargeable batts or flashlights on the market at all in those years.
Returning back to the FSoA in the late 60s, at least at home having a good and working flashlight at the ready all the time became less necessary. The grid in NY Shity was much more dependable than that in Rio de Janeiro, there were only a few occasions I recall where we experienced blackouts of any extended period. The only one I remember was the Blackout of July 1977, when the juice went out for 2 days. We had flashlights and we muddled through, although some food went bad. We never lost water or sewage though, it wasn't a natural disaster; it was a power grid problem due to lightning (so they said). Fortunately, I was not stuck in an elevator for that one. That has to be a fucking nightmare.
Where Flashlights did become very important again was in my adventures at Summer Camp, both the primitive one and the plush one for rich kids. In both cases, after dark set in if you didn't have a working flashlight you couldn't even walk the trails between the buildings in the plush camp to get from the Rec Hall where the dances were held back to your cabin, and you definitely could not go out on a 2 AM RAID on the Girls side of camp without a flashlight!
At the primitive skills camp, a flashlight was also a necessary item. Sometimes we would not make good time and get caught out on the trail after dark and had to hike the last mile or two to the planned campsite in the dark. Or we might JUST MAKE IT by dusk, but setting up the tents and cooking dinner all had to be done by flashlight. Needless to say, every summer I burned through dozens of these disposable one-time use batteries from Ray-o-Vac and Eveready. This was very distressing to me, since I had to buy the batts from the camp "canteen" out of money my mom deposited to my account for the summer which also had to go to buy Cokes and Almond Joy bars, which were my favorite candy snack of the era. The more money I spent on Batts, the less I had for Cokes and Almond Joy Bars. Fortunately when I ran out of money mom would usually replenish the account with another $20, but I usually had 2 or 3 days to wait before said money would appear in the account.
At about this time the first RECHARGEABLE flashlights came out, and I coveted one of these but never got one during the camping years. They were rather large and clunky things at the time, and the batts were permanently installed, not replaceable. There was no place to buy such batts in that era even if you could replace them when they wore out from too many cycles. I think the technology on them was Ni-Cad, but not sure on that.
Flashlights gradually improved over the next 20 years or so and so did the Batts, but it was still Incandescent Light technology for the Torches, and still mainly disposable Alkaline Batts to power them although Ni-Cad rechargeables became more available in the AAA, AA, C & D sizes these lights take. I started buying rechargeables and a charger for them at this point for my flashlights.
The real REVOLUTION in personal, portable lighting though came just in the last decade or so, combining two relatively new technologies, Diode Lights and Li-I rechargeable batts. The current crop of lights now available is far more powerful than the old stuff, and they are being manufactured in far higher quality than the old El Cheapo Flashlights as well. There is a big market for them amongst the Survivalist/Doomer/Prepper crowd, and some of them come in at some fantastically high prices also, you can spend over $200 for a Flashlight! I recently spent that much for a pair of Sunglasses though, so I can't really be holier-than-thou with anyone who chooses to spend that much for a flashlight. I have managed to keep it down to under $35 for any flashlight so far in self-defense against charges of excessive spending on preps.
What you get for your money here are extremely bright lights, measured in "lumens" these days. In selling their lights, manufacturers used to boast about "candlepower" not "lumens", and you can't really do a direct conversion because they measure different things. I have both a 1,000,000 Candle Power Spotlight and a 1000 Lumen Flashlight though, and eyeballing it the spotlight appears about twice as bright as the flashlight, although it is more of a focused beam so it is hard to tell. Both are REALLY bright though! 🙂
The Spotlight was my first super bright light I purchased as I got into Doom and Prepping around a decade ago. It's rechargeable and I have hardly used it but kept the charge on it by keeping it plugged in all the time, so it still works fine. Not sure though how long it would work for if it wasn't being charged all the time. This brings up an issue with all the rechargeable batts, is they really don't last forever and they degrade over time in their ability to hold a charge.
I have had numerous issues with devices other than flashlights as far as rechargeables are concerned, particularly those which are sealed inside devices and can't be replaced, at least by you the Konsumer. It is another form of Planned Obsolescence. The batts installed on many of these devices, from wireless headphones to cell phones usually wear out from charge cycles after around 2-4 years, depending on how much you use the device and how assiduous you are about keeping it charged up. This really pissed me off with some Wireless Headphones/Mics I used for numerous of my Collapse Cafe Doomer Discussion forums you can find on the Diner You Tube Channel, including such Collapse Luminaries as Gail Tverberg, Ugo Bardi, Steve Ludlum, Tom Lewis, Paul Chefurka and others. 6 months after purchasing one of these to get rid of the wire hanging off my head in the videos, it stopped taking a charge. No way to put a new rechargeable batt in it either! I gambled and figured maybe I got a Lemon and bought another one. Same thing happened to that one 6 months later too. I got soured on devices with rechargeable batts because of this. I still will buy them because some devices you just can't get in any other configuration, and on the sealed ones the manufacturers now have "licensed contractors" who you can bring your device to who will change the batt for you and "properly dispose" of the old one. For a fee of course.
Current Flashlights however are not this way for the most part, although some older ones like my Black & Decker Spotlight have an embedded rechargeable batt you can't easily change. Recent models have come out though which will take either 3 Typical AAA, C, or D Alkaline one-time use batts, or a similar Ni-Cad or Li-I Bat of the same dimensions. The difference between using these different types of batts has blurred now as well, because the Alkalines have improved a LOT since my years in Summer Camp, and boast a shelf life of 10 years! In use, they tend to last longer than the rechargeables do, so if you don't have a source of electricity to do a recharge (like say in the aftermath of a hurricane) they will do better than rechargeables, especially if you have a few spares. You can buy them in large packs of 20 batts in some cases, and store them in a cool dry spot in the basement (don't leave them there if you expect flooding!).
So I have both Single Use Alkalines which in my 500 Lumen flashlight will supposedly give 5-6 hours of run time, as well as rechargeables which I know through testing give about 3 hours of run time. That is leaving the light on all the time until the light starts noticeably dimming. You're also kind of insane if you use more than 500 lumens for practically any situation you can dream up, I do have a 1000 Lumen one but you never need that much light! There are 10,000 Lumen ones out there too if you want to buy one! Some of the Survival Websites advertise super high lumen lights that will supposedly Blind a Bear and provide Bear Protection, I am not sure if I believe that shit or not. Other than that though, WTF do you need such a bright light for? You do not need to light up the whole neighborhood, just maybe the 50' in front of you! 500 Lumens does that EZ.
The thing besides this is, even in a disaster situation you don't leave the light on full time, you switch it on and off for a few seconds or most minutes at a time when you need some bright light. I have other more low-tech sources of low light like Candles and Kerosene Lanterns that provide enough light to move around my digs quite well without needing to turn on a high power flashlight, and really these sources of light serve most of your needs in a disaster situation, except perhaps for the initial phases when you are getting set up or dangerous times like high winds outside when you don't want to have anything burning. In the days (weeks?) following the disaster though, candles and kero lanterns will provide most of the light you need after dark.
"After Dark" is another important consideration, because for the most part the only thing you should be doing after dark is SLEEPING! You don't need lights when you are asleep, in fact it's easier to do when it's dark. Here in Alaska in the summertime, sleeping can be a tough thing for many people, requiring stuff like Blackout Shades on the windows and Sleep Masks. I am usually OK just pulling the cover over my head, but it can be annoying. Back in the Good Old Daze before we had any sort of electric lighting, people just went to sleep after dark, because even burning Candles was relatively expensive for them. On the other hand of course in Alaska, in the Winter you will need to use some lighting method unless you completely hibernate and sleep 20 hours a day. lol.
Besides that, in the current Hi-Tech era, you have other sources of light that you run which put a glow on your digs. As long as I have my computer monitor turned on keyboarding out the DOOM over the internet, it basically lights up the whole room, which is my main living space including the Kitchen area. I can walk around without a Flashlight without tripping over anything quite easily, although fixing dinner by this amount of light isn't really possible except for simple things like microwaving a Potato Skin or boiling up some Ramen Noodles. My computer is kept going in a disaster situation by a HUGE 120AH Deep Cycle Marine Batt which will drive it for quite a few days non-stop, but again I wouldn't run it non-stop during an emergency, only maybe an hour or two each evening to check up on how the repair work on the grid was going and to make some posts to the Diner to pass on my experiences during the disaster, whatever it was.
Besides the full computer screen being up and running for lighting, I also have my Smart Phone. That usually rests next to my Pillow. and when I need to answer the Call of Nature in the middle of the night and take a trip from my bed to the Throne in the the bathroom, I just flick on the phone and that provides plenty of light to negotiate my way to the Porcelain God without tripping over anything or having to turn the lights on anywhere on the route. Then once resting comfortably on the Throne I can surf the web with no other lights on, since the Smart Phone is providing its own light to the backlit screen. 🙂
So for me, the typical Flashlights are just a small part of the arsenal of tools of prepping that keep your lighting situation within reason, and the Flashlights themselves don't get used that much. I turn them on and off a few seconds or minutes at a time to do specific tasks I need a lot of light for. The way I use a flashlight, a typical alkaline battset, non-rechargeable would last several weeks, probably months without a recharge necessary. This would not be true if you use a flashlight all the time to maneuver about something like a Cave of course.
What is a bit more interesting to me these days in the department of Portable Lighting is not the luminosity or source of power, but rather the various configurations they now come in besides just your typical Handheld Flashlight. You can get ones with Clamps that will clip onto things, Magnets that will stick them to Refrigerators, Tower Style with lots of Diodes to function as lanterns, etc. My particular favorite though are the Headlamps.
I first became enthused on the prepper level with Headlamps when I ran into the posting of Ferfal, who chronicled the Collapse of the Argentinian Economy in 2001-2003 or so. Headlamps provide the obvious advantage of leaving both your hands free to do other tasks, while at the same time the light from the headlamp is always directed at exactly where you are looking.
There are many El Cheapo versions of Diode Headlamps now available on the market in any Walmart Camping section, down as cheap as around $5, and I have experimented with a few of them. They work OK for most tasks you would use a headlamp like this for, say fixing dinner or cleaning your Gun in preparation for the Invasion of the Zombies the following morning. However, there are now better ones on the market than this, and I picked up one that has not one but THREE lights on it and claims 1000 lumens (I don't think quite that, it's a little dimmer than my 1000 lumen flashlight), has rechargeable batts which are REPLACEABLE by the Konsumer as well! In terms of continuos run-time, I have tested this one as well, it gives 3 hours of continuous light from a full charge, but much like a handheld, I can see few circumstances I would run it continuously for so long. In terms of price, it came in quite cheap at $25, which is comparable to the price I paid for my 1000 Lumen Aircraft Aluminum heavyweight light running on 3 D size batts, which actually came in a set of 3 for $50 including a smaller version at 500 Lumens running on C cells and a Pocket version running on 3 AAA cells as well. All 3 are real solidly built and appear as though they will last quite a while. The fail point on these lights is the On-Off switch, which if/when it fails is hard to replace or fix. Over a long enough duration of time this WILL occur, so the light won't work forever, even if you can get batts for it. All I hope for though is about 10 years of service. I won't be above ground longer than that, if I make it that long it will be miraculous, not to mention an excruciatingly long time to die given my current condition.
Overall, Lighting is a SOLUBLE problem as we move forward in collapse, it doesn't take much JUICE to get a diode light glowing, and the diodes can still be produced quite cheaply. A few now pretty cheap solar PV panels can keep them charged up, or if you have a generator and a little gas it won't take long to get them topped off and ready for another couple of days of service as you slog your way through the disaster of the day in your neighborhood. Compared to the more major problems of the loss of A/C in hot climates, the loss of refrigeration of food, or the loss in sewage treatment and water pumping for the neighborhood as a whole, this one is soluble quite easily for you individually. It is however a problem that the majority of the population ignores, evidenced easily by the fact that as soon as a disaster oncoming is announced by the MSM, all the dopey lemmings run out to buy Bottled Water and Batteries and empty the shelves of them. This scene replays itself with every fucking hurricane, every fucking flood in advance and every fucking earthquake in the aftermath. "OH! Shit! I need batteries! What? Walmart is OUT?" The deep level of stupidity in the population remains astounding to me. You can't drop a few of these things in the closet BEFORE the MSM tells you it will arrive tomorrow? WTF?
Don't be a complete idiot. You don't have to go completely over-the-top with prepping like me, but JEEZUS, at least have some working flashlights and extra batts around you don't have go shop for at the last minute! It won't help you with the A/C problem in the hot climates, but at least you will be able to see where you are going as you bake to death!
From the keyboard of Dmitry Orlov
Like us on Facebook
Follow us on Twitter @Doomstead666
Published at Club Orlov on February 17, 2015
This blog is dedicated to the idea of presenting the big picture—the biggest possible—of what is going on in the world. The abiding areas of interest that make up the big picture have included the following:
1. The terminal decay and eventual collapse of industrial civilization as the fossil fuels that power it become more and more expensive to produce in the needed quantities, of lower and lower resource quality and net energy and, eventually, in ever-shorter supply.
The first guess by Hubbert that the all-time peak of oil production in the US would be back in the 1970s was accurate, but later prediction of a global peak, followed by a swift collapse, around the year 2000 was rather off, because here we are 15 years later and global oil production has never been higher. Oil prices, which were high for a time, have temporarily moderated. However, zooming in on the oil picture just a little bit, we see that conventional oil production peaked in 2005—just 5 years late—and has been declining ever since, and the shortfall has been made up by oil that is difficult and expensive to get at (deep offshore, fracking) and by things that aren't exactly oil (tar sands).
The current low prices are not high enough to sustain this new, expensive production for much longer, and the current glut is starting to look like a feast to be followed by famine. The direct cause of this famine will not be energy but debt, but it can still be traced back to energy: a successful, growing industrial economy requires cheapenergy; expensive energy causes it to stop growing and to become mired in debt that can never be repaid. Once the debt bubble pops, there isn't enough capital to invest in another round of expensive energy production, and terminal decay sets in.
2. The very interesting process of the USA becoming its own nemesis: the USSR 2.0, or, as some are calling, the USSA.
The USA is best characterized as a decomposing corpse of a nation lorded over by a tiny clique of oligarchs who control the herd by wielding Orwellian methods of mind control. So far gone is the populace that most of them think that things are just peachy—there is an economic recovery, don't you know—but a few of them do realize that they all have lots of personal issues with things like violence, drug and alcohol abuse, and gluttony. But don't call them a nation of violent, drug-abusing gluttons, because that would be insulting. In any case, you can't call them anything, because they aren't listening, for they are too busy fiddling with their electronic life support units to which they have become addicted. Thanks to Facebook and the like they are now so far inside Plato's cave that even the shadows they see aren't real: they are computer simulations of shadows of other computer simulations.
The signs of this advanced state of decomposition are now unmistakable everywhere you look, be it education, medicine, culture or the general state of American society, where now fully half the working-age men is impaired in their ability to earn a decent living. But it is now particularly obvious in the endless compounding of errors that is the essence of American foreign policy. Some have started calling it "the empire of chaos," neglecting to mention the fact that an empire of chaos is by definition ungovernable.
A particularly compelling example of failure is the Islamic Caliphate, which now rules large parts of Syria and Iraq. It was initially organized with American help to topple the Syrian government, but now threatens the stability of Saudi Arabia instead. This problem was made much worse by alienating Russia, which, with its long Central Asian border, is the one major nation that is interested in fighting Islamic extremism. The best the Americans have been able to do against the Caliphate is an expensive and ineffectual bombing campaign. Previous ineffectual and expensive bombing campaigns, such as the one in Cambodia, have produced unintended consequences such as the genocidal regime of Pol Pot, but why bother learning from mistakes when you can endlessly compound them?
Another example is the militarized mayhem and full-blown economic collapse that has engulfed the Ukraine in the wake of American-organized violent overthrow of its last-ever constitutional government a year ago. The destruction of the Ukraine was motivated by Zbigniew Brzezinski's simplistic calculus that turning the Ukraine into an anti-Russian NATO-occupied zone would effectively thwart Russian imperial ambitions. A major problem with this calculus is that Russia has no imperial ambitions: Russia has all the territory it could ever want, but to develop it it needs peace and free trade. Another slight problem with Zbiggy's "chessboard" is that Russia does have an overriding concern with protecting the interests of Russians wherever they may live and, for internal political reasons, will always act to protect them, even if such actions are illegal and carry the risk of a larger military conflict. Thus, the American destabilization of the Ukraine has accomplished nothing positive, but did increase the odds of nuclear self-annihilation. But if the USA manages to disappear from the world's political map without triggering a nuclear holocaust, we will still have a problem, which is that…
3. The climate of Earth, our home planet, is, to put it as politely as possible, completely fucked. Now, there are quite a few people who think that radically altering the planet's atmospheric and ocean chemistry and physics by burning just over half the fossilized hydrocarbons that could possibly be dug up using industrial methods means nothing, and that what we are observing is just natural climate variability. These people are morons. I will delete every single one of the comments they submit in response to this post, but in spite of my promise to do so, I assure you that they will still submit them… because they are morons. [Update: yup, QED.]
What we are looking at is a human-triggered extinction episode that will certainly be beyond anything in human experience, and which may rival the great Permian-Triassic extinction event of 252 million years ago. There is even the possibility of Earth becoming completely sterilized, with an atmosphere as overheated and toxic as that of Venus. That these changes are happening does not require prediction, just observation. The only parameters that remain to be determined are these:
1. How far will this process run?
Will there still be a habitat where humans can survive? Humans cannot survive without plenty of fresh water and sources of carbohydrates, proteins and fats, all of which require functioning ecosystems. Humans can survive on almost any kind of diet—even tree bark and insects—but if all vegetation is dead, then so are we. Also, we cannot survive in an environment where the wet bulb temperature (which takes into account our ability to cool ourselves by sweating) exceeds our body temperature: whenever that happens, we die of heat stroke. Lastly, we need air that we can actually breathe: if the atmosphere becomes too low in oxygen (because the vegetation has died out) and too high in carbon dioxide and methane (because the dead vegetation has burned off, the permafrost has melted, and the methane currently trapped in oceanic clathrates has been released) then we all die.
We already know that the increase in average global temperature has exceeded 1C since pre-industrial times, and, based on the altered atmospheric chemistry, is predicted to eventually exceed 2C. We also know that industrial activity, thanks to the aerosols it puts into the atmosphere, produces an effect known as global dimming. Once it's gone, the average temperature will jump by at least another 1.1C. This would put us within striking range of 3.5C, and no humans have ever been alive with Earth more than 3.5C above baseline. But, you know, there is a first time for everything. Maybe we can invent some gizmo… Maybe if we all put on air-conditioned sombreros or something… (Design contest, anyone?)
2. How fast will this process happen?
The thermal mass of the planet is such that there is a 40-year lag between when atmospheric chemistry is changed and its effects on average temperature are felt. So far we have been shielded from some of the effects by two things: the melting of Arctic and Antarctic ice and permafrost, and the ocean's ability to absorb heat. Your iced drink remains pleasant until the last ice cube is gone, but then it becomes tepid and distasteful rather quickly. Some scientists say that, on the outside, it will take 5000 years for us to run out of ice cubes, causing the party to end, but then the dynamics of the huge glaciers that supply the ice cubes are not understood all that well, and there have been constant surprises in terms of how quickly they can slough off icebergs, which then drift into warmer waters and melt quickly.
But the biggest surprise of the last few years has been the rate of arctic methane release. Perhaps you haven't, but I've found it impossible to ignore all the scientists who have been ringing alarm bells on Arctic methane release. What they are calling the clathrate gun—which can release some 50 gigatons of methane in as little as a couple of decades—appears to have been fired in 2007 and now, just a few years later, the trend line in Arctic methane concentrations has become alarming. But we will need to wait for at least another two years to get an authoritative answer. Overall, the methane held in the clathrates is enough to exceed the global warming potential of all fossil fuels burned to date by a factor of between 4 and 40. The upper end of that range does seem to put us quite far towards a Venus-type atmosphere, and the surviving species may be limited to exotic thermophilic bacteria, if that, and certainly will not include any of the species we like to eat, nor any of us.
Looking at such numbers has caused quite a few researchers to propose the possibility of near-term human extinction. Estimates vary, but, in general, if the clathrate gun has indeed gone off, then most of us shouldn't be planning to be around beyond mid-century. But the funny thing is (humor is never in poor taste, no matter how dire the situation) that most of us shouldn't be planning on sticking around beyond mid-century in any case. The current oversized human population is a product of fossil fuel-burning, and once that's over, human population will crash. This is called a die-off, and it's something that happens all the time: a population (say, of yeast in a vat of sugary liquid) consumes its food, and then dies off. A few hardy individuals linger on, and if you throw in a lump of sugar, they spring to life, start reproducing and the process takes off again.
Another funny aspect of near-term human extinction is that it can never be observable, because no scientist will ever be around to observe it, and therefore it is a non-scientific concept. Since it cannot be used to do science, the scientists who throw it around must be aiming for an emotional effect. This is quite uncharacteristic of scientists, who generally pride themselves on being cool-headed and prefer to deal in the observable and the measurable. So, why would scientists go for emotional effect? Clearly, it is because they feel that something must be done. And to feel that something must be done, they must also feel that something can be done. But, if so, what is it?
Always first on the list is the effort to lobby governments to limit carbon emissions. This has not been a success; as to one of the many reasons why, consider point 2 above: the USA is one of the biggest offenders when it comes to carbon emissions, but the rotting corpse of America's political system is incapable of any constructive action. It is too busy destroying countries: Iraq, Libya, Syria, Ukraine…
Second on the list is something called geoengineering. If you don't know what it is, don't worry; it's largely a synonym for mental masturbation. The idea is that you fix things you don't understand by using technologies that don't exist. But given many humans' irrational belief that every problem must have a technological solution, there is always some fool willing to throw money at it. Previous efforts along these lines involved the idea of seeding the oceans with iron to promote plankton growth, or putting bits of tin foil in orbit to reflect some of the sunlight, or painting the Sahara white. These are all fun projects to think about. How about using nuclear weapons to put dust into the atmosphere, to block out some of the sunlight? Or how about nuking a few big volcanos, for the same effect? If that's politically difficult, how about something politically easy: a limited nuclear exchange? That will darken the skies, bringing on a mini nuclear winter, and also reduce the population, which will cut down on industrial activity. There are enough nuclear weapons to keep the planet cool for as long as it takes us all to die of radiation poisoning. This geoengineering solution, along with all the others, is in line with the popular dictum "If you can't solve a problem, enlarge it."
And so it seems to me that all the talk about near-term human extinction is just so much emotional hand-flapping designed to motivate people to try things that won't work. Still, I believe the topic is worth pondering, for a simple reason: what if you don't want to go extinct? We've already established that human extinction (whenever it might be said to occur) will never be observable, because no human will be around to observe it. We also know that population die-offs happen all the time, but they don't always result in extinction. So, who will be most likely to die, and who might actually make it?
First on the list are the invisible victims of war. By now lots of people have seen photographs of piles of dead Ukrainian soldiers left to rot after another failed attack, or videos of residents of Donetsk expiring on the sidewalk after being hit by a government-lobbed artillery shell or mortar. But we don't know how many children and women are dying in childbirth because the government has bombed maternity clinics and hospitals: such casualties of war are invisible. Nor will we be shown footage of all of the Ukrainian retirees expiring prematurely because they can no longer afford food, medicine or heat, but we can be sure that many of them won't be around a year hence. When it comes to war, there are just two viable survival strategies: refuse to take part; and flee. Indeed, the million or so Ukrainians that are now in Russia, or the million or so Syrians who are no longer in Syria, are the smart ones. The Ukrainians who are volunteering to fight are the idiots; the ones who are fleeing to Russia to sit out the war are the smart ones. (However, the Russians, who are volunteering to protect their land and their families from what amounts to an American invasion, are clearly not idiots. They are also winning.) In this sense, war is a Darwinian process, delivering extinction to the foolish.
Next on the list of extinction episodes to avoid happens in major cities during a heat wave. It's happened across Europe in 2003, and resulted in 70,000 casualties. In 2010, a heat wave in the Moscow region (which is quite far north) resulted in over 14,000 deaths in Moscow alone. The urban heat island effect, which is caused by sunlight soaked up by pavement and buildings, produces much higher local temperatures, driving them over the threshold for heat stroke. While the fossil fuel economy continues to operate, cities remain survivable because of the availability of air conditioning; once it shuts down, urban heat wave extinction episodes will become widespread. Since 50% of the population lives in cities, half of the human population is at risk of extinction from heat stroke. Therefore, if you don't want to go extinct, don't spend your summers in a city.
The list of places you don't want to be if you wish to avoid extinction gets rather long. You wouldn't want to live in California, for example, or in the arid southwestern states, because there won't be any water there. You wouldn't want to live along the coasts, because they are likely to be flooded by the rising oceans (they will eventually rise over 100 meters, putting all coastal cities underwater). You wouldn't want to live in the eastern half of North America, because, paradoxically, a dramatically warmer Arctic region causes the jet stream to meander, producing increasingly fierce winters, which, minus fossil fuels, will cause widespread deaths from exposure. Even now, a bit of extra snow, which is likely to become the new normal, has caused the entire transportation infrastructure of New England (where, luckily, I am not) to roll over and play dead. Nor would you want to live in any of the places where the water source comes from glacial melt, because the glaciers will soon be gone. This includes much of Pakistan, large parts of India, Bangladesh, Thailand, Vietnam and so on. The list of places where you wouldn't want to be if you don't want to go extinct for this or that reason gets to be rather long.
But the entire northern half of Eurasia looks quite nice for the foreseeable future, so if you don't want to go extinct, you better start teaching your kids Russian.
Dmitry Orlov is a Russian-American engineer and a writer on subjects related to "potential economic, ecological and political decline and collapse in the United States," something he has called "permanent crisis". He  has written The Five Stages of Collapse and Reinventing Collapse, continues to write regularly on his "Club Orlov" blog and at EnergyBulletin.Net.