Off the keyboard of Stuck in New Jersey
Follow us on Twitter @doomstead666
Friend us on Facebook
Published on The Burning Platform on August 22, 2014
Discuss this article at the Kitchen Sink inside the Diner
Note:  This is a very long article. You can just skip to the Parts that interest you. Or, if you just want to see the pictures, each one has a title in brown font, and a description in purple. Or, you can read the whole thing, and wind up smarter than a fifth grader.
PART I ——- A Brief History of Castle Architecture
PART II —— General Overview
PART III —– Castle Life (it often sucked)

PART IV —– Defending The Castle
PART V —— Castle Pictures
=======================================
PART I —— A Brief History of Castle Architecture
You may read something here and say to yourself, "That's not correct!".  Just keep two things in mind. First, as often is the case, much of what folks know about castles will come from television and movies …. and those TV castles will always show the late-period castles, even anachronistically, if necessary. (TV/movies are a terrible source of accurate information.) Secondly,  you must keep in mind that very many changes were made to castles during the roughly 500 year Middle Ages period. 
Let's take a quick look:

10th Century: —– The earliest castle construction is known as "motte and bailey"; an earthen mound (motte) and a timber defensive wall of wooden stockade fences (bailey). Most of these castles were later rebuilt in stone. Motte comes from the French word for "mote", and the meaning gradually moved a mound to the water-filled ditch that surrounded it. Most of these castles were later rebuilt in stone.
NOTE: The English were winning the Battle of Hastings (1066) but, snatching defeat from the jaws of victory, they foolishly believe the Normans were retreating. They chase the Normans giving up their superior higher battle position and consequently lose the Battle of Hastings. The end result? The Battle of Hastings resulted in all lands of England being claimed by the Normans who introduce Feudalism to England.
(above)  Shortly after William of Normandy defeated Harold at the Battle of Hastings, a kinsman is granted estates in Kent to guard the crossing of the Medway at Tonbridge.  A simple Motte and Bailey castle is raised. To dig the moat and erect the motte 50,000 tons of earth were moved. By around 1100, the wooden castle is replaced with a stone shell keep. 
 11th Century — marked the beginnings of stone castles. Social change was sweeping through Europe. Kings, Lords, and other Nobility were consolidating large kingdoms and gaining wealth … wealth that was needed to build stone castles, which required a substantial commitment of resources, money, and time. Next to getting wealth, the next most important thing to rich people is protecting it. So, new castles were built in stone, and many of the older wooden motte & bailey castles were rebuilt. However, the general structure and layout remained very similar and were often called "shell-keeps".
 12th Century — The massive stone keeps we normally consider to be medieval castles took shape during this century. The Greek and Turkish cultures were very proficient with stonework. Crusaders returning to Europe brought with them all kinds of newly found engineering and design, and architectural knowledge which enabled the building of large and elaborate stone fortresses throughout Europe. For example, the idea of "flanking" towers, rather than one central keep, came from the Byzantine Empire. Alnwick Castle was one of Britain's first to utilize the new design – and these towers found fame in the 21st century, when the castle was cast as Hogwarts in the Harry Potter films.
 13th Century — Castle building reaches a feverish climax. Estimates range anywhere from 500 – 700 massive and very intricate castles being built throughout Europe. Many new techniques were applied, such as, square towers gave way to round towers. The square shape was vulnerable to battering rams, had blind zones, and tunnels could be dug underneath them and then collapsed, bringing down the tower. Round towers were much stronger, less vulnerable, had no blind spots, and were much more difficult to topple.  
A turning point in the history of the castle was the abandonment of Norman (aka Romanesque) architecture, and replacing it with Edwardian Concentric Castles — an inner wall surrounded by one or more outer walls providing successive lines of defense — or, a castle within a castle, with lots of buildings, walls, towers and gatehouses in one massive medieval castle complex. It is in this century whereby defensive additions were made to the castles such as the barbican, crenellations, murder holes and arrow loops in various sizes.
(above) Caerphilly Castle is one of the great medieval castles of western Europe. It is Britain's second largest castle, after Windsor. It is the first truly concentric castle in Britain. It also made large-scale use of water for defense. Upon its completion in the late 1200s it was a revolutionary masterpiece of military planning.
In fact, a chain of concentric castles were built to specifically conquer Wales, and then Scotland (by King Edward I). The Kings largely succeeded, but in the process effectively bankrupted England. But the kings (the House of Plantagenet ) who followed King Edward made good use of the castles. The Welsh had been conquered, and the troublesome Scots soon would be. Meanwhile, Medieval architects and builders discovered the amazing strength and stability of using pointed arches … and castle building took on the Gothic style.
14th – 15th Century — castle building starts to decline due to the development of gunpowder and artillery. It was impractical and futile to spend ten years or more to build a castle that could be totally destroyed by a few days of artillery fire. New castles were built as Gothic masterpieces … some of the most beautiful architecture ever produced by mankind, imho.
The term "Gothic" was first used during the Renaissance period, which followed the Middle Ages. The people of the Renaissance took the word "Gothic" from the Goths, the uncouth barbarians who had overrun the Roman Empire. As such, some believe "Gothic" was a pejorative term — probably first used in the 1530s by Giorgio Vasari — to describe a culture that was considered rude and barbaric. In terms of art and architecture, the term implied that compared to superior Renaissance classical buildings, the Gothic medieval castles and cathedrals were so crude that only a Goth could have produced them. (Personally, I think the Italians were just jealous.)
In addition to visual beauty, Gothic architecture also provided several structural changes, and advantages. Some key elements of Gothic design follows;
Pointed arch —- supported greater weight which allowed walls to be thinner and with wider window openings  
Gothic arch —-

light was emphasized, bright colorful windows (especially in the chapel area)  and airy interiors,  all transformed castles into more pleasant and majestic environments.

Flying buttresses — distributed the weight of roofs and walls right down to the ground which allowed architects to spread the weight to different points of the castle
Solid walls and pillars – which could hold far greater weight which resulted in much bigger castles
Towers …. central to Gothic architecture. There were more of them, and main towers were accompanied by many slender towers, and they were higher
Decorative and ornate style —- designs Gothic architecture marked the first time that beauty and aesthetic values had been incorporated into building design. Architecture was no longer just functional – it began to have merit and meaning in its own right.
Hammerbeam roofs — often referred to as "the most spectacular endeavor of Medieval carpentry"
Gargoyles!!!
(above) The tower in the background is from the original castle (1288). The Chapel Royal is a truly wonderful gothic revival building designed by Francis Johnston (1807). It is famous for its vaulting, its particularly fine plaster decoration and carved oaks and galleries.
16th Century and onward — Castle building didn't vanish for another four centuries … it evolved. Castles became more and more lavish and luxurious, even as their military relevance as a defensive structure eventually disappeared altogether. These new castles were actually nothing more than Palaces. Archaeologists Oliver Creighton and Robert Higham called them Faux Castles, saying — "the great country houses of the sixteenth to twentieth centuries were, in a social sense, the castles of their day".   
A masterpiece of the French Renaissance, Chateau de Chambord  was started in 1519 by King François I ………. so he could hunt in the nearby forests. Has 440 rooms, 365 fireplaces, and 84 staircases.  It took 28 years to build and the King stayed there a TOTAL of about seven weeks. Fell into disrepair many times, only to be revived many times. Looks like a castle,  but has zero defensive capabilities, so it's not.
PART II —– General Overview
Etymology
Dictionaries give the meaning of a word … while etymology gives us the much more interesting "story" behind the meaning. "Castle" comes to us from two Latin roots: 'castrum' which means 'fort, and "castellum' which means village. By the 12th century the Old English word evolved to 'castel' … from the French word 'chastel', which specifically denoted "a fortified dwelling place". BTW, the the Indo-European root is always "kes", meaning "to cut" – from which we get the word "caste" and "castrate". So, the saying, "An Englishman's home is his castle" was first recorded in the 16th century (or, maybe an Englishman's home is his nuts?)
Note: The first ever recorded use of the 'home/castle" phrase was in 1581 by Richard Mulcaster, the headmaster of Merchant Taylors' School in London in his treatise on education; "Positions, which are necessarie for the training up of children"; —-"He [the householder] is the appointer of his owne circumstance, and his house is his castle."
 Purpose
 Therefore, castles were fortified homes of noblemen for the primary purpose of defense. This combination of both domestic AND military use set them apart from forts (which were not private residences) and palaces (which were not designed for defense). Moats, turrets, ramparts, murder holes (holes in the ceiling through which scalding liquids would be poured on the enemy) …… every design element of a castle was meant to keep enemies out.
 Protection From Whom?
 Well, from foreign armies, of course. But, not always. It's not as if foreign armies were constantly invading every nook and cranny where these castles appeared. Castles were also built to protect the lord from his own vassals. Lords and Noblemen were like a Mafia Protection Racket … you give us money, in exchange we'll protect you from other criminals just like us wanting your money.
Lords were itinerant in the early days, moving constantly from place to place. Traveling with them were their large retinues and they consumed the foodstuffs of the district, often at an alarming rate. If a lord and his entourage stayed at one place too long, he would bankrupt the joint. In fact, they would "eat them out of house and home" —- a phrase first uttered by Shakespeare in his work, Henry IV, in the 1500's.   Under such conditions loyalty to the lord was precarious, and strictly personal. The lord was caught between a rock and a hard place; he had to show his face to his vassals and underlings to keep them aware and happy, but not stay to long and starve them. When they failed and the people turned on them … not uncommon … their castles provided protection.
 Only 1%ers Need Apply
 The cost of building a castle varied according to factors such as their complexity, size, materials used, availability of material (were stones laying around or did they need to be quarried), transportation costs, labor costs, and myriad other variables. As such, It's darn near impossible to convert Medieval castle-costs to today's dollars. Also, isn't your 2,000 square foot house a money pit? Mine is! Imagine maintaining a castle! It was a constant drain on resources. For example, despite all the stone you see, castles contained a lot of timber, usually unseasoned, and needed constant upkeep. The fact is, building and maintain a decent sized castle cost a LOT of money. Just read this account from Master James of Saint George (c. 1230 – 1309), the architect responsible for designing many of Edward I's castles;
 "In case you should wonder where so much money could go in a week, we would have you know that we have needed – and shall continue to need 400 masons, both cutters and layers, together with 2,000 less skilled workmen, 100 carts, 60 wagons and 30 boats bringing stone and sea coal; 200 quarrymen; 30 smiths; and carpenters for putting in the joists and floor boards and other necessary jobs. All this takes no account of the garrison … nor of purchases of material. Of which there will have to be a great quantity … The men's pay has been and still is very much in arrears, and we are having the greatest difficulty in keeping them because they have simply nothing to live on."
England's Dover Castle … OK, it's one of Europe's largest, 85 foot high tower and walls up to 21 feet thick  … nevertheless, some estimate it cost King Henry II about one quarter of his fortune when it was built.
PART III —– Castle Life (it often sucked)
Completely Uncomfortable. Castles were built for defense, and creature comforts suffered, especially in the early years. Eventually Kings outfitted their homes with pretty rugs, stain-glassed windows, big furniture, and gold and silver they looted from other lands, or their own people. Like most rich people of any era, they eventually succumbed to showing off their wealth inside, as well as outside. Still, the extreme posh luxury of England's Windsor Castle, Bavaria's Neuschwanstein, and a few others are the exception. Castles lacked every conceivable convenience that we now take for granted. LaQuisha Fried Chicken's hovel in the 30 Blocks Of Squalor is more comfortable than most castles could have hoped to be. For example, fireplaces weren't built until the middle of the Medieval period. So, here is the bottom line: most castles were poorly lit, damp, constantly cold (as the thick stone could never be fully warmed by the sun), had terrible air circulation, was lacking in privacy, often quite cramped, and often smelled like shit. 

Pooping and Peeing Was Phooey! Castles didn't have toilets, at least not as we know them. Bathrooms, so common in the classical world disappeared in Medieval Europe – except in monasteries. Except in certain circumstances baths were not required for ordinary people – until Victorian times cleanliness, believe it or not, was fundamentally ungodly. Bathrooms were known as  "garderobes", basically a hole. Good aim was required. The bathrooms were often cold, damp, and breezy, which hampered the necessary project at hand. The waste traveled through shoots which wound up in the moats, which explains why Moat Fish tasted shitty. I don't think toilet paper was invented yet, so let's not even dwell on that aspect. And forget about washing hands … water was often a precious commodity and used sparingly … and the connection between hygiene, sewage, and disease wasn't made until the 18th century.
For example, entire families would bathe in the SAME tub; men first, then women, then children, then by the time the water was really filthy dirty, the babies … which is the origin of the phrase … "Don't throw out the baby with the bathwater". BTW, when the lord traveled, the tub accompanied him, along with a bathman who prepared the baths. Nice job!! Also, EVERYONE had lice ALL the time. Every castle had a full-time de-louser servant. But, wait, it gets worse. It was called "garderobe" because it was also a closet (in addition to a regular wardrobe). Yes, residents kept some clothing there under the belief that the odor would repel insects.
Eating For Entertainment. Castle life was boring in terms of indoor entertainment. Chess was a popular game. But, really, how much "fun" can a game for nerds be? Eating was the number one way to cure boredom, and have fun. Great Feasts were the order of the day; lots of food, booze, jesters, song, minstrels, and I'm sure …poontang .  Fun fact: The oldest condoms in the world — made out of animal and fish intestines — were found at Dudley Castle and dated to around 1646 (how in the hell are condoms dated??).
(above) Très Riches Heures, circa 1414, is the best surviving example of French Gothic manuscript illumination, consisting of a total of 206 leaves of very fine quality parchment and exquisite drawings. It is a "book of hours", or a collection of prayers to be said at the canonical hours. The three painters and their sponsor died in 1416, possibly victims of plague.
Go to the following website for  a rather interesting, quite informative, and easy-to-read account of Medieval baking.
http://recipewise.co.uk/medieval-flour-and-pastry-article
The most common bread eaten by the lower classes was made from a mixture of flour made from various grains, and known as Maslin Bread — from the French word  'miscelin'  meaning mixture. You can find an authentic recipe here;

http://recipewise.co.uk/maslin-bread
The Great Hall. All this fun and games took place in The Great Hall … the nucleus of castle life. The floors were made of stone and were covered with straw rushes intermixed with herbs, such as mint, lavender and basil to overcome odors. Fireplaces were either in the center of the room or set in the walls. Tapestries covered the walls to act as decoration and to ward off the cold. Typically, there were large and had high ceilings. To accommodate large dining parties, there would be long wooden tables and benches. windows were typically set in recessed large alcoves and had rounded arches. Not only for partying, the great hall also accommodated weddings, other celebrations, and political functions.
More than a few historians describe Kenilworth Castle as THE definitive English Castle. The first castle at Kenilworth was built just 50 years after the Norman conquest … and the building continued for the next couple hundred years. John of Gaunt, the third surviving son of King Edward III, spent lavish amounts of money improving the castle. (John's wealth was ENORMOUS …. his wealth, estimated in today's dollars, was about $110 billion.) John's father rebuilt Windsor Castle a decade prior. The Great Hall (built between 1373 and 1380) at Kenilworth Castle is considered to have been one of the largest and finest ever built.
 The Chapel. Religion was an important part of daily life … it's how Kings & Nobles kept their people under control. As such, the chapel was every bit as important as The Great Hall … and often attached to it. Usually, no expense was spared in their attempt to glorify God (or, themselves?) Often decorated with detailed and ornate Biblical images to communicate religious stories, because the populace was mostly illiterate. Often built with an upper echelon occupied by royalty and nobles, while servants occupied the lower level … a not-so-subtle message to the peons that they should know, and keep, their place in society.
The oldest parts of Frederiksborg Castle in Copenhagen date back to the 1560 structure built by Frederick II, but most of it was constructed by Christian IV between 1602 and 1620. The impressive altarpiece is made from gold, silver and ebony and was created by the jeweller Jacob Mores from Hamburg in 1606. The historic Compenius Organ, built in 1610 by Isaiah Compenius, took five YEARS to build (it was 1,001 pipes).
Rules, Rules, Rules: Libertarian-minded people would hate castle life. They were literally rules for everything; rules about work, rules about leisure, rules about finance and taxes, rules about who could do what and on what day, and even rules about eating. It was an extremely regimented life, and those who didn't comply would get the Ducking Stool. This was a big chair in which the offender was strapped in, and then dunked several times in succession into shitty moat water. It was always a public punishment, and the castle residents usually treated the spectacle as a form of entertainment.
 "Oh, no! Not The Oubilette!"   But there were worse things than the Ducking Stool. Really bad people were thrown in an oubliette. An oubliette is a vertical shaft  with the only entrance and exit being in the ceiling far above where the prisoner stands.  The prisoner  would have been lowered into this shaft by a guardsman, and, once they reached the bottom, the rope would have been taken up and the trap-door above them would have been closed. Escape was impossible. The Irish added a nice touch …. at Leap Castle prisoners were thrown down the shaft, and what awaited them? Spikes!
The more cruel oubilettes were not large enough for the prisoner to crouch down, kneel, sit, or perhaps even to turn round. Think of it as a vertical coffin.  The origin of the word is the French word oublier, meaning "to forget.". And that was the prisoner's fate … tossed in there and literally often forgotten; left to die of thirst, or starvation, or being eaten alive by rats … deep in the bowels of the castle, which was NOT the dungeon.
 The Dungeon:   Nothing about a castle structure is probably more misunderstood than 'dungeon'. The word is derived from the French "donjon" which means ….. TOWER. In the earlier castles it made much more sense to keep prisoners in a high difficult-to-reach tower, rather than in the basement, although later castles certainly did have basement dungeons. Taking prisoners was not generally preferred in medieval times, especially during a siege, as they used up precious food and water. Better to kill them.  
The "donjon" was also known as the Great Keep — or the main tower of the castle.   The Great Keep was usually the most securely fortified part of the castle. In addition to prisoners, nobility also lived there and kept their gold there as well.   As time progressed, the nobles began to live in more comfortable and luxurious areas of the castle – in bedrooms designed for warmth and luxury.
(above) The Great Keep (and the cathedral) are what remains of this once massive castle (slightly less than a mile around its perimeter). Originally constructed for Louis VII in about 1150 as a hunting lodge. As was often the case, subsequent Kings improved and enlarged the castle. The Great Keep was added by Philip VI of France, in 1337. The donjon served as a residence for several royal families; Louis X, Philippe V, and Charles IV all lived and died there. The donjon tower, at 52 meters high, is the tallest medieval fortified structure in Europe.
(above) One can see that The Great Keep is separately walled along with its own moat. The grand rectangular circuit of walls, was completed by Mad Charles in 1410.
 (above) The most terrifying and feared castle dungeon in Europe was undoubtedly that of Pontefract Castle with its blood-curdling reputation. The huge and oppressive network of dungeons were hollowed out of the bedrock 35 feet below the castle. Edward II beheaded his own cousin, Thomas Earl of Lancaster — along with beheading 20 other rebels. Richard III beheaded several Nobles. Henry VIII's fifth wife, Catherine Howard, lost her head there, as did her lover. King Richard II was murdered there. Charles I was executed there.   During the English Civil War, Pontefract Castle was besieged on three different occasions – and fell from Royalist hands to the Parliamentarians, and back again to the Royalists, and thousands of prisoners from both sides rotted and died in the dungeons. Oliver Cromwell hated Pontefract Castle, due all the trouble it had caused him during the civil war, and he had the place destroyed at the first opportunity, in 1648.
The castle was so notorious that it was depicted in Shakespeare's play, Richard III; —– "O Pomfret, Pomfret! O thou bloody prison! / Fatal and ominous to noble peers! / Within the guilty closure of thy walls / Richard the Second here was hack'd to death."
PART IV —- Defending The Castle
 Achilles Heels —– Obviously, no castle was invincible. The first major weakness was the well. If the well ran dry, or wasn't properly secured, or invaders poisoned it, or if it was left unattended … then all the other brilliant castle fortifications and plans turned to dust. Besides the well, inside or near the keep, there might be a cistern or reservoir on an upper level whose LEAD pipes carried water to the floors below, inflow and outflow controlled by valves with bronze or copper taps and spouts.
The other vulnerability was insufficient food supply. Many sieges ended by merely starving the castle inhabitants into submission.
Lastly, just like when American Gestapo SWAT teams batter down someone's front door for illegally growing organic tomatoes, a castle's major breech point was its entrance. Nevertheless a castle's defenses were formidable.
 The Moat …. the first line of defense. —— A moat is a deep, broad ditch that surrounds a building or town historically to provide it with a preliminary line of defense. In other words, water was optional! The earliest known moat is a twelve foot wide dry defensive ditch a few miles north Vienna, known today as Grossrusbach-Weinsteig, and radiocarbon dating estimates that the ditch was constructed around 4,500 BCE.
Defensively, a moat made access to the walls extremely difficult for siege weapons (siege towers and battering rams) which needed to be brought up against a wall to be effective. A water-filled moat made the practice of mining — digging tunnels under the castles in order to effect a collapse of the structure — very difficult as well. Few moated castles were actually attacked and fewer were taken. Attacking forces, even if they captured a moated castle, were guaranteed to lose many men in the process … so, moated castles provided a psychological advantage to the defenders as well.
But, moats were not without problems. Moats are high-maintenance items. In hot months, stagnant water can lead to high insect populations, deteriorating masonry, offensive odors, and diseases.    In some castles moats evolved into more extensive water defenses, including natural or artificial lakes, dams and sluices. One thing is certain, moated castles are simply spectacular.
(above) Gravensteen is one Europe's most impressive remaining examples of defensive architecture. Originally built to defend against Viking attacks in the ninth century. The castle as seen above is the work of Filip of Alsasse, the Count of Flanders from 1157 until 1191. He modeled it after crusader castles that he saw in Syria during his time at the Crusades.
Olavinlinna Fortress. At the time the castle was built in 1475, Finland was a part of Sweden, along with Denmark and Norway. Sweden had been engaged in border battles with Russia for hundreds of years.   By the 15th century, the Grand Duchy of Moscow had become increasingly more powerful and more of a threat to the Swedish Crown. Wyborg was the only Swedish border castle at the time, and it was decided that another one was necessary. Between 1495-1496 Russians attacked the castle three times, and failed each time. It wasn't until 1714, during the Great Northern War, that Olavinlinna Fortress surrendered to the Russians following a long siege.
On this island, the Archangel Michael appeared in 708 to St. Aubert. (No, I'm not making that up.) A monastery was built shortly thereafter. The Great Halls, stores, housing, and fortifications were gradually added. By the time the Hundred Years War arrived (1337-1453), the island was fully fortified. Large British forces tried several time to capture the castle, but they were never able to defeat the small garrison of soldiers guarding the castle.   Mont Saint-Michel's resolute resistance inspired the French, especially Joan of Arc.
The Gatehouse. —  It took castle builders about 100 years to start heavily fortifying the entrance via The Gatehouse. The buildings of the gatehouse became some of the grandest of the entire castle, and contained some of the most magnificent chambers for the most important guests. Increasingly complex fortifications and obstacles were built around the entrance to Medieval castles. Gatehouse features follow;
Turrets and Towers, the world's earliest spy satellites. — In my humble opinion, a castle is not a castle unless it has pretty towers and turrets. Lol Of course, the main and important purpose of towers was to understand where an enemy army might have been marching from. Castle towers were designed to give an unobstructed panorama of the countryside around a fortress, so lookouts could spot oncoming attackers … an invaluable task necessary to prepare the castle, such as raiding the drawbridge, before the attackers descended upon the defenders.
Castle towers were originally built in a square shape, and so, by burrowing under one of the corners of the square foundations, it was easy to topple an entire tower – and devastate a castle. Late Medieval castles solved this by constructing circular towers, which had no corners which could be undermined by cunning marauders. But, if you were stuck with a cheap-ass square tower you could always prevent digging by constructing a nice stinky moat. It seems the Romanians liked castles with lots of towers and turrets.
Built For Right-Handed People. A castle spiraling staircase always turned clockwise. The idea was that attacking soldiers would ascend the stairs, but would be at a huge disadvantage if they could not use their sword arm, since most people are right-handed, as well as exposing more of their body to the defenders. On the other hand, castle soldiers descending the stairs would be given the advantage of a staircase designed with their sword-arms in mind. (Theoretically, a left-handed army could have conquered all of England.)
Then you would have to deal with 'murder holes' – holes in the ceiling of the passage, and defenders of the castle could drop rocks or boiling water. It is generally myth that boiling oil was used … as oil was pretty hard to obtain.
Then you would have to deal with 'arrow loops' —- thin slits in the stone wall whereby archers could literally pick off intruders one by one, and with little chance of being picked off themselves.
Then you had to deal with the 'portcullis' –— those mighty iron gates lowered from the ceiling via winches and pulleys. Some greater castles would have two, or more! The defenders would sometimes let the intruders raise the first portcullis, and then before the attackers could enter the castle the defenders would lower the second portcullis, and before the attackers could turn and run the first portcullis would be quickly lowered. The end result being the attackers were trapped like rats, and the subsequent slaughter was quite gory and brutal. As castle building technology improved builders constructed "concentric castles" meaning, once you passed through the first wall the invader had the privilege of doing the same thing all over again.
Kings Gate had TWO drawbridges, FIVE doors and SIX portcullises to pass through. Good luck with that!
Gunpowder. The Beginning of the End of Castle Building

Artillery powered by gunpowder was introduced to Europe in the 1320s. By the 1450s guns replaced the trebuchet as the preferred siege weapon. Older castles were incapable of using canons as their wall-walks were too narrow. A common solution was to build an earthen bank which could be piled behind a castle's curtain wall to absorb some of the shock of impact, but it wasn't very effective.
Cannons saw their first real use on the European battlefield during the Hundred Years' War (1337-1453) However, during the early stages of the war these canons were still inferior to other great siege engines. Cannons were small but heavy (taking as many as two dozen horses to pull), took forever to reload, with very limited range …. and were probably as dangerous to their users as to the enemy.
But, technology changed drastically by 1464. Bamburgh Castle was formidable and thought to be impregnable. However, during the Wars of the Roses, it became the first castle in England to be defeated by artillery.
Bamburgh Castle encompasses nine acres on a rocky dolerite outcrop. In 1464 during the Wars of the Roses, it became the first castle in England to be defeated by artillery, at the end of a nine-month siege by Richard Neville, 16th Earl of Warwick. Featured in the following films; Ivanhoe (1952), El Cid (1961), Mary, Queen of Scots (1971), and Elizabeth (1998).
The use of guns for defense gave rise to artillery castles, such as Walmer Castle, built during the reign of King Henry VIII. Artillery castles abandoned many traditional castle designs as the structure was built specifically to house heavy guns, usually forming concentric defenses with the guns on multiple tiers. The introduction of artillery to siege warfare in the Middle Ages made geometry the main element on castle design. The walls and towers of fortifications became lower and wider and square structures gave way to rounded ones as they deflected cannon balls easier.
 Walmer Castle: Over 200 cannon and gun ports were set within the walls, essentially a firing platform, with a shape that allowed many lines of fire and low curved bastions designed to deflect incoming cannon balls.
PART V —— Castle Pictures
FAIRY TALE CASTLES
Definitely not a Medieval Castle (took 23 years to build and completed in 1892) …. but, I just couldn't leave this iconic castle off the list. Interestingly enough, though, in the Middle Ages, three castles overlooked the villages. One was called Schwanstein Castle.In 1832, Ludwig's father King Maximilian II of Bavaria bought its ruins to replace them. Of course, this castle was the inspiration for Disneyland's Sleeping Beauty Castle
It's not even a "real" castle … it was designed as the romantic ideal of a knight's castle. The palace was intended to serve Ludwig II as a kind of inhabitable theatrical setting.As a temple of friendship Ludwig dedicated it to the life and work of Richard Wagner. The castle (and others he was building) cost Ludwig his fortune. After running out of money he asked for received credit from the Bavarian Parliament. He couldn't repay the debts (why didn't he just raise the debt ceiling?) and the Bavarian government decided to depose the king, who was living at Neuschwanstein at the time (he only lived in the mostly completed castle for less than half a year). Ludwig was literally forced out of the castle …. and a few days later he died under mysterious circumstances in the shallow shore of a nearby lake.
The palace's history started in the Middle Ages (in 1493) when King John II made a vow (to the previous king) to build a monastery on this site, and dedicated to the Order of Saint Jerome. For centuries Pena was a small, quiet place for meditation, housing a maximum of eighteen monks. It was completely destroyed by the Great Lisbon Earthquake of 1755.The construction you see above took place between 1842–1854, commissioned by Ferdinand II, and designed by a German amateur architect.
The oldest surviving portion of this castle dates back to 1401. With 189 rooms, it's the largest castle in the Northern Highlands. The castle has changed ownership innumerable times, and improvements / enlargement has been continual, even into the 20th century.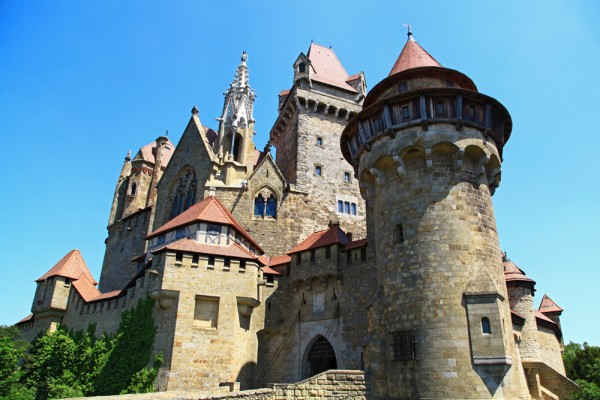 The origins of Burg Kreuzenstein date back to the 12th century … originally built by the Counts of Formbach, the castle came into the possession of the Habsburgs in 1278. However, it was pretty well demolished during the Thirty Years' War. What you see above was built by Count Wilczek in the 19th century. Now here's where it gets interesting; Wilczek wanted an authentic as possible Medieval castle, so the "new" castle was constructed mostly out of sections of old medieval castles and other structures purchased throughout all of Europe. It's like a real-life Frankencastle. Parts is parts!
CRUSADER CASTLES
The largest castle in the world by surface area, and the largest brick building in Europe. Completed in 1406 by the Teutonic Knights, a German Roman Catholic religious order. The largest fortified Gothic building in Europe …. 52 acres, or four times the acreage of the enclosed space of Windsor Castle. The castle has several subdivisions and numerous layers of defensive walls. It consists of three separate castles – the High, Middle and Lower Castles, separated by multiple dry moats and towers, and defensive walls. The castle once housed approximately 3,000 soldiers. Amazingly, in the summer of 1410, the castle was besieged following the Order's defeat at the Battle of Grunwald.
Considered by some to be the most important preserved medieval military landmark in the world. The castle is perched atop a 2,130 foot hill. The Knights Hospitaller. controlled a number of castles along the border of the County of Tripoli, a state founded after the First Crusade. Krak des Chevaliers was amongst the most important and acted as a centre of administration as well as a military base. The castle housed a garrison of around 2,000. Such a large garrison allowed the Hospitallers to extract tribute from a wide area. For over a hundred years the castle thrived even as other Crusader strongholds fell. Even Saladin couldn't conquer the castle after a few attempts, the last one in 1188. In the 1250s, the fortunes of the Hospitallers at Krak des Chevaliers took a turn for the worse. A Muslim army estimated to number 10,000 men ravaged the countryside around the castle in 1252 after which the Order's finances declined sharply. By 1270, Baibars, the Sultan of Egypt, successfully laid siege to the castle.
CLIFF CASTLES
Hohensalzburg Castle ( literally "High Salzburg Fortress") is perched on a 1,778 foot hill. (You can take a tram to the top, or take the path – about an hour's walk). Construction of the fortress began in 1077 – by an archbishop — and was mostly completed by 1462. The castle was never successfully besieged during the Middle Ages. (The castle did surrender to French troops in 1800 during the Napoleonic War … the Frenchies got lucky.)  The most commonly shown views have Salzburg, the city,  and its pretty scenery in the foreground, and the castle far in the background. This gives the illusion that it's not such a big castle. However, it is 820 feet by 490 feet … making it one of the largest castles in Europe.
NOTE: I was born in Salzburg. I still find it pretty friggin hard to believe that my parents left Salzburg to immigrate to …….friggin Newark, NJ! WTH???
 A castle was built on this site in the 12th century, but fell into complete ruin. The castle above was built in 1840 on the same site
 3 Russian Castles and Palaces.  Well, they are quite stunning. Presented without commentary … take a few minutes yourself to research them. Quick note:  "Kremlin" is the Russian word for 'fortress inside a city'. As such, there are many Kremlins.  Also, it is rarely a single structure, but a fortified complex of several buildings.
Kremlin in Moscow
Catherine Palace, "Amber Room" … that's real gold
Stucky's Castle
 I lived in this house/palace for almost two years.  It was our first "apartment" right after we got married. The owner built large apartment complexes, and he was out of state 75% of the time. He wanted someone (my ex-wife knew him) to just live there and kind of watch the place. We lived in the servants quarters above the 6-car garage … for $200/mo, all utilities included. We eventually left because we thought owning a home was a great idea. We were dumb.  Real dumb. For those familiar with Ft. Wayne, IN it's on the south side of town … the "Old Mill" area … on Westover Road. right along the back-9 of Foster Park Golf Club. The dining room in the main house was almost as big as our entire current ranch-home. So, I know what it's like to live in a castle, so … if you have any questions just ask me.
Thanks for reading.
The End.