Follow us on Twitter @doomstead666
Friend us on Facebook
Published on the Doomstead Diner on December 9, 2018
Discuss this article at the Geological & Cosmological Events Table inside the Diner
I am taking this week off from Ranting to do an Update on the Earthquake situation up here in Alaska. It's been a full week since the Earthquake hit, and mostly it is good news as far as repair work is concerned.
I personally have all my services back, electricity, heat, water and flushing toilets. My unit sustained no major visible damage, although some of them did with cracked foundations, boilers ripped off the walls and so forth. Management was rather slow in responding, but they appear to be on the job now. Perhaps this will get them to fix some other long standing issues which predate the quake as well.
On the road and rail infrastructure front, the Alaska Railroad which carries both passengers as well as freight & coal between Seward, Anchorage and Fairbanks is back up and running after about 4 days, the track was busted up just north of where I live. Minnesota Drive which connects Anchorage and Ted Stevens has been partially repaired and travel to and from the airport is now possible. 2 way traffic has been restored on the Glenn Highway connecting the Valley to Anchorage, although it is single lane in some sections.
What I am going to cover today is your heating issues when faced with both loss of electricity and loss of your NG supply, but before I get to that I want to answer a couple of questions posed to me both on the Diner Blog and on our Global Collapse Reddit site. First a personal issue question:
Q: What do you do about Toilet & Bathing?
A: This is not a huge problem. For urination, I just urinate in the toilet as usual, just without flushing. When the water gets restored, I flush it all at once. For the poop issue, I have a "cripple commode" which uses a lined bucket system. After the call of nature is complete, I pull out the liner and go deposit it in the dumpster, just as you would after pooper-scooping up the doggie-doo when Fido does his bizness. You don't really need the whole commode arrangement though, just a bucket and a camping toilet seat for it will do. It's easier to get on and off the commode though. Far as bathing is concerned, it's Sponge Bath time until the water is restored, no showers. I did this fairly often in my trucking years when marooned in locations without showers to buy. As long as you have some water on hand (which you should if well prepped), you just fill a small bowl with water and use a sponge to wipe yourself down if you are getting too smelly. Really though, for a short duration outage, you can just go without unless you have a real halitosis problem. I also have packages of premoistened and medicated towelettes that are used for giving sponge baths to cripples who can't get out of bed. These are also a handy prep to have around.
Q: Can you really call it a "disaster" if nobody died and BAU is up and running again after a few days?
A: Well, it's certainly not a disaster on the scale of say the Indonesian Tsunami which sent 100s of 1000s to the Great Beyond on a loss of life scale. Also not nearly the disaster Katrina or Sandy were on the monetary scale, both disasters well into the 10s of Billions of dollars. It is still a disaster though, particularly for many homeowners who don't carry Earthquake insurance, which is rather expensive for what is generally a very infrequent event in any given location. If your foundation cracks and your home is deemed unsafe by the building inspectors, this can cost $50,000 and more to fix up. Sometimes it's just cheaper to bulldoze the McMansion and build a new one. Which if you are still paying a mortgage on the old one can be tough to afford to finance. The many smaller problems with plumbing also add up and can be tough for individuals to afford to repair.
Then you have the damage done to the general community infrastructure of roads and gas, electric and water lines. This costs the government a lot of money to fix up, and where does that money come from? Generally disaster loans issued by FEMA, which adds to the debt carried by your community which then in theory gets paid by taxes, but many communities are already at or above their carrying capacity for debt service, while still paying for teachers, cops, firemen and sanitation workers. Thus you end up with municipal bankruptcies piling up.
The issue is these things add up, they are part of the maintenance cost of maintaining the Industrial Civilization. It ends up being a "Death by a Thousand Cuts", rather than one individual disaster bringing on the end, although one really "BIG ONE" could be the straw that breaks the Camel's Back and sends the whole thing into a tailspin. A big one hitting Seattle for instance on the scale of the one that hit Anchorage in 1964 at 9.0 could do that, taking out such financial engines as Amazon and Microsoft, and numerous other smaller companies in Silicon Valley. At some point we won't be able to keep up with this, and thus the Industrial Civilization will collapse in entirety with time, even if it doesn't happen everywhere at the same time or overnight.
Now, onto the main topic for today, which is having an Emergency Heating Plan for your domicile, particularly important if you live in high latitude and/or altitude locations in the winter. It can be important in spring, summer & fall also, especially at night when the sun goes down.
Probably the best emergency heat plan is to have a Wood Burning Stove and a good supply of wood at the ready in case your regular heat source is out, but these are rather expensive to put in just for emergencies. Off-grid Doomsteaders do use them as a primary souce of heat of course, but they have saved the money normally put toward a more standard NG or Diesel boiler arrangement and put it toward that instead. You also can't install a wood heater in most rental units even if you had the money to do it, which most renters do not have.
So you need to use more portable forms of heat generation which come cheaper than that for emergencies. I mentioned in the first article I am a Candle Freak and used Tea Light Candles as a heat source while my electricity was off too. A Tea Light puts out about 100 BTU/hr, whereas a typical 1500W Oil filled space heater puts out around 5000 BTU/hr. So to actually match that output, you would need to be burning 50 candles, which actually isn't as outrageous as it sounds and can be done with relative safety utilizing the Tuna Can method illustrated in the header photo. 3 Tuna Cans in the 4 corners of the room will do the trick.
However, depending how well insulated your room is, what its size is and how long the outage goes for matters a lot here, and you probably don't need that many to maintain the internal temperature at a livable level. One thing to remember when burning any open flames indoors is to make sure the room is well ventilated and to run a Carbon Monoxide detector to see if there is any buildup going on. CO can be quite deadly of course.
Cost as I mentioned runs about $.07/tea light, and they last about 4 hours. However, you can bring the cost down from there and have longer lasting heat if you DIY your own Votive Candles, which are the size of a Shot Glass, and in fact often are sold in shot glasses which you get as a Bonus after you finish burning the candle. 🙂
A Votive size candle will burn for around 12 hours, and you can buy a new pack of 6 of them ON SALE for $5, so about $.85/candle. That is a good deal more expensive than the 3 Tea Lights it replaces over the 12 hours, which costs you $.21. However, that is just the new version. The trick to getting the cost down with these is to refill them and make a new candle. How do you do that? It's quite EZ, does not take much in the way of apparatus and I am constantly making new candles while I sit at the computer and keyboard out the Doom. Illustrated below is my Candle Making setup I use by the computer.
Basic Candle Making Apparatus
All it takes is some kind of stand to be melting your wax, animal fat (tallow) or vegetable shortening like Crisco, and then wicking material which you can either make by waxing twine or just buy rolls of it already pre-waxed. It's not expensive to buy it pre-made,and I keep a couple of 200' rolls on hand which will last until after I am pushing up daisies. For the stand, I use a metal toothbrush holder, purchased at Walmart new for $5. If you find one at a yard sale, you could probably pick it up for $.50. Or you could use a portable Sterno Folding Camping stove instead, although the toothbrush holder looks nicer and fits on my desk better.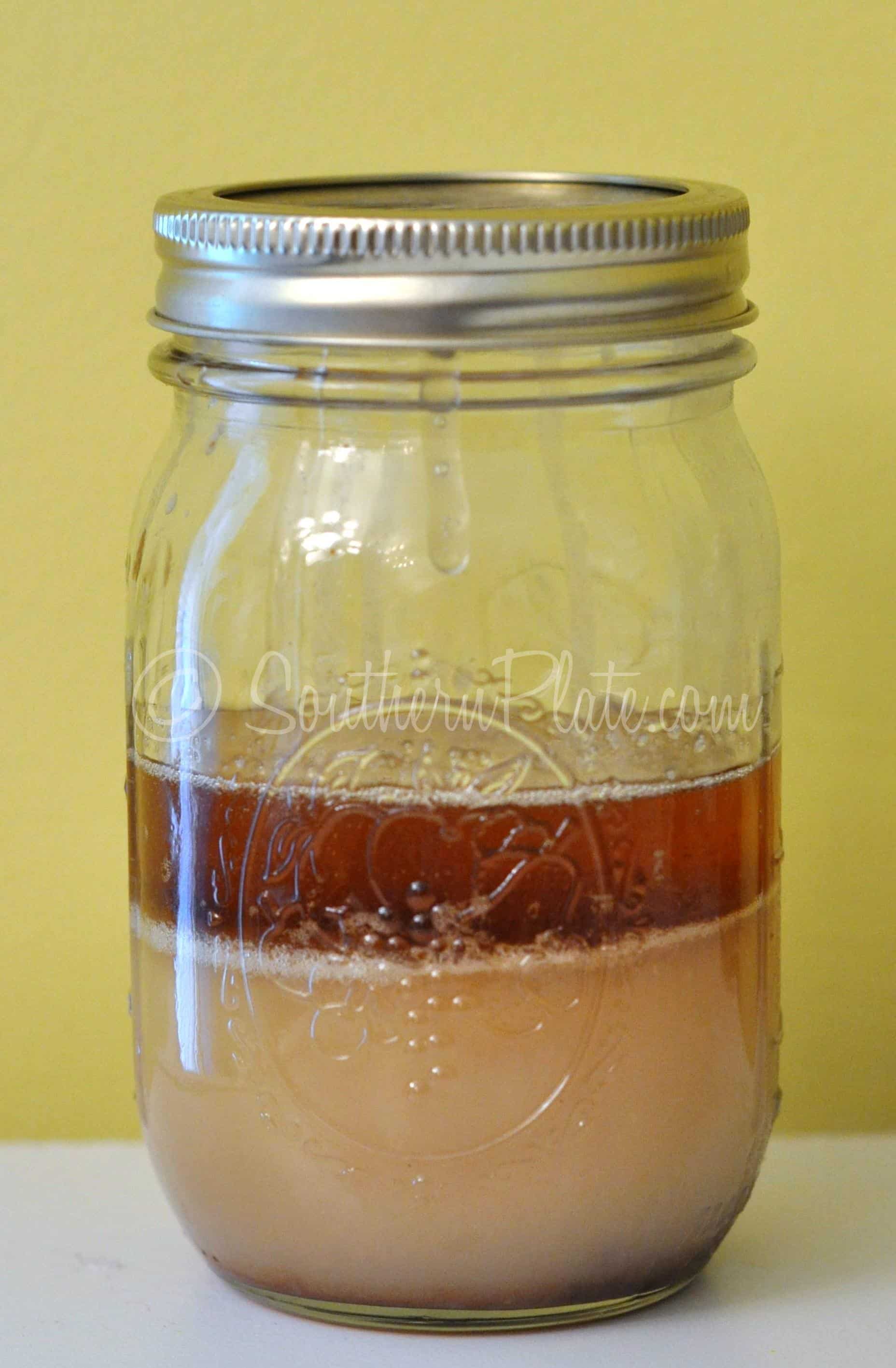 The cost for each Candle when you DIY varies tremendously, from Zero to maybe $.50 depending on the combustible material you use to make the candle. If you use commercially available paraffin and beeswax to make a real "professional" pretty looking candle with a colored dye and a scent added, you will pay top dollar for this. This stuff is sold in small quantities mainly to candle making hobbyists, and they charge a premium price for it. It's cheaper just to melt down Tea Lights and then use that wax to rebuild a votive candle. Then it costs the same as the Tea Lights, $.21. But you can get quite a bit cheaper than this also.
What I do is save animal fat like Bacon Fat from cooking in a coffee can by the stove, and use that as one of my ingredients in the candle. It comes to me basically for free, since I paid for the bacon I ate, not the fat which otherwise would have been thrown out. Then I save the leftover paraffin from burning tea lights, which there always is at the bottom of the teal light holder and add that to the mix. Finally, I'll add a scoop or two of Crisco Vegetable shortening. This mixture is quite stiff and won't spill, so you can keep the candle stored this way until you need it. I usually fill it this way about 3/4s full, and then when I am ready to burn it, I top it off with some cheap Wesson Vegetable Oil to burn in there as well. Done this way, you bring your cost down to about $.10/votive candle, or about $.033/tea light equivalent. At right you see a Votive candle topped off with vegetable oil. If you have some source to get all scrap oil such as cooking oil from a fast food joint or motor oil from changing out you car oil, you can get it down to nothing. Same if you slaughter your own pigs or nail a bear during hunting season, you can render all the excess fat trimmings for tallow. One pig will make a shit load of candles, lord only knows how many.
The same setup you use for candle making is useful for other tasks as well in normal times. You can use it as a warmer to keep your coffee piping hot, or even heat up a can of soup with it, though that takes a while, about 30 minutes for a can of Chunky Soup. I use it as a room Humidifier in the winter, keeping my stainless steel camping mug filled with water and steaming over the set up all day. Winter air is very dry and this helps keep your lips from chapping and nasal passages from drying up, which can lead to getting more colds in the winter.
Candle Room Humidifier
If your candles aren't doing the job of keeping your domicile warm enough through the emergency, you can add more powerful heat generators like Oil Lanterns which have larger wicks and put out about 3X as much heat as a candle. Many of these are quite decorative and a decent source of light as well, so you can use them in normal times to give a nice warm light effect to the room and save on electricity. For some real PUNCH though in the world of portable heat, go to Sterno cooking fuel. Sterno burns HOT, A can of Sterno puts out about 2500 BTU/hour, so only 2 of them burning will be equivalent to a 1500W electric space heater. A 16 oz can of Sterno will last about 4 hours burning continuously. It's relatively expensive though, but it does substitute for 25 Tea Lights, which would cost you $1.75 anyhow. So not too much difference there. It's also a lot more convenient to light one can of Sterno than 25 Tea Lights.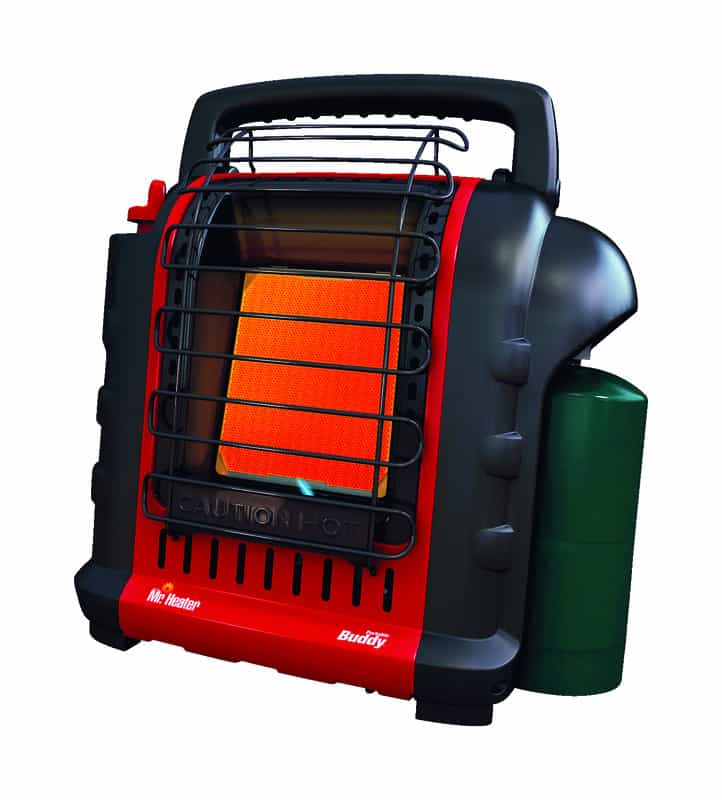 Finally, there are both Kerosene and Propane indoor-safe heaters that put out 20,000 BTU and more available. The "Mr.Buddy" heaters are quite popular and widely sold, utilizing camping propane cannisters as fuel. This is pretty expensive emergency heating though by the can, the kerosene comes in much cheaper than that. These units all have automatic shut offs if they tip over, and some have built in CO detectors as well. In any case ALWAYS BURN IN A WELL VENTILATED SPACE AND RUN A CO DETECTOR when you do any burning at all indoors. Also be aware that fire department regulations often prohibit the use of such devices inside your domicile, although in an emergency situations such regulations are generally overlooked. I can't really see a need for so much emergency heat though, for the size room I was working with during this exercise (25'x35'), 5000 BTU was enough with the exterior Temperature around 25F (-4C) to keep the room at 67F, so about a 40F gradient there. Remember also you can substantially lower the room comfort temperature by self-insulating, aka putting on layers of warm clothing. That should always be your first step in your emergency heating plan. A good Sleeping Bag will also reduce the need for keeping the temperature this high when you are asleep.
OK Diners, that's it for the Doomsday Preparation Diary for today. Stay Warm and Stay Safe, and BE PREPARED. Collapse is coming soon to a theater near you.