Off the keyboard of Jim Quinn
Published on The Burning Platform on April 23, 2013
Discuss this article at the Epicurean Delights Smorgasbord inside the Diner
"The real hopeless victims of mental illness are to be found among those who appear to be most normal. Many of them are normal because they are so well adjusted to our mode of existence, because their human voice has been silenced so early in their lives that they do not even struggle or suffer or develop symptoms as the neurotic does. They are normal not in what may be called the absolute sense of the word; they are normal only in relation to a profoundly abnormal society. Their perfect adjustment to that abnormal society is a measure of their mental sickness. These millions of abnormally normal people, living without fuss in a society to which, if they were fully human beings, they ought not to be adjusted." – Aldous Huxley – Brave New World Revisited
The political class set in motion the eventual obliteration of our economic system with the creation of the Federal Reserve in 1913. Placing the fate of the American people in the hands of a powerful cabal of unaccountable greedy wealthy elitist bankers was destined to lead to poverty for the many, riches for the connected crony capitalists, debasement of the currency, endless war, and ultimately the decline and fall of an empire. Ernest Hemingway's quote from The Sun Also Rises captures the path of our country perfectly:
"How did you go bankrupt?"
Two ways. Gradually, then suddenly."
The 100 year downward spiral began gradually but has picked up steam in the last sixteen years, as the exponential growth model, built upon ever increasing levels of debt and an ever increasing supply of cheap oil, has proven to be unsustainable and unstable. Those in power are frantically using every tool at their disposal to convince Boobus Americanus they have everything under control and the system is operating normally. The psychotic central bankers, "bought and sold" political class, mega-corporation soulless chief executives and corporate controlled media use propaganda techniques, paid "experts", talking head "personalities", captured think tanks, and the willful ignorance of the majority to spin an increasingly dire economic descent as if we are recovering and getting back to normal. Nothing could be further from the truth.
There is nothing normal about what Ben Bernanke and the Federal government have done over the last five years and continue to do today. Truthfully, nothing has been normal since the mid-1990s when Alan Greenspan spoke the last truthful words of his lifetime:
"Clearly, sustained low inflation implies less uncertainty about the future, and lower risk premiums imply higher prices of stocks and other earning assets. We can see that in the inverse relationship exhibited by price/earnings ratios and the rate of inflation in the past. But how do we know when irrational exuberance has unduly escalated asset values, which then become subject to unexpected and prolonged contractions as they have in Japan over the past decade?"
The Greenspan led Federal Reserve created two epic bubbles in the space of six years which burst and have done irreparable harm to the net worth of the middle class. Rather than learn the lesson of how much damage to the lives of average Americans has been caused by creating cheap easy money out of thin air, our Ivy League self-proclaimed expert on the Great Depression, Ben Bernanke, has ramped up the cheap easy money machine to hyper-speed. There is nothing normal about the path this man has chosen. His strategy has revealed the true nature of the Federal Reserve and their purpose – to protect and enrich the financial elites that manipulate this country for their own purposes.
Despite the mistruths spoken by Bernanke and his cadre of banker coconspirators, he can never reverse what he has done. The country will not return to normalcy in our lifetimes. Bernanke is conducting a mad experiment and we are the rats in his maze. His only hope is to retire before it blows up in his face. Just as Greenspan inflated the housing bubble and exited stage left, Bernanke is inflating a debt bubble, stock bubble, bond bubble and attempting to re-inflate the housing bubble just in time for another Ivy League Keynesian academic, Janet Yellen, to step into the banker's box. This genius thinks Bernanke has been too tight with monetary policy. It seems inflated egos are common among Ivy League economist central bankers who think they can pull levers and push buttons to control the economy. Results may vary.
The gradual slide towards our national bankruptcy of wealth, spirit, freedom, self-respect, morality, personal responsibility, and common sense began in 1913 with the secretive creation of the Federal Reserve and the imposition of a personal income tax. Pandora's Box was opened in this fateful year and the horrors of currency debasement and ever increasing taxation were thrust upon the American people by a small but powerful cadre of unscrupulous financial elite and the corrupt politicians that do their bidding in Washington D.C. The powerful men who thrust these evils upon our country set in motion a chain of events and actions that will undoubtedly result in the fall of the great American Empire, just as previous empires have fallen due to the corruption of its leaders and depravity of its people. Creating a private central bank, controlled by the Wall Street cabal, and allowing the government to syphon the earnings of workers through increased taxation has allowed politicians the ability to spend, borrow, and print money at an ever increasing rate in order to get themselves re-elected and benefit the cronies, hucksters and bankers that pay the biggest bribes. None of this benefit the average American, who sees their purchasing power systematically inflated and taxed away. This is not capitalism and it is not a coincidence that war and inflation have been the hallmarks of the last century.
"A system of capitalism presumes sound money, not fiat money manipulated by a central bank. Capitalism cherishes voluntary contracts and interest rates that are determined by savings, not credit creation by a central bank. It is no coincidence that the century of total war coincided with the century of central banking." – Ron Paul
As you can see, the bankruptcy of our country and our culture began gradually, accelerated after Nixon closed the gold window in 1971, really picked up steam in 1980 when the debt happy Baby Boom generation came of age, and has "suddenly" reached maximum velocity as we approach the true fiscal cliff. There were many checkpoints along the way where fatefully bad choices were made. They include the New Deal, Cold War, Great Society, Morning in America, Dotcom New Paradigm, Housing Wealth Retirement Plan, Obamacare, and present belief that creating more debt will solve a problem created by too much debt. The Federal Reserve allowed interventionist politicians to fight two declared wars (World War I, World War II), fight five undeclared wars (Korea, Vietnam, Gulf, Afghanistan, Iraq), conduct hundreds of military engagements around the globe, occupy foreign countries, begin a war on poverty that increased poverty, begin a war on drugs that increased the amount of available drugs, and finally start a war on terror that has increased the number of terrorists and pushed us closer to national bankruptcy. The terrorists have already won, as the explosion of stupidity and irrational fear has allowed those in power to acquire more power and dominion over our lives.
Abnormality Reigns
"We live surrounded by a systematic appeal to a dream world which all mature, scientific reality would reject. We, quite literally, advertise our commitment to immaturity, mendacity and profound gullibility. It is as the hallmark of the culture. And it is justified as being economically indispensable." – John Kenneth Galbraith
When I critically scrutinize the economic, political, financial, and social landscape at this point in history, I come to the inescapable conclusion that our country and world are headed into the abyss. This is most certainly a minority viewpoint. The majority of people in this country are oblivious to the disaster that will arrive over the next decade. Some would attribute this willful ignorance to the normalcy bias that infects the psyches of millions of ostrich like iGadget distracted, Facebook addicted, government educated, financially illiterate, mass media manipulated zombies. Normalcy bias refers to a mental state people enter when facing a disaster. It causes people to underestimate both the possibility of a disaster occurring and its possible effects. This often results in situations where people fail to adequately prepare for a disaster, and on a larger scale, the failure of governments to inform the populace about the impending disaster. The assumption that is made in the case of the normalcy bias is that since a disaster hasn't occurred yet, then it will never occur. It also results in the inability of people to cope with the disaster once it occurs. People tend to interpret warnings in the most optimistic way possible, seizing on any ambiguities to infer a less serious situation.
The unsustainability of our economic system built upon assumptions of exponential growth, ever expanding debt, increasing consumer spending, unlimited supplies of cheap easy to access oil, impossible to honor entitlement promises, and a dash of mass delusion should be apparent to even the dullest of government public school educated drones inhabiting this country. I don't attribute this willful ignorance to normalcy bias. I attribute it to abnormalcy bias. In a profoundly abnormal society, adjusting your thinking to fit in appears normal, but is just a symptom of the disease that has infected our culture. There is nothing normal about anything in our society today. If you were magically transported back to 1996 and described to someone the economic, political, financial and social landscape in 2013, they would have you committed to a mental institution and given shock therapy.
Even though we've been in a 100 year spiral downwards, things still appeared relatively normal in 1996 when Greenspan uttered his "Irrational Exuberance" faux pas that so upset his Wall Street puppet masters. The ruling class had not yet repealed Glass-Steagall (pre-requisite for pillaging the muppets), created the internet bubble, fashioned the greatest control fraud in world history (housing bubble unrecognized by Ben Bernanke), or taken advantage of mass hysteria over 9/11 to begin the never ending war on terror and expansion of the Orwellian state. The citizens, and I use that term loosely, of this country have allowed those in control of the government and media to convince them the situation confronting us is just a normal cyclical variation that will be alleviated by tweaking existing economic policies and trusting that Ben Bernanke will pull the right monetary levers to get us back on course. The stress inflicted on their brains in the last thirteen years of bubbles and wars has made the average person incapable of distinguishing between normality and abnormality. What they need is slap upside of their head. Is there anything normal about these facts?
The Federal Reserve's balance sheet in 1996 consisted of $422 billion, of which 91% were Treasury securities. Today it consists of $3.25 trillion, of which only 56% are Treasury securities, and the rest is toxic home mortgages, toxic commercial mortgages, and whatever other crap the Wall Street banks have dumped on their books. Their balance sheet is leveraged 57 to 1 and Bernanke has promised his Wall Street bosses he will add another $750 billion before the year is out. Is there anything normal about a central bank adding twice as much debt to its balance sheet in less than twelve months than existed on its entire balance sheet in 1996?
The National Debt at the end of fiscal 1996 was $5.25 trillion. It increased by $250 billion that year. The GDP of the country was $7.8 trillion. Our national debt as a percentage of GDP was only 67% and our annual deficit was only 3% of GDP. At the time, the country was worried about these outrageous levels of debt. Today the National Debt stands at a towering $16.8 trillion. It has increased by a staggering $1.12 trillion in the last twelve months. The GDP of the country today is $15.7 trillion. Our national debt as a percentage GDP has soared to 107%. Our annual deficits now exceed 7% of GDP on a consistent basis. Our budgets are on automatic pilot, with the $20 trillion level to be breached by 2016. Is it a normal state of affairs when the GDP of your country rises by 100% over seventeen years, while your debt rises by 320%?
 Total government spending (Federal, State, Local) in 1996 totaled $2.7 trillion, or 35% of GDP. Today total government spending is $6.3 trillion, or 40% of GDP. In 1979, before the belief in government became a religion, total government spending was only 31.5% of GDP (27% in 1965). Are you receiving twice the service from government than you received in 1996? Are you safer from terrorists due to the massive expansion of the police state? Are your kids getting a much better education than they did in 1996? Have the undeclared wars benefitted you in any way, other than tripling the price of gas? Are the higher wage taxes, real estate taxes, school taxes, sewer fees, utility fees, phone fees, gasoline taxes, permit fees, and myriad of other government charges worth it? Is it normal for government to account for almost half of our economy?
In 1996 personal consumption expenditures accounted for 67% of GDP, while private domestic investment accounted for 16% of GDP and we ran small trade deficits of 1% of GDP. Today, consumer spending accounts for 71% of GDP (despite the storyline about consumer retrenchment), while domestic investment has contracted to 13% of GDP and our trade deficits have surged to almost 4% of GDP. The Federal government has expanded their piece of the GDP pie by 130% since 1996, with the Department of War accounting for the bulk of the increase. Saving and capital investment is now penalized in this country. Is it normal for a country to borrow, consume and bleed itself to death?
Consumer credit outstanding totaled $1.2 trillion in 1996, or $4,500 per every man, woman and child in the country. Today, the austere balance is now $2.8 trillion, or $8,800 per every man, woman and child inhabiting our debt saturated paradise. The more than doubling of consumer debt would be acceptable if wages were rising at a similar rate. But that hasn't been the case, as wages have only advanced from $3.6 trillion in 1996 to $7.0 trillion today. With even the massively understated CPI showing 50% inflation since 1996 and 23% more Americans in the working age population (45 million), real wages have advanced by 30%. Using a true measure of inflation, real wages have fallen. Total credit market debt in 1996 was $19 trillion, or 243% of GDP. Today total credit market debt sits at an all-time high of $56.2 trillion, or 358% of GDP. Is it normal for credit market debt to increase at three times the rate of GDP?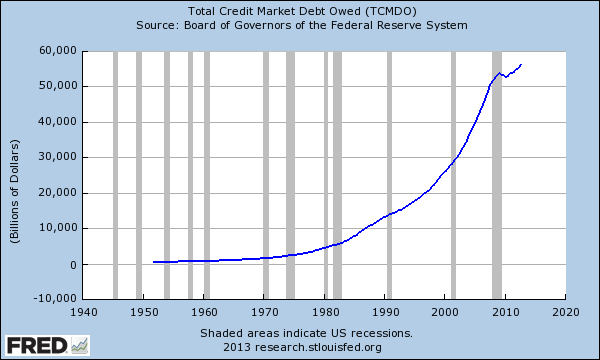 In 1996, personal income totaled $6.6 trillion, with wages accounting for 55% of the total, interest income on savings accounting for 12% and government entitlement transfers accounting for 14%. Today personal income totals $13.6 trillion, with wages accounting for 51% of the total, interest income on savings plunging to 7% due to Bernanke's "Screw a Senior Zero Interest Policy", and Big Brother entitlement transfers skyrocketing to 18%. In what Orwellian dystopian society is taking money from wage earners and redistributing it to non-wage earners considered personal income? Is it normal for a government to punish savers and makers in order to benefit the borrowers and takers?
Prior to the financial collapse and during the mid-1990s prudent risk-averse savers could get a 4% to 5% return on money market accounts. Since the Wall Street created worldwide financial collapse, Ben Bernanke, at the behest of these very same Wall Street banks, has reduced short term interest rates to 0%. The result has been to transfer $400 billion per year from the pockets of savers and senior citizens into the grubby hands of bankers that have destroyed our economy. The prudent are left earning .02% on their savings, while the profligate bankers can borrow for 0% and earn billions by re-depositing those funds at the Federal Reserve. In what bizarro world this be a normal state of affairs?
Total mortgage debt outstanding in 1996, before the epic Wall Street produced housing bubble, was $4.7 billion. Today, even after the transfer of almost $1 trillion of bad debt to the balance sheet of the American taxpayer, the amount of mortgage debt is an astounding $13.1 trillion. Despite home values rising since 1996, there are 20% of all households still in a negative equity position. Total household real estate equity was 60% in 1996, plunged below 40% in 2009, and has only slightly rebounded to 47% today because Wall Street dumped the bad mortgages on the backs of the American taxpayer. Is it normal for mortgage debt to triple and home equity to plunge in a rationally functioning world? Is it normal when 25% of all existing home sales are distressed sales and another 30% are sales to Wall Street hedge funds like Blackrock?
In 1996 there were 200 million working age Americans, with 134 million (67%) in the labor force, 127 million (63.5%) employed, and 66 million (33%) not in the labor force. Today there are 245 million working age Americans, with 155 million (63%) in the labor force, 143 million (58%) employed, and 90 million (37%) supposedly not in the labor force. The number of working age Americans has increased by 22.5%, while the number of those employed has advanced by only 12.5%. The population to employment ratio has reached a three decade low as millions have given up, been lured into college by cheap plentiful government debt, or developed a mysterious ailment that has gotten them into the SSDI program. Is it normal for millions of Americans to leave the labor force when the economy is supposedly recovering?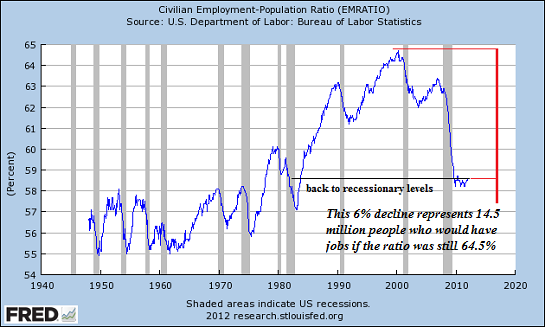 In 1996 there were 25.5 million Americans on food stamps, or 9.6% of the population, costing $24 billion per year. Today there are 47.8 million Americans on food stamps, or 15% of the population, costing $75 billion per year. Historically, the number of people in this program would rise during recessions and recede when the economy recovered, just as a safety net program should function. According to our government keepers the economy has been in recovery since late 2009. The number of people entering the food stamp program has gone up by 7 million since the recession officially ended. This is not normal. Either the government is lying about the recession or they are screwing the taxpayer by encouraging constituents to enter the program in an effort to gain votes. Which is it?
The price of oil averaged $20 per barrel in 1996 and it cost you $1.20 per gallon to fill your tank. Oil averaged $85 per barrel in 2012 and currently hovers around $90 per barrel. Most Americans are now paying between $3.50 and $4.00 per gallon to fill their tanks. This result seems abnormal considering the propaganda machine is proclaiming we are on the verge of energy independence. After two Middle East wars, 6,700 dead American soldiers, 50,000 wounded American soldiers, and $1.5 trillion of national wealth wasted, this is all we get – a tripling in gas prices and creation of thousands of new terrorists?
You have to have a really bad case of normalcy bias to be able to convince yourself that everything that has happened since 1996 is normal. Every fact supports the reality that we've entered a period of extreme abnormality and our response as a nation thus far has insured that a disaster of even far greater magnitude is just over the horizon. Anyone with an ounce of common sense realizes the social mood is deteriorating rapidly. We are in the midst of a Crisis period that will result in earth shattering change, but the masses want things to go back to normal and don't want to face the facts. The cognitive dissonance created by reality versus their wishes will resolve itself when the next financial collapse makes 2008 look like a walk in the park. But, until then most will just stick their heads in the sand and hope for the best.
Loving Your Servitude
"Liberty is lost through complacency and a subservient mindset. When we accept or even welcome automobile checkpoints, random searches, mandatory identification cards, and paramilitary police in our streets, we have lost a vital part of our American heritage. America was born of protest, revolution, and mistrust of government. Subservient societies neither maintain nor deserve freedom for long." – Ron Paul
The most disgraceful example of abnormality that has infected our culture has been the cowardice and docile acquiescence of the citizenry in allowing an ever expanding police state to shred the U.S. Constitution, strip us of our freedoms, and restrict our liberties. Our keepers have not let any crisis go to waste in the last seventeen years. They have also taken advantage of the willful ignorance, childish immaturity, extreme gullibility, historical cluelessness, financial illiteracy and techno-narcissism of the populace to reverse practical legislation and prey upon irrational fears to strip the people of their constitutionally guaranteed liberties and freedoms. If you had told someone in 1996 the security measures, laws, and police agencies that would exist in 2013, they would have laughed you out of the room. Every crisis, whether government created or just convenient to their agenda, has been utilized by the oligarchs to expand the police state and benefit the crony capitalists that profit from its expansion. The character of the American people has been found wanting as they obediently cower and beg for protection from unseen evil doers. The propagandist corporate media reinforces their fears and instructs them to submissively tremble and implore the government to do more. The cosmic obliviousness and limitless sense of complacency of the general population with regards to a blatantly obvious coup by a small cadre of sociopathic financial elite and their army of bureaucrats, lackeys and jackboots is a wonder to behold.
The 1929 stock market crash and ensuing Great Depression was primarily the result of excessively loose Federal Reserve monetary policy during the Roaring 20's and the unrestrained fraud perpetrated by the Wall Street banks. The 1933 Glass-Steagall Act was a practical 38 page law which kept Wall Street from ravenously raping its customers and the American people for almost seven decades. The Wall Street elite and their bought off political hacks in both parties repealed this law in 1999, while simultaneously squashing any effort to regulate the financial derivatives market. The day trading American public didn't even look up from their computer screens. Over the next nine years Wall Street went on a fraudulent feeding frenzy rampage which brought the country to its knees and then held the American taxpayer at gunpoint to bail them out. The Federal Reserve arranged rescue of LTCM in 1998 gave the all clear to Wall Street that any risk was acceptable, since the Fed would always bail them out. Just as they did in the 1920's, the Federal Reserve set the table for financial disaster with excessively low interest rates and non-existent regulatory oversight.
The downward spiral of our empire towards an Orwellian/Huxley merged dystopian nightmare accelerated after the 9/11 attacks. Within one month those looking to exert hegemony over all domestic malcontents had passed the 366 page, 58,000 words Patriot Act. Did the terrified masses ask how such a comprehensive destruction of our liberties could be written in under one month? It is apparent to anyone with critical thinking skills that the enemy within had this bill written, waiting for the ideal opportunity to implement this unprecedented expansion of federal police power. Electronic surveillance of our emails, phone calls and voice mails, along with warrantless wiretaps, and general loss of civil liberties was passed without question under the guise of protecting us. Next was the invasion of a foreign country based upon lies, propaganda and misinformation without a declaration of war, as required by the Constitution. Our government began torturing suspects in secret foreign prisons. The shallow, self-centered, narcissistic, Facebook fanatic populace has barely looked up from texting on their iPhones to notice that we have been at war in the Middle East for eleven years, because it hasn't interfered with their weekly viewing of Honey Boo Boo, Dancing With the Stars, or Jersey Shore. They occasionally leave their homes to wave a flag and chant "USA, USA, USA", as directed by the media, when a terrorist like Bin Laden or Boston bomber is offed by our security services, but for the most part they can live their superficial vacuous lives of triviality unscathed by war.
The creation of the Orwellian Department of Homeland Security ushered in a further encroachment of our everyday freedoms. They attempted to keep the masses frightened through a ridiculous color coded fear index. Little old ladies, people in wheelchairs and little children are subject to molestation by lowlife TSA perverts. Military units conduct "training exercises" in cities across the country to desensitize the sheep-like masses, who fail to acknowledge that the U.S. military cannot constitutionally be used domestically. DHS considers military veterans, Ron Paul supporters, and Christians as potential enemies of the state. The use of predator drones to murder suspected adversaries in foreign countries, while killing innocent men, women and children (also known as collateral damage), has just been a prelude to the domestic surveillance and eventually extermination of dissidents and nonconformists here in the U.S. We are already becoming a 1984 CCTV controlled nation. DHS has been rapidly militarizing local police forces in cities and towns to supplement their jackbooted thugs. Obama's executive orders have given him the ability to take control of industry. He can imprison citizens without charges for as long as he deems necessary. Attempts to control gun ownership and shutdown the internet is a prologue to further government domination and supremacy over our lives when the wheels come off this unsustainable bus.
The last week has provided a multitude of revelations about our government and the people of this country. The billions "invested" in our police state, along with warnings from a foreign government, and suspicious travel patterns were not enough for our beloved protectors to stop the Boston Marathon bombing. After stumbling upon these amateur terrorists by accident, the 2nd responders, with their Iraq war level firepower, managed to slaughter one of the perpetrators, but somehow allowed a wounded teenager to escape on foot and elude 10,000 donut eaters for almost 24 hours. The horde of heavily armed, testosterone fueled thugs proceeded to bully and intimidate the citizens of Watertown by illegal searches of homes and treating innocent people like criminals. The government completely shut down the 10th largest metropolitan area in the country for an entire day looking for a wounded 19 year old. The people of Boston obeyed their zoo keepers and obediently cowered in their cages.
The entire episode was an epic fail. The gang that couldn't shoot straight needed an old man to find the bomber in his backyard boat. The people of Boston exhibited the passivity and subservience demanded by their government. Since the capture of the remaining terrorist, the shallow exhibitions of national pride at athletic events and smarmy displays of honoring the police state apparatchiks who screwed up – allowing the attack to occur and looking like the keystone cops during the pursuit of the suspects, has revealed a fatal defect in our civil character. We are living in a profoundly abnormal society, with millions of medicated mindless zombies controlled by a vast propaganda machine, who seemingly enjoy having their liberties taken away. Most have willingly learned to love their servitude. For those who haven't learned, the boot of our vast security state will just stomp on their face forever. We're realizing the worst dystopian nightmares of Orwell and Huxley simultaneously. This abnormalcy bias will dissipate over the next ten to fifteen years in torrent of financial collapse, war, bloodshed, and retribution. Sticking your head in the sand will not make reality go away. The existing social, political, and financial order will be swept away. What it is replaced by is up to us. Will this be the final chapter or new chapter in the history of this nation? The choice is ours.
"If you want a vision of the future, imagine a boot stamping on a human face – forever.
– George Orwell
"There will be, in the next generation or so, a pharmacological method of making people love their servitude, and producing dictatorship without tears, so to speak, producing a kind of painless concentration camp for entire societies, so that people will in fact have their liberties taken away from them, but will rather enjoy it, because they will be distracted from any desire to rebel by propaganda or brainwashing, or brainwashing enhanced by pharmacological methods. And this seems to be the final revolution" –Aldous Huxley, 1961
Off the keyboard of Steve Lendman
Published on the Steven Lendman Blog on May 1, 2013
Discuss this article at the Epicurean Delights Smorgasbord inside the Diner
Institutionalized Spying on Americans
Big Brother no longer is fiction. It hasn't been for some time. It's official US policy. According to ACLU's Technology and Liberty Program director Barry Steinhardt:
"Given the capabilities of today's technology, the only thing protecting us from a full-fledged surveillance society are the legal and political institutions we have inherited as Americans."
"Unfortunately, the September 11 attacks have led some to embrace the fallacy that weakening the Constitution will strengthen America."
Manufactured national security threats matter more than fundamental freedoms. Domestic spying is institutionalized.
Anyone can be monitored for any reason or none at all. Privacy rights are lost. Patriot Act legislation authorized unchecked government surveillance powers.
Financial, medical and other personal information can be accessed freely. So-called "sneak and peak" searches may be conducted through "delayed notice" warrants, roving wiretaps, email tracking, and Internet and cell phone use.
The FBI, CIA, NSA, and Pentagon spy domestically. So do state and local agencies. Spies "R" us defines US policy. America is a total surveillance society. It's unsafe to live in. Everyone is suspect unless proved otherwise.
The 2012 FISA Amendments Reauthorization Act renewed warrantless spying. It passed with little debate. On Sunday, December 30, 2012 Obama signed it into law. Doing so largely went unnoticed.
These type disturbing measures usually slip below the radar. Weekends and holiday period enactments conceal blows to freedom. Warrantless spying became law for another five years.
Phone calls, emails, and other communications may be monitored secretly without court authorization. Probable cause isn't needed. So-called "foreign intelligence information" is sought. Virtually anything qualifies. Vague language is all-embracing.
Months after 9/11, Bush secretly authorized the NSA to eavesdrop on Americans lawlessly. Sweeping surveillance followed without court-approved warrants.
Doing so violates core constitutional protections. Major US telecommunications companies are involved. They have been since 9/11. Things now are worse than then.
On April 29, Russia Today (RT) headlined "Spy, or pay up: FBI-backed bill would fine US firms for refusing wiretaps." A day earlier Washington Post article was cited.
It headlined "Panel seeks to fine tech companies for noncompliance with wiretap orders," saying:
"A government task force is preparing legislation that would pressure companies such as Face­book and Google to enable law enforcement officials to intercept online communications as they occur, according to current and former US officials familiar with the effort."
At issue is alleged FBI concerns about "Internet communications of terrorists and other criminals."
FBI spying is longstanding. So are other lawless practices. Throughout its history, the agency operated within and outside the law.
J. Edgar Hoover ran it from 1924 – 1972. He waged war on communists, anti-war, human and civil rights activists, the American Indian Movement, Black Panther Party, and other groups challenging rogue state policies.
He ordered agents to infiltrate, disrupt, sabotage, and destroy them. Anyone advocating ethnic justice and racial emancipation, as well as economic, social, and political equality across gender and color lines became vulnerable.
Post-9/11, FBI abuses escalated. Intrusive surveillance tools now target ordinary Americans. Unchecked authority and other abusive practices are widespread. America's war on terror matters most.
Disturbing tactics include greater physical surveillance, commercial database data retrieval, paid informants infiltrating groups (or targeting individuals) on false pretenses, and letting covert unidentified agents conduct "pretext" interviews for information.
Muslims are America's target of choice. So are anti-war and social justice activists. A gloves off, no-holds barred approach is followed. Virtually anything is fair game. Innocent people are vulnerable.
The Patriot Act authorized so-called National Security Letters (NSLs). FBI agents take full advantage. They do so by demanding personal customer records from ISPs, financial institutions, credit companies, and other sources without prior court approval.
The FBI wants more. According to the Washington Post, it wants companies failing to heed wiretap orders penalized.
In February 2011, then FBI general counsel Valerie Caproni told House Crime, Terrorism and Homeland Security Subcommittee members about a "Going Dark" problem.
She explained the agency's inability to access comprehensive "communications and related data." She claimed a "public safety" threat when critical information is missed.
In March 2013, current FBI general counsel Andrew Weissmann addressed an American Bar Association discussion. He did so on legal challenges new technologies pose, saying:
"We don't have the ability to go to court and say, 'We need a court order to effectuate the intercept.' Other countries have that. Most people assume that's what you're getting when you go to a court."
Under current law, Internet communications companies can refuse to comply with court-ordered wiretaps. They can claim no practical way to do so.
Proposed legislation would change things. It would force companies to rebuild their capability to allow government monitoring.
Weissmann calls doing so a "top priority." Proposed legislation is being drafted. It's an extension of the 1994 Communications Assistance for Law Enforcement Act (CALEA).
It grants federal authorities sweeping surveillance powers. Doing so lets them spy on Americans more intrusively.
CALEA originally applied only to digital telephone networks. It forced telephone companies to redesign their network architectures to make wiretapping easier.
In 2005, online communications were added. Broadband providers had to rebuild their networks accordingly.
At issue was permitting access to Internet "phone calls" through VOIP applications, as well as online "conversations" by instant messaging programs.
Law enforcement wiretapping is longstanding. Existing laws permit tapping phone or online communications regardless of what programs or protocols are used.
Industry largely cooperates. Digital age surveillance is easier than authorities claim. They want greater ease than currently permitted. Expanding CALEA is overkill. Doing so enhances police state powers.
The FBI cites its "tappability principle." It does so to justify its demands. It claims whatever is legally searchable sometimes should be physically searchable all times.
Applied to phone and Internet communications, it would require designing phones and computers with built-in bugs. Doing so would elevate surveillance powers. Everyone could be spied on at all times. Private communications no longer would exist.
Expanding CALEA is the tip of the iceberg. Perhaps software companies are next. Enhanced legislative authority may force them to create surveillance-ready programs. Doing so may compromise innovation.
Applying phone system rules to software development and online communications assures trouble. What's longstanding policy for one compromises innovation for the others. It also more greatly undermines freedom.
Police state powers are enhanced. Companies are forced to comply. Under draft legislation, courts could levy fines. Judicial inquiries could impose additional ones. After 90 days, unpaid amounts would double daily.
According to Center for Democracy and Technology senior counsel Greg Nojeim:
"This proposal is a non-starter that would drive innovators overseas and cost American jobs. They might as well call it the Cyber Insecurity and Anti-Employment Act."
Former federal prosecutor Michael Sussman added:
"Today, if you're a tech company that's created a new and popular way to communicate, it's only a matter of time before the FBI shows up with a court order to read or hear some conversation."
"If the data can help solve crimes, the government will be interested."
In 2010, after its networks were hacked, Google began emails and text messages end-to-end encryption. Facebook followed suit.
Doing so compromises FBI monitoring. Agency officials want enhanced CALEA authorization permitting it.
They claim doing so only extends current law to new technologies. It requires phone and online companies to allow wiretapping.
It's much more than that. It elevates mass surveillance to a dangerously higher level. It's another step toward full-blown tyranny.
On April 29, the Center for Democracy & Technology (CDT) headlined "Feds Push for Backdoor Wiretap Capabilities."
According to CDT Senior Staff Technologist Joe Hall:
"A wiretapping mandate is a vulnerability mandate. The unintended consequences of this proposal are profound."
"At the very time when the nation is concerned about cybersecurity, the FBI proposal has the potential to make our communications less secure."
"Once you build a wiretap capability into products and services, the bad guys will find a way to use it."
CDT President Leslie Harris added:
"What the FBI is proposing sounds benign, but it comes with such onerous penalties that it would force developers to seek pre-approval from the FBI."
"No one is going to want to face fines that double every day, so they will go to the FBI and work it out in advance, diverting resources, slowing innovation, and resulting in less secure products."
"The sad irony," said Hall, "is that this is likely to be ineffective. Building a communications tool today is a homework project for undergraduates."
"So much is based on open source and can be readily customized. Criminals and other bad actors will simply use homemade communication services based offshore, making them even harder to monitor."
Media scholar/critic/activist Robert McChesney told Progressive Radio News Hour listeners how Internet freedom has been compromised.
His important new book "Digital Disconnect: How Capitalism is Turning the Internet Against Democracy" explains what should concern everyone.
"The corporate media sector (did) everything in its immense power to limit (its) openness and egalitarianism…., he said."
"….corporate and state surreptitious monitoring of Internet users" compromises fundamental freedoms.
Doing so is "inimical to much of the democratic potential of digital communication."
Internet freedom depends on "arrest(ing) the forces that promote inequality, monopoly, hypercommercialism, corruption, depoliticization, and stagnation."
It requires ending mass surveillance powers. It's about restoring lost democratic principles. America's heading the wrong way. It's perilously close to ending freedom altogether.
Posted originally on TBP on 5th March 2011 by Reverse Engineer  in Economy |Politics |Technology
Discuss this Article inside the Diner
I spent the last few Daily Rants examining the Past and what occurred during the Great Depression, and for now at least I think that subject has been exhaustively covered, at least with the data we have available to work with. So with this Daily Rant, I'm going to move out of the past and into the present and likely future.
In this area, the argument divides again into two fundamental camps, those who believe that Technology will come in to save the day and those who believe that the end of the Fossil fuel era will require humanity to REVERSE ENGINEER back to a lower energy footprint utilizing more sustainable technologies from the past. As with most of the critical debates we have, I hold up the less popular side of the debate, which is the power down side. For this post, rather than focus on whether or not we can replace the Oil with Nukes or Renewables or even Cold Fusion, I am going to argue the position that we shouldn't even bother trying. Why? Because high technology while it has in some senses made some people's lives easier, for the most part its negative consequences destroy the spiritual side of our lives and destroy our liberties. In a Cost-Benefit analysis, it is a loser.
I put up in the Daily Video spot the 1984 Super Bowl Commercial for the Macintosh Computer, aired only that one time on Network Television. It was such a fabulously POWERFUL commercial though that everyone who saw it remembers it. At the time, I still watched Super Bowls, so I did see it. It was probably the greatest TV Commercial ever produced. In 1 minute of time, it said about everything about the Zeitgeist of the time.
The commercial airs a powerful Image of George Orwell's "1984", with Male Drones glued to a Big Screen TV being Mind-Controlled by the Talking Head of Big Brother, all in Black & White. As the Commercial comes to a close though, an Athletic Olympian Female Athlete toting a Hammer comes running into the auditorium, herself in Technicolor. She is pursued by SWAT/Robocop style Police, but before being caught swings the Hammer in full Olympic Spinning style into the Big Screen TV. It blows the living shit out of the TV, metaphorically FREEING the drones from the Mind Control.
The idea being conveyed here was that the Personal Computer was going to FREE the minds of people from the medium of Television, which had reached its Zenith in 1984. The Technicolor of the Female Olympian was just like the Technicolor in the Wizard of Oz, when Dorothy moved from her drab life in Black & White Kansas of the Great Depression Era to the Free and Full Color life in the Land of Oz. But of course, in both Oz and in our own post-techno revolution computer age, that Freedom wasn't real at all, and in fact TRAPPED Dorothy even more than the trap she was in back in the Black & White land of Kansas.
Have computers and the worldwide net REALLY freed us? Well, there is certainly a whole lot more information out there we can now access, and of course we are all free here now to Napalm the Living Shit out of each other on the pages of TBP as well. This is more or less a positive thing, but the DARK SIDE of this technology is much more powerful.
As a whole, all the technologically connected people of the world become ever more dependent on this technology, and their lives are ever more consumed by it. Everything you do or say through the medium is recorded, and everything recorded can and is filed in databases to identify who you are and how you think. Not just what you DO, but how you THINK. People create Facebook pages, which link them to all their friends, so when that Joe McCarthy style Purge comes, consider how easy it is now for Da Goobermint to not only nail you, but then by extension nail everyone you are connected to.
Every Transaction you make with a Credit Card or Debit Card is recorded. Your food preferences, your recreational choices, everything. As we move forward here if a technological society could continue, those cell phones you carry would be your transaction card, and they also carry with them a GPS chip which records your every move, so as long as you have it switched on, every place you go can be mapped out, along with the route you took to get there and how fast you were driving. And of course everyone ALWAYS has their cell phone ON, because you just MUST be connected! A friend might send you a TXT message, cannot miss that. They do not even need to implant Chips into people, the people will WILLINGLY carry their Tracking Units all the time to be connected to the Network. Because without that, they are not part of this type of community.
At the same time you have become part of this Global Interconnected Web Community though, you have given up your personal connections to people in your local community. I mean really, I KNOW people I work with who will walk around Texting friends totally GLUED to their Iphones. They are too busy doing that to talk to the person they are in the same room with.
For right now, there remains a certain amount of choice still, you can turn off your cell phone, you still can make transactions in Cash, you can still save some of it in the Bank of Sealy or bury it with a few ounces of Gold Dust and Diamond Rings in Denali National Park in a hermetically sealed PVC Pipe at a location only YOU have the Latitude and Longitude coordinates to and can find even without a GPS if necessary using just a Magnetic Compass, Watch and Sextant. If the Magnetic North Pole keeps migrating at 40 Miles/year, I'll just have to rely on the Sextant and Watch and some dead reckoning on Geological features that don't change too rapidly. Fortunately, the Stars don't seem to be changing their positions too rapidly, so hopefully I can find the damn pipe with ¼ of my Savings when I need to. LOL. I have a good self-winding mechanical watch in case my digital ones get taken out by an EMP. My sextant is a nice Brass Reproduction of an 18th Century one made in India, reasonably accurate. Should be accurate enough to get me within a mile or so of the area, after which I can find my Buried Treasure by the local terrain features. I haven't tried that yet though, but I'll test it this summer when the weather improves. Wandering around Denali National Park in mid-winter is not a good idea unless you are a fucking good Jeremiah Johnson type, which I am not. It is a fucking HUGE place and you can quite easily get seriously LOST or trapped by bad weather. In the summer though, it is very pleasant. The rest of my Savings is distributed out ¼ in Digimoney in a Local Credit Union, ¼ in Anonymous Debit Cards/Pay Pal Accounts and ¼ in easily accessed cash in local storage spots. All the electronic money is immediately accessible as long as the network is up and running, and worth having available if for some reason cash goes no good. I am trying to cover both bases here 50-50, half cash, half electronic digibit money. The digimoney is half directly attributable to me, half anonymous in accounts only I have the password for but cannot be tied to me otherwise. This way, hopefully I do not get a 100% Wipeout of my savings regardless of how the crash proceeds before I can spend it into Hard Goods.
However, regardless of my eccentric Banking methods, in the industrialized countries, if the system was to be maintained after the collapse of the Dollar and all the rest of the Fiat currencies, it is almost certain that any new currency system centrally created would be 100% Digital, no Cash at ALL available to sequester in the Bank of Sealy. For this reason ALONE, I cannot support maintaining the technological grid of the Internet, but when you conjoin that with the fact that every last thing you write gets recorded and every last friend you have is recorded you can see where by accepting this system you accept Big Brother, WILLINGLY. You give up your autonomy by becoming a part of this vast interconnected electronic Web, and you become COMPLETELY dependent on it. The minute the Internet goes down for good, even under the quasi-choice system we have now; the minute you will have simply gobs of people completely LOST, like a Borg who has been cut off from the Collective. If/when it became effectively MANDATORY to be connected in this way, then when such connections are lost the people would really be in dire straights. They will have become so completely disconnected from the simpler means of living they simply will be unable to return to it. Like Dinosaurs faced with a radically changed environment, they will just helplessly die off.
There are people here I have chatted with, Plubius and Flash particularly who think that this is the road we are destined for. "1984" on Steroids where there is NO ESCAPE from the power of the Illuminati. I don't agree with that viewpoint, because I do not in fact believe that these systems can be maintained in the post-Peak Oil world of the future. However, if it were true that we could in fact build enough Nukes or harness Cold Fusion to maintain this kind of structure, then I would have to agree with them that this would be our destiny. Technology is not liberating, it is ENSLAVING. Every last technology you accept and come to depend on enslaves you a little bit more. When you accept the Automobile as your transportation means, you become enslaved to the provider of the fuel for that automobile. When you accept the Light Bulb as your Light Source at night, you become enslaved to the Electricity Provider.
Who are the ONLY really FREE people left? They are the very few people still walking the earth who depend on NO technology other than their ability to make the few tools they need out of available materials they can pick up and who have knowledge enough to be able to fish for subsistence with the tools they make or find wild edible plants to eat in remote places that somebody else has not claimed the land they forage from as their own. The only way to be truly free is to be able to independently subsist in this way, and virtually no one can do this anymore. I know a few people who might be able to do it, but I am not one of them.
I do not advocate for that kind of freedom anyhow, I think people do need each other and can depend on each other in small groups of interdependence. The kind of Freedom I would like to see evolve here with the Failure of the Technological Conduits is one of small Communities and Tribes, not large Nation States. I believe that will come to pass with the collapse of the Age of Oil, and I would not hope for it to be replaced by Nuke Plants which would just perpetuate the central control paradigm and the loss of Freedom. THAT is why I am against Nuke Power, not because I am a big Tree Hugger, though of course I AM a Tree Hugger who values the natural ecosystems more than man made power sources. Big Nuke Power Plants give the POWER and Control over the society and the people in it to the few people who CONTROL the power plants. Once you come to depend on this, you are forever under their control. Only if you can GIVE IT UP can you be truly FREE.
To me, true FREEDOM is more important than the creature comforts we get by accessing great sources of thermodynamic power, which ALWAYS are controlled by a very few people in the society. There were others like me also through history, who walked away and rejected the trappings of the technological society of their time. The Jeremiah Johnsons, the Mutineers of the Bounty on Pitcairn Island, the John Dunbars who "went Native". I haven't walked so far away as that, mainly because I cannot anymore, not because I would not do it if I could. For younger folks in better health than I am though, I most certainly would recommend rejecting as much technology as you possibly can and becoming as self-sufficient as you can to become as FREE as you can.
This process does not have to come all at once, I wouldn't suggest to anybody to smash their laptops and cell phones or junk their cars while it is all still working, and while in fact to live in the society we have now in the FSofA you really must use these tools. I certainly haven't done that, I'm just trying to distance myself from it and prepare myself psychologically for the day Coming Soon to a Theatre Near You all these toys just don't WORK anymore. That is why I wake up at the crack of dawn on a cold Saturday Morning to go out onto a lake on the Last Great Frontier to cut a hole in the ice and see what I can fish up. Do I do this EVERY day? Hell no, I don't have to, nor could I since I have to wake up at the crack of dawn to go to my REAL JOB, which thankfully I still have. Thankfully also I still have a working 1989 Mazda MPV 4 wheel drive which brings me quickly in comfort to my job. Thankfully also I can still buy gas for it at the local convenience store for $3.80/gal. I don't have to subsist on a daily basis from what I can fish up, I can drive over to Walmart and buy just tons of food shipped in from all over the world! I'll sure miss that when it is gone, but at the same time I would be foolish not to prepare myself for the day it IS gone, as long as it is within my power to do so.
As we observe the turmoil developing throughout the Oil producing countries of the M.E., it is a foregone conclusion now that the Oil which powered our society is NOT going to be available in perpetuity to continue doing that. You don't have to be Nostradamus to figure that one out. Nor is it very likely that even if possible would we be able to transition to alternate power sources fast enough to stop this type of technological society from coming to a screeching HALT. It is going to crash, and you can observe the crash in slow motion occurring, starting at the most peripheral economies and working its way inward toward the center. By cutting off vast populations of the earth from the remaining Oil, our Oil consumptive society may perpetuate a few more years, but equally possible is we will get a sudden STOP before that as the monetary system fails and societies go to WAR over the remaining resource. A War that cannot be won by anyone of course, but that does not mean it won't be undertaken. That War is the last gasp of a dying technological paradigm, the Death Convulsions of a sick society.
For those of us born in the right place at the right time, for a couple of generations we got to Party like its 1999. Some folks became quite wealthy hitching a ride on this waste based paradigm of Production and Consumption, but they did so always at the expense of others or at the expense of the resources of the earth. You cannot make something from nothing of course. In the Blame Game of who is responsible for the mess we find ourselves in, it is all those people who took profit in this, who became manufacturers and industrialists, who controlled Da Goobermints and bought the politicians to serve their interests, who controlled the Banking system and created out of thin air the Money we all needed to make our way through this type of world. These are the people who are responsible, not J6P Union man who always was just trying to get a decent wage to live in the society and raise his kids. The Capitalists and Banksters and the Profiteers are the responsible ones for this collapse, and they must shoulder the blame for it. They must and will be put on Trial for their Crimes Against Humanity and Rape of Mother Earth. Eternal Justice will not be denied. When the Capitalist Inquisition is finished, whoever is left will then be able to build a Better Tomorrow.
There will be no George Orwell 1984 in the long term, we are already LIVING in that world NOW, and it is coming apart at the seams. It is made possible only by control over the vast thermodynamic energy of fossil fuels and the Conduits of transportation, communication and energy they support. When that energy is no more to be found at a positive EROEI, these Conduits will all collapse, and with that collapse will come the end of the control of the Illuminati. It will usher in a new age of FREEDOM, albeit with a vastly reduced population. You can't make an Omellette without Breaking a few Eggs of course.  When this Matrix falls apart, it will not be pretty.
RE