Off the keyboard of Jim Quinn
Follow us on Facebook
Follow us on Twitter @Doomstead666
Published on The Burning Platform on October 16, 2014
Discuss this article at the Kitchen Sink inside the Diner
I know many people have no interest in watching the boob tube because 99% of the programming is either mindless drivel or government sanctioned propaganda. It's the 1% that reflects the deeper themes and moods engulfing our society. Television shows like Breaking Bad, Game of Thrones, and The Walking Dead reflect the darkening mood of this intensifying Fourth Turning. I wrote one of my more pessimistic articles called Welcome to Terminus in April regarding the season four finale of the Walking Dead series. I essentially argued we are approaching the end of the line and the world is going to get real nasty.
In the six short months since I wrote that depressing article, we've seen men beheaded on Youtube videos by terrorists no one had ever heard of at the beginning of this year. Somehow a ragtag band of 30,000 Muslim terrorists, using American military equipment supplied to fight Assad in Syria and taken from the Iraqi Army when they turned tail and ran away, have been able to defeat 600,000 Iraqi and Kurd fighters with air support from the vaunted U.S. Air Force. Syria, Iraq, Libya, and Afghanistan descend into never ending religious based warfare. We've even had passenger planes mysteriously disappear in Asia with no trace.
Crimea seceded from Ukraine and rejoined Russia, initiating a plan to punish Russia by the western powers. America supported and planned the overthrow of a democratically elected government in the Ukraine, with a predictable push back response by Russia, leading to a bloody civil war in the Eastern Ukraine. We've had a false flag shooting down of an airliner over the Ukraine by the Ukrainian government, blamed on Russia and Putin by Obama and his EU co-conspirators. The American corporate media mouthpieces have ignored the cover-up of missing controller transmissions, black box recordings, and physical evidence regarding the murder of hundreds of innocent people by western politicians. Israel and Hamas resumed their endless religious war in Gaza, with thousands of casualties and destruction.
UK fear mongering and financial threats barely averted the secession of Scotland from the UK. Cantalonia continues to push for a secession vote to leave Spain. Violent protests have broken out in Spain, Italy, France and even Sweden. Turmoil, protests and riots in Brazil, Venezuela, Argentina and Mexico have been driven by anger at political corruption, high inflation, and general economic dysfunction. Saber rattling between China and Japan has increased and young people in Hong Kong have been protesting the lack of democratic elections being permitted by China. The world economy, undergoing central bank monetary stimulus withdraw, is headed back into recession as Germany, China and the U.S. join the rest of the world in economic decline. And now the Western Africa outbreak of ebola has gone worldwide, with predictions of an epidemic potentially causing worldwide economic chaos.
What's happening in the real world makes the dystopian zombie world of Walking Dead seem almost quaint. The writers of this show brilliant use of symbolism and imagery captures the violent, chaotic, inhumane, darkening, brutal world we inhabit as the Fourth Turning crisis period we entered in 2008 deepens on a daily basis. There is a good reason why the first episode of their fifth season drew the biggest cable TV audience in history. The show is clearly tapping into the mood of the masses. Early in the latest episode you realize Terminus has become a processing center run by cannibals. The line between victim and criminal, killer and prey, good and evil, madness and sanity, and moral and immoral is blurred. Everything is relative in the post-pandemic world of the Walking Dead.
Seeing Wall Street cannibals walk away unscathed after devouring the worldwide economic system in 2008 with their fraudulent financial schemes, corrupt politicians enriched by throwing taxpayers under the bus, militarized police forces trampling the Fourth Amendment, the NSA spying on every American, a private central bank enriching their owners by funneling trillions into their bank vaults, a president trampling on the Constitution by issuing executive orders to bypass the other branches of government, and billions of welfare and tax fraud from the urban ghettos to the penthouse suites in NYC, has convinced a large swath of Americans that everything is relative and nothing matters in our warped dystopian world. Right and wrong no longer matter. Morality is an antiquated concept. Adhering to the Constitution is an outmoded notion. Our society celebrates and condones our dog eat dog economic paradigm. Or zombie eats anything world in the case of Walking Dead.
The Terminus complex is reminiscent of the concentration camp in Schindler's List. It is complete with railroad cars to hold the prisoners, gates with barbed wire, armed guards, and extermination facilities to "process" the prisoners. Thick black smoke belches into the air. There is a room stacked full of booty, teddy bears, watches, clothes – everything except the gold fillings.The Nazi like precision and attention to detail is reflected in the almost business-like method in which the Terminus administrators go about gutting their prey. The bone chilling efficiency and antiseptic processing facility evoke memories of the holocaust gas chambers. The opening sequence when Rick, Daryl, Glenn and Bob are among a group of men lined up to be gutted like pigs over a trough in place to collect their spilled blood, might have been the most brutal scene ever put on non-premium cable TV.
The callous and dispassionate way in which the prisoners (cattle) are lined up in front of a stainless steel trough is disconcerting and bone chilling. The victims are hit with a baseball bat and then their throats are slit over the trough by men in protective suits. They have become nothing but cattle to be butchered and consumed by the Terminus cannibals. You see another part of the processing plant where human remains are hanging from hooks like sides of beef. Gareth, the leader of Terminus, supervises the operation like a CEO, berating the butchers for not meeting quotas and following standard operating procedures. Not much different than how our mega-corporations are run today.
The other fascinating similarity between the dystopian "nightmare of want" setting of Terminus and our modern day dystopian "empire of excess" is the use of false advertising and propaganda to lure "customers" into their web. Their version of billboard advertising was plywood with the hand written messages of "Sanctuary for All", "Community for All", and "Those Who Arrive Survive". The Terminus cannibals would have fit in well on Madison Avenue with the highly paid spin artists, propagandists, and whores for the corporate oligarchs.
The signs along train tracks and radio transmissions from a call center like facility showed the calculated business-like efficiency of the cannibals in systematically and methodically luring victims to their slaughterhouse. It is the same techniques used by the apostles of Edward Bernays to consciously and intelligently manipulate the habits, opinions, tastes, ideas and actions of the masses, in order to control and influence their buying habits, voting decisions, and support of their rulers. The unseen men who constitute the "invisible government" use these techniques to keep the cattle docile, fed, and ignorant, as they are led to slaughter.
The government and lack thereof is always lurking in the murky background of how and why the United States has devolved into an infected world of the walking dead. This episode provided some clues about government labs producing viruses as weapons to be used against some unexplained enemy. The insinuation is that the government somehow lost control of the virus and the ensuing pandemic destroyed our modern world and left the survivors to battle the biters and each other for the remaining scraps. The Federal government caused the societal collapse and is nowhere to be found in rebuilding the nation.
It is unclear how the apocalypse went down, but you can assume it began with fear, which led to panic, chaos, economic collapse, violent upheaval, war, and total breakdown of governmental authority and control. It is ironic that today fear of a worldwide ebola pandemic is coinciding with an inevitable economic implosion, wars raging in the Middle East, violent protests raging around the globe, and trust in governmental authority plunging to all-time lows. The Walking Dead has wittingly or unwittingly captured the ambiance of our turbulent times.
When you are faced with desperate circumstances you can either do whatever you need to survive or you can submissively accept your fate and die. Gareth and his cannibalistic cohorts had been in the same situation as Rick and his posse, but they had somehow turned the tables on their captors. Gareth's survival of the fittest creed was "either you're the butcher or you're the cattle". Human beings react to intense pressure and life threatening situations in different ways. Some people snap and turn into monsters, like Gareth. Some people snap and lose their minds. Others, like Rick and Carol, summon an inner strength to do whatever it takes to survive while barely maintaining their humanity. Others turn into blind followers of a strong forceful leader, not questioning the morality, legality or humanity of what they are ordered to do. The line between right and wrong, necessary versus unnecessary, vengeance versus justice, and butcher versus cattle is blurred in a world without rules, government or accepted norms.
I believe the "butcher or cattle" analogy is sadly a valid meme for the world we currently inhabit. In the Walking Dead world, individuals must choose to be butcher or cattle. It's a Darwinian world of kill or be killed. Like minded individuals with common values and goals form communities to protect themselves, provide for themselves, and attempt to bring a semblance of order in a chaotic world. The community of Westbury, led by the governor and the community of Terminus, led by Gareth, are founded upon a foundation of evil and ultimately destroyed. Rick's community of liberty minded freedom fighters do whatever is necessary to survive, but retain their humanity, decency and desire to create a better world.
Our present day world may not be as brutish as the Walking Dead world, though the line between reality and fiction is often indistinguishable when you turn on the news, but the distinction between butchers and cattle is clear. The elected and non-elected rulers of the deep state are the butchers, sending young men off to die for oil companies and arms dealers, impoverishing the masses through inflation and their control of the currency, and enriching themselves through their complete control of the political, financial, judicial, and economic systems. This establishment, or invisible government as Bernays described, is committed to its own enrichment and perpetuation. Its scope, financial resources, and global reach put it in a predator class all by itself.
The common people are the cattle being led to slaughter. We are kept docile with incessant propaganda from the mainstream media; marketing messages to consume from Madison Avenue; filtered, adjusted, manipulated economic data fed to us by government agencies; an endless supply of iGadgets and other electronic distractions; government education designed to keep us ignorant; 24/7 reality TV on six hundred stations to keep us entertained; corporate toxic processed food to keep us obese and tame; and an endless supply of Wall Street supplied debt to keep us caged in our pens with no hope of escape. The butchers of the deep state have maintained control for decades, but we're entering a new era.
Fourth Turnings result in the tables being turned on the butchers. Some cattle are awakening from their stupor. They can see the bloody writing on the slaughterhouse wall. Anyone who isn't sensing a dramatic mood change in this country is either a mindless zombie or a functionary of the deep state. The financial shenanigans of the ruling class are again being revealed as nothing but a Ponzi scheme built on a foundation of debt and propped up by delusions and ignorance. When the house of cards collapses in the near future, the tables will turn. When people have nothing left to lose, they will lose it. The butchers will become the cattle. There will be no sanctuary for these evil men. Their reign of terror will be swept away in a whirlwind of retribution, death and destruction. It might even make the Walking Dead look like a walk in the park.
Off the keyboard of Jim Quinn
Follow us on Twitter @doomstead666
Friend us on Facebook
Published on The Burning Platform on February 24, 2013
Discuss this article at the Kitchen Sink inside the Diner
…Censor and Snitch for the State
"The conscious and intelligent manipulation of the organized habits and opinions of the masses is an important element in democratic society. Those who manipulate this unseen mechanism of society constitute an invisible government which is the true ruling power of our country. We are governed, our minds are molded, our tastes formed, our ideas suggested, largely by men we have never heard of.
This is a logical result of the way in which our democratic society is organized. Vast numbers of human beings must cooperate in this manner if they are to live together as a smoothly functioning society. In almost every act of our daily lives, whether in the sphere of politics or business, in our social conduct or our ethical thinking, we are dominated by the relatively small number of persons who understand the mental processes and social patterns of the masses. It is they who pull the wires which control the public mind." – Edward Bernays – Propaganda
I find the quote above by Edward Bernays to be a perfect synopsis for everything that has come to pass over the last century. The world has become increasingly controlled by an invisible government of greedy Wall Street bankers, shadowy billionaires, immoral big business, crooked politicians, and the military industrial complex, with mammoth media conglomerates, purposefully using propaganda to manipulate and mold the minds of the masses in order to exert power and control over our lives. He wrote those words in 1928, when the only available forms of manipulation were newspapers and radio. Bernays would be ecstatic and delighted with the implements available today used by our corporate fascist state controllers as they deliver the electronic messaging guiding the public mind.
He never dreamed of television, the internet, social media, and the ability of corporations like Google, in full cooperation with the government, to censor the truth, while feeding misinformation and state sanctioned propaganda to the masses in such an efficient and effective mode. Compelling the masses to worship at the altar of technology, while idolizing the evil men running our largest banks and corporations, has been a prodigious success for the shadowy ruling power and their mass media propaganda agents. Mike Lofgren, former congressional insider and author of The Party Is Over: How Republicans Went Crazy, Democrats Became Useless and the Middle Class Got Shafted, describes these mysterious perfidious men as the Deep State:
Yes, there is another government concealed behind the one that is visible at either end of Pennsylvania Avenue, a hybrid entity of public and private institutions ruling the country according to consistent patterns in season and out, connected to, but only intermittently controlled by, the visible state whose leaders we choose.
My analysis of this phenomenon is not an exposé of a secret, conspiratorial cabal; the state within a state is hiding mostly in plain sight, and its operators mainly act in the light of day. Nor can this other government be accurately termed an "establishment."
 All complex societies have an establishment, a social network committed to its own enrichment and perpetuation. In terms of its scope, financial resources and sheer global reach, the American hybrid state, the Deep State, is in a class by itself. That said, it is neither omniscient nor invincible. The institution is not so much sinister (although it has highly sinister aspects) as it is relentlessly well entrenched.
Far from being invincible, its failures, such as those in Iraq, Afghanistan and Libya, are routine enough that it is only the Deep State's protectiveness towards its higher-ranking personnel that allows them to escape the consequences of their frequent ineptitude. – Mike Lofgren, Anatomy of the Deep State
The techno-narcissistic American public has been manipulated into falsely believing their iGadgets, Facebook, Twitter, and thousands of Apps have made them smarter, freer and safer. As Goethe proclaimed, the majority of willfully ignorant Americans are hopelessly enslaved, while falsely believing they are free. Our controllers, through relentless propaganda and misinformation pounded into our brains by the government controlled education system and unrelenting messaging by their mass media co-conspirators, have molded the minds and opinions of the vast majority into believing government and mega-corporations are beneficial and indispensable to their well-being.
The overwhelming majority have been conditioned like rats to believe anything their keepers feed them. In order to keep society running smoothly, with little dissent, thought, opposition or questioning, the Deep State utilizes all the tools at its disposal to manipulate, influence, coerce, bully and bribe the populace into passive submission. They've trained us to love our servitude. The Inner Party sees this as essential to their continued control, power and enrichment, while keeping the Proles impoverished, ignorant, fearful and distracted with bread and circuses.
The key weapon in their arsenal of obedience is technology and the mega-corporations that control the flow of information disseminated to the hypnotized mindless masses. The United States has devolved into a society where a few powerful unelected unaccountable men, controlling the levers of government, education, finance, and media are able to formulate the opinions, tastes, beliefs, and fears of the masses through the effective and subtle use of technology. They have tenaciously and unflinchingly fashioned a technology addiction among the masses in order to keep them distracted, entertained and uninterested in thinking, gaining knowledge, or comprehending their roles and responsibilities as citizens in a purportedly democratic republic.
The mass media, along with their corporate compatriots – Microsoft, Apple, Verizon, AT&T, Comcast, Yahoo, Facebook and Google, gather vast amounts of data, emails, phone calls, texts, internet searches, spending habits, credit information, passwords, videos and private personal information from an agreeable, gullible and trusting populace. Americans have a seemingly infinite capacity for blindly counting on the government and the corporatocracy to use this data in an honorable and ethical manner. But, as Edward Snowden has revealed, the corporate fascist state is collecting every shred of data on every American in a systematic and thorough way. We have voluntarily surrendered our privacy, liberties, and freedoms to mega-corporations like Google and their techno-brethren, who then willingly collaborate with Big Brother NSA and allow unfettered access to this private information.
The U.S. Constitution along with the First and Fourth Amendments are meaningless to these deceitful entities. Our freedoms have dissipated at the same rate we have adopted the technological "innovations" of Facebook, Twitter, and Google. We are being monitored, scrutinized, tracked and controlled by the technology we have exuberantly purchased from the mega-corporations stripping us of our freedom. Technological "progress" has actually resulted in a colossal regression in freedom, liberty, independence, choice, and intelligent questioning of authority. We having willingly submitted to the google shackles of tyranny in exchange for being entertained and amused by Angry Birds, Words with Friends, facebooking, texting, tweeting, posting selfies and statuses, and linking in.
"Technological progress has merely provided us with more efficient means for going backwards." – Aldous Huxley – Ends and Means
David versus the Nameless, Faceless Goliath Robot
"It is difficult to get a man to understand something, when his salary depends on his not understanding it." – Upton Sinclair – I, Candidate for Governor: And How I Got Licked
My enlightening encounter with the nameless, faceless $52 billion "non-evil doing" behemoth entity known as Google, over the last month, has clarified my understanding of how the invisible governing body of the Deep State uses the power of the all-mighty dollar to suppress dissent and obscure the truth. My inconsequential libertarian minded blog that attracts 15,000 visitors per day has been up and running for the last five years. I started my own blog because I didn't want to deal with ongoing censorship of my articles by Wall Street sellout blogs such as Seeking Alpha, Minyanville, and Financial Sense.
Their salary/living depended upon them not publishing articles critical of Wall Street and the government. My intention has never been to make a living from my blog. Any donations or incidental advertising revenue allowed me to upgrade my server capacity to handle more visitors. I'm certainly not averse to making money, but the sole purpose of my blog has been to try and open people's eyes to Wall Street criminality, political corruption, media propaganda, and the perilous financial state of our country. Therefore, I was pleasantly surprised when Google approved my website for ads in December.
I will admit my site has been essentially an un-moderated free for all going back to the very beginning in 2009. I do not believe in censorship or false civility. I attempt to induce anger and outrage with every article and post. These are desperate times and anger is the appropriate reaction. The country is on a burning platform of unsustainable policies and practices which threaten the future of our society. I'm pissed off and I want others to be just as pissed off. The regular commenters are intelligent, critical, opinionated, and not afraid to unload with both barrels on fellow regulars or newbies. The language is often strong and the posting of pictures and images adds to the frat house like atmosphere. Regular contributors include doctors, farmers, engineers, business owners, accountants, teachers, waitresses, students, homemakers, soldiers, spies, and retirees. The wild-west nature of the site is not a secret to anyone who has ventured a peek. I assume Google did a review of the site before approving it for their Adsense program.
I started running Google ads on my site in early December. My site operated as it always had. The $30 per day in ad revenue was welcome, as it helped defray my server and security expenses. I experience a surge in visitors whenever I publish an article that gets picked up by fellow truth telling alternative media websites like Zero Hedge, 321 Gold, Washington's Blog, Jesse's Cafe Americain, Steve Quayle, Monty Pelerin, Doug Ross, Market Oracle, Dollar Collapse, TF Metals and several others. I published an article called The Retail Death Rattle on January 20 which obliterated the false government and mainstream media recovery storyline and skewered the delusional incompetent CEOs of mega-retailers. It struck a nerve as it generated the highest visitor count in history for my site. It was even picked up by Wall Street Journal owned Marketwatch. My articles are highly critical of Wall Street, the Federal Reserve, corrupt Washington politicians and the feckless captured legacy media, but they usually fly under the radar of the ruling class. On January 22 Google disabled my ads for "policy violations". This is the vague non-specific description provided by the non-human policing bot:
Scraped content
It's important for a site displaying AdSense to offer significant value to the user by providing unique and relevant content, and not to place ads on auto-generated pages or pages with little to no original content. This may include, but is not limited to:
copying portions of text content from other sources
websites dedicated to embedded videos from other hosts
websites with gibberish content that makes no sense or seems auto-generated
templated or pre-generated websites that provide duplicate content to users.
Sexual content
Google ads may not be placed on pages with adult or mature content. This includes, but is not limited to, pages with images or videos containing:
Strategically covered nudity
Sheer or see-through clothing
Lewd or provocative poses
Close-ups of breasts, buttocks, or crotches
Over the last five years I have received exactly ZERO complaints from other websites or authors about re-posting their articles, with full attribution and links, on my website. No one can accuse my site of not having unique and relevant content. I have permission to post articles from Zero Hedge, Charles Hugh Smith, Michael Snyder, Jim Kunstler, David Stockman, John Mauldin, Doug Casey, Paul Rosenberg, Fred Reed and dozens of other brilliant truthful journalists detailing our societal decay. Was there some Kate Upton bikini Gifs and provocative Salma Hayak pictures scattered within the 200,000 comments made on the site in the last five years? Guilty as charged. It seems Google reviewers can't see the hypocrisy of running ads to meet young bikini clad Asian girls, while disabling ads because there are a few bikini pictures on the website. I suspected my article had drawn the Eye of Sauron in my direction and this was the response.
Speaking truth to power during these perilous times has repercussions. But I decided to make a good faith effort to follow their rules.
I had made almost 15,000 posts over the last five years. Over the next week I scanned the site and archived posts that included articles from mainstream media websites, along with a hundred or so bikini pictures. You never deal with a human being when attempting to satisfy the Google Gestapo. Identical canned appeal denial responses are issued from Google Central with no clarification or effort to help you understand their reasoning.
Hello,
Thank you for providing us with additional information about your site. However, after thoroughly reviewing theburningplatform.com and taking your feedback into consideration, we're unable to re-enable ad serving to your site at this time, as your site appears to still be in violation.
When making changes, please note that the URL mentioned in your policy notification may be just one example and that the same violations may exist on other pages of your website. Appropriate changes must be made across your entire website before ad serving can be enabled on your site again.
If you'd like to have your site reconsidered for participation in the AdSense program, please review our program policies and make any necessary changes to your webpages.
We appreciate your cooperation.
Sincerely,
The Google AdSense Team
There must have been some miscommunication within the Google Gestapo, as the ads were re-enabled after one week and my third appeal. A newbie, who didn't get the memo, must have mistakenly activated my ads. Regular commenters and contributors were confused by what they could and couldn't post on the site, as was I. The iron fist of the Google Stasi came down once again within a week, with the identical policy violation notice. I made the assumption that since the site was declared in compliance as of January 29, I only had to address anything posted since that date.
I had purged the site of any and all risqué pictures, so I knew that wasn't a real issue. I thoroughly reviewed every post made since January 29 and archived or edited them to leave no doubt I was meeting Google's vague guidelines. I continued to have my appeals rejected. I then went back a year and archived hundreds of other posts. By the fourth appeal rejection, I realized I would never meet their standard because it wasn't really about violating Google content policies. It was my libertarian, anti-government, anti-Wall Street, anti-Mega-Corporation, anti-Surveillance State views that were the real issue. They were attempting to make me "not understand" or write about the creeping corporate fascist paradigm overtaking the country by making my Google salary dependent on "not understanding".
Once I understood this truth, I was set free to provoke and prod the nameless, faceless Google entity and prove beyond a shadow of a doubt their true purpose. Their appeal form allows 1,000 characters for your response. Along with the actions I had taken, I began to question the integrity of the Google apparatchik "reviewer", as it was clear the site was not in violation. I had archived over a thousand posts and tens of thousands of comments. I challenged the man behind the Google curtain to provide me with proof the site was still in violation. I must have struck a nerve, as out of the blue I received a new violation notice.
Violent or disturbing content
AdSense publishers are not permitted to place Google ads on pages with violent or disturbing content, including sites with gory text or images.
Now this was funny. My site focuses on the financial, political, and social decay of our country. It in no way advocates or promotes violence. It has no graphic images or gory videos. If Google is attempting to suppress videos of revolutions occurring in Venezuela, Ukraine, and Syria from being seen by citizens of the world, their credibility is zero. If Google is attempting to suppress videos of police brutality against citizens or the police state locking down an entire city while violating the Fourth Amendment, they prove themselves to be nothing more than a fascist propaganda tool of the State. This violation notice was laughable, but I decided to call their bluff one last time. I spent three days and archived 14,000 out of the 15,000 posts ever made on my site. All that remained were my main articles, published on dozens of other sites with Google ads active, and original content produced by myself or other approved contributors. There was no violent content, scraped content, or sexual content on my website.
My ninth and final appeal was denied. I then proceeded to write an FU Google post on my website and inform my readers and contributors they were unshackled from the Google Evil Empire of Censorship. I'm in the process of restoring all of the posts I had archived. Some might argue that Google is just exercising their rights under our free market capitalism system. I would argue free market capitalism does not exist today. The unholy alliance of big banks, big corporations, big military and big media has created a state run by the few for the benefit of the few. They use their control of the purse strings to manipulate minds, crush dissent, and censor through bullying and bribery.
Once I mentally liberated myself from their financial control, I was able to see their game. They essentially wanted me to purge the site of every anti-establishment example of free speech and First Amendment rights I had ever written, in order to kneel before the altar of $$$ in the Church of Google. Google would be perfectly fine if I converted my website into a chat-fest where I discussed the details of the upcoming Kim and Kanye wedding, pondered deep issues regarding the benefits of gay marriage, conducted polls on who The Bachelor will choose to be his betrothed this season,  mused about what Hollywood stars will wear at the Academy Awards, and debated who will win the fourteenth season of American Idol. The Google money would flow freely as I contributed to the dumbing down and sedation of the masses. I have chosen not be a Judas that sells out my readers and the American public for 30 pieces of fiat to the Google Pharisees and the American corporate fascist surveillance empire.
This was not the first time the Deep State attempted to silence my anarchistic viewpoint. On June 5 Edward Snowden, American hero and patriot, released the first of thousands of documents detailing the traitorous actions of the NSA, Obama, Congress, the Judicial branch, and the corporate media. Snowden revealed the government, in cooperation with Google, Verizon, Facebook and a myriad of other technology/media companies, was collecting metadata and conducting mass surveillance of every American in violation of the Fourth Amendment, a clearly illegal form of search and seizure.
On June 19 I penned an article titled Who Are the Real Traitors? In the article I declared Obama, James Clapper, Dick Cheney, Diane Feinstein, Peter King and a plethora of other politicians, faux journalists, and talking media heads as the real traitors of the American people. The article achieved wide distribution through my usual channels and must have again drawn attention in Mordor on the Potomac. Two days later anyone with McAfee or Norton security were receiving false warnings about a malicious virus on my site. Long time readers in the military informed me the site was now blocked by the Department of Defense as a dangerous website. Other long-time readers informed me their corporations were now blocking access to the site. The site was inundated by denial of service attacks. It slowed to a crawl and was virtually inaccessible. I'm sure it was just a coincidence.
I was forced to switch server companies and hire an anti-hacking company to protect the site, thereby increasing my cost to run the site by a factor of 10. Even though the companies I hired confirmed there were no malicious viruses on the site, Norton continued to scare Internet Explorer users from reading my site for the next eight months. How the $8 billion Symantec (owns Norton) entity could rationalize this false warning on only $80 billion Microsoft's Internet Explorer, seems suspicious to me. The warning would not appear if you accessed the site with Mozilla Firefox, even if you employed Norton security. Norton makes it virtually impossible to appeal their false danger rating. I'm sure thousands of people were scared away from my website by these unaccountable corporate entities, working on behalf of the all-powerful state. Lofgren's Deep State or Bernays' Invisible Government hate the truth. They despise anyone who attempts to open the eyes of the public to their deception, criminality, and propaganda.
Google has become a tool and partner of the Deep State. Enrichment of the state within the state is their sole purpose. Google's Don't Be Evil motto, originated when they were a fledgling company in 2000, has become a farce as they have descended into the netherworld as the information police for the ruling despots. They are now a humungous corporation with near monopoly control over the flow of information, searches, emails, and internet advertising. They know more about you and your habits than you do. They attempt to control freedom of speech at the point of a wire transfer. Fall into line or no advertising blood money for you. Not only do they suppress viewpoints through advertising revenue bullying, they manipulate their search engine results to hide the truth from the masses.  Google search engines filter, block and bury blog posts that contain content or information it deems incompatible with the message of its corporate fascist co-conspirators. Its oppressive corporate practices on behalf of its evil partners are an abridgment of the freedom of speech, perversion of the truth, and active attempt to mold the minds of the masses.
One of the most intelligent and cleverest contributors to my website, Nick (aka Stucky), summed up the evil entity known as Google in this pointed comment on my website:
There is an Entity out there who knows every search you ever made.
The Entity knows all about your emails, the content and address.
The Entity knows what you buy online and how often.
The Entity is developing software to predict what you will buy next.
The Entity can now even watch you, and know where you are, and what you are doing.
The Entity even knows your habits.
The Entity has enormous resources and stacks of cash.
The Entity shares your information with Lesser Entities … and also The Big Evil Entity that rules us all.
The Entity makes the NSA, CIA, FBI, DHS, and their ilk look like Lightweight Chumps.
The Entity hates you. You are just a means to an end.
The Entity is building a Profile all about you.
The Entity will soon know you better than you know yourself.
Welcome to Google, the most evil Entity on the planet.
As a society we have fallen asleep at the wheel. We've allowed ourselves to be lulled into complacency, distracted by minutia, mesmerized by technology, turned into consumers by corporations, pacified by financial gurus and Ivy League economists, and fearful of our own shadows. Surveillance, censorship and propaganda are the tools of the oppressive state. Free speech and truthful revelations about the Deep State are a danger in the eyes of our oppressors. Words retain power and can change the hearts and minds of a tyrannized citizenry willing to listen. V's speech to London in the movie V for Vendetta, with slight modification, captures the essence of how Google fits into the evil matrix we inhabit today.
Because while the truncheon may be used in lieu of conversation, words will always retain their power. Words offer the means to meaning and for those who will listen, the enunciation of truth. And the truth is, there is something terribly wrong with this country, isn't there?
Cruelty and injustice…intolerance and oppression. And where once you had the freedom to object, to think and speak as you saw fit, you now have censors and systems of surveillance, coercing your conformity and soliciting your submission. How did this happen? Who's to blame? Well certainly there are those who are more responsible than others, and they will be held accountable. But again, truth be told…if you're looking for the guilty, you need only look into a mirror.
I know why you did it. I know you were afraid. Who wouldn't be? War. Terror. Disease. There were a myriad of problems which conspired to corrupt your reason and rob you of your common sense. Fear got the best of you and in your panic you turned to the government and their banking/corporate patrons. They promised you order. They promised you peace. And all they demanded in return was your silent, obedient consent.
I choose not to silently and obediently consent to the will of the Deep State. Google will not silence me. We are in the midst of a Fourth Turning and I will try to do my small part in sweeping away the existing social order and trying to replace it with a system that honors and follows the U.S. Constitution. In Part 2 of this expose of evil, I'll provide further proof of Google's hypocrisy, censorship, and willing participation in spying on the American people. I'm beginning to understand the major conflict which will drive this Fourth Turning – The People vs The Corporate Fascist State.
WARNING: The National Security Agency is recording and storing this communication as part of its unlawful spying program on all Americans … and people worldwide. The people who created the NSA spying program say this communication – and any responses – can and will be used against the American people at any time in the future should unelected bureaucrats within the government decide to persecute us for political reasons. Private information in digital communications is being shared between Google, Facebook, Verizon and the government. It will be used against you when it suits their purposes.
Off the keyboard of Jim Quinn
Follow us on Twitter @doomstead666
Friend us on Facebook
Published on The Burning Platform on December 31, 2013
Discuss this article at the Kitchen Sink inside the Diner
In mid-January of this year I wrote my annual prediction article for 2013 – Apparitions in the Fog. It is again time to assess my inability to predict the future any better than a dart throwing monkey. As usual, sticking to facts was a mistake in a world fueled by misinformation, propaganda, delusion and wishful thinking. I was far too pessimistic about the near term implications of debt, civic decay and global disorder. Those in power have successfully held off the unavoidable collapse which will be brought about by their ravenous unbridled greed, and blatant disregard for the rule of law, the U.S. Constitution and rights and liberties of the American people. The day to day minutia, pointless drivel of our techno-narcissistic selfie showbiz society, and artificially created issues (gay marriage, Zimmerman-Martin, Baby North West, Duck Dynasty) designed to distract the public from thinking, are worthless trivialities in the broad landscape of human history.
The course of human history is determined by recurring cyclical themes based upon human frailties that have been perpetual through centuries of antiquity. The immense day to day noise of an inter-connected techno-world awash in inconsequentialities and manipulated by men of evil intent is designed to divert the attention of the masses from the criminal activities of those in power. It has always been so. There have always been arrogant, ambitious, greedy, power hungry, deceitful men, willing to take advantage of a fearful, lazy, ignorant, selfish, easily manipulated populace. The rhythms of history are unaffected by predictions of "experts" who are paid to spin yarns in order to sustain the status quo. There is no avoiding the consequences of actions taken and not taken over the last eighty years. We are in the midst of a twenty year period of Crisis that was launched in September 2008 with the worldwide financial collapse, created by the Federal Reserve, their Wall Street owners, their bought off Washington politicians, and their media and academic propaganda machines.
I still stand by the final paragraph of my 2013 missive, and despite the fact the establishment has been able to fend off the final collapse of their man made credit boom for longer than I anticipated, they have only insured a far worse outcome when the bubble bursts:
"So now I'm on the record for 2013 and I can be scorned and ridiculed for being such a pessimist when December rolls around and our Ponzi scheme economy hasn't collapsed. There is no disputing the facts. The economic situation is deteriorating for the average American, the mood of the country is darkening, and the world is awash in debt and turmoil. Every country is attempting to print their way to renewed prosperity. No one wins a race to the bottom. The oligarchs have chosen a path of currency debasement, propping up insolvent banks, propaganda and impoverishing the masses as their preferred course. They attempt to keep the masses distracted with political theater, gun control vitriol, reality TV and iGadgets. What can be said about a society where 10% of the population follows Justin Bieber and Lady Gaga on Twitter and where 50% think the National Debt is a monument in Washington D.C. The country is controlled by evil sycophants, intellectually dishonest toadies and blood sucking leeches. Their lies and deception have held sway for the last four years, but they have only delayed the final collapse of a boom brought about by credit expansion. They will not reverse course and believe their intellectual superiority will allow them to retain their control after the collapse."
The core elements of this Crisis have been visible since Strauss & Howe wrote The Fourth Turning in 1997. All the major events that transpire during this Crisis will be driven by one or more of these core elements – Debt, Civic Decay, and Global Disorder.
"In retrospect, the spark might seem as ominous as a financial crash, as ordinary as a national election, or as trivial as a Tea Party. The catalyst will unfold according to a basic Crisis dynamic that underlies all of these scenarios: An initial spark will trigger a chain reaction of unyielding responses and further emergencies. The core elements of these scenarios (debt, civic decay, global disorder) will matter more than the details, which the catalyst will juxtapose and connect in some unknowable way. If foreign societies are also entering a Fourth Turning, this could accelerate the chain reaction. At home and abroad, these events will reflect the tearing of the civic fabric at points of extreme vulnerability – problem areas where America will have neglected, denied, or delayed needed action." – The Fourth Turning – Strauss & Howe
My 2013 predictions were framed by these core elements. After re-reading my article for the first time in eleven months I've concluded it is lucky I don't charge for investment predictions. Many of my prognostications were in the ballpark, but I have continually underestimated the ability of central bankers and their Wall Street co-conspirators to use the $2.8 billion per day of QE to artificially elevate the stock market to bubble level proportions once again. If I wasn't such a trusting soul, I might conclude the .1% financial elite, who run this country, created QEternity to benefit themselves, their .1% corporate CEO accomplices and the corrupt government apparatchiks who shield their flagrant criminality from the righteous hand of justice.
Even a highly educated Ivy League economist might grasp the fact that Ben Bernanke's QEternity and ZIRP, sold to the unsuspecting masses as desperate measures during a crisis that could have brought the system down, have been kept in place for five years as a means to drive stock prices and home prices higher. The emergency was over by 2010, according to government reported data. The current monetary policy of the Federal Reserve would have been viewed as outrageous, reckless, and incomprehensible in 2007. It is truly a credit to the ruling elite and their media propaganda arm that they have been able to convince a majority of Americans their brazen felonious disregard for the wellbeing of the 99% is necessary to sustain the .1% way of life. Those palaces in the Hamptons aren't going to pay for themselves without those $100 billion of annual bonuses.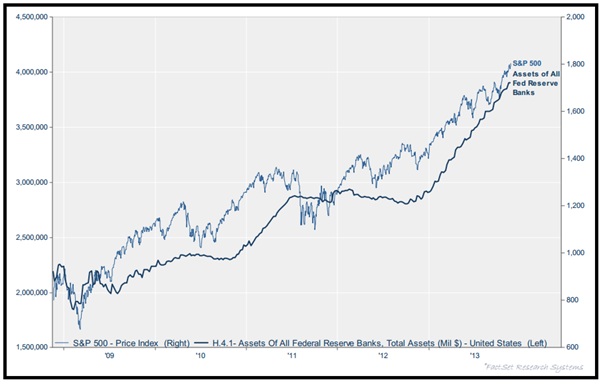 Do you think the 170% increase in the S&P 500 has been accidently correlated with the quadrupling of the Federal Reserve balance sheet or has Bernanke just done the bidding of his puppet masters? Considering the .1% billionaire clique owns the vast majority of stock in this corporate fascist paradise, is it really a surprise the trickle down canard would be the solution of choice from these sociopathic scoundrels? Of course QE and ZIRP have impacted the 80% who own virtually no stocks in a slightly different manner. Do you think the 100% increase in gasoline prices since 2009 was caused by Bernanke's QEternity?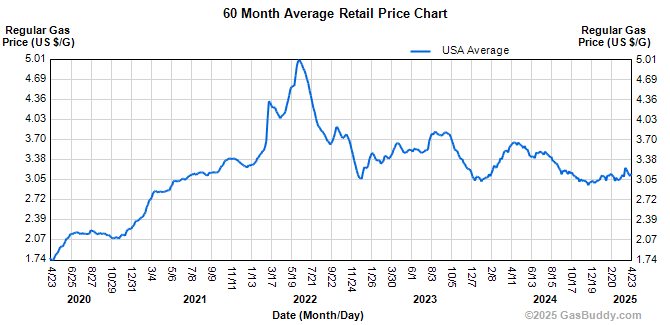 Do you think the 8% decline in real median household income since 2008 was caused by Bernanke's QE and ZIRP policies?
Do you think the $10.8 trillion stolen from grandmothers and risk adverse savers was caused by Bernanke's ZIRP?
Was the $860 billion increase in real GDP (5.8% over five years) worth the $8 trillion increase in the National Debt and $3 trillion increase in the Federal Reserve balance sheet? Was it moral, courageous and honorable of the Wall Street plantation owners to syphon the remaining wealth of the dying middle class peasants and leaving the millennial generation and future generations bound in chains of unfunded debt to the tune of $200 trillion?
My assessment regarding unpredictable events lurking in the fog was borne out by what happened that NO ONE predicted, including: the first resignation of a pope in six hundred years, the military coup of a democratically elected president of Egypt – supported by the democratically elected U.S. president, the rise of an alternative currency – bitcoin, the bankruptcy of one of the largest cities in the U.S. – Detroit, a minor terrorist attack in Boston that freaked out the entire country and revealed the Nazi-like un-Constitutional tactics that will be used by the police state as this Crisis deepens, and revelations by a brilliant young patriot named Edward Snowden proving that the U.S. has been turned into an Orwellian surveillance state as every electronic communication of every American is being monitored and recorded. The Democrats and Republicans played their parts in this theater of the absurd. They proved to be two faces of the same Party as neither faction questions the droning of innocent people around the globe, mass spying on citizens, Wall Street criminality, trillion dollar deficits, a rogue Federal Reserve, or out of control unsustainable government spending.
My predictions for 2013 were divided into the three categories driving this Fourth Turning Crisis – Debt, Civic Decay, and Global Disorder. Let's assess my inaccuracy.
Debt
The debt ceiling will be raised as the toothless Republican Party vows to cut spending next time. The political hacks will create a 3,000 page document of triggers and create a committee to study the issue, with actual measures that slow the growth of annual spending by .000005% starting in 2017.
The government shutdown reality TV show proved to be the usual Washington D.C. kabuki theater. They gave a shutdown and no one noticed. It had zero impact on the economy. More people came to the realization that government does nothing except spend our money and push us around. The debt ceiling was raised, the sequester faux "cuts" were reversed and $20 billion of spending will be cut sometime in the distant future. Washington snakes are entirely predictable. I nailed this prediction.
The National Debt will increase by $1.25 trillion and debt to GDP will reach 106% by the end of the fiscal year.
The National Debt increased by ONLY $964 billion in the last fiscal year, even though the government stopped counting in May. The temporary sequester cuts, the expiration of the 2% payroll tax cut, the fake Fannie & Freddie paybacks to the U.S. Treasury based upon mark to fantasy accounting, and the automatic expiration of stimulus spending combined to keep the real deficit from reaching $1 trillion for the fifth straight year. Debt to GDP was 104%, before our beloved government drones decided to "adjust" GDP upwards by $500 billion based upon a new and improved formula, like Tide detergent. I missed this prediction by a smidgeon.
The Federal Reserve balance sheet will reach $4 trillion by the end of the year.
The Federal Reserve balance sheet stands at $4.075 trillion today. Ben is very predictable, and of course "transparent". This was an easy one.
Consumer debt will reach $2.9 trillion as the Feds accelerate student loans and Ally Financial, along with the other Too Big To Control Wall Street banks, keep pumping out subprime auto loans. By mid-year reported losses on student loans will soar and auto loan delinquencies will show an upturn. This will force a slowdown in consumer debt issuance, exacerbating the recession that started in 2012.
Consumer debt outstanding currently stands at $3.076 trillion despite the fact that credit card debt has been virtually flat. The Federal government has continued to dole out billions in loans to University of Phoenix wannabes and to the subprime urban entitlement armies who deserve to drive an Escalade despite having no job, no assets and a sub 650 credit score, through government owned Ally Financial. It helps drive business when you don't care about being repaid. Student loan delinquency rates are at an all-time high, as there are no jobs for graduates with tens of thousands in debt. Auto loan delinquencies have begun to rise despite the fact we are supposedly in a strongly recovering economy. The slowdown in debt issuance has not happened, as the Federal government is in complete control of the non-revolving loan segment. My prediction has proven to be accurate.
The Bakken oil miracle will prove to be nothing more than Wall Street shysters selling a storyline. Daily output will stall at 750,000 barrels per day and the dreams of imminent energy independence will be annihilated by reality, again. The price of oil will average $105 per barrel, as global tensions restrict supply.
Bakken production has reached 867,000 barrels per day as more and more wells have been drilled to offset the steep depletion rates of the existing wells. The average price per barrel has been $104, despite the frantic propaganda campaign about imminent American energy independence. Tell that to the average Joe filling their tank and paying the highest December gas price in history. My prediction was too pessimistic, but the Bakken miracle will be revealed as an over-hyped Wall Street scam in 2014.
The home price increases generated through inventory manipulation in 2012 will peter out as 2013 progresses. The market has been flooded by investors. There is very little real demand for new homes. Young households with heavy student loan debt and low paying jobs will continue to rent, since the oligarchs refused to let prices fall to a level that would spur real demand. Mortgage delinquencies will rise as job growth remains stagnant, leading to an increase in foreclosures. Rent prices will flatten as apartment construction and investors flood the market with supply.
Existing home sales peaked in the middle of 2013 and have been in decline as mortgage rates have jumped from 3.25% to 4.5% since February. New home sales remain stagnant, near record low levels. The median sales price for existing home sales peaked at $214,000 in June and has fallen for five consecutive months by a total of 8%. First time home buyers account for a record low of 28% of purchases, while investors account for a record high level of purchasers. Mortgage delinquencies fell for most of the year, but the chickens are beginning to come home to roost as delinquent mortgage loans rose from 6.28% in October to 6.45% in November. Rent increases slowed to below 3% as Blackrock and the other Wall Street shysters flood the market with their foreclosure rental properties. My housing prediction was accurate.
The disconnect between the stock market and the housing and employment markets will be rectified when the MSM can no longer deny the recession that began in 2012 and will deepen in the first part of 2013. While housing prices languish 30% below their peak levels of 2006, the stock market has prematurely ejaculated back to pre-crisis levels. Declining corporate profits, stagnant consumer spending, and increasing debt defaults will finally result in a 20% decline in the stock market, with a chance for losses greater than 30% if Japan or the EU begin to crumble.
And now we get to the prediction that makes me happy I don't charge people for investment advice. Facts don't matter in world of QE for the psychopathic titans of Wall Street and misery for the indebted peasants of Main Street. The government data drones, Ivy League educated Wall Street economists, and the obedient corporate media propaganda apparatus declare that GDP has grown by 2% over the last four quarters and we are not in a recession. If you believe their bogus inflation calculation then just ignore the collapsing retail sales, stagnant real wages, and rising gap between the uber-rich and the rest of us. Using a true measure of inflation reveals an economy in recession since 2004. Whose version matches the reality on the ground?
Corporate profits have leveled off at record highs as mark to fantasy accounting fraud, condoned and encouraged by the Federal Reserve, along with loan loss reserve depletion and $5 billion of risk free profits from parking deposits at the Fed have created a one-time peak. The record level of negative earnings warnings is the proverbial bell ringing at the top.
I only missed my stock market prediction by 50%, as the 30% rise was somewhat better than my 20% decline prediction. Bernanke's QEternity, Wall Street's high frequency trading supercomputers, record levels of margin debt, a dash of delusion, and a helping of clueless dupes have taken the stock market to another bubble high. My prediction makes me look like an idiot today. I'm OK with that, since I know facts and reality always prevail in the long-run. As John Hussman sagely points out, today's idiot will be tomorrow's beacon of truth:
"The problem with bubbles is that they force one to decide whether to look like an idiot before the peak, or an idiot after the peak. There's no calling the top, and most of the signals that have been most historically useful for that purpose have been blazing red since late-2011. My impression remains that the downside risks for the market have been deferred, not eliminated, and that they will be worse for the wait."
Japan is still a bug in search of a windshield. With a debt to GDP ratio of 230%, a population dying off, energy dependence escalating, trade surplus decreasing, an already failed Prime Minister vowing to increase inflation, and rising tensions with China, Japan is a primary candidate to be the first domino to fall in the game of debt chicken. A 2% increase in interest rates would destroy the Japanese economic system.
Abenomics has done nothing for the average Japanese citizen, but it has done wonders for the ruling class who own all the stocks. Abe has implemented monetary policies that make Bernanke get a hard on. Japanese economic growth remains mired at 1.1%, wages remain stagnant, and their debt to GDP ratio remains above 230%, but at least he has driven their currency down 20% versus the USD and crushed the common person with 9% energy inflation. None of this matters, because the .1% have benefitted from a 56% increase in the Japanese stock market. My prediction was wrong. The windshield is further down the road, but it is approaching at 100 mph.
The EU has temporarily delayed the endgame for their failed experiment. Economic conditions in Greece, Spain and Italy worsen by the day with unemployment reaching dangerous revolutionary levels. Pretending countries will pay each other with newly created debt will not solve a debt crisis. They don't have a liquidity problem. They have a solvency problem. The only people who have been saved by the actions taken so far are bankers and politicians. I believe the crisis will reignite, with interest rates spiking in Spain, Italy and France. The Germans will get fed up with the rest of Europe and the EU will begin to disintegrate.
This was another complete miss on my part. Economic conditions have not improved in Europe. Unemployment remains at record levels. EU GDP is barely above 0%. Debt levels continue to rise. Central bank bond buying has propped up this teetering edifice of ineptitude and interest rates in Spain, Italy and France have fallen to ridiculously low levels of 4%, considering they are completely insolvent with no possibility for escape. The disintegration of the EU will have to wait for another day.
Civic Decay
Progressive's attempt to distract the masses from our worsening economic situation with their assault on the 2nd Amendment will fail. Congress will pass no new restrictions on gun ownership and 2013 will see the highest level of gun sales in history.
Obama and his gun grabbing sycophants attempted to use the Newtown massacre as the lever to overturn the 2nd Amendment. The liberal media went into full shriek mode, but the citizens again prevailed and no Federal legislation restricting the 2nd Amendment passed. Gun sales in 2013 will set an all-time record. With the Orwellian surveillance state growing by the day, arming yourself is the rational thing to do. I nailed this prediction.
The deepening recession, higher taxes on small businesses and middle class, along with Obamacare mandates will lead to rising unemployment and rising anger with the failed economic policies of the last four years. Protests and rallies will begin to burgeon.
The little people are experiencing a recession. The little people bore the brunt of the 2% payroll tax increase. The little people are bearing the burden of the Obamacare insurance premium increases. The number of employed Americans has increased by 1 million in the last year, a whole .4% of the working age population. The number of Americans who have willingly left the labor force in the last year because their lives are so fulfilled totaled 2.5 million, leaving the labor participation rate at a 35 year low. The anger among the former middle class is simmering below the surface, as Bernanke's policies further impoverish the multitudes. Mass protests have not materialized but the Washington Navy yard shooting, dental hygenist murdered by DC police for ramming a White House barrier, and self- immolation of veteran John Constantino on the National Mall were all individual acts of desperation against the establishment.
The number of people on food stamps will reach 50 million and the number of people on SSDI will reach 11 million. Jamie Dimon, Lloyd Blankfein, and Jeff Immelt will compensate themselves to the tune of $100 million. CNBC will proclaim an economic recovery based on these facts.
The number of people on food stamps appears to have peaked just below 48 million, as the expiration of stimulus spending will probably keep the program from reaching 50 million. As of November there were 10.98 million people in the SSDI program. The top eight Wall Street banks have set aside a modest $91 billion for 2013 bonuses. The cost of providing food stamps for 48 million Americans totaled $76 billion. CNBC is thrilled with the record level of bonuses for the noble Wall Street capitalists, while scorning the lazy laid-off middle class workers whose jobs were shipped to China by the corporations whose profits are at all-time highs and stock price soars. Isn't crony capitalism grand?
The drought will continue in 2013 resulting in higher food prices, ethanol prices, and shipping costs, as transporting goods on the Mississippi River will become further restricted. The misery index for the average American family will reach new highs.
The drought conditions in the U.S. Midwest have been relieved. Ethanol prices have been flat. Beef prices have risen by 10% since May due to the drought impact from 2012, but overall food price increases have been moderate. The misery index (unemployment rate + inflation rate) has supposedly fallen, based on government manipulated data. I whiffed on this prediction.
There will be assassination attempts on political and business leaders as retribution for their actions during and after the financial crisis.
There have been no assassination attempts on those responsible for our downward financial spiral. The anger has been turned inward as suicides have increased by 30% due to the unbearable economic circumstances brought on by the illegal financial machinations of the Wall Street criminal banks. Obama and Dick Cheney must be thrilled that more military personnel died by suicide in 2013 than on the battlefield. Mission Accomplished. The retribution dealt to bankers and politicians will come after the next collapse. For now, my prediction was premature.
The revelation of more fraud in the financial sector will result in an outcry from the public for justice. Prosecutions will be pursued by State's attorney generals, as Holder has been captured by Wall Street.
Holder and the U.S. government remain fully captured by Wall Street. The states have proven to be toothless in their efforts to enforce the law against Wall Street. The continuing revelations of Wall Street fraud and billions in fines paid by JP Morgan and the other Too Big To Trust banks have been glossed over by the captured mainstream media. As long as EBT cards, Visas and Mastercards continue to function, there will be no outrage from the techno-narcissistic, debt addicted, math challenged, wilfully ignorant masses. Another wishful thinking wrong prediction on my part.
The deepening pension crisis in the states will lead to more state worker layoffs and more confrontation between governors attempting to balance budgets and government worker unions. There will be more municipal bankruptcies.
Using a still optimistic discount rate of 5%, the unfunded pension liability of states and municipalities totals $3 trillion. The taxpayers don't have enough cheese left for the government rats to steal. The crisis deepens by the second. State and municipal budgets require larger pension payments every year. The tax base is stagnant or declining. States must balance their budgets. They will continue to cut existing workers to pay the legacy costs until they all experience their Detroit moment. With the Detroit bankruptcy, I'll take credit for getting this prediction right.
The gun issue will further enflame talk of state secession. The red state/blue state divide will grow ever wider. The MSM will aggravate the divisions with vitriolic propaganda.
With the revelations of Federal government spying, military training exercises in cities across the country, the blatant disregard for the 4th Amendment during the shutdown of Boston, and un-Constitutional mandates of Obamacare, there has been a tremendous increase in chatter about secession. A google search gets over 200,000 hits in the last year. The divide between red states and blue states has never been wider.
The government will accelerate their surveillance efforts and renew their attempt to monitor, control, and censor the internet. This will result in increased cyber-attacks on government and corporate computer networks in retaliation.
If anything I dramatically underestimated the lengths to which the United States government would go in their illegal surveillance of the American people and foreign leaders. Edward Snowden exposed the grandest government criminal conspiracy in history as the world found out the NSA, with the full knowledge of the president and Congress, has been conspiring with major communications and internet companies to monitor and record every electronic communication on earth, in clear violation of the 4th Amendment. Government apparatchiks like James Clapper have blatantly lied to Congress about their spying activities. The lawlessness with which the government is now operating has led to anarchist computer hackers conducting cyber-attacks on government and corporate networks. The recent hacking of the Target credit card system will have devastating implications to their already waning business. I'll take credit for an accurate prediction on this one.
Global Disorder 
With new leadership in Japan and China, neither will want to lose face, so early in their new terms. Neither side will back down in their ongoing conflict over islands in the East China Sea. China will shoot down a Japanese aircraft and trade between the countries will halt, leading to further downturns in both of their economies.
The Japanese/Chinese dispute over the Diaoyu/Senkaku islands has blown hot and cold throughout the year. In the past month the vitriol has grown intense. China has scrambled fighter jets over the disputed islands. The recent visit of Abe to a World War II shrine honoring war criminals has enraged the Chinese. Trade between the countries has declined. An aircraft has not been shot down, but an American warship almost collided with a Chinese warship near the islands, since our empire must stick their nose into every worldwide dispute. We are one miscalculation away from a shooting war. It hasn't happened yet, so my prediction was wrong.
Worker protests over slave labor conditions in Chinese factories will increase as food price increases hit home on peasants that spend 70% of their pay for food. The new regime will crackdown with brutal measures, but the protests will grow increasingly violent. The economic data showing growth will be discredited by what is happening on the ground. China will come in for a real hard landing. Maybe they can hide the billions of bad debt in some of their vacant cities.
The number of worker protests over low pay and working conditions in China doubled over the previous year, but censorship of reporting has kept these facts under wraps. In a dictatorship, the crackdown on these protests goes unreported. The fraudulent economic data issued by the government has been proven false by independent analysts. The Chinese stock market has fallen 14%, reflecting the true economic situation. The Chinese property bubble is in the process of popping. China will never officially report a hard landing. China is the most corrupt nation on earth and is rotting from the inside, like their vacant malls and cities. China's economy is like an Asiana Airlines Boeing 777 coming in for a landing at SF International.
Violence and turmoil in Greece will spread to Spain during the early part of the year, with protests and anger spreading to Italy and France later in the year. The EU public relations campaign, built on sandcastles of debt in the sky and false promises of corrupt politicians, will falter by mid-year. Interest rates will begin to spike and the endgame will commence. Greece will depart the EU, with Spain not far behind. The unraveling of debt will plunge all of Europe into depression.
Violent protests flared in Greece and Spain throughout the year. They did not spread to Italy and France. The central bankers and the puppet politicians have been able to contain the EU's debt insolvency through the issuance of more debt. What a great plan. The grand finale has been delayed into 2014. Greece remains on life support and still in the EU. The EU remains in recession, but the depression has been postponed for the time being. This prediction was a dud.
Iran will grow increasingly desperate as hyperinflation caused by U.S. economic sanctions provokes the leadership to lash out at its neighbors and unleash cyber-attacks on Saudi Arabian oil facilities and U.S. corporations. Israel will use the rising tensions as the impetus to finally attack Iranian nuclear facilities. The U.S. will support the attack and Iran will launch missiles at Saudi Arabia and Israel in retaliation. The price of oil will spike above $125 per barrel, further deepening the worldwide recession.
Iran was experiencing hyperinflationary conditions early in the year, but since the election of the new president the economy has stabilized. Iran has conducted cyber-attacks against Saudi Arabian gas companies and the U.S. Navy during 2013. Israel and Saudi Arabia have failed in their efforts to lure Iran into a shooting war. Obama has opened dialogue with the new president to the chagrin of Israel. War has been put off and the negative economic impacts of surging oil prices have been forestalled. I missed on this prediction.
Syrian President Assad will be ousted and executed by rebels. Syria will fall under the control of Islamic rebels, who will not be friendly to the United States or Israel. Russia will stir up discontent in retaliation for the ouster of their ally.
Assad has proven to be much tougher than anyone expected. The trumped up charges of gassing rebel forces, created by the Saudis who want a gas pipeline through Syria, was not enough to convince the American people to allow our president to invade another sovereign country. Putin and Russia won this battle. America's stature in the eyes of the world was reduced further. America continues to support Al Qaeda rebels in Syria, while fighting them in Afghanistan. The hypocrisy is palpable. Another miss.
Egypt and Libya will increasingly become Islamic states and will further descend into civil war.
The first democratically elected president of Egypt, Mohammed Morsi, was overthrown in a military coup as the country has descended into a civil war between the military forces and Islamic forces. It should be noted that the U.S. supported the overthrow of a democratically elected leader. Libya is a failed state with Islamic factions vying for power and on the verge of a 2nd civil war. Oil production has collapsed. I'll take credit for an accurate prediction on this one.
The further depletion of the Cantarell oil field will destroy the Mexican economy as it becomes a net energy importer. The drug violence will increase and more illegal immigrants will pour into the U.S. The U.S. will station military troops along the border.
Mexican oil production fell for the ninth consecutive year in 2013. It has fallen 25% since 2004 to the lowest level since 1995. Energy exports still slightly outweigh imports, but the trend is irreversible. Mexico is under siege by the drug cartels. The violence increases by the day. After declining from 2007 through 2009, illegal immigration from Mexico has been on the rise. Troops have not been stationed on the border as Obama and his liberal army encourages illegal immigration in their desire for an increase in Democratic voters. This prediction was mostly correct.
Cyber-attacks by China and Iran on government and corporate computer networks will grow increasingly frequent. One or more of these attacks will threaten nuclear power plants, our electrical grid, or the Pentagon.
China and Iran have been utilizing cyber-attacks on the U.S. military and government agencies as a response to NSA spying and U.S. sabotaging of Iranian nuclear facilities. Experts are issuing warnings regarding the susceptibility of U.S. nuclear facilities to cyber-attack. If a serious breach has occurred, the U.S. government wouldn't be publicizing it. Again, this prediction was accurate.
I achieved about a 50% accuracy rate on my 2013 predictions. These minor distractions are meaningless in the broad spectrum of history and the inevitability of the current Fourth Turning sweeping away the existing social order in a whirlwind of chaos, violence, financial collapse and ultimately a decisive war. The exact timing and exact events which will precipitate the demise of the establishment are unknowable with any precision, but there is no escape from the inexorable march of history. While most people get lost in the minutia of day to day existence and supposed Ivy League thought leaders are consumed with their own reputations and wealth, apparent stability will morph into terrifying volatility in an instant. The normalcy bias being practiced by an entire country will be shattered in a reality storm of consequences. The Crisis will continue to be driven by the ever growing debt levels, civic decay caused by government overreach, and global disorder driven by resource shortages and religious zealotry. The ultimate outcome is unpredictable, but the choices we make will matter. History is about to fling us towards a vast chaos.
"The seasons of time offer no guarantees. For modern societies, no less than for all forms of life, transformative change is discontinuous. For what seems an eternity, history goes nowhere – and then it suddenly flings us forward across some vast chaos that defies any mortal effort to plan our way there. The Fourth Turning will try our souls – and the saecular rhythm tells us that much will depend on how we face up to that trial. The saeculum does not reveal whether the story will have a happy ending, but it does tell us how and when our choices will make a difference."  – Strauss & Howe – The Fourth Turning