From the Keyboard of William Blum
Follow us on Twitter @doomstead666
Friend us on Facebook
Published originally in The Anti-Empire Report May 9, 2014
"The Russians are coming … again … and they're still ten feet tall!"
So, what do we have here? In Libya, in Syria, and elsewhere the United States has been on the same side as the al-Qaeda types. But not in Ukraine. That's the good news. The bad news is that in Ukraine the United States is on the same side as the neo-Nazi types, who – taking time off from parading around with their swastika-like symbols and calling for the death of Jews, Russians and Communists – on May 2 burned down a trade-union building in Odessa, killing scores of people and sending hundreds to hospital; many of the victims were beaten or shot when they tried to flee the flames and smoke; ambulances were blocked from reaching the wounded. Try and find an American mainstream media entity that has made a serious attempt to capture the horror.
And how did this latest example of American foreign-policy exceptionalism come to be? One starting point that can be considered is what former Secretary of Defense and CIA Director Robert Gates says in his recently published memoir: "When the Soviet Union was collapsing in late 1991, [Defense Secretary Dick Cheney] wanted to see the dismemberment not only of the Soviet Union and the Russian empire but of Russia itself, so it could never again be a threat to the rest of the world." That can serve as an early marker for the new cold war while the corpse of the old one was still warm. Soon thereafter, NATO began to surround Russia with military bases, missile sites, and NATO members, while yearning for perhaps the most important part needed to complete the circle – Ukraine.
In February of this year, US State Department officials, undiplomatically, joined anti-government protesters in the capital city of Kiev, handing out encouragement and food, from which emanated the infamous leaked audio tape between the US ambassador to Ukraine, Geoffrey Pyatt, and the State Department's Victoria Nuland, former US ambassador to NATO and former State Department spokesperson for Hillary Clinton. Their conversation dealt with who should be running the new Ukraine government after the government of Viktor Yanukovich was overthrown; their most favored for this position being one Arseniy Yatsenuk.
My dear, and recently departed, Washington friend, John Judge, liked to say that if you want to call him a "conspiracy theorist" you have to call others "coincidence theorists". Thus it was by the most remarkable of coincidences that Arseniy Yatsenuk did indeed become the new prime minister. He could very soon be found in private meetings and public press conferences with the president of the United States and the Secretary-General of NATO, as well as meeting with the soon-to-be new owners of Ukraine, the World Bank and the International Monetary Fund, preparing to impose their standard financial shock therapy. The current protestors in Ukraine don't need PHDs in economics to know what this portends. They know about the impoverishment of Greece, Spain, et al. They also despise the new regime for its overthrow of their democratically-elected government, whatever its shortcomings. But the American media obscures these motivations by almost always referring to them simply as "pro-Russian".
An exception, albeit rather unemphasized, was the April 17 Washington Post which reported from Donetsk that many of the eastern Ukrainians whom the author interviewed said the unrest in their region was driven by fear of "economic hardship" and the IMF austerity plan that will make their lives even harder: "At a most dangerous and delicate time, just as it battles Moscow for hearts and minds across the east, the pro-Western government is set to initiate a shock therapy of economic measures to meet the demands of an emergency bailout from the International Monetary Fund."
Arseniy Yatsenuk, it should be noted, has something called the Arseniy Yatsenuk Foundation. If you go to the foundation's website you will see the logos of the foundation's "partners". Among these partners we find NATO, the National Endowment for Democracy, the US State Department, Chatham House (Royal Institute of International Affairs in the UK), the German Marshall Fund (a think tank founded by the German government in honor of the US Marshall Plan), as well as a couple of international banks. Is any comment needed?
Getting away with supporting al-Qaeda and Nazi types may be giving US officials the idea that they can say or do anything they want in their foreign policy. In a May 2 press conference, President Obama, referring to Ukraine and the NATO Treaty, said: "We're united in our unwavering Article 5 commitment to the security of our NATO allies". (Article 5 states: "The Parties agree that an armed attack against one or more of them … shall be considered an attack against them all.") Did the president forget that Ukraine is not (yet) a member of NATO? And in the same press conference, the president referred to the "duly elected government in Kyiv (Kiev)", when in fact it had come to power via a coup and then proceeded to establish a new regime in which the vice-premier, minister of defense, minister of agriculture, and minister of environment, all belonged to far-right neo-Nazi parties.
The pure awfulness of the Ukrainian right-wingers can scarcely be exaggerated. In early March, the leader of Pravy Sektor (Right Sector) called upon his comrades, the infamous Chechnyan terrorists, to carry out further terrorist actions in Russia.
There may be one important difference between the old Cold War and the new one. The American people, as well as the world, can not be as easily brainwashed as they were during the earlier period.
Over the course of a decade, in doing the research for my first books and articles on US foreign policy, one of the oddities to me of the Cold War was how often the Soviet Union seemed to know what the United States was really up to, even if the American people didn't. Every once in a while in the 1950s to 70s a careful reader would notice a two- or three-inch story in the New York Times on the bottom of some distant inside page, reporting that Pravda or Izvestia had claimed that a recent coup or political assassination in Africa or Asia or Latin America had been the work of the CIA; the Times might add that a US State Department official had labeled the story as "absurd". And that was that; no further details were provided; and none were needed, for how many American readers gave it a second thought? It was just more commie propaganda. Who did they think they were fooling? This ignorance/complicity on the part of the mainstream media allowed the United States to get away with all manner of international crimes and mischief.
It was only in the 1980s when I began to do the serious research that resulted in my first book, which later became Killing Hope, that I was able to fill in the details and realize that the United States had indeed masterminded that particular coup or assassination, and many other coups and assassinations, not to mention countless bombings, chemical and biological warfare, perversion of elections, drug dealings, kidnapings, and much more that had not appeared in the American mainstream media or schoolbooks. (And a significant portion of which was apparently unknown to the Soviets as well.)
But there have been countless revelations about US crimes in the past two decades. Many Americans and much of the rest of the planet have become educated. They're much more skeptical of American proclamations and the fawning media.
President Obama recently declared: "The strong condemnation that it's received from around the world indicates the degree to which Russia is on the wrong side of history on this." Marvelous … coming from the man who partners with jihadists and Nazis and has waged war against seven nations. In the past half century is there any country whose foreign policy has received more bitter condemnation than the United States? If the United States is not on the wrong side of history, it may be only in the history books published by the United States.
Barack Obama, like virtually all Americans, likely believes that the Soviet Union, with perhaps the sole exception of the Second World War, was consistently on the wrong side of history in its foreign policy as well as at home. Yet, in a survey conducted by an independent Russian polling center this past January, and reported in the Washington Post in April, 86 percent of respondents older than 55 expressed regret for the Soviet Union's collapse; 37 percent of those aged 25 to 39 did so. (Similar poll results have been reported regularly since the demise of the Soviet Union. This is from USA Today in 1999: "When the Berlin Wall crumbled, East Germans imagined a life of freedom where consumer goods were abundant and hardships would fade. Ten years later, a remarkable 51% say they were happier with communism.")
Or as the new Russian proverb put it: "Everything the Communists said about Communism was a lie, but everything they said about capitalism turned out to be the truth."
A week before the above Post report in April the newspaper printed an article about happiness around the world, which contains the following charming lines: "Worldwide polls show that life seems better to older people – except in Russia." … "Essentially, life under President Vladimir Putin is one continuous downward spiral into despair." … "What's going on in Russia is deep unhappiness." … "In Russia, the only thing to look forward to is death's sweet embrace."
No, I don't think it was meant to be any kind of satire. It appears to be a scientific study, complete with graphs, but it reads like something straight out of the 1950s.
The views Americans hold of themselves and other societies are not necessarily more distorted than the views found amongst people elsewhere in the world, but the Americans' distortion can lead to much more harm. Most Americans and members of Congress have convinced themselves that the US/NATO encirclement of Russia is benign – we are, after all, the Good Guys – and they don't understand why Russia can't see this.
The first Cold War, from Washington's point of view, was often designated as one of "containment", referring to the US policy of preventing the spread of communism around the world, trying to block the very idea of communism or socialism. There's still some leftover from that – see Venezuela and Cuba, for example – but the new Cold War can be seen more in terms of a military strategy. Washington thinks in terms of who could pose a barrier to the ever-expanding empire adding to its bases and other military necessities.
Whatever the rationale, it's imperative that the United States suppress any lingering desire to bring Ukraine (and Georgia) into the NATO alliance. Nothing is more likely to bring large numbers of Russian boots onto the Ukrainian ground than the idea that Washington wants to have NATO troops right on the Russian border and in spitting distance of the country's historic Black Sea naval base in Crimea.
The myth of Soviet expansionism
One still comes across references in the mainstream media to Russian "expansionism" and "the Soviet empire", in addition to that old favorite "the evil empire". These terms stem largely from erstwhile Soviet control of Eastern European states. But was the creation of these satellites following World War II an act of imperialism or expansionism? Or did the decisive impetus lie elsewhere?
Within the space of less than 25 years, Western powers had invaded Russia three times – the two world wars and the "Intervention" of 1918-20 – inflicting some 40 million casualties in the two wars alone. To carry out these invasions, the West had used Eastern Europe as a highway. Should it be any cause for wonder that after World War II the Soviets wanted to close this highway down? In almost any other context, Americans would have no problem in seeing this as an act of self defense. But in the context of the Cold War such thinking could not find a home in mainstream discourse.
The Baltic states of the Soviet Union – Estonia, Latvia, and Lithuania – were not part of the highway and were frequently in the news because of their demands for more autonomy from Moscow, a story "natural" for the American media. These articles invariably reminded the reader that the "once independent" Baltic states were invaded in 1939 by the Soviet Union, incorporated as republics of the USSR, and had been "occupied" ever since. Another case of brutal Russian imperialism. Period. History etched in stone.
The three countries, it happens, were part of the Russian empire from 1721 up to the Russian Revolution of 1917, in the midst of World War I. When the war ended in November 1918, and the Germans had been defeated, the victorious Allied nations (US, Great Britain, France, et al.) permitted/encouraged the German forces to remain in the Baltics for a full year to crush the spread of Bolshevism there; this, with ample military assistance from the Allied nations. In each of the three republics, the Germans installed collaborators in power who declared their independence from the new Bolshevik state which, by this time, was so devastated by the World War, the revolution, and the civil war prolonged by the Allies' intervention, that it had no choice but to accept the fait accompli. The rest of the fledgling Soviet Union had to be saved.
To at least win some propaganda points from this unfortunate state of affairs, the Soviets announced that they were relinquishing the Baltic republics "voluntarily" in line with their principles of anti-imperialism and self-determination. But is should not be surprising that the Soviets continued to regard the Baltics as a rightful part of their nation or that they waited until they were powerful enough to reclaim the territory.
Then we had Afghanistan. Surely this was an imperialist grab. But the Soviet Union had lived next door to Afghanistan for more than 60 years without gobbling it up. And when the Russians invaded in 1979, the key motivation was the United States involvement in a movement, largely Islamic, to topple the Afghan government, which was friendly to Moscow. The Soviets could not have been expected to tolerate a pro-US, anti-communist government on its border any more than the United States could have been expected to tolerate a pro-Soviet, communist government in Mexico.
Moreover, if the rebel movement took power it likely would have set up a fundamentalist Islamic government, which would have been in a position to proselytize the numerous Muslims in the Soviet border republics.
Notes
See RT.com (formerly Russia Today) for many stories, images and videos
Robert Gates, Duty (2014), p.97
If this site has gone missing again, a saved version can be found here.
Voice of Russia radio station, Moscow, April 18, 2014; also see Answer Coalition, "Who's who in Ukraine's new [semi-fascist] government", March 11, 2014
RT.com, news report March 5, 2014
CBS News, March 3, 2014
Washington Post, April 11, 2014
USA Today (Virginia), Oct. 11, 1999, page 1
Washington Post print edition, April 2, 2014; online here
Any part of this report may be disseminated without permission, provided attribution to William Blum as author and a link to this website are given.
William Blum is an author, historian, and renowned critic of U.S. foreign policy. He is the author of Killing Hope: U.S. Military and CIA Interventions Since World War II and Rogue State: A Guide to the World's Only Superpower, among others.
Any part of this report may be disseminated without permission, provided attribution to William Blum as author and a link to this website are given.
From the keyboard of William Blum
Published  in The Anti-Empire Report, June 26th, 2013
Discuss this article at the Epicurean Delights Smorgasbord inside the Diner

The Anti-Empire Report #118
Edward Snowden
In the course of his professional life in the world of national security Edward Snowden must have gone through numerous probing interviews, lie detector examinations, and exceedingly detailed background checks, as well as filling out endless forms carefully designed to catch any kind of falsehood or inconsistency. The Washington Post (June 10) reported that "several officials said the CIA will now undoubtedly begin reviewing the process by which Snowden may have been hired, seeking to determine whether there were any missed signs that he might one day betray national secrets."
Yes, there was a sign they missed – Edward Snowden had something inside him shaped like a conscience, just waiting for a cause.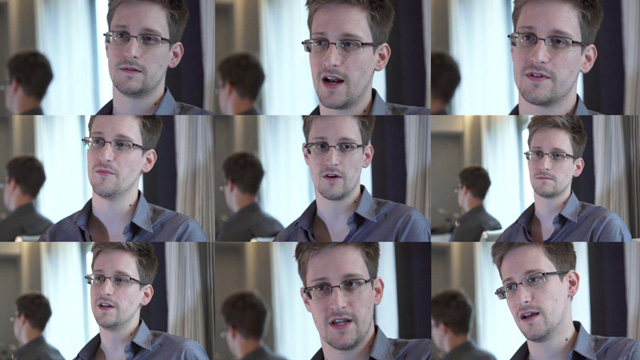 It was the same with me. I went to work at the State Department, planning to become a Foreign Service Officer, with the best – the most patriotic – of intentions, going to do my best to slay the beast of the International Communist Conspiracy. But then the horror, on a daily basis, of what the United States was doing to the people of Vietnam was brought home to me in every form of media; it was making me sick at heart. My conscience had found its cause, and nothing that I could have been asked in a pre-employment interview would have alerted my interrogators of the possible danger I posed because I didn't know of the danger myself. No questioning of my friends and relatives could have turned up the slightest hint of the radical anti-war activist I was to become. My friends and relatives were to be as surprised as I was to be. There was simply no way for the State Department security office to know that I should not be hired and given a Secret Clearance. 1
So what is a poor National Security State to do? Well, they might consider behaving themselves. Stop doing all the terrible things that grieve people like me and Edward Snowden and Bradley Manning and so many others. Stop the bombings, the invasions, the endless wars, the torture, the sanctions, the overthrows, the support of dictatorships, the unmitigated support of Israel; stop all the things that make the United States so hated, that create all the anti-American terrorists, that compel the National Security State – in pure self defense – to spy on the entire world.
Eavesdropping on the planet
The above is the title of an essay that I wrote in 2000 that appeared as a chapter in my book Rogue State: A Guide to the World's Only Superpower. Here are some excerpts that may help to put the current revelations surrounding Edward Snowden into perspective …
Can people in the 21st century imagine a greater invasion of privacy on all of earth, in all of history? If so, they merely have to wait for technology to catch up with their imagination.
Like a mammoth vacuum cleaner in the sky, the National Security Agency (NSA) sucks it all up: home phone, office phone, cellular phone, email, fax, telex … satellite transmissions, fiber-optic communications traffic, microwave links … voice, text, images … captured by satellites continuously orbiting the earth, then processed by high-powered computers … if it runs on electromagnetic energy, NSA is there, with high high tech. Twenty-four hours a day. Perhaps billions of messages sucked up each day. No one escapes. Not presidents, prime ministers, the UN Secretary-General, the pope, the Queen of England, embassies, transnational corporation CEOs, friend, foe, your Aunt Lena … if God has a phone, it's being monitored … maybe your dog isn't being tapped. The oceans will not protect you. American submarines have been attaching tapping pods to deep underwater cables for decades.
Under a system codenamed ECHELON, launched in the 1970s, the NSA and its junior partners in Britain, Australia, New Zealand, and Canada operate a network of massive, highly automated interception stations, covering the globe amongst them. Any of the partners can ask any of the others to intercept its own domestic communications. It can then truthfully say it does not spy on its own citizens.
Apart from specifically-targeted individuals and institutions, the ECHELON system works by indiscriminately intercepting huge quantities of communications and using computers to identify and extract messages of interest from the mass of unwanted ones. Every intercepted message – all the embassy cables, the business deals, the sex talk, the birthday greetings – is searched for keywords, which could be anything the searchers think might be of interest. All it takes to flag a communication is for one of the parties to use a couple or so of the key words in the ECHELON "dictionary" – "He lives in a lovely old white house on Bush Street, right near me. I can shoot over there in two minutes." Within limitations, computers can "listen" to telephone calls and recognize when keywords are spoken. Those calls are extracted and recorded separately, to be listened to in full by humans. The list of specific targets at any given time is undoubtedly wide ranging, at one point including the likes of Amnesty International and Christian Aid.
ECHELON is carried out without official acknowledgment of its existence, let alone any democratic oversight or public or legislative debate as to whether it serves a decent purpose. The extensiveness of the ECHELON global network is a product of decades of intense Cold War activity. Yet with the end of the Cold War, its budget – far from being greatly reduced – was increased, and the network has grown in both power and reach; yet another piece of evidence that the Cold War was not a battle against something called "the international communist conspiracy".
The European Parliament in the late 1990s began to wake up to this intrusion into the continent's affairs. The parliament's Civil Liberties Committee commissioned a report, which appeared in 1998 and recommended a variety of measures for dealing with the increasing power of the technologies of surveillance. It bluntly advised: "The European Parliament should reject proposals from the United States for making private messages via the global communications network [Internet] accessible to US intelligence agencies." The report denounced Britain's role as a double-agent, spying on its own European partners.
Despite these concerns the US has continued to expand ECHELON surveillance in Europe, partly because of heightened interest in commercial espionage – to uncover industrial information that would provide American corporations with an advantage over foreign rivals.
German security experts discovered several years ago that ECHELON was engaged in heavy commercial spying in Europe. Victims included such German firms as the wind generator manufacturer Enercon. In 1998, Enercon developed what it thought was a secret invention, enabling it to generate electricity from wind power at a far cheaper rate than before. However, when the company tried to market its invention in the United States, it was confronted by its American rival, Kenetech, which announced that it had already patented a near-identical development. Kenetech then brought a court order against Enercon to ban the sale of its equipment in the US. In a rare public disclosure, an NSA employee, who refused to be named, agreed to appear in silhouette on German television to reveal how he had stolen Enercon's secrets by tapping the telephone and computer link lines that ran between Enercon's research laboratory and its production unit some 12 miles away. Detailed plans of the company's invention were then passed on to Kenetech.
In 1994, Thomson S.A., located in Paris, and Airbus Industrie, based in Blagnac Cedex, France, also lost lucrative contracts, snatched away by American rivals aided by information covertly collected by NSA and CIA. The same agencies also eavesdropped on Japanese representatives during negotiations with the United States in 1995 over auto parts trade.
German industry has complained that it is in a particularly vulnerable position because the government forbids its security services from conducting similar industrial espionage. "German politicians still support the rather naive idea that political allies should not spy on each other's businesses. The Americans and the British do not have such illusions," said journalist Udo Ulfkotte, a specialist in European industrial espionage, in 1999.
That same year, Germany demanded that the United States recall three CIA operatives for their activities in Germany involving economic espionage. The news report stated that the Germans "have long been suspicious of the eavesdropping capabilities of the enormous U.S. radar and communications complex at Bad Aibling, near Munich", which is in fact an NSA intercept station. "The Americans tell us it is used solely to monitor communications by potential enemies, but how can we be entirely sure that they are not picking up pieces of information that we think should remain completely secret?" asked a senior German official. Japanese officials most likely have been told a similar story by Washington about the more than a dozen signals intelligence bases which Japan has allowed to be located on its territory.
In their quest to gain access to more and more private information, the NSA, the FBI, and other components of the US national security establishment have been engaged for years in a campaign to require American telecommunications manufacturers and carriers to design their equipment and networks to optimize the authorities' wiretapping ability. Some industry insiders say they believe that some US machines approved for export contain NSA "back doors" (also called "trap doors").
The United States has been trying to persuade European Union countries as well to allow it "back-door" access to encryption programs, claiming that this was to serve the needs of law-enforcement agencies. However, a report released by the European Parliament in May 1999 asserted that Washington's plans for controlling encryption software in Europe had nothing to do with law enforcement and everything to do with US industrial espionage. The NSA has also dispatched FBI agents on break-in missions to snatch code books from foreign facilities in the United States, and CIA officers to recruit foreign communications clerks abroad and buy their code secrets, according to veteran intelligence officials.
For decades, beginning in the 1950s, the Swiss company Crypto AG sold the world's most sophisticated and secure encryption technology. The firm staked its reputation and the security concerns of its clients on its neutrality in the Cold War or any other war. The purchasing nations, some 120 of them – including prime US intelligence targets such as Iran, Iraq, Libya and Yugoslavia – confident that their communications were protected, sent messages from their capitals to their embassies, military missions, trade offices, and espionage dens around the world, via telex, radio, and fax. And all the while, because of a secret agreement between the company and NSA, these governments might as well have been hand delivering the messages to Washington, uncoded. For their Crypto AG machines had been rigged before being sold to them, so that when they used them the random encryption key could be automatically and clandestinely transmitted along with the enciphered message. NSA analysts could read the messages as easily as they could the morning newspaper.
In 1986, because of US public statements concerning the La Belle disco bombing in West Berlin, the Libyans began to suspect that something was rotten with Crypto AG's machines and switched to another Swiss firm, Gretag Data Systems AG. But it appears that NSA had that base covered as well. In 1992, after a series of suspicious circumstances over the previous few years, Iran came to a conclusion similar to Libya's, and arrested a Crypto AG employee who was in Iran on a business trip. He was eventually ransomed, but the incident became well known and the scam began to unravel in earnest.
In September 1999 it was revealed that NSA had arranged with Microsoft to insert special "keys" into Windows software, in all versions from 95-OSR2 onwards. An American computer scientist, Andrew Fernandez of Cryptonym in North Carolina, had disassembled parts of the Windows instruction code and found the smoking gun – Microsoft's developers had failed to remove the debugging symbols used to test this software before they released it. Inside the code were the labels for two keys. One was called "KEY". The other was called "NSAKEY". Fernandez presented his finding at a conference at which some Windows developers were also in attendance. The developers did not deny that the NSA key was built into their software, but they refused to talk about what the key did, or why it had been put there without users' knowledge. Fernandez says that NSA's "back door" in the world's most commonly used operating system makes it "orders of magnitude easier for the US government to access your computer."
In February 2000, it was disclosed that the Strategic Affairs Delegation (DAS), the intelligence arm of the French Defense Ministry, had prepared a report in 1999 which also asserted that NSA had helped to install secret programs in Microsoft software. According to the DAS report, "it would seem that the creation of Microsoft was largely supported, not least financially, by the NSA, and that IBM was made to accept the [Microsoft] MS-DOS operating system by the same administration." The report stated that there had been a "strong suspicion of a lack of security fed by insistent rumors about the existence of spy programs on Microsoft, and by the presence of NSA personnel in Bill Gates' development teams." The Pentagon, said the report, was Microsoft's biggest client in the world.
Recent years have seen disclosures that in the countdown to their invasion of Iraq in 2003, the United States had listened in on UN Secretary-General Kofi Annan, UN weapons inspectors in Iraq, and all the members of the UN Security Council during a period when they were deliberating about what action to take in Iraq.
It's as if the American national security establishment feels that it has an inalienable right to listen in; as if there had been a constitutional amendment, applicable to the entire world, stating that "Congress shall make no law abridging the freedom of the government to intercept the personal communications of anyone." And the Fourth Amendment had been changed to read: "Persons shall be secure in their persons, houses, papers, and effects, against unreasonable searches and seizures, except in cases of national security, real or alleged." 2
The leading whistleblower of all time: Philip Agee
Before there was Edward Snowden, William Binney and Thomas Drake … before there was Bradley Manning, Sibel Edmonds and Jesselyn Radack … there was Philip Agee. What Agee revealed is still the most startling and important information about US foreign policy that any American government whistleblower has ever revealed.
Philip Agee spent 12 years (1957-69) as a CIA case officer, most of it in Latin America. His first book, Inside the Company: CIA Diary, published in 1974 – a pioneering work on the Agency's methods and their devastating consequences – appeared in about 30 languages around the world and was a best seller in many countries; it included a 23-page appendix with the names of hundreds of undercover Agency operatives and organizations.
Under CIA manipulation, direction and, usually, their payroll, were past and present presidents of Mexico, Colombia, Uruguay, and Costa Rica, "our minister of labor", "our vice-president", "my police", journalists, labor leaders, student leaders, diplomats, and many others. If the Agency wished to disseminate anti-communist propaganda, cause dissension in leftist ranks, or have Communist embassy personnel expelled, it need only prepare some phoney documents, present them to the appropriate government ministers and journalists, and – presto! – instant scandal.
Agee's goal in naming all these individuals, quite simply, was to make it as difficult as he could for the CIA to continue doing its dirty work.
A common Agency tactic was writing editorials and phoney news stories to be knowingly published by Latin American media with no indication of the CIA authorship or CIA payment to the media. The propaganda value of such a "news" item might be multiplied by being picked up by other CIA stations in Latin America who would disseminate it through a CIA-owned news agency or a CIA-owned radio station. Some of these stories made their way back to the United States to be read or heard by unknowing North Americans.
Wooing the working class came in for special treatment. Labor organizations by the dozen, sometimes hardly more than names on stationery, were created, altered, combined, liquidated, and new ones created again, in an almost frenzied attempt to find the right combination to compete with existing left-oriented unions and take national leadership away from them.
In 1975 these revelations were new and shocking; for many readers it was the first hint that American foreign policy was not quite what their high-school textbooks had told them nor what the New York Times had reported.
"As complete an account of spy work as is likely to be published anywhere, an authentic account of how an ordinary American or British 'case officer' operates … All of it … presented with deadly accuracy," wrote Miles Copeland, a former CIA station chief, and ardent foe of Agee. (There's no former CIA officer more hated by members of the intelligence establishment than Agee; no one's even close; due in part to his traveling to Cuba and having long-term contact with Cuban intelligence.)
In contrast to Agee, WikiLeaks withheld the names of hundreds of informants from the nearly 400,000 Iraq war documents it released.
In 1969, Agee resigned from the CIA (and colleagues who "long ago ceased to believe in what they are doing").
While on the run from the CIA as he was writing Inside the Company – at times literally running for his life – Agee was expelled from, or refused admittance to, Italy, Britain, France, West Germany, the Netherlands, and Norway. (West Germany eventually gave him asylum because his wife was a leading ballerina in the country.) Agee's account of his period on the run can be found detailed in his book On the Run (1987). It's an exciting read.
Notes
To read about my State Department and other adventures, see my book West-Bloc Dissident: A Cold war Memoir (2002) ↩
See Rogue State: A Guide to the World's Only Superpower, chapter 21, for the notes for the above. ↩
Any part of this report may be disseminated without permission, provided attribution to William Blum as author and a link to this website are given.
William Blum is an author, historian, and renowned critic of U.S. foreign policy. He is the author of Killing Hope: U.S. Military and CIA Interventions Since World War II and Rogue State: A Guide to the World's Only Superpower, among others.