From the keyboard of Surly1
Follow us on Twitter @doomstead666
Like us on Facebook
Originally published on the Doomstead Diner on April 9, 2017
"We see these beautiful pictures at night from the decks of these two U.S. Navy vessels in the eastern Mediterranean. I am tempted to quote the great Leonard Cohen: 'I am guided by the beauty of our weapons.'"
― Brian Williams, MSNBC anchor
---
It's been a week in which we took several steps toward our own Appointment in Samarra. We are expected to believe that the nation's Chief Executive, who heretofore has demonstrated absolutely no empathy for anyone, reversed his own stated foreign policy based on news pictures of children, ostensibly suffering from a Syrian government gas attack. Just the week before, said executive's Secretary of State had affirmed a new policy in which the US would be content to let the destiny of Bashar Al-Assad be settled by the Syrian people.
And who exactly are we fighting in Syria? Is it ISIS? Al Qaeda? Jabhat al Nusra? But Assad purchased oil from ISIS, yes? How did that work? And now we're bombing Assad? All of the Jihadis in opposition to Assad are Sunni, whereas Assad's regime belongs to the Alawite sect of Islam, related somehow to the Shia branch of Islam. One needs a scorecard…
As difficult as this might be to sort out, when the newest atrocity pictures appeared on FOX News, they hit our non-reading president right in the feels. And like Xanadu, a military action was decreed. Meanwhile, trump's legions of right-wing zealots were discomfited that he had bombed Syria and thus had gone "full neocon." Great was the hue and cry therefrom. Meanwhile, in the West Wing, Jared Kushner and Steve Bannon wrestled for primacy. If you're not the president's son-in-law, I don't like your chances. Mitch McConnell got clean away with the heist of a Supreme Court seat, and, oh yes, in spite of the Trump administration's decision to ban the phrase "climate change", the Arctic north is melting and we are awash in icebergs. Can global sea level rise be far behind?
---
The Rockets' Red Glare
We are told the short-fingered vulgarian "became president" by sending a volley of Tomahawk missiles, costing $1-1.5 million the each, to light up a Syrian airstrip, the assets of which had been moved by previously-alerted Russians and Syrians who, unlike Congress, had received prior notice. The air show on a virtually deserted airstrip avoided most of the runways, such that Syrian planes are reported to be flying missions as I write. Thus the US spent about $93,810,000, blowing up very little in order to show them that "we mean business."
The Palmer Report estimates that Donald Trump's ineffective Syria attack could have fully funded Meals on Wheels through 2029.
The MSM, hot on the trail of #trumpRussia connections, were captivated. On MSNBC, which we are constantly reminded is the "left" news network, fake news parolee Brian Williams waxed rhapsodic about the beauty of the rocket launches, if not the tumescence of the manhood which unleashed them. CNN's Fareed Zakaria proudly asserted Trump's missile strike in Syria shows him emerging from the chrysalis and displaying the same bloodthirsty qualities as America's past leaders. Friday morning on CNN's "New Day," I stood openmouthed in astonishment as Zakaria said
"I think Donald Trump became president of the United States last night. I think this was actually a big moment."
Making this Zakaria's Van Jones moment, and exposing him as another to-be-ignored careerist. Neocon Senators John McCain and Lindsay Graham swooned, and were observed to have rare swellings in their crotches at the audacity of dope. If these last for more than four hours, they should call a doctor. Or a Capitol Hill reporter.
Leading papers published opinions like "Trump's Chance to Step Into the Global Leadership Vacuum," "Trump Has an Opportunity to Right Obama's Wrongs in Syria," "Syrian Opposition Leader: Trump Has a Chance to Save Syria" and "Syria Missile Strike Could Lead to Political Solution"–but no pieces opposing an unauthorized military attack against a sovereign nation. Dan Rather had a few choice words.
"War must never be considered a public relations operation. It is not a way for an Administration to gain a narrative," Rather continued. "It is a step into a dangerous unknown and its full impact is impossible to predict, especially in the immediate wake of the first strike."
On other news, Raytheon, the company that makes the Tomahawk missiles used in the air strikes, was rising in early stock trading Friday. In related news, Lockheed Martin, helps Raytheon make the Javelin missile launcher system, gained nearly 1%. We may be headed for the End Times, but we're creating some beautiful opportunities for profit in arms.
---
Pepe nonplussed
Trump's troll army was not pleased, and the alt-right crowd broke with the president over his perfidy. The web-savvy, anti-establishment "alt-right" neo-nazis at the passionate core of Trump's online support last year, have become apoplectic over the strikes. This "America First" wing, which includes Milo Yiannopolis, Mike Cernovich, Ann Coulter, and the famously punched-in-the-face Richard Spencer, (he of the memes), as well as those basement dwellers on The_Donald subreddit and the /pol/ section of 4Chan, warn of a slippery slope to intervention in Syria.
As recently as last week, they believed Trump would keep the country out of unnecessary wars. Last Thursday on a trip to Turkey, Secretary of State Rex Tillerson said, the "longer-term status of President Assad will be decided by the Syrian people." And then came the news pictures of Syrian children being gassed. Whereupon, we are told, the president decided to "follow his heart."
Leaving aside for a moment the notion of how a Republican Congress or the American public would react did if a female president had decided to "follow her heart," and launch 59 Tomahawk missiles, we are left to marvel at 180° whipsaw-like change in the direction of American foreign policy.
Meanwhile, about those pictures, and who was responsible for them. Many on the fascist fringe scream that Trump has been duped into a war a "false flag" operation. "The Syrian gas attack was done by deep state agents," tweeted alt right agitator and Pizzagate auteur Mike Cernovich. And other marginal voices, including Alex Jones and Paul Joseph Watson, as well as Ron Paul, Scott Adams and Michael Savage, have upped the ante, blamed the attack on George Soros, and condemned Trump for surrendering to "Republican hawks."
Plus, Julian Assange, believed to have sole control of the WikiLeaks Twitter account, shared a video from a Syrian activist in Germany on Thursday that said Islamist extremists were probably behind the chemical attack, not the Syrian government. Even left-wing observers have opined that the chemical strikes may have originated with Syrian rebels. Assessing the truth is to walk in a hall of mirrors.
Speaking of a hall of mirrors, Tina Nguyen of Vanity Fair does exemplary reporting on all things Trump, and made the following salient observation:
The missile strike came only hours after Bannon, the de facto representative of the alt-right in the White House, had been removed from the National Security Council Principals Committee, cutting off his access to military decision-making. His supporters quickly, and not without logic, blamed the Syria situation on the same people they believed were responsible for Bannon's ouster and diminishing stature in the West Wing: Jared Kushner, Trump's son-in-law and the leader of what a White House source described to Politico as the "West Wing Democrats."
Few things gladden my heart more that a right wing circular firing squad, as headlines broke on Friday that Bannon had called Kushner "a cuck" and a "globalist." What the Bannon-Kushner tussle portends for the future, and for Trump's relationship with the reclusive Mercer family (which bankrolled his electoral victory) is anyone's guess.
---
It Stays Stole
In 2016, Senate Majority Leader Mitch McConnell said: "One of my proudest moments was when I told Obama, 'You will not fill this Supreme Court vacancy,'" and in 2017, he said, "Apparently there's yet a new standard now, which is not to confirm a Supreme Court nominee at all. I think that's something the American people simply will not tolerate."

This week, McConnell invoked a parliamentary maneuver to end the filibuster opposing the nominee, Neil Gorsuch, for the stolen Supreme Court seat, thus clearing the way for Gorsuch to occupy said stolen seat. This legislative coup will ratify the primacy of the corporate state for the next 30 years.
In a related story, hypocrisy stocks were up 12 percent this week.
---
Global melting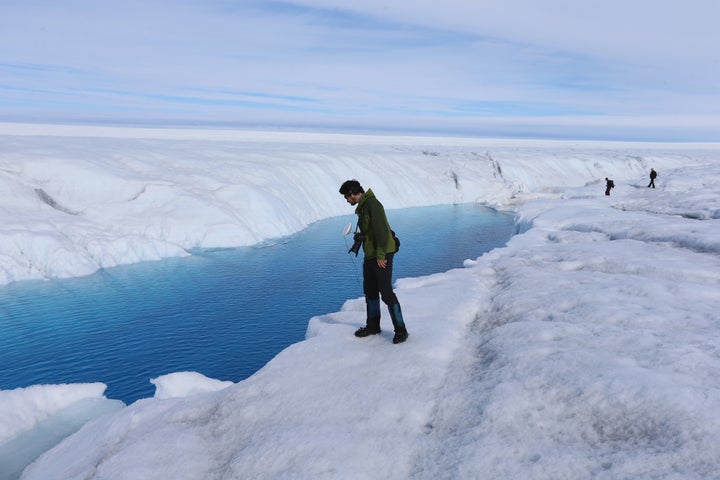 And in climate change news, which we no longer count anymore because trump, we learn that Greenland's coastal ice has passed a critical "tipping point," according to a new study. Which doesn't bode well for the rest of the island's ice.
The Greenland ice sheet, which covers about 80 percent of the island's surface, is the second-largest ice body in the world after the Antarctic ice sheet. The same processes that have caused the accelerated melting of Greenland's coastal ice bodies could also influence the island's massive ice sheet — with devastating results, lead study author Bryce Noël said.
"For now, the ice sheet is still safe," he said. "Its tipping point hasn't been crossed yet. But if warming continues, it's very likely that it will be crossed."
If the entire Greenland ice sheet were to melt, it would cause a global sea level rise of more than 20 feet.
In a related story, The Guardian tells of a swarm of more than 400 icebergs that have drifted into the North Atlantic shipping lanes over the past week, unusually large for so early in the season.
Most icebergs entering the North Atlantic have "calved" off the Greenland ice sheet. Michael Mann, director of the earth system science center at Pennsylvania State University, said it was possible climate change was leading to more icebergs in the shipping lanes, but wind patterns were also important.

US Coast Guard Commander Gabrielle McGrath, who leads the ice patrol, said she had never seen such a drastic increase in such a short time. Adding to the danger, three icebergs were discovered outside the boundaries of the area the Coast Guard had advised mariners to avoid, she said.
Another week in which we incrementally slip towards the doom which awaits us for our fecklessness and irresponsibility for failing to summon the will to be good stewards of what we have inherited.
---
Surly1 is an administrator and contributing author to Doomstead Diner. He is the author of numerous rants, screeds and spittle-flecked invective here and elsewhere, and once quit barking and got off the porch long enough to be active in the Occupy movement. Where he met the woman who now shares his old Virginia home and who, like he, is grateful that he is not yet taking a dirt nap, and like he, will be disappointed to not be prominently featured on an enemies list compiled by the incoming administration.
From the keyboard of Surly1
Follow us on Twitter @doomstead666
Like us on Facebook
Originally published on the Doomstead Diner on January 29, 2017
"Unless someone like you cares a whole awful lot,
Nothing is going to get better. It's not."
― Dr. Seuss, The Lorax."
---
The first full week of the Presidency of Donald J. Trump was both cruel and absurd. Nothing about this should be surprising. Trump is a singular example of the cult of personality, a manifestly unfit individual whose path to power has enabled a hidden phalanx of anti-democratic hedge-fund plutocrats and white supremacists to get their paws on executive power. These political apostates have funneled into the palaces where the wheels and gears of power are kept, like the mob storming Versailles, the better to finger the crystal and steal the silver.
The first week of the Trump administration marks the violent reassertion of the prerogatives of White Males against the legacy of Barack Obama and the Great Arc of History. This crowd's capacity for brutality is unimaginable by middle class Americans who grew up on the legacy of the New Deal and amidst the prosperity engendered by winning World War II. Truly, who among us ever thought we'd have to beat Nazis again in this lifetime?
The first realization of the coming kleptocracy dawned as Trump announced his cabinet choices, resembling nothing so much as the Dread Pirate Roberts naming the plunder all star team to crew a new pirate ship.
Now, the owners of this glittering casino and their gum-toothed spawn are clawing back their presumptive place at the top of a so-called "meritocracy" that rewards their gene pool with the sweet perks of "freedom" and "capitalism," which is political code for one class prospering off the suffering of another. The subsequent rewriting of laws then institutionalizes the grift and makes it like, official, dig?
If you've spent the week under a rock, here's a summary of week one executive actions:
"No hate! No fear! Refugees are welcome here!"
or a variant
"Say it loud and say it clear! Refugees are welcome here!"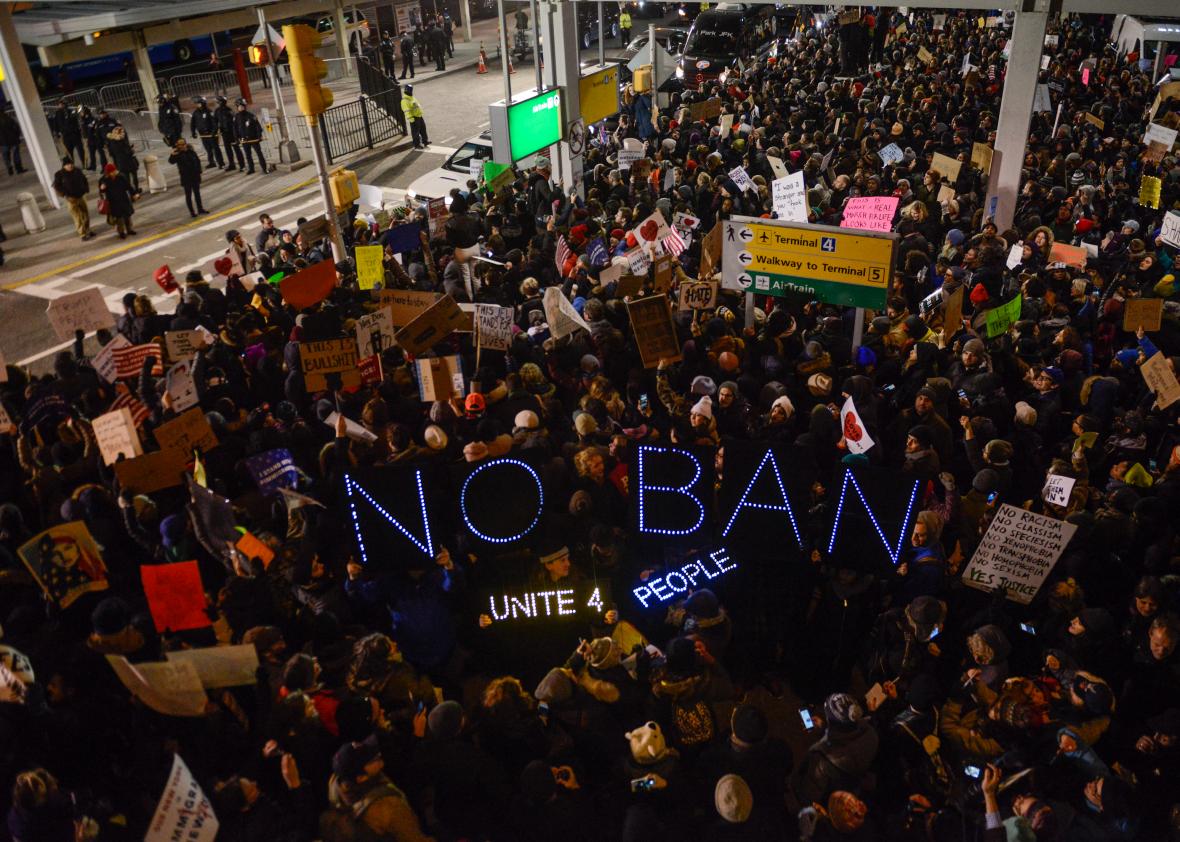 The order also bars legal permanent residents of the U.S. from returning home if they are now travelling overseas, even though they already went through "extreme vetting" procedures to get their green cards.
Late Saturday night, Federal Judge Ann Donnelly in New York issued a nationwide temporary injunction, halting the implementation of part of Trump's executive order on immigration and blocking the deportation of travelers with valid visas detained at airports. This in response to a suit brought by the ACLU.
The judge further ruled that the government must immediately stop deporting travelers from the named nations, including refugees who already went through a rigorous vetting process, and provide a complete list of all those detained. The Intercept published an update.
Suffice it to say that when Michael Moore, Dick Cheney, and the Pope are all on the same side of an issue, and you're on the other side, you've crossed the line: you're an asshole.
Hours after Trump signed this executive order heralding this global descent into barbarism, a mosque in Texas went up in flames.
The Islamic Center of Victoria was set on fire around 2 a.m. on Saturday, according to local reports.

Victoria Fire Marshal Tom Legler told the Victoria Advocate he had no theories about the cause of the fire, but he is seeking assistance from state and federal fire investigators.
Just week one.
While Bannon writes, Trump tweets and Washington burns, the left continues to squabble about assigning blame for the Trumpenkrieg to various Hillbots or Berniebots or Steinswine. This endless circular firing squad, which obtains any time three of more "progressives" share the same space, is why we can't have nice things. And why we have Trump.
One of the great shortcomings of the age derives from late stage capitalism. It is the keenness of focus on measurement at the expense of all other values. Remember working in businesses when profitability was enough? No more: now profitability must be maximized. How it works: most American industries are mature indistries, which over time become less profitable. These mature industries exist at a time of little real growth and the end of cheap energy. In this environment profitability comes from two sources: 1) squeezing more out of your current operation, and 2) stealing share from your competitors. Our "business leaders" conjure results from these two foci though spreadsheet worship, and concoct strategies by which they can wring the last erg of energy out of a workforce, all in the name of "efficiencies." Enter automation, Amazon, and subcontractors.
American political philosopher Richard Rorty saw this coming. In his 1998 book "Achieving Our Country," now much quoted in the New Yorker and around the internet, he observed our present circumstances:
"Members of labor unions, and unorganized and unskilled workers, will sooner or later realize that their government is not even trying to prevent wages from sinking or to prevent jobs from being exported. Around the same time, they will realize that suburban white-collar workers—themselves desperately afraid of being downsized—are not going to let themselves be taxed to provide social benefits for anyone else.

"At that point, something will crack. The nonsuburban electorate will decide that the system has failed and start looking around for a strongman to vote for—someone willing to assure them that, once he is elected, the smug bureaucrats, tricky lawyers, overpaid bond salesmen, and postmodernist professors will no longer be calling the shots. . . . Once the strongman takes office, no one can predict what will happen. "
No one can predict what will happen. But if Trump's first week is predictive of the future, the cruelty and absurdity of this week will continue until Robert Mercer and the Koch brothers determine he is too loose a cannon and needs to be impeached. Which will install President Pence. Remove Pence? There's Ryan. With Orrin Fucking Hatch in the on deck circle. Vote them out in 2018? Talk to your Republican governors about who will actually be allowed to the polls in 2018.
By 2020, don't be surprised if the franchise is not restricted to white male property owners with a net worth of $1 million. As God intended. And there are still assholes out there who will argue that voting doesn't matter.
---
Surly1 is an administrator and contributing author to Doomstead Diner. He has squeezed out numerous rants, screeds and spittle-flecked invective here and elsewhere, and once quit barking and got off the porch long enough to be active in the Occupy movement. Where he met the woman who now shares his old Virginia home and who, like he, is grateful that he is not yet taking a dirt nap, and like he, will be disappointed to not be prominently featured on an enemies list compiled by the current administration.
From the keyboard of Surly1
Follow us on Twitter @doomstead666
Like us on Facebook
Originally published on the Doomstead Diner on November 13, 2016
"Ring the bells that still can ring / Forget your perfect offering / There is a crack in everything / That's how the light gets in.… "
-Leonard Cohen 1934-2016
---
Many of the bells I listen ring discordantly or not at all this week, as the improbable has occurred, and serial pussy-grabber Donald J. Trump has been elected President-elect. That alone is enough to recommend the reappearance of this infrequent franchise, heralding as it does the apocalypse.
The pervasive story retailed in the weeks leading up to the election was that "Hillary had a durable three to four point lead." Repeated on cable newz and the better boutique websites, like fivethirtyeight.com, where even on election day, they moved a story titled,Final Election Update: There's A Wide Range Of Outcomes, And Most Of Them Come Up Clinton. Now hiding behind the hedge known as "margin of error," they are pretending that this was not the narrative they marketed, quickly moving to shove all that down the memory hole with stories like, Why FiveThirtyEight Gave Trump A Better Chance Than Almost Anyone Else. You can't make this stuff up. If indeed "The Arc of the Moral Universe Is Long, But It Bends Toward Justice", Nate Silver will be stocking shelves at a Wal-Mart by Christmas.
And the punditry of the execrable cable "news product" networks certainly did their part.
Since election day, I have not watched the "news" shows on CNN or MSNBC, which both gave Trump millions of dollars of free advertising over the past 18 months, while constantly preaching, as experts do, that at best he had a "narrow path" to victory. It's funny that Trump keeps lambasting the press; it played a major role in his electoral college victory. With news networks giving him billions in free publicity (Phil Griffin in particular should roast in hell), the Fox "News" entertainment net gave him millions more in sheer advocacy. And let's not allow Les Moonves' quote on Trump to be forgotten: "It May Not Be Good for America, but It's Damn Good for CBS." This is what happens when news becomes entertainment and has to sing for its supper. Shareholders' interest uber alles.
Trump drew 60.1 M votes, compared to Romney's 60.6M in 2012. Clinton underperformed Obama by 9M from 2008 and by 5+M from 2012. Dems stayed home in droves. Michael Moore noted that 90,000 Michigan voters voted a complete ballot but left President blank. Your margin in Michigan was 11,000. In Michigan and Wisconsin, county after county that went twice for Obama went for Trump. And yes, now we get to enjoy AG Giuliani and Secretary of Interior Palin along with our new retrograde supremes.
I blame the DNC on tipping the scales away from an electable candidate and for their preferred insider. They ran a status-quo candidate in a change election, and turned a continued deaf ear to the plight of people in flyover country. They didn't listen- now we all inherit the wind. And yes I know about voter suppression, and that remains a problem, but the so-called Obama coalition did not turn out. Putting the lie to "elections don't matter." If you continue to believe they don't matter, prepare to enjoy life under Trump, Pence and Ryan. And lose my number.
Perhaps William Rivers Pitt has said it best:
Trump didn't win because your friend criticized Clinton on Facebook, or because your sister likes Jill Stein, or because Bernie sold out to Hillary or because of any of the galaxy of stupid self-destructive pissy pissant excuses I've been hearing and reading today.

Unfuck your brain pans, folks. Trump won because millions of people have been getting jackhammer-fucked for decades by nearly a half century of trickle-down economic thievery. Millions of people live paycheck to paycheck, and pay through the nose for health insurance, and have no equity in their homes any more, and have an expensive degree that can't get them a job, and they think they have no future, and maybe they're fuckin-a right. Economic inequality has been mother's milk for bigotry and hate since before the pharaohs built those big pointy grain silos.

People are justly pissed because America has been a shell game since before Reagan, a long con to extract wealth and resources, and the people never get to find the pea under the pistachio. So along comes this gifted grifter from the TV who tapped into that angst and ran wild with it. THAT'S why he won, because he cannily capitalized on a decrepit system, and millions who don't know where else to look or who to blame after years of trying said fuck it, why not. They're not stupid. They're exhausted and fed up because they've been let down over and over again. It worked.
---
Reaction has occurred in many cities, with people marching in the streets. While mobilization is important, my brief experience with Occupy has taught me that ad hoc assemblies let off steam but do little more without a more extensive agenda. Strategy is what is needed. There will be time for that. Also, let's not forget that we are about to turn over the immense surveillance power of the NSA to a serial tweeter who maintains enemies lists.
There has been some violence, much dramatized by the alt-right. During Occupy. It was pretty obvious that anybody exhorting people to violence was probably collecting a government paycheck. After all, in activist politics, the FBI plant is the guy who offers to get the dynamite.
They call it "political correctness" when the oppressed tell the privileged they're tired of putting up with their shit.
Marchers and others are amazed that the people of the US voted to elect a man who bragged about sexually assaulting women, and who tweets gleeful posts about deporting families, other examples of casual cruelty, and thinly veiled, dog-whistle racism. Plenty of Trumpeters demand that the unhappy line up behind the new "President of all of us," when they never returned the favor. We are supposed to forget the plotting in a DC steakhouse on Inauguration night of 2009, where R s plotted to obstruct Every. Single. Thing. Obama proposed. And then was the demonization of him and his family, the birtherism. The reflexive racism, the monkey memes… we're supposed to forget all that. I promise a President Rich Asshole the same tender consideration that his fellow travellers offered Barack Obama.
Many survivors of domestic violence and sexual assault awoke on Wednesday morning to the realization that a man who said his accusers were too ugly to assault was endorsed by nearly half the country as a leader. They woke up to newspapers splashed with pictures of a man who said that he could "grab women by the pussy" without their consent because he's a "big, big star." Friends of color saw a man elected as their president who was willing to hire as his campaign CEO one of the most vile racists that exists, and who began his campaign by calling them, their friends, and their family members who face racial violence every day "rapists" and "drug dealers." They watched a man become president who called the first black president "evil" and illegitimate, and heard him tell them they were "living in hell," accuse them of dupes for voting Democrat for several decades now, and demonize the only movement working toward ending the murders of their sons, mothers, brothers, fathers, and friends at the hands of police. And those that are gay, or Muslim, or Latina, or undocumented fear for their lives and for their children's safety. The simple fact is that the vast majority of those not part of the one per cent and living off investments or trust funds are hurt and grieving, and the half of the electorate that voted for Trump don't realize what is about to happen to them.
My neighbors, co-workers and family helped elect that man. And we all have to live with that. Some of us are more prepared than others.
Meanwhile, The Fed/Wall Street elite and private military contractors have never been happier and rub their hands together at the feast about to unfold. They have thoroughly divided and propagandized the American public and in Trump have a camera-ready stooge to turn over the keys to the Treasury. Meanwhile, the D vs R, liberal vs conservative divide and conquer techniques continue, and the same interests make off with the boodle. Wash, rinse, repeat.
---
In other news, Ku Klux Klan announces Trump victory parade in North Carolina. It was on the website of the kkkknights but is no longer on their main page. It was scheduled for December 3 at an undisclosed location in NC. Perhaps they have had second thoughts- or have been encouraged to have them. And I was ready for a road trip.
As Trump puts together a transition team, we receive early word that one of his selects is one Myron Ebell, described as one of seven "climate criminals" wanted for "destroying our future." This means a reversal of the tepid Obama climate change policies and an unshackling of energy companies' plunder of public resources and public waters. From the NT Times:
In looking for someone to follow through on his campaign vow to dismantle one of the Obama administration's signature climate change policies, President-elect Donald J. Trump probably could not have found a better candidate for the job than Mr. Ebell.

Mr. Ebell, who revels in taking on the scientific consensus on global warming, will be Mr. Trump's lead agent in choosing personnel and setting the direction of the federal agencies that address climate change and environmental policy more broadly.

Mr. Ebell, whose organization is financed in part by the coal industry, has been one of the most vocal opponents of the linchpin of that policy, the Clean Power Plan. Developed by the Environmental Protection Agency, the plan is a far-reaching set of regulations that, by seeking to reduce carbon emissions from electricity generation, could result in the closing of many coal-burning power plants, among other effects.
Remember the plunder of the EPA, the selloff of national parks to private interests, and poisoning of the nation's fresh water when your grandchildren curse and spit at the mention of your name.
As of this writing, we hear from Trump that that wall thingy might have been a little overreach. Future Secretary of State Newt Gingrich gave us a new term for deception. Describing Trump's now deleted pledge to have Mexico build a wall on its border, he dubbed it a "great campaign device." Trump and his advisers have backed off major campaign pledges, including Obamacare and the wall.
President-elect Donald Trump and key advisers in recent days have backed away from some of the most sweeping pledges that the Republican candidate made on the campaign trail, suggesting that his administration may not deliver on promises that were important to his most fervent supporters.

Trump built his campaign message around bold vows to, among other things, force Mexico to pay for a massive border wall, fully repeal the Affordable Care Act and ban Muslims from entering the United States. But in the days since his upset election victory, he or his advisers have suggested that those proposals and others may be subject to revision.

Trump also avoided answering whether he would follow through on a campaign vow to appoint a special prosecutor to investigate Democratic nominee Hillary Clinton's use of a private email server while secretary of state. "It's not something I've given a lot of thought, because I want to solve health care, jobs, border control, tax reform," he said.

That ambivalent tone is a far cry from Trump's sweeping rhetoric on the campaign trail, where he repeatedly vowed to repeal and replace the ACA and led crowds in chants of "Lock her up!" in reference to Clinton. His lack of clarity on these and other issues has added more uncertainty to an already chaotic presidential transition, as he scrambles to build a team.
And in other Gingrich news, Newt Gingrich wants new House Un-American Activities Committee. Put me on record right now that I will be deeply offended if not named on a list.
And in breaking news Sunday night calculated to make one yearn for the good old days of George W. Bush, Trump chose Reince Priebus as White House chief of staff, and Steve Bannon as top adviser. "Draining the swamp" directly into the Oval Office. This is what we get for failing to have hanged 5000 seditionists at the end of the Civil War. Now we have a Republiconfederacy.
What could possibly go wrong?
The passing of the great Leonard Cohen this week reminds us of some of his most poignant lyrics. Those quoted above seem apt. At such a moment of darkness, we are called to remember that there is, indeed, "a crack in everything." And we must remember that the light always gets in. Whether the light can penetrate in time remains to be seen.
---
Surly1 is an administrator and contributing author to Doomstead Diner. He is the author of numerous rants, articles and spittle-flecked invective on this site, and quit barking and got off the porch long enough to be active in the Occupy movement. He shares a home in Southeastern Virginia with Contrary in the triumph of hope over experience, and is grateful that he is not yet taking a dirt nap.