Off the keyboard of Jim Quinn
Follow us on Twitter @doomstead666
Friend us on Facebook
Published on The Burning Platform on February 24, 2013
Discuss this article at the Kitchen Sink inside the Diner
…Censor and Snitch for the State
"The conscious and intelligent manipulation of the organized habits and opinions of the masses is an important element in democratic society. Those who manipulate this unseen mechanism of society constitute an invisible government which is the true ruling power of our country. We are governed, our minds are molded, our tastes formed, our ideas suggested, largely by men we have never heard of.
This is a logical result of the way in which our democratic society is organized. Vast numbers of human beings must cooperate in this manner if they are to live together as a smoothly functioning society. In almost every act of our daily lives, whether in the sphere of politics or business, in our social conduct or our ethical thinking, we are dominated by the relatively small number of persons who understand the mental processes and social patterns of the masses. It is they who pull the wires which control the public mind." – Edward Bernays – Propaganda
I find the quote above by Edward Bernays to be a perfect synopsis for everything that has come to pass over the last century. The world has become increasingly controlled by an invisible government of greedy Wall Street bankers, shadowy billionaires, immoral big business, crooked politicians, and the military industrial complex, with mammoth media conglomerates, purposefully using propaganda to manipulate and mold the minds of the masses in order to exert power and control over our lives. He wrote those words in 1928, when the only available forms of manipulation were newspapers and radio. Bernays would be ecstatic and delighted with the implements available today used by our corporate fascist state controllers as they deliver the electronic messaging guiding the public mind.
He never dreamed of television, the internet, social media, and the ability of corporations like Google, in full cooperation with the government, to censor the truth, while feeding misinformation and state sanctioned propaganda to the masses in such an efficient and effective mode. Compelling the masses to worship at the altar of technology, while idolizing the evil men running our largest banks and corporations, has been a prodigious success for the shadowy ruling power and their mass media propaganda agents. Mike Lofgren, former congressional insider and author of The Party Is Over: How Republicans Went Crazy, Democrats Became Useless and the Middle Class Got Shafted, describes these mysterious perfidious men as the Deep State:
Yes, there is another government concealed behind the one that is visible at either end of Pennsylvania Avenue, a hybrid entity of public and private institutions ruling the country according to consistent patterns in season and out, connected to, but only intermittently controlled by, the visible state whose leaders we choose.
My analysis of this phenomenon is not an exposé of a secret, conspiratorial cabal; the state within a state is hiding mostly in plain sight, and its operators mainly act in the light of day. Nor can this other government be accurately termed an "establishment."
 All complex societies have an establishment, a social network committed to its own enrichment and perpetuation. In terms of its scope, financial resources and sheer global reach, the American hybrid state, the Deep State, is in a class by itself. That said, it is neither omniscient nor invincible. The institution is not so much sinister (although it has highly sinister aspects) as it is relentlessly well entrenched.
Far from being invincible, its failures, such as those in Iraq, Afghanistan and Libya, are routine enough that it is only the Deep State's protectiveness towards its higher-ranking personnel that allows them to escape the consequences of their frequent ineptitude. – Mike Lofgren, Anatomy of the Deep State
The techno-narcissistic American public has been manipulated into falsely believing their iGadgets, Facebook, Twitter, and thousands of Apps have made them smarter, freer and safer. As Goethe proclaimed, the majority of willfully ignorant Americans are hopelessly enslaved, while falsely believing they are free. Our controllers, through relentless propaganda and misinformation pounded into our brains by the government controlled education system and unrelenting messaging by their mass media co-conspirators, have molded the minds and opinions of the vast majority into believing government and mega-corporations are beneficial and indispensable to their well-being.
The overwhelming majority have been conditioned like rats to believe anything their keepers feed them. In order to keep society running smoothly, with little dissent, thought, opposition or questioning, the Deep State utilizes all the tools at its disposal to manipulate, influence, coerce, bully and bribe the populace into passive submission. They've trained us to love our servitude. The Inner Party sees this as essential to their continued control, power and enrichment, while keeping the Proles impoverished, ignorant, fearful and distracted with bread and circuses.
The key weapon in their arsenal of obedience is technology and the mega-corporations that control the flow of information disseminated to the hypnotized mindless masses. The United States has devolved into a society where a few powerful unelected unaccountable men, controlling the levers of government, education, finance, and media are able to formulate the opinions, tastes, beliefs, and fears of the masses through the effective and subtle use of technology. They have tenaciously and unflinchingly fashioned a technology addiction among the masses in order to keep them distracted, entertained and uninterested in thinking, gaining knowledge, or comprehending their roles and responsibilities as citizens in a purportedly democratic republic.
The mass media, along with their corporate compatriots – Microsoft, Apple, Verizon, AT&T, Comcast, Yahoo, Facebook and Google, gather vast amounts of data, emails, phone calls, texts, internet searches, spending habits, credit information, passwords, videos and private personal information from an agreeable, gullible and trusting populace. Americans have a seemingly infinite capacity for blindly counting on the government and the corporatocracy to use this data in an honorable and ethical manner. But, as Edward Snowden has revealed, the corporate fascist state is collecting every shred of data on every American in a systematic and thorough way. We have voluntarily surrendered our privacy, liberties, and freedoms to mega-corporations like Google and their techno-brethren, who then willingly collaborate with Big Brother NSA and allow unfettered access to this private information.
The U.S. Constitution along with the First and Fourth Amendments are meaningless to these deceitful entities. Our freedoms have dissipated at the same rate we have adopted the technological "innovations" of Facebook, Twitter, and Google. We are being monitored, scrutinized, tracked and controlled by the technology we have exuberantly purchased from the mega-corporations stripping us of our freedom. Technological "progress" has actually resulted in a colossal regression in freedom, liberty, independence, choice, and intelligent questioning of authority. We having willingly submitted to the google shackles of tyranny in exchange for being entertained and amused by Angry Birds, Words with Friends, facebooking, texting, tweeting, posting selfies and statuses, and linking in.
"Technological progress has merely provided us with more efficient means for going backwards." – Aldous Huxley – Ends and Means
David versus the Nameless, Faceless Goliath Robot
"It is difficult to get a man to understand something, when his salary depends on his not understanding it." – Upton Sinclair – I, Candidate for Governor: And How I Got Licked
My enlightening encounter with the nameless, faceless $52 billion "non-evil doing" behemoth entity known as Google, over the last month, has clarified my understanding of how the invisible governing body of the Deep State uses the power of the all-mighty dollar to suppress dissent and obscure the truth. My inconsequential libertarian minded blog that attracts 15,000 visitors per day has been up and running for the last five years. I started my own blog because I didn't want to deal with ongoing censorship of my articles by Wall Street sellout blogs such as Seeking Alpha, Minyanville, and Financial Sense.
Their salary/living depended upon them not publishing articles critical of Wall Street and the government. My intention has never been to make a living from my blog. Any donations or incidental advertising revenue allowed me to upgrade my server capacity to handle more visitors. I'm certainly not averse to making money, but the sole purpose of my blog has been to try and open people's eyes to Wall Street criminality, political corruption, media propaganda, and the perilous financial state of our country. Therefore, I was pleasantly surprised when Google approved my website for ads in December.
I will admit my site has been essentially an un-moderated free for all going back to the very beginning in 2009. I do not believe in censorship or false civility. I attempt to induce anger and outrage with every article and post. These are desperate times and anger is the appropriate reaction. The country is on a burning platform of unsustainable policies and practices which threaten the future of our society. I'm pissed off and I want others to be just as pissed off. The regular commenters are intelligent, critical, opinionated, and not afraid to unload with both barrels on fellow regulars or newbies. The language is often strong and the posting of pictures and images adds to the frat house like atmosphere. Regular contributors include doctors, farmers, engineers, business owners, accountants, teachers, waitresses, students, homemakers, soldiers, spies, and retirees. The wild-west nature of the site is not a secret to anyone who has ventured a peek. I assume Google did a review of the site before approving it for their Adsense program.
I started running Google ads on my site in early December. My site operated as it always had. The $30 per day in ad revenue was welcome, as it helped defray my server and security expenses. I experience a surge in visitors whenever I publish an article that gets picked up by fellow truth telling alternative media websites like Zero Hedge, 321 Gold, Washington's Blog, Jesse's Cafe Americain, Steve Quayle, Monty Pelerin, Doug Ross, Market Oracle, Dollar Collapse, TF Metals and several others. I published an article called The Retail Death Rattle on January 20 which obliterated the false government and mainstream media recovery storyline and skewered the delusional incompetent CEOs of mega-retailers. It struck a nerve as it generated the highest visitor count in history for my site. It was even picked up by Wall Street Journal owned Marketwatch. My articles are highly critical of Wall Street, the Federal Reserve, corrupt Washington politicians and the feckless captured legacy media, but they usually fly under the radar of the ruling class. On January 22 Google disabled my ads for "policy violations". This is the vague non-specific description provided by the non-human policing bot:
Scraped content
It's important for a site displaying AdSense to offer significant value to the user by providing unique and relevant content, and not to place ads on auto-generated pages or pages with little to no original content. This may include, but is not limited to:
copying portions of text content from other sources
websites dedicated to embedded videos from other hosts
websites with gibberish content that makes no sense or seems auto-generated
templated or pre-generated websites that provide duplicate content to users.
Sexual content
Google ads may not be placed on pages with adult or mature content. This includes, but is not limited to, pages with images or videos containing:
Strategically covered nudity
Sheer or see-through clothing
Lewd or provocative poses
Close-ups of breasts, buttocks, or crotches
Over the last five years I have received exactly ZERO complaints from other websites or authors about re-posting their articles, with full attribution and links, on my website. No one can accuse my site of not having unique and relevant content. I have permission to post articles from Zero Hedge, Charles Hugh Smith, Michael Snyder, Jim Kunstler, David Stockman, John Mauldin, Doug Casey, Paul Rosenberg, Fred Reed and dozens of other brilliant truthful journalists detailing our societal decay. Was there some Kate Upton bikini Gifs and provocative Salma Hayak pictures scattered within the 200,000 comments made on the site in the last five years? Guilty as charged. It seems Google reviewers can't see the hypocrisy of running ads to meet young bikini clad Asian girls, while disabling ads because there are a few bikini pictures on the website. I suspected my article had drawn the Eye of Sauron in my direction and this was the response.
Speaking truth to power during these perilous times has repercussions. But I decided to make a good faith effort to follow their rules.
I had made almost 15,000 posts over the last five years. Over the next week I scanned the site and archived posts that included articles from mainstream media websites, along with a hundred or so bikini pictures. You never deal with a human being when attempting to satisfy the Google Gestapo. Identical canned appeal denial responses are issued from Google Central with no clarification or effort to help you understand their reasoning.
Hello,
Thank you for providing us with additional information about your site. However, after thoroughly reviewing theburningplatform.com and taking your feedback into consideration, we're unable to re-enable ad serving to your site at this time, as your site appears to still be in violation.
When making changes, please note that the URL mentioned in your policy notification may be just one example and that the same violations may exist on other pages of your website. Appropriate changes must be made across your entire website before ad serving can be enabled on your site again.
If you'd like to have your site reconsidered for participation in the AdSense program, please review our program policies and make any necessary changes to your webpages.
We appreciate your cooperation.
Sincerely,
The Google AdSense Team
There must have been some miscommunication within the Google Gestapo, as the ads were re-enabled after one week and my third appeal. A newbie, who didn't get the memo, must have mistakenly activated my ads. Regular commenters and contributors were confused by what they could and couldn't post on the site, as was I. The iron fist of the Google Stasi came down once again within a week, with the identical policy violation notice. I made the assumption that since the site was declared in compliance as of January 29, I only had to address anything posted since that date.
I had purged the site of any and all risqué pictures, so I knew that wasn't a real issue. I thoroughly reviewed every post made since January 29 and archived or edited them to leave no doubt I was meeting Google's vague guidelines. I continued to have my appeals rejected. I then went back a year and archived hundreds of other posts. By the fourth appeal rejection, I realized I would never meet their standard because it wasn't really about violating Google content policies. It was my libertarian, anti-government, anti-Wall Street, anti-Mega-Corporation, anti-Surveillance State views that were the real issue. They were attempting to make me "not understand" or write about the creeping corporate fascist paradigm overtaking the country by making my Google salary dependent on "not understanding".
Once I understood this truth, I was set free to provoke and prod the nameless, faceless Google entity and prove beyond a shadow of a doubt their true purpose. Their appeal form allows 1,000 characters for your response. Along with the actions I had taken, I began to question the integrity of the Google apparatchik "reviewer", as it was clear the site was not in violation. I had archived over a thousand posts and tens of thousands of comments. I challenged the man behind the Google curtain to provide me with proof the site was still in violation. I must have struck a nerve, as out of the blue I received a new violation notice.
Violent or disturbing content
AdSense publishers are not permitted to place Google ads on pages with violent or disturbing content, including sites with gory text or images.
Now this was funny. My site focuses on the financial, political, and social decay of our country. It in no way advocates or promotes violence. It has no graphic images or gory videos. If Google is attempting to suppress videos of revolutions occurring in Venezuela, Ukraine, and Syria from being seen by citizens of the world, their credibility is zero. If Google is attempting to suppress videos of police brutality against citizens or the police state locking down an entire city while violating the Fourth Amendment, they prove themselves to be nothing more than a fascist propaganda tool of the State. This violation notice was laughable, but I decided to call their bluff one last time. I spent three days and archived 14,000 out of the 15,000 posts ever made on my site. All that remained were my main articles, published on dozens of other sites with Google ads active, and original content produced by myself or other approved contributors. There was no violent content, scraped content, or sexual content on my website.
My ninth and final appeal was denied. I then proceeded to write an FU Google post on my website and inform my readers and contributors they were unshackled from the Google Evil Empire of Censorship. I'm in the process of restoring all of the posts I had archived. Some might argue that Google is just exercising their rights under our free market capitalism system. I would argue free market capitalism does not exist today. The unholy alliance of big banks, big corporations, big military and big media has created a state run by the few for the benefit of the few. They use their control of the purse strings to manipulate minds, crush dissent, and censor through bullying and bribery.
Once I mentally liberated myself from their financial control, I was able to see their game. They essentially wanted me to purge the site of every anti-establishment example of free speech and First Amendment rights I had ever written, in order to kneel before the altar of $$$ in the Church of Google. Google would be perfectly fine if I converted my website into a chat-fest where I discussed the details of the upcoming Kim and Kanye wedding, pondered deep issues regarding the benefits of gay marriage, conducted polls on who The Bachelor will choose to be his betrothed this season,  mused about what Hollywood stars will wear at the Academy Awards, and debated who will win the fourteenth season of American Idol. The Google money would flow freely as I contributed to the dumbing down and sedation of the masses. I have chosen not be a Judas that sells out my readers and the American public for 30 pieces of fiat to the Google Pharisees and the American corporate fascist surveillance empire.
This was not the first time the Deep State attempted to silence my anarchistic viewpoint. On June 5 Edward Snowden, American hero and patriot, released the first of thousands of documents detailing the traitorous actions of the NSA, Obama, Congress, the Judicial branch, and the corporate media. Snowden revealed the government, in cooperation with Google, Verizon, Facebook and a myriad of other technology/media companies, was collecting metadata and conducting mass surveillance of every American in violation of the Fourth Amendment, a clearly illegal form of search and seizure.
On June 19 I penned an article titled Who Are the Real Traitors? In the article I declared Obama, James Clapper, Dick Cheney, Diane Feinstein, Peter King and a plethora of other politicians, faux journalists, and talking media heads as the real traitors of the American people. The article achieved wide distribution through my usual channels and must have again drawn attention in Mordor on the Potomac. Two days later anyone with McAfee or Norton security were receiving false warnings about a malicious virus on my site. Long time readers in the military informed me the site was now blocked by the Department of Defense as a dangerous website. Other long-time readers informed me their corporations were now blocking access to the site. The site was inundated by denial of service attacks. It slowed to a crawl and was virtually inaccessible. I'm sure it was just a coincidence.
I was forced to switch server companies and hire an anti-hacking company to protect the site, thereby increasing my cost to run the site by a factor of 10. Even though the companies I hired confirmed there were no malicious viruses on the site, Norton continued to scare Internet Explorer users from reading my site for the next eight months. How the $8 billion Symantec (owns Norton) entity could rationalize this false warning on only $80 billion Microsoft's Internet Explorer, seems suspicious to me. The warning would not appear if you accessed the site with Mozilla Firefox, even if you employed Norton security. Norton makes it virtually impossible to appeal their false danger rating. I'm sure thousands of people were scared away from my website by these unaccountable corporate entities, working on behalf of the all-powerful state. Lofgren's Deep State or Bernays' Invisible Government hate the truth. They despise anyone who attempts to open the eyes of the public to their deception, criminality, and propaganda.
Google has become a tool and partner of the Deep State. Enrichment of the state within the state is their sole purpose. Google's Don't Be Evil motto, originated when they were a fledgling company in 2000, has become a farce as they have descended into the netherworld as the information police for the ruling despots. They are now a humungous corporation with near monopoly control over the flow of information, searches, emails, and internet advertising. They know more about you and your habits than you do. They attempt to control freedom of speech at the point of a wire transfer. Fall into line or no advertising blood money for you. Not only do they suppress viewpoints through advertising revenue bullying, they manipulate their search engine results to hide the truth from the masses.  Google search engines filter, block and bury blog posts that contain content or information it deems incompatible with the message of its corporate fascist co-conspirators. Its oppressive corporate practices on behalf of its evil partners are an abridgment of the freedom of speech, perversion of the truth, and active attempt to mold the minds of the masses.
One of the most intelligent and cleverest contributors to my website, Nick (aka Stucky), summed up the evil entity known as Google in this pointed comment on my website:
There is an Entity out there who knows every search you ever made.
The Entity knows all about your emails, the content and address.
The Entity knows what you buy online and how often.
The Entity is developing software to predict what you will buy next.
The Entity can now even watch you, and know where you are, and what you are doing.
The Entity even knows your habits.
The Entity has enormous resources and stacks of cash.
The Entity shares your information with Lesser Entities … and also The Big Evil Entity that rules us all.
The Entity makes the NSA, CIA, FBI, DHS, and their ilk look like Lightweight Chumps.
The Entity hates you. You are just a means to an end.
The Entity is building a Profile all about you.
The Entity will soon know you better than you know yourself.
Welcome to Google, the most evil Entity on the planet.
As a society we have fallen asleep at the wheel. We've allowed ourselves to be lulled into complacency, distracted by minutia, mesmerized by technology, turned into consumers by corporations, pacified by financial gurus and Ivy League economists, and fearful of our own shadows. Surveillance, censorship and propaganda are the tools of the oppressive state. Free speech and truthful revelations about the Deep State are a danger in the eyes of our oppressors. Words retain power and can change the hearts and minds of a tyrannized citizenry willing to listen. V's speech to London in the movie V for Vendetta, with slight modification, captures the essence of how Google fits into the evil matrix we inhabit today.
Because while the truncheon may be used in lieu of conversation, words will always retain their power. Words offer the means to meaning and for those who will listen, the enunciation of truth. And the truth is, there is something terribly wrong with this country, isn't there?
Cruelty and injustice…intolerance and oppression. And where once you had the freedom to object, to think and speak as you saw fit, you now have censors and systems of surveillance, coercing your conformity and soliciting your submission. How did this happen? Who's to blame? Well certainly there are those who are more responsible than others, and they will be held accountable. But again, truth be told…if you're looking for the guilty, you need only look into a mirror.
I know why you did it. I know you were afraid. Who wouldn't be? War. Terror. Disease. There were a myriad of problems which conspired to corrupt your reason and rob you of your common sense. Fear got the best of you and in your panic you turned to the government and their banking/corporate patrons. They promised you order. They promised you peace. And all they demanded in return was your silent, obedient consent.
I choose not to silently and obediently consent to the will of the Deep State. Google will not silence me. We are in the midst of a Fourth Turning and I will try to do my small part in sweeping away the existing social order and trying to replace it with a system that honors and follows the U.S. Constitution. In Part 2 of this expose of evil, I'll provide further proof of Google's hypocrisy, censorship, and willing participation in spying on the American people. I'm beginning to understand the major conflict which will drive this Fourth Turning – The People vs The Corporate Fascist State.
WARNING: The National Security Agency is recording and storing this communication as part of its unlawful spying program on all Americans … and people worldwide. The people who created the NSA spying program say this communication – and any responses – can and will be used against the American people at any time in the future should unelected bureaucrats within the government decide to persecute us for political reasons. Private information in digital communications is being shared between Google, Facebook, Verizon and the government. It will be used against you when it suits their purposes.
Off the keyboard of Jim Quinn
Published on The Burning Platform on April 23, 2013
Discuss this article at the Epicurean Delights Smorgasbord inside the Diner
"The real hopeless victims of mental illness are to be found among those who appear to be most normal. Many of them are normal because they are so well adjusted to our mode of existence, because their human voice has been silenced so early in their lives that they do not even struggle or suffer or develop symptoms as the neurotic does. They are normal not in what may be called the absolute sense of the word; they are normal only in relation to a profoundly abnormal society. Their perfect adjustment to that abnormal society is a measure of their mental sickness. These millions of abnormally normal people, living without fuss in a society to which, if they were fully human beings, they ought not to be adjusted." – Aldous Huxley – Brave New World Revisited
The political class set in motion the eventual obliteration of our economic system with the creation of the Federal Reserve in 1913. Placing the fate of the American people in the hands of a powerful cabal of unaccountable greedy wealthy elitist bankers was destined to lead to poverty for the many, riches for the connected crony capitalists, debasement of the currency, endless war, and ultimately the decline and fall of an empire. Ernest Hemingway's quote from The Sun Also Rises captures the path of our country perfectly:
"How did you go bankrupt?"
Two ways. Gradually, then suddenly."
The 100 year downward spiral began gradually but has picked up steam in the last sixteen years, as the exponential growth model, built upon ever increasing levels of debt and an ever increasing supply of cheap oil, has proven to be unsustainable and unstable. Those in power are frantically using every tool at their disposal to convince Boobus Americanus they have everything under control and the system is operating normally. The psychotic central bankers, "bought and sold" political class, mega-corporation soulless chief executives and corporate controlled media use propaganda techniques, paid "experts", talking head "personalities", captured think tanks, and the willful ignorance of the majority to spin an increasingly dire economic descent as if we are recovering and getting back to normal. Nothing could be further from the truth.
There is nothing normal about what Ben Bernanke and the Federal government have done over the last five years and continue to do today. Truthfully, nothing has been normal since the mid-1990s when Alan Greenspan spoke the last truthful words of his lifetime:
"Clearly, sustained low inflation implies less uncertainty about the future, and lower risk premiums imply higher prices of stocks and other earning assets. We can see that in the inverse relationship exhibited by price/earnings ratios and the rate of inflation in the past. But how do we know when irrational exuberance has unduly escalated asset values, which then become subject to unexpected and prolonged contractions as they have in Japan over the past decade?"
The Greenspan led Federal Reserve created two epic bubbles in the space of six years which burst and have done irreparable harm to the net worth of the middle class. Rather than learn the lesson of how much damage to the lives of average Americans has been caused by creating cheap easy money out of thin air, our Ivy League self-proclaimed expert on the Great Depression, Ben Bernanke, has ramped up the cheap easy money machine to hyper-speed. There is nothing normal about the path this man has chosen. His strategy has revealed the true nature of the Federal Reserve and their purpose – to protect and enrich the financial elites that manipulate this country for their own purposes.
Despite the mistruths spoken by Bernanke and his cadre of banker coconspirators, he can never reverse what he has done. The country will not return to normalcy in our lifetimes. Bernanke is conducting a mad experiment and we are the rats in his maze. His only hope is to retire before it blows up in his face. Just as Greenspan inflated the housing bubble and exited stage left, Bernanke is inflating a debt bubble, stock bubble, bond bubble and attempting to re-inflate the housing bubble just in time for another Ivy League Keynesian academic, Janet Yellen, to step into the banker's box. This genius thinks Bernanke has been too tight with monetary policy. It seems inflated egos are common among Ivy League economist central bankers who think they can pull levers and push buttons to control the economy. Results may vary.
The gradual slide towards our national bankruptcy of wealth, spirit, freedom, self-respect, morality, personal responsibility, and common sense began in 1913 with the secretive creation of the Federal Reserve and the imposition of a personal income tax. Pandora's Box was opened in this fateful year and the horrors of currency debasement and ever increasing taxation were thrust upon the American people by a small but powerful cadre of unscrupulous financial elite and the corrupt politicians that do their bidding in Washington D.C. The powerful men who thrust these evils upon our country set in motion a chain of events and actions that will undoubtedly result in the fall of the great American Empire, just as previous empires have fallen due to the corruption of its leaders and depravity of its people. Creating a private central bank, controlled by the Wall Street cabal, and allowing the government to syphon the earnings of workers through increased taxation has allowed politicians the ability to spend, borrow, and print money at an ever increasing rate in order to get themselves re-elected and benefit the cronies, hucksters and bankers that pay the biggest bribes. None of this benefit the average American, who sees their purchasing power systematically inflated and taxed away. This is not capitalism and it is not a coincidence that war and inflation have been the hallmarks of the last century.
"A system of capitalism presumes sound money, not fiat money manipulated by a central bank. Capitalism cherishes voluntary contracts and interest rates that are determined by savings, not credit creation by a central bank. It is no coincidence that the century of total war coincided with the century of central banking." – Ron Paul
As you can see, the bankruptcy of our country and our culture began gradually, accelerated after Nixon closed the gold window in 1971, really picked up steam in 1980 when the debt happy Baby Boom generation came of age, and has "suddenly" reached maximum velocity as we approach the true fiscal cliff. There were many checkpoints along the way where fatefully bad choices were made. They include the New Deal, Cold War, Great Society, Morning in America, Dotcom New Paradigm, Housing Wealth Retirement Plan, Obamacare, and present belief that creating more debt will solve a problem created by too much debt. The Federal Reserve allowed interventionist politicians to fight two declared wars (World War I, World War II), fight five undeclared wars (Korea, Vietnam, Gulf, Afghanistan, Iraq), conduct hundreds of military engagements around the globe, occupy foreign countries, begin a war on poverty that increased poverty, begin a war on drugs that increased the amount of available drugs, and finally start a war on terror that has increased the number of terrorists and pushed us closer to national bankruptcy. The terrorists have already won, as the explosion of stupidity and irrational fear has allowed those in power to acquire more power and dominion over our lives.
Abnormality Reigns
"We live surrounded by a systematic appeal to a dream world which all mature, scientific reality would reject. We, quite literally, advertise our commitment to immaturity, mendacity and profound gullibility. It is as the hallmark of the culture. And it is justified as being economically indispensable." – John Kenneth Galbraith
When I critically scrutinize the economic, political, financial, and social landscape at this point in history, I come to the inescapable conclusion that our country and world are headed into the abyss. This is most certainly a minority viewpoint. The majority of people in this country are oblivious to the disaster that will arrive over the next decade. Some would attribute this willful ignorance to the normalcy bias that infects the psyches of millions of ostrich like iGadget distracted, Facebook addicted, government educated, financially illiterate, mass media manipulated zombies. Normalcy bias refers to a mental state people enter when facing a disaster. It causes people to underestimate both the possibility of a disaster occurring and its possible effects. This often results in situations where people fail to adequately prepare for a disaster, and on a larger scale, the failure of governments to inform the populace about the impending disaster. The assumption that is made in the case of the normalcy bias is that since a disaster hasn't occurred yet, then it will never occur. It also results in the inability of people to cope with the disaster once it occurs. People tend to interpret warnings in the most optimistic way possible, seizing on any ambiguities to infer a less serious situation.
The unsustainability of our economic system built upon assumptions of exponential growth, ever expanding debt, increasing consumer spending, unlimited supplies of cheap easy to access oil, impossible to honor entitlement promises, and a dash of mass delusion should be apparent to even the dullest of government public school educated drones inhabiting this country. I don't attribute this willful ignorance to normalcy bias. I attribute it to abnormalcy bias. In a profoundly abnormal society, adjusting your thinking to fit in appears normal, but is just a symptom of the disease that has infected our culture. There is nothing normal about anything in our society today. If you were magically transported back to 1996 and described to someone the economic, political, financial and social landscape in 2013, they would have you committed to a mental institution and given shock therapy.
Even though we've been in a 100 year spiral downwards, things still appeared relatively normal in 1996 when Greenspan uttered his "Irrational Exuberance" faux pas that so upset his Wall Street puppet masters. The ruling class had not yet repealed Glass-Steagall (pre-requisite for pillaging the muppets), created the internet bubble, fashioned the greatest control fraud in world history (housing bubble unrecognized by Ben Bernanke), or taken advantage of mass hysteria over 9/11 to begin the never ending war on terror and expansion of the Orwellian state. The citizens, and I use that term loosely, of this country have allowed those in control of the government and media to convince them the situation confronting us is just a normal cyclical variation that will be alleviated by tweaking existing economic policies and trusting that Ben Bernanke will pull the right monetary levers to get us back on course. The stress inflicted on their brains in the last thirteen years of bubbles and wars has made the average person incapable of distinguishing between normality and abnormality. What they need is slap upside of their head. Is there anything normal about these facts?
The Federal Reserve's balance sheet in 1996 consisted of $422 billion, of which 91% were Treasury securities. Today it consists of $3.25 trillion, of which only 56% are Treasury securities, and the rest is toxic home mortgages, toxic commercial mortgages, and whatever other crap the Wall Street banks have dumped on their books. Their balance sheet is leveraged 57 to 1 and Bernanke has promised his Wall Street bosses he will add another $750 billion before the year is out. Is there anything normal about a central bank adding twice as much debt to its balance sheet in less than twelve months than existed on its entire balance sheet in 1996?
The National Debt at the end of fiscal 1996 was $5.25 trillion. It increased by $250 billion that year. The GDP of the country was $7.8 trillion. Our national debt as a percentage of GDP was only 67% and our annual deficit was only 3% of GDP. At the time, the country was worried about these outrageous levels of debt. Today the National Debt stands at a towering $16.8 trillion. It has increased by a staggering $1.12 trillion in the last twelve months. The GDP of the country today is $15.7 trillion. Our national debt as a percentage GDP has soared to 107%. Our annual deficits now exceed 7% of GDP on a consistent basis. Our budgets are on automatic pilot, with the $20 trillion level to be breached by 2016. Is it a normal state of affairs when the GDP of your country rises by 100% over seventeen years, while your debt rises by 320%?
 Total government spending (Federal, State, Local) in 1996 totaled $2.7 trillion, or 35% of GDP. Today total government spending is $6.3 trillion, or 40% of GDP. In 1979, before the belief in government became a religion, total government spending was only 31.5% of GDP (27% in 1965). Are you receiving twice the service from government than you received in 1996? Are you safer from terrorists due to the massive expansion of the police state? Are your kids getting a much better education than they did in 1996? Have the undeclared wars benefitted you in any way, other than tripling the price of gas? Are the higher wage taxes, real estate taxes, school taxes, sewer fees, utility fees, phone fees, gasoline taxes, permit fees, and myriad of other government charges worth it? Is it normal for government to account for almost half of our economy?
In 1996 personal consumption expenditures accounted for 67% of GDP, while private domestic investment accounted for 16% of GDP and we ran small trade deficits of 1% of GDP. Today, consumer spending accounts for 71% of GDP (despite the storyline about consumer retrenchment), while domestic investment has contracted to 13% of GDP and our trade deficits have surged to almost 4% of GDP. The Federal government has expanded their piece of the GDP pie by 130% since 1996, with the Department of War accounting for the bulk of the increase. Saving and capital investment is now penalized in this country. Is it normal for a country to borrow, consume and bleed itself to death?
Consumer credit outstanding totaled $1.2 trillion in 1996, or $4,500 per every man, woman and child in the country. Today, the austere balance is now $2.8 trillion, or $8,800 per every man, woman and child inhabiting our debt saturated paradise. The more than doubling of consumer debt would be acceptable if wages were rising at a similar rate. But that hasn't been the case, as wages have only advanced from $3.6 trillion in 1996 to $7.0 trillion today. With even the massively understated CPI showing 50% inflation since 1996 and 23% more Americans in the working age population (45 million), real wages have advanced by 30%. Using a true measure of inflation, real wages have fallen. Total credit market debt in 1996 was $19 trillion, or 243% of GDP. Today total credit market debt sits at an all-time high of $56.2 trillion, or 358% of GDP. Is it normal for credit market debt to increase at three times the rate of GDP?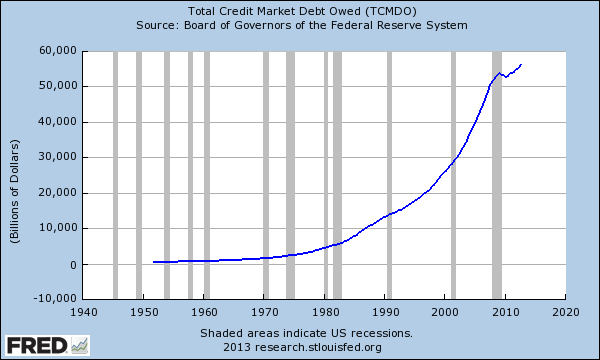 In 1996, personal income totaled $6.6 trillion, with wages accounting for 55% of the total, interest income on savings accounting for 12% and government entitlement transfers accounting for 14%. Today personal income totals $13.6 trillion, with wages accounting for 51% of the total, interest income on savings plunging to 7% due to Bernanke's "Screw a Senior Zero Interest Policy", and Big Brother entitlement transfers skyrocketing to 18%. In what Orwellian dystopian society is taking money from wage earners and redistributing it to non-wage earners considered personal income? Is it normal for a government to punish savers and makers in order to benefit the borrowers and takers?
Prior to the financial collapse and during the mid-1990s prudent risk-averse savers could get a 4% to 5% return on money market accounts. Since the Wall Street created worldwide financial collapse, Ben Bernanke, at the behest of these very same Wall Street banks, has reduced short term interest rates to 0%. The result has been to transfer $400 billion per year from the pockets of savers and senior citizens into the grubby hands of bankers that have destroyed our economy. The prudent are left earning .02% on their savings, while the profligate bankers can borrow for 0% and earn billions by re-depositing those funds at the Federal Reserve. In what bizarro world this be a normal state of affairs?
Total mortgage debt outstanding in 1996, before the epic Wall Street produced housing bubble, was $4.7 billion. Today, even after the transfer of almost $1 trillion of bad debt to the balance sheet of the American taxpayer, the amount of mortgage debt is an astounding $13.1 trillion. Despite home values rising since 1996, there are 20% of all households still in a negative equity position. Total household real estate equity was 60% in 1996, plunged below 40% in 2009, and has only slightly rebounded to 47% today because Wall Street dumped the bad mortgages on the backs of the American taxpayer. Is it normal for mortgage debt to triple and home equity to plunge in a rationally functioning world? Is it normal when 25% of all existing home sales are distressed sales and another 30% are sales to Wall Street hedge funds like Blackrock?
In 1996 there were 200 million working age Americans, with 134 million (67%) in the labor force, 127 million (63.5%) employed, and 66 million (33%) not in the labor force. Today there are 245 million working age Americans, with 155 million (63%) in the labor force, 143 million (58%) employed, and 90 million (37%) supposedly not in the labor force. The number of working age Americans has increased by 22.5%, while the number of those employed has advanced by only 12.5%. The population to employment ratio has reached a three decade low as millions have given up, been lured into college by cheap plentiful government debt, or developed a mysterious ailment that has gotten them into the SSDI program. Is it normal for millions of Americans to leave the labor force when the economy is supposedly recovering?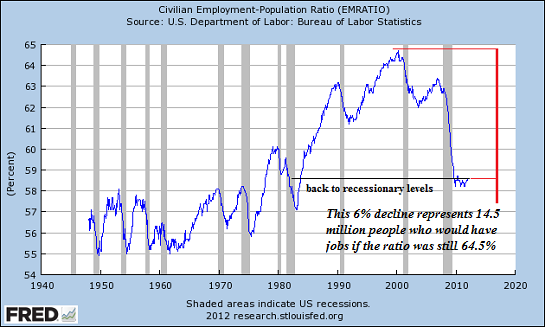 In 1996 there were 25.5 million Americans on food stamps, or 9.6% of the population, costing $24 billion per year. Today there are 47.8 million Americans on food stamps, or 15% of the population, costing $75 billion per year. Historically, the number of people in this program would rise during recessions and recede when the economy recovered, just as a safety net program should function. According to our government keepers the economy has been in recovery since late 2009. The number of people entering the food stamp program has gone up by 7 million since the recession officially ended. This is not normal. Either the government is lying about the recession or they are screwing the taxpayer by encouraging constituents to enter the program in an effort to gain votes. Which is it?
The price of oil averaged $20 per barrel in 1996 and it cost you $1.20 per gallon to fill your tank. Oil averaged $85 per barrel in 2012 and currently hovers around $90 per barrel. Most Americans are now paying between $3.50 and $4.00 per gallon to fill their tanks. This result seems abnormal considering the propaganda machine is proclaiming we are on the verge of energy independence. After two Middle East wars, 6,700 dead American soldiers, 50,000 wounded American soldiers, and $1.5 trillion of national wealth wasted, this is all we get – a tripling in gas prices and creation of thousands of new terrorists?
You have to have a really bad case of normalcy bias to be able to convince yourself that everything that has happened since 1996 is normal. Every fact supports the reality that we've entered a period of extreme abnormality and our response as a nation thus far has insured that a disaster of even far greater magnitude is just over the horizon. Anyone with an ounce of common sense realizes the social mood is deteriorating rapidly. We are in the midst of a Crisis period that will result in earth shattering change, but the masses want things to go back to normal and don't want to face the facts. The cognitive dissonance created by reality versus their wishes will resolve itself when the next financial collapse makes 2008 look like a walk in the park. But, until then most will just stick their heads in the sand and hope for the best.
Loving Your Servitude
"Liberty is lost through complacency and a subservient mindset. When we accept or even welcome automobile checkpoints, random searches, mandatory identification cards, and paramilitary police in our streets, we have lost a vital part of our American heritage. America was born of protest, revolution, and mistrust of government. Subservient societies neither maintain nor deserve freedom for long." – Ron Paul
The most disgraceful example of abnormality that has infected our culture has been the cowardice and docile acquiescence of the citizenry in allowing an ever expanding police state to shred the U.S. Constitution, strip us of our freedoms, and restrict our liberties. Our keepers have not let any crisis go to waste in the last seventeen years. They have also taken advantage of the willful ignorance, childish immaturity, extreme gullibility, historical cluelessness, financial illiteracy and techno-narcissism of the populace to reverse practical legislation and prey upon irrational fears to strip the people of their constitutionally guaranteed liberties and freedoms. If you had told someone in 1996 the security measures, laws, and police agencies that would exist in 2013, they would have laughed you out of the room. Every crisis, whether government created or just convenient to their agenda, has been utilized by the oligarchs to expand the police state and benefit the crony capitalists that profit from its expansion. The character of the American people has been found wanting as they obediently cower and beg for protection from unseen evil doers. The propagandist corporate media reinforces their fears and instructs them to submissively tremble and implore the government to do more. The cosmic obliviousness and limitless sense of complacency of the general population with regards to a blatantly obvious coup by a small cadre of sociopathic financial elite and their army of bureaucrats, lackeys and jackboots is a wonder to behold.
The 1929 stock market crash and ensuing Great Depression was primarily the result of excessively loose Federal Reserve monetary policy during the Roaring 20's and the unrestrained fraud perpetrated by the Wall Street banks. The 1933 Glass-Steagall Act was a practical 38 page law which kept Wall Street from ravenously raping its customers and the American people for almost seven decades. The Wall Street elite and their bought off political hacks in both parties repealed this law in 1999, while simultaneously squashing any effort to regulate the financial derivatives market. The day trading American public didn't even look up from their computer screens. Over the next nine years Wall Street went on a fraudulent feeding frenzy rampage which brought the country to its knees and then held the American taxpayer at gunpoint to bail them out. The Federal Reserve arranged rescue of LTCM in 1998 gave the all clear to Wall Street that any risk was acceptable, since the Fed would always bail them out. Just as they did in the 1920's, the Federal Reserve set the table for financial disaster with excessively low interest rates and non-existent regulatory oversight.
The downward spiral of our empire towards an Orwellian/Huxley merged dystopian nightmare accelerated after the 9/11 attacks. Within one month those looking to exert hegemony over all domestic malcontents had passed the 366 page, 58,000 words Patriot Act. Did the terrified masses ask how such a comprehensive destruction of our liberties could be written in under one month? It is apparent to anyone with critical thinking skills that the enemy within had this bill written, waiting for the ideal opportunity to implement this unprecedented expansion of federal police power. Electronic surveillance of our emails, phone calls and voice mails, along with warrantless wiretaps, and general loss of civil liberties was passed without question under the guise of protecting us. Next was the invasion of a foreign country based upon lies, propaganda and misinformation without a declaration of war, as required by the Constitution. Our government began torturing suspects in secret foreign prisons. The shallow, self-centered, narcissistic, Facebook fanatic populace has barely looked up from texting on their iPhones to notice that we have been at war in the Middle East for eleven years, because it hasn't interfered with their weekly viewing of Honey Boo Boo, Dancing With the Stars, or Jersey Shore. They occasionally leave their homes to wave a flag and chant "USA, USA, USA", as directed by the media, when a terrorist like Bin Laden or Boston bomber is offed by our security services, but for the most part they can live their superficial vacuous lives of triviality unscathed by war.
The creation of the Orwellian Department of Homeland Security ushered in a further encroachment of our everyday freedoms. They attempted to keep the masses frightened through a ridiculous color coded fear index. Little old ladies, people in wheelchairs and little children are subject to molestation by lowlife TSA perverts. Military units conduct "training exercises" in cities across the country to desensitize the sheep-like masses, who fail to acknowledge that the U.S. military cannot constitutionally be used domestically. DHS considers military veterans, Ron Paul supporters, and Christians as potential enemies of the state. The use of predator drones to murder suspected adversaries in foreign countries, while killing innocent men, women and children (also known as collateral damage), has just been a prelude to the domestic surveillance and eventually extermination of dissidents and nonconformists here in the U.S. We are already becoming a 1984 CCTV controlled nation. DHS has been rapidly militarizing local police forces in cities and towns to supplement their jackbooted thugs. Obama's executive orders have given him the ability to take control of industry. He can imprison citizens without charges for as long as he deems necessary. Attempts to control gun ownership and shutdown the internet is a prologue to further government domination and supremacy over our lives when the wheels come off this unsustainable bus.
The last week has provided a multitude of revelations about our government and the people of this country. The billions "invested" in our police state, along with warnings from a foreign government, and suspicious travel patterns were not enough for our beloved protectors to stop the Boston Marathon bombing. After stumbling upon these amateur terrorists by accident, the 2nd responders, with their Iraq war level firepower, managed to slaughter one of the perpetrators, but somehow allowed a wounded teenager to escape on foot and elude 10,000 donut eaters for almost 24 hours. The horde of heavily armed, testosterone fueled thugs proceeded to bully and intimidate the citizens of Watertown by illegal searches of homes and treating innocent people like criminals. The government completely shut down the 10th largest metropolitan area in the country for an entire day looking for a wounded 19 year old. The people of Boston obeyed their zoo keepers and obediently cowered in their cages.
The entire episode was an epic fail. The gang that couldn't shoot straight needed an old man to find the bomber in his backyard boat. The people of Boston exhibited the passivity and subservience demanded by their government. Since the capture of the remaining terrorist, the shallow exhibitions of national pride at athletic events and smarmy displays of honoring the police state apparatchiks who screwed up – allowing the attack to occur and looking like the keystone cops during the pursuit of the suspects, has revealed a fatal defect in our civil character. We are living in a profoundly abnormal society, with millions of medicated mindless zombies controlled by a vast propaganda machine, who seemingly enjoy having their liberties taken away. Most have willingly learned to love their servitude. For those who haven't learned, the boot of our vast security state will just stomp on their face forever. We're realizing the worst dystopian nightmares of Orwell and Huxley simultaneously. This abnormalcy bias will dissipate over the next ten to fifteen years in torrent of financial collapse, war, bloodshed, and retribution. Sticking your head in the sand will not make reality go away. The existing social, political, and financial order will be swept away. What it is replaced by is up to us. Will this be the final chapter or new chapter in the history of this nation? The choice is ours.
"If you want a vision of the future, imagine a boot stamping on a human face – forever.
– George Orwell
"There will be, in the next generation or so, a pharmacological method of making people love their servitude, and producing dictatorship without tears, so to speak, producing a kind of painless concentration camp for entire societies, so that people will in fact have their liberties taken away from them, but will rather enjoy it, because they will be distracted from any desire to rebel by propaganda or brainwashing, or brainwashing enhanced by pharmacological methods. And this seems to be the final revolution" –Aldous Huxley, 1961
I am at last safely back on the Last Great Frontier following my Excellent Mexican Dental Adventure.  Still not sure I'll survive long term here as I am a long way from being able to actually chew anything, and even getting down soups without choking is rough.  However, I think I've spent enough time for a while on my dental issues.  You can read more of the gory details inside the Diner.
Lots of concern last couple of days over the rapid expansion of the Police State surveillance powers as I hop around through my favorite websites.  I've set up the Blogger Buffet with my favorite blogs, but what I really need is an I-phone App that allows you to Remote control any computer and bring up your favorite websites.  I'm sure one already exists of course.
Anyhow, I don't see what all the hullaballoo is about here.  Basically from its inception, all electronic communications via the internet have been subject to EZ surveillance, recording and data mining.  The fact that the NSA is building a new bigger Spy Shop to record everything that passes accross the net is nothing new, they have been doing this already for a long time.  The new facility is just designed to handle the greater traffic loads they expect in the future as the whole world gets wired up and they have to keep tabs on 1.3B chinese in addition to just the .35 B FSofA slaves.  Individually, your privacy isn't going to be compromised by this new facility any more than it already is.  TPTB already have the power to read all your emails, check all your bank transactions and follow you around as long as you have your Phone turned on all day.
Anyhow, IMHO this is just another example of Malinvestment on the techno paradigm.  This facility isn't going to be collecting much data once the electric grid fails.  Maybe they get another 5-10 years running the high tech Brave New World/Big Brother paradigm, but this has about as much chance of long term utility as Carz do.
As an example here, take the Greeks.  For just how much longer do you think Greek millenials are going to be scurrying around Athens texting each other on their smart phones?  Even assuming they keep the network up and running through some privatization scheme for a while, who's going to have money to pay their cell phone bill?
All the concern over your electronic data privacy is rooted in the belief that this whole infrastructure is going to stand in perpetuity.  Really, its only been around for 20-30 years here to begin with and everybody seems to think we can't live without it and Da Goobermint will wield it as a means of perpetual control over the population.  Poppycock!  In 30 years the Data Center in Utah will be just another rotting hulk along with all the strip malls and Instant Oil Change Jiffy Lubes.
For those of you concerned with Da Goobermint spying on what you write on the internet in the next 5 years or so and sending you to GITMO, given the number of people writing anti-Goobermint rants these days, you'll have to go pretty far to garner any attention.  Then in all likelihood once WWIII really gets rolling, the only info you'll be able to get off the Net is Goobermint Propaganda anyhow.  Bloggers will probably have to apply for a License to Blog and sign Agreements not to write anything except what Da Goobermint sends to you daily as acceptable topics with the politically correct spin.
Anyhow, for as long as this does last, the answer to the problem is Information Overload.  If EVERYBODY is writing anti-Goobermint Rants on a daily basis, the NSA Goobers are basically going to have to just randomly pick out examples to send to GITMO.  At the moment, I suspect my chances of winning this Lotto are less than 1:1000.  More well read Bloggers might have slightly higher odds of getting nailed.
So, don't sweat it.  Who knows, if your Comment is read by some NSA apparatchik, it might finally be the one that gets him to wake up and smell the coffee, and a Convert will be gained inside the Belly of the Beast.  I personally do not worry abotu this surveillance, and in fact I WELCOME the fact all my prose is being Recorded for Historical purposes.  Of course, its just going to exist as a bunch of electronic bits on an NSA Hard Drive and in 50 years nobody will be able to read it again, but at least its out there somewhere after I buy my ticket to the Great Beyond.
RE