From the keyboard of Surly1
Follow us on Twitter @doomstead666
Like us on Facebook
Originally published on the Doomstead Diner on January 18, 2016
"There is no character, howsoever good and fine, but it can be destroyed by ridicule, howsoever poor and witless. Observe the ass, for instance: his character is about perfect, he is the choicest spirit among all the humbler animals, yet see what ridicule has brought him to. Instead of feeling complimented when we are called an ass, we are left in doubt."
― Mark Twain, Pudd'nhead Wilson
---
During the first weekend of the year, a remote bird watching facility known as the Malheur National Wildlife Refuge was seized by a group of armed insurrectionists associated with a variety of "patriot" and right-wing causes. These militants, led by Ammon and Ryan Bundy (sons of noted millionaire rancher and scofflaw Cliven Bundy) and a veritable sideshow of lesser-known cosplayers and heavily armed professional victims, showed up ostensibly to demonstrate support for a pair of Oregon ranchers. Dwight Hammond Jr. and son Steven had been previously convicted under federal law of arson for setting fires on their own property, which subsequently spread to federal land, earning a verdict which rankled and seemed excessive to some.
The story of the Hammonds is more complicated than a brief gloss will permit and has roots in conflict over federal land management and administrative policies that began decades before during the Reagan administration. And now the conflict bears further encrustations of so-called "patriot" fervor, right-wing conspiracy theories, Mormon fanaticism, White Power rebranded, and wingnut entitlement fantasies.
Note that this overheated screed is assembled from a variety of news reports, and pasted together with the kind of surly attitude that those who blunder into this occasional space will recognize. We are not on the ground in Oregon, have no direct line into the Bundy's Klaven, nor make common cause with their complaint or their remedy. Rather, this space recognizes that public land is an asset held in public trust for all of us. And in our current depraved time when, if an honest profit cannot be made, a dishonest one will have to do, the push to privatize public land is nothing more than wholesale theft of the commons. Like most, I resent theft. With such a jaundiced eye do I regard the Bundys and their fellow travelers, while recognizing that federal land use issues and lease conditions may look very different west of the Mississippi.
And before we dig in, one more bitch: let's not call these heavily-armed proto-fascists "occupiers." A sloppy and craven corporate media has taken to referring to their armed militia as "occupiers" just because they have taken up residence in federal buildings. Both the means and agenda of these right-wing fantasts are as different from those of Occupy Wall Street and the hundreds of uniformly peaceful Occupy groups that sprang up peacefully in 2011 as Donald Trump is from Mother Theresa. As is the response from those charged with maintaining public order.
---
The Malheur National Wildlife Refuge was established 1908, by noted communist revolutionary and property confiscator Theodore Roosevelt as "as a preserve and breeding ground for native birds." The original purpose was to protect herons and other species of birds whose populations had been decimated by plume hunters toiling for the hat industry. Before that, the land was inhabited by the native Paiute, then cleared by the Army, after which the government sold much of it to ranchers for grazing. Cattle ranching in Harney County has always been first and foremost a corporate concern.
The U.S. military first had to ethnically cleanse the land, getting rid of the various native peoples that had lived in these stretches for thousands of years. But even after the land had become "free" to white settlers, prospective ranchers still needed markets for their cattle, especially once their primary market for meat, the Army, had moved on to other territories. It was the federal government that stepped in and bailed them out, taking on debt by an act of Congress to finance and build a railroad system. Without the Central Pacific Railway, those thousands of cattle could never have been sold.
So the foundation myth concocted by the Bundyites, of "individual homesteads headed by patriarchal Free Men" is a fiction concocted to justify an armed land grab. Little wonder that the reaction of many to the news of the armed seizure of federal facilities was a wonder at the lack of immediate forceful response from law enforcement, followed by laughter.
---
"Jamokes, dildos and lube."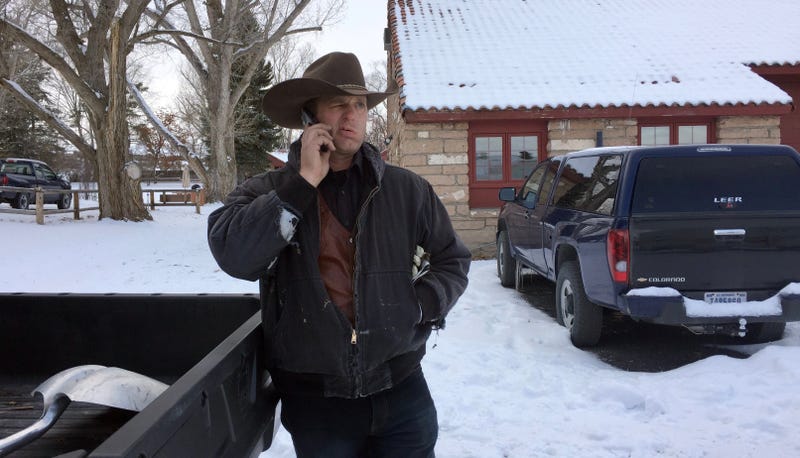 An article in Deadspin set the tone for the way in which the remaining 97 per cent of the population not subscribing to right-wing fever dreams or getting their daily news from Infowars or Facebook reacted to reports of the armed clownboys.
Those Jamokes In Oregon Aren't Terrorists, They're Jamokes
Imagine the grade of sad, stunted halfwit who decks himself out in paramilitary regalia and lethal weaponry to stage a sit-in at what is for all intents and purposes a remote wildlife park's visitor's center. Okay, men, when I kick in the door, you three move on the 74-year-old v0lunteer who shows the birdwatching slideshow to elementary-school field trip groups; if she makes a move, be ready to take her down with force. The rest of us will establish a defensive position behind the cardboard beaver. If bigger goobers than these exist on our planet, you identify them by the bruises from where they poked themselves in the eye while trying to pick their noses.
On his Facebook page, one John Ritzheimer put out a meandering video declaration from behind the wheel as he was driving to join his brokeback assemblage of cosplayers.
Things we could use:
cold weather socks
snacks
energy drinks
equipment for cold weather
snow camo
gear
anything you think will help.
Hilarity ensued. Woodwork creaks, and out come the freaks… and their memes. My favorite:
And then the public responded, and Ritzheimer displayed as deft a grasp of public relations as of the version of the Constitution he famously worships.
Well as it turns out, some "sympathizers" did indeed have ideas about "what would help."

"The occupiers, who took over buildings at the Malheur National Wildlife Refuge on Jan. 2 in the latest conflict over the U.S. government's control of land in the West, had been hoping for snacks, fuel and warm clothes when they provided sympathizers with a local mailing address," Reuters notes. "Instead, as they angrily showed online, they received sex-related toys and food that would be of little use as they braced for a long standoff with federal law enforcement agents who have kept watch from a distance."
Thus was outright ridicule the initial reaction of those who don't share the curious "sovereign citizen" and Posse Comitatus– inspired interpretation of the Constitution and common law of the Patriot/Militia movement. And these jamokes make it easy.
To our way of thinking, those solons at Salon got it about right:
Every day that these yahoos are out there, they expose how empty and stupid the myth of the "rugged individual" that the right so romanticizes really is. Instead, we get to see that these supposedly rugged individuals are, in reality, extremely silly people who are mostly there to play dress-up, engage in fantasies of self-importance, and beg the government to give them free money so they can get rich.
---
What if they were black?
The federal government used a very light touch to Cliven Bundy's armed tantrum in 2014, in stark contrast to the outright violence/police riots that greeted Occupy in 2011-12. The response of the government thus far to the armed militancy of his sons and their followers has been likewise restrained. If not visible. Many have posed the question, "What if these occupiers were black?"
Well, we have a pretty good answer, based on actual history. The racist double standard is stark. Remember MOVE?
30 years ago, a similar standoff between police and a black anti-government group in Philadelphia played out very differently. Armed members of a fringe liberation group called MOVE were bombed and burned alive for directing their weapons at police…


Members of the liberation group sought a natural lifestyle, free of government control, law enforcement, and technology. They lived together in a barricaded house, protested for animal rights, and ate raw foods. Similar to Bundy's supporters, they believed the federal government violated their constitutional rights. And with a cache of weapons in their possession, they also advocated armed defense if targeted by the city's authorities.


On May 13, 1985, officers with warrants and military-grade weapons surrounded their house. Police claimed they were there to evict the group, in response to complaints from locals about MOVE's use of blow-horns to proselytize late into the night. They pointed deluge guns at the house and yelled at the people inside to evacuate. Tear gas was thrown into the building to smoke them out. But when someone started shooting back, the officers returned the gunfire with 10,000 rounds. Without knowing how many people were inside, they began throwing explosives at the house. And when nobody came out, they dropped a bomb from a helicopter — setting off a fire that spread to 65 homes and that firefighters were ordered not to put out.


In the end, one woman and one child made it out of the house alive. Five children and six adults were killed.
But that was local police in Philadelphia, you might reasonably observe, not the Feds You might also bring up the fact that this was not the local cops' first run in with armed radicals at the MOVE house, and in that you would be correct as well. So, you might wish to compare apples and apples and ask, what would happen if black people attempted to occupy a federal installation?
Unarmed black protesters were 'forcibly removed' and jailed after they tried to occupy federal land in 1979
In 1979, 40 members of People Organized for Equal Rights set up camp on a federal nature preserve south of Savannah, Georgia — where their ancestors had lived for generations.

A white plantation owner had deeded the land to a former slave after the Civil War, and other freed slaves and their descendant moved to the area — known as Harris Neck — to live, work, fish and farm for decades.

That all came to an abrupt end in 1942, when the U.S. military took over Harris Neck through eminent domain and gave residents three weeks to leave.

Black landowners were paid significantly less for their land than white landowners in the area, the newspaper reported, and the government destroyed the houses, factories and farms they had built. The government abandoned the airbase it built in their community after World War II, and the land was eventually converted into the Harris Neck National Wildlife Refuge.

In 1972, 26 families who are direct descendants of the original inhabitants organized to reclaim the land — and they staged a "camp-in" seven years later to force the government to recognize their cause.

The unarmed protesters set up a camp at the nature preserve, and they asked for $50 million in reparations to rebuild the churches, schools, businesses and homes that were bulldozed by the government almost 40 years earlier.
Well, you already know how this ended. Federal authorities immediately secured a court order to remove the "squatters" within a day of setting up camp at Harris Neck — but four of the unarmed protesters refused to leave.They were "forcibly removed" May 2, 1979 — within three days of their arrival on land where their parents and grandparents had farmed, hunted and fished.
Each of the four men was sentenced to a month in jail for trespassing, and courts have subsequently ruled the land belongs to the U.S. government — and not to the slaves' descendants.
Since this case echoes some of the circumstances and the complaints lodged by the Bundys and their ilk, it will be instructive to see how it is resolved, especially the so-called "land claims." The treatment of the so-called "militants" by so-called "law enforcement" already speaks for itself.
---
A Land Grab With Guns
'Patriot' groups are a spinoff cult of white supremacists and are providing well-armed useful idiots for an armed land grab by people with a curious reading of the Constitution and a bloated sense of entitlement. The excuse for supporting the Hammond family provides the thinnest of pretexts for this latest installment of a long-standing soap opera by radical right-wingers to dismantle federal land ownership in the West. Some elected officials are attempting to get lands transferred to state or county governments, or to allow them greater input regarding their use via the introduction of legislation.
But the Malheur takeover seems to be an attempt to spread a tactic of armed federal land takeovers, emboldened by the facedown of the federal Bureau of Land Management by Cliven Bundy in 2014. (Bundy was at first praised by conservative politicians and personalities until he was quoted suggesting that "the Negro" would be better off as slaves than under government subsidies, thus becoming socially radioactive.)
These armed "Patriot movement" groups have seen a rebirth since the 2008 election of the Kenyan Anticolonial Socialist. The 'Patriot' movement relies on a sense of victimhood as aggrieved as it is imaginary: a vision of repeated injuries and usurpations by an oppressive government, all having as their direct object the establishment of an absolute tyranny. The "Patriot" movement relies upon a highly idiosyncratic reading of the Constitution, including crank legal theories such as "sovereign citizenship," the idea that the United States is a private corporation operating under maritime law, and the notion that a county sheriff was the highest elected official that should be obeyed. Infer for yourself their concept of federal environmental restrictions. (The Pacific Standard has a detailed account of this far-right rationale here.) Under such fairy tales can activists claim that what is happening to the Hammonds is unconstitutional.
The Boston Globe published an article tracing the historical animus between the Mormon church and the US government.
When the Mormons reached Utah in 1847, Smith's successor Brigham Young founded the breakaway state of Deseret (the word for "honeybee" in the Book of Mormon), which rejected many US laws, specifically those that forbad the Mormon practice of polygamy. US troops invaded Mormon Utah in 1857. Last-minute diplomacy narrowly averted a bloodbath.

Like Joseph Smith, Brigham Young preached that the American Constitution was a divinely inspired document being perverted by secular politicians in Washington. In a famous speech recorded in the church's "Journal of Discourses," Young "said if the Constitution of the United States were saved at all it must be done by this people" — meaning the Mormons.
But Mormonism is just one facet of this issue. The current conflict has roots in the so-called "Sagebrush Rebellion," resistance to Federal control of Western lands dating back to the Reagan Administration in the 1980s, and emboldened and nurtured by Reagan's Interior Secretary, James Watt. And then there is the pro-logging, pro-ranching, pro-mining "Wise Use Movement," which emerged in the early 1990s during the Clinton Administration. All of which has been nurtured and fanned into flame by the American Legislative Exchange Council, or ALEC. Anyone who wants to understand the politics of public land, the environmental impacts (none of them good) of overgrazing those lands, and with the eventual endgame might look like would do well to read The Great Republican Land Heist By Christopher Ketcham in the February 2015 Harper's. Ketcham details the attitudes of the Bundys and the assistance these "welfare parasites" (in Edward Abbey's phrase) have had along the way from influential right wing friends.
Ketchum quotes from Historian Bernard DeVoto, who covered the same issue for Harpers in the 1940s. Ketchum cites DeVoto,
cautioning that the livestock industry was attempting "one of the biggest land grabs in American history." The public lands "are first to be transferred to the states on the fully justified assumption that if there should be a state government not wholly compliant to the desires of stockgrowers, it could be pressured into compliance," he wrote. "Nothing in history suggests that the states are adequate to protect their own resources, or even want to, or suggests that cattlemen and sheepmen are capable of regulating themselves even for their own benefit, still less the public's."The push for state ownership of public lands was part of a larger ideological struggle, DeVoto concluded, "only one part of an unceasing, many-sided effort to discredit all conservation bureaus of the government, to discredit conservation itself."
Reaching a conclusion that will surprise no one:
Bernard DeVoto observed in the 1940s that no rancher in his right mind wanted to own the public lands himself. That would entail responsibility and stewardship. Worse, it would mean paying property taxes. What ranchers have always wanted, and what extractive industries in general want, is private exploitation with costs paid by the public.
The net takeaway for each of these is the transfer of public assets into private hands for private enrichment. As it has ever. But now a lavishly funded extreme right wing with money to burn has its own private army of "useful idiots" to deploy as brown shirts to extend and apply its coercive will. And every day that the Federal government affords the hands off, "kid-gloves" treatment to these domestic terrorists, it sends an unmistakable message of tolerance, if not outright support.
---
As we consider the eventual denouement, The militia members say that they will remain in place for the indefinite future. Given that stated intention, the fact that they recently attended a town meeting in Burns, Oregon where the townspeople gave them an earful, and then returned to the wildlife sanctuary, one is obliged to wonder, "Why no blockade in or out? Why do they still have power? Mail delivery? Free access in and out?"
In a letter to FBI Director James Comey, Oregon Governor Kate Brown urged a swift Federal response, stating
While it is easy to assume that an occupation in such a remote location does not threaten public safety and does not harm any victims, that perception is far from accurate," the governor wrote. Adding to community tensions is that "the criminals on the refuge are allowed to travel on and off the premises with little fear of law enforcement contact or interaction.
Indeed. Ultimately, we are left to wonder what it all means, and how long the federal authorities, otherwise so fond of control and eager to hoover up all of our online and voice communications and fervently track our media consumption, will allow the situation to fester. And ultimately why it is that a handful of right-wing zealots bristling with arms and determined to seize for themselves what they cannot legitimately earn through the political process are able, once again, to get a pass from the authorities.
[The above article created with a big assist from Contrary, who revealed to me the ALEC connection from her own reading and dredged up some relevant articles, including the Harper's article cited above.]
---
Late Breaking News and Further Reading:
Police Make First Arrest In Connection To Oregon Militia Standoff
Police say Kenneth Medenbach was driving a government vehicle stolen from the occupied wildlife refuge.
Oregon Lawmakers Chastizes Justice Dept. for Sitting on Their Hands
The Nightly Show Has A Field Day With Oregon Militia Group Receiving Sex Toys
Connecting the Anti-Environmental Movement and the Oregon Armed Occupation of National Wildlife Refuge
A superb article surveying media coverage and providing in-depth context from FAIR: The Good, Bad, and Ugly in Oregon Standoff Coverage
Kate Brown presses top federal officials for 'swift' action
Bill Maher Explains Why the Oregon Protesters Are Not Patriots
And what they have in common with student protesters at Yale.
---
Surly1 is an administrator and contributing author to Doomstead Diner. He is the author of numerous rants, articles and spittle-flecked invective on this site, and quit barking and got off the porch long enough to be active in the Occupy movement. He shares a home in Southeastern Virginia with Contrary in the triumph of hope over experience and is grateful that he is not yet taking a dirt nap.