From the keyboard of Surly1
Follow us on Twitter @doomstead666
Like us on Facebook
Originally published on the Doomstead Diner on July 9, 2017
"Many and sharp the num'rous ills
Inwoven with our frame!
More pointed still we make ourselves
Regret, remorse, and shame!
And man, whose heav'n-erected face
The smiles of love adorn, –
Man's inhumanity to man
Makes countless thousands mourn!"
― Robert Burns
---
Thinking it might be time to blow the dust off this long-neglected franchise and take a quick tour around the Internetz to see what's new in the world of Doom.
---
If you trolled this woman, eat a bag of salted dicks

No better place to start than here, with our basic oligarch-instilled and funded inhumanity to one another. Because if you're "the Other," you're not me, you're not worthy of consideration as human, amirite?
Alison Chandra contributed a story via Vox, entitled, I shared my toddler's hospital bill on Twitter. First came supporters — then death threats. It's a story of a Twitter post gone horribly awry– her son, who needed a life saving operation, received the care that he needed, and she posted an image of the $200,000+ bill, with her portion due $500, because medical insurance.
She snapped a picture of the bill and posted it to Twitter, thinking it a useful commentary on why people should care so much about laws that ensure our access to affordable health care, ban lifetime limits and ensure that no one is denied coverage simply because they'd been born with preexisting conditions. A feel good story, yes?
Uh, no. Then her thread blew up. Cue the haters.
The morning after I sent the tweets, I was at the market with my kids, choosing between scones and muffins, when a friend texted me: "That thread of yours really took off!"

I opened my phone, and instead of the usual 10 or so likes, I found my mentions and messages overrun. There were journalists reaching out to me, verified accounts with millions of followers retweeting me, and a few very angry men telling me that I shouldn't steal from them, that my child was better off dead, that I should have let him just succumb to natural selection.

I was offered a .22 bullet, although I'm still not sure whom he meant it for, me or my child.
I suggest following the link and reading the whole story, although it is anything but edifying. But if you're an old bastard like the author, you'll be amazed at how far we've fallen in the last 60-70 years. A tribute to the ceaseless propaganda commending market fundamentalism and the reduction of everything to the morality of the balance sheet. And if you commented adversely to Alison's post, do the world a favor and eat a bullet. Right now.
---
Klan and the Antifa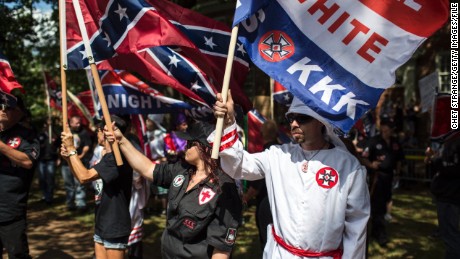 Closer to home, Loyal White Knights of the Ku Klux Klan, based in Pelham, N.C., received a permit for a demonstration on Saturday, July 8. The ostensible point of the demonstration was to protest the Charlottesville City Council's decision to remove a statue honoring Confederate Gen. Robert E. Lee. They shouted "white power," burnished flags, and some wore white robes. Others carried handguns, as they approached the recently renamed "Emancipation Park," (formerly Lee Park.)
Virginia State Police, Albemarle County police and University of Virginia police were on hand to assist Charlottesville police as they escorted an estimated 30-40 Klansmen to and from the rally. Police in riot gear separated the rallygoers from approximately 1,000 counterprotesters who greeted them with jeers. Attempts by Klan leaders to address the crowd were repeatedly drowned out by boos and chants.
After the Klan rally ended, police led several people away in handcuffs after a large group of counterprotesters remained near the vicinity of the park. Police asked those still gathered nearby to disperse. Wearing riot gear and gas masks, the police declared the counterprotesters "an unlawful assembly" and used gas canisters to compel them to leave the area.
Because why get dressed in riot gear without making arrests and dispending tear gas, right?
Another hot day in Virginia.
---
Antarctic iceberg break the size of Delaware 'imminent,' say scientists

In the latest news about the global warming that the drooling right insists is not happening, an Antarctic iceberg break is 'imminent.' One of the world's biggest icebergs ever recorded is "hours, days, or weeks" away from breaking off an Antarctic ice shelf, scientists announced Wednesday.
We are told further that could the iceberg calve "within days" or hours, and that the volume of water contained will rival the volume of Lake Michigan. Business Insider reported that this may be the third-largest iceberg recorded since satellites began taking photos of Earth.
"In another sign that the iceberg calving is imminent, the soon-to-be-iceberg part of Larsen C Ice Shelf has tripled in speed to more than 10 meters per day between June 24th and June 27th," said Adrian Luckman of Project MIDAS, a British Antarctic research project that's keeping watch on the ever-growing crack.

"The iceberg remains attached to the ice shelf, but its outer end is moving at the highest speed ever recorded on this ice shelf. We still can't tell when calving will occur — it could be hours, days or weeks," he added.

Once the iceberg breaks off, it "will fundamentally change the landscape of the Antarctic Peninsula," he said.
But don't worry, be happy.
---
Catholic Church: Women are to Blame for Pedophile Priests

And as long as we're being happy, let's consider the latest pose from the Club for Kidfucking Priests that's been operating for 2000 years, ever since Paul and Silas spent "quality time" together: Let's blame the little ladies.
Seems that the problems in the Church don't stem so much from adult men telling young boys, "This is what God's love feels like," and more from the fact that little girls want to participate in the life of the church by being altar girls.
Cardinal Burke argues that serving mass is a "manly" job, and claims that the participation of women and girls into the daily life of the church has a chilling effect on priests, causing them to turn to "immoral and unpriestly vocations." This is much like Trump complaining that his team's failure to book a hotel at the recently ended G-20 meeting was Obama's fault.
"The radical feminism which has assaulted the Church and society since the 1960s has left men very marginalized," said the Cardinal, a member of one of the oldest and most enduring men's groups on earth.

"Apart from the priest, the sanctuary has become full of women. The activities in the parish and even the liturgy have been influenced by women and have become so feminine in many places that men do not want to get involved."

"The girls were also very good at altar service. So many boys drifted away over time. I want to emphasize that the practice of having exclusively boys as altar servers has nothing to do with inequality of women in the Church."
Yeah, we get that.
Irish Central reports: So it's not the international abuse crisis that has most led men to reconsider joining the church, it's girl cooties. And feminism, of course.
So we have it straight from a Prince of the Church that the problems facing Catholicism today, in particular the epidemic of pedophilia, are the fault of women. And feminism. We thank the good Cardinal for completely unmasking the contempt and hatred with which the institutional Church has long held women.
---
And since a consistent theme of this week's Doom Report is man's inhumanity to man, let's end with yet another human sacrifice to the logic of the spreadsheet:
Sending elderly to forests as tiger prey for compensation from government is as savage as it can get

India Today reports that families in Uttar Pradesh are sending the elderly members of their houses into forests as tiger prey to claim compensation worth lakhs from the government, giving the phrase "taking one for the team" to a whole new level.
The website reports that if locals are to be believed, elders of the family willingly go along with this scheme. "They think that since they can't get resources from the forest, this is the only way their families can escape poverty."
Authorities surmise that people are sending older members of the family into the tiger reserve for them to become a prey.

Once killed, their bodies are relocated to fields, and staged as victims of a tiger attack, so that the respective family can claim lakhs in compensation from the government.
On the other hand, if I had sent grandma into the forest, I'd probably say it was her idea as well.
---
Surly1 is an administrator and contributing author to Doomstead Diner. He is the author of numerous rants, screeds and spittle-flecked invective here and elsewhere, and once quit barking and got off the porch long enough to be active in the Occupy movement. Where he met the woman who now shares his old Virginia home and who, like he, is grateful that he is not yet taking a dirt nap, and like he, will be disappointed to not be prominently featured on an enemies list compiled by the incoming administration.
Follow us on Twitter @doomstead666
Friend us on Facebook
Aired on the Doomstead Diner on October 2, 2015
Discuss this Rant at the Podcast Table inside the Diner
Big Newz from last week besides the endless stream of Refugee stories was the visit by His Holiness, Vicar of Christ on Earth, Pope Francis to the Hallowed Halls of Congress.
The VoCoE has been making a lot of Headlines lately, a couple of months ago he issued out an Encyclical "Laudato si", which translates from Latin as "Praise be to you". Basically his Popeness was encouraging the flock to take better care of the Earth, and also to do a better job of sharing the wealth of the Planet.
1. "LAUDATO SI', mi' Signore" – "Praise be to you, my Lord". In the words of this beautiful canticle, Saint Francis of Assisi reminds us that our common home is like a sister with whom we share our life and a beautiful mother who opens her arms to embrace us. "Praise be to you, my Lord, through our Sister, Mother Earth, who sustains and governs us, and who produces various fruit with coloured flowers and herbs".[1]

2. This sister now cries out to us because of the harm we have inflicted on her by our irresponsible use and abuse of the goods with which God has endowed her. We have come to see ourselves as her lords and masters, entitled to plunder her at will. The violence present in our hearts, wounded by sin, is also reflected in the symptoms of sickness evident in the soil, in the water, in the air and in all forms of life. This is why the earth herself, burdened and laid waste, is among the most abandoned and maltreated of our poor; she "groans in travail" (Rom 8:22). We have forgotten that we ourselves are dust of the earth (cf. Gen 2:7); our very bodies are made up of her elements, we breathe her air and we receive life and refreshment from her waters.
The share the wealth thing didn't play too well with right wing think tanks however. From the Gatestone Institute International Policy Council:
Some high-profile commentators think they smell a Marxist clothed in white papal robes, who dreams of redistributing the world's wealth. Pope Francis insists that he has little interest in Marxism and that his political advocacy against materialism, capitalism, greed and idolatry are largely religious in nature. However, the flavor of some of his statements might suggest otherwise.

The Pope also knows that the UN is poised to strong-arm member nations to sign on to an impossible globalist agenda that will require a total shift of the world's wealth, and a restructuring of international politics and economics with a one-world government and a universal religion at the steering wheel.

Even to the Pope's admirers, that sounds a less like peace and love and more like a utopian totalitarian nightmare.
OMFG!!!! THE POPE IS A COMMIE!
Not to mention he also wants a One World Goobermint with the Holy Roman Catholic Church in charge again!
Now, anybody who gets the righty think tanks in such a tizzy gets a thumbs up from me for that, and overall I do support the agenda of His Holiness on these issues. However, I do have a few issues with exactly how serious he is in terms of doing more than just jawboning.
With that in mind, here's the Pope Rant:
Snippet:
The fact religion is becoming more prominent in the political environment is a disturbing, if not unexpected outcome. Much of the popular sentiment against the refugees stems from the fact they are by and large overwhelmingly Muslim. The Hungarians for instance have explicitly stated they will only take Christian refugees, although I don't know how you can determine this with folks leaving war zones with no documentation. Who would you call to find out if they attended Sunday Church services recently?

There is also a huge cultural divide between the more fundamentalist Muslim sects and Western culture and ideas about women's rights, standards of dress and so forth. Polygamy is still acceptable in many Muslim nations, and child brides are fairly common as well. Arranged marriages rather than the Western ideal of Romantic Love forming the basis for a marriage also are common. To the Westerner, this all seems positively medieval. To the Muslim Fundamentalist, its positively lurid that women are allowed to walk around with short skirts and hit the beaches in itsy bitsy teeny weeny yellow polka dot bikinis. You smash together two groups of people with such wildly different cultural perspectives and sprinkle in the vast inequality of wealth since even f they had some money when they left their home countries they are probably dead broke by the time they make it to Sweden or Germany, and you have an instant recipe for social strife.
FOR THE REST, LISTEN TO THE RANT!