From the keyboard of Surly1
Follow us on Twitter @doomstead666
Like us on Facebook
Originally published on the Doomstead Diner on October 28, 2018
"Violence is as American as cherry pie."
― H. Rap Brown
---
It was almost inevitable. that after two years of lies, white nationalism, xenophobia, and demonization of the press, political enemies, and everyone who failed to take the knee, the rhetoric of #NotMyPresident would result in tragedy. The week's news was defined by pipe bombs sent to the top tier of Democratic politicians and at least two former Presidents. A marginal personality, one Cesar Sayoc, was apprehended after mailing the bombs to critics of the Trump administration, in an attempt at large scale political assassination. And the cesspool of anti-Semitic messages and symbols that social media has become bred a new supertroll, a gunman who invaded a Pittsburgh synagogue and left behind a string of casualties and grief. Meanwhile, the Prevaricator of the Potomac called for "unity" one minute, then a litany of complaints, accusations, whining and blame the next.
---
There is no acceptably sardonic or funny take on this news. News reports indicate that a random fingerprint and some DNA on at least one of the bombs was enough for the authorities to ID Sayoc. From The New York Times:
Mr. Sayoc, a registered Republican, has a lengthy criminal history in Florida dating back to 1991 that includes felony theft, drug and fraud charges, as well as being arrested and accused of threatening to use a bomb, public records show. His criminal record from the Florida Department of Law Enforcement indicates that at the time of his last arrest in 2015, he was 5-foot-11 and 215 pounds. He has brown eyes, black hair and a scar on his left arm, the records said, and was born in New York. The records listed Mr. Sayoc's occupation as "manager." According to a 2012 bankruptcy petition filed in Miami, Mr. Sayoc resided at the time at his mother's home. "Lives w/mom," a handwritten note on the petition said. "Has no furniture."…
The windows of his van were festooned with stickers of outrageously Trumpist flavor, including images of administration critics in cross-hairs. Even as reporters sift through Sayoc's Facebook and Twitter feeds, he appears as another lost soul, another casualty of late stage capitalism, with little to his name, less to protect, and no stake in the system– unsuccessful even at crime. And who found in the klaxon call of the Orange Kleagle what brought him his fifteen minutes of fame: enemies. And in blaming those unlike him, he shares a common cause with too many who stain this country with their presence.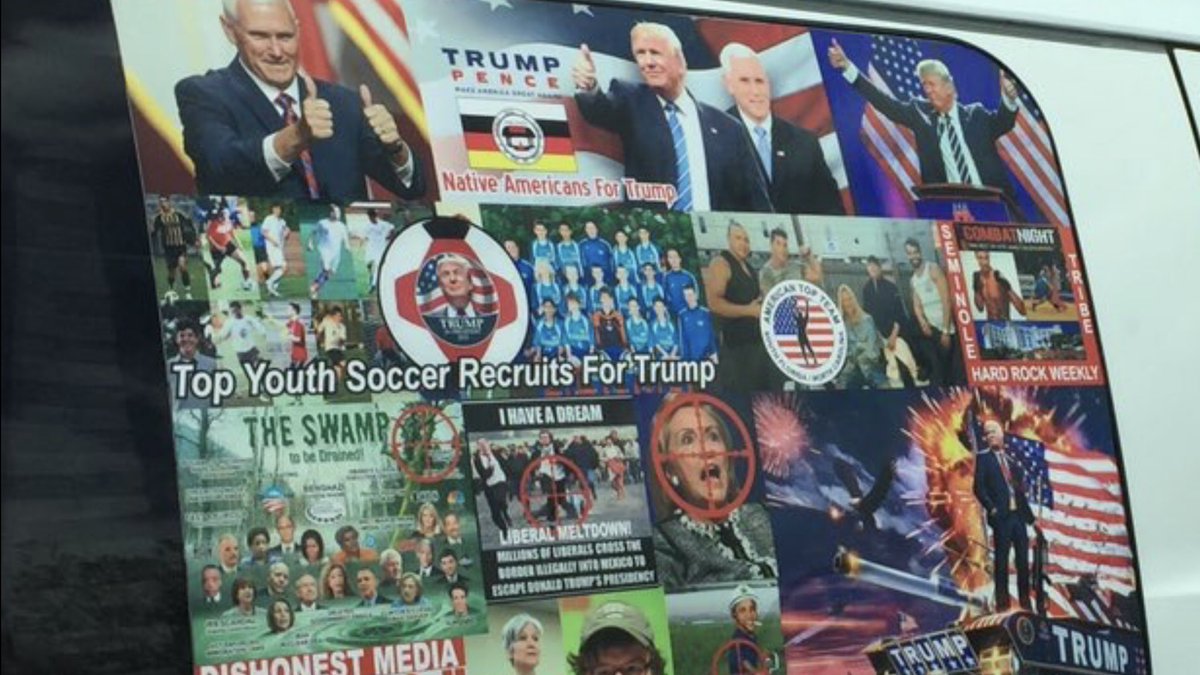 We've seen this movie before: home-grown, far-right extremists who have used violence to draw attention to themselves, a cause, a manifesto, or as a way to unleash revenge. The line runs from the Unabomber through Oklahoma City to Boston, Charleston and Orlando. In some cases, these motives are conjoined with mental illness. Rage breaks through with an accelerator. Today it is only fair to wonder whether tensions are being ratcheted up to a new and dangerous level by irresponsible "presidential" rhetoric, the pronouncements of the #NotMyPresident's hired enablers and liars, and the constant drumbeat of reinforcement from the right wing media ecosystem.
My day job in meatspace is to lead a group that creates commercials. Any good advertising executive knows the importance of repetition's cumulative effect; it can bend the incredible into the credible. Repetition establishes credibility, creates a beachhead in the mind. Today constant repetition creates markets for psoriasis meds, dick pills, reverse mortgages, and HR certification gatekeepers. In this manner have the serial lies of the Tiny Mushroom established a separate reality for Trumps; phalanx of accepting, uncritical bobbleheads, who show up for his nightly Nuremberg rallies for a feast of blame of The Other.
By now it is clear that accused Bomber Cesar Sayoc Was a Fervent Trump Supporter,
"…who in recent weeks was unafraid to taunt and even threaten Trump's critics on social media. In what appears to be Sayoc's Twitter account, the alleged bomber tweeted pictures of alligators that had eaten humans to Biden and movie director Ron Howard.
"How and why Sayoc went from online troll — he has posted dozens of tweets per day for months — to the accused serial bomber who grabbed the world's attention are still unknown. But if his bombs, none of which detonated, were sent because he was inspired by Trump's violent rhetoric at campaign rallies, Sayoc would not be the first domestic terrorist inspired by conspiracy theories associated with Trump."
Thus do online trolls become real world actors.
As much as the bobbleheads of the drooling right like to invoke the specter of Soros or Antifa for their masturbatory fever dreams, the historical record is full of violent events executed by retrograde elements.
Many of the usual suspects had maintained that the bombs were some sort of false flag manufactured by Democrats to affect the upcoming election. In this they were led by the #NotMyPresident, using his Twitter account to push a self-serving conspiracy theory surrounding the bombs sent to critics. It is also clear that merely arresting a suspect, as it turns out, doesn't keep them from calling it a False Flag. It really is a #Trumpcult.
---
And on Saturday, as the echoes of "Lock Her Up" faded from Nuremberg Charlotte, news from Pittsburgh came of that oldest of demonizations, anti-Semitism. At least 11 were killed, 6 wounded in Pittsburgh synagogue shooting. Officials say the suspect, Robert Bowers, 46, taken into custody after a gun battle with police, will face hate-crime charges.
A gunman armed with an assault rifle killed 11 people at a Pittsburgh synagogue during Saturday-morning services in what the Anti-Defamation League called "likely the deadliest attack on the Jewish community in the history of the United States."

Law enforcement officials said Robert Bowers — a 46-year-old man with a history of making virulently anti-Semitic statements online — was taken into custody after a gun battle with police and is expected to face federal hate crime charges.

"Justice in this case will be swift and it will be severe," said Scott W. Brady, the U.S. Attorney for the Western District of Pennsylvania. Brady said Bowers could be charged sometime Saturday for what he called a "terrible and unspeakable act of hate."
The victims have been named and they range in age from 54 to 97, with two brothers and a married couple among the dead.
A stunned nation mourns with the survivors. A reminder that no matter how far we may have thought we had come, anti-semitism is alive and well in the US. We know this from statistical and anecdotal evidence. In February, the Anti-Defamation League released its annual report, stating that
"the number of anti-Semitic incidents was nearly 60 percent higher in 2017 than 2016, the largest single-year increase on record and the second highest number reported since ADL started tracking incident data in the 1970s."
The massacre in Pittsburgh massacre is just the latest example of the homicidal fury and hatred emerging from the fringes of American right. It brings together the armaments and techniques of other active-shooter incidents of recent memory– the opportunity presented by a "soft target" like a synagogue at prayer, for example. And it underlines the remarkable frequency of mass casualty events in this country compared to nearly every other nation in the world. You'd almost think it was the guns.
---
The snarling rhetoric of #NotMyPresident has helped rip the mask from this phenomenon. Although he did appeal for "unity" and decry violence in remarks Saturday night. Although his idea of "unity" is that the entire nation stop their resistance, fold their tents, and fall in lockstep behind him.
In Charlotte the other night, America's Chief Victim tried to strike a measured tone.
"Political violence must never ever be allowed in America and I will do everything in my power to stop it. We must unify as a nation in piece, love, and in harmony."
That didn't last.
In literally the next breath he began a lengthy rhetorical barrage against the press, as though it was the mainstream media and not he that had celebratedand incited violence.

"We all say this in all sincerity"—he was not being sincere—"but the media's constant unfair coverage, deep hostility, and negative attacks—you know that—only to serve to drive people apart and to undermine healthy debate," he said.
We're supposed to ignore the constant barrage of lies, the promised tax cut that was a complete fiction, the supposed "defense" of Obamacare, the protections for people with pre-existing condition, the assertion that Dems want "open and undefended borders." As David Graham has it in the article cited here,
Trump wants harmony, but he immediately attacks. He demands honest coverage, but like a funhouse George Washington, he cannot tell a truth. He pleads for an end to the politics of personal destruction, but he cannot resist indulging in ad hominem attacks. Trump's vision of unity is one… that can exist only in one-party states, where there is no meaningful opposition and no criticism. His idea of harmony is that his critics yield entirely to his whims.
An election looms nine days ahead on November 6. It remains to see if the nation will elect legislators who will choose a different path, or whether we will continue to descend into this long national nightmare.
---
Surly1 is an administrator and contributing author to Doomstead Diner. He is the author of numerous rants, screeds and spittle-flecked invective here and elsewhere. He lives a quiet domestic existence in Southeastern Virginia with his wife Contrary. Descended from a long line of people to whom one could never tell anything, all opinions are his and his alone, because he paid full retail for everything he has managed to learn.