From the keyboard of Surly1
Follow us on Twitter @doomstead666
Like us on Facebook
Anthony Freda
Originally published on the Doomstead Diner on September 1, 2019
"This country was born on violence. Violence is as American as cherry pie." –H. Rap Brown
---
I awoke this morning to see what news had broken and found this:
At least 10 teenagers were injured when a shooting broke out after a high school football game in Mobile, Alabama, on Friday night, authorities said. Nine of the victims suffered gunshot wounds.
Well, it's Alabama, and it's FOOTBAW, so thus perhaps reason enough. But I'm old enough to remember going to high school football games without fearing for my life.
"Why are the young people bringing this type of violence to public events?" Mobile Police Chief Lawrence Battiste asked in a news conference Friday. "They're bringing their beefs that they have with each other in their neighborhoods and they're putting other people in harm's way."
Let's not forget the exortations by Trump to do that very thing.
GOP front-runner Donald Trump encouraged a crowd of supporters Monday to "knock the hell" out of anyone who looked like they might throw fruits and vegetables at him, and promised to pay the legal fees for anyone who took him up on his suggestion.
Even though Trump bade his supporters to practice rough justice, some will find it hard to lay the pervasive strain of American violence at his feet. Aside from giving aid and succor to violent white nationalists, and voice to the prion disease that afflicts his most rabid supporters, that is. Back to the news:
At least five people died after more than 20 people were shot Saturday when a gunman hijacked a postal truck and began shooting randomly in the Odessa area of West Texas, authorities say.

At least three law enforcement officers — a state trooper, an Odessa police officer and a Midland police officer — were among those shot. They were in stable condition Saturday night, according to the Texas Department of Public Safety.
Another weekend, another shooting. Or two. Sandy Hook, Charleston, Orlando, Pittsburgh, El Paso, Dayton, Virginia Beach, and now in Texas. Again.
American history is written in blood. American violence has its roots in the wars of extermination fought against native peoples, chattel slavery that built the wealth of a planter class (the enforcement for which was enshrined in the Second Amendment), wars against one another expanding the "frontier" (who doesn't love a good western?) and now the endless economic competition of all against all. We have normalized the mass slaughter of our fellow citizens to the extent that weekend mass shootings barely raise an eyebrow. Even though 90 per cent of our fellow citizens (and gun owners) welcome mandatory background checks for gun purchases, the NRA and its hireling legislators (aslosh in laundered rubles) won't allow such a bill to come to a vote.
Meanwhile, out here in flyover country, where tariffs bite, where soybeans molder in silos, where Joe Sixpack and his wife both work two jobs to make ends meet, where minimum wage doesn't cover the rent anywhere in the country, the stresses mount.
---
"No small part of this ugly barbarization has been due to sheer physical congestion: a diagnosis now partly confirmed with scientific experiments with rats – for when they are placed in equally congested quarters, they exhibit the same symptoms of stress, alienation, hostility, sexual perversion, parental incompetence, and rabid violence that we now find in the Megalopolis."
― Lewis Mumford, The City in History
---
Rats in a box. We all know that under enough stress, rodents turn on one another. We know this because scientists tested and measured this phenomenon, back in the day when the earth was still a sphere and science counted for something. Ethologist John B. Calhoun studied population density and its effects on behavior, and coined the term "behavioral sink" to describe the collapse in behavior which resulted from overcrowding. Over a number of years, Calhoun conducted over-population experiments on Norway rats and mice.
In his 1962 study, Calhoun described the behavior of the rodents:
Many [female rats] were unable to carry pregnancy to full term or to survive delivery of their litters if they did… Among the males the behavior disturbances ranged from sexual deviation to cannibalism and from frenetic overactivity to a pathological withdrawal from which individuals would emerge to eat, drink and move about only when other members of the community were asleep. The social organization of the animals showed equal disruption. …

The common source of these disturbances became most dramatically apparent in the populations of our first series of three experiments, in which we observed the development of what we called a behavioral sink. The animals would crowd together in greatest number in one of the four interconnecting pens in which the colony was maintained…as a result extreme population densities developed in the pen adopted for eating, leaving the others with sparse populations.

… In the experiments in which the behavioral sink developed, infant mortality ran as high as 96 percent among the most disoriented groups in the population.
As the rat population grew to 2200 rodents in what was described as a "rat utopia," they subsequently exhibited abnormal, often destructive behaviors. By the 600th day, the population was on its way to extinction. Calhoun himself saw the fate of the rodent population as a metaphor for the potential fate of man. Now rats aren't people, although as we will see, some people are rats.
---


Greta Thunberg, the 16-year-old Swedish climate activist, arrived in New York City via an emission-free sailboat trip to dramatize her message for the urgency for state actors to take climate change seriously. She gives a speech next month at the United Nations Climate Action Summit. This at a time when
the Amazon rain forest was on fire; glaciers were calving into the sea; Tropical Storm Dorian was gathering strength in the Caribbean; scientists were trying to artificially inseminate the last two northern white rhinos on earth; there was lead in the water in Newark. The Endangered Species Act had been gutted, and the E.P.A. had announced new protections not for air or water but for marine diesel engines.
Thunberg arrived without the benefit of any official delegation or ceremony. She stepped off her boat and onto a floating dock, climbed a ramp to a stage, and faced rows of news cameras and handheld phones transmitting the arrival of the symbol of global climate resistance. She has been cheered by supporters, fellow climate activists, and mocked by critics. I promised you rats.
---
Even though officialdom may have greeted Thunberg with a yawn, the alt-right was certainly paying attention. Climate change does not seem to present as a gendered issue, but leave it to conservatives to inject sexism into their generalized contempt for anything not "blood and soil." This week the right-wing Media Research Center tweeted out a video of Rep. Alexandria Ocasio-Cortez, D-N.Y., addressing the need for rapid decarbonization to prevent catastrophic environmental changes. The video, labeled "Shallow Thoughts" and backed by treacly music, is supposed to be read as an indictment of Ocasio-Cortez's intelligence.
Fail. It's clear the Media Research Center doesn't expect its conservative audience to actually listen to what AOC is saying (which is actually cogent, despite the treacle), and instead write her off as an airhead. But AOC is a social media adept, and in a bit of social media jujitsu, tweeted out the video herself, stealing a march on the MRC. And in a nice bit of trolling, thanked MRC for helping spread her message.
Earlier this week, Ocasio-Cortez tweeted out a warm welcome to Greta Thunberg, the 16-year-old Swedish climate activist, who arrived in New York Wednesday for a speech at the United Nations.

Unfortunately, Thunberg was also greeted by a wave of misogynist nastiness, largely coming from allegedly grown men in both Europe and the United States. The attacks on Thunberg were in the same vein as those on Ocasio-Cortez, accusing her of being too stupid to know what she's talking about and denying that her voice is one worth honoring. A writer for the conservative Washington Examiner claimed that Thunberg is a victim of "child abuse" and that her mother "pimps their kid out," explicitly drawing a line between forced sex work and climate activism.
As usual with the alt-right gaggle of Goebbels cosplayers, it's all about "owning the libs." Uh-huh. AOC and Thunberg both appear to be energized by opposition. But the main reason that climate-change deniers so readily turn to misogyny is that otherwise, they got nuthin'. The scientific evidence is in, and it's black and white: the climate crisis is real, and mostly caused by human activity. Their moral position is even more tenuous, since their options–doing nothing, or increasing greenhouse gas output — will harm not just future generations, but innocents around the world currently enduring extreme weather events like Hurricane Dorian or a burning Amazon.
So right wing trollboys have to rely on personal attacks aimed at environmental activists, dragging the debate away from evidence and into a rat's nest of culture war resentments.
---
Yet for all of the above, the article that spurred the direction of this week's rats-under-stress rant was this one, just in time for back-to-school.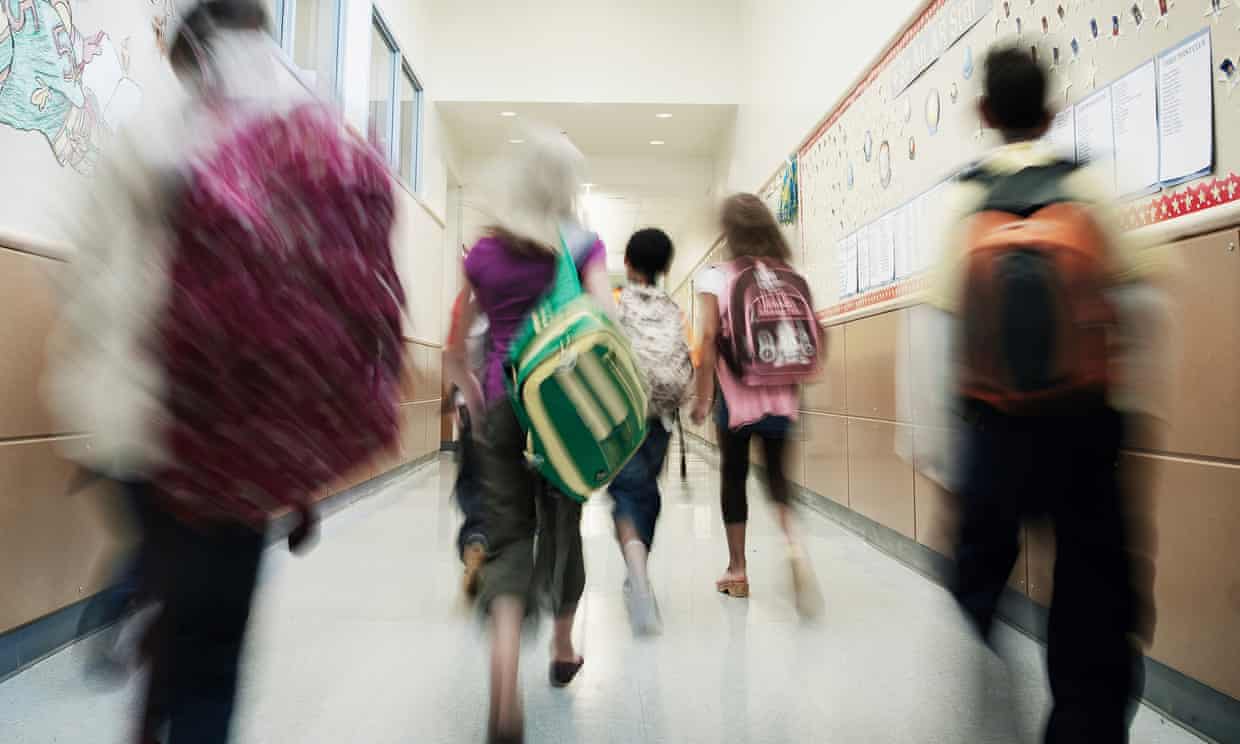 Judi Zirin speaks for an entire generation of American parents, who have to deal with issues that frankly never occurred to previous generations of parents planning back-to-school:
I have always loved the end of summer's lazy promise of infinite possibility, the late August back to school buzz of limitless potential. Instead of shopping for school supplies and first day of school outfits, though, I'm online looking at Kevlar hoodies and bulletproof backpacks. This year, I'm not worried my kid won't fit in – I'm praying he won't be carried out.

After so many school shootings, I'm scared. Scared of what happens when that student who seems a little off or angry or cruel, whose parents don't notice or take it seriously, whose issues the school is "dealing with", finds access to a gun. Terrified because I know I can't protect my child – and the government won't. Confused because these students need help and not stigma, and it's oddly the guns who have the stronger lobby.
Perhaps the greatest indictment future generations will level at our own is our unwillingness to protect our own children in the face of an intransigent NRA and its Russian money-trough. Nearly every American industry and product is subject to civil liability as a check on the irresponsibility of manufacturers and sellers—but not the gun industry. Congress made sure of that: when it passed the Protection of Lawful Commerce in Arms Act in 2005, they exempted the gun industry from nearly all lawsuits, leaving families of gun violence victims without recourse.
Thus do the NRA and their hirelings insure a steady supply of child human sacrifices to Moloch each year. And Moloch remains hungry.
And we have the nerve to call the human sacrifice of the Mayans and Aztecs barbaric.
---
Short takes:

Here's a summary of doom-related news that moved this week.
Trump is so eager to complete hundreds of miles of border fence ahead of the 2020 presidential election that he has directed aides to fast-track billions of dollars' worth of construction contracts, aggressively seize private land and disregard environmental rules, according to current and former officials involved with the project.

He also has told worried subordinates that he will pardon them of any potential wrongdoing should they have to break laws to get the barriers built quickly, those officials said.
The world in flames
Who they Are; they have names, faces, addresses, families…
TWO BRAZILIAN FIRMS owned by a top donor to President Donald Trump and Senate Majority Leader Mitch McConnell are significantly responsible for the ongoing destruction of the Amazon rainforest, carnage that has developed into raging fires that have captivated global attention.
Because Boisonaro.
In 1830 Congress passed the Indian Removal Act, designed to appropriate to the United States lands occupied by aboriginal Americans… the result of this land grab and ethnic cleansing was the Trail of Tears, a highway of the dispossessed, en route from their homelands to less favorable situations away from the population centers of the European-Americans and their recently created nation. Those with the means self-deported; those who moved late moved in large numbers and suffered terrible losses.

Nearly two centuries later, we face the prospect of forced relocations on a scale that is difficult to fathom. This New Trail of Tears will involve humans on every inhabited continent, and it will impact countless other species as well. This time, the driving force is all humanity, agents of climate change through our greenhouse gas emissions.
Author Brian Stewart notes that sea level rise, coupled with more violent storms powered by the warmer atmosphere, will have a profound impact on coastal areas. The dispossessed will place great stress on the remaining livable space, competition for such livable space will be fierce, and may become extinction traps for some. Note this with certainty:
Barriers to movement, both inadvertent and intentional, can be death sentences to those migrating.
It will be a piquant irony if those who are among the most ardent warriors against the dispossessed today find themselves on the other side of a razor wire fence tomorrow.
What sounds equitable at first blush may prove to be a multi-billion dollar dodge on the part of the Sacklers:
The Sackler family, which grew into one of the nation's wealthiest dynasties through sales of the widely abused painkiller OxyContin, could emerge from a legal settlement under negotiation with its personal fortunes largely intact, according to an analysis reviewed by The Washington Post and people familiar with the discussions.
All the Sacklers want is what any of us would want: to be left alone in our Fortress of Insolence counting our billions.
---
Surly1 is an administrator and contributing author to Doomstead Diner. He is the author of numerous rants, screeds and spittle-flecked invective here and elsewhere. He lives a quiet domestic existence in Southeastern Virginia with his wife Contrary. Descended from a long line of people to whom one could never tell anything, all opinions are his and his alone, because he paid full retail for everything he has managed to learn.