Off the keyboard of Jim Quinn
Follow us on Twitter @doomstead666
Friend us on Facebook
Published on The Burning Platform on November 16, 2014
Discuss this article at the Economics Table inside the Diner
The chart below might be the most powerful indictment of the Federal Reserve and our corporate fascist empire of debt ever created. Some people don't get charts. Charts tell a story. This chart tells the story of elitist bankers supporting the agenda of a corporate fascist state, resulting in the gutting of the middle class. Anyone who views this chart in a positive manner is either a Federal Reserve banker or their paycheck is dependent upon the continuation of the pillaging of the working class. Corporate profits are at all-time highs. Profit margins have always reverted to the mean throughout modern history. If they remain at all-time highs then something is terribly wrong.
"Profit margins are probably the most mean-reverting series in finance, and if profit margins do not mean-revert, then something has gone badly wrong with capitalism. If high profits do not attract competition, there is something wrong with the system and it is not functioning properly." – Jeremy Grantham, Barron's
Here is the story I see in that chart. Corporate profits as a percentage of GNP have averaged 6.5% over the last 67 years. As you can see, it is a volatile figure. Corporate profits rise during expansions and fall during recessions. That has been a given over time. The reason corporate profits have always reverted to the mean was due to the basic tenets of free market capitalism. When a company is generating outsized profits, that industry will then attract new competitors, resulting in price competition and lower profits. From 1950 through 1971, corporate profits as a percentage of GNP fluctuated in a narrow range between 5% and 7%. This was a reflection of a market driven by competition, a non-interventionist Federal Reserve, and a government not captured by corporate interests.
It is no coincidence since Nixon closed the gold window in 1971 and unleashed greedy bankers, feckless politicians, and self serving corporate executives to utilize easy money and prodigious amounts of debt to financialize our economic system and deform capitalism. The Fed created booms and busts are clearly evident on the chart. Nixon toady Arthur Burns created an inflationary boom in corporate profits to 8% of GNP in the late 70's followed by the collapse to 3% caused by Volcker having to raise rates to extreme levels to crush the Burns created runaway inflation.
You can see exactly when the Maestro assumed command at the Fed and proceeded to introduce the Greenspan Put, encouraging speculation, borrowing and mal-investment. His easy money boom led to the dot com bubble that doubled corporate profits from their 1987 low. Of course the profits vaporized in an instant and plunged to 4% of GNP in 2001. Greenspan and then Bernanke  proceeded to drive interest rates to record lows creating a prodigious housing bubble resulting in the greatest level of mal-investment and financial fraud in world history. Corporate profits as a percentage of GNP skyrocketed from 4% to 10% in the space of six years. The banking cabal had captured the system.
The Fed orchestra kept the music playing and Wall Street kept dancing the rumba with their corporate CEO dates. The Keynesian acolytes were ecstatic. The Austrians warned of the impending bust. No one listened. The collapse of the worldwide financial system was portrayed by the corporate mainstream media, bankers like Dimon, corporate CEOs like Immelt, billionaires like Buffet, captured government bureaucrats like Paulson, and politicians like McCain and Obama, as a systematic risk that required a taxpayer rescue of criminals.
The $800 billion gift to bankers and mega-corporations by the Washington DC Party of captured politicians was chicken feed compared to the $3.5 trillion of newly printed fiat handed to Wall Street and corporate America by Bernanke and Yellen. Five years of 0% interest rates have impoverished senior citizens and savers, but they have done wonders for Wall Street and mega-corporation profits, along with executive bonuses. Corporate profits soared from 4.5% of GNP to an all-time high of 10.5% in the space of three years and have remained at this elevated level.
Who Needs Wage Earners Anyway?
Is it a coincidence that corporate profits as a percentage of GNP are at record highs while employee compensation as a percentage of GNP is at record lows? Is it a coincidence that employee compensation as a percentage of GNP peaked at 51% in 1971? That year certainly seems to be a turning point in U.S. economic history. Gold's purpose as a check on statists, Keynesians, politicians, bankers, and the military industrial complex couldn't be any clearer. The decline has multiple causes, but the storyline about technology being the major cause is patently false. My observations are as follows:
From the end of World War II until the mid-1970s employee compensation as a percentage of GNP was consistently between 49% and 51%. The middle class saw their standard of living rise as wages outpaced inflation, savings rates were high and led to capital investment, debt was used for long term purchases like a home or automobile, and bankers accepted deposits and made safe loans. Technological progress over the thirty years was constant, but did not result in declining wages.
From the moment Nixon closed the gold window, employee compensation as percentage of GNP relentlessly declined for the next quarter of a century from 51% to 44%. Over this time frame our economy deformed from a goods producing system driven by savings and capital investment into a service/financial economy built upon consumer debt, conspicuous consumption and market gambling. Our iconic mega-corporations fired Americans and hired Chinese slave laborers, lobbied for tax breaks, invested in their own stock, kept wage increases below the level of true inflation, and paid extravagant compensation packages to their Harvard MBA executives.
The brief upturn created by Greenspan's irrational exuberance 90's boom was short lived. The relentless decline resumed after the dot com collapse, even as Greenspan and Bernanke blew their epic bubble. Their financial engineering machinations on behalf of Wall Street did nothing for the average worker on Main Street. Employee compensation as a percentage of GNP declined from 47% to 44% BEFORE the financial collapse.
Unequivocal proof that Bernanke's sole purpose of QE and ZIRP was to benefit his Wall Street owners can be seen in the continued decline from 44% to 42% since 2008. There has been no recovery for the average American. Wall Street is rolling in dough. Corporate America is rolling in dough. Politicians are rolling in dough. The average American worker is rolling in dog shit.
The mouthpieces for the Deep State insist corporate profits have reached a permanently high plateau. It's another new paradigm. Just like 1929, 1999, and 2007. Jeremy Grantham is right. The system is broken. The inmates are running the asylum. But financial engineering will not work permanently.  Baijnath Ramraika and Prashant Trivedi in their outstanding article Why Jeremy Grantham is Right about Corporate Profit Margins prove that corporate gross margins have not grown, technological advancement has not been a major factor, innovation and capital investment are non-existent, and corporate CEOs have utilized one time schemes to boost profits.
There are a few major reasons for record corporate profits. The Fed's gift to banks and mega-corporations of zero interest rates have allowed S&P 500 corporations to refinance their existing debt and take on new debt at below market interest rates. The average interest rate paid by S&P 500 companies is now at all-time lows. Any normalization of interest rates would crush corporate profits.
Even though you hear constant propaganda from the corporate MSM, corporate CEOs, and captured politicians about the dreadful level of corporate taxes, the truth is that mega-corporations are paying record low levels of actual taxes. When profits are at record highs and tax payments at record lows you know they have captured the system. "Creative" tax avoidance and the FASB allowing banks to mark their assets to fantasy have played an enormous role in record profits.
The short term oriented casino mentality of corporate CEOs can be plainly seen in the fact depreciation expense as a percentage of revenue is at 25 year lows, resulting in short term profits but long-term decline. Instead of investing in capital to increase efficiency or expand their business, greedy myopic CEOs have chosen to buy back their own stock at all-time high prices. They did the same thing in 2005 – 2007. Driving up quarterly earnings per share to boost their own stock option compensation is how it rolls in corporate America today. Investing in their workers through higher wages isn't even a consideration. They don't teach that in Ivy League MBA programs. SG&A expenses as a percentage of revenue have been driven to all time lows, as outsourcing, downsizing, and working people to death have done wonders for corporate profits.
Ramraika and Trivedi reach damning conclusions of corporate America, based on their detailed unbiased research:
As the world moved increasingly towards the idea of shareholder-value maximization, time horizons for management and the shareholders have shortened. As Montier shows, the average lifespan of a company in the S&P 500 in the 1970s was about 27 years and is down to about 15 years now. In tandem, the average tenure of CEOs is down from about 10 years in the 1970s to about 6 years now. Combine this with the incentive systems prevalent today (think stock options), and it is only logical that a CEO who is going to be around for as few as six years and is going to get a large chunk of her rewards in stock options will want to see higher stock prices.
Cutting SGA expenses and postponing capital investments — actions that carry positive short-term earnings impact at the expense of a business' competitiveness in the long-term — look promising to managers whose payoffs depend on stock prices in the short-term. Not surprisingly, the renters (there are hardly any owners any more) clamor for just such actions. The problem with this thinking is that the long-term eventually shows up. And when it does, profit margins will have no choice but to remember their long forgotten tendency to revert to mean.
Are interest rates going to be driven lower for corporations? Are taxes going to be driven lower? How many more people can corporations fire? Have economic downturns been eliminated by the Federal Reserve? Will record profits not result in increased competition and price wars? Can wages be driven even lower?
The financial, economic and political system has been captured by corporate fascist psychopaths. The Federal Reserve has aided and abetted this takeover. Their monetary manipulations have resulted in this deformity. Psychopaths always go too far. The American middle class has been murdered. Decades of declining real wages have left them virtually penniless, in debt up to their eyeballs, angry, frustrated, and unable to jump start our moribund economy by buying more Chinese produced crap. Yellen, her Wall Street puppeteers, and the corporate titans should enjoy those record profits and record stock market highs. It won't last. Short-term profits will be wiped out, as long-term consequences always arrive when you least expect it. The artificial boom will lead to a real depression. Luckily for the oligarchs, most middle class Americans are already experiencing a depression and won't notice the difference.
"True, governments can reduce the rate of interest in the short run. They can issue additional paper money. They can open the way to credit expansion by the banks. They can thus create an artificial boom and the appearance of prosperity. But such a boom is bound to collapse soon or late and to bring about a depression." – Ludwig von Mises
Off the keyboard of Jim Quinn
Published on The Burning Platform on September 10, 2013
Discuss this article at the Geopolitics Table inside the Diner
In the first three parts (Part 1, Part 2, Part 3) of this disheartening look back at a century of central banking, income taxing, military warring, energy depleting and political corrupting, I made a case for why we are in the midst of a financial, commercial, political, social and cultural collapse. In this final installment I'll give my best estimate as to what happens next and it has a 100% probability of being wrong. There are so many variables involved that it is impossible to predict the exact path to our world's end. Many people don't want to hear about the intractable issues or the true reasons for our predicament. They want easy button solutions. They want someone or something to fix their problems. They pray for a technological miracle to save them from decades of irrational myopic decisions. As the domino-like collapse worsens, the feeble minded populace becomes more susceptible to the false promises of tyrants and psychopaths. There are a myriad of thugs, criminals, and autocrats in positions of power who are willing to exploit any means necessary to retain their wealth, power and control. The revelations of governmental malfeasance, un-Constitutional mass espionage of all citizens, and expansion of the Orwellian welfare/warfare surveillance state, from patriots like Julian Assange, Bradley Manning and Edward Snowden has proven beyond a doubt the corrupt establishment are zealously anxious to discard and stomp on the U.S. Constitution in their desire for authoritarian control over our society.
Anyone who denies we are in the midst of an ongoing Crisis that will lead to a collapse of the system as we know it is either a card carrying member of the corrupt establishment, dependent upon the oligarchs for their living, or just one of the willfully ignorant ostriches who choose to put their heads in the sand and hum the Star Spangled Banner as they choose obliviousness to awareness. Thinking is hard. Feeling and believing a storyline is easy.
A moral society must be inhabited by an informed, educated, aware populace and   governed by honorable leaders who oversee based upon the nation's founding principles of liberty, freedom and limited government of, by and for the people. A moral society requires trust, honor, property rights, simple just laws, and the freedom to succeed or fail on your own merits. There is one major problem in creating a true moral society where liberty, freedom, trust, honor and free markets are cherished – human beings. We are a deeply flawed species who are prone to falling prey to the depravities of lust, gluttony, greed, sloth, wrath, envy and pride. Men have always been captivated by the false idols of dominion, power and wealth. The foibles of human nature haven't changed over the course of history. This is why we have 80 to 100 year cycles driven by the same human strengths and shortcomings revealed throughout recorded history.
Empires rise and fall due to the humanness of their leaders and citizens. The great American Empire is no different. It was created a mere 224 years ago by courageous patriots who risked their wealth and their lives to create a Republic founded upon the principles of freedom, liberty, and the pursuit of happiness; took a dreadful wrong turn in 1913 with the creation of a privately held central bank to control its currency and introduction of an income tax; devolved into an empire after World War II, setting it on a course towards bankruptcy; sealed its fate in 1971 by unleashing power hungry psychopathic elitists to manipulate the monetary and fiscal policies of the nation to enrich themselves; and has now entered the final frenzied phase of pillaging, currency debasement, war mongering, and ransacking of civil liberties. Despite the frantic efforts of the financial elite, their politician puppets, and their media propaganda outlets, collapse of this aristocracy of the moneyed is a mathematical certainty. Faith in the system is rapidly diminishing, as the issuance of debt to create the appearance of growth has reached the point of diminishing returns.
Increase in Real GDP per Dollar of Incremental Debt
"At the root of America's economic crisis lies a moral crisis: the decline of civic virtue among America's political and economic elite. A society of markets, laws, and elections is not enough if the rich and powerful fail to behave with respect, honesty, and compassion toward the rest of society and toward the world." – Jeffrey Sachs
Five Stages of Collapse
The day of reckoning for a century of putting our faith in the wrong people with wrong ideas and evil intentions is upon us. Dmitry Orlov provides a blueprint for the collapse in his book – The Five Stages of Collapse – Survivors' Toolkit:
Stage 1: Financial Collapse. Faith in "business as usual" is lost. The future is no longer assumed to resemble the past in any way that allows risk to be assessed and financial assets to be guaranteed. Financial institutions become insolvent; savings wiped out and access to capital is lost.
Stage 2: Commercial Collapse. Faith that "the market shall provide" is lost. Money is devalued and/or becomes scarce, commodities are hoarded, import and retail chains break down and widespread shortages of survival necessities become the norm.
Stage 3: Political Collapse. Faith that "the government will take care of you" is lost. As official attempts to mitigate widespread loss of access to commercial sources of survival necessities fail to make a difference, the political establishment loses legitimacy and relevance.
Stage 4: Social Collapse. Faith that "your people will take care of you" is lost, as social institutions, be they charities or other groups that rush to fill the power vacuum, run out of resources or fail through internal conflict.
Stage 5: Cultural Collapse. Faith in the goodness of humanity is lost. People lose their capacity for "kindness, generosity, consideration, affection, honesty, hospitality, compassion, charity." Families disband and compete as individuals for scarce resources. The new motto becomes "May you die today so that I can die tomorrow."
The collapse is occurring in fits and starts. The stages of collapse do not necessarily have to occur in order.  You can recognize various elements of the first three stages in the United States today. Stage 1 commenced in September 2008 when this Crisis period was catalyzed by the disintegration of the worldwide financial system caused by Wall Street intentionally creating the largest control fraud in world history, with easy money provided by Greenspan/Bernanke, fraudulent mortgage products, fake appraisals, bribing rating agencies to provide AAA ratings to derivatives filled with feces, and having their puppets in the media and political arena provide the propaganda to herd the sheep into the slaughterhouse.
The American people neglected their civic duty to elect leaders who would tell them the truth and represent current and future generations equally. They have neglected the increasing lawlessness of Wall Street, K Street and the corporate suite. The American people have lived in denial about their responsibility for their own financial well-being, willingly delegating it to a government of math challenged politicians who promised trillions more than they could ever deliver. The American people have delayed tackling the dire issues confronting our nation, including: $200 trillion of unfunded liabilities, the military industrial complex creating wars across the globe, militarization of our local police forces, domestic spying on every citizen, allowing mega-corporations and the financial elite to turn our nation from savings based production to debt based consumption, and allowing corporations, the military industrial complex, Wall Street, and shadowy billionaires to pick and control our elected officials. The civic fabric of the country is being torn at the points of extreme vulnerability.
"At home and abroad, these events will reflect the tearing of the civic fabric at points of extreme vulnerability – problem areas where, during the Unraveling, America will have neglected, denied, or delayed needed action. Anger at "mistakes we made" will translate into calls for action, regardless of the heightened public risk. It is unlikely that the catalyst will worsen into a full-fledged catastrophe, since the nation will probably find a way to avert the initial danger and stabilize the situation for a while. Yet even if dire consequences are temporarily averted, America will have entered the Fourth Turning."  – The Fourth Turning – Strauss & Howe – 1997
Our Brave New World controllers (bankers, politicians, corporate titans, media moguls, shadowy billionaires) were able to avert a full-fledged catastrophe in the fall of 2008 and spring of 2009 which would have put an end to their reign of destruction. To accept the rightful consequences of their foul actions was intolerable to these obscenely wealthy, despicable men. Their loathsome and vile solutions to a crisis they created have done nothing to relieve the pain and suffering of the average person, while further enriching them, as they continue to gorge on the dying carcass of a once thriving nation. Despite overwhelming public outrage, Congress did as they were instructed by their Wall Street masters and handed over $700 billion of taxpayer funds into Wall Street vaults, under the false threat of systematic collapse. The $800 billion of pork stimulus was injected directly into the veins of corporate campaign contributors. The $3 billion Cash for Clunkers scheme resulted in pumping taxpayer dollars into the government owned union car companies, while driving up the prices of used cars and hurting lower income folks.
Ben Bernanke has peddled the false paradigm of quantitative easing (code for printing money and airlifting it to Wall Street) as benefitting Main Street. Nothing could be further from the truth. He bought $1.3 trillion of toxic mortgage backed securities from his Wall Street owners. He has pumped a total of $2.8 trillion into the hands of Wall Street since September 2008, and is singlehandedly generating $5 billion of risk free profits for these deadbeats by paying them .25% on their reserves. Drug dealer Ben continues to pump $2.8 billion per day into the veins of Wall Street addicts and any hint of tapering the heroin causes the addicts to flail about. Ben should be so proud. He should hang a Mission Accomplished banner whenever he gives a speech. Bank profits reached an all-time record in the 2nd quarter, at $42.2 billion, with 80% of those profits going to the 2% Too Big To Trust Wall Street Mega-Goliath Banks. It's enough to make a soon to retire, and take a Wall Street job, central banker smile.
"The money rate can, indeed, be kept artificially low only by continuous new injections of currency or bank credit in place of real savings. This can create the illusion of more capital just as the addition of water can create the illusion of more milk. But it is a policy of continuous inflation. It is obviously a process involving cumulative danger. The money rate will rise and a crisis will develop if the inflation is reversed, or merely brought to a halt, or even continued at a diminished rate. Cheap money policies, in short, eventually bring about far more violent oscillations in business  than those they are designed to remedy or prevent." – Henry Hazlitt – 1946
Any serious minded person knew Wall Street had too much power, too much control, and too much influence in 2008 when they crashed our economic system. When something is too big to fail because it will create systematic collapse, you make it smaller. Instead we have allowed our sociopathic rulers to allow these parasitic institutions to get even larger. Just 12 mega-banks control 70% of all the banking assets in the country, with 90% controlled by the top 86 banks. There are approximately 8,000 financial institutions in this country. Wall Street will be congratulating themselves with record compensation of $127 billion and record bonuses of $23 billion for a job well done. It is dangerous work making journal entries relieving loan loss reserves, committing foreclosure fraud, marking your assets to unicorn, making deposits at the Fed, and counting on the Bernanke Put to keep stocks rising. During a supposed recovery from 2009 to 2011, average real income per household grew pitifully by 1.7%, but all the gains accrued to Bernanke's minions. Top 1% incomes grew by 11.2% while bottom 99% incomes shrunk by 0.4%. Therefore, the top 1% captured 121% of the income gains in the first two years of the recovery. This warped trend has only accelerated since 2011.
The median household income has fallen by $2,400 to $52,100 since the government proclaimed the end of the recession in 2009. Real wages for real people continue to fall. A record 23.1 million households (20% of all households) are receiving food stamps. After four years of "recovery" propaganda, we are left with 2.2 million less people employed (5 million less full time jobs) and 22 million more people on SNAP and SSDI. A record 90.5 million working age Americans are not working, with labor participation at a 35 year low. Ben's money has not trickled down, but his inflation has fallen like a load of bricks on the heads of the middle class. Bernanke's QE to infinity constitutes a transfer of purchasing power away from the middle class to the bankers, mega-corporations and .1%. This Cantillon effect means that newly created money is neither distributed evenly nor simultaneously among the population. Some users of money profit from rising prices, and others suffer from them. This results in a transfer of wealth (a hidden tax) from later receivers to earlier receivers of new money. This is why the largest banks and largest corporations are generating the highest profits in history, while the average person sinks further into debt as their real income declines and real living expenses (energy, food, clothing, healthcare, tuition) rise.
Ben works for your owners. Real GDP (using the fake government inflation adjustment) since July 2009 is up by a wretched 5.6%. Revenue growth of the biggest corporations in the world is up by a pathetic 12%. One might wonder how corporate profits could be at record levels with such doleful economic performance. One needs to look no further than Ben's balance sheet, which has increased by 174%. There appears to be a slight correlation between Ben's money printing and the 162% increase in the S&P 500 index. With the top 1% owning 42.1% of all financial assets (top .1% own most of this) and the bottom 80% owning only 4.7% of all financial assets, one can clearly see who benefits from QE to infinity.
The key take away from what the ruling class has done since 2008 is they have only temporarily delayed the endgame. Their self-serving exploits have guaranteed that round two of the financial collapse will be epic in proportion and intensity. This Fourth Turning Crisis is ongoing. The linear thinkers who control the levers of power keep promising a return to normalcy and resumption of growth. This is an impossibility – mathematically & socially. Fourth Turnings do not end without the existing social order being swept away in a tsunami of turmoil, violence, suffering and war. Orlov's stages of collapse will likely occur during the remaining fifteen years of this Crisis. We are deep into Stage 1 as our national Detroitification progresses towards bankruptcy, with an added impetus from our trillion dollar wars of choice in the Middle East. Commercial collapse has begun, as faith in the fantasy of free market capitalism is waning. The race to the bottom with currency debasement around the globe is reaching a tipping point, and the true eternal currencies of gold and silver are being hoarded and shipped from the West to the Far East.
Monetary Base (billions of USD)
When the financial collapse reaches its crescendo, the just in time supply chain, that keeps cheese doodles and cheese whiz on your grocery store shelves, Chinese produced iGadgets in your local Wal-Mart Supercenter, and gasoline flowing out of gas station hoses into your leased Cadillac Escalade, will break down rapidly. The strain of $110 oil is already evident. The fireworks will really get going when ATM machines run dry and the EBT cards stop functioning. Within a week riots and panic will engulf the country.
"At some point we are bound to hear, from across two oceans, the shocking words "Your money is no good here." Fast forward to a week later: banks are closed, ATMs are out of cash, supermarket shelves are bare and gas stations are starting to run out of fuel. And then something happens: the government announces they have formed a crisis task force, and will nationalize, recapitalize and reopen banks, restoring confidence. The banks reopen, under heavy guard, and thousands of people get arrested for attempting to withdraw their savings. Banks close, riots begin. Next, the government decides that, to jump-start commerce, it will honor deposit guarantees and simply hand out cash. They print and arrange for the cash to be handed out. Now everyone has plenty of cash, but there is still no food in the supermarkets or gasoline at the gas stations because by now the international supply chains have broken down and the delivery pipelines are empty."  – Dmitry Orlov – The Five Stages of Collapse
We are witnessing the beginning stages of political collapse. The government and its leaders are being discredited on a daily basis. The mismanagement of fiscal policy, foreign policy and domestic policy, along with the revelations of the NSA conducting mass surveillance against all Americans has led critical thinking Americans to question the legitimacy of the politicians running the show on behalf of the bankers, corporations and arms dealers. The Gestapo like tactics used by the government in Boston was an early warning sign of what is to come. Government entitlement promises will vaporize, as they did in Detroit, with pension promises worth only ten cents on the dollar. Total social and cultural collapse could resemble the chaotic civil war scenarios playing out in Libya and Syria. The best case scenario would be for a collapse similar to the Soviet Union's relatively peaceful disintegration into impotent republics. I don't believe we'll be this fortunate. The most powerful military empire in world history will not fade away. It will go out in a blaze of glory with a currency collapse, hyper-inflation, and war on a grand scale.
"History offers even more sobering warnings: Armed confrontation usually occurs around the climax of Crisis. If there is confrontation, it is likely to lead to war. This could be any kind of war – class war, sectional war, war against global anarchists or terrorists, or superpower war. If there is war, it is likely to culminate in total war, fought until the losing side has been rendered nil – its will broken, territory taken, and leaders captured." – The Fourth Turning – Strauss & Howe – 1997
In Whom Do You Trust?
"Use of money concentrates trust in a single central authority – the central bank – and, over extended periods of time, central banks always tend to misbehave. Eventually the "print" button on the central banker's emergency console becomes stuck in the depressed position, flooding the world with worthless notes. People trust that money will remain a store of value, and once the trust is violated a gigantic black hole appears at the very center of society, sucking in peoples' savings and aspirations along with their sense of self-worth. When those who have become psychologically dependent on money as a yardstick, to be applied to everything and everyone, suddenly find themselves in a world where money means nothing, it is as if they have gone blind; they see shapes but can no longer resolve them into objects. The result is anomie – a sense of unreality – accompanied by deep depression. Money is an addiction – substance-less and unreal, and sets itself up for a severe and lengthy withdrawal." – Dmitry Orlov – The Five Stages of Collapse
Our modern world revolves around wealth, the appearance of wealth, the false creation of wealth through the issuance of debt, and trust in the bankers and politicians pulling the levers behind the curtain. The entire world economic system is dependent on trusting central bankers whose only response to any crisis is to create more debt. The death knell is ringing loud and clear, but people around the globe are desperately clinging to their normalcy biases and praying to the gods of cognitive dissonance. It seems the only things that matter to our controllers are stock market levels, the continued flow of debt to the plebs, continued doling out of hush money to those on the dole, and of course an endless supply of brown skinned enemies to attack. With every country in the world attempting to the same solution of debasing their currencies, we are rapidly approaching the tipping point. India is the canary in the coal mine.
Government, Household, Financial & Non-Financial Debt (% of GDP)
An exponential growth model built upon cheap plentiful energy and debt creation has its limits, and we've reached them. With the depletion of inexpensive, easily accessible energy resources, higher prices will continue to slow world economies. Demographics in the developed world are slowing the global economy as millions approach their old age with little savings due to over consuming during their peak earnings years. Bernanke has already quadrupled his balance sheet with no meaningful benefit to the economy or the financial well-being of the average middle class American. Financial manipulation that creates nothing has masked the rot consuming our economic system. The game has been rigged in favor of the owners, but even a rigged game eventually comes to an end. Americans and Europeans can no longer maintain a façade of wealth by buying knickknacks from China with money they don't have. The US and Europe are finding that their credit is no longer good in the exporting Far East countries. This is a perilous development, as the West has depended upon foreigners to accommodate its never ending expansion of credit. Without that continual expansion of debt, the Ponzi scheme comes crashing down. As China, Japan and the rest of Asia have balked at buying U.S. Treasuries with negative real yields, the only recourse for Ben has been to monetize the debt through QE and inflation. The doubling of ten year Treasury rates in a matter of three months due to just talk of possibly slowing QE should send shivers down your spine.
We are supposedly five years past the great crisis. Magazine covers proclaimed Bernanke a hero. If we are well past the crisis, why are the extreme emergency measures still in effect? If the economy is growing and jobs are being created, why do we need $85 billion of government debt to be monetized each and every month? Why are the EU, Japan, and China printing even faster than the Fed? The answer is simple. If the debt was not being monetized, it would have to be purchased out in the free market. Purchasers would require an interest rate far above the 2.9% being paid today. The debt levels in the U.S., Europe and Japan are so large that a rise in interest rates of just a few points would explode budget deficits and lead to a worldwide financial collapse. This is why Bernanke and the rest of his central banker brethren are trapped by their own ideology of bubble production. Just the slowing of debt creation will lead to collapse. Bernanke needs a Syrian crisis to postpone the taper talk. Those in control need an endless number of real or false flag crises to provide cover for their printing presses to keep rolling.
There are a couple analogies that apply to our impending doom. The country is like a 224 year old oak tree that has been slowly rotting on the inside due to the insidious diseases of hubris, apathy, selfishness, dependence, delusion, and debasement. The old oak gives an outward appearance of health and stability. Winter has arrived and gale force winds are in the forecast. One gust of wind and the mighty aged oak will topple and come crashing to earth. I think an even more fitting analogy is the sandpile with grains of sand being added day after day. Seven out of ten Americans receive more in government benefits than they pay in taxes. Goliath corporations and the uber-wealthy use the tax code and legislation to syphon hundreds of billions from the national treasury every year. We spend $1 trillion per year on past, current and future wars of choice. Annual interest on the debt we've racked up in the last few decades already approaches $400 billion per year. The entire Federal budget totaled $400 billion in 1977. The sandpile grows ever higher, while its instability expands exponentially. One seemingly innocuous grain of sand will ultimately cause the pile to collapse catastrophically. Will it be an unintended consequence of a missile launch into Syria? Will it be a spike in oil prices? Will it be the collapse of one of the EU PIIGS? Will it be an assassination of a political figure or banker? No one knows. But that innocuous grain of sand will trigger the collapse of the entire pile.
Worried people are looking for solutions. They often get angry at me because they don't think I provide answers to the issues I raise about our corrupt failing system. They want easy answers to intractable problems. Sadly, I've come to the conclusion that our system and majority of citizens are too corrupted to change our course through the ballot box or instituting policies along the lines of those proposed by Ron Paul and many other thoughtful liberty minded people. We are experiencing the downside of a representative democracy.  Once a person is democratically elected a gulf is created between the electors and the person they elected, as the representative becomes corrupted and bought by moneyed interests. Elected officials become a class unto themselves. The political class grows to be puppets that resemble human beings but are nothing but cogs in a vast corporate run machine, pawns in an enormous game of chess played by powerful vindictive immoral men.
There are no cures for our disease. It's terminal. Anyone telling you they have the answers is either lying or trying to sell you something. More people and organizations are on the take than are playing by the rules. The producers are being overrun by the parasites. The barbarians are at the gate. An implosion of societal trust is underway. The next stage of this crisis, which I believe will materialize within the next twelve months will try the souls of the weary.
"As the Crisis catalyzes, these fears will rush to the surface, jagged and exposed. Distrustful of some things, individuals will feel that their survival requires them to distrust more things. This behavior could cascade into a sudden downward spiral, an implosion of societal trust. This might result in a Great Devaluation, a severe drop in the market price of most financial and real assets. This devaluation could be a short but horrific panic, a free-falling price in a market with no buyers. Or it could be a series of downward ratchets linked to political events that sequentially knock the supports out from under the residual popular trust in the system. As assets devalue, trust will further disintegrate, which will cause assets to devalue further, and so on." – The Fourth Turning – Strauss & Howe – 1997
As a nation we have squandered our inheritance, born of the blood of patriots. A freedom loving, liberty minded, self-responsible, courageous people have allowed ourselves to fall prey to selfishness, apathy, complacency and dependency. Once we allowed our human appetites of greed, power seeking, and control to override the moral responsibility for our own lives and the lives of future unborn generations, collapse was inevitable. The danger now is what happens after the unavoidable collapse. Will the millions of dependency zombies beg for a strong dictator to protect them, provide for them and lead them into further bondage? Or will the spark of liberty and freedom reignite, allowing citizens to throw off the shackles of banker and corporate control? I believe most of the people in this country are good hearted. We are merely pawns in this game of Risk being played by those seeking power, wealth and world domination. We are all trapped in our own forms of normalcy bias. Have I cashed out my retirement funds, sold my suburban house and built a doomstead in the mountains? No I haven't. Do I second guess myself sometimes? Yes I do. But even the aware have families to support, jobs to go to, bills to pay, laundry to do, lawns to mow, and lives to live. I can't live in constant fear of what might happen. We only get 80 or so years on this earth, if we're lucky. The best we can do is leave a positive legacy for our children and their children. A drastic change to our way of life is coming, but most of us are trapped in a cage of our own making.
Each living generation will need to do their part during this Crisis if we are to survive the coming storm. Since no one knows the nature of how the next fifteen years will unfold, it would be wise to at least make basic preparations for food, water, heat and protection. This is easier for some than others, but you don't have to star on Doomsday Preppers in order to stock up on items that can be purchased at Wal-Mart today, but won't be available when the global supply chain breaks down. Make sure you have neighbors and family you can rely upon. A small community of like-minded people with varied skills is more likely to succeed in our brave old world than rugged individualists. With no financial means to maintain our globalized world, living locally will take on a new meaning. After much turmoil, chaos, violence, and likely mass casualties the best outcome would be for the Great American Empire to break into regional republics, incapable of waging global war, led by law abiding moral liberty minded individuals, and willing to trade freely and honestly with their fellow republics. Daily life would revert back to a simpler Amish like time. Would that be so bad?
This Fourth Turning could end with a whimper or a bang. There are enough nuclear arms to obliterate the world ten times over. There are enough hubristic egomaniacal psychopathic men in power, that the use of those weapons has a high likelihood of happening. It will be up to the people to not allow this horrific result. I love my country and despise my government. The Declaration of Independence clearly states that when a long train of abuses and usurpations lead toward despotism, it is our right and duty to throw off that government and provide new guards of liberty. My family comes first with my country a close second. I will fight with whatever means necessary to protect my family and do what I can to influence the future course of our country. Time is running out. Will we have the courage, fortitude and wisdom to make the right decisions over the next fifteen years? Will we choose glory or destruction? The fate of our nation hangs in the balance. Are you prepared? Are you ready to fight for your family and your rights?
The Fourth Turning could spare modernity but mark the end of our nation. It could close the book on the political constitution, popular culture, and moral standing that the word America has come to signify. The nation has endured for three saecula; Rome lasted twelve, the Soviet Union only one. Fourth Turnings are critical thresholds for national survival. Each of the last three American Crises produced moments of extreme danger: In the Revolution, the very birth of the republic hung by a thread in more than one battle. In the Civil War, the union barely survived a four-year slaughter that in its own time was regarded as the most lethal war in history. In World War II, the nation destroyed an enemy of democracy that for a time was winning; had the enemy won, America might have itself been destroyed. In all likelihood, the next Crisis will present the nation with a threat and a consequence on a similar scale. – The Fourth Turning – Strauss & Howe – 1997
 IT'S OUR CHOICE.
Off the keyboard of Jim Quinn
Follow us on Twitter @doomstead666
Friend us on Facebook
Published on The Burning Platform on August 25, 2013
Discuss this article at the Economics Table inside the Diner
In Part 1 of this article I documented the insane remedies prescribed by the mad banker scientists presiding over this preposterous fiat experiment since they blew up the lab in 2008. In Part 2 I tried to articulate why the country has allowed itself to be brought to the brink of catastrophe. There is no turning back time. The choices we've made and avoided making over the last one hundred years are going to come home to roost over the next fifteen years. We are in the midst of a great Crisis that will not be resolved until the mid-2020s. The propagandists supporting the vested interests continue to assure the voluntarily oblivious populace the economy is improving, jobs are plentiful, inflation is under control, and housing is recovering. Bernanke and his band of merry money manipulators, Obama and his gaggle of government apparatchiks, and their mendacious mainstream media mouthpieces have enacted radical measures in the last five years that reek of desperation in their effort to give the appearance of revival to a failing economic system. Stimulating the net worth of bankers and connected corporate cronies through engineered stock market gains has not trickled down to the peasants. Our owners try to convince us it's raining, but we know they're pissing down our backs. Our Crisis mood is congealing.
"But as the Crisis mood congeals, people will come to the jarring realization that they have grown helplessly dependent on a teetering edifice of anonymous transactions and paper guarantees. Many Americans won't know where their savings are, who their employer is, what their pension is, or how their government works. The era will have left the financial world arbitraged and tentacled: Debtors won't know who holds their notes, homeowners who owns their mortgages, and shareholders who runs their equities – and vice versa." – The Fourth Turning – Strauss & Howe – 1997
The core elements of this Crisis have been discernible for decades. The accumulation of private and public debt; the civic, moral, and intellectual decay of our society; the growing power of the corrupt corporate fascist surveillance state; growing wealth inequality created by crony capitalist skullduggery; the peak in cheap easily accessible oil; and global disorder caused by overpopulation, scarce resources, religious zealotry, and war; combine in a toxic brew of unimaginable pain, anguish and tragedy. The Crisis began in September 2008 and the sole purpose of the deceitful establishment has been to avert a catastrophe that is destined to extinguish the wealth, power and control they've treacherously procured over the last few decades.
The appearance of stability is illusory, as the civic fabric of the country continues to tear asunder. Record high stock markets do not trickle down. The debt engineered stock market gains enrich the .1% at the expense of the working class. Bernanke's "wealth effect" theory is a charade. He has backed the country into a corner with no escape for the prisoners of his QE prison (he'll escape to collect his Wall Street paycheck in January). He knows that without the combined $300 billion per month being pumped into the veins of zombie U.S., European and Japanese insolvent zombie banks by central bankers, the worldwide financial system will implode. He blathers on about tapering while awaiting the next government manufactured crisis to give him an excuse to continue or increase his money printing exercise. Control P is the only key on Bennie's laptop. To think dropping trillions of dollars into the laps of Wall Street will somehow stimulate Main Street is beyond laughable. Some ideas are so ridiculous that only intellectuals and academics could possibly believe them.
The masters of propaganda seem baffled that their standard operating procedures are not generating the expected response from the serfs. They have failed to take into account the generational mood changes that occur during Fourth Turnings. Propaganda loses its effectiveness in proportion to the pain and distress being experienced by the citizenry. Goebbels' propaganda enthused and motivated the German people during the 1930s as Hitler re-armed, scrapped the Versailles Treaty and took over countries, as well as when he was conquering Poland and France in the early phase of World War II. Propaganda didn't work so well when the U.S. Air Force was obliterating Dresden, Hitler was hunkered down in his bunker about to put a bullet in his skull, and the Russians were on the outskirts of a burning Berlin. Propaganda works when the people want to believe the falsehoods. When the cold harsh reality slaps them in the face, propaganda no longer works.
    Propaganda Working Well                   Propaganda Not Working So Well
The American Empire propaganda machine continues to gyrate but the gears are getting clogged with the gunk of mistruths revealed. Even the willfully ignorant masses are beginning to realize they have been screwed by those running the show. After five years of debt bankrolled "no Wall Street banker left behind solutions" and Keynesian crony capitalist handouts, real median household income is 8% lower, there are 5 million less full-time jobs, there are 19 million more Americans on food stamps, gasoline prices hover near all-time high levels, health insurance premiums are skyrocketing, local, state and Federal taxes relentlessly rise, and the national debt has gone hyperbolic – up by $6.7 trillion in five years.
This 67% increase is more debt than the country accumulated in the 214 years from its founding in 1789 through 2003. The $6.7 trillion of new debt, along with Bernanke printing almost $3 trillion of new fiat dollars and handed to his puppet masters on Wall Street, have generated a pitiful $1.8 trillion of GDP growth. We know Main Street has not benefitted from this insane expansion of our empire of debt. But, someone benefitted.
Shockingly, those who profited from the actions of Bernanke, Obama, Congress, and the U.S. Treasury are the very same malevolent predators that created the financial disaster and prompted the emergency response in the first place. QE to infinity has not been a failure. It has done exactly what it was designed to do. In September 2008 every major Wall Street bank was insolvent. Orderly bankruptcy under existing law was the solution. The richest, most powerful men in the world would have seen vast amounts of their illicitly acquired wealth vaporized. Hundreds of billions in bad debt would have been written off, with no lasting impact on the average American. A brief violent depression would have ensued, but with the bad debt purged from the system and only prudent sensible bankers left, the economy would have rapidly recovered. Instead, a small cadre of financial elite hatched a plan to preserve their ill-gotten gains through accounting fraud, and manipulation of monetary and fiscal policy.
Bernanke and Paulson compelled the pocket protector wearing accounting weenies at the FASB to allow Wall Street banks to mark their assets to make believe rather than market. Bernanke then proceeded to buy up toxic assets from the Wall Street banks, providing a never ending flow of QE heroin injected directly into the veins of Wall Street bankers, and paying .25% on all deposits made by the Wall Street banks. Bernanke didn't do this so the banks could make loans to John and Susie Q Public and small time entrepreneurs with great business ideas. He did it so Wall Street could repair their insolvent balance sheets on the backs of American taxpayers. The $2 trillion of excess reserves parked at the Federal Reserve by Wall Street banks is "earning" $5 billion of risk free profits for the Too Big to Trust autocrats. Wall Street has generated billions of additional accounting entry "profits" by pretending their future losses on worthless loans will be minimal. Lastly, the "Bernanke Put" allows the Wall Street traders to use their HFT supercomputers and advanced notice of economic data to front run the muppets and syphon billions of risk free trading profits from the real economy. The chart below reveals all you need to know about the true purpose of Bernanke's QEfinity.
You'd have to be blind, deaf and dumb to not realize who Bernanke is really working for. But it seems the majority of people in this country don't care, don't understand or don't want to know the truth, as long as the ATM keeps spitting out twenty dollar bills, there are still Cool Ranch Doritos on the shelf at the Piggly Wiggly, and the EBT card gets recharged on the first of the month.
"The mischief springs from the power which the monied interest derives from a paper currency which they are able to control, from the multitude of corporations with exclusive privileges which they have succeeded in obtaining…and unless you become more watchful in your states and check this spirit of monopoly and thirst for exclusive privileges you will in the end find that the most important powers of government have been given or bartered away…." ― Andrew Jackson
Parasite on a Parasite on a Parasite
"This is by no means a new idea, nor is it the least bit radical; it is deeply conservative and highly traditional. It was Aristotle who first defined the economy as an exchange of goods and services for money, commerce as a parasite on the economy (where those who create nothing extract a share by trading) and finance a parasite on commerce (which extracts a share by switching money from hand to hand – a parasite on a parasite). A typical US politician, such as the president, who counts financial companies such as Goldman Sachs among his top campaign donors, could be characterized as a parasite on a parasite on a parasite – a worm infesting the gut of a tick that is sucking blood from a vampire bat, if you like." – Dimitri Orlov – The Five Stages of Collapse
The bastardized form of capitalism that passes for our economic system today is based upon a parasitic relationship between Too Big To Trust Wall Street banks, powerful mega-corporations, connected wealthy cronies, and bloodsucking politicians, with the American people as the debt bloated host. The parasites have put the host on life support in critical condition. It took forty years, since Nixon unleashed immoral bankers and devious politicians by decoupling our currency from gold, but the financialization and gutting of America through the false promises of globalization is almost complete. The quaint days of the 1950s and 1960s, when the country was supported by an economy that produced goods, invested in productive assets and citizens who saved money to buy things they desired, are long gone. The insane concepts espoused in the mid-1960s that created our current day welfare/warfare state required Americans to stop using their brains and start using their credit cards. The degenerate Wall Street banking cabal were thrilled to oblige by providing vast sums of debt to the government and the masses. Constant  war, uncontrolled materialism, and an ever expanding welfare state is the triple crown of profits for unscrupulous bankers and corporate CEOs. Once the inconveniant anchor of gold was cut loose by Nixon, the bankers and politicians were free to guide the U.S. Titanic towards its ultimate destination.
The decades long shift from a productive manufacturing society based on savings and investing in productive capital assets to a predatory consumption society based on borrowing and spending has enriched the Wall Street financial elite and destroyed the working middle class. An economy where 25% of its GDP was produced by manufacturing products allowed all boats to rise. A hard working middle class family had a chance to move up the social ladder. An economy where more than 20% of its GDP is dependent upon parasitical financial intermediaries that produce nothing and add no value creates the extreme wealth inequality we have in our society today. Only the yachts rise in such a society. The shift has been slow and methodical and we've crossed the point of no return. The propaganda being spewed by the mainstream corporate media and the connected crony capitalists like Jeffrey Immelt about a U.S. based manufacturing revival is designed to pacify the distracted masses. The pillaging by the FIRE sector will continue until the host is deceased.
The growth as a percentage of our GDP in business & professional services from 5% of GDP in 1970 to 12% today provides further evidence of a country in a downward spiral. The country wastes billions hiring "experts" (lawyers, accountants, consultants) to interpret the millions of pages of indecipherable laws, regulations and tax codes created by politicians used to control, monitor, tax and bilk the masses. The 3,300% increase in spending on healthcare and education since 1970 has created tens of millions of sickly functional illiterates. The corporate food conglomerates mass produce processed poison, Madison Avenue maggots peddle the poison to the masses through relentless Bernaysian propaganda marketing, creating nauseatingly obese human beings, and then the corporate healthcare conglomerates treat the dozens of diseases created by this insane process with their drugs, while corporate profits soar ever higher. We all know that superstar corporate CEOs like Jack Welch, Jamie Dimon, Angelo Mozillo, and Mark Zuckerberg deserve hundreds of millions in compensation for adding so much value to our everyday lives. How would we survive without a Best Buy credit card through GE Capital at 21% interest, or a JP Morgan created credit default swap sold to customers and then shorted, or a subprime negative amortization liar loan used to purchase a $750,000 McMansion, or having a place to post every inane thought we have so employers and the NSA can keep up to date on our status.
The corpulent populace have been so dumbed down by the public educational system run by social engineers and union teachers, along with the 24/7 corporate media propaganda inundating them since childhood, they are content to stare into their boob tubes, play with their iGadgets, or read what a friend of a distant relative ate for breakfast, on Facebook. The government provides enough welfare handouts to keep the increasingly larger lower classes from rioting by borrowing $1 trillion per year from future unborn generations. When the middle class shows signs of discontent regarding their declining wages and lack of jobs, the government and the military industrial complex use the bogeyman of impending terror threats and evil foreign dictators to wage undeclared wars and distract the willfully ignorant masses. Plus, there are always fantasy football leagues, paying $300 to take your family to watch drug enhanced millionaire baseball players not run out a ground ball at a $1 billion taxpayer financed stadium, shopping at a suburban ghost mall with one of your nine credit cards to dull the pain of a meaningless pathetic life, or watch eight year old Honey Boo Boo dress like whore and parade before adult judges on the Discovery Channel. Our choice to ignore the basic mathematics of our lives has resulted in creating a nation of sub-humans wandering through life like zombies in a bad horror movie.
"Anyone who cannot cope with mathematics is not fully human. At best, he is a tolerable subhuman who has learned to wear his shoes, bathe, and not make messes in the house." ― Robert A. Heinlein
And we owe it all to the bankers and politicians that have procured undue influence over the political, economic, and financial mechanisms that control the country. The 2008 financial collapse, systematically created by the pathologically egomaniacal financial elite who are programmed to thrust their vampire squid blood funnels into every potential pot of untapped wealth in the world, should have led the American people to tear down their criminal enterprise and throw the treacherous predators into prison. Instead, the fearful masses begged the Wall Street bankers and the pandering politician flunkies in Washington D.C. to steal more of their money. The bankers won again.
"They have been able to pay off politicians with political campaign funds and have been granted informal and unspoken yet complete immunity from prosecution, setting the scene for even bigger confiscations of investor capital. With the risk of legal repercussions so small and the temptation to steal so large, why would any of them not take advantage? What do they have to do to stop people from entrusting them with their savings? Put up neon signs that say, "We steal your money"?" – Dimitri Orlov – The Five Stages of Collapse
This capturing of unwarranted power by an unelected group of rich powerful men through deceitful means has left the country at the mercy of these psychopaths as their increasingly desperate measures insure the ultimate destruction of wealth across the planet. There are four central bankers (U.S., EU, Japan, China) who are the front men for the oligarchs. They are empowered with control over 70% of all the money on the planet. Do you think they have your best interests at heart? The financial crisis was caused by excessive levels of debt, created to benefit the issuers of the debt and the politicians who used the debt to promise voters more goodies than they could ever possibly deliver. Those politicians would be long gone before the IOUs came due, but the promises got them re-elected and made them rich. The "solutions" put forth by our owners since 2008 to solve our debt crisis have been to create debt at an even more rapid pace. Total credit market debt in the U.S. has surged by $6 trillion since 2007 to $57 trillion, 345% of GDP (it was 150% in 1970). The entire world is awash in un-payable levels of debt as reckless central bankers and gutless politicians know only one response to every crisis they cause – PRINT!!!
The decline in U.S. household debt has been solely due to write-offs, as the bad debt was shifted from reckless households and gluttonous bankers to the government books, where those who prudently abstained from the debt orgy are now on the hook for trillions of newly created unfunded obligations. Despite a moribund economy, with the lowest percentage of the population employed since 1983, consumer spending tanking, interest rates rising, gas prices near record highs, and poverty levels at all-time highs, corporate profits are off the charts. It seems the "solutions" implemented by the Ivy League MBA financial elite bankers and bureaucrats have had the desired result – enrichment of the criminal class who financialized the nation. The establishment and their media propaganda machine have somehow convinced a vast swath of Americans to believe that record profits accruing to the largest corporations in the world and stock market gains accruing to the 1% are beneficial to their lives. It's a testament to the power of propaganda that people can be convinced to cheer on their own downfall as they are dehumanized and enslaved by the plantation owners who run this country.
"Crime follows money like a shadow. The more money there is within a society, the greater are its social inequalities. Financialization dehumanizes human relationships by reducing them to a question of numbers printed on pieces of paper, and a blind calculus for manipulating these numbers mechanically; those who take part in this abstract dance of numbers dehumanizes others and, in turn, lose their own humanity and can go on to perform other dehumanizing acts. Money is, in short, a socially toxic substance." – Dimitri Orlov – The Five Stages of Collapse
There is no more revealing statistic than real median household income to gauge the winners and losers from the financialization and dehumanization of America. The real median household income of $52,100 is still 8% below the early 2008 level of $56,600. It is still 5% lower than it was in 1999, before the Federal Reserve/Wall Street bubble blowing wealth destruction machine really got going. In fact, real median household income has only risen 9% in the last 35 years. Prior to that, most families could live comfortably with only one spouse working. I'd be remiss if I didn't point out that these calculations are based on the fraudulently manipulated CPI figures which are understated by at least 3% per year. Using a true measure of inflation would reveal median household income to be lower today than it was in the mid-1960s. The bottom 80% have seen a decline in their standard of living since the mid-1960s as inflation has robbed them of purchasing power and the financial elite have skimmed the cream off the top of our economic system. The economic gains have accrued to the top 5%, with astronomical gains being amassed by the .1% ruling elite, who have rigged the game in their favor through laws written by their lobbyists, regulatory shenanigans, tax code manipulation, and buying off politicians. Thank you Bob Rubin, Larry Summers, and Phil Gramm for repealing Glass Steagall and stopping any regulation of financial derivatives. Where would the country be without those two courageous acts on your part?
Those in control of the system have succeeded beyond their wildest dreams as 72% of all the wealth in the US is held in the hands of 5% of the population, with 42% of this in the hands of the top 1%. The top 1% now "earn" over 20% of all the income in the U.S., a level exceeded only once before in the 1920s prior to the Great Crash of 1929 and ensuing Depression. During the heyday of middle class upward mobility, from 1950 through 1970, the top 1% earned 10% of all income. Today, the top 1% is dominated by debt peddling bankers creating derivatives of mass destruction, hedge fund egomaniacs in collusion with bankers to syphon capital away from productive ventures, mega-corporation job destroying executives, entertainment personalities, and shyster lawyers preying on the weak and feeble minded. Our insane society heaps accolades on these rich and famous narcissists, who add no value, produce nothing, create economic havoc, and drain the lifeblood from the dying carcass of a once great nation. The nearly extinct middle class owes their fate to the malevolent men that turned the country into a gambling casino of debt, derivatives, delusion and dreams of jackpots that will never materialize. The bankers and their cronies run the casino and the house always wins, as the chart below confirms.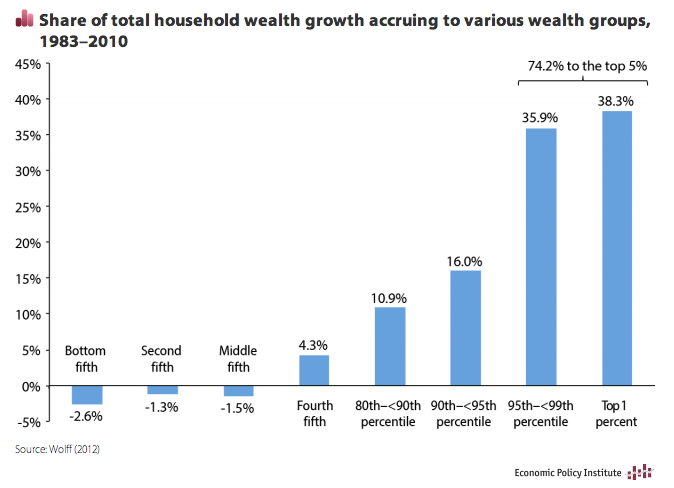 It is mind boggling that we have allowed ourselves to be brainwashed by the ruling class about the tremendous benefits of globalization, efficiency, productivity, and profitability. When academia, the mass media, and government leaders use their power and influence to convince the masses that ever higher mega-corporation profits benefit the well-being of the country, you end up where we are today. Globalization was nothing more than a scheme by our biggest corporations to use labor arbitrage as a way to increase profits. As American jobs were disappeared overseas to countries that allow slave labor conditions and wages, median household income declined.
The banking cabal stepped to the plate and convinced the increasingly poorer middle class to replace that lost income with easily accessible debt. Just whip out that credit card and use your house as an ATM and you still give the appearance of increasing wealth. You might be in debt up to your eyeballs but, by God, at least the neighbors would think you were doing great. Until the foreclosure sign went up in front of your house in 2009. The marriage of corporations outsourcing American jobs to China with consumer debt peddled by the predator banks was a match made in heaven until the country ran out of decent paying jobs, one in six people was on food stamps, and the average middle class family was drowning in debt. People are beginning to wake up to the fact that corporate efficiency and productivity means firing American workers, cutting benefits, and bigger bonuses for corporate executives as their stock price is boosted by the announcement of more layoffs. The country has been gutted by the predator class in their unquenchable thirst for more. Human nature never changes. Greed, desire, avarice and stupidity will always rear their heads, leading to predictable outcomes.
"Indeed, it had not – not when the nation's most sophisticated corporate financiers and their accountants were constantly at work finding new instruments of deception barely within the law; not when supposedly cool-headed fund managers had become fanatical votaries at the altar of instant performance; not when brokers' devotion to their customers interest was constantly being compromised by private professional deals or the pressure to produce commissions; and not when the style-setting leaders of professional investing were plunging as greedily and recklessly as any amateur." – John Brooks
The psychopaths controlling this country have fashioned untenable financial conditions by further weakening an already structurally deficient economic structure that will result in an epic flood of financial destruction destined to destroy the lives of millions in the U.S. and around the globe. Those who put their faith in financialization and interconnected globalization will reap what they have sowed. We will all feast at a banquet of consequences. Encouraging central bankers across the world to print trillions of fiat currency out of thin air as the solution to our debt problem is the ultimate in idiocracy. The unsustainability of this scheme should be evident to even an Ivy League economist. But the dimwitted government apparatchiks, overeducated economists, greedy corporate executives, vacuous media talking heads, and intellectually dishonest journalists cheer on Ben Bernanke and his central banker brethren.
When you see a Bloomberg bimbo interviewing an Ivy League Wall Street economist about the tremendous merits of QE to infinity, you have a millionaire interviewing a multi-millionaire, with both working for corporations owned by billionaires. Their jobs depend upon the sustenance and further enrichment of the establishment. Therefore, they will lie, obfuscate and mislead their audience about the criminality of their bosses and the true consequences of these crimes against humanity. The existing hierarchy will not willingly surrender their control, power and illegitimately acquired wealth. Only the process of economic collapse, war and revolution will end their reign of terror.
We've seen it all before. The cycles of human history have provided us with centuries of proof that a few evil men can gain control over a civilization and procure an inordinate amount of wealth and power before ultimately relinquishing it due to their myopic pathological desire to acquire more. Powerful wealthy narcissists are never satisfied with what they have. Their arrogance and hubris will always be their downfall. Their foolish belief in their own omniscience reveals their true ignorance. Their enormous egos and confidence in the linearity of history blind them to their impending demise. Time is no longer on their side. A reckoning will happen within the next decade. Their gated communities and penthouse doormen will not keep them safe.
The American people cannot shirk their responsibility for this ongoing tragedy. The evil men could only pull off this bank heist with the silent consent of the governed. And that is exactly what has happened. The American people have been gradually persuaded through propaganda and fear to willingly give up freedom, liberty and self-responsibility for safety, security and government provided succor. Over the last forty years the Americans people have allowed themselves to be enslaved in debt by bankers, corporations and politicians, who realized all the riches, while binding the citizens in chains made of credit cards and mortgages. Now that the system has reached its breaking point and the further issuance of debt no longer generates the appearance of growth, the ruling class have resorted to more authoritarian measures, all done in the name of protecting us from phantom terrorists and evil dictators. It's for the children.
Decisions about our economy are made in secret meetings by unelected officials and with sparse details announced with great fanfare by the corporate media. The President, with the full support of the military industrial complex, chooses which dictators are evil and which are good, with each being interchangeable depending upon the circumstances. The iron fist of American democracy attacks countries at will, without a declaration of war as mandated by the U.S. Constitution. Twenty five hundred page laws, indecipherable reams of regulations, and 60,000 pages of tax code are rammed down the throats of Americans without the benefit of even a debate. Each crisis caused by the previous government solution is met with more laws and regulations, designed and written by the very entities they were supposed to control. The farce of party politics is used to give people the appearance of choice, when there is not an iota of policy difference when the opposing party assumes power.
The people are told every situation is too complicated for them to understand and they should let the "experts" solve the problems. Every authoritarian measure used to control dissent among those capable of thinking is done in the name of national security. Edward Snowden is declared a traitor for revealing the traitorous actions of our own government, and the people silently consent. The head of the NSA is caught lying to Congress, and no one cares. The Department of Homeland Security locks down one of the biggest cities in America looking for a teenager and the people cower and beg Big Brother for more protection. The NSA and other secretive government agencies treat the 4th Amendment like toilet paper, and the people feebly respond by breathlessly texting, twittering and facebooking about Anthony Weiner's cock. The U.S. military desensitizes the masses by conducting live fire exercises in American cities, and the people just change the channel to Bridezillas or I Didn't Know I Was Pregnant.
Each new economic "surprise"; each new foreign "threat"; each new government "solution" is met with secrecy, spin, and no avenue for the people to impact the decisions made by our owners. The people no longer matter. They can't change the course of the country through legal means or the ballot box because the system has been captured. It has happened before. The American people are under the mistaken impression we are free. That boat has sailed. Our economic, financial and political systems have been usurped by malicious men posing as gangsters in this saga. We have allowed this to happen. We mistakenly put our trust in bankers, academics and politicians and will suffer the consequences of our choices, just as the German people experienced during the last Fourth Turning.
"What happened here was the gradual habituation of the people, little by little, to being governed by surprise; to receiving decisions deliberated in secret; to believing that the situation was so complicated that the government had to act on information which the people could not understand, or so dangerous that, even if the people could not understand it, it could not be released because of national security.
Each step was so small, so inconsequential, so well explained or, on occasion, 'regretted,' that unless one understood what the whole thing was in principle, what all these 'little measures'… must someday lead to, one no more saw it developing from day to day than a farmer in his field sees the corn growing…. Each act… is worse than the last, but only a little worse. You wait for the next and the next. You wait for one great shocking occasion, thinking that others, when such a shock comes, will join you in resisting somehow." – Milton Mayer, They Thought They Were Free, The Germans 1933-45
In the fourth and final installment of this seemingly never ending treatise on a world gone insane, I'll address how the disintigration of trust will ultimately lead to a collapse of the worldwide Ponzi scheme and how the collapse could lead to a rebirth of a society built upon family, community, cooperation, local commerce, compassion, freedom and liberty. I can dream, can't I?