From the keyboard of Thomas Lewis
Like us on Facebook
Follow us on Twitter @Doomstead666
First published at The Daily Impact  March 11, 2015
The setup continues of the double train wreck that will decimate the U.S. economy this year; the switches have been thrown to prevent either train from leaving the track, and the engines are accelerating. It doesn't take much perspective, now, to see both trains, closing fast.
[Note: The Crash of 2015 is not expected to be the collapse of the global industrial economy, which will take a little longer.  Just another lurch downward of the shatteredTitanic, further unsettling those passengers who do not believe in icebergs.]
The end of the first quarter of 2014 will mark the end of the beginning of this disaster. Train Number One, the fracking oil industry, has only enough fuel on board to go a few more miles — it's accelerating nevertheless, to impress its passengers — but that's okay because impact will occur just before the engine quits. Train Number Two, the stock market, which for years has been speeding along the edge of a cliff, burning seemingly endless supplies of cheap money, has nowhere to go but down.
For Train Number One, fracking, the beginning of the beginning was last year's plunge in crude oil prices. That led to massive and spreading layoffs, a stark decline in the number of rigs fracking for oil, but no reduction in  production. The reason: every producer in the fracking patch is up to its eyeballs in debt because each of these 10-million-dollar wells is only good for a couple of years of good production.
So what has March brought us from the patch, as the trains roll on?
How are things going on Train Number Two, the stock market? For a full, hair-igniting analysis read David Stockman's essay, "Six Years Of Bull Market Bull." Have the Pepto Bismol handy.
Suffice it to say here in summary that price-earning ratios remain swollen and inflamed, volatility remains violent, and leveraging is still malevolent. Or to put it in non-technical terms: the overwhelming majority of real businesses and real people are suffering and losing ground, while the stock market and the government estimates of "growth" magically levitate into the ether. This is what goeth before a fall.
Thus endeth the beginning. The middle of the end starts April one, when banks review the value of the assets on which they have given credit, and when all kinds of bonds and interest payments will be due.
Hear the rails humming? The trains are coming.
***
Thomas Lewis is a nationally recognized and reviewed author of six books, a broadcaster, public speaker and advocate of sustainable living. He also is Editor of The Daily Impact website, and former artist-in-residence at Frostburg State University. He has written several books about collapse issues, including Brace for Impact and Tribulation. Learn more about them here.
Off the keyboard of Jim Quinn
Follow us on Twitter @doomstead666
Friend us on Facebook
Published on The Burning Platform on October 4, 2014
Discuss this article at the Kitchen Sink inside the Diner
I live only a two hour drive from New York City, but it is a world apart from my daily existence. I've visited the Big Apple probably a dozen times in my life, but never for longer than two or three days. I have a soft spot in my heart for NYC because it is where I proposed to my wife on a bitterly cold December evening in a horse drawn carriage ride in Central Park, twenty five years ago. But, I can honestly say that I never feel comfortable in the city.
Last week we had an opportunity to get away for a long weekend. My wife had gotten tickets to the Jimmy Fallon Show for Thursday afternoon and we decided to get a hotel room for one night and then drive directly down to Wildwood for the remainder of the weekend. My mother-in-law agreed to watch the kids, so we had ourselves a mini-vacation. I anticipated a more laid back trip than our visit to Occupy Wall Street a few years ago, that led to one of my most read articles.
A couple years ago I was shocked to receive an email from David Stockman, complimenting me on a particular article I had written. When a former Reagan budget director, founding partner of the Blackstone Group, and world renowned financial mind takes notice of something you've written it really boosts your morale. We have had a periodic email dialogue ever since. When he created his own website earlier this year, he asked me to be a contributor. He also told me that if I ever make it to NYC, let him know and we would meet for a drink.
I was reluctant to bother such a busy man, but during a recent email exchange I mentioned I'd be in New York. He suggested we meet after the Jimmy Fallon Show for a drink. I told him to pick a place convenient for him. He emailed back, the morning we were leaving, to meet him and his wife at the Carlyle Hotel bar at 5:00 pm. I immediately googled the hotel and realized I should pack some nicer clothes. This was no Shamrock bar in Wildwood. It was on Seventy Sixth & Park Avenue.  My uneasiness had begun.
Our agenda was set. We left at 9:30 am on Thursday for our 24 our whirlwind adventure in the Big Apple. The drive to NYC is straightforward – PA Turnpike east to the NJ Turnpike north and then through the 1.5 mile Lincoln Tunnel, under the Hudson River, into mid-town Manhattan. We were in the tunnel in two hours flat, after seeing and smelling the lovely sights of NJ – refineries, more refineries, retail warehouses filled with Chinese produced crap, more refineries, the IKEA Elizabeth store where I had spent many days (my wife and I worked the opening week at the store in 1991), and the Newark Airport.
Once you drive through the tunnel, you enter a world of gridlock, anger, obscenities, honking horns, iGadget distracted pedestrians, fearless bikers, crazy vagrants, and one way streets. Driving into NYC increased my uneasiness.
We were staying at the Hudson Hotel. My bargain hunting wife had snagged a deal at $205 with our AAA discount card. We knew it was on Fifty-Eighth Street, but not sure where. There was scaffolding everywhere. No names were visible on buildings. My itsy bitsy Honda Insight was like a speck among the thousands of cars and trucks in this crazily congested metropolis. The hotel supposedly had valet service, but that meant some dude took your car and parked it in one of the three Central Parking facilities on the block for $35 per day.
As expected, we accidentally passed the hotel and had to circle the block to reach our destination. Sounds simple, right? Not in NYC. The next street was one way leading to Columbus Circle. I had to inch along in the gridlock to Broadway and make a right. Then I had to maneuver for two more blocks before I could make another right turn. There are trucks double parked making deliveries, trash trucks picking up the tons of garbage littering the sidewalks, and dozens of cabs picking up and dropping off riders. It took 15 minutes of hell to circle the block and get back to the Hudson Hotel. But we finally made it. The valet took the car and we headed for the lobby to see if we could check-in early.
The hotel was nicer than I expected and the guy at the front desk got us a room three hours before the normal check-in time. Life was good. We headed up to the sixteenth floor and opened the door to our room. It was nice, clean, and the size of a postage stamp. It was so small you had to go out into the hallway to change your mind. The bed took up 60% of the space in the room. The bathroom was designed for midgets. I could shave, shit and shower while in the same spot in the bathroom. For some unknown reason there was a glass window separating the bathroom from the rest of the room, with only a sheer curtain across the window. I hate being ogled while showering.
After changing into duds that would be acceptable to enter the Carlyle Hotel, we headed out to get some lunch. The hotel is on the edge of "Hell's Kitchen", home to dozens of hip restaurants, Irish pubs, and classic New York delis. We immediately found an Irish Pub and got some burgers and beers. Then it was off to Rockefeller Center to see the Jimmy Fallon Show. I haven't watched a late night comedy show in years. I'm sound asleep by 10:30 pm every night.
We hurried up to wait, then waited some more, and waited some more. We had tickets to the pre-show where Jimmy tries out 30 jokes to see which 12 will make the live show. All of his comedy writers sit with the audience and listen to the laughs. He explained that his only goal is to make people smile after having to deal with the terrible news we are inundated with every day. That's a noble goal in my book. He was funny and humble. His joke about Eric Holder resigning was the first I had heard of it. Watching the news isn't a priority when you are in NYC. We were out by 4:00 pm and now headed uptown to our rendezvous with David Stockman.
Meeting With a Famous Person
I have to admit that we were both nervous and uneasy. It's not every day that you meet a legendary financial mind. And there is nothing like a NYC cab ride to calm you down. It's hard enough to even get a cab to pull over, but now they quiz you before deciding whether to accept you as a passenger. I swear our taxi driver said, "Are you talking to me?", when we told him where we were going.
You don't have to exaggerate the craziness of a thirty block cab ride in NYC. There was speeding, honking, cutting off other drivers, turns from the middle lane, some cursing, prayers (me), backseat invisible brake punching (also me), and all for the low low price of $12. Everything you expect in a 30 block cab ride in NYC.
The moment of truth had arrived. We were really uneasy as we entered Bemelmans Bar, with its 24-karat gold leaf-covered ceiling and clearly upper-crust clientele. It is named after the creator of the Madeline children's books and has scenes from the books on the walls. We were there first, so I sauntered up to the bar and ordered two Amstel Lights at $9 a shot. And those weren't going to be the most expensive beers of the evening.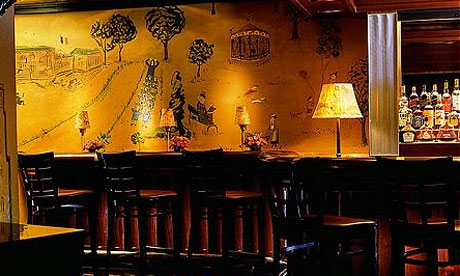 I realized that David Stockman had no idea what I looked like, but I knew what he looked like. About five minutes later David and his lovely wife Jennifer walked into the bar. I walked up to him and introduced myself and my wife. They were extremely gracious as we sat down at a table for four near the piano player. We were chatting with the most famous people we had ever met, and I felt fairly comfortable because David and his wife treated us like good friends.
We had such similar days. We went to the Jimmy Fallon Show and David had been the guest host on Bloomberg TV that morning interviewing Jeremy Siegel from Wharton. I told him that I've bumped into Jeremy in the men's room at Wharton. He got a chuckle out of that. We talked about Jeremy being a perma-bull and that bulls will be right 80% of the time, but that other 20% usually wipes out most of the bull market gains. He described how three years of Russell 2000 gains were wiped out in 11 days during the 2008/2009 collapse.
It was like we had a mind-meld as we discussed the markets, the Fed, and the enormous debt load that will eventually destroy our economic system. We just naturally moved from subject to subject, while our wives listened or talked about other things. I never have the opportunity to talk with someone who is as interested in financial markets and economics as me. And here I was discussing these issues with one of the greatest financial minds of our generation. I told him his book The Great Deformation should be a required textbook for high school and college economics courses. We talked about Teddy Roosevelt, Franklin Roosevelt, the failure of the New Deal to end the Great Depression, the failure of Keynesian solutions to end our Greater Depression, and the foolishness of trying to solve a debt problem with more debt.
Our viewpoints are almost perfectly in sync. He is a proponent of the Austrian School of economics and his position on our foreign interventionism is identical to Ron Paul's. We talked about the idiocy of our Middle East wars of choice and how we armed ISIS to fight our enemy Assad and now are fighting both at the same time. We agreed that all the war mongering and terrorists created out of thin air is nothing but a cover for controlling "our" Middle East oil. We share a deep seated anger at the people running the Federal Reserve and how they have enriched the bankers at the expense of middle class. I described the impact of ZIRP on my senior citizen mother and he concurred that benefiting debtors at the expense of savers is the exact wrong thing to do. He admitted that he doesn't know when the next financial crisis will hit, but he is sure it will be even worse than the 2008/2009 debacle.
David and his wife were interested in my background. Jennifer was particularly curious as to why I did this, since I had a full-time job and I certainly wasn't doing it for the money. I had to think about it for a second, but I responded that I was pissed off about what was happening in the country and was spurred to write after seeing Ron Paul so mistreated during the 2008 Republican primaries. I told them I lost faith in the system and our leaders after the 2003 invasion of Iraq proved to be under false pretenses. I also laid my IKEA saga on them. It was amazing to me that they were interested in my story and my viewpoint. We had a long discussion about the bleak future of retail, the amount of square feet that will go dark, the bankruptcy of developers and the losses to be incurred by banks. He even told me he was a fan of my 30 Blocks of Squalor series, as he laughed and wondered if my employer had any problem with them.
They had dinner reservations elsewhere at 6:30 and we talked until exactly 6:30. The ninety minutes flew by. I forgot to mention that Jennifer is also the President of the Guggenheim Museum, and she offered to give us a private tour the next time we are in NYC. It was a thoroughly enjoyable experience and they seemed amused when I told them they were the most famous people we had ever met. I guess I'm not good at playing it cool. So we parted ways and we headed back to midtown to find a restaurant for dinner.
Teetering Edifice Built on a Mountain of Debt
I was mentally drained and ready for some relaxation and booze. No cabs this time. We like walking in NYC. I get the chance to do what I like best – observe people and the surroundings. As we walked down Park Ave. my general observation was this was where the really rich people live and shop. This is where the ruling elite, oligarchs, Wall Street bankers, and jet set spend their time and vast wealth. But, even this ritzy area had a number of vacant store fronts and retail space available signs. The number of vacant storefronts increased as we approached mid-town. Vacancy isn't just for suburban strip malls anymore.
It is clear that NYC, on the surface, is a thriving metropolis, with a tremendous amount of frantic commercial activity. But it is all built on a foundation of sand, which will be washed away during the coming storms. If the inhabitants of NYC thought Hurricane Sandy was bad, wait until the great debt tsunami come crashing down on their little paradise of crony capitalism and excessive materialism. The appearance of a healthy thriving city masks the cancer growing within.
The entire teetering edifice of greed, avarice, excessiveness, and consumerism is dependent upon a gluttonous, corrupt, amoral financial industry, led by sociopathic billionaire bankers and their hordes of wealth driven Ivy League MBAs. What you notice, if you choose to, is that NYC produces absolutely nothing. Wall Street is nothing more than a giant siphon, using fraudulent financial derivatives and their control of the nation's monetary system to drain the remaining wealth from the bank accounts of the once thriving middle class. These highly educated wizards of finance add no value to the country and are responsible for the regular financial crises that destroy the lives of honest hard working Americans.
There are approximately 300,000 workers in the financial services industry, down from 345,000 in 2008. They collect half of the wages paid in NYC, despite holding less than one sixth of the jobs in Manhattan. The entire state of New York is dependent upon the taxes collected from Wall Street's excessive profits. The Comptroller tracks the bonus payouts quarterly to assess the "health" of their budgets. Government bureaucrats and union bosses are thrilled when they see that Wall Street doled out $26.7 billion in bonuses in 2013 for a pillaging well done. While real median household income lingers at 1994 levels, Wall Street bonuses should surpass their all-time high in 2014. This is called winning in our warped, corrupt, debased culture of debt based wealth. Regulators, politicians, and government prosecutors will never hold Wall Street accountable for their crimes because they would be killing the golden calf that sustains their opulent lifestyles.
The taxes generated by the Too Big To Trust Wall Street banks supports the bloated government union infrastructure that accounts for the majority of jobs in New York City and the surrounding boroughs. After Wall Street, NYC is the biggest employer in NYC. The top five employers in NYC are:
City Hall – 150,000
Department of Education – 119,000
U.S. Federal Government – 89,000
NY State Government – 69,000
Metropolitan Transit Agency – 67,000
The rest of the New York City economy is dependent upon tourism, restaurants, entertainment, retail and healthcare for the masses. It is entirely propped up by the ill-gotten profits of Wall Street that exceed $200 billion per year, with 80% of those profits generated by just nine banks. When the latest and greatest epic Federal Reserve/Wall Street financial bubble bursts, the immense level of pain will ripple through NYC revealing those who have been swimming naked and crushing the hopes and dreams of millions. Mike Krieger recently provided some anecdotes that reveal the level of excessiveness and wealth inequality which will end in tears:
"A new development, 42 Crosby Street, is pushing the limits of New York City real estate to new heights with 10 underground parking spots that will cost more per square foot than the apartments being sold upstairs. The million-dollar parking spots will be offered on a first-come-first-served basis to buyers at the 10-unit luxury apartment building being developed by Atlas Capital Group at Broome and Crosby Streets, itself the former site of a parking lot. At $250,000 a tire, the parking spaces in the underground garage cost more than four times the national median sales price for a home, which is $217,800, according to Zillow."
"The Census Bureau estimates that 30 percent of all apartments in the quadrant from 49th to 70th Streets between Fifth and Park are vacant at least ten months a year."
As you walk the streets of NYC from uptown to midtown the canyon like gap between the haves and have nots is plainly evident to anyone with their eyes open. The average financial industry worker makes $267,000 per year, while the average service industry worker is making $25,000 per year. How someone living in the New York area can survive on $25,000 per year is beyond my comprehension, but 37% of all workers in NYC make less than $15 per hour. You can almost sense the desperation, as panhandlers, tour bus solicitors, carriage drivers, and bike ride entrepreneurs hound you on every street corner. As we were walking back towards our hotel it was getting dark, but then out of the darkness rose the mecca of iMorons across the globe. The world renowned Apple Store, where the iGeneration camps out for days to get a marginally better piece of overpriced, over-hyped, Chinese slave labor produced iCrap, loomed above us. I had to have my picture taken with the iMoron hoards.
I should have pulled out my six year old LG flip phone to witness their disgust and revulsion.
Escape From New York
The hectic portion of our one day escape to NYC was over. The plan was now to find a place to eat dinner, visit a rooftop bar that my wife had stumbled across during her last visit to NYC with her friend, and wander the streets observing the inhabitants of this melting pot that never sleeps. We ended up at the Delta Grill at Forty-Eighth and Ninth for some New Orleans cuisine and a couple Hurricanes. After some Jambalaya and Gumbo, we were off to the Press Lounge rooftop bar in the Ink48 building at Forty-Eighth and Eleventh. The neighborhood seemed a little deserted and dicey to me, but my wife said the views were spectacular and worth the risk of getting mugged. And she was right. It is considered one of the top rooftop bars in the world. We took the elevator to the Sixteenth floor and walked out onto the roof. It had couches, lounge chairs, fire pits, a lighted reflecting pool, and breathtaking views of Manhattan and the river.
It also had $11 bottles of beer. My cheapskate mind was appalled, as I knew I could buy an entire case of beer for what I just paid for two bottles of beer. We didn't stay long. We had noticed a bar advertising $5 margaritas on our way to the Delta Grill, so that's where we headed. It was called Mickey Spillane's, named after the famous crime novelist. It had the Giants-Redskins game on multiple big screen TVs and it was fairly crowded. We grabbed two seats at the end of the bar, ordered our margaritas, and began our favorite pastime of people watching.
After about ten minutes we started noticing that 90% of the people in the bar were men. There was just a smattering of women. There was only one other married couple in the whole place. A sports bar with mostly men probably isn't that unusual, but none of the men were watching the football game. And all of the men were extremely well groomed and dressed fashionably. The final clue was the hugging and kissing. We had stumbled into a gay sports bar. Not that there is anything wrong with that. We found it amusing, but I was a little uneasy. It was time to go. We headed back to our hotel and had one last drink in their hip bar for young people, where we also didn't fit in.
We had to checkout of our room by noon on Friday. The weather was perfect – 70 degrees and sunny. I don't think I've ever been served a bad breakfast in NYC, and we weren't disappointed again. We walked into the Route 66 open air café and had an excellent breakfast while watching the hustle and bustle on the street outside.
After checking out and putting our bags in storage, we stopped at a fashionable store with actual cheap prices so my wife could pick up some clothes for work. I just stood around, uneasy and impatient. I did notice the retail stores were swarming with Asian and South American shoppers. The Chinese have taken over where the Japanese left off in 1990. After completing the shopping portion of our day we headed for my favorite place in NYC – Central Park. It's an oasis of solitude and nature in the middle of craziness and consumption. All of my unease dissipates whenever I enter this small sanctuary of green surrounded by miles of concrete jungle. Every time we walk into Central Park we discover something new. We turned down a path and came across a beautiful waterfall cascading into a pond, where ducks were swimming. Even I couldn't screw up that picture.
As you stroll through Central Park and around NYC in general, you do notice that residents of NYC are generally thinner than the overall population. The obese land whale tourists with their size 52 jeans, extra cushioned white sneakers, and ketchup stained XXXL sized I Love NY t-shirts are easily identifiable as they waddle along the streets of NYC seeking a fast food joint. I would attribute New Yorkers' relative thinness to a few factors. If you live in NYC you must walk to get around. It's too expensive to operate a car. I would estimate the average New Yorker must walk a couple miles per day.
They probably eat and drink as much as non-New Yorkers, but the city does not have many big box purveyors of toxic, prepackaged, carbohydrate time bombs disguised as food that sustain the obese masses in the rest of the country. They buy much of their food at local delis or cooked at one of the thousands of local restaurants. The city is primarily segmented between young poor people and older rich people. The corpulent middle aged couples with their plump progeny can't afford to live in NYC, so they don't.
We strolled for a while, sat on a bench taking in the delightful sights and sounds and then reluctantly left to start our three hour journey down the Garden State Parkway to Wildwood. As I maneuvered my car towards the Lincoln Tunnel, the gridlocked traffic where four lanes merge into two lanes at Forty-Second Street reminded me of how precarious getting out of the city would be during a crisis. I was watching various 9/11 documentaries a few weeks ago and you saw how vulnerable the city became without public transportation. The 2003 Northeast blackout brought NYC to its knees within minutes. People were trapped in high rise elevators, the financial system of the U.S. was shutdown, traffic lights didn't function – creating mass gridlock, and the subway and rail system stopped dead in its tracks. The only way off the island was to walk. A natural disaster, terrorist attack, EMP, electrical grid failure, or solar flare could wreak havoc on this fragile bastion of crony capitalism without warning. Chaos and panic would ensue. As I exited the Lincoln Tunnel back onto the NJ Turnpike, I exhaled and my unease rapidly dissipated.
Fragility and Delusions
NYC is the preeminent symbol of the American empire. It appears to be prosperous, thriving, growing, and alive, home to free market capitalism, and inhabited by the affluent captains of industry. But, in reality, NYC is a fragile ecosystem built upon a weak foundation of debt, corruption, and easy money that will be wiped out during the coming financial storm of the century. NYC and the empire it represents are like a 225 year old majestic oak tree in Central Park that appears healthy and strong to the naked eye, but in reality it is diseased and rotting within. It will only take a predictable storm to bring it crashing down to earth.
Financial engineering, pandering to government unions, issuance of debt, luxury retail, and conspicuous consumption, wrapped in a surveillance police state is not a sustainable economic model. Only the hubristic, arrogant, wealthy aristocrats believe they can sustain such a freak show. They are delusional and blinded by pride and belief in their own infallibility. They, along with the millions of unsuspecting New Yorkers, should really be uneasy. Their paradise of materialism will not survive the hurricane of consequences headed their way.
As I sat on a barstool in the Shamrock on Friday evening, drinking a beer, listening to Billy Jack play some tunes, and chatting with a monster truck driver and his girlfriend from the Poconos we had met last year at the Shamrock, I was completely at ease. The contrast to chatting with a world renowned financial icon at the Carlyle Hotel 24 hours prior was amusing to ponder. It had been a crazy 36 hours that made me realize where I feel most comfortable. And it's not New York City.
Off the keyboard of Jim Quinn
Follow us on Twitter @doomstead666
Friend us on Facebook
Published on The Burning Platform on February 24, 2013
Discuss this article at the Kitchen Sink inside the Diner
…Censor and Snitch for the State
"The conscious and intelligent manipulation of the organized habits and opinions of the masses is an important element in democratic society. Those who manipulate this unseen mechanism of society constitute an invisible government which is the true ruling power of our country. We are governed, our minds are molded, our tastes formed, our ideas suggested, largely by men we have never heard of.
This is a logical result of the way in which our democratic society is organized. Vast numbers of human beings must cooperate in this manner if they are to live together as a smoothly functioning society. In almost every act of our daily lives, whether in the sphere of politics or business, in our social conduct or our ethical thinking, we are dominated by the relatively small number of persons who understand the mental processes and social patterns of the masses. It is they who pull the wires which control the public mind." – Edward Bernays – Propaganda
I find the quote above by Edward Bernays to be a perfect synopsis for everything that has come to pass over the last century. The world has become increasingly controlled by an invisible government of greedy Wall Street bankers, shadowy billionaires, immoral big business, crooked politicians, and the military industrial complex, with mammoth media conglomerates, purposefully using propaganda to manipulate and mold the minds of the masses in order to exert power and control over our lives. He wrote those words in 1928, when the only available forms of manipulation were newspapers and radio. Bernays would be ecstatic and delighted with the implements available today used by our corporate fascist state controllers as they deliver the electronic messaging guiding the public mind.
He never dreamed of television, the internet, social media, and the ability of corporations like Google, in full cooperation with the government, to censor the truth, while feeding misinformation and state sanctioned propaganda to the masses in such an efficient and effective mode. Compelling the masses to worship at the altar of technology, while idolizing the evil men running our largest banks and corporations, has been a prodigious success for the shadowy ruling power and their mass media propaganda agents. Mike Lofgren, former congressional insider and author of The Party Is Over: How Republicans Went Crazy, Democrats Became Useless and the Middle Class Got Shafted, describes these mysterious perfidious men as the Deep State:
Yes, there is another government concealed behind the one that is visible at either end of Pennsylvania Avenue, a hybrid entity of public and private institutions ruling the country according to consistent patterns in season and out, connected to, but only intermittently controlled by, the visible state whose leaders we choose.
My analysis of this phenomenon is not an exposé of a secret, conspiratorial cabal; the state within a state is hiding mostly in plain sight, and its operators mainly act in the light of day. Nor can this other government be accurately termed an "establishment."
 All complex societies have an establishment, a social network committed to its own enrichment and perpetuation. In terms of its scope, financial resources and sheer global reach, the American hybrid state, the Deep State, is in a class by itself. That said, it is neither omniscient nor invincible. The institution is not so much sinister (although it has highly sinister aspects) as it is relentlessly well entrenched.
Far from being invincible, its failures, such as those in Iraq, Afghanistan and Libya, are routine enough that it is only the Deep State's protectiveness towards its higher-ranking personnel that allows them to escape the consequences of their frequent ineptitude. – Mike Lofgren, Anatomy of the Deep State
The techno-narcissistic American public has been manipulated into falsely believing their iGadgets, Facebook, Twitter, and thousands of Apps have made them smarter, freer and safer. As Goethe proclaimed, the majority of willfully ignorant Americans are hopelessly enslaved, while falsely believing they are free. Our controllers, through relentless propaganda and misinformation pounded into our brains by the government controlled education system and unrelenting messaging by their mass media co-conspirators, have molded the minds and opinions of the vast majority into believing government and mega-corporations are beneficial and indispensable to their well-being.
The overwhelming majority have been conditioned like rats to believe anything their keepers feed them. In order to keep society running smoothly, with little dissent, thought, opposition or questioning, the Deep State utilizes all the tools at its disposal to manipulate, influence, coerce, bully and bribe the populace into passive submission. They've trained us to love our servitude. The Inner Party sees this as essential to their continued control, power and enrichment, while keeping the Proles impoverished, ignorant, fearful and distracted with bread and circuses.
The key weapon in their arsenal of obedience is technology and the mega-corporations that control the flow of information disseminated to the hypnotized mindless masses. The United States has devolved into a society where a few powerful unelected unaccountable men, controlling the levers of government, education, finance, and media are able to formulate the opinions, tastes, beliefs, and fears of the masses through the effective and subtle use of technology. They have tenaciously and unflinchingly fashioned a technology addiction among the masses in order to keep them distracted, entertained and uninterested in thinking, gaining knowledge, or comprehending their roles and responsibilities as citizens in a purportedly democratic republic.
The mass media, along with their corporate compatriots – Microsoft, Apple, Verizon, AT&T, Comcast, Yahoo, Facebook and Google, gather vast amounts of data, emails, phone calls, texts, internet searches, spending habits, credit information, passwords, videos and private personal information from an agreeable, gullible and trusting populace. Americans have a seemingly infinite capacity for blindly counting on the government and the corporatocracy to use this data in an honorable and ethical manner. But, as Edward Snowden has revealed, the corporate fascist state is collecting every shred of data on every American in a systematic and thorough way. We have voluntarily surrendered our privacy, liberties, and freedoms to mega-corporations like Google and their techno-brethren, who then willingly collaborate with Big Brother NSA and allow unfettered access to this private information.
The U.S. Constitution along with the First and Fourth Amendments are meaningless to these deceitful entities. Our freedoms have dissipated at the same rate we have adopted the technological "innovations" of Facebook, Twitter, and Google. We are being monitored, scrutinized, tracked and controlled by the technology we have exuberantly purchased from the mega-corporations stripping us of our freedom. Technological "progress" has actually resulted in a colossal regression in freedom, liberty, independence, choice, and intelligent questioning of authority. We having willingly submitted to the google shackles of tyranny in exchange for being entertained and amused by Angry Birds, Words with Friends, facebooking, texting, tweeting, posting selfies and statuses, and linking in.
"Technological progress has merely provided us with more efficient means for going backwards." – Aldous Huxley – Ends and Means
David versus the Nameless, Faceless Goliath Robot
"It is difficult to get a man to understand something, when his salary depends on his not understanding it." – Upton Sinclair – I, Candidate for Governor: And How I Got Licked
My enlightening encounter with the nameless, faceless $52 billion "non-evil doing" behemoth entity known as Google, over the last month, has clarified my understanding of how the invisible governing body of the Deep State uses the power of the all-mighty dollar to suppress dissent and obscure the truth. My inconsequential libertarian minded blog that attracts 15,000 visitors per day has been up and running for the last five years. I started my own blog because I didn't want to deal with ongoing censorship of my articles by Wall Street sellout blogs such as Seeking Alpha, Minyanville, and Financial Sense.
Their salary/living depended upon them not publishing articles critical of Wall Street and the government. My intention has never been to make a living from my blog. Any donations or incidental advertising revenue allowed me to upgrade my server capacity to handle more visitors. I'm certainly not averse to making money, but the sole purpose of my blog has been to try and open people's eyes to Wall Street criminality, political corruption, media propaganda, and the perilous financial state of our country. Therefore, I was pleasantly surprised when Google approved my website for ads in December.
I will admit my site has been essentially an un-moderated free for all going back to the very beginning in 2009. I do not believe in censorship or false civility. I attempt to induce anger and outrage with every article and post. These are desperate times and anger is the appropriate reaction. The country is on a burning platform of unsustainable policies and practices which threaten the future of our society. I'm pissed off and I want others to be just as pissed off. The regular commenters are intelligent, critical, opinionated, and not afraid to unload with both barrels on fellow regulars or newbies. The language is often strong and the posting of pictures and images adds to the frat house like atmosphere. Regular contributors include doctors, farmers, engineers, business owners, accountants, teachers, waitresses, students, homemakers, soldiers, spies, and retirees. The wild-west nature of the site is not a secret to anyone who has ventured a peek. I assume Google did a review of the site before approving it for their Adsense program.
I started running Google ads on my site in early December. My site operated as it always had. The $30 per day in ad revenue was welcome, as it helped defray my server and security expenses. I experience a surge in visitors whenever I publish an article that gets picked up by fellow truth telling alternative media websites like Zero Hedge, 321 Gold, Washington's Blog, Jesse's Cafe Americain, Steve Quayle, Monty Pelerin, Doug Ross, Market Oracle, Dollar Collapse, TF Metals and several others. I published an article called The Retail Death Rattle on January 20 which obliterated the false government and mainstream media recovery storyline and skewered the delusional incompetent CEOs of mega-retailers. It struck a nerve as it generated the highest visitor count in history for my site. It was even picked up by Wall Street Journal owned Marketwatch. My articles are highly critical of Wall Street, the Federal Reserve, corrupt Washington politicians and the feckless captured legacy media, but they usually fly under the radar of the ruling class. On January 22 Google disabled my ads for "policy violations". This is the vague non-specific description provided by the non-human policing bot:
Scraped content
It's important for a site displaying AdSense to offer significant value to the user by providing unique and relevant content, and not to place ads on auto-generated pages or pages with little to no original content. This may include, but is not limited to:
copying portions of text content from other sources
websites dedicated to embedded videos from other hosts
websites with gibberish content that makes no sense or seems auto-generated
templated or pre-generated websites that provide duplicate content to users.
Sexual content
Google ads may not be placed on pages with adult or mature content. This includes, but is not limited to, pages with images or videos containing:
Strategically covered nudity
Sheer or see-through clothing
Lewd or provocative poses
Close-ups of breasts, buttocks, or crotches
Over the last five years I have received exactly ZERO complaints from other websites or authors about re-posting their articles, with full attribution and links, on my website. No one can accuse my site of not having unique and relevant content. I have permission to post articles from Zero Hedge, Charles Hugh Smith, Michael Snyder, Jim Kunstler, David Stockman, John Mauldin, Doug Casey, Paul Rosenberg, Fred Reed and dozens of other brilliant truthful journalists detailing our societal decay. Was there some Kate Upton bikini Gifs and provocative Salma Hayak pictures scattered within the 200,000 comments made on the site in the last five years? Guilty as charged. It seems Google reviewers can't see the hypocrisy of running ads to meet young bikini clad Asian girls, while disabling ads because there are a few bikini pictures on the website. I suspected my article had drawn the Eye of Sauron in my direction and this was the response.
Speaking truth to power during these perilous times has repercussions. But I decided to make a good faith effort to follow their rules.
I had made almost 15,000 posts over the last five years. Over the next week I scanned the site and archived posts that included articles from mainstream media websites, along with a hundred or so bikini pictures. You never deal with a human being when attempting to satisfy the Google Gestapo. Identical canned appeal denial responses are issued from Google Central with no clarification or effort to help you understand their reasoning.
Hello,
Thank you for providing us with additional information about your site. However, after thoroughly reviewing theburningplatform.com and taking your feedback into consideration, we're unable to re-enable ad serving to your site at this time, as your site appears to still be in violation.
When making changes, please note that the URL mentioned in your policy notification may be just one example and that the same violations may exist on other pages of your website. Appropriate changes must be made across your entire website before ad serving can be enabled on your site again.
If you'd like to have your site reconsidered for participation in the AdSense program, please review our program policies and make any necessary changes to your webpages.
We appreciate your cooperation.
Sincerely,
The Google AdSense Team
There must have been some miscommunication within the Google Gestapo, as the ads were re-enabled after one week and my third appeal. A newbie, who didn't get the memo, must have mistakenly activated my ads. Regular commenters and contributors were confused by what they could and couldn't post on the site, as was I. The iron fist of the Google Stasi came down once again within a week, with the identical policy violation notice. I made the assumption that since the site was declared in compliance as of January 29, I only had to address anything posted since that date.
I had purged the site of any and all risqué pictures, so I knew that wasn't a real issue. I thoroughly reviewed every post made since January 29 and archived or edited them to leave no doubt I was meeting Google's vague guidelines. I continued to have my appeals rejected. I then went back a year and archived hundreds of other posts. By the fourth appeal rejection, I realized I would never meet their standard because it wasn't really about violating Google content policies. It was my libertarian, anti-government, anti-Wall Street, anti-Mega-Corporation, anti-Surveillance State views that were the real issue. They were attempting to make me "not understand" or write about the creeping corporate fascist paradigm overtaking the country by making my Google salary dependent on "not understanding".
Once I understood this truth, I was set free to provoke and prod the nameless, faceless Google entity and prove beyond a shadow of a doubt their true purpose. Their appeal form allows 1,000 characters for your response. Along with the actions I had taken, I began to question the integrity of the Google apparatchik "reviewer", as it was clear the site was not in violation. I had archived over a thousand posts and tens of thousands of comments. I challenged the man behind the Google curtain to provide me with proof the site was still in violation. I must have struck a nerve, as out of the blue I received a new violation notice.
Violent or disturbing content
AdSense publishers are not permitted to place Google ads on pages with violent or disturbing content, including sites with gory text or images.
Now this was funny. My site focuses on the financial, political, and social decay of our country. It in no way advocates or promotes violence. It has no graphic images or gory videos. If Google is attempting to suppress videos of revolutions occurring in Venezuela, Ukraine, and Syria from being seen by citizens of the world, their credibility is zero. If Google is attempting to suppress videos of police brutality against citizens or the police state locking down an entire city while violating the Fourth Amendment, they prove themselves to be nothing more than a fascist propaganda tool of the State. This violation notice was laughable, but I decided to call their bluff one last time. I spent three days and archived 14,000 out of the 15,000 posts ever made on my site. All that remained were my main articles, published on dozens of other sites with Google ads active, and original content produced by myself or other approved contributors. There was no violent content, scraped content, or sexual content on my website.
My ninth and final appeal was denied. I then proceeded to write an FU Google post on my website and inform my readers and contributors they were unshackled from the Google Evil Empire of Censorship. I'm in the process of restoring all of the posts I had archived. Some might argue that Google is just exercising their rights under our free market capitalism system. I would argue free market capitalism does not exist today. The unholy alliance of big banks, big corporations, big military and big media has created a state run by the few for the benefit of the few. They use their control of the purse strings to manipulate minds, crush dissent, and censor through bullying and bribery.
Once I mentally liberated myself from their financial control, I was able to see their game. They essentially wanted me to purge the site of every anti-establishment example of free speech and First Amendment rights I had ever written, in order to kneel before the altar of $$$ in the Church of Google. Google would be perfectly fine if I converted my website into a chat-fest where I discussed the details of the upcoming Kim and Kanye wedding, pondered deep issues regarding the benefits of gay marriage, conducted polls on who The Bachelor will choose to be his betrothed this season,  mused about what Hollywood stars will wear at the Academy Awards, and debated who will win the fourteenth season of American Idol. The Google money would flow freely as I contributed to the dumbing down and sedation of the masses. I have chosen not be a Judas that sells out my readers and the American public for 30 pieces of fiat to the Google Pharisees and the American corporate fascist surveillance empire.
This was not the first time the Deep State attempted to silence my anarchistic viewpoint. On June 5 Edward Snowden, American hero and patriot, released the first of thousands of documents detailing the traitorous actions of the NSA, Obama, Congress, the Judicial branch, and the corporate media. Snowden revealed the government, in cooperation with Google, Verizon, Facebook and a myriad of other technology/media companies, was collecting metadata and conducting mass surveillance of every American in violation of the Fourth Amendment, a clearly illegal form of search and seizure.
On June 19 I penned an article titled Who Are the Real Traitors? In the article I declared Obama, James Clapper, Dick Cheney, Diane Feinstein, Peter King and a plethora of other politicians, faux journalists, and talking media heads as the real traitors of the American people. The article achieved wide distribution through my usual channels and must have again drawn attention in Mordor on the Potomac. Two days later anyone with McAfee or Norton security were receiving false warnings about a malicious virus on my site. Long time readers in the military informed me the site was now blocked by the Department of Defense as a dangerous website. Other long-time readers informed me their corporations were now blocking access to the site. The site was inundated by denial of service attacks. It slowed to a crawl and was virtually inaccessible. I'm sure it was just a coincidence.
I was forced to switch server companies and hire an anti-hacking company to protect the site, thereby increasing my cost to run the site by a factor of 10. Even though the companies I hired confirmed there were no malicious viruses on the site, Norton continued to scare Internet Explorer users from reading my site for the next eight months. How the $8 billion Symantec (owns Norton) entity could rationalize this false warning on only $80 billion Microsoft's Internet Explorer, seems suspicious to me. The warning would not appear if you accessed the site with Mozilla Firefox, even if you employed Norton security. Norton makes it virtually impossible to appeal their false danger rating. I'm sure thousands of people were scared away from my website by these unaccountable corporate entities, working on behalf of the all-powerful state. Lofgren's Deep State or Bernays' Invisible Government hate the truth. They despise anyone who attempts to open the eyes of the public to their deception, criminality, and propaganda.
Google has become a tool and partner of the Deep State. Enrichment of the state within the state is their sole purpose. Google's Don't Be Evil motto, originated when they were a fledgling company in 2000, has become a farce as they have descended into the netherworld as the information police for the ruling despots. They are now a humungous corporation with near monopoly control over the flow of information, searches, emails, and internet advertising. They know more about you and your habits than you do. They attempt to control freedom of speech at the point of a wire transfer. Fall into line or no advertising blood money for you. Not only do they suppress viewpoints through advertising revenue bullying, they manipulate their search engine results to hide the truth from the masses.  Google search engines filter, block and bury blog posts that contain content or information it deems incompatible with the message of its corporate fascist co-conspirators. Its oppressive corporate practices on behalf of its evil partners are an abridgment of the freedom of speech, perversion of the truth, and active attempt to mold the minds of the masses.
One of the most intelligent and cleverest contributors to my website, Nick (aka Stucky), summed up the evil entity known as Google in this pointed comment on my website:
There is an Entity out there who knows every search you ever made.
The Entity knows all about your emails, the content and address.
The Entity knows what you buy online and how often.
The Entity is developing software to predict what you will buy next.
The Entity can now even watch you, and know where you are, and what you are doing.
The Entity even knows your habits.
The Entity has enormous resources and stacks of cash.
The Entity shares your information with Lesser Entities … and also The Big Evil Entity that rules us all.
The Entity makes the NSA, CIA, FBI, DHS, and their ilk look like Lightweight Chumps.
The Entity hates you. You are just a means to an end.
The Entity is building a Profile all about you.
The Entity will soon know you better than you know yourself.
Welcome to Google, the most evil Entity on the planet.
As a society we have fallen asleep at the wheel. We've allowed ourselves to be lulled into complacency, distracted by minutia, mesmerized by technology, turned into consumers by corporations, pacified by financial gurus and Ivy League economists, and fearful of our own shadows. Surveillance, censorship and propaganda are the tools of the oppressive state. Free speech and truthful revelations about the Deep State are a danger in the eyes of our oppressors. Words retain power and can change the hearts and minds of a tyrannized citizenry willing to listen. V's speech to London in the movie V for Vendetta, with slight modification, captures the essence of how Google fits into the evil matrix we inhabit today.
Because while the truncheon may be used in lieu of conversation, words will always retain their power. Words offer the means to meaning and for those who will listen, the enunciation of truth. And the truth is, there is something terribly wrong with this country, isn't there?
Cruelty and injustice…intolerance and oppression. And where once you had the freedom to object, to think and speak as you saw fit, you now have censors and systems of surveillance, coercing your conformity and soliciting your submission. How did this happen? Who's to blame? Well certainly there are those who are more responsible than others, and they will be held accountable. But again, truth be told…if you're looking for the guilty, you need only look into a mirror.
I know why you did it. I know you were afraid. Who wouldn't be? War. Terror. Disease. There were a myriad of problems which conspired to corrupt your reason and rob you of your common sense. Fear got the best of you and in your panic you turned to the government and their banking/corporate patrons. They promised you order. They promised you peace. And all they demanded in return was your silent, obedient consent.
I choose not to silently and obediently consent to the will of the Deep State. Google will not silence me. We are in the midst of a Fourth Turning and I will try to do my small part in sweeping away the existing social order and trying to replace it with a system that honors and follows the U.S. Constitution. In Part 2 of this expose of evil, I'll provide further proof of Google's hypocrisy, censorship, and willing participation in spying on the American people. I'm beginning to understand the major conflict which will drive this Fourth Turning – The People vs The Corporate Fascist State.
WARNING: The National Security Agency is recording and storing this communication as part of its unlawful spying program on all Americans … and people worldwide. The people who created the NSA spying program say this communication – and any responses – can and will be used against the American people at any time in the future should unelected bureaucrats within the government decide to persecute us for political reasons. Private information in digital communications is being shared between Google, Facebook, Verizon and the government. It will be used against you when it suits their purposes.