Off the keyboard of Allan Stromfeldt Christensen
Follow us on Twitter @doomstead666
Like us on Facebook
Published on From Filmers to Farmers on June 10th, 2016
No doubt you've heard of presumptive GOP presidential nominee Donald Trump's infamous wall, the one ostensibly meant to keep out all those alleged Mexican "criminals, drug dealers, rapists, etc.," as well as to keep all those 8.1 million undocumented workers Trump intends to (somehow) deport from getting back in. On top of all that, while 3,200 km walls don't just pay for themselves, Trump had nonetheless promised to (again, somehow) make sure that the Mexican government ends up footing the bill for said wall.
After months of the now routine mockery and scorn laid upon Trump, Trump finally came clean with the method of how it was that he was supposedly going to force Mexico to cover the $8 billion tab for his pet wall – by halting money transfers from the nearly $25 billion that (underpaid, overworked) Mexican labourers send back home as remittances every year (a total that actually equates to about 2% of Mexico's GDP). As should go without saying, the vast majority of those 8.1 million undocumented workers are employed in the service industry as maids, cooks, and groundskeepers, as well as in the farming and construction sectors, earning some of the lowest wages in the country to send home to family members in need. In other words, Trump plans on paying for his infamous wall by extorting money from the Mexican government under the threat of confiscating money from the poorest of the poor. As would come as little surprise to many, that Trump "love[s] the poorly educated" was, and is, of course, nothing but a ruse.
Not only then did this zany fiasco to "Make America Great Again" attract its share of derision, but it inherently comes with the threat of "Making Mexico Even Worse": cut out that 2% from Mexico's books, and Mexico could very well be headed for recession, which would probably only stoke antagonism towards the United States. Irrespective of any of this, Trump went ahead and made an offer that Mexico couldn't refuse: "Make a one-time payment of $5-$10bn to ensure that $24bn continues to flow into their country year after year."
It turns out though that while pulling all that money out of the Mexican economy would likely be a disaster for Mexico (and particularly for poor Mexicans), pulling out all those Mexican labourers out of the United States' (service) economy would also be a disaster – of sorts – for the United States. As American chef, author, and television personality Anthony Bourdain explained it, "If Mr. Trump deports 11 million people or whatever he's talking about right now, every restaurant in America would shut down." Perhaps Bourdain is overstating it a bit, but his point comes through. In my rough translation, Bourdain seems to be saying that "Mexicans hold the American restaurant industry upon their shoulders – or perhaps better yet, upon their stooped backs," with a side of "Are we really going to let Mr. Trump put our restaurant-hopping lifestyles at risk?"
In case you're like me and don't know your celebrity chef from your celebrity online gamer, here's another statement Bourdain gave while critiquing Trump's shenanigans, conveying a bit of his history and outlook:
I rolled out of a prestigious culinary institute and went to work in real restaurants. I walked into restaurants and always, the person who had been there the longest, who took the time to show me how it was done, was always Mexican or Central American. The backbone of the industry — meaning most of the people in my experience cooking, preparing your food. Twenty of those years in this business I was an employer, I was a manager employer. Never, in any of those years, not once, did anyone walk into my restaurant — any American-born kid — walk into my restaurant and say I'd like a job as a night porter or a dishwasher. Even a prep cook — few and far between. Just not willing to start at the bottom like that.
(Oops. I didn't realize I wasn't supposed to work that dishwasher job back in my university days.)
In other words, count yourself lucky non-Mexican Americans (and you token Mexicans who non-Mexican Americans can refer to as their "but I have a Mexican friend" friend "who isn't an underpaid labourer," or who can be pointed to as having TV shows), because you (like, say, non-Mexican Canadians) get to live the high(ish)-life while Mexicans (and a few others) do the menial work in perpetuity that makes that high(ish)-life possible in the first place.
That raises an even larger point: putting aside the lifestyle crimping notion that the United States' one million restaurants would supposedly shut down upon the deportation of all its undocumented Mexicans, who would be out in the fields planting and harvesting all the food if it weren't for said wage slaves? Who would be working the vines to cultivate and harvest the grapes to make the wine with? Who would be scrubbing those things where the effluents of all that food and wine are deposited into? Surely, one would guess, not the ones living it up(ish).
(Or living it down. In the southern Ontario town next to the one I grew up in, Bradford, a "reclaimed" swamp was drained and turned into Canada's "vegetable basket" some hundred years or so ago. Migrant Mexican workers can be seen working those "fields," and it's not a generally regarded fact (but nor a secret either) that many natively born Canadians would much rather go on the dole than work those "fields," be it alongside (documented) Mexican migrants or not. And with the example that the more well-off Canadians give of avoiding the land like the plague, it isn't exactly easy to blame them either.)
It should go without saying then that without those documented and undocumented Mexican workers, not only would many of the United States' restaurants supposedly shut down, but the United Statesian way of life itself would likely be put at serious risk. Moreover, since fractional-reserve banking and interest bearing debt means that the American economy (like any other) must keep growing (or at least give that impression) in order to avoid imploding in on itself, this requires not only a static supply of Mexicans to keep the pyramid propped up, but an ever-expanding base of Mexicans (and/or equivalents) to do the scoffed at jobs that non-Mexicans generally don't want to do themselves. (That is, until Google's AI department comes up with a fossil-fueled alternative, or Elon Musk bestows upon us an army of benevolent replicas of the Jetsons' Rosie, running, of course, on (ahem) fossil-fueled "renewable energy.")
In other words, whatever would the United States (and Canada) do without their cross-border supply of malleable and readily replaceable Mexicans? Senator John McCain, as was said, suggested an answer to this: "Couldn't the children of illegal immigrants do those jobs?"
Awk-ward.
Fortunately, somebody did respond to that erstwhile comment of McCain's, none other than born-to-immigrant-parents Marco Rubio, a recent member of the Donald Trump love-in and now flop-flipper in that ongoing GOP love-hate relationship. As he was said to have put it, "Pardon me, Senator, but I have to say that the children of those illegal immigrants will be doctors and lawyers." Although there is at least a smidgen of truth to that statement (take Rubio himself as an example), it's mostly a cute sentiment offered by one of the fortunate/lucky few, since many if not most of those children will become burger flippers and, if they have enough pizazz and edgy enough haircuts, perhaps even baristas.
But supposing that said upward mobility were to a rather large extent actually true, that poses a serious problem: If the children of indentured service workers are able to escape the fate of their parents and climb that spiral staircase of the American Dream, who would raise and feed their kids while they're at the office and on all their restaurant jaunts? Who would work the fields harvesting all their food? Who would scrub all those unmentionables? Answer: more Mexicans (and their equivalents), documented or not.
So regardless of what some politicians may say in order to win votes, and what some chefs may say in order to win a larger following from armchair cooks, the United States – the United Statesian way of life – can't do without a steady supply of cheap labour to prop up the lifestyle of its Trumps, Bourdains, and all their acolytes. And when Bourdain states that United Statesians are "just not willing to start at the bottom like that," that "bottom" should refer to the fields, not simply dishwasher jobs at restaurants, and nor should such "bottoms" be something to scoff at as somewhere to merely "start," but a place to dig in and become familiar with, a place to build an affinity with.
Another post will be required to elaborate on that, recognizing the fact that this kerfuffle we face is ultimately an issue of ceilings and floors.
Off the keyboard of RE
Follow us on Twitter @doomstead666
Friend us on Facebook
Published on the Doomstead Diner on September 8, 2015
Discuss this at the Geopolitics Table inside the Diner
TAKE THE REFUGEE CRISIS SURVEY HERE
Most prominent in Collapse Newz over the last couple of weeks has been the rapidly escalating Refugee Crisis occuring over in Europe, as residents from failing states like Syria attempt to migrate into Europe, toward the Promised Land of Germany and other Northern European countries that still seem to be doing OK.
Of course, migrations have been ongoing for a long time, here in the FSoA there is constant conflict over the issue of "Illegal Aliens", mainly folks from the Latin countries of Central and South America who make their way north and cross at the Mexican border, although there are other routes as well.
I wrote an article about this a couple of weeks ago, The Refugee Tsunami, as the first of the big stories started to pop up in the MSM, but the recent photo of a young Syrian boy around age 3 lying face down and apparently dead has really brought this problem into the forefront as a humanitarian crisis.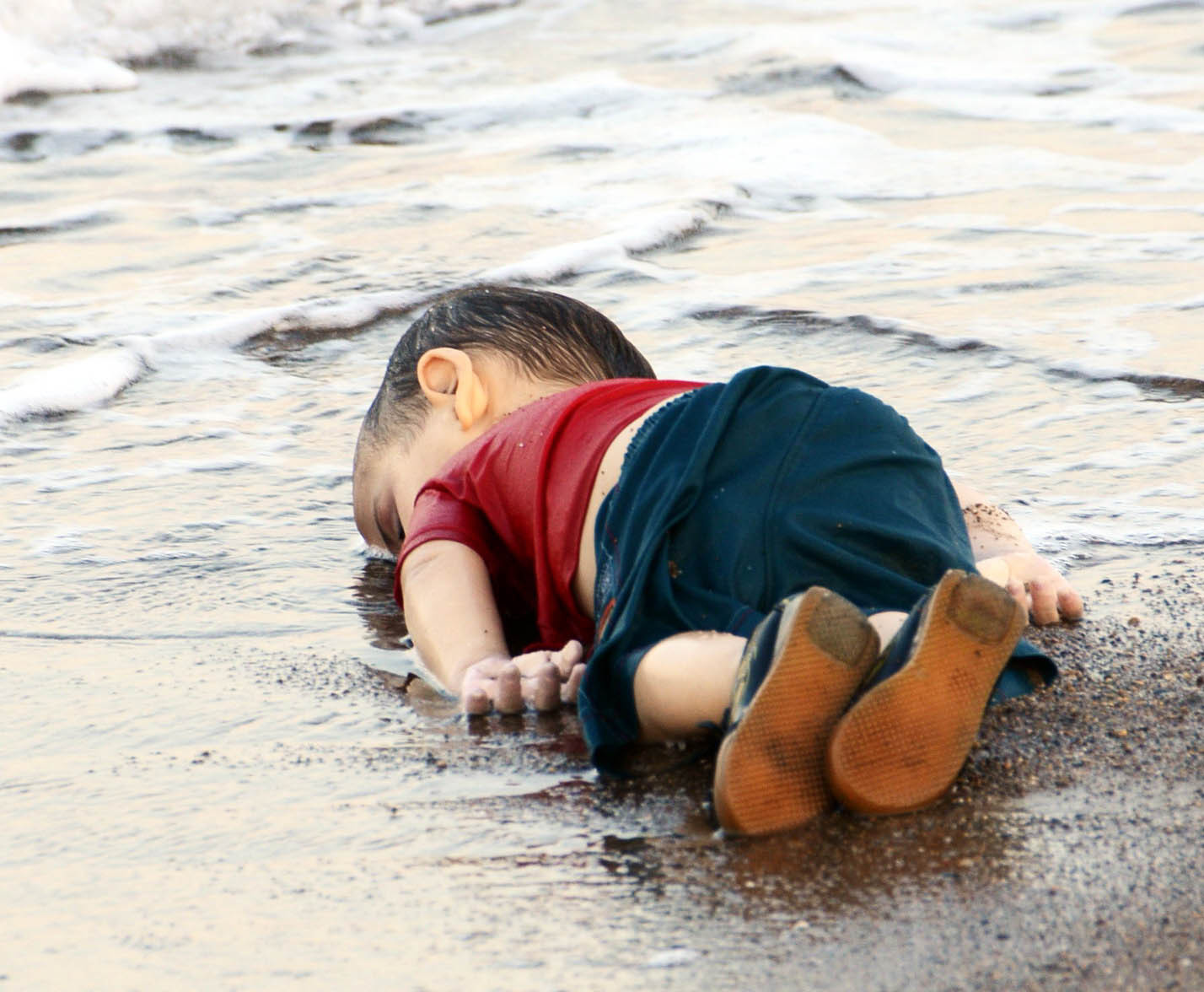 I got together with Ugo Bardi from Resource Crisis, Steve Ludlum from Economic Undertow and Norman Pagett, one of the Authors of The End of More to finish out Part 3 of the discussions held a couple of weeks ago on Energy, Economics and Futurology with a discussion of Geopolitical Implications of Collapse, of which the Refugee Problem is a significant part. Our discussion is at the top of this page.
You can also take part here in a Collapse Survey TM centered around how the Refugee situation will play out, and how it will be handled by the folks in charge of the political, economic and military machinery of Industrial Civilization.
TAKE THE REFUGEE CRISIS SURVEY HERE
Now onto the results from last week's survey, The Timeline for Dieoff of Homo Sap on Earth!
Cruising around the Doom-o-sphere, you'll find basic agreement these days that the Population of Homo Sap is set up for a major crash in numbers. A few folks like Guy McPherson of Nature Bats Last even prognosticate a COMPLETE WIPEOUT of Homo Sap in a Near Term Human Extinction, as early as 2030 according to Guy before the last HS on earth buys his or her Ticket to the Great Beyond TM.
Of course, with 7B people currently ambulatory walking the Earth TODAY, to have every last one DEAD by 2030 means that even without any new births you need around 500M people to die every year starting NOW. Today. No, Yesterday. LOL.
Recall here that even through the Great Depression & WWII total deaths probably were no more than 50M.
The Black Death, the plague that hit Europe in the 1300s took around 7 years to knock off a top estimate of 200M people
The Black Death was one of the most devastating pandemics in human history, resulting in the deaths of an estimated 75 to 200 million people and peaking in Europe in the years 1346–53.[1][2][3] Although there were several competing theories as to the etiology of the Black Death, analysis of DNA from victims in northern and southern Europe published in 2010 and 2011 indicates that the pathogen responsible was the Yersinia pestis bacterium, probably causing several forms of plague.[4][5]
Whether you believe ALL people will DIE, MOST people will DIE or only SOME people will DIE, the main questions to deal with here are WHEN will this Dieoff begin, how BIG will the population actually get before the dieoff gets underway, and how FAST will this dieoff go?
These were the question answered by the Kollapsniks TM last week here on the Doomstead Diner. Here are the results (through Sunday 9/6/2015)
Most Doomers peg the dieoff to begin between 2020 and 2030.
More than 50% of Kollapsniks TM believe the population will begin to decrease before we make it to 8B. There are a few people in the sample who think the population will continue to increase through this century though. Refugees from a Cornucopian Website no doubt.
Doomers tend to believe the dieoff will proceed fairly rapidly once underway, with more than half seeing the population halved in 30 years or less. To make it EZ, if you start with 8B and cut it to 4B over 40 years, this means every year you need 100M more Dead People than Live Births every year, which you might just about be able to handle and get all the graves dug. Much faster than that, disposal would be a problem.
Now, if you want one Infographic which will tell you first where the greatest percentage Dieoff will occur, and second what places people will be trying to EXIT from and where they will be trying to GET to, this one is it.
Choose your destination with care, and then Lock & Load. This is not going to be pretty.
COMING THURSDAY: A NEW RANT ON THE REFUGEE CRISIS
Off the Keyboard of A.G. Gelbert
Discuss this post at the Kitchen Sink of the Diner 
I just signed a petition for a DJ that ICE wants to deport for no valid reason. The kid was raised the U.S. This guy's dad fought the  Khmer Rouge and the kid got here when he was two. Help this kid that is now 36 by signing the petition to stop ICE from their fascist crap.
Quote from RE: "It is a Good Cause worthy to promote."  How about it Diners?
(Note from RE:  Damn right it's a Good Cause.  This is beyond STUPID stuff.   WHD, this fellow is ALSO from MINNEAPOLIS.  You are Designated Point Man  for the Diners on this one.  BRAZOS Diners!

Save as Many As You Can! )
video in the following news release:
MINNEAPOLIS (WCCO) — A popular disk jockey in the Twin Cities fears he'll lose one of the things he cherishes most in life – his American citizenship. "I can't think of anything more American than fighting to be an American," Thisaphone Sothiphakhak said. "It really hurts you when the country you love has denied you, like a stake to the heart."
Sothiphakhak says if he was deported he doesn't know where he would go, because Thailand would have no record of him either. He was just a baby when his family left the refugee camp
. http://minnesota.cbslocal.com/2012/07/27/local-dj-battles-bureaucracy-for-his-citizenship/
Target: Senator Amy Klobuchar, Senator Al Franken Sponsored by: Chris Strouth Thisaphone Sothiphakhak is a man without a country. Born in Thailand , he has resided in the US since the age of two, when our government welcomed his family to the US in recognition of his father's efforts against the Khmer Rouge in Cambodia. Unfortunately, his father apparently never quite completed the citizenship process–a fact Teace was unaware of until three years ago, when he hit a bizarre bureaucratic glitch in the course of securing a promotion at Wells Fargo. He was 30.Never mind that he'd grown up American, that he has a Social Security number and has always paid his taxes, that he's one of Minneapolis's all-time greatest DJs: In the course of a few days, he went from from being a gainfully employed, upwardly mobile worker to an unemployable resident alien subject to ICE lockdowns and threats of deportation to a country that doesn't have any records on him, doesn't recognize his existence, and all but guarantees a dismal future for an an American artist who speaks on… more
Please sign here:
http://www.thepetitionsite.com/614/777/590/save-thisaphone-sothiphakhak-from-deportation/