Follow us on Twitter @doomstead666
Friend us on Facebook
Published on the Doomstead Diner on January 3, 2016
Discuss this article at the Doomsteading Table inside the Diner
This week was notable on the Last Great Frontier for not 1, but 2 critical infrastructure failures. Neither one lasted all that long, but both gave me the opportunity to see how prepped and ready I am for intermittent failures of the 3 basics you often take for granted, running water, central heating and electricity on demand.
Prior to full on SHTF where this stuff goes off and never comes back on, there is likely to be a period where such outages become more frequent, and run for longer periods of time. This is the way it is already in the 3rd World countries that have such ammenties in their larger cities, actually it's always been that way and never really got a whole lot better. When I was living in Brazil back in the 60s, we had a power blackout at least once a month. Nowadays in Sao Paolo, with water rationing the taps go dry either for a few hours each day or for a few days each week, so everyone still stuck living there has to adapt by storing water and conserving what is stored.
As crucial as water is in your preps, for me it was one of the last things I developed a full plan for. While I was on my early prepping frenzy in 2008-9, I worked up a good 2 year food supply, but my water supply on hand was limited to about a dozen quart size water containers, which were old Cranberry Juice bottles I rinsed out and filled with tap water. Far as just drinking and cooking goes, this probably would last a week, but if you add in stuff like flushing the toilet, washing dishes, taking showers etc you probably would use it up in a day or two the most.
So upon moving to my new digs, I developed a more comprehensive water plan. I now have 3 large 20 gallon water containers, 2 1 Gallon Water containers for water transportation, 10 1 gallon containers of Distilled Water, along with the original dozen quart bottles.
2 of the 20 Gallon containers are for drinkable water, the 3rd is for "gray water" used for toilet flushing. After doing a task like washing dishes or taking a Sponge Bath (no showers during water shortage time, even if you have a portable shower system!), you store the leftover water in your gray water container for later use again as toilet flushing water. Also keep your toilet flushes to one/day if possible. If several people are using the same toilet though, this may not be possible.
The other means I have for keeping the gray water container filled s a stream that runs nearby my digs. That is what the 2 1 gallon jugs are for. I can take a trip over to the stream on the Ewz, fill the two jugs then return to the digs and dump this water into the gray water container to keep it topped off with plenty of toilet flushing water. The only time this is problematic is if the creek is frozen solid, but it usually is not these days. Of course, not everyone has a creek running nearby them, so not everyone can use this method.
If your water problem is just local to you, like your well ran dry but there is still running water nearby you like in convenience store bathrooms, that is what the quart containers are for. You drop one or two in a backpack and when you hit a convenience store, you use the bathroom and fill them up with FREE water. When you return home, you dump this water into your drinking water 20 gal containers and keep them topped off. Similarly, you can do this at work if you still have a job, and your kids can bring one to school each day and fill from the school tap water. If everyone brings home a quart of water each day, you should all stay well hydrated unless sweating heavily because it is hot, in which case you will need to double this possibly.
If the problem is systemic like in Sao Paolo, this is not going to last forever. Eventually no convenience store will have running water, no school and no workplace. Guess what? Time to either move out of Sao Paolo or roll over and die! It's no longer fit for human habitation.
So your Water Plan is not a solution to a permanent drought, and neither is the Electric Plan following a solution to permanent grid down scenarios. The plans are just designed to get you through disruptions to normal infrastructure supply that lasts for a defined period of time. How long that time is depends on how much of anything it is you store, but IMHO a minimum standard is 1 week. 1 week is about how long on average it will take to get all neighborhoods back on grid power and running water after a typical decent Snow or Ice Storm or a Flooding event. Really bad ones, 2 weeks and stuff like a Hurricane or F5 Tornado passed through your town, it could be several months. In my case, I estimate I can go 3 months completely off grid, no running water, utilizing gas from my cars and Bugout Machine for my generator after the first week or so.
This water plan is very inexpensive, less than $100 for the cost of the containers. Now onto the Electric plan.
This was one of my earliest preps, but I have expanded on it as time goes by, adding solar PV panels as well as a gas powered generator. Mainly however it is a storage plan for grid power for the occassions when you lose electricity for a few days. The core of the plan requires only 3 things, all of which can fit on a shelf in the garage or a corner of a closet, Battery Storage capacity, an AC/DC trickle charger for the battery and an Inverter for converting stored juice back from DC/AC when the power goes out. One of each can suffice for most critical purposes for a while but I recommend a bit larger system for this. Here is how it played out today in my Grid Down Resilience Test for electricity.
In the case of my power outage, besides running the laptop and light for a while, the Deep Cycle Marine Battery also fully charged the laptop and the cell phone, so even after it fully discharged there would have been hours of time left on their independent batteries. However, the DCMB was barely touched here on this, and I now think it would run at least 24-48 hours full time without a charge on just this drain. It is now plugged back in on the trickle charger and collecting juice for the next outage.
With this knowledge, I can now recommend a Minimal System for short term electric outages.
3 DCMB @ $100 each
1 1000W Modified Sine Wave Inverter $100
1 500W Modified Sine Wave Inverter $75
6 Amp DC Automotive Battery Charger $50
Total Cost Basic System: $525
The 1000W inverter is dedicated to your Fridge. Typical fridge draws 500-750 Watts, but not all the time, only when the compressor runs, and that depends on ambient temp in your digs. One DCMB is dedicated to keeping the food cold as well during an outage. You also don't need to use it for the first day or so long as you don't open the fridge or freezer too often. Keep your freezer PACKED. If it's not packed up with meat, fill the empty spaces with tupperware filled with frozen water. Only fill the tupperware about 80% full before freezing, because the water expands on freezing.
The 500W inverter is sufficient for your laptop and a couple of lights, and will also keep you portable rechargeable electronics fully charged. Another DCMB is dedicated to this Inverter. The 3rd DCMB is a backup for either of those if they fail or run out of juice.
By itself, this sytem will probably get you a week of time if you are careful about electricity usage. Like dont leave your laptop on 24/7. lol.
A simple Upgrade to this is to add a 2000W Generator and have say 10 gallons of gas in 2 5 gallon jugs. Use this to recharge your DCMBs as they run down. This probably brings you up to a month of resilience time with enough juice for the basics. That is going to cover any outage other than true SHTF stuff. If your neighborhood electric company cannot restore power inside a month, it is Mad Max time.
This addition to your electric resilience costs
2000 Watt Generator: $300
10 Gallons Gas: $25
2 5 Gallon Gas Containers: $40
Total Options Cost: $365
After that, you can invest in solar panels or RV Wind Turbines to get a little more trickle charge going in some locations depending on Sun & Wind resource. Also remember if that if necessary, you can repurpose your SUV battery for additional storage.
So, IMHO, there is no reason the typical McMansion owner cannot Prep for power outages lasting upwards of a month. the whole package comes in less than $1000, a one time cost which is CHEAP insurance. It's also highly portable and can be taken on the road with you if you have to abandon your digs (wildfire, flooding, earthquake, volcanic eruption, war breaks out etc).
If you have extra FRNs, you might want to go with Li-I batts which will shrink and lighten the load in the SUV for the bugout scenario, as well as give more discharge cycles. However, they are pricy, and will probably triple the Batt investment cost in this type of insurance.
After Water & Electricity, the final part of your Short Term Disruption Preparedness plan (besides the food of course, which every prepper starts with usually) is having enough HEAT in your place so you dont freeze and the pipes don't freeze during the disruption. This is only an issue in the winter in places where the temps go below freezing, but that can be the case most anywhere these days except equatorial regions.
In most setups these days, if you lose your electricity you lose your heat also, even if the heat is NG or Diesel fired furnaces. They have electronic controls and will shut down without electricity. If there is no manual overide to this, you are without heat as well as electricity, even if you still have fuel.
As long as your digs are well insulated, lack of heat is probably not going to be a problem the first day. In my case over a few hours the internal temps only dropped a couple of degrees from the 60F I keep the place at in the winter. Not enough to even drop on a second sweatshirt. Your primary preparation for heat disruption is having good winter gear to throw on as the temperatures drop, in layers as it gets colder. Above freezing, there is no real need for heat at all, good clothing.will cover you fine. However, you do have your pipes to worry about, so once the internal temps drop below around 40, you're going to want a backup here also. Best for this in terms of Energy Density and ability to run indoors without killing yourself from Carbon Monoxide poisoning instead of freezing are portable Kerosene Heaters, which have CO detectors on board and automatic shutoffs.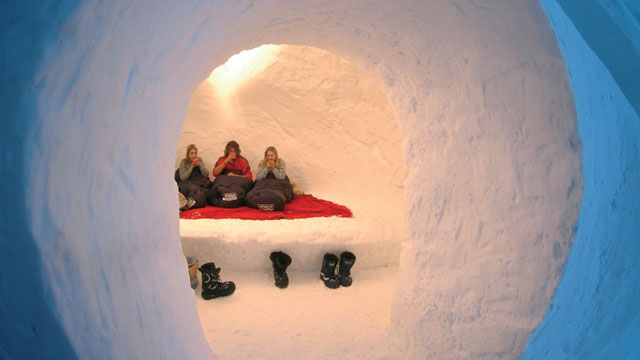 How much kerosene you will need to have stored and how many of these heaters you will need for any given length of time depends entirely on how big the space is you are trying to keep above freezing, and how low those external temps actually go. If you have a big place and the temps outside are -20 Below Zero, you would need a LOT of heaters and a lot of kerosene every day to keep the place above freezing! So for good resilience at an affordable price, best NOT to live in a big McMansion. Also better to live together with several people in a reasonably small space, since your combined body heat by itself does a lot to keep a small space warm. This of course is the Igloo principle of the Inuit, Athabascans and other "Eskimo" tribes that live here in Alaska, although they hardly live that way anymore. You put husband, wife, 2 kids and 6 dogs in an Igloo big enough to fit all that mammalian biomass, you will not need a fire inside the Igloo just about no matter how cold it gets outside.
However, you shouldn't have to go the Igloo route for a short disruption if you match your heat generation capability to the size of the space you need to keep above freezing. This is an important point, because you don;t want to try to keep the place at the same kind of temp you would under "normal" circumstances with your backup heating gear. You are just trying to keep yourself and the pipes in your digs from freezing, not making it so hot you can walk around comfortably in your BVDs. lol.
To conclude here, all of these plans are SHORT TERM DISRUPTION plans. They will not help you in a permanent Grid Down, SHTF scenario longer than their designed lifespan, which at the very outside I think would be a full year. Perhaps longer if there was still working money and fuel to buy with that money, but in such a long disruption that probably would not be the case. The deal here is though that as this spin down proceeds, it's unlikely that your infrastructure will fail all together, all at once, for good. Being able to survive through the intermitent problems while the society reforms is crucial to making it THROUGH the Zero Point to the Other Side. You don't wanna be the guy that freezes to death in his digs after just 3 days of an Ice Storm power disruption, but you get stories of those folks all the time.
For the longer term when all of these things we take for granted now are gone for good? Most of the population, including me, will die off. I'm not suited to building mud huts with stone tools and living the full primitive anymore. Only a few younger folks may be able to do that, and I wish them well in their efforts. For most of us though, you take it one day at a time, and try to keep going just as long as you can. Covering the basics for the short term disruptions can help you do that.
Follow us on Twitter @doomstead666
Friend us on Facebook
Published on the Doomstead Diner on Septemeber 30, 2015
Discuss this article at the Survey Table inside the Diner
TAKE THE ORDERING PREPS FOR COLLAPSE SURVEY HERE
Our new Collapse Survey TM for this week is on how you should order up your preps for Collapse.
There is a lot of dispute on this topic, particularly with folks who think Gold & Silver are important Collapse Preps to have. Theory there is that the PMs will hold their value when the fiat money collapses. So do you want to convert your current paper or digibit money into Gold if you have some savings? How much of your pile should be held in Gold?
Alternatively, you have many folks looking at a Mad Max scenario unfolding, so they are more partial to Steel & Lead as an investment. AKA, Guns and Ammo.
Then you have the Back to the Land folks who feel the best investment is to buy your own piece of property and start growing your own veggies. Except, once your Goobermint is outta biz, who exactly enforces you Property Rights to that patch of land? If you are a Libertarian or Anarchist who wants to see Goobermint disappear, than what gives you the right to own a piece of property?
In the survey, you get $10,000 to spend on whatever preps you like, distributed out however you like. If you're going to buy land with that, it's probably going to take at least half of it right there.
Anyhow, you can express some of your opinions on these topics in this Survey.
Now. on to the results from last week's survey, the Fate of Countries in Collapse! 🙂
Although I did include questions to rank many countries and/or regions as to their fate in collapse, mainly the survey was focused on the "Big 3", the FSoA, Russia and China.
There s a constant debate ongoing in the Collapse Blogosphere as to which of these countries will fare the best as collapse marches onward, and there is a lot of ideological spin that goes along with that analysis also.
So, here I tried to strip some of that out and just get a hard and fast global viewpoint on which will be best and worst as time goes by.
Below here are the results from this survey.
For most dead people in gross numbers, the Winner is
1
2
3
4
5
6
7
8
Standard Deviation
Responses
Weighted Average
China
19
(31.15%)
15
(24.59%)
7
(11.48%)
5
(8.2%)
2
(3.28%)
7
(11.48%)
2
(3.28%)
1
(1.64%)
5.9
61
3.18 / 11
India
12
(19.67%)
11
(18.03%)
10
(16.39%)
6
(9.84%)
7
(11.48%)
5
(8.2%)
2
(3.28%)
2
(3.28%)
3.8
61
3.97 / 11
Middle East-North Africa
3
(4.92%)
7
(11.48%)
13
(21.31%)
10
(16.39%)
5
(8.2%)
7
(11.48%)
10
(16.39%)
2
(3.28%)
3.96
61
4.74 / 11
Japan
4
(6.56%)
10
(16.39%)
2
(3.28%)
8
(13.11%)
8
(13.11%)
8
(13.11%)
6
(9.84%)
5
(8.2%)
2.81
61
5.38 / 11
USA-Canada
10
(16.39%)
3
(4.92%)
4
(6.56%)
8
(13.11%)
5
(8.2%)
3
(4.92%)
4
(6.56%)
6
(9.84%)
2.31
61
5.8 / 11
Sub-Saharan Africa
4
(6.56%)
8
(13.11%)
7
(11.48%)
4
(6.56%)
9
(14.75%)
0
(0%)
4
(6.56%)
9
(14.75%)
2.54
61
5.95 / 11
Europe
2
(3.28%)
3
(4.92%)
4
(6.56%)
6
(9.84%)
8
(13.11%)
11
(18.03%)
8
(13.11%)
8
(13.11%)
3.37
61
6.08 / 11
Southeast Asia
3
(4.92%)
3
(4.92%)
5
(8.2%)
5
(8.2%)
7
(11.48%)
7
(11.48%)
7
(11.48%)
3
(4.92%)
2.84
61
6.49 / 11
Russia
3
(4.92%)
1
(1.64%)
7
(11.48%)
4
(6.56%)
4
(6.56%)
3
(4.92%)
9
(14.75%)
11
(18.03%)
2.78
61
6.89 / 11
Central-South America
0
(0%)
0
(0%)
2
(3.28%)
2
(3.28%)
4
(6.56%)
8
(13.11%)
8
(13.11%)
9
(14.75%)
4.48
61
7.9 / 11
Australia-New Zealand
1
(1.64%)
0
(0%)
0
(0%)
3
(4.92%)
2
(3.28%)
2
(3.28%)
1
(1.64%)
5
(8.2%)
10.7
61
9.62 / 11
China!
India #2.
Since these are the two most populous countries on the planet currently, this makes perfect sense. The Kollapsniks TM got this one right! 🙂
Now going by percentage of the current population:
1
2
3
4
5
6
7
8
Standard Deviation
Responses
Weighted Average
Middle East-North Africa
14
(22.95%)
9
(14.75%)
4
(6.56%)
6
(9.84%)
3
(4.92%)
6
(9.84%)
15
(24.59%)
1
(1.64%)
4.92
61
4.28 / 11
China
7
(11.48%)
16
(26.23%)
7
(11.48%)
3
(4.92%)
10
(16.39%)
7
(11.48%)
0
(0%)
3
(4.92%)
4.31
61
4.41 / 11
India
3
(4.92%)
13
(21.31%)
6
(9.84%)
5
(8.2%)
13
(21.31%)
5
(8.2%)
5
(8.2%)
5
(8.2%)
3.85
61
4.87 / 11
Japan
6
(9.84%)
7
(11.48%)
6
(9.84%)
16
(26.23%)
5
(8.2%)
4
(6.56%)
4
(6.56%)
4
(6.56%)
3.65
61
4.9 / 11
USA-Canada
16
(26.23%)
3
(4.92%)
5
(8.2%)
3
(4.92%)
4
(6.56%)
6
(9.84%)
6
(9.84%)
5
(8.2%)
3.87
61
5.07 / 11
Europe
6
(9.84%)
2
(3.28%)
6
(9.84%)
6
(9.84%)
5
(8.2%)
14
(22.95%)
3
(4.92%)
8
(13.11%)
3.29
61
5.77 / 11
Sub-Saharan Africa
4
(6.56%)
7
(11.48%)
6
(9.84%)
6
(9.84%)
5
(8.2%)
1
(1.64%)
5
(8.2%)
20
(32.79%)
4.96
61
5.87 / 11
Russia
2
(3.28%)
3
(4.92%)
14
(22.95%)
2
(3.28%)
3
(4.92%)
4
(6.56%)
10
(16.39%)
6
(9.84%)
3.53
61
6.3 / 11
Southeast Asia
1
(1.64%)
0
(0%)
2
(3.28%)
11
(18.03%)
7
(11.48%)
3
(4.92%)
8
(13.11%)
5
(8.2%)
5.09
61
7.15 / 11
Central-South America
0
(0%)
1
(1.64%)
2
(3.28%)
1
(1.64%)
4
(6.56%)
9
(14.75%)
5
(8.2%)
4
(6.56%)
6.16
61
7.92 / 11
Australia-New Zealand
2
(3.28%)
0
(0%)
3
(4.92%)
2
(3.28%)
2
(3.28%)
2
(3.28%)
0
(0%)
0
(0%)
11.62
61
9.48 / 11
In this case, MENA got the nod for most dead people by percentage of population, which I also would generally agree with considering so much of it is already DESERT. However, I would have ranked both Japan and sub-Saharan Africa higher.
Now the "Big 3" questions, comparing the fate of the FSoA, China & Russia in the post-collapse world:
Which one does best?
USA

China

Russia

Standard Deviation

Responses

All Data

19


(31.15%)

11


(18.03%)

31


(50.82%)

8.22

61
The Ruskies win this one hands down. Most Kollapsniks believe that since Mother Russia has already experienced collapse, they're more resilient. Also, they like the people/land ration and the resources.
Here's Text Responses:
Strict. Authoritarian. Tight control. Strong military. Organizational capability and enforcement.
Our words are backed by working nuclear weapons.
Technology, temperate lands with a relatively large amount of resources, mid-large population, science.
abundance of natural resouces, people/land ratio
Where would most Kollapsniks prefer to be living post-collapse?
USA

China

Russia

Standard Deviation

Responses

All Data

47


(77.05%)

2


(3.28%)

12


(19.67%)

19.29

61
Despite most Kollapsniks believing Mother Russia will do better, they still would rather be here in the good old FSoA. This also is not surprising given the demographic of Kollapsniks is about 50% Amerikan and most folks want to stay where they are comfortable, know the language and fit in culturally.
Here's text responses on this one:
As a country, the United States may still be able to hold things together. Even if not, the social and cultural landscape is most familiar.
I speak English
The other two have a funny history when it comes to instability and killing people.
Finally, which country is likely to experience Political Upheaval and Revolution first?
USA

China

Russia

Standard Deviation

Responses

All Data

26


(42.62%)

27


(44.26%)

8


(13.11%)

8.73

61
This is almost a dead even race between China and the FSoA, with Mother Russia coming in a distant 3rd. Not sure why Kollapsniks think the Ruskie Goobermint is so stable though.
For myself, I will take a Middle Ground here (not available on the Survey) and stay in Alaska, but have it Repoed by Mother Russia. 🙂
OK, now get to it and take the new Ordering Preps for Collapse survey!
Off the keyboard of Michael Snyder
Follow us on Twitter @doomstead666
Friend us on Facebook
Published on The Economic Collapse on July 9, 2015
Visit the New Diner News Page for Daily Updates from around the Collapse Blogosphere
Discuss this aticle at the Economics Table inside the Diner
European Leaders Promise The Greek Debt Crisis Will Be Resolved One Way Or Another On Sunday

The wait will soon be over. Greece submitted a final compromise plan to its eurozone creditors on Thursday, European finance ministers will meet on Saturday to discuss the proposal, and an emergency summit of all 28 EU nations on Sunday will make a final decision on what to do. The summit on Sunday is being billed as a "final deadline" and a "last chance" by EU officials. In essence, Greece is being given one more opportunity to embrace the austerity measures that are being demanded of them by their creditors. So has Greece gone far enough with this new proposal? We shall find out on Sunday.
For months, the entire planet has been following this seemingly endless Greek debt saga. Global financial markets have gyrated with every twist and turn of this ongoing drama, and many people have wondered if it would ever come to an end. But now European leaders are promising us that the uncertainty is finally going to be over this weekend…
This time, the leaders' summit called for Sunday is being billed by all concerned as the definitive moment that will determine Greece's future in the euro. It's "really and truly the final wake-up call for Greece, but also for us — our last chance," EU President Donald Tusk said on Wednesday, the day after the most recent emergency session.
So what is the general mood of European leaders as they head into this summit?
Overall, it does not appear to be overly optimistic.
For example, just consider what the head of the Bundesbank is saying…
Bundesbank Chief Jens Weidmann, meanwhile, said that central banks have no mandate to safeguard the solvency of banks or governments, and stressed that emergency liquidity to Greece should not be increased.
And even normally upbeat leaders such as ECB President Mario Draghi are sounding quite sullen…
Just how uncertain the coming days are was highlighted when ECB President Mario Draghi voiced highly unusual doubts about the chances of rescuing Greece.

Italian daily Il Sole 24 Ore quoted the ECB chief, under growing fire in Germany for keeping Greek banks afloat, as saying he was not sure a solution would be found for Greece and he did not believe Russia would come to Athens' rescue.

Asked if a deal to save Greece could be wrapped up, Draghi said: "I don't know, this time it's really difficult."
That certainly does not sound promising.
It isn't as if the Greeks are not trying to find a compromise. Their latest offer reportedly contains some very painful austerity measures…
Greece is seeking another bailout totaling at least 50 billion euros ($55 billion) from its European creditors and offering to make painful spending cuts and tax increases as it races to avert a financial meltdown, according to government sources.

Under a 10-page blueprint completed late Thursday, the country said it would undertake austerity measures worth between 12 billion and 13 billion euros ($13 billion to $14 billion), including raising taxes on cafes, bars and restaurants.
But once again, it appears that pensions may be a major sticking point. The following comes from a Zero Hedge report about the latest Greek proposal…
The biggest surprise is once again in the biggest hurdle: pensions. Recall that as we accurately predicted two weeks ago, it was the government's unwillingness to directly cut pensions that led to the IMF refusing to even negotiate the Greek proposal.

As a further reminder, this is what IMF's chief economist Olivier Blanchard said almost a month ago on the topic:

Why insist on pensions? Pensions and wages account for about 75% of primary spending; the other 25% have already been cut to the bone. Pension expenditures account for over 16% of GDP, and transfers from the budget to the pension system are close to 10% of GDP. We believe a reduction of pension expenditures of 1% of GDP (out of 16%) is needed, and that it can be done while protecting the poorest pensioners

Fast forward to today when MNI reports that "there are no pension cuts in the draft of the proposal."

And if recent experience is indicative, this likely means that the Troika will once again refuse to move on with the draft.
We shall see what happens on Sunday.
I have a feeling that it is all going to come down to what Germany wants to do. At this point, the Greeks owe the Germans approximately 86.7 billion euros. The German people are overwhelmingly against pouring more money down a financial black hole, and German leaders have taken a very hard line with Greece in recent days.
If Germany does not like this new Greek proposal, it will almost certainly fail. And if there is no deal, Greek government finances will totally freeze up, the Greek banking system will utterly collapse, and the Greeks will probably be forced to switch back to the drachma.
Speaking of the drachma, check out what Bloomberg is reporting…
Between June 28 and July 4 at a Hilton hotel in Athens, transactions on a Bloomberg reporter's Visa credit card issued by Citigroup Inc. were posted as being carried out in "Drachma EQ."

The inexplicable notation — bear in mind, the euro remains Greece's official currency — flummoxed two very polite customer service representatives and spokesmen for the companies involved. It depicts a currency changeover that the Greek government and European officials have been working for over six months to avoid.

Banks around the world are bracing for the increasingly real possibility that Greece may be forced to abandon the euro, a currency it shares with 18 other European countries.
Could plans to roll out the drachma already be in motion behind the scenes?
The next few days promise to be extremely interesting.
Meanwhile, there are all sorts of other indications that big economic trouble is ahead for the entire planet. For instance, global commodity prices have been plunging big time…
While market commentators worry whether an economic collapse in Greece could trigger turmoil in financial markets, a slump in commodity markets may be signaling the world is already in a deep recession.

The slump in the Chinese stock market and concern over the Greek debt crisis sent commodities towards multiyear lows. The S&P GSCI—an index which represents a diversified basket of commodities—has been down nearly 40% over the past year and had slumped by more than six percent as of Wednesday, July 8th.
We witnessed a similar pattern just prior to the financial crisis of 2008.
And in addition to the problems that have erupted in China, Greece and Puerto Rico, CNN is reporting that every major economy in Latin America "is slowing down or shrinking"…
Every major Latin American economy is slowing down or shrinking. The World Bank predicts this will be Latin America's worst year of growth since the financial crisis. As if that's not dire enough, the world's two worst performing stock markets are in the region as well.
Very few people are talking about Latin America right now, but the truth is that the region is in the midst of a slow-motion economic implosion. Here is more from CNN…
Venezuela is arguably the world's worst economy with sky-high inflation. Next door, Colombia has the world's worst stock market this year. Its index is down 13% so far this year. The second worst is Peru, down 12.5%.
Right now, trouble signs are emerging all over the planet. That is why we shouldn't just focus on Greece. Yes, if Greece is kicked out of the euro that is going to greatly accelerate things. But no matter what happens with Greece, the truth is that we are steamrolling toward another major worldwide financial crisis. Perhaps you didn't notice, but I purposely did not use the word "Greece" once in my recent article entitled "The Economic Collapse Blog Has Issued A RED ALERT For The Last Six Months Of 2015".
Yes, I am taking what is happening over in Europe very seriously. I believe that we are about to see some things happen over there that we have never seen before.
But the Greek crisis is only part of the picture. Everywhere on the globe that you look, red flags are going up.
Sadly, just like in 2008, most people have chosen to be willingly blind to what is happening right in front of their eyes.