From the keyboard of Thomas Lewis
Follow us on Twitter @doomstead666
Friend us on Facebook
Published on The Daily Impact on September 12, 2016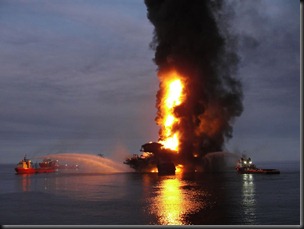 When an oil well like Deepwater Horizon explodes, the images are unforgettable. When the entire industry starts to collapse, it's hard to see and to remember.
Discuss this article at the Energy Table inside the Diner
Podcast: Play in new window | Download
Subscribe: iTunes | Android | RSS
In a recent essay I proposed the existence of a new human subspecies – homo sapiens ephemera — that is smart (thus sapiens) but severely afflicted by attention deficit disorder and long-term memory loss. Thus ephemera may understand, for example, the connection between a burning fuse at his feet and an imminent explosion, but almost immediately forgets it, goes on to something else, and is surprised by the blast. Nowhere is this behavior more evident than in the U.S. oil patch, whose collapse, predicted here and elsewhere for years, is now described by none other than Moody's Investors Service, quoted in Bloomberg News as "catastrophic" and perhaps "the worst bust of any industry this century."
Does anybody remember the Savings and Loan debacle? The Enron ("smartest guys in the room") implosion? The Dot-Com collapse? And the Sub-Prime Mortgages that Ate the World? After each of these episodes, Ephemera slapped his slanted forehead and said, "Boy, that was dumb. But nobody could have seen it coming." Put on your protective headgear, because it's happening again.
When they came to you, Ephemera, and asked you to invest gazillions of dollars up front in the New American Oil Revolution, they talked about energy independence! and America, Number One! and everything back the way it was in 1950! But the burning fuse at your feet was about fracking wells that cost ten times that of a conventional oil well and play out nearly ten times faster, about exploding trains and polluted water and earthquakes, in a market that would soon devalue the product by 50%.
Of course you gave them the money. You bought their stock, you bought their bonds, you bought their junk bonds. You lent them money, and when they couldn't pay it back you lent them more to roll over the debt, which almost immediately became enormous because every one of those expensive wells had to be replaced every three years. You let them convert your secured debt to unsecured debt, or to watered down stock, or to fairy dust. Now, according to Moody's, there has finally been an explosion. Who could have seen that coming?
Moody's reports that twice as many oil and gas companies have gone bankrupt so far this year than did so in all of last year. Investors affected by these failures have seen an average 21 percent return. No, that's not return on their investment, it's return of their investment; they lost 80 per cent of their money. And those were secured lenders; junk-bond holders got back 6 cents for every dollar they invested.
Yet the fuse burns on. In the Bakken fracking field in North Dakota, for example, where no oil company has made any money, even when oil was priced at over $100 a barrel, where the total accumulated debt of the players is north of $30 billion, where production has been declining for over a year with oil prices below $50 and well below the cost of production — the zombie companies, almost all of them technically insolvent, continue to borrow operating money through such creative pitches as "distressed exchanges."
The fuse burns faster, smokes even more, and doesn't have much farther to go. What's that? Hillary sneezed? Tell me more…..