Follow us on Twitter @doomstead666
Friend us on Facebook
Published on the Doomstead Diner on January 17, 2016
Discuss this article at the Diner Pantry inside the Diner
When discussing emergency preparedness for cooking, often ignored by preppers are electric cooking devices. Usually you will find discussion of either Propane or Kerosene fired cooking gear used for camping as the main emergency cooking prep. The reason they tend to be ignored is that one of the main scenarios that preppers are concerned with is a "grid down" emergency, where electricity is unavailable everywhere in your neighborhood. In that case, electric cooking gear is pretty much worthless, although if you have a generator or a large battery system and inverter you can still use them. Still, in that situation it is a pretty inefficient means of using your fuel. You're better off just to siphon some of the gas and use that for a cooking fuel directly.
However, there are many other types of situations to prep for where the electric cooking gear is actually superior to the propane and kerosene fired gear. The main one is personal economic collapse, where you lose your job and your McHovel gets foreclosed on and you move into your van to do Stealth Van living. You still need a source of electricity of course to be able to use the apparatus, and with a powerful enough inverter most any cooking apparatus can be run while your car engine is running. Again though, this is a relatively inefficient use of fuel overall.
'What you need to do is find sources of electricity you can access while parked. The easiest and legal methods are to park in a campsite that has electric outlets, or to stay in a motel for a night, where as part of your fee you get all the electricity you want. If you have friends in the neighborhood you are Van Dwelling who will let you plug into a garage outlet while you visit with them, you can charge up your auxiliary battery system this way, A couple of hours pulling down 20 Amps or so @ 120V (2400W) to charge your Deep Cycle batteries will cost less than a dollar on their monthly electric bill, typically a kilowatt/hour costs around 15¢. So 2 hours plugged in here runs around 80¢ or so maybe.
Another method that is "quasi-legal" here in Alaska is to park in places that have external outlets for block heaters. Block heaters keep your engine warm on the sub-zero days and make starting up the engine much easier. On a diesel, you can't live without them in sub-zero temps. Many restaurants have these external plugs by the parking spots, and many motels do also. However, if you aren't actually patronizing the restaurant or staying in the motel, then it's not really legal to be plugging in to their juice. Also, the juice may only be on during the winter, so it's not going to work during the rest of the year if the establishment shuts down the outlets.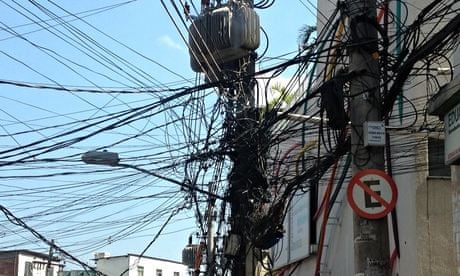 The illegal method is to pirate electricity that runs to street lights in any community. In the 3rd World countries this is common in the slums. This is NOT RECOMMENDED! Besides the legal problems you will run into if caught doing this, you better know your shit as far as wiring and splicing goes. Quite EZ to electrocute yourself or start an electrical fire when you tap juice from a street light or straight off the electrical conduit serving a residential area. DEFINITELY do not try to tap long range High Voltage lines!!!!!!! Unless you are a fully licensed electrician with a ton of experience, you have a DEATH WISH if you fuck with long distance high voltage lines.
OK, with all that in mind, in ths article we're going to look at the FULLY LEGAL methods of Campsites with electric power and Motels.
First is the question of what apparatus you need/want?
The most basic and necessary is the single electric burner, featured at the top of the page here. These burners come single or double, from around 750W draw to 1500W. On just the single burner, you can heat your soups, steam your rice, stir fry your veggies in a Wok, fry bacon & eggs, etc. In other words, there really is nothing else you absolutely NEED other than the single burner. These burners are lightweight, small and CHEAP. $15 will get you one at Walmart.
However, for more variety in cooking methods, there are some other portable electric cooking devices you might want to add to the prep arsenal, depending how much room in your Stealth Van you wish to allocate to this type of cooking apparatus.
The first thing you probably want to go for is a double burner instead of a single burner. This speeds up your cooking a lot and allows for more complex dishes to be prepared. On one burner you can have your rice steaming, while on the other you are doing a stir-fry in your Wok for a Chinese-style dinner, or you can be heating some Oatmeal on one burner while your fry bacon & eggs on the other one for breakfast. In both cases, you use up about 15 min worth of juice @ around 1000W, which doesn't draw down your batt set too much.
The next device you might want to add is an electric slow cooker. These have the advantage of drawing very low power, a typical slow cooker draws about as much power as a 100W lightbulb on the low setting. If you have some kind of Solar PV system, you may be able to run such a slow cooker when the sun is shining without drawing down your batt storage at all! Of course, if you are in a motel room, no issues here at all, slow cook up your favorite stew or gumbo or chowder and then package in some tupperware and store in your cooler to eat during the week after short reheating over a kerosene stove or the like. Or you can even eat it cold if you are a tough guy. lol.
Other possibilities for reheating while not connected to a power outlet include using a Solar Oven. These can be constructed from a cardboard box, aluminum foil and saran wrap at the real basic level, but you'll do better with a more robust and well insulated arrangement. If the sunlight is available on a given day for heating up your food, why use precious electricity stored in your Batt Set or propane or kerosene? Use what is available for FREE first here, and conserve your other power/heat sources only for when the free sources are not available! If you are traveling around in a Stealth Van in a neighborhood with a lot of trees, there' probably enough fallen deadwood around to cook or reheat over a wood fire. Use that before you go to your stash of proane or kerosene.
After the burners and the slow cooker, the next device you might want to add to your electric cooking emergency apparatus is a Toaster/Oven/Broiler. these go from super basic to pretty complex, anywhere from $30 to $100 can be spent on one of these. Some even have built in Rotisseries if you buy a chicken or leg of lamb, have access to juice and want to do your own Rotisserie instead of buy an already rotisseried chicken at the food superstore. You'll save a bit of money this way as long as you're not paying for the cooking juice. Generally speaking though, it's just easier to buy the chicken already rotisseried and not too much more expensive overall. I find that generally 1 Rotisserie Chicken a week purchased at the food superstore provides all the animal protein I need in a week at a cost of around $6 pre-cooked on the hot rack. I can buy a similar uncooked chicken for $4, but then I have to do the cooking, use the energy, do the cleanup etc. Not much savings for the week to buy the raw chicken, not worth the trouble either in normal circumstances. However, if you are getting your electricity as part of your motel bill and you have the time to do the rotisserie yourself, you'll save about $2/chicken you rotisserie this way. You pay off the investment in the rotisserie oven after maybe 10 chickens the most. So it's worth spending a little extra for this option. How you use the chicken over the week is the key here in REAL SAVINGS, and I will be writing a new SNAP Card Gourmet article on the Incredible, Edible Chicken in the near future. 🙂
Besides the chickens though, your Toaster/Oven/Broiler comes in handy for many other things, not the least of which is making Toast! After a couple of days, whatever bread you are using is starting to go stale even if you keep it well wrapped up. Toasting up the bread you use in your sandwiches makes them much more tasty! You also can melt some cheese on the bread while toasting, great for making Bacon, Egg & Cheese on a Kaiser Roll breakfasts, and Cheeseburger Lunches & Dinners. You can Bake Lasagna in your toaster over too, so as long as you have enough juice to run it, you et a huge variety of possible foods to cook up you could not do with just the hot plates or slow cooker.
The final recommended device in the electric cooking arsenal is an Electric Grill. I like my steaks, burgers etc cooked over an open heat source where the fat drips sown and then smokes up the meat some, giving it the classic BBQ flavor. While ideally you want to do this over charcoal with perhaps some mesquite wood chips, in fact you can get most of the same flavor with a propane fired grill or an electric one. Not the George Forman type of grill where the grill surface itself is heated, but one where the heating element is below the meat, heats up some glass rocks or a metal radiator and then the fat drips down onto that during the BBQing. You don't want to use these things indoors though, since they produce too much SMOKE. However, long as you have a source of electric power and can place the device outside, it's a great and EZ way to do a BBQ.
There are of course innumerable other specific devices such as electric steamers and electric skillets that are available, but the hot plate will do what they do as long as you have the right pots and pans. For instance I have a Lodge Logic Cast Iron Skillet I can use over a campfire, but it will also drop right on top of either my 2 burner electric hotplate or my 2 burner propane stove. Why do I need a separate electric skillet here? I don't need a dedicated electric Wok or dedicated electric steamer either. So the basic 4 devices are all you really need here, and total cost can be kept under $200 if you shop wisely for Low, Low Prices Every Day at Walmart. LOL.
How do you use the Electric Cooking devices in the Campsite/Motel Van Dwelling Paradigm?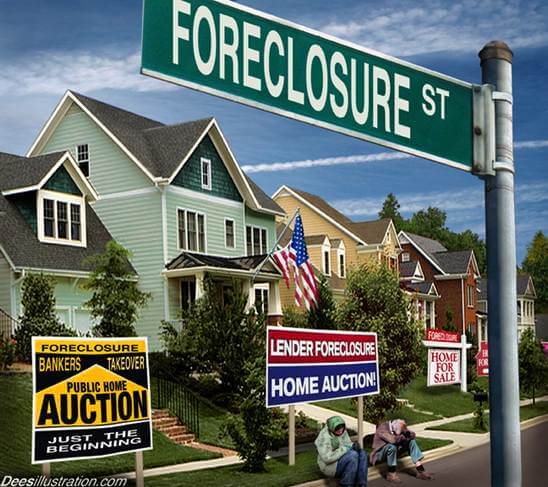 Now that you have all your devices stashed in the Van ready for your Bugout when the Sheriff arrives to foreclose on your McMansion, how are you going to live and do your cooking, and how much is this going to cost you a month? First off let's stipulate this is for the single person, or at most a couple. If you have kids, the Van Dwelling paradigm becomes much less plausible, although to be sure there are plenty of examples of families living in their cars.
At the time you purchased the McMansion, you were a successful network engineer making $80K/year. You had a $2000/mo mortgage, utility bills of $300/mo, insurance etc. You were pretty good with your money, not buying a new car every year, and your 4 year old Mercedes is almost paid of. You also have your prize Harley you rode on summer weekends, it's paid for. Since you were also a Doomer prior to getting your pink slip, you ALSO have your Bugout Machine, a 10 year old Chevy passenger van and a 15' enclosed Utility trailer.
You're hopeful for a couple of months, sending out the resumes and meeting your bills out of your savings, but they are depleting quickly with your high monthly bills. At the end of the 2nd month you still can't find any job at close to your old salary, but you have landed a part time low wage job as an Asst. Manager at Safeway. You make $12/hr to start and get 20 hours/week for a $200/week paycheck after taxes and SS are taken out. At the end of month before you completely deplete your savings you implement your Emergency Plan.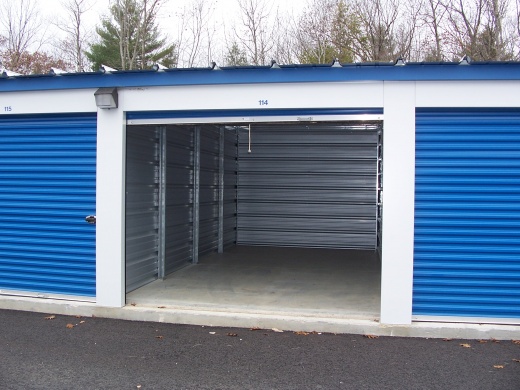 You sell your Mercedes and after paying off the remaining debt on the car loan actually come out $2000 ahead. You get $3000 for your Harley, less than the $5000 you bought it for but it was purchased for cash. You have a yard sale and get rid of what you can of your furniture and old clothes and other junk, and raise a few hundred ths way as well. The few things you want to keep go in a Storage Unit you contract for $50/mo. For an extra $30/mo, you can park your utility trailer on the storage unit property also. This is your new "rent" bill of $80/mo.
On the 1st of the month, you send in the Jingle Mail. Since you were a Doomer before buying the McMansion, you made sure to get a non-recourse mortgage so as soon as you send in the Keys and the Deed in Lieu of Foreclosure, you are out from under all the debt there, even though the McMansion was underwater. You also have eleiminated all your utility bills, home insurance etc. You no longer have a car payment.
"I'm just happy to have a job"
How do you now budget your $200/week, $800/mo income? $20/week is already gone to your storage unit rental, and you have a $40/week SNAP Card Gourmet food budget, still have $160/week left here. You get a gym membership for $60/mo, $15/week to shower daily and stay in shape, now down to $145 left. Your smart phone with internet costs you $80/mo, $20/wk, now down to $105 week. Your insurance on the van costs $40/mo, $10/wk, now down to $95.
You now develop a circuit of sleeping spots around town not too far from your job at Safeway, keeping your gas costs down quite low, you drive no more than about 10 miles a day at most, usually much less. Gas costs you $1/day, $10/week with some bonus driving on weekends. Now down to $85.
For the most part just this small amount of driving each day will keep your deep cycle marine battery pretty well topped off to do typical reheating type cooking. You can bring your slow cooker into work with you and plug it in to have a nice hot stew ready by the time you finish your 4 hour shift. You can quickly fry up some bacon and eggs for breakfast on your hot plate. If not connected to external power you only use your hot plate for maybe 15 minutes a day off the deep cycle marine battery.
Once a week you get either Camping spot with electricity or a motel room $20 for the camping spot or $50 for the motel room (Tom Burdett will leave the Light on for you at Motel 6). You check in at 4PM after work and check out is noon the following day, During this 20 hours you do laundry, you shower, you plug in your deep cycle marine battery to top it off for the week and you cook up a big batch of chili in the slow cooker and bake a lasagna in your toaster oven. After stuffing yourself with the freshly cooked food, you take the rest (most of it) and package into individual servings which go into your cooler with ice you get from the motel ice machine. If you're a regular at the motel they'l probably be OK with you stopping in during the week to refresh your ice, but even if not worse case scenario you buy block ice for $2 once a week. Winter when it is below freezing you won't need to buy ice at all, just leave a bottle under the van to freeze up and put that in the cooler.
You can of course scarf up additional electricity on visits with friends as mentioned earlier, and you can even develop a portable battset/charger arrangement to charge up in places like internet coffee shops and laundromats. I have 3 10AH SLA batteries wired in series for 36V which run my Ewz scooter. Together with the 36V 2A charger, they fit inside a Briefcase (a HEAVY briefcase though! lol). From almost dead to full charge takes about 5 hours, but rarely do I discharge that far down. If I ever really had a need for it, I could disconnect the batteries, connect up one of the 12V batts to a 500W Inverter and run a hot plate long enough to fry an egg or something short like that. However, between your daily driving and your weekly motel visits for charging and full scale cooking, you're unlikely to need such a supplement.
Does this mean you need to go ALL electric with your daily cooking while van dwelling? Of course not, in fact most of the time when not connected to an external power source you'll probably use your propane or kerosene fired stove instead, or if out in a park that allows BBQing or even provides outdoor BBQs, you will throw in some charcoal and grill an nice juicy rib-eye for dinner instead. Besides that, your workplace or a convenience store probably has a microwave you can use as well, providing another way for you to get some hot food each day without using your own electricity or fuel.
The advantages to having portable electric cooking apparatus are many though. You can use them in places that otherwise might not permit you to use a propane or kerosene stove, a public Storm Shelter for instance. If you have to leave your McMansion due to a flood and go seek shelter at the local HS gymnasium, you'll probably have access inside the gym to a power outlet to run your hot plate. Having hot cup of soup to eat while the hurrican blows through town can make all the difference between being glum and depressed or feeling safe and warm and relatively happy to be alive.
Eventually when the grid goes down for good, your protable electric cooking devices will be all but useless, unless you have access to a mega large Solar PV array, but that day is probably still quite a ways off for the FSoA. Temporary power outages and brownouts become more likely as time goes by, but a complete & permanent electrical grid collapse is ultimately a Mad Max scenario in places currently wired up and dependent on this power. As long as there is some BAU going on, there will be electricity to be had somewhere. For this period, portable electric cooking apparatus is a must-have prep.
Of course, the scenario I painted above does presuppose the former Network Engineer is able to find at least a part time job at a low wage for some monthly income in order not to be draining savings. However, even if not, it's going to make what savings he does have last a whole lot longer. He also won't even appear homeless at all if he is careful. He'll be clean and presentable every day at work with his daily workout and shower at the gym before going in to work. He'll be readily accessible to receive job interview phone calls and emails. He'll be eating well on a budget he can afford, without having to buy expensve restaurant meals. With luck after a few months or even a year of living this way, he will finally get a full time job again in IT, although probably not at the old wage and be able to afford a regular apartment again, smaller than the old McMansion but bigger and a bit more comfortable than the time spent living in the Van.
Having such an "off the cliff" economic plan to tide you over an extended period of unemployment can be the difference between being able to climb back out of the chasm, or falling completely off and plunging to the valley below in the final crash of your life. It doesn't take a lot of money to create such a plan, for a single adult. A good used van can be had on Craig's list for $3000, a trailer for another $1500. Another $2000 in equipment you otherwise don't already have probably will fit it out OK to begin with. It's an Insurance Plan you dont want to be without, if you can afford to put it together.
Coming Soon on Diner You Tube: Van Dweller Part 3