From the keyboard of Surly1
Follow us on Twitter @doomstead666
Like us on Facebook
Anthony Freda
Originally published on the Doomstead Diner on August 18, 2019
"We're facing mass starvation in the next 10 years, social collapse and the possible extinction of the human race. It couldn't be worse. So that situation has come about over 30 years of failure– failure by the elites, failure by the governments, and failure by campaigners….The public Is now aware that the elites are taking them to their death!"
–Roger Hallam
---
Long before there was a Doomstead Diner, long before 9-11, there was Milton William Cooper. Cooper was the greatest conspiracist of this generation and a man you may not have heard of. His book Behold A Pale Horse was an underground sensation and the ur-source for many later conspiracy theorists. Cooper's "Hour of the Time" radio program was also broadcast on short wave, circulated and downloaded long before podcasts existed. Cooper was right about many things, wrong about others, Yet he predicted future events and trends accurately, and knew that by telling the truth, TPTB would come for him. Which they did.
Behold A Pale Horse is what's called a "prison book" because it's one of the most read books in prison, passed from hand to hand until the spines break. This book is kept behind shelves in bookstores because it is also one of the most stolen books in history. More than any other single influence, encountering this book led me to distrust the so-called "official story," and which eventually put me on a path to the Diner.
I'm currently reading Cooper's biography, Pale Horse Rider: William Cooper, the Rise of Conspiracy, and the Fall of Trust in America, by Mark Jacobson. Cooper was a complicated man with a mercurial temper; he was also a black-helicopter paranoid who provided some of the ideology for the right-wing militia movement and mother's milk for Oklahoma City bomber Timothy McVeigh and many others like him. From thre flyleaf:
"We are living in a time of unprecedented distrust in America: Faith in the government is at an all-time low, and political groups on both sides of the aisle are able to tout preposterous conspiracy theories as gospel, without much opposition. "Fake news" is the order of the day… A former U.S. naval intelligence worker, Milton William Cooper published his manifesto Behold a Pale Horse in 1991. Since then it has gone on to sell hundreds of thousands of copies, becoming the number-one bestseller in the American prison system.
Decades before QAnon, false flags, "crisis actors" and Alex Jones, there was William Cooper. Some call Cooper the father of the so-called Patriot movement and the spiritual godfather to the Alex Joneses and QAnons of the world. My politics could not be farther frm those people, but Cooper had some deep insight into the sickness of our times. Every story we treat on this week has running through it the pervasive and overwhelming lack of trust that afflicts our times, which Cooper, however great his flaws, pointed out early and repeatedly.
An unpleasant alcoholic and perhaps bi-polar to boot, Cooper died in a shootout with Apache County, AZ police in 2001, one month after September 11, the same year in which he had predicted the coming catastrophe. He leaves a complicated legacy, but the distrust of "official stories" he advanced permeates the following stories. Here's this week in doom.
---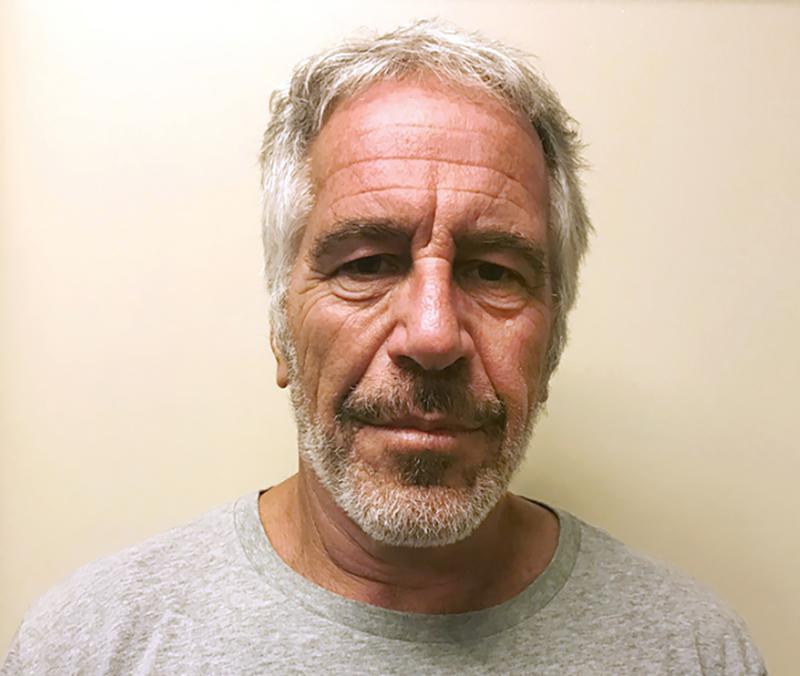 On August 15, an autopsy found that financier Jeffrey Epstein suffered multiple breaks in his neck bones, according to two people familiar with the findings. This raised questions regarding the mystery about the circumstances around his death. Specifically, his hyoid bone was broken,
"…which in men is near the Adam's apple. Such breaks can occur in those who hang themselves, particularly if they are older, according to forensics experts and studies on the subject. But they are more common in victims of homicide by strangulation, the experts said.
The office of New York City's chief medical examiner, Barbara Sampson, completed an autopsy of Epstein's body Sunday… Asked about the neck injuries, Sampson said in a statement that no single factor in an autopsy can alone provide a conclusive answer about what happened."
Nevertheless, the ME presented findings that Epstein's death was a suicide. Fair enough, except that according to some anecdotal sources, Epstein couldn't empty a bag of garbage without staff help, so one can consider how he was able to "hang himself" from the top bunk on a room with seven foot ceilings, yet somehow sustain injuries consistent with strangulation. His cellmate, a former state trooper, was supposedly excused from his cell. Epstein's brother has supposedly ID'd the body, an identification as relaibler as the location of JFK's brain.
And Jeffrey Epstein's autopsy concluded with there medical examiner declaring his death was a suicide by hanging. So see, written evidence. Conclusions. Case closed. No need for a messy and troublesome murder investigation, the results of which might outrage the proles before the entire matter disappears down the memory hole.
Chief Medical Examiner Dr. Barbara Sampson said in a statement that she made the suicide determination "after careful review of all investigative information, including complete autopsy findings."

Sampson's announcement came as a Justice Department official told The Associated Press that some prison staffers believed to have relevant information aren't cooperating with investigators.

Epstein's lawyers said they were "not satisfied" with Sampson's conclusions and that they would conduct their own investigation, including seeking to obtain any video of the area around Epstein's cell from the time leading to his death.
Uh-huh. Nothing to see here citizen: move along.
Approximately three weeks before a series of damning articles hit in the Miami Herald, Jeffrey Epstein paid up front to have a $100,000 cement mixer express-shipped to his infamous Little St. James 'pedo island' at great expense, according to the Daily Mail.
The pedophile, who was found dead by apparent suicide on Saturday while awaiting trial for sex trafficking, got the Carmix 5.5 XL self loading concrete mixer delivered to Little St. James on November 7 last year.

Epstein was in such a hurry that he paid for the machine up front so it would arrive sooner – even though it meant being responsible if it got damaged in transit.

Three weeks later the Miami Herald published a series of articles called 'Perversion of Justice' on November 28, which eventually led to Epstein being arrested in July.

Shipping experts told DailyMailTV that the possibility that it was 'used to literally cover up evidence cannot be discounted'.
Zero Hedge notes that
On Monday, the FBI and NYPD raided Little St. James island last week, packing up evidence, although videos reveal some of it had already been moved prior to the raid. Perhaps they should have raided the island the same day he was arrested?
One might well ask the above question, as did the redoubtable Charles Hugh Smith. Smith notes, " 'Epstein was an intelligence asset' is just a tissue-thin cover for a much more destructive reality: those at the top of the American state have no moral compass at all."
The rot goes much deeper. As Smith poses the question, he gestures at an answer:
There are several explanations floating around for the why: those in power enjoyed their diabolically exploitive visits to Lolita Island and wanted to continue their criminal gratifications.

The second explanation is that Epstein was a spy for a "friendly" foreign intelligence agency and therefore off-limits. ("Friendly" is in quotes because when it comes to intelligence, one's "friends" can do more damage than one's worst enemies.)

Let's say this turns out to be true. Wouldn't the NSA, CIA and FBI know of Epstein's activities and connections to a foreign intelligence service? Of course they would. So at a minimum, we can infer the NSA, CIA and FBI enabled Epstein's operation to continue for some benefit, perhaps relating to "honeypot" blackmail and control of "assets," unwilling or willing.
Explaining the wrist-slap sentence of a decade ago and the subsequent promotions, praise and honors for the enablers. The entire Epstein affair, roping in as it did royals, presidents and high rollers of every sort, feeds the narrative that you can't believe anything the government says.
…corruption and debauchery undermine the legitimacy of the state, and so doing nothing while Epstein et al. gratified the desires of the rich and powerful for degenerate debauchery was treasonous: the American state will collapse not from military conflict but from moral decay, and every individual who enabled (or made use of) that moral decay is guilty of treason.
The Epstein affair and the "official stories" that will emerge therefrom will arrive pre-disbelieved. No one will trust the word of any official source. We've already seen speculation that Epstein was switched out in the wee small hours and a dead body was left behind. And even if the cadaver is Epstein's, no part of the official story accounts for the shrieking reportedly heard from his cell. Such widespread cynicism fits like a hand in glove the agenda of those with a 50-year plan to make people despise government so that they will no longer see it as the guarantor of last resort for their rights. It serves the agenda of those who wish to shrink the size of government so that they can drown it in a bathtub. And of Tangerine Twitler, who wants to blame Bill Clinton or Obama for his own sins of commission..
If you want to be fully read in on all matters Epstein, I strongly recommend following Mint Press' Whitney Webb. She connects the dots. Which is difficult, because if you read this, the roots of Epstein's touch a Mossad blackmail op reaching back decades…

The picture painted by the evidence is not that of a direct Epstein tie to a single intelligence agency, but a of a web linking key members of the Mega Group, politicians, and officials in both the U.S. and Israel, and an organized-crime network with deep business and intelligence ties in both nations.
---
Cooking the Arctic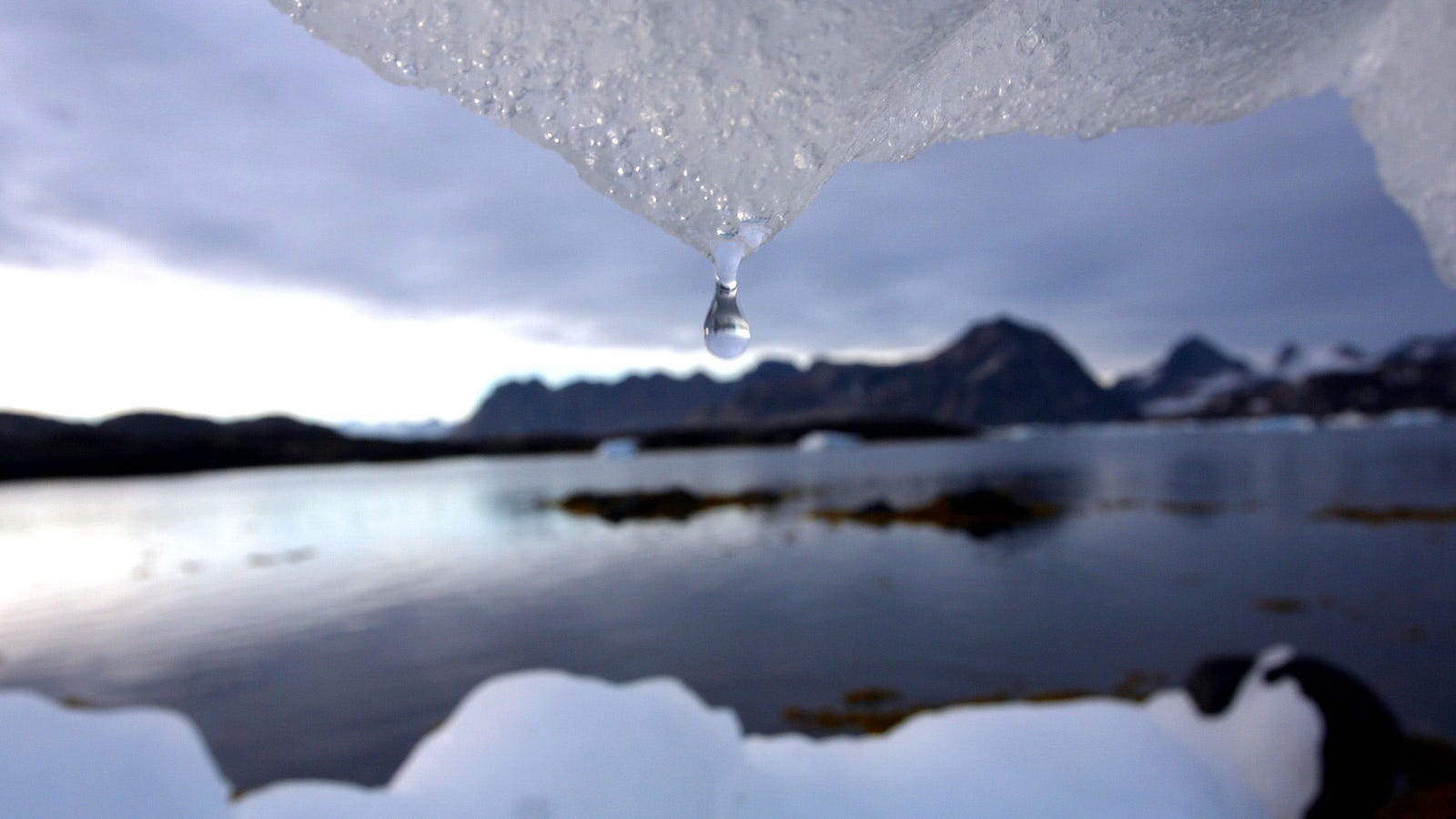 We know everything we need to know about the climate crises and the causes, but, in the face of all the warning signs, are pressing the accelerator to the floor. It's almost as if the one percent who possess bunkers, hired security and all the money siphoned from working people over the last 40 years (ever since Dutch declared "Morning in America") were intent on exterminating the proles while waiting out the maelstrom in air conditioned bunkers. It is abundantly self-evident that we we know what is happening and know what needs to be done, but refuse to do it because to do might cost some oil company profits. Here are some stories that moved this week.
A report published this week by Cambridge's Centre for the Study of Existential Risk (CSER) today release a new report on what governments can do to understand and inform policy around these risks, which could threaten the global population. It is straightforward and decidedly unpretty, unless your take is that "threaten(ing) the global population" is the point of current policy. Nothing else makes sense.
The likelihood that a global catastrophe will occur in the next 20 years is uncertain, say the researchers, but the potential severity means that national governments have a responsibility to their citizens to manage these types of risks.

Des Browne, former UK Secretary of State for Defence, said: "National governments struggle with understanding and developing policy for the elimination or mitigation of extreme risks, including global catastrophic risks. Effective policies may compel fundamental structural reform of political systems, but we do not need, nor do we have the time, to wait for such change.

Governments must sufficiently understand the risks to design mitigation, preparation and response measures. But political systems often do not provide sufficient incentives for policy-makers to think about emerging or long-term issues, especially where vested interests and tough trade-offs are at play.
Hat tip to knarf for this Letter to the Future: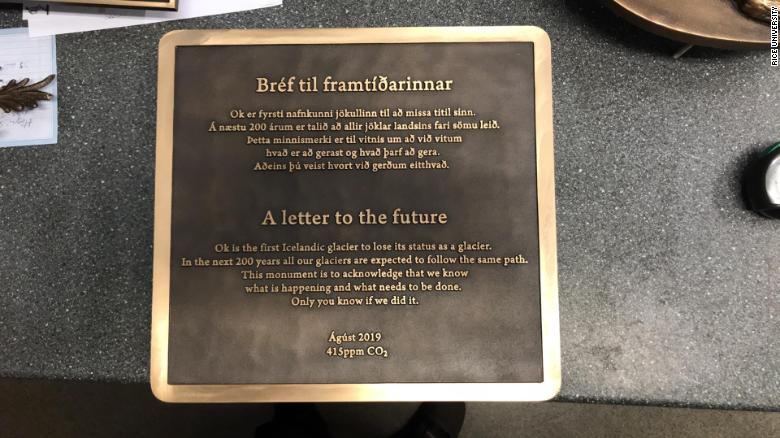 Scientists say they are bidding farewell to Okjökull, the first Icelandic glacier lost to climate change, in a funeral of sorts.
Researchers will gather Sunday in Borgarfjörður, Iceland, to memorialize Okjökull, known as Ok for short, after it lost its status as a glacier in 2014. The inscription, titled "A letter to the future," on the monument paints a bleak picture.
"Ok is the first Icelandic glacier to lose its status as a glacier. In the next 200 years, all our glaciers are expected to follow the same path. This monument is to acknowledge that we know what is happening and know what needs to be done. Only you know if we did it," the plaque reads in English and Icelandic.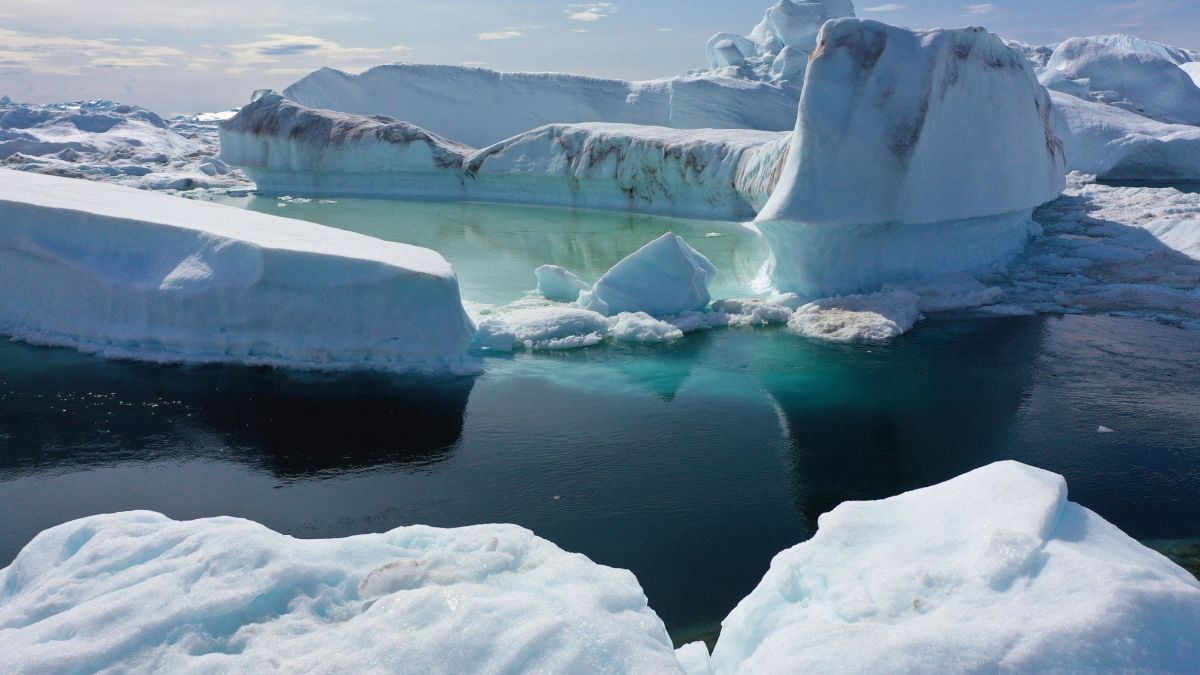 After months of record temperatures, scientists say Greenland's ice sheet experienced its biggest melt of the summer on Thursday, losing 11 billion tons of surface ice to the ocean — equivalent to 4.4 million Olympic swimming pools.

Greenland's ice sheet usually melts during the summer, but the melt season typically begins around the end of May; this year it began at the start. It has been melting "persistently" over the past four months, which have recorded all time temperature highs…

Greenland's ice sheet is the second biggest in the world and this season's ice melt has already contributed around half a millimeter to global sea levels. It comes in a summer where the Arctic has experienced "unprecedented" wildfires, which scientists say have been facilitated by high temperatures.
Amid the hottest month in recorded history, some records still stand out as absolutely jaw dropping. That's definitely true of a measurement made in the Arctic this July.

According to data released in the National Oceanic and Atmospheric Administration's (NOAA) monthly climate analysis, a weather station in Sweden north of the Arctic Circle hit a stunning 94.6 Fahrenheit (34.8 degrees Celsius) last month. As an isolated data point, it would be shocking. But coupled with a host of other maladies, from no sea ice within 125 miles of Alaska to the unruly fires ravaging Siberia, it's an exclamation point on the climate crisis.
A stubborn blue spot of cool ocean temperatures stands out like the proverbial sore thumb in a recent NASA image of the warming world – a circle of cool blue on a planet increasingly shaded in hot red.

A region of the North Atlantic south of Greenland has experienced some of its coldest temperatures on record in recent years, a cooling unprecedented in the past thousand years. What explains that anomaly?

Climatologist Michael Mann of Penn State University, in this month's "This is Not Cool" video, explains that this phenomenon may be an indication that the North Atlantic current, part of a larger global ocean circulation, is slowing down.
---
After reading the above cluster of related climate change articles, a reasonable person has little option. other than to conclude what one of the founders of Extinction Rebellion ,Roger Hallam, has concluded:
This interview would have never seen the light of day in the US. They'd have Tucker Carlsoned this segment quicker than you could say Rutger Bregman, and would have had Hallam's children murdered before letting this see the light of day. The interviewer for BBC HardTalk is Stephen Sackur, a choice Asshat Elite prostitute who does his Ken Dilanian best to discredit his guest and marginalize his POV. His guest Roger Hallam, one of the co-founders of Extinction Rebellion, is simply not having any of Sackur's marginalizations, and insists on telling the truth as it is, rather than the way the elites want it massaged.
Excerpt:
Stephen Sackur: So on the science there's no disagreement but are you saying that groups like Greenpeace and many many others have fundamentally failed in their mission to convince the world that things need to change?
Roger Hallam: Yes. We fundamentally failed. I mean I failed, other activists have failed, campaigners have failed, we've all failed. The fact of
the matter is were facing mass starvation in the next 10 years, social collapse and the possible extinction of the human race. It couldn't be worse. So that situation has come about over 30 years of failure failure by the elites, failure by the governments, and failure by
campaigners.
Stephen Sackur: Your message is entirely about failure, it's about negativity. It is in a way I suppose a howl of rage and despair.
Roger Hallam: That's right it is and you think that is a message that the people of the world and the political leaders of the world are going to respond to ,yes and the reason why is because when people go through depression and rage they come out and decide to do things- Extinction Rebellion is the most successful climate change movement in the UK…
---


Amid the speculation and disbelief about Trump's trial balloon about buying Greenland, one might wonder why a US President would want to purchase an island that is 80% covered by an ice sheet, and where fewer than 60,000 people live?
The first is because Greenland is widely believed to be hugely rich in natural resources — including iron ore, lead, zinc, diamonds, gold, rare earth elements, uranium and oil. And much of it is currently untapped, due to the fact that, well, 80% of the country is covered by an ice sheet. But due to global warming, that ice sheet is melting rapidly — this summer NASA scientists observed two of the largest melts in the history of Greenland — and that erosion of the ice sheet is expected to make the mining of Greenland's natural resources more doable.

The second is for geopolitical reasons. The United States already has a foothold in the country — Thule Air Base- and, as The Wall Street Journal, which broke the Greenland purchase story, notes:

"Located 750 miles north of the Arctic Circle, it includes a radar station that is part of a U.S. ballistic missile early-warning system. The base is also used by the U.S. Air Force Space Command and the North American Aerospace Defense Command."
In actuality the idea is not as insane as the ravings of an unhinged lunatic might make it seem. In 1946, Truman's Secretary of State broached the idea with the Danish foreign minister at a United Nations meeting in New York to no avail. And almost 100 years before that, Secretary of State William Seward — he of the "Seward's Folly" purchase of Alaska — apparently looked into buying Greenland from the Danes. Likewise, no sale.
---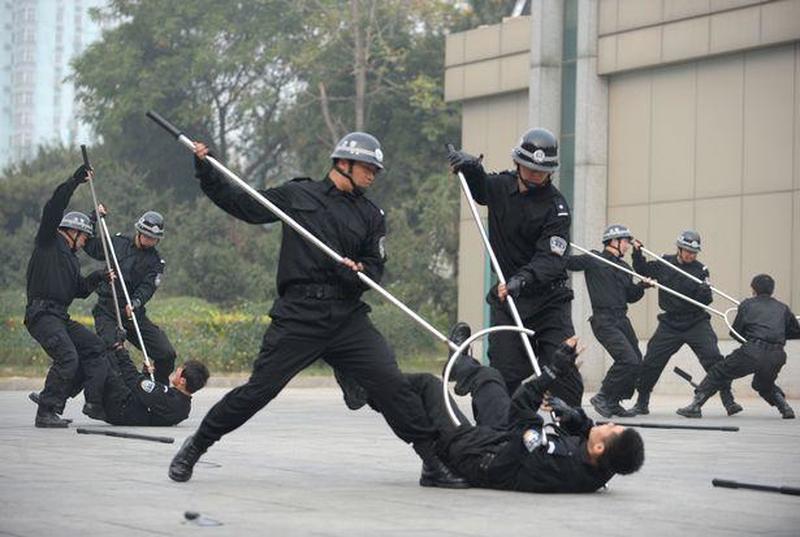 Hong Kong protesters may be in for an electrifying experience after Chinese riot police were pictured training with 'terrifying giant fork devices' designed to subdue humans and pin them to the ground, according to the Mirror.
While unconfirmed, the 8-foot poles with U-shaped prongs are believed to be able to deliver an electric shock.
The protests, now in their 11th week, have been alternating between the streets, subways, and airports of Hong Kong. While largely peaceful, there is a growing contingent of activists using violence and property destruction to protest the government, resulting in police tear gassings and beatings.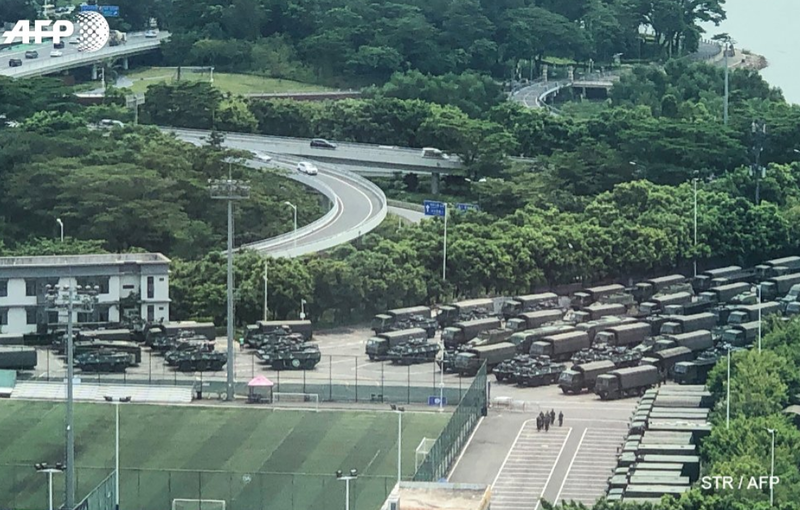 On Thursday, AFP published photos showing more military buildup unfolding in Shenzen. The photos revealed what Reuters reports are hundreds of members of the People's Armed Police, a pro-regime paramilitary organization, carrying out military exercises in a stadium in Shenzen. They could be preparing to carry out demonstrations of its own in Hong Kong.
On Saturday, businesses shuttered their doors and windows in anticipation of more mayhem, however cloudy skies put an early damper on the demonstrations.
---
Short Takes

Since we're already over 3000 words, I'll just leave you with the assorted stories and links I collected over the week for you to follow for your amusement.
What could possibly go wrong?
Every now and then in the hellacious 24-hour news cycle that is the Trump presidency, there comes a story that is so absurd and yet utterly predictable it stops me in my tracks. This is one of those stories.
At first glance, it looks like hard candy laced with flecks of fake fruit, or a third grader's art project confected from recycled debris. In reality, it's a sliver of Arctic Ocean sea ice riddled with microplastics, extracted by scientists from deep inside an ice block that likely drifted southward past Greenland into Canada's increasingly navigable Northwest Passage between the Atlantic and Pacific Oceans…
You can't make this stuff up.
---
Surly1 is an administrator and contributing author to Doomstead Diner. He is the author of numerous rants, screeds and spittle-flecked invective here and elsewhere. He lives a quiet domestic existence in Southeastern Virginia with his wife Contrary. Descended from a long line of people to whom one could never tell anything, all opinions are his and his alone.