Off the keyboard of Steve Ludlum
Follow us on Twitter @doomstead666
Friend us on Facebook
Published on the Economic Undertow on September 20, 2016
Discuss this artile at the Geopolitics Table inside the Diner
Carl von Clausewitz famously remarked, "War is the continuation of policy by other means … " What do the experts at the New York Times say?
Syria's Paradox: Why the War Only Ever Seems to Get Worse

What is true for Syria is true for everything else. The economy only ever seems to get worse. Business and trade only ever seem to get worse. The state of the environment is flat-out getting worse no 'seems to' about it; much more of our precious industrial 'prosperity' and our world will be reduced to barren rocks surrounded by raging oceans of poisonous slime, an 'out-world' from a sci-fi novel. Our social- and political discourse only ever seems to get worse … our media … our public services. In our rapidly unfolding Age of Less, 'Worse' is the corollary. Heaven help us when we get to worst, we'll be looking back at the Syria war as a kind of Golden Age.
Experts on civil wars say there are several reasons Syria is

"a really, really tough case" that defies historical parallels.

There is a basic fact about Syria's civil war that never seems to change: It frustrates any attempt at resolution.

Despite many offensives, peace conferences and foreign interventions, including this week's Turkish incursion into a border town, the only needle that ever seems to move is the one measuring the suffering of Syrians — which only worsens.

Academic research on civil wars, taken together, reveals why. The average such conflict now lasts about a decade, twice as long as Syria's so far. But there are a handful of factors that can make them longer, more violent and harder to stop. Virtually all are present in Syria.

Many stem from foreign interventions that were intended to end the war but have instead entrenched it in a stalemate in which violence is self-reinforcing and the normal avenues for peace are all closed.

The fact that the underlying battle is multiparty rather than two-sided also works against resolution.
The experts' conclusion in twenty-five words or less: there is indeed a war, it's a big one, it has many adversaries arrayed against each other and it is likely to get worse. The subtext is 'lucky for us Syria is safely out of sight'. This is the same subtext behind the endless barrage of marketing for the Pentagon and its minions. "Thank you for your service," means 'thanks for starting and fighting your endless, stupid wars somewhere far away.'
The experts never mention resource depletion and the battle over what little remains. In the conversation about wars that get worse, anyone bringing up limits is a Luddite consigning the human race to living in caves …
Other experts weigh in … offering more of the same. It turns out experts are one of our corrosive, undermining problems; there are too many of them, they intermediate everything, or rather they insert their all-knowing intermediation into every aspect of our lives. Our economies are managed by bankers and economists, the environment by business executives and process engineers, foreign policy by think tanks and shadowy, unaccountable 'intelligence' agencies, by diplomats and generals and their staffs of sub-contracted experts … sorcerers' apprentices and their armies of mop-slaves.
The professionals always seem to begin well, there are reasons why they become experts in the first place. Soon enough, they falter and then they are stuck; they have done their worst already they have nothing more to offer. All that remains is for them to throw up their hands and 'rationalize' which is expert jargon for 'lie'. "Thank me for my service, suckers!"
The Syria war like all the others is the product of experts, their prescription is always more of what has failed already. According to them the war in Syria is about the war in Syria and nothing else. Obviously the experts cannot conclude they- or their fellows are at fault because doing so would call into question the entire enterprise. Expertise pursues it own internal logic, the perpetuation of the status quo in a kind of self- suspending animation until the problem — or the experts themselves — fade away, lose interest, become senile and die of old age.
Expertise is a form of marketing. The experts' job is to craft narrative myths that 'sell' American-style material progress: more and more modernity, more cars and diversions, more real estate, consumer goods and services … Experts are actors, their first job is to conform to public expectations, 'as seen on TV". By so doing, the expert fixes his place within the culture while the materialist culture's supremacy is reinforced at the same time.
Given the relationship between war and politics one would think the experts would put the players into some sort of political context. After all, politics is the art of resolution. Instead, they dance around the subject or leave it out of the conversation altogether as if it is distasteful. Politics is the dog that doesn't bark; a Vatican convocation where Jesus is never mentioned; dying patients surrounded by doctors who cannot bring themselves to make a diagnosis. Part of the confusion is 'the fog of war'; participants have little- or no idea what is going on right in front of them. Analysts have perspective that comes with distance but must rely on second- and third hand material. What appears in the media including the social networks is public relations intended to serve business interests. The Syria war is among the first taking place in real time on Twitter and YouTube, untangling trends from the background noise and red herrings becomes a labor of the gods. There are endless, conflicting 'official versions' layered with wishful thinking and the purposefully malign indifference of corporate marketing.
Meanwhile, around the corner, over the horizon and through the forest of trees lurks reality and its invisible, entropic, smashing hand. Reality is never hard to see, but like the nameless horrors of H P Lovecraft, one must be able to bear looking at it. We never do, we'd rather look at the pretty pictures, instead: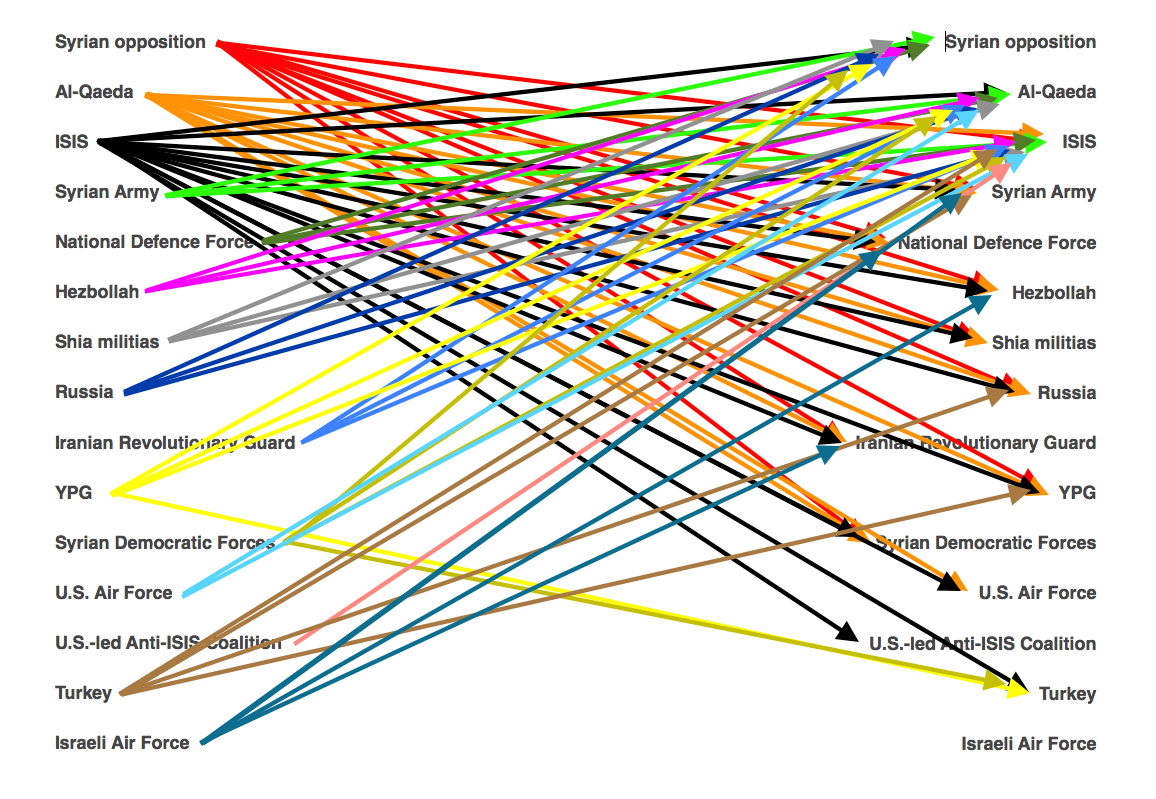 This *simple* chart shows all states of hostility currently being played out on #Syria's territory#IntractableWar
Nice color scheme by Charles Lister, a bona-fide Middle East Expert! Can a six-figure Defense Department hire be far off? Here is another version from CNN, they both say 'there is a war in Syria': Dudes, we know that already!
Figure 1: Syrian combatants tastefully arranged in a circle by CNN, Note the central position of Islamic State. The graphics restate the obvious — and nothing else. Meanwhile, experts are busy creating more problems, all of which require more 'expert' solutions.
Figure 2: click on the image or on this link to bring up the full-size version in a new tab, (.pdf alert). If this looks familiar, it should be, it's been used previously, courtesy of economist Ha-Joon Chang.
The chart is more or less self-explanatory: to the side are the countries involved along with non-state actors or 'interests'. The global superpowers are at the top with militants toward the bottom. In between are regional powers such as Iran and Israel, the 'in-theater states' including Turkey, and the 'innocent bystanders', Lebanon and Jordan. Excluded for arbitrary reasons are Libyans, Iranian Kurds, Palestinians and Yemenis. They are engaged in related struggles but not within the Syria-Iraq theater.
Across the top are categories; what the countries and interests intend to gain by fighting; the overall cost up to and including national bankruptcy; what the nation or group 'sells' or offers as blandishments to its subjects and others; the political system of the enterprise and what it envisions for Syria or other areas of control. The final category is each country's economy … all the above formatted into a table that is viewable on the web page!
Comparing Combatants in Syria – Iraq Theater

COUNTRIES –

INTERESTS

WHAT THEY INTEND TO GAIN
COST
WHAT THEY OFFER
GOVERNMENT: CURRENT | PROPOSED
ECONOMY
USA
Arms sales. To destabilize region to import consumption
Operational expenses & loss of influence
Transient tactical advantage for no one in particular
Corporate plutocracy / None
Capital destruction – consumption / Ponzi finance
EC – UK
Arms sales, thwart militant attacks on the Continent
Irrelevance; expanses related to managing migrant influx
Homeland for migrants
Corporate plutocracy / None
Capital destruction – consumption / Ponzi finance
RUSSIA
Arms sales, increased international prestige
Bankruptcy of Russia
Transient tactical advantages for Syrian – Assad government
Single party police state 'Tyrant on a stick' (TOAS) / Single party police state (TOAS)
Petro-state
IRAN
Regional hegemony vs. Saudi Arabia, strategic advantage vs. Israel
Bankruptcy of Iran
Transient tactical advantages for Syrian – Assad government
Sectarian dictatorship (TOAS) / Single party police state (TOAS)
Petro-state
SAUDI ARABIA
Regional hegemony vs. Iran
Bankruptcy of Saudi Arabia, civil war
Funds, weapons, political cover, tactical advantages for anti-Assad forces
Sectarian monarchy (TOAS) / Single party police state
Petro-state
QATAR
Collaborator w/ junior partner of Saudi Arabia
Bankruptcy of Qatar
Funds for militants, ideological support
Sectarian monarchy (TOAS) / Single party police state
Petro-state
ISRAEL
Destabilize rivals – neighbor states
Unknown
Nothing
Republic trending toward single party police state / None
Capital destruction – consumption / Ponzi finance
SYRIA
Perpetual rule by hereditary tyrant
Total destruction of the country
'Stability myth'
Genocidal single party police state (TOAS) / Genocidal single party police state (TOAS)
Post-peak oil petro-state / agrarian
IRAQ
Control over territory and resources (by factions)
Partition of the country of the country into three components & operational expenses
Sectarian intolerance
Effectively partitioned 'IRAQ' is an Iranian protectorate – fake republic / Various – None
Petro-state(s)
TURKEY
Organic fuel supply by way of a protectorate including Syria and Northern Iraq
Bankruptcy of Turkey, civil war and partition
Sanction for genocide (by way of proxies)
Sectarian single party police state (TOAS) / Neo-Ottoman satrapy sectarian police state(s)
Capital destruction – consumption / Ponzi finance
JORDAN
Repulse jihadi militant inroads, resolve refugee crisis
Operational and refugee management expenses
Nothing
Old-school constitutional monarch / None
Capital destruction – consumption / Ponzi finance
LEBANON
Repulse jihadi militant inroads, resolve refugee crisis
Political instability, refugee management expenses
Nothing
Quasi- republic (see Hezbollah) / None
Capital destruction – consumption / Ponzi finance
ISLAMIC STATE
Control fuel supply in Syria – Northern Iraq (for Turkey)
Destruction of its basis of support
'Fake' political – religious legitimacy
Warlord on a stick | 'Sharia' type warlord state
Outright theft
NON-ISIS JIHADIS, FSA
Replace current Syrian government (acting for Turkey, KSA, US, Qatar)
Destruction of its basis of popular support
Nothing
Warlord(s) on a stick | 'Sharia' type warlord state
Proxies of external powers w/ external funding
HEZBOLLAH
Become Shia sectarian successor to Assad's 'Baathist' regime in Syria: (Iranian proxy)
Severe manpower losses, loss of credibility leading to the destruction of the organization
'Security myth'
Sectarian single party police state ex-Lebanese Republic (TOAS) / Sectarian police state (TOAS)
External funding by Iran
SYRIAN KURD
Autonomy within a Syrian federal republic framework
Operational expenses, subject to genocide by Turkish proxies
Self-determination, womens' rights, anti-jihadi secular government
Modified self-rule / To be determined
Agrarian – smuggling
IRAQI KURD
Independent Kurdish state
Operational- and refugee management expenses
Anti-jihadi secular redoubt
Hereditary duopoly, pan-Kurdish nationalist / possible amalgamation with other Kurdish states
Petro-state
TURKISH KURD
Political legitimacy within framework of Turkish constitution
Operational expenses, political marginalizatin
self-determination within framework of Turkish constitution
Modified self-rule / Call for independence under certain circumstances (see below)
Agrarian – smuggling
NOTE: 'Government current / proposed' lists the countries' governments along with what they would impose on the areas where they operate.
A glance at the chart makes it clear why the experts avoid politics … and why end of the Syria war remains out of reach. Except for the Kurds in Syria and Turkey, also Lebanon, Jordan and Israel there are no politics at all, they have either failed or been swept aside. What remains are tactics and leverage intended to gain transient advantages; administrative overlordship by whatever means come to hand.
Of the seventeen state and non-state actors in the theater, ten are single party police states with personality cults erected around their aggressive, paranoid leaderships. These are 'Tyrants on a Stick', (TOAS) named for the official portraits carried by weeping followers at military parades. These Dear Leaders live like termite queens in impenitent splendor; their feet never touch the ground, they hear only what pleases them or else their (ex-)experts are taken out and … well, you know! Meanwhile, the business bloat-ocracies of the west are just as corrupt, their leadership just as isolated. They are concerned only with finding greater fools and maintaining the flows of credit- and resources toward themselves.
Tyrants rely on experts because they cannot trust anyone else: in a real democracy, the public decides to go to war … or perhaps not. They might decide the bosses have overstepped their bounds or are incompetent. In a police state, the expert reaches for his calculator, the boss nods and the yes-men go forth to announce the decision and break heads. In a tyranny the leader thinks himself better than his public because he has stolen power from them. The power itself is evidence of the tyrant's capability: that the thief is smarter than his victims. In a democracy the people are smarter than the leaders, if nothing else they are more in touch with reality because they are not insulated from it. The people save the leaders from their vanities and those of their lackeys. In a tyranny there is no restraint on the bosses, as a consequence they are always one misstep from disaster.
This is why the Kurds are succeeding … without powerful patrons or great wealth, without a country to call their own or much in the way of an economy. By the accident of history and an abundance of good sense they've taken advantage of zero-cost resources that are spurned by the others or are useless to them; the inclusion and participation of women in their national project and bottom-up decision making. They know their neighbors are out to steal from them or murder them all; that their own leaders would be killed or thrown into prison. They have had to decentralize to survive, to push decision making down the ladder of authority then cut off the top. By doing so the Kurds have saved themselves from the tyranny of experts and self-centric malfeasance that weighs down their adversaries …
Like everything else in the West, politics has been hollowed out, turned into a 'Punch vs. Judy' spectacle that plays out in the media. Small-d-democracy is given lip service and nothing more, all the important decisions are made out of sight by 'others': as George Carlin famously remarked, "It's a club and you aren't in it." Our representative system has devolved into a shopping network for cartels. Because politics are conversations intended to build consensus and resolve disputes they are an anathema to the tycoons and the system that enables them. Consensus cannot be compelled from the top only apathy and a grudging acceptance. Allowing the citizens their own initiatives is dangerous, they might balk at taking on the tycoons' obligations. This would leave the tycoons to meet the obligations themselves, they would all go broke! The strategy is for the bosses to trivialize everything within reach, to boil away the character of resolution leaving a scrim of incomprehensible noise. The current US election campaign is a perfect example: billions are spent on marketing with winner certain to be 'none of the above'.
Clausewitz could not have imagined war as being 'business by other means'. There is also 'war as the means to murder' which would have been unthinkable to the bourgeois Prussian aristocrat, yet we have it. A drilldown into the Syria war reveals American meddling for short-term business gains from the beginning, expanding now to include the Russians. The intent on every side — except for the Kurds in Turkey and Syria — is to make money. When war is good for business — as the Middle East wars are for the Pentagon — there are few- if any incentives to end it.