Off the keyboard of Michael Snyder
Follow us on Twitter @doomstead666
Friend us on Facebook
Published on the The Economic Collapse on December 8, 2015
Discuss this article at the Economics Table inside the Diner
The Global Commodity Crash Tells Us That A Major Deflationary Financial Crisis Is Imminent

If we really are plunging into a deflationary global financial crisis, we would expect to see commodity prices crash hard. That happened just before the great stock market crash of 2008, and that is precisely what is happening once again right now. On Thursday, the Bloomberg Commodity Index closed at 79.1544. The last time that it closed this low was 16 years ago. Not even during the worst moments of the last recession did it ever get so low. Overall, the Bloomberg Commodity Index is down more than 28 percent over the past 12 months, and it has plummeted by more than half since mid-2011. As a result of this stunning commodity collapse, extremely large mining companies such as Anglo American are imploding, giant commodity trading firms such as Glencore and Trafigura are in full-blown crisis mode, and huge portions of the global financial system are in danger of utterly collapsing.
In recent days, I have been trying to stress that many of the exact same patterns that we witnessed just prior to the great stock market crash of 2008 are happening once again. This includes the staggering crash of commodity prices that we are currently witnessing, and even CNN acknowledges that there are parallels to what we experienced seven years ago…
The last time raw materials like copper and oil were this cheap, an economic depression loomed just around the corner.

It's no secret that commodities in general have had a horrendous 2015. A nasty combination of overflowing supply and soft demand has wreaked havoc on the industry.

But prices for everything from crude oil to industrial metals like aluminum, steel, copper, platinum, and palladium have collapsed even further in recent days.
As I mentioned above, this crash in prices is hitting mining companies really hard. Just this week, the fifth largest mining company in the entire world announced a massive restructuring and will be laying off tens of thousands of workers…
In the latest example of just how bad things have gotten, Anglo American–the world's fifth largest miner–just kitchen sink-ed it, announcing a sweeping restructuring, a massive round of layoffs, and a dividend cut. The company will reduce its assets by some 60% while headcount will be cut by a whopping 85,000 or, nearly two-thirds.
Overall, the U.S. has lost approximately 123,000 good paying jobs from the mining sector since the end of 2014. And if commodity prices stay low, this sector is going to continue to bleed good paying jobs.
Meanwhile, investors have been dumping the debt of any companies that have anything to do with commodities. This has significantly contributed to the emerging junk bond crisis that I discussed in my last article. As I write this, a high yield bond ETF known as JNK has fallen all the way down to 34.31, which is the lowest that it has been since the last recession. For much more on the junk bond implosion, I would encourage you to read an article that Wolf Richter just put out entitled "Bond King Gets Antsy as Junk Bonds, Which Lead Stocks, Spiral to Heck".
So why are commodity prices falling so rapidly?
Many analysts are pointing to the economic slowdown in China as the primary reason. For years, the Chinese economy voraciously gobbled up commodities from sources all over the planet, but now things are changing. The Chinese economy is really, really slowing down, and some recently released numbers give us some clues as to the true extent of that slowdown…
-Chinese exports fell 6.8 percent in November on a year over year basis after being down 6.9 percent on a year over year basis in October.
-Chinese imports were down 8.7 percent in November on a year over year basis.
-Chinese manufacturing activity has been contracting for nine months in a row.
-Last week, the China Containerized Freight Index plummeted to 718.58 – the lowest level ever recorded.
And of course it isn't just China. Goldman Sachs says that the seventh largest economy on the entire planet, Brazil, has plunged into a "depression". And as I pointed out the other day, of the 93 largest stock market indexes in the entire world, an astonishing 47 of them (more than half) are down at least 10 percent year to date.
Even though stocks slid in the U.S. this week, the major indexes still seem somewhat stable. But this is a bit of an illusion. Yes, the biggest names on Wall Street are still flying high for the moment, but shares of a multitude of smaller and mid-size firms have been plummeting. At this point, nearly 70 percent of all U.S. stocks are already below their 200 day moving averages. This is yet another thing that we would expect to see just before the bottom falls out for stocks.
Everything that I have been writing about this week (see here and here) is perfectly consistent with all of my warnings from earlier this year.
We are plunging into a deflationary financial crisis in textbook fashion. And if the Federal Reserve actually does decide to go ahead with an interest rate hike next week that is just going to make things even worse.
But most people are not patient enough to watch a process play out. Most people that write about "the coming economic collapse" hype it up like it is going to be some sort of big Hollywood blockbuster that is going to happen over a week or a month and then be over. That is definitely not the way that I see things.
To me, "the economic collapse" is something that has been happening for decades, that is still in the process of happening right now, and that will continue to happen as we move forward into the future. The long-term trends that are ripping our economy to shreds continue to intensify, and our leaders are not doing anything to fix our underlying fundamental problems.
And the financial crisis that I warned would start during 2015 and accelerate in 2016 has already begun. More than half of all major global stock market indexes are down by at least 10 percent year to date, and some of them have plummeted by more than 30 or 40 percent. Trillions of dollars of wealth has been wiped out around the globe, and this is just the beginning.
All of the numbers tell us the same thing.
Big trouble is ahead.
My job is to inform you of these things. What you choose to do with this information is up to you.
Off the microphone of RE
Follow us on Twitter @doomstead666
Friend us on Facebook
Aired on the Doomstead Diner on July 22, 2015
Visit the New Diner News Page for Daily Updates from around the Collapse Blogosphere
Get the End of More on Amazon.com
Discuss this article at the Podcast Table inside the Diner
Recently, we had the opportunity to talk with Norman Pagett, one of the Authors of the End of More, and excellent Primer for people new to the world of Industrial Civilization Collapse and Population Overshoot. Norman resides in Shropshire, England, right at the heart of where the Industrial Revolution began in the early 1700s with the invention of the Steam Engine, and its early application in pumping the water out of Coal Mines.
In this first part of our discussions with Norman, we go over the early history of the Industrial Revolution and its expansion in the early years.
Much more to come in future episodes. We have a few hours of collapse chat still to wade through and edit here. Meanwhile, enjoy our Collapse analysis of the day here on the Doomstead Diner.
RE
Snippet: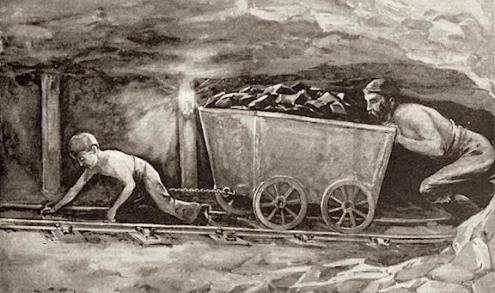 RE: …I don't know how much do you followed any of the old Dickens stories about the dirty state of London back in the early nineteenth century as a result of coal burning?
Norman: Yes I do. In fact two things which expanded London and other cities as well because all of them was the go to transport that's rail transport and the output of sewage, because if you've got a city with a million people in it you've got an awful lot of sewage and you've got to get rid of it, and the only way you can get rid of it was building a sewage system which could only be built with bricks, and the heat needed in vast quantities could only came from coal. So coal firms were about sixty or seventy miles from London where the bricks were fired and they had to be transported into the city by train, and then from that they use the six million bricks to build the London sewage system, which was then pumped out from the London Centre right to the estuary on the North Sea, and then the big engines out there which pumped the sewage into the sea and was just discharged and got rid of . Now again you're talking not just about pumping the water out of the coal mines you're talking about pumping water into the city fresh water in some way and then taking sewage and pumping it out of the city. So those two processes then enable cities to start growing to much larger sizes than they had ever before and so that was a prrocess there that allowed the sytem to take off…
For the rest, LISTEN TO THE INTERVIEW!!!