From the keyboard of Surly1
Follow us on Twitter @doomstead666
Like us on Facebook
Anthony Freda
Originally published on the Doomstead Diner on December 10, 2018
"I think there are good people on both sides."
― Donald J. Trump
---
Let's be clear: this article rejects the notion that both the right and left are equally culpable in the endless political battle for hearts and minds. This is sometimes expressed as the "k'rupt duopoly," ""both sides do it," and "voting doesn't matter." While true that many of the problems afflicting this country span decades and include administrations from both parties, much of what we face stems from the tendency to kick the can down the road and avoid the pain of near term electoral consequences.
Just this week, the unindicted co-conspirator otherwise known by his new nickname, "Individual 1" noted, that the national debt would reach a critical mass only after his possible second term in office, replied, "Yeah, but I won't be here." All too typical.
"Both-siderism" is a feeble, lazy attempt on the part of media to "balance" their coverage by resorting to the trope that "both sides" are equally culpable. This is part of "gaslighting the world," as remarkably expressed above by the work of Anthony Freda.
Both-siderism is false equivalency, a verbal sleight-of-hand which posits that my peccadillo is as grievous as your armed robbery. Trump's "grab 'em by the pussy" was thus answered with, "but her emails," and thus emotionally balanced, neutralized, and quickly forgotten. Both-siderism is a first cousin to "whataboutism," a favored trope of the right and of internet trolls truing to muddy the waters and change the subject in a losing argument. And both derive from the Tu quoque logical fallacy, also known as the appeal to hypocrisy..
One of my many unpaid jobs as Diner busboy and janitor is as primary administrator of the Diner Facebook page. I post articles which appear in the Forum, the Doomstead Diner Daily, and my own musings. I had recently posted an article that the Office of Trump tax lawyer Edward Burke had been raided by FBI agents, and that the dominoes were starting to fall badly for Trump in an extremely bad week for Making America Grate Again.
One of our respondents, Tony, was quick to offer an object lesson:
DNC grasping at straws. Get ready for more pain in 2020…one way or the other, U.S. politics is a freak show. But this ploy would only work in a week with two Tuesday's.
Contrary, who is one of the admins of the page, replied in reasonably good humor,
Those are some pretty big straws. It's funny how closely Cohen's testimony aligns with the Steele dossier. I'm so loving this. It's like Christmas is coming early… Yep. Raided Deutsch Bank today, too. Deck them halls, we'll have a whole week of Tuesdays!
And then Tony kicked open the lid to the shitter:
What about the Clinton crime syndicate? They haven't fallen, have they? Why isn't Hillary behind bars? How many felonies did she commit, all unpunished? The problem with U.S. crony politics is that crooks can get away with anything in your country, because they have money and power. Another nail in the coffin.
Having nothing to do with the topic at hand. To which I replied,
"Whataboutism" is a crime against nature employed by people who otherwise got nuthin'. I am currently working on an article for the Diner blog about whataboutism and it's twin, "both-siderism." False equivalencies, all. I can't stand Hillary myself, (and hold her class traitor husband in deeper contempt), but the simple fact is that the Clintons have been investigated more than anyone in history, and NOTHING has stuck except a load on a blue dress. Nothing. No Hillary crimes, no felonies, no abuses of the Clinton Foundation. Nothing but rumors and lies spread by the right wing echo chamber. So put your Clinton noisemakers away: they don't work here.
The truth is that one side cheats. One side is the TV villain who grabs a handful of sand and flings it at his eyes of the hero. That's the far right, now identified as "Trumpists" or "the Republican party" (no longer any difference.) Every time you hear someone in the media say, reflexively, "It's both sides, both sides," you are in the presence of an enabling mechanism for cutting the nutcase out of the truth.
Use of these dodges accelerated last year with Trump's refusal to denounce white supremacist and neo-Nazi groups in the wake of the murder of Heather Heyer. Trump famously equivocated the neo-Nazis and their crimes with the counter-protestors. Refer to the lead quote for this article. No fascists, no antifa, but that's not nearly good enough for the far right.
It's not just for social media or around the Thanksgiving dinner table: both-siderist media fatcats make handsome livings positing false equivalency between left and right, with the left are now represented by what used to be moderate Republicans, and the right are represented by seething, armed Nazis and Republiconfederates. The media thus provide undeserved moral cover for these retrogrades and effectively move the "center" of political discourse continually to the right.
There are always those who want to "hug it out, bro," and to those I offer the back of my hand. These false equivalency-seekers try hard to find a middle ground in our current politics. But after 40 years of conservative governance increasingly debased by the malefactors of great wealth, the political donor class and their media hey-boys, that "center" is now located in what used to be called "hard right."
The preening, glossy-coated corporate lapdogs of the mainstream media thus offer legitimacy and a fresh coat of paint to the politically discredited who want to come slinking back to legitimacy after their leader goes tits-up. Trump's presidency will eventually end, and his current supporters will predictably want to hose away the stench. They will present themselves as appalled by both their party's past and the Democrats' present, and will promise a more responsible future based on fresh rebranding.
It happened with Bush: after it became impossible to wash off the stink of Bush politics, the "Tea Party™" was born, and your Crazy Uncle Liberty was washed clean in the blood of the lamb, reborn as an "Independent" in a tri-corn hat along with his Revolutionary War cosplayer friends.
Watch as more rats go careening off the good ship Trump. You already see the Bill Kristols and Max Boots of the world present as "Never-Trumpers," spouting their usual right wing dogma wrapped in opposition to Orange Jesus. (It still amuses me that people insist MSNBC is "liberal.") Corporate media always prepares the lifeboats for these people. Look at what Fuck Toad reportedly did with "Press the Meat" recently: had on a Heritage Foundation rep to refute climate change.
So when I take over, I'm rounding up the Chuck Toddses, Kathleen Parkers, Jeff Greenfields, David Fucking Brookses, Ron Forniers, Michael Smerconishes and Andrew Sullivans of the world, and putting them on an island where they can bleat "it's time to denounce the harsh partisans who feed on polarization" to one another while lighting their own farts.
Now, I am not entirely unreasonable, although it's a position I prefer. Some people do have a mix of affiliations, and assert that both parties are too controlled by their most strident, uncivil, and extreme elements. To which I reply, "Have you SEEN the Democrats?" And to which I raise a chorus of "Which Side Are You On?"
That fact is that both sides don't. Both sides are not responsible for the recent slaughter in Squirrel Hill, or for the spewing of hateful and divisive rhetoric that enabled it.
Both sides don't have a President* who exhorts hate, encourages bloodshed, and who appeals to the darkest aspects of the spirit.
Both sides haven't resurrected a slur used by murderous dictators like Hitler and Stalin to denounce the "Fake News Media, the true Enemy of the People" while spewing provable falsehoods every day.
Both sides don't kidnap children, or target them with tear gas when appearing at our border to request asylum. And then accuse the victims of being used as "human shields."
Both sides didn't launch a presidential campaign on the premise that Mexicans are "rapists" and "drug dealers."
Both sides didn't equate protestors with armed Nazis, and post Charlottesville call the Nazis "very fine people."
Both sides didn't didn't call for a "total and complete shutdown" of Muslim refugees entering the country.
Both sides did not assert, without proof, that "criminals and unknown Middle Easterners" had infiltrated the migrant group of several thousand headed to the U.S. after fleeing violence in their home countries.
One could go on. But to what point?
---
There is politics. And there is evil.
Compromise used to be a value in politics, before the Rs, led by Leroy N. Gingrich, redefined politics as war and his political adversaries as enemies to be destroyed. It is hard to negotiate with someone who wants you dead. Recognizing this fact is a necessary survival skill left-leaners are slow to adopt.
No more.
Those who say "both sides are the same," "all politicians are corrupt" and "nothing ever changes anyhow," or "voting doesn't matter" are simply attempting to justify why they don't have to expend the energy to address injustice or spend the courage to take a stand to affirm the truth..
All this, for what? For winning an argument, a news cycle? No, for winning a war.
The Republican donor class has a long term plan, of which you will hear nothing, but which will be made evident in sculptural relief by their deeds. The donor class has determined the most efficient way of waging war on democracy is on multiple fronts, and on a long term time frame. A gaggle of billionaires are sick and tired of the government telling them what they may and may not do, and have made common cause with any group who hates the government. Which includes wingnuts, bigots, neo-nazis, anti science fundamentalists, gun nuts, militia nuts, homophobes, Proud Boys, serial masturbators and Klansmen. These hateful lunatics despise the government because the government provides a check on their basest instincts.
This is why the owners of this dark money project support Trump, whom they generally (if secretly) detest. He is a battering ram to enable and consolidate control over the judiciary, by which the donor class can keep a meaty thumb on the scales of social progress and justice. It's yielded two Supremes so far, and has swollen the federal judiciary with Federalist-society-vetted clones. The dark money boys are patient, and like rust, they never sleep.
Control of the judges and the courts is why a bunch of billionaires have paid to harness all these assholes, to put them to work tearing down the government so that they don't have to pay any goddamn taxes. And they'll select judges who will ratify their political vandalism.
That's the long term game. The failure to recognize it, and to posit a false equivalency between this hateful agenda and democratic norms is why "both-siderism" and "whataboutism" are such pernicious tools wielded by the well-meaning but inept. So to both-siderists, whataboutists and "centrists" of all stripes, I offer the opportunity to kiss my ass. I'll see you in the streets.
---
Surly1 is an administrator and contributing author to Doomstead Diner. He is the author of numerous rants, screeds and spittle-flecked invective here and elsewhere. He lives a quiet domestic existence in Southeastern Virginia with his wife Contrary. Descended from a long line of people to whom one could never tell anything, all opinions are his and his alone, because he paid full retail for everything he has managed to learn.
Off the keyboard of Jim Quinn
Follow us on Twitter @doomstead666
Friend us on Facebook
Published on The Burning Platform on May 25, 2014
Discuss this article at the Economics Table inside the Diner
The definition of death rattle is a sound often produced by someone who is near death when fluids such as saliva and bronchial secretions accumulate in the throat and upper chest. The person can't swallow and emits a deepening wheezing sound as they gasp for breath. This can go on for two or three days before death relieves them of their misery. The American retail industry is emitting an unmistakable wheezing sound as a long slow painful death approaches.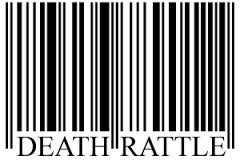 It was exactly four months ago when I wrote THE RETAIL DEATH RATTLE. Here are a few terse anecdotes from that article:
The absolute collapse in retail visitor counts is the warning siren that this country is about to collide with the reality Americans have run out of time, money, jobs, and illusions. The exponential growth model, built upon a never ending flow of consumer credit and an endless supply of cheap fuel, has reached its limit of growth. The titans of Wall Street and their puppets in Washington D.C. have wrung every drop of faux wealth from the dying middle class. There are nothing left but withering carcasses and bleached bones.
Once the Wall Street created fraud collapsed and the waves of delusion subsided, retailers have been revealed to be swimming naked. Their relentless expansion, based on exponential growth, cannibalized itself, new store construction ground to a halt, sales and profits have declined, and the inevitable closing of thousands of stores has begun.
The implications of this long and winding road to ruin are far reaching. Store closings so far have only been a ripple compared to the tsunami coming to right size the industry for a future of declining spending. Over the next five to ten years, tens of thousands of stores will be shuttered. Companies like JC Penney, Sears and Radio Shack will go bankrupt and become historical footnotes. Considering retail employment is lower today than it was in 2002 before the massive retail expansion, the future will see in excess of 1 million retail workers lose their jobs. Bernanke and the Feds have allowed real estate mall owners to roll over non-performing loans and pretend they are generating enough rental income to cover their loan obligations. As more stores go dark, this little game of extend and pretend will come to an end.
Retail store results for the 1st quarter of 2014 have been rolling in over the last week. It seems the hideous government reported retail sales results over the last six months are being confirmed by the dying bricks and mortar mega-chains. In case you missed the corporate mainstream media not reporting the facts and doing their usual positive spin, here are the absolutely dreadful headlines:
Wal-Mart Profit Plunges By $220 Million as US Store Traffic Declines by 1.4%
Target Profit Plunges by $80 Million, 16% Lower Than 2013, as Store Traffic Declines by 2.3%
Sears Loses $358 Million in First Quarter as Comparable Store Sales at Sears Plunge by 7.8% and Sales at Kmart Plunge by 5.1%
JC Penney Thrilled With Loss of Only $358 Million For the Quarter
Kohl's Operating Income Plunges by 17% as Comparable Sales Decline by 3.4%
Costco Profit Declines by $84 Million as Comp Store Sales Only Increase by 2%
Staples Profit Plunges by 44% as Sales Collapse and Closing Hundreds of Stores
Gap Income Drops 22% as Same Store Sales Fall
American Eagle Profits Tumble 86%, Will Close 150 Stores
Aeropostale Losses $77 Million as Sales Collapse by 12%
Best Buy Sales Decline by $300 Million as Margins Decline and Comparable Store Sales Decline by 1.3%
Macy's Profit Flat as Comparable Store Sales decline by 1.4%
Dollar General Profit Plummets by 40% as Comp Store Sales Decline by 3.8%
Urban Outfitters Earnings Collapse by 20% as Sales Stagnate
McDonalds Earnings Fall by $66 Million as US Comp Sales Fall by 1.7%
Darden Profit Collapses by 30% as Same Restaurant Sales Plunge by 5.6% and Company Selling Red Lobster
TJX Misses Earnings Expectations as Sales & Earnings Flat
Dick's Misses Earnings Expectations as Golf Store Sales Plummet
Home Depot Misses Earnings Expectations as Customer Traffic Only Rises by 2.2%
Lowes Misses Earnings Expectations as Customer Traffic was Flat
Of course, those headlines were never reported. I went to each earnings report and gathered the info that should have been reported by the CNBC bimbos and hacks. Anything you heard surely had a Wall Street spin attached, like the standard BETTER THAN EXPECTED. I love that one. At the start of the quarter the Wall Street shysters post earnings expectations. As the quarter progresses, the company whispers the bad news to Wall Street and the earnings expectations are lowered. Then the company beats the lowered earnings expectation by a penny and the Wall Street scum hail it as a great achievement.  The muppets must be sacrificed to sustain the Wall Street bonus pool. Wall Street investment bank geniuses rated JC Penney a buy from $85 per share in 2007 all the way down to $5 a share in 2013. No more needs to be said about Wall Street "analysis".
It seems even the lowered expectation scam hasn't worked this time. U.S. retailer profits have missed lowered expectations by the most in 13 years. They generally "beat" expectations by 3% when the game is being played properly. They've missed expectations in the 1st quarter by 3.2%, the worst miss since the fourth quarter of 2000. If my memory serves me right, I believe the economy entered recession shortly thereafter. The brilliant Ivy League trained Wall Street MBAs, earning high six digit salaries on Wall Street, predicted a 13% increase in retailer profits for the first quarter. A monkey with a magic 8 ball could do a better job than these Wall Street big swinging dicks.
The highly compensated flunkies who sit in the corner CEO office of the mega-retail chains trotted out the usual drivel about cold and snowy winter weather and looking forward to tremendous success over the remainder of the year. How do these excuse machine CEO's explain the success of many high end retailers during the first quarter? Doesn't weather impact stores that cater to the .01%? The continued unrelenting decline in profits of retailers, dependent upon the working class, couldn't have anything to do with this chart? It seems only the oligarchs have made much progress over the last four decades.
Retail CEO gurus all think they have a master plan to revive sales. I'll let you in on a secret. They don't really have a plan. They have no idea why they experienced tremendous success from 2000 through 2007, and why their businesses have not revived since the 2008 financial collapse. Retail CEOs are not the sharpest tools in the shed. They were born on third base and thought they hit a triple. Now they are stranded there, with no hope of getting home. They should be figuring out how to position themselves for the multi-year contraction in sales, but their egos and hubris will keep them from taking the actions necessary to keep their companies afloat in the next decade. Bankruptcy awaits. The front line workers will be shit canned and the CEO will get a golden parachute. It's the American way.
The secret to retail success before 2007 was: create or copy a successful concept; get Wall Street financing and go public ASAP; source all your inventory from Far East slave labor factories; hire thousands of minimum wage level workers to process transactions; build hundreds of new stores every year to cover up the fact the existing stores had deteriorating performance; convince millions of gullible dupes to buy cheap Chinese shit they didn't need with money they didn't have; and pretend this didn't solely rely upon cheap easy debt pumped into the veins of American consumers by the Federal Reserve and their Wall Street bank owners. The financial crisis in 2008 revealed everyone was swimming naked, when the tide of easy credit subsided.
The pundits, politicians and delusional retail CEOs continue to await the revival of retail sales as if reality doesn't exist. The 1 million retail stores, 109,000 shopping centers, and nearly 15 billion square feet of retail space for an aging, increasingly impoverished, and savings poor populace might be a tad too much and will require a slight downsizing – say 3 or 4 billion square feet. Considering the debt fueled frenzy from 2000 through 2008 added 2.7 billion square feet to our suburban sprawl concrete landscape, a divestiture of that foolish investment will be the floor. If you think there are a lot of SPACE AVAILABLE signs dotting the countryside, you ain't seen nothing yet. The mega-chains have already halted all expansion. That was the first step. The weaker players like Radio Shack, Sears, Family Dollar, Coldwater Creek, Staples, Barnes & Noble, Blockbuster and dozens of others are already closing stores by the hundreds. Thousands more will follow.
This isn't some doom and gloom prediction based on nothing but my opinion. This is the inevitable result of demographic certainties, unequivocal data, and the consequences of a retailer herd mentality and lemming like behavior of consumers. The open and shut case for further shuttering of 3 to 4 billion square feet of retail is as follows:
There is 47 square feet of retail space per person in America. This is 8 times as much as any other country on earth. This is up from 38 square feet in 2005; 30 square feet in 2000; 19 square feet in 1990; and 4 square feet in 1960. If we just revert to 2005 levels, 3 billion square feet would need to go dark. Does that sound outrageous?
Annual consumer expenditures by those over 65 years old drop by 40% from their highest spending years from 45 to 54 years old. The number of Americans turning 65 will increase by 10,000 per day for the next 16 years. There were 35 million Americans over 65 in 2000, accounting for 12% of the total population. By 2030 there will be 70 million Americans over 65, accounting for 20% of the total population. Do you think that bodes well for retailers?
Half of Americans between the ages of 50 and 64 have no retirement savings. The other half has accumulated $52,000 or less. It seems the debt financed consumer product orgy of the last two decades has left most people nearly penniless. More than 50% of workers aged 25 to 44 report they have less than $10,000 of total savings.
The lack of retirement and general savings is reflected in the historically low personal savings rate of a miniscule 3.8%. Before the materialistic frenzy of the last couple decades, rational Americans used to save 10% or more of their personal income. With virtually no savings as they approach their retirement years and an already extremely low savings rate, do retail CEOs really see a spending revival on the horizon?
If you thought the savings rate was so low because consumers are flush with cash and so optimistic about their job prospects they are unconcerned about the need to save for a rainy day, you would be wrong. It has been raining for the last 14 years. Real median household income is 7.5% lower today than it was in 2001. Retailers added 2.7 billion square feet of retail space as real household income fell. Sounds rational.
This decline in household income may have something to do with the labor participation rate plummeting to the lowest level since 1978. There are 247.4 million working age Americans and only 145.7 million of them employed (19 million part-time; 9 million self-employed; 20 million employed by the government). There are 92 million Americans, who according to the government have willingly left the workforce, up by 13.3 million since 2007 when over 146 million Americans were employed. You'd have to be a brainless twit to believe the unemployment rate is really 6.3% today. Retail sales would be booming if the unemployment rate was really that low.
With a 16.5% increase in working age Americans since 2000 and only a 6.5% increase in employed Americans, along with declining real household income, an inquisitive person might wonder how retail sales were able to grow from $3.3 trillion in 2000 to $5.1 trillion in 2013 – a 55% increase. You need to look no further than your friendly Too Big To Trust Wall Street banks for the answer. In the olden days of the 1970s and early 1980s Americans put 10% to 20% down to buy a house and then systematically built up equity by making their monthly payments. The Ivy League financial engineers created "exotic" (toxic) mortgage products requiring no money down, no principal payments, and no proof you could make a payment, in their control fraud scheme to fleece the American sheeple. Their propaganda machine convinced millions more to use their homes as an ATM, because home prices never drop. Just ask Ben Bernanke. Even after the Bernanke/Blackrock fake housing recovery (actual mortgage originations now at 1978 levels) household real estate percent equity is barely above 50%, well below the 70% levels before the Wall Street induced debt debacle. With the housing market about to head south again, the home equity ATM will have an Out of Order sign on it.
We hear the endless drivel from disingenuous Keynesian nitwits about government and consumer austerity being the cause of our stagnating economy. My definition of austerity would be an actual reduction in spending and debt accumulation. It seems during this time of austerity total credit market debt has RISEN from $53.5 trillion in 2009 to $59 trillion today. Not exactly austere, as the Federal government adds $2.2 billion PER DAY to the national debt, saddling future generations with the bill for our inability to confront reality. The American consumer has not retrenched, as the CNBC bimbos and bozos would have you believe. Consumer credit reached an all-time high of $3.14 trillion in March, up from $2.52 trillion in 2010. That doesn't sound too austere to me. Of course, this increase is solely due to Obamanomics and Bernanke's $3 trillion gift to his Wall Street owners. The doling out of $645 billion to subprime college "students" and subprime auto "buyers" since 2010 accounts for more than 100% of the increase. The losses on these asinine loans will be epic. Credit card debt has actually fallen as people realize it is their last lifeline. They are using credit cards to pay income taxes, real estate taxes, higher energy costs, higher food costs, and the other necessities of life.
The entire engineered "recovery" since 2009 has been nothing but a Federal Reserve/U.S. Treasury conceived, debt manufactured scam. These highly educated lackeys for the establishment have been tasked with keeping the U.S. Titanic afloat until the oligarchs can safely depart on the lifeboats with all the ship's jewels safely stowed in their pockets. There has been no housing recovery. There has been no jobs recovery. There has been no auto sales recovery. Giving a vehicle to someone with a 580 credit score with a 0% seven year loan is not a sale. It's a repossession in waiting. The government supplied student loans are going to functional illiterates who are majoring in texting, facebooking and twittering. Do you think these indebted University of Phoenix dropouts living in their parents' basements are going to spur a housing and retail sales recovery? This Keynesian "solution" was designed to produce the appearance of recovery, convince the masses to resume their debt based consumption, and add more treasure into the vaults of the Wall Street banks.
The master plan has failed miserably in reviving the economy. Savings, capital investment, and debt reduction are the necessary ingredients for a sustained healthy economic system. Debt based personal consumption of cheap foreign produced baubles & gadgets, $1 trillion government deficits to sustain the warfare/welfare state, along with a corrupt political and rigged financial system are the explosive concoction which will blow our economic system sky high. Facts can be ignored. Media propaganda can convince the willfully ignorant to remain so. The Federal Reserve can buy every Treasury bond issued to fund an out of control government. But eventually reality will shatter the delusions of millions as the debt based Ponzi scheme will run out of dupes and collapse in a flaming heap.
The inevitable shuttering of at least 3 billion square feet of retail space is a certainty. The aging demographics of the U.S. population, dire economic situation of both young and old, and sheer lunacy of the retail expansion since 2000, guarantee a future of ghost malls, decaying weed infested empty parking lots, retailer bankruptcies, real estate developer bankruptcies, massive loan losses for the banking industry, and the loss of millions of retail jobs. Since I always look for a silver lining in a black cloud, I predict a bright future for the SPACE AVAILABLE and GOING OUT OF BUSINESS sign making companies.