From the keyboard of Surly1
Follow us on Twitter @doomstead666
Like us on Facebook
Anthony Freda
Originally published on the Doomstead Diner on February 26, 2019
"I am dreaming of a way to kill every last person on earth"
― Christopher Paul Hasson, white nationalist domestic terrorist
---
Last week was really a week for doom-related news!
Bernie Sanders checked in to a 2020 presidential bid, Karl Lagerfeld checked out. Big week in sex crimes, as the Pope presided over a summit on clerical abuse at the Vatican, Patriots owner Robert Kraft endured his second deflated-balls episode when he was charged with soliciting prostitution as part of a sex trafficking sting in a Florida spa, and singer R. Kelly was arrested for sex with underaged girls. California led 16 states in lawsuit against Trump's spurious emergency declaration, Republicans finally found an example of "voter fraud" when North Carolina ordered a new U.S. House election after a vote 'tainted' by corruption…by Republicans. Roger Stone got slapped with a gag order for posting a picture of the presiding judge in his case with crosshairs. Shooting started in Venezuela as the closed the border with Colombia..
But we're not going to review the headlines, because no matter how much havoc is being wreaked by Trump, his minions, and his adoption of the neocon agenda in Venezuela, there are real existential threats to review. Climate change, the loss of biodiversity and food supply, and an active duty white nationalist and would-be mass-murderer/ Trump avenger focus the attention elsewhere.
---
But We Can't Be Out of Food: We Still Have Chips

One of the common themes the weird rest of this franchise is that collapse is already here. We are living through a slow-motion collapse in terms of climate, biodiversity, and threats to our way of life that simply does not conform to our limited attention spans or are readily observable timeframe.Common Dreams published a summary of a first-of-its kind report by the Food and Agriculture Organization of the United Nations (FAO).highlighting the rapid, widespread loss of many of the world's plant and animal species. This poses a direct threat to the food supply of human beings.
What we often fail to realize is that our farming practices, especially industrial agriculture, is a monoculture reliant on a very small subset of foods. Currently only nine crops account for 66 percent of total crop production, according to FAO.
"Our forests are shrinking. As they disappear so do the plants, insects, and animals they host…Now is the time to act."
They breathlessly announced that,"This should be at the top of every news bulletin and every government's agenda around the world." But since we hear it all the time, we tend to yawn, check our watches, and change the channel. But here is the nut of the report:
According to FAO's study of 91 countries around the world, the loss of thousands of plant and animal species is affecting air and water quality, tree and plant health, and worsening the spread of disease among livestock—all with dangerous implications for the human population and humans' food sources.

"Less biodiversity means that plants and animals are more vulnerable to pests and diseases. Compounded by our reliance on fewer and fewer species to feed ourselves, the increasing loss of biodiversity for food and agriculture puts food security and nutrition at risk," said Jose Graziano da Silva, FAO's director-general.
It gets worse. FAO blames changes in land and water management, pollution, the warming and the ongoing climate crisis as factors for a catastrophic loss of biodiversity.
Out of 6,000 plant species that can be cultivated for food, fewer than 200 are used significantly as food sources. Where countries, particularly in the third world, lose wild or native food sources, they rely more heavily on industrially-processed foods. Which provides vibrant export market opportunities for Midwestern agribusiness interests. What a coincidence. It's a miracle.
Reports like this come in, and we read them, rub our collective chins, and wonder what is to be done. But as long as Harris Teeter remains open down the road, we're not really out of food, in the same way that if I still have checks, I can't possible be out of money.
---
Xraymike is back after a long hiatus, with an article entitled, The Inconvenient Truth of Modern Civilization's Inevitable Collapse. And he wastes no time in getting directly to the point:
Today's global consumption of fossil fuels now stands at roughly five times what it was in the 1950s, and one-and-half times that of the 1980s when the science of global warming had already been confirmed and accepted by governments with the implication that there was an urgent need to act.
He points out that the 20 warmest years on record have been in the past 22 years, with the last four also being the top warmest years, according to the World Meteorological Organization (WMO). Global warming leads directly to Ice loss. In Antarctica ice loss has sextupled since the 1970s and Greenland's pace of ice loss has increased fourfold since 2003. As the Arctic warms, new commerce comes to the top of the world. The Arctic Ocean has lost 95% of its old ice and total volume of ice. But opportunity knocks, for business and tourism.
Meanwhile microplastics enter the food supply with unknown effects. showing up even in Arctic birds. And these are the plastics too small to be seen. The plastic crap large enough to be seen is a different story:
There are five massive oceanic gyres filled with pelagic plastics, chemical sludge and other human detritus; one of the these gyres, named the Great Pacific Garbage Patch, is three times the size of France and growing exponentially.
And of course governments are ill-equipped to do anything about it, because who runs the government? Also, extractive industries pay for well-funded climate disinformation campaigns, and the prevaricator in chief has made his business to put his tiny, if meaty, thumb on the scale.
At a time when compassion, cooperation, and scientific reasoning are needed to deal with the multiple crises we face, politicians are instead conjuring up xenophobia, racism, and conspiracy theories. As inequality grows and the once-stable climate continues to unravel, expect the super-rich to barricade themselves behind heavily fortified mansions while treating climate refugees and the most vulnerable among us with extreme prejudice.
Migration from Latin America is near a 40-year low. But we still intend to build "that big beautiful wall," otherwise known as "the last Confederate monument," an erection dedicated to xenophobia and white rage. And to reelection in 2020.
There is more in this article, which is well worth the read, but let's just have Xraymike bottom-line this for you:
Humans recognized decades ago the threats they are now facing, yet nothing was done due to political inaction and industry malfeasance which continues to this very day. The scientists who wrote The Limits to Growth decades ago were expecting our political institutions to take action back in the 1970s, but they were met with ridicule and now we stand at the doorstep of modern civilization's collapse. Political inaction and regulatory capture by the fossil fuel industry appear to be intractable barriers that have condemned the human race to a hellish future. Anyone waiting for some sort of seminal climate change event that is going to galvanize the world's leaders into action will be tragically disappointed. If seeing the world's coral reefs dying, its glaciers disappearing, permafrost melting, and the steady uptick in extreme weather and wildfire events does not spur them to action, it is much too late to hope that any single event will ever do so.
The point being that, in terms of "collapse," we are well and truly in it, and there is little to be done about it, because the time for action has passed. And now here's Tammy with the weather.
---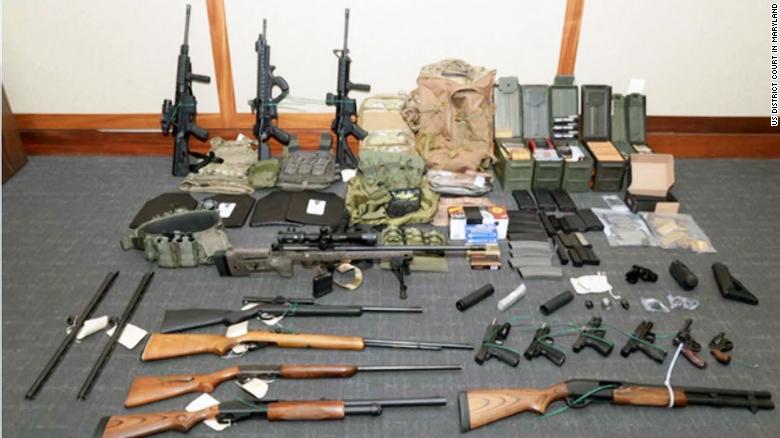 A 49-year-old Coast Guard lieutenant charged with stockpiling weapons and drugs is described as a "domestic terrorist" planning "to murder innocent civilians on a scale rarely seen in this country." But since terrorists in the post-truth era are never white, that story is pushed out of the news cycles by the tale of Jussie Smollett and his self inflicted hate crime, prompting release of the already-written stories that, see racial violence really doesn't exist in the United States. The families of Philando Castile, Tamir Rice and Eric Garner were not immediately available for comment.
This guy was planning to unleash a version of hell rarely seen outside of the Middle East. Court documents filed in the case indicate Christopher Paul Hasson espoused extremist and white supremacist views for years — aspiring to establish a "white homeland" — and say he is a "domestic terrorist bent on committing acts dangerous to human life that are intended to affect government conduct," including leading democrats and media figures.
Hasson, a self-described white nationalist living in Silver Spring, Md., was amassing firearms since at least 2017, while cultivating plans to launch a widespread attack on prominent Democratic lawmakers, including House Speaker Nancy Pelosi, and several high-profile television anchors from MSNBC and CNN.
"I am dreaming of a way to kill every last person on earth," Hasson wrote in a draft email dated June 2, 2017, that was uncovered by investigators. He researched the most effective methods to "cause complete destruction" by unleashing a biological attack on the public, followed by contamination of food supplies. He compiled a hit list including Chuck Schumer, Elizabeth Warren, Kirsten Gillibrand, Cory Booker, Pelosi, Alexandria Ocasio-Cortez, Maxine Waters, Beto O'Rourke, Van Jones, don Lemon and Joe Scarborough.
Investigators said Hasson conducted online searches that included "what if trump illegally impeached" and "civil war if trump impeached" after accessing computer files at his suburban Maryland home, according to Politico. He was apparently ready to spring into action to foment such a war.
"Much blood will have to be spilled to get whitey off the couch. … They will die as will the traitors who actively work toward our demise."
For all of this, the story is slipping into the memory hole despite many unanswered questions about Hasson and his racist goals. Yet few in the media aside from Arizona sites, where Hasson had local ties, are continuing to cover this apparent case of domestic white terrorism. An internet search on Feb. 26 revealed no updates outside of Arizona.
---
Berkshire Hathaway CEO Warren Buffett, the "Sage of Omaha," released his annual letter to shareholders. It is an optimistic letter in which he credits "the American tailwind" for BH's successes. He defends stock buybacks; he acknowledges the massive write-down from Kraft Heinz; and he addresses government debt and deficits while also taking a jab at gold-touting doomsayers. But almost as an aside, while assessing risks in insurance business, he warned about,"the big one." That would be some major catastrophe, fueled by climate change, that would cause economic losses in the trillions of dollars.
"When such a megacatastrophe strikes, we will get our share of the losses and they will be big — very big."
Buffett says the catastrophe may take the form of a natural disaster or could be something more surprising, like a cyber attack. But Buffett says Berkshire Hathaway "will be looking to add business the next day."
---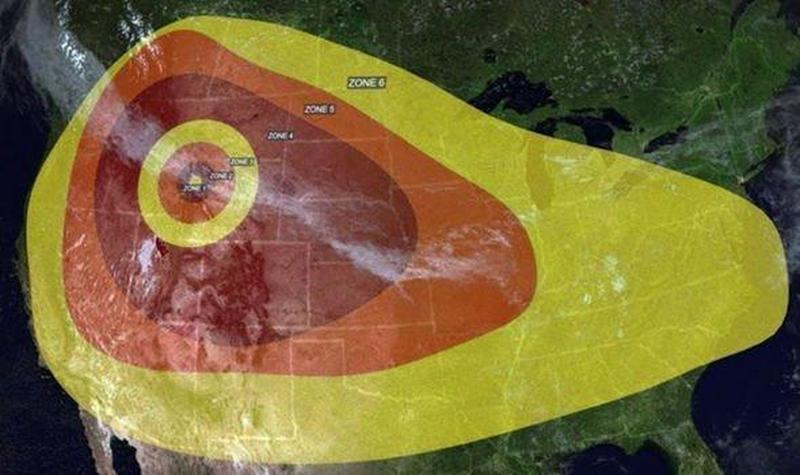 If things ever get too quiet around the collapsosphere, you can always rely on Yellowstone. That seismic mess continues to bubble under the earth's surface, and can always portend catastrophe on a slow news day. Michael Snyder tells us via Zero Hedge that scientists assure us that one day the absolutely massive Yellowstone supervolcano will once again experience a Category 8 eruption, and if it happened today it would "literally tear the guts out of the United States of America." That is why what has been happening at Yellowstone in recent months is so alarming.
We know that the ground has been rising and that "a 465-mile-long piece of molten rock" is moving upwards directly under Yellowstone. And we also know that the major geysers at Yellowstone were more active last year than in any other year in any of our lifetimes. Are these signs that an eruption is coming? We better hope not, because as Dr. Michio Kaku recently told Fox News, there is "a sleeping Godzilla underneath Yellowstone"…
The image of a slumbering Goliath ready to rip apart the US is always good to stoke fear. Kaku posits that the Yellowstone caldera would not blow all at once, that we'd get a warning. But what if we have already received warnings, and are sleeping through them?
Steamboat geyser erupted more times in 2018 than in any other year in history. The following comes from National Geographic…

The Yellowstone Volcano Observatory reports that Steamboat has now set a record by erupting a whopping 32 times in 2018, a personal best for the geyser for a single calendar year. Previously, this geyser made it as high as 29 paroxysms back in 1964.

Prior to last year, there had not been an eruption of the Steamboat geyser for three and a half years.

It is indeed possible that when Yellowstone finally erupts that we will get more of a warning than this. But it is also possible that we will not.
If Yellowstone blows, life as we have known it would instantly be over. Snyder estimates that "the immediate kill zone," or Zone 1, a radius of 100 miles, could see 70,000 people die instantly. Zone two, which starts after 100 miles, would be covered in 10ft of volcanic ash at 450C. After the second zone, one's chances of surviving increase, but would still find people heading east on impossibly clogged roads..
Is Yellowstone likely to blow this week or the next? No. Snyder suggests that Mt. Rainier and Mt. Fuji are better candidates. Such handwringing can sell books if you have them on offer, as Snyder does. But for those people who wish to imagine collapse around a single life-changing event, you could do much worse than a category eight super volcano erupting out of Yellowstone. But not this week.
---
Surly1 is an administrator and contributing author to Doomstead Diner. He is the author of numerous rants, screeds and spittle-flecked invective here and elsewhere. He lives a quiet domestic existence in Southeastern Virginia with his wife Contrary. Descended from a long line of people to whom one could never tell anything, all opinions are his and his alone, because he paid full retail for everything he has managed to learn.
From the keyboard of Surly1
Follow us on Twitter @doomstead666
Like us on Facebook
Originally published on the Doomstead Diner on September 9, 2018
"Real power is, I don't even want to use the word, fear."
― Donald Trump, interview with Bob Woodward, 2016
---
This was a week in which the pace of bizarre and unsettling news swirling through the White House could only be described as "epic," a thesaurus full of superlatives thus drained. Excerpts from Bob Woodward's book, "Fear: Trump in the White House," dropped, with the usual eruptions of "Lies!" and "Fake News!" uttered by the usual suspects. The book, which will be officially released on 9/11, promises to be a devastating, meticulously researched account of the Trump Presidency. This is Woodward's eighth book on a President; over 40 years, few have challenged his veracity. The book will be consulted as a first draft of the history of these dark times.
Major takeaways are that the work culture of Trump's White House is so toxic and volatile that many of 45's top staffers are in the habit of working around a scattered, unstable and uninformed boss.
Trump has been floundering and reacting out of stress as a result of the Russia investigation and related probes. "Fear" was the first of a one-two punch, followed up by the "Anonymous" op ed published in the NYT.
5 Takeaways From Bob Woodward's Book on the Trump White House outlines key points, with few surprises:
The Russia investigation is a constant source of anxiety for Mr. Trump, and his lawyers.

Mueller engaged in lively conversations for months with Mr. Trump's lawyers.

He's as ill-informed as you think: Trump's advisers are repeatedly stunned by his lack of interest in and knowledge of major issues.

Trump himself was not a primary source for the book.

John F. Kelly, the chief of staff, quickly soured on Mr. Trump
White House press secretary perpetual-motion-lie-machine Sarah Huckabee Sanders channeled her best Tammi Wynette with the usual dispatch:
"This book is nothing more than fabricated stories, many by former disgruntled employees, told to make the president look bad… Democrats and their allies in the media understand the President's policies are working and with success like this, no one can beat him in 2020 – not even close."
At least she's consistent. Trump was in rare form:
"The book means nothing, it's a work of fiction…If you look back at Woodward's past, he had the same problem with other presidents, he likes to get publicity, he sells some books."
Doubling down, he later tweeted:
Isn't it a shame that someone can write an article or book, totally make up stories and form a picture of a person that is literally the exact opposite of the fact, and get away with it without retribution or cost. Don't know why Washington politicians don't change libel laws?
Those quoted rushed to declaim their innocence and to deny that they had said any such thing. Mattis was quoted as saying Trump had the "understanding of a fifth-or-sixth grader." Kelly is quoted as saying of Orange Jesus, "He's an idiot. It's pointless to try to convince him of anything. He's gone off the rails. We're in Crazytown." His former attorney, John Dowd, gets credit for "Don't testify. It's either that or an orange jumpsuit." Gary Cohn removed papers from the Resolute desk. Trump is quoted as having called his attorney general "mentally retarded," and a "traitor." Just a taste: the first ones are free.
Woodward's usual technique is to exhaustingly interview many people people close to or in the White House on "deep background," meaning their anonymity is assured. His books are based on hundreds of hours of firsthand reporting.
Woodward's reputation is pretty bulletproof. Not every detail is assured, but the gist is that his accounts are remarkably reliable. All 18 of his nonfiction books in the past 35 years have been national bestsellers and 12 have been No. 1 national nonfiction bestsellers. He also takes to the lecture circuit, where my wife and I saw him, and formed a minority-view opinion of his act. Yet for all that, he retains more credibility than the White House's current occupant.
---


The number two punch is the memo by "Anonymous" published in the NY Times. This really has our boy spun up, inviting him to instruct house hobbit Jeffy Bo to search for the guilty author, even though such an investigation would be patently illegal.
The unnamed author wrote:
"We believe our first duty is to this country, and the president continues to act in a manner that is detrimental to the health of our republic. That is why many Trump appointees have vowed to do what we can to preserve our democratic institutions while thwarting Mr. Trump's more misguided impulses until he is out of office."
The Times column — headlined "I Am Part of the Resistance Inside the Trump Administration", described a curious flavor of resistance is is indeed:
Ours is not the popular "resistance" of the left. We want the administration to succeed and think that many of its policies have already made America safer and more prosperous…

There are bright spots that the near-ceaseless negative coverage of the administration fails to capture: effective deregulation, historic tax reform, a more robust military and more.
This ain't a "resistance" I recognize. We're supposed to be somehow grateful? Charlie Pierce said it best when he called out
… the careerist bleatings of anonymous sources who would like you to know that, by enabling El Caudillo Del Mar-a-Lago and his long, slow slide into howling madness,they are really keeping him from doing some real damage to the country, and shouldn't we all be grateful for their noble, selfless work.
What the writer wants are Trumpian policies with less baggage, like fewer tweets or porn star payoffs. Trump later tweeted a one-word, all-caps reaction: "TREASON?" The search for the author began almost immediately and continues.
What this op-ed represents is and attempt to build lifeboats for those inside-the-Beltway conservatives who find themselves part of the Trump administration, but who envision the coming endgame, and imagine a life after Trump as part of a ruling Coalition of winners who will inherit power after the Great Man is gone. This is the same technique employed by conservatives after Bush the lesser, in which they shunned Bush, donned tricorn hats, and branded themselves "Tea Party independents." This only works because Americans, as a rule, remember nothing. Not for nothing did Gore Vidal once referred to this country as the "United States of Amnesia."Thus we will we skate on the frozen lakes of hell before Trump offers testimony to the Special Counsel.
---
​Short takes
Some other things happened this week, but you may already be familiar with them. The confirmation hearings for Brett Kavanaugh occurred this week featuring a great deal of contention over hidden papers, demonstrations, and debate about whether or not the nominee had lied to Congress under oath..
Sen. Kamala Harris put Supreme Court nominee Brett Kavanaugh on edge with a surprise question at his confirmation hearing on whether he spoke with anyone about the investigation into Russian election meddling. This after a week of scorched-earth procedures and tactics to prevent Trump from appointing his own judge in a possible future impeachment trial. This includes the Republicans hiding documents proving that Kavanaugh may have committed perjury. Whether any of this will be enough to derail his confirmation is not known.
---
Michael Snyder sees harbingers in the fact that the rich have their own plans to survive the coming economic collapse (caused by out-of-control algorithms and flash trading) in survival bunkers being shipped from a Texas warehouse to the shores of New Zealand, where they're buried 11 feet underground. The rich are planning their bolt-holes. Their plans don't include us.
BHO returned to the campaign trail ahead of the midterms to rally the troops for the midterms, calling out Trump by name: "He is a symptom, not the cause." Obama is absolutely right, but he's decades too late.
The loutish, bigoted and aggressively ignorant nature of the Republican base has never been a mystery to anyone… since Lee Atwater unleashed "Willie Horton" nigh on to 40 years ago….except, apparently, to Republican analysts, pollsters, ad-men, every Never Trump Republican now out pimping a book, every conservative think tank, media outlet and the entire Beltway political press. And any right wing troll who wanders into these hallowed grounds.
As noted above, Republicans rebranded themselves as a mighty army of Imaginary "Independents" who always arrive on the verge of saving us all from the Extremes on Both Sides. They are trying to escape the righteous judgment of history by rebranding themselves as some sort of faux resistance.
The "Tea Party" was always an astroturfed fraud. Nothing less than a heavily funded, carefully coordinated political playtoy designed to herd the rubes — the latest layer of Koch-funded, Fox News-promoted bilge splashed over the same goddamn box full of bigots and Bible-thumpers who have comprised the backbone of the Republican Party for most of my adult life.
After they led Poppy away by his drool-cup, there were four kinds of people in the GOP: traitors (e.g. the Kochs), messianic dominionist nut jobs (e.g. Pence), useful idiots (e.g. Tea Tarty), and geriatric bigots on holiday from the John Birch Society. They have always been with us, but we made them wear shoes and leave the room when company came. These people are less conservatives than dangerous, bomb-throwing, vehicular-manslaughter-committing white nationalists and nazis.
In Conservatives Without Conscience, John Dean had it exact:
"Probably about 20 to 25 percent of the adult American population is so right-wing authoritarian, so scared, so self-righteous, so ill-informed, and so dogmatic that nothing you can say or do will change their minds… They would march American into a dictatorship and probably feel that things had improved as a result. They have the mentality of 'old-time religion' on a crusade and they generously give money, time and effort to the cause. They proselytize; they lick stamps; they put pressure on loved ones; and they revel in being loyal to a cohesive group of like thinkers. And they are so submissive to their leaders that they will believe and do virtually anything they are told. They are not going to let up and they are not going to go away."

They remain a minority, which is why they have to ease into control, one child-kidnapping, sanctuary-denying, flag-worshipping, pro-torture, Nike-burning, intolerant, anti-choice, anti-science, Republiconfederate skirmish at a time. No faux-sincere op-ed can disguise the cornpone, "Aw Shucks" Christopathy that, seen over the course of decades, has bumrushed this country relentlessly towards the coming authoritarian nightmare.
---
Surly1 is an administrator and contributing author to Doomstead Diner. He is the author of numerous rants, screeds and spittle-flecked invective here and elsewhere. He lives a quiet domestic existence in Southeastern Virginia with his wife Contrary. Descended from a long line of people to whom one could never tell anything, all opinions are his and his alone, because, by making every mistake in the book, he paid full retail for everything he has managed to learn.


Off the keyboard of Jim Quinn
Follow us on Twitter @doomstead666
Friend us on Facebook
Published on The Burning Platform on February 24, 2013
Discuss this article at the Kitchen Sink inside the Diner
…Censor and Snitch for the State
"The conscious and intelligent manipulation of the organized habits and opinions of the masses is an important element in democratic society. Those who manipulate this unseen mechanism of society constitute an invisible government which is the true ruling power of our country. We are governed, our minds are molded, our tastes formed, our ideas suggested, largely by men we have never heard of.
This is a logical result of the way in which our democratic society is organized. Vast numbers of human beings must cooperate in this manner if they are to live together as a smoothly functioning society. In almost every act of our daily lives, whether in the sphere of politics or business, in our social conduct or our ethical thinking, we are dominated by the relatively small number of persons who understand the mental processes and social patterns of the masses. It is they who pull the wires which control the public mind." – Edward Bernays – Propaganda
I find the quote above by Edward Bernays to be a perfect synopsis for everything that has come to pass over the last century. The world has become increasingly controlled by an invisible government of greedy Wall Street bankers, shadowy billionaires, immoral big business, crooked politicians, and the military industrial complex, with mammoth media conglomerates, purposefully using propaganda to manipulate and mold the minds of the masses in order to exert power and control over our lives. He wrote those words in 1928, when the only available forms of manipulation were newspapers and radio. Bernays would be ecstatic and delighted with the implements available today used by our corporate fascist state controllers as they deliver the electronic messaging guiding the public mind.
He never dreamed of television, the internet, social media, and the ability of corporations like Google, in full cooperation with the government, to censor the truth, while feeding misinformation and state sanctioned propaganda to the masses in such an efficient and effective mode. Compelling the masses to worship at the altar of technology, while idolizing the evil men running our largest banks and corporations, has been a prodigious success for the shadowy ruling power and their mass media propaganda agents. Mike Lofgren, former congressional insider and author of The Party Is Over: How Republicans Went Crazy, Democrats Became Useless and the Middle Class Got Shafted, describes these mysterious perfidious men as the Deep State:
Yes, there is another government concealed behind the one that is visible at either end of Pennsylvania Avenue, a hybrid entity of public and private institutions ruling the country according to consistent patterns in season and out, connected to, but only intermittently controlled by, the visible state whose leaders we choose.
My analysis of this phenomenon is not an exposé of a secret, conspiratorial cabal; the state within a state is hiding mostly in plain sight, and its operators mainly act in the light of day. Nor can this other government be accurately termed an "establishment."
 All complex societies have an establishment, a social network committed to its own enrichment and perpetuation. In terms of its scope, financial resources and sheer global reach, the American hybrid state, the Deep State, is in a class by itself. That said, it is neither omniscient nor invincible. The institution is not so much sinister (although it has highly sinister aspects) as it is relentlessly well entrenched.
Far from being invincible, its failures, such as those in Iraq, Afghanistan and Libya, are routine enough that it is only the Deep State's protectiveness towards its higher-ranking personnel that allows them to escape the consequences of their frequent ineptitude. – Mike Lofgren, Anatomy of the Deep State
The techno-narcissistic American public has been manipulated into falsely believing their iGadgets, Facebook, Twitter, and thousands of Apps have made them smarter, freer and safer. As Goethe proclaimed, the majority of willfully ignorant Americans are hopelessly enslaved, while falsely believing they are free. Our controllers, through relentless propaganda and misinformation pounded into our brains by the government controlled education system and unrelenting messaging by their mass media co-conspirators, have molded the minds and opinions of the vast majority into believing government and mega-corporations are beneficial and indispensable to their well-being.
The overwhelming majority have been conditioned like rats to believe anything their keepers feed them. In order to keep society running smoothly, with little dissent, thought, opposition or questioning, the Deep State utilizes all the tools at its disposal to manipulate, influence, coerce, bully and bribe the populace into passive submission. They've trained us to love our servitude. The Inner Party sees this as essential to their continued control, power and enrichment, while keeping the Proles impoverished, ignorant, fearful and distracted with bread and circuses.
The key weapon in their arsenal of obedience is technology and the mega-corporations that control the flow of information disseminated to the hypnotized mindless masses. The United States has devolved into a society where a few powerful unelected unaccountable men, controlling the levers of government, education, finance, and media are able to formulate the opinions, tastes, beliefs, and fears of the masses through the effective and subtle use of technology. They have tenaciously and unflinchingly fashioned a technology addiction among the masses in order to keep them distracted, entertained and uninterested in thinking, gaining knowledge, or comprehending their roles and responsibilities as citizens in a purportedly democratic republic.
The mass media, along with their corporate compatriots – Microsoft, Apple, Verizon, AT&T, Comcast, Yahoo, Facebook and Google, gather vast amounts of data, emails, phone calls, texts, internet searches, spending habits, credit information, passwords, videos and private personal information from an agreeable, gullible and trusting populace. Americans have a seemingly infinite capacity for blindly counting on the government and the corporatocracy to use this data in an honorable and ethical manner. But, as Edward Snowden has revealed, the corporate fascist state is collecting every shred of data on every American in a systematic and thorough way. We have voluntarily surrendered our privacy, liberties, and freedoms to mega-corporations like Google and their techno-brethren, who then willingly collaborate with Big Brother NSA and allow unfettered access to this private information.
The U.S. Constitution along with the First and Fourth Amendments are meaningless to these deceitful entities. Our freedoms have dissipated at the same rate we have adopted the technological "innovations" of Facebook, Twitter, and Google. We are being monitored, scrutinized, tracked and controlled by the technology we have exuberantly purchased from the mega-corporations stripping us of our freedom. Technological "progress" has actually resulted in a colossal regression in freedom, liberty, independence, choice, and intelligent questioning of authority. We having willingly submitted to the google shackles of tyranny in exchange for being entertained and amused by Angry Birds, Words with Friends, facebooking, texting, tweeting, posting selfies and statuses, and linking in.
"Technological progress has merely provided us with more efficient means for going backwards." – Aldous Huxley – Ends and Means
David versus the Nameless, Faceless Goliath Robot
"It is difficult to get a man to understand something, when his salary depends on his not understanding it." – Upton Sinclair – I, Candidate for Governor: And How I Got Licked
My enlightening encounter with the nameless, faceless $52 billion "non-evil doing" behemoth entity known as Google, over the last month, has clarified my understanding of how the invisible governing body of the Deep State uses the power of the all-mighty dollar to suppress dissent and obscure the truth. My inconsequential libertarian minded blog that attracts 15,000 visitors per day has been up and running for the last five years. I started my own blog because I didn't want to deal with ongoing censorship of my articles by Wall Street sellout blogs such as Seeking Alpha, Minyanville, and Financial Sense.
Their salary/living depended upon them not publishing articles critical of Wall Street and the government. My intention has never been to make a living from my blog. Any donations or incidental advertising revenue allowed me to upgrade my server capacity to handle more visitors. I'm certainly not averse to making money, but the sole purpose of my blog has been to try and open people's eyes to Wall Street criminality, political corruption, media propaganda, and the perilous financial state of our country. Therefore, I was pleasantly surprised when Google approved my website for ads in December.
I will admit my site has been essentially an un-moderated free for all going back to the very beginning in 2009. I do not believe in censorship or false civility. I attempt to induce anger and outrage with every article and post. These are desperate times and anger is the appropriate reaction. The country is on a burning platform of unsustainable policies and practices which threaten the future of our society. I'm pissed off and I want others to be just as pissed off. The regular commenters are intelligent, critical, opinionated, and not afraid to unload with both barrels on fellow regulars or newbies. The language is often strong and the posting of pictures and images adds to the frat house like atmosphere. Regular contributors include doctors, farmers, engineers, business owners, accountants, teachers, waitresses, students, homemakers, soldiers, spies, and retirees. The wild-west nature of the site is not a secret to anyone who has ventured a peek. I assume Google did a review of the site before approving it for their Adsense program.
I started running Google ads on my site in early December. My site operated as it always had. The $30 per day in ad revenue was welcome, as it helped defray my server and security expenses. I experience a surge in visitors whenever I publish an article that gets picked up by fellow truth telling alternative media websites like Zero Hedge, 321 Gold, Washington's Blog, Jesse's Cafe Americain, Steve Quayle, Monty Pelerin, Doug Ross, Market Oracle, Dollar Collapse, TF Metals and several others. I published an article called The Retail Death Rattle on January 20 which obliterated the false government and mainstream media recovery storyline and skewered the delusional incompetent CEOs of mega-retailers. It struck a nerve as it generated the highest visitor count in history for my site. It was even picked up by Wall Street Journal owned Marketwatch. My articles are highly critical of Wall Street, the Federal Reserve, corrupt Washington politicians and the feckless captured legacy media, but they usually fly under the radar of the ruling class. On January 22 Google disabled my ads for "policy violations". This is the vague non-specific description provided by the non-human policing bot:
Scraped content
It's important for a site displaying AdSense to offer significant value to the user by providing unique and relevant content, and not to place ads on auto-generated pages or pages with little to no original content. This may include, but is not limited to:
copying portions of text content from other sources
websites dedicated to embedded videos from other hosts
websites with gibberish content that makes no sense or seems auto-generated
templated or pre-generated websites that provide duplicate content to users.
Sexual content
Google ads may not be placed on pages with adult or mature content. This includes, but is not limited to, pages with images or videos containing:
Strategically covered nudity
Sheer or see-through clothing
Lewd or provocative poses
Close-ups of breasts, buttocks, or crotches
Over the last five years I have received exactly ZERO complaints from other websites or authors about re-posting their articles, with full attribution and links, on my website. No one can accuse my site of not having unique and relevant content. I have permission to post articles from Zero Hedge, Charles Hugh Smith, Michael Snyder, Jim Kunstler, David Stockman, John Mauldin, Doug Casey, Paul Rosenberg, Fred Reed and dozens of other brilliant truthful journalists detailing our societal decay. Was there some Kate Upton bikini Gifs and provocative Salma Hayak pictures scattered within the 200,000 comments made on the site in the last five years? Guilty as charged. It seems Google reviewers can't see the hypocrisy of running ads to meet young bikini clad Asian girls, while disabling ads because there are a few bikini pictures on the website. I suspected my article had drawn the Eye of Sauron in my direction and this was the response.
Speaking truth to power during these perilous times has repercussions. But I decided to make a good faith effort to follow their rules.
I had made almost 15,000 posts over the last five years. Over the next week I scanned the site and archived posts that included articles from mainstream media websites, along with a hundred or so bikini pictures. You never deal with a human being when attempting to satisfy the Google Gestapo. Identical canned appeal denial responses are issued from Google Central with no clarification or effort to help you understand their reasoning.
Hello,
Thank you for providing us with additional information about your site. However, after thoroughly reviewing theburningplatform.com and taking your feedback into consideration, we're unable to re-enable ad serving to your site at this time, as your site appears to still be in violation.
When making changes, please note that the URL mentioned in your policy notification may be just one example and that the same violations may exist on other pages of your website. Appropriate changes must be made across your entire website before ad serving can be enabled on your site again.
If you'd like to have your site reconsidered for participation in the AdSense program, please review our program policies and make any necessary changes to your webpages.
We appreciate your cooperation.
Sincerely,
The Google AdSense Team
There must have been some miscommunication within the Google Gestapo, as the ads were re-enabled after one week and my third appeal. A newbie, who didn't get the memo, must have mistakenly activated my ads. Regular commenters and contributors were confused by what they could and couldn't post on the site, as was I. The iron fist of the Google Stasi came down once again within a week, with the identical policy violation notice. I made the assumption that since the site was declared in compliance as of January 29, I only had to address anything posted since that date.
I had purged the site of any and all risqué pictures, so I knew that wasn't a real issue. I thoroughly reviewed every post made since January 29 and archived or edited them to leave no doubt I was meeting Google's vague guidelines. I continued to have my appeals rejected. I then went back a year and archived hundreds of other posts. By the fourth appeal rejection, I realized I would never meet their standard because it wasn't really about violating Google content policies. It was my libertarian, anti-government, anti-Wall Street, anti-Mega-Corporation, anti-Surveillance State views that were the real issue. They were attempting to make me "not understand" or write about the creeping corporate fascist paradigm overtaking the country by making my Google salary dependent on "not understanding".
Once I understood this truth, I was set free to provoke and prod the nameless, faceless Google entity and prove beyond a shadow of a doubt their true purpose. Their appeal form allows 1,000 characters for your response. Along with the actions I had taken, I began to question the integrity of the Google apparatchik "reviewer", as it was clear the site was not in violation. I had archived over a thousand posts and tens of thousands of comments. I challenged the man behind the Google curtain to provide me with proof the site was still in violation. I must have struck a nerve, as out of the blue I received a new violation notice.
Violent or disturbing content
AdSense publishers are not permitted to place Google ads on pages with violent or disturbing content, including sites with gory text or images.
Now this was funny. My site focuses on the financial, political, and social decay of our country. It in no way advocates or promotes violence. It has no graphic images or gory videos. If Google is attempting to suppress videos of revolutions occurring in Venezuela, Ukraine, and Syria from being seen by citizens of the world, their credibility is zero. If Google is attempting to suppress videos of police brutality against citizens or the police state locking down an entire city while violating the Fourth Amendment, they prove themselves to be nothing more than a fascist propaganda tool of the State. This violation notice was laughable, but I decided to call their bluff one last time. I spent three days and archived 14,000 out of the 15,000 posts ever made on my site. All that remained were my main articles, published on dozens of other sites with Google ads active, and original content produced by myself or other approved contributors. There was no violent content, scraped content, or sexual content on my website.
My ninth and final appeal was denied. I then proceeded to write an FU Google post on my website and inform my readers and contributors they were unshackled from the Google Evil Empire of Censorship. I'm in the process of restoring all of the posts I had archived. Some might argue that Google is just exercising their rights under our free market capitalism system. I would argue free market capitalism does not exist today. The unholy alliance of big banks, big corporations, big military and big media has created a state run by the few for the benefit of the few. They use their control of the purse strings to manipulate minds, crush dissent, and censor through bullying and bribery.
Once I mentally liberated myself from their financial control, I was able to see their game. They essentially wanted me to purge the site of every anti-establishment example of free speech and First Amendment rights I had ever written, in order to kneel before the altar of $$$ in the Church of Google. Google would be perfectly fine if I converted my website into a chat-fest where I discussed the details of the upcoming Kim and Kanye wedding, pondered deep issues regarding the benefits of gay marriage, conducted polls on who The Bachelor will choose to be his betrothed this season,  mused about what Hollywood stars will wear at the Academy Awards, and debated who will win the fourteenth season of American Idol. The Google money would flow freely as I contributed to the dumbing down and sedation of the masses. I have chosen not be a Judas that sells out my readers and the American public for 30 pieces of fiat to the Google Pharisees and the American corporate fascist surveillance empire.
This was not the first time the Deep State attempted to silence my anarchistic viewpoint. On June 5 Edward Snowden, American hero and patriot, released the first of thousands of documents detailing the traitorous actions of the NSA, Obama, Congress, the Judicial branch, and the corporate media. Snowden revealed the government, in cooperation with Google, Verizon, Facebook and a myriad of other technology/media companies, was collecting metadata and conducting mass surveillance of every American in violation of the Fourth Amendment, a clearly illegal form of search and seizure.
On June 19 I penned an article titled Who Are the Real Traitors? In the article I declared Obama, James Clapper, Dick Cheney, Diane Feinstein, Peter King and a plethora of other politicians, faux journalists, and talking media heads as the real traitors of the American people. The article achieved wide distribution through my usual channels and must have again drawn attention in Mordor on the Potomac. Two days later anyone with McAfee or Norton security were receiving false warnings about a malicious virus on my site. Long time readers in the military informed me the site was now blocked by the Department of Defense as a dangerous website. Other long-time readers informed me their corporations were now blocking access to the site. The site was inundated by denial of service attacks. It slowed to a crawl and was virtually inaccessible. I'm sure it was just a coincidence.
I was forced to switch server companies and hire an anti-hacking company to protect the site, thereby increasing my cost to run the site by a factor of 10. Even though the companies I hired confirmed there were no malicious viruses on the site, Norton continued to scare Internet Explorer users from reading my site for the next eight months. How the $8 billion Symantec (owns Norton) entity could rationalize this false warning on only $80 billion Microsoft's Internet Explorer, seems suspicious to me. The warning would not appear if you accessed the site with Mozilla Firefox, even if you employed Norton security. Norton makes it virtually impossible to appeal their false danger rating. I'm sure thousands of people were scared away from my website by these unaccountable corporate entities, working on behalf of the all-powerful state. Lofgren's Deep State or Bernays' Invisible Government hate the truth. They despise anyone who attempts to open the eyes of the public to their deception, criminality, and propaganda.
Google has become a tool and partner of the Deep State. Enrichment of the state within the state is their sole purpose. Google's Don't Be Evil motto, originated when they were a fledgling company in 2000, has become a farce as they have descended into the netherworld as the information police for the ruling despots. They are now a humungous corporation with near monopoly control over the flow of information, searches, emails, and internet advertising. They know more about you and your habits than you do. They attempt to control freedom of speech at the point of a wire transfer. Fall into line or no advertising blood money for you. Not only do they suppress viewpoints through advertising revenue bullying, they manipulate their search engine results to hide the truth from the masses.  Google search engines filter, block and bury blog posts that contain content or information it deems incompatible with the message of its corporate fascist co-conspirators. Its oppressive corporate practices on behalf of its evil partners are an abridgment of the freedom of speech, perversion of the truth, and active attempt to mold the minds of the masses.
One of the most intelligent and cleverest contributors to my website, Nick (aka Stucky), summed up the evil entity known as Google in this pointed comment on my website:
There is an Entity out there who knows every search you ever made.
The Entity knows all about your emails, the content and address.
The Entity knows what you buy online and how often.
The Entity is developing software to predict what you will buy next.
The Entity can now even watch you, and know where you are, and what you are doing.
The Entity even knows your habits.
The Entity has enormous resources and stacks of cash.
The Entity shares your information with Lesser Entities … and also The Big Evil Entity that rules us all.
The Entity makes the NSA, CIA, FBI, DHS, and their ilk look like Lightweight Chumps.
The Entity hates you. You are just a means to an end.
The Entity is building a Profile all about you.
The Entity will soon know you better than you know yourself.
Welcome to Google, the most evil Entity on the planet.
As a society we have fallen asleep at the wheel. We've allowed ourselves to be lulled into complacency, distracted by minutia, mesmerized by technology, turned into consumers by corporations, pacified by financial gurus and Ivy League economists, and fearful of our own shadows. Surveillance, censorship and propaganda are the tools of the oppressive state. Free speech and truthful revelations about the Deep State are a danger in the eyes of our oppressors. Words retain power and can change the hearts and minds of a tyrannized citizenry willing to listen. V's speech to London in the movie V for Vendetta, with slight modification, captures the essence of how Google fits into the evil matrix we inhabit today.
Because while the truncheon may be used in lieu of conversation, words will always retain their power. Words offer the means to meaning and for those who will listen, the enunciation of truth. And the truth is, there is something terribly wrong with this country, isn't there?
Cruelty and injustice…intolerance and oppression. And where once you had the freedom to object, to think and speak as you saw fit, you now have censors and systems of surveillance, coercing your conformity and soliciting your submission. How did this happen? Who's to blame? Well certainly there are those who are more responsible than others, and they will be held accountable. But again, truth be told…if you're looking for the guilty, you need only look into a mirror.
I know why you did it. I know you were afraid. Who wouldn't be? War. Terror. Disease. There were a myriad of problems which conspired to corrupt your reason and rob you of your common sense. Fear got the best of you and in your panic you turned to the government and their banking/corporate patrons. They promised you order. They promised you peace. And all they demanded in return was your silent, obedient consent.
I choose not to silently and obediently consent to the will of the Deep State. Google will not silence me. We are in the midst of a Fourth Turning and I will try to do my small part in sweeping away the existing social order and trying to replace it with a system that honors and follows the U.S. Constitution. In Part 2 of this expose of evil, I'll provide further proof of Google's hypocrisy, censorship, and willing participation in spying on the American people. I'm beginning to understand the major conflict which will drive this Fourth Turning – The People vs The Corporate Fascist State.
WARNING: The National Security Agency is recording and storing this communication as part of its unlawful spying program on all Americans … and people worldwide. The people who created the NSA spying program say this communication – and any responses – can and will be used against the American people at any time in the future should unelected bureaucrats within the government decide to persecute us for political reasons. Private information in digital communications is being shared between Google, Facebook, Verizon and the government. It will be used against you when it suits their purposes.