Off the microphone of RE
Follow us on Twitter @doomstead666
Friend us on Facebook
Aired on the Doomstead Diner on August 19, 2014
Visit Diner Soundcloud for the full archive of Podcasts and Frostbite Falls Daily Rants.  Visit the Collapse Cafe for Diner Vidcast Interviews and Debates
Coming Soon: An Interview with Dmitry Orlov on the Ukraine Conflict and Resource Depletion
Discuss this Rant at the Podcast Table inside the Diner

Filed Under: Ferguson, Food Stamps, Militarization, Missouri, National Guard, Nixon, Obama, Police State, Poverty, Race War, Riots, St. Louis, Unemployment, Welfare, Death Penalty, Cop Killers
Snippet:
…I was intending on moving on tonight to more International Doom, but #ferguson is the Doom Gift that Keeps on Giving.

For the 3rd night in a row with no sign of slowing down, the looting and rioting continue. The livestreams and pics from tonight's action look like a War Zone, gas and smoke bombs being fired all over the place, and numerous shots fired, though no reports yet of anyone getting hit.

The Obamanista still hasn't made an appearance there, you would think after a solid week of this shit escalating it might be worthwhile to fly Air Force 1 into Lambert Field and make an appearance. Even George Bush eventually got the GPS coordinates for where Katrina hit and made it to NOLA.

Even as far as making some speeches are concerned, Potus Telepromptus has so far only been given complete pablum to read by his speechwriters, and Goobernator Jay Nixon hasn't pitched out anything substantive either.

The Gestapo agent who pulled the trigger has disappeared, his house shuttered and dark. Perhaps he is being given a New Identity by the FBI Shooter Relocation Program. Obviously what the community there wants is to see this guy "brought to justice", which for them would mean conviction for Murder in the 1st Degree followed by a trip to the High Voltage Recliner. Missouri is a state with the Death Penalty of course…
For the rest, LISTEN TO THE RANT!!!
Off the microphone of RE
Follow us on Twitter @doomstead666
Friend us on Facebook
Aired on the Doomstead Diner on August 17, 2014
Discuss this Rant at the Podcast Table inside the Diner
Visit Diner Soundcloud for the full archive of Collapse Cafe Podcasts and Frostbite Falls Daily Rants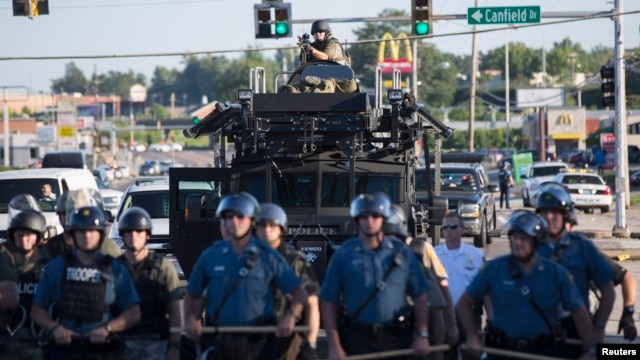 Snippet:
…Looks like I spoke a little too soon about the Ferguson Riots calming down. Practically minutes after I published, Ferguson erupted AGAIN.

This time, instead of rolling out the tanks and rpg smoke bombs and tear gas, the Gestapo backed off and let the looters ransack at will.

Now, riots themselves are not amusing, but what is really amusing is reading the commentary on Libertarian type blogs like The Burning Platform.

When the first reports and pics came out with the Gestapo in full riot gear rolling into Ferguson in Tanks wearing enough Body Armour to stop a Depleted Uranium Full Metal Jacket Armor Piercing .50 Cal BMG slug, the commentariat (and bloggers of many stripes) all went ballistic themselves about our expanding Police State and Loss of Freedoms, Militarization of the Police, etc.

In round two of the Libertarian Kabuki Theater, as the Gestapo withdraws and lets the Looters Gone Wild show roll into high gear, the SAME folks are back out there asking "Where are the fucking Cops? Why don't they get out there and start shooting these criminals?" LOL…
For the rest, LISTEN TO THE RANT!!!
Live Feed from Ferguson: