From the keyboard of Surly1
Follow us on Twitter @doomstead666
Like us on Facebook
Originally published on the Doomstead Diner on December 16, 2018
"If you can't even get a fawning opportunist like Chris Christie to be your chief of staff, you're in serious trouble."
― David Lazarus, Twitter
---
'Dirty deeds': Ex-Trump lawyer Cohen sentenced to 3 years in prison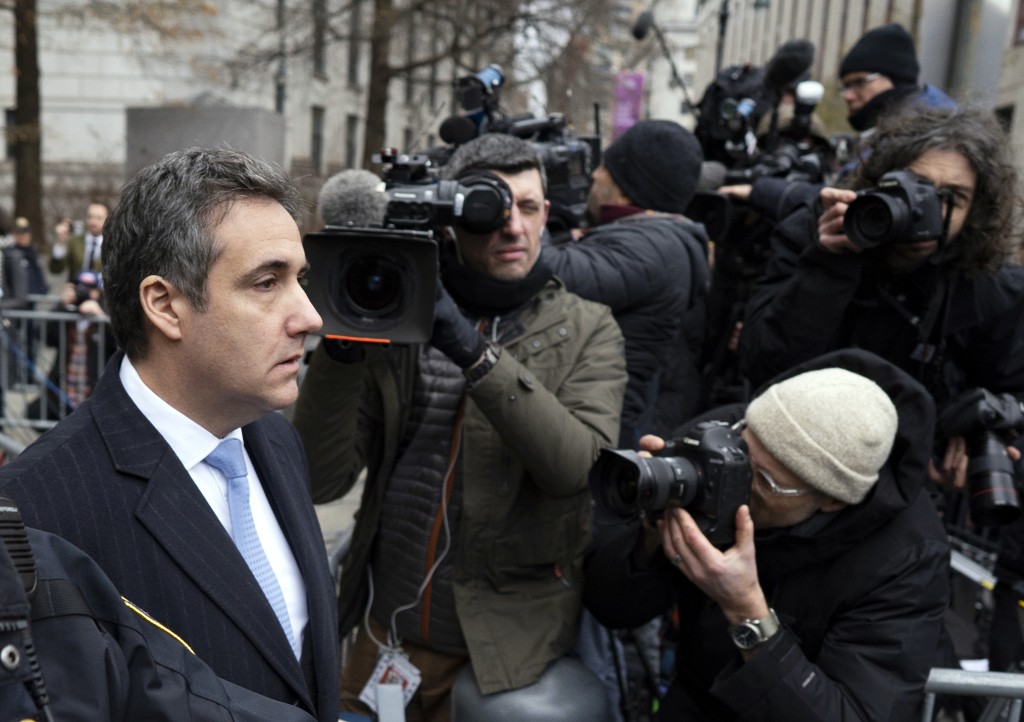 Michael Cohen, President Donald Trump's one-time fixer, was sentenced Wednesday to three years in prison for crimes that included arranging the payment of hush money to conceal his boss' alleged sexual affairs, telling a judge that he agreed time and again to cover up Trump's "dirty deeds" out of "blind loyalty.
From all accounts, said dirty deeds did NOT come dirt cheap.
Cohen will continue cooperating with prosecutors, and is also prepared to tell "all he knows" to Congress if asked. One of the other outcomes from this pleading is that the inhabitant of the White House has a new nickname: "Individual 1."
At the sentencing, defense attorney Guy Petrillo pleaded for leniency for Cohen. Cohen cooperated with the Special Counsel so extravagantly that Mueller recommended leniency. Yet Cohen did not cooperate so completely with the Southern District of New York, the charges from which included the taxi medallion case. It seems clear that Cohen's reluctance to come clean stems from a reluctance to have members of his family disappear and be buried in New Jersey.
It also came out this week that Individual 1, Cohen and David Pecker, publisher of the National Enquirer, met to discuss payments to two women in 2015, according to multiple reports.
The revelation ― first made public last month by The Wall Street Journal and corroborated this week ― came after the Enquirer's parent company, American Media Inc., signed a non-prosecution deal with federal prosecutors in which it admitted to paying off former Playboy model Karen McDougal in 2016 in order to protect Trump's chances in the presidential election.
Cohen himself has now admitted, with respect to both payments, he acted "in coordination with and at the direction of Individual-1." Thus the claims potentially implicate Trump in illegality, although it's unclear how the Justice Department would proceed if investigators found Individual 1 had, in fact, broken the law. The agency has previously held that a president cannot be indicted while in office.
At this point, as The Washington Post reports, mounting legal threats surround Individual 1 as nearly every organization he has led is under investigation.
Trump's private company is contending with civil suits digging into its business with foreign governments and with looming state inquiries into its tax practices.

Trump's 2016 campaign is under scrutiny by special counsel Robert S. Mueller III, whose investigation into Russian interference has already led to guilty pleas by his campaign chairman and four advisers.

Trump's inaugural committee has been probed by Mueller for illegal foreign donations, a topic that the incoming House Intelligence Committee chairman plans to further investigate next year.

Trump's charity is locked in an ongoing suit with New York state, which has accused the foundation of "persistently illegal conduct."
One immediate impact is on Individual 1, who is accustomed to dictating the news cycle with his cell phone, but who now has to play defense and spend his political capital — and that of his party. The Post reported that last week,
…weary Senate Republicans scrambled away from reporters to avoid questions about Trump and his longtime fixer Michael Cohen — and Cohen's courtroom assertion that he had been covering up Trump's "dirty deeds" when he paid off two women who claimed they had affairs with the president before he was elected.
Note the one about Trump's inaugural committee reportedly being under federal criminal investigation. It isn't known if Trump is implicated in that investigation. but Ivanka and Mike Pence are seriously implicated in it. In fact, the stink about the inauguration committee may well be why Chris Christie was unavailable as Chief of Staff. See the story below.
For a detailed look at eight takeaways from the Mueller and SDNY filings against Michael Cohen, see the Slate article here.
---
Trump Hits a Wall

In a meting with Nancy Pelosi and Chuck Schumer on Tuesday to negotiate a way around a scheduled government shutdown, the Orange one affirmed that he's 'proud' to shut down government in the name of border security.
Trump clashed sharply with Pelosi and Schumer in a remarkable Oval Office meeting before reporters Tuesday, in which Trump ambushed his guests with the fact that it would be televised for all to see. Apparently he had a spectacle planned. The antagonists traded barbs over Trump's border wall during what was supposed to be a private negotiating session.
Pelosi coolly explained that he didn't have the votes in the waning days of republican control, and urged him to try. Presiding over the demise of the wall would be a karmically-just manner for Speaker Paul Ryan, once a friend of immigrants, to slither out of office. Clearly frustrated, the Master of the Deal immediately pissed away his political leverage by saying he would be "proud" to preside over a partial shutdown if that's what it takes to get his campaign promise fulfilled. Brilliant.
Wasting time and taxpayer money over a piece of absurdist art beloved by MAGAts for a completely unnecessary shutdown does nothing so much as signal Individual 1's contempt for the complicated process of governing.
---
Christie passes, Mick Mulvaney takes Chief of Staff job.

Chris Christie's decision to take himself out of consideration left Twitter users speculating as to why.
The former New Jersey governor, historically unpopular when he left office in January, had chaired Trump's transition team after the 2016 election and was once thought to be angling for a spot in 45's Cabinet. Now not so much.
Christie murmured the usual syllables about spending more time with family, but the truth may have much more to do with how badly Christie got burned by Trump concerning the transition committee.
The indefatigable Bill Palmer of the Palmer Report brought this story to light:
Donald Trump originally put Chris Christie in charge of the transition, but then quickly fired him and replaced him with Mike Pence. Various supposed explanations have surfaced for this, but none of them have ever been confirmed. Here's the thing. According to the Michael Lewis book The Fifth Risk, as unearthed by Daily Kos, it turns out Trump's decision to fire Christie had something to do with Trump's desire to pocket the money. Check out this rather profane passage from the book:

Trump was apoplectic, actually yelling, You're stealing my money! You're stealing my fucking money! What the fuck is this?? Seeing Bannon, Trump turned on him and screamed, Why are you letting him steal my fucking money? Bannon and Christie together set out to explain to Trump federal law. […] To which Trump replied, Fuck the law. I don't give a fuck about the law. I want my fucking money. Bannon and Christie tried to explain that Trump couldn't have both his money and a transition.
Once Trump won the election, he effectively fired Christie because Christie wouldn't let him simply steal the money, fired the entire transition staff, and then installed Mike Pence, then allegedly proceeded to steal the money. Did Trump think Pence was too stupid to realize the money was being stolen? Or did Trump put Pence in charge because he knew Pence would help him steal the money?
---
The Weekly Standard To Fold After 23 Years



Neocon news outlet The Weekly Standard is shutting down after 23 years of circulation. The outlet, which often published influential conservative opinion pieces, had been searching for a new owner, reports CNN, but its publisher told staffers Friday that it was no longer interested in seeking ways to revamp the company.
Founded by Bill Kristol and Fred Barnes in 1995, The Weekly Standard dependably sung the tune for the Cheney-Bush cabal, but in recent years had been consistently critical of Trump, and increasingly out-of-step with a Republican party, whose racist and nationalist leanings have found their apotheosis in Trump.
The paper's most lasting legacy may be its role in cheerleading the trillion-dollar boondoggle Iraq War, as its editors wrote in the months after 9/11 that they hoped "the president will courageously decide to destroy Saddam's regime." Kristol, meanwhile, has remade himself as a Never-Trumper and finds a home on cable news, occupying a chair that might have otherwise been occupied by a liberal voice. And his presence enables the mainstream media to maintain their pious "both sides" pose.
---
Short takes

The news from Washington, and especially about Trump, is so constant and toxic that it consumes a disproportionate portion of our attention. Nevertheless, dozens of other important stories occur each week. Below is a selection of important stories that moved this week that also deserve your attention. For a daily selection of stories filtered through a view of collapse, check out the Doomstead Diner Daily each day.
Don't sleep on this last article. There are some disturbing observations. DHS warns that the electric grid is now a "prime target" of terrorists, and says Americans need to be prepared for a power outage of up to six months.
"People no longer keep enough essentials within their homes, reducing their ability to sustain themselves during an extended, prolonged outage. We need to improve individual preparedness."
The report, titled Surviving a Catastrophic Power Outage", warns that an attack would likely come with little to no notice and could cause complete chaos for at least a half a year,
"Long-duration, lasting several weeks to months (at least 2 months, but more likely 6 months or more) due to physical destruction to equipment, such as transformers or transmission lines; or the severity of the event resulting in limited workforce to repair damage, or inability to create or transport replacement parts.
Food for thought. Solar panels and/or portable generators for Christmas?
---
Surly1 is an administrator and contributing author to Doomstead Diner. He is the author of numerous rants, screeds and spittle-flecked invective here and elsewhere. He lives a quiet domestic existence in Southeastern Virginia with his wife Contrary. Descended from a long line of people to whom one could never tell anything, all opinions are his and his alone, because he paid full retail for everything he has managed to learn.
From the keyboard of Surly1
Follow us on Twitter @doomstead666
Like us on Facebook
PHOTO ILLUSTRATION BY SARAH ROGERS/THE DAILY BEAST
Originally published on the Doomstead Diner on August 6, 2017
"Negative polls are fake news, just like the CNN, ABC, NBC polls in the election. Sorry, people want border security and extreme vetting."
― Donald J. Trump
---
It's not a premise particularly new or unique, but I will say with some pride that I had it early.
What Donald Trump wants to do above all else is hold onto his base, meaning a roughly 35 per cent approval rating in public polls. No matter how bigly he or his surrogates want to describe his inauguration crowds or his popular vote victory, he is a minority president opposed by well more than half of the country. In that way, he will retain the loyalty of the Congressional "Freedom Causus" of libertarian-tinged free- market fundamentalists, and ride out any legal unpleasantness that may come his way.
Of all the things Trump may or may not be, Trump is most certainly a TV guy. He pays attention to Nielsen ratings, he knows how to promote, to capture attention with outrage, and how to play the media. He made his bones saying,"you're fired!" By now it's axiomatic that every time #TrumpRussia starts to heat up, the the Donald or someone on his staff will drop some fresh outrage in order to change the subject with a 5 AM shitter tweet.
With Trump and his people, every day is a scrap to win the news cycle. Team Trump only cares about his controlling the daily narrative, and of late is failing badly. This week the Quinnipiac poll had Trump's overall approval rating at 33%. This is an all-time low, and factors in Scaramucci but does not account for other news items that broke later in the week, including Robert Mueller's Grand Jury announcement and the announcement of the subpoena of documents from the White House.
Not a good week for the Trumpkins.
The best article summarizing this miserable week was penned by notorious Republican Rick Wilson in the Daily Beast:
Even before this devastating news, if you wanted to pick a week where the Trump administration got its ass handed to it at virtually every turn, this would be it. At almost every moment in the news cycle, Team Trump was getting beaten like a rented mule. The fallout of the Anthony Scaramucci firing is barely cool to the touch, and already this week's pile of steaming radioactive waste from this White House is hip-deep.
In the wake of the health care/tax cut bill foundering in the Senate, Trump tweeted his executive displeasure and insisted the solons frog march back to their chambers and get something done. This was met with a collective yawn as Senators prepped for August recess. And as a parting "fuck you" to the White House, they left the Senate technically in session to preclude an untimely recess appointment of, say, a pliant and unrecused attorney general who could spike Robert Mueller's investigation.
Trump was forced into signing the bipartisan Russian sanctions bill. Passed by overwhelming, veto-proof majorities in both the House and Senate, Trump was trapped like a Russian mink in a snare.
Trump was even trolled on Twitter by Dmitry Medvedev for "total weakness." In Russia, they murder their opponents and even supporters gone past their sell-by date. Where's your spine, Donzo? The hits just keep on coming:
Another massive loss for Team Trump: the death of the cruel, phony attempt to frame Hillary Clinton and the Democrats for the murder of Seth Rich. Rich wasn't killed by the Clintons, but Fox News and the White House were apparently delighted to torture his family. The accusations in a new lawsuit against Fox News and subsequent reporting over the withdrawn story of Seth Rich's murder have already implicated outgoing White House press secretary Sean Spicer—who met with the investigator working on behalf of Trump superfan Ed Butowsky—but may reach Donald Trump himself.
As much as the blowhard-in-chief likes to proclaim any non-fawning story as "fake news," here are allegations of some of the genuine article being made by hand in the West Wing. And apparently this wasn't the first such manufacture:
"Donald Trump was also revealed to have personally written his namesake son's deceptive and false statement about the Trump Tower meeting with Russians who came to New York to offer the Trump team compromising information on Hillary Clinton. You could almost hear the howls of laughter from the special prosecutor's SCIF. "
And then there is the War on Leaks, led by the obsequious and eager to please AG Sessions, with rounds of investigation and recrimination. Say nothing of the incipient White House Civil War between the Generals and the Alt Reich. COS Kelly ousted unfireable mystery man Ezra Cohen-Watnick, he of the handing raw intel to disgraced Congressional shitheel Devon Nunes. In response the Breitbart wing of the party has come gunning for McMasters. Grab the popcorn, but take the Generals and give the points.
And while on the subject of pointless efforts going nowhere, a promised trade bill and a promised bill to limit legal immigration will give true believers a little gristle, but will pass to a soundless and forgettable death in Congress. Although the immigration bill did provide us the Goebbels-esque spectacle of certified mole-person Stephen Miller referring to CNN's Jim Acosta as "cosmopolitan," a term used by extremists to tag people suspected of extra-national allegiances or insufficient "assimilated" because of how they look, speak or live. (The history-challenged should read Charlie Pierce on the ignoble history of cosmopolitan-as-epithet here.)
But to return to Quinnipiac and the Holy Cause of winning the news cycle, at which Team Trump went winless last week. Rick Wilson again:
Increasing numbers of Americans say they believe Trump isn't honest or capable. As his numbers pass some critical support thresholds, the magic of 2016 starts to morph into the fear of 2018 in the minds of many elected officials. The Great Distancing has begun. To top it all off, even Matt Drudge helpfully pointed out that Trump's number is lower than Obama ever received.
So one wonders why Quinnipiac has Team Trump at 33 per cent when the normally less rabid Gallup poll had him at 38? It may be that the Congressional Rs have decided that Trump is unsalvageable, and are hoping to get away from a sinking Titanic before it can suck under their re-election hopes. Several weeks ago observers noted the creation of several million Twitter bots, an alt-Reich social media army ready to deploy at the twitch of a Mercer, the better to influence which stories "trend" on Twitter. Should Team Trump continue to sink, watch for the deployment of zombie-bots Making America Grate Again.
Let's end with the question posed by Charlie Pierce in his week-ending article:
What's the only thing worse than being the target of a grand jury called by Robert Mueller?

Being the target of two grand juries called by Robert Mueller!
---
This being about Doom, etc., here are some short pieces that may amuse while you're waiting for the latest methane hydrate explosion.
Is a Coup Inevitable?

Yale historian Timothy Snyder, author of the new book "On Tyranny" says we may have one year left to save American democracy…
The fact that democracies usually fail is a rule which"… Americans believe…"can't apply to us…Donald Trump will have his own version of Hitler's Reichstag fire to expand his power and take full control of the government by declaring a state of emergency…In an authoritarian regime change, at the beginning the individual has a special kind of power because the authoritarian regime depends on a certain kind of consent. Which means that if you are conscious of the moment that you are in, you can find the ways not to express your consent and you can also find the little ways to be a barrier. If enough people do that, it really can make a difference — but again only at the beginning.
---
Aaahhhhpocalypse Now!: 10 Dark Visions Headed Your Way

For readers of The Doomstead Diner, Apocalyptic visions-R-Us. Alternet recently gathered some of the best—or worst—apocalyptic thinking in one place. This list contains plenty of bad news on economic, planetary and political fronts, enough to satisfy the doomiest doomer. Here are 10 visions of the apocalypse—coming soon!
---
This Big Hole in the Sun is Not a Good Thing

And as we gear up for observing the total eclipse of the Sun on August 21, other heliocentric newz is not so good. The sky monster that will eat a hole in the sun on that date has a partner,
a 75,000-mile-wide hole that's big enough to be seen from Earth, big enough to be given a name (AR2665), and potentially big enough to produce 'M-class' solar flares which can knock out communications satellites, create radiation storms and cause electronic chaos. This is not a good thing.
---
And at week's end, some proof that yes, there is a God:
Former drug company executive Martin Shkreli is convicted of fraud

NEW YORK, Aug 4 (Reuters) – Former drug company executive Martin Shkreli was convicted of securities fraud by jurors in a U.S. court in Brooklyn on Friday, after a highly publicized, month long trial.

Federal prosecutors had accused the 34-year-old of defrauding investors in his hedge funds and stealing from his old drug company, Retrophin Inc, to pay them back.

Jurors found Shkreli guilty on two counts of securities fraud and one count of conspiracy, on the fifth day of deliberations.
Here's hoping the boys in Cellblock D are preparing Shkreli a special welcome.
---
We end this week secure in the knowledge that Robert Mueller has two grand juries working overtime on the Trump Family Grift kept afloat with laundered Russian oligarch cash, plus obstruction of justice, if not just overall being a dick. Suffice it to say that we are grateful to not have a phalanx of FBI gumshoes and mean-spirited prosecutors with a thirst for vengeance crawling all up in our bidness.
---
Surly1 is an administrator and contributing author to Doomstead Diner. He is the author of numerous rants, screeds and spittle-flecked invective here and elsewhere, and was active in the Occupy movement. He lives in Southeastern Virginia with his wife Contrary and is the proud parent of a recent college graduate. He will have failed if not prominently featured on an enemies list compiled by the current administration.

From the keyboard of Surly1
Follow us on Twitter @doomstead666
Like us on Facebook
Originally published on Daily Kos on June 17, 2017
"Half a loaf is better than no bread." —Thomas Jefferson
---
I wrote about this briefly last month in a Facebook status update, but recent events suggest that I revisit it. It was the episode wherein a so-called (and former) FB "friend" announced,
"I am unfriending any idiot who calls Trump a Putin puppet. You're hating for all the wrong reasons."
Didn't know I required a full portfolio of reasons. I thought emolument clause violations, grifts of various sizes, and treason was quite enough.
This person is a Michigan resident who proudly announced her unswerving support for Jill Stein, along with her unwavering hatred for "the Hillbot." She was one of 10,000 Stein voters in a state where the margin for Trump was 10,000, so we can fairly argue that she and voters like her helped elect Trump in Michigan. Because math. And logic.
Finding this thread a target rich environment, I explained how dozens of intelligence agencies had found a reason to investigate Trump before the election, that subpoenas were tumbling out the Eastern Virginia district, and that Trump is in the process of handing over Russian real estate seized by the Obama administration as part of sanctions. This last in direct response to a Russian threat of "countermeasures." Acting like nothing so much as the target of Russian kompromat. And this was before the spate of recent headlines, some of which have Bannon barring WH staffers from leaving the building, and a barking-mad President yelling at TVs.
I added that, in the fullness of time, it would be found at the Trump organization was a grift held afloat by Russian money, for the simple reason that no domestic bank, and no western bank (aside from Deutsche Bank) would touch him due to multiple bankruptcies and a long, slimy tail of lawsuits and mechanics' liens…. Hasn't Young Eric admitted as much?
That got me blocked. That and my comment, "Enjoy your Trump. You elected him."
I understand voting for principle, and I also understand that many people (including me) justifiably looked askance at the Dem party after the incredibly shabby treatment of Bernie, who was my candidate. My wife and I rallied for him, made calls for him, donated and worked for him. And regretted his loss, and despised the shenagigans pulled on behalf of "Ms. It's-My-Turn."
Yet when Bernie came out and supported Hillary, in spite of all the D machine machinations, that was good enough for me. The alternative was unthinkable.
Well think again, motherfucker.
We've now come to a place in our party-over-country politics where among the flag-and-cross bearing extreme right now views Russia and Putin more favorably than Germany and Merkel. And view the NATO alliance, which has kept the peace for 60 years whatever its faults, as full of deadbeats sucking off American largesse. And who want to blame intemperate "left wing hatred" for this week's shooting, even though the right engaged in an eight year orgy of Obama-as-joker and lynching pictures.
And if you want to argue NATO encroachment on Russia's borders, and the neocon wet dream of a shooting war with Russia, I get that. In fact, the only thing that candidate Trump said that was remotely palatable to me was his stated desire to have a better working relationship with Russia. That was before obstruction, dossiers filled with Russian kompromat, pee tapes, election tampering-for-hire, and the entire sordid apparatus of the Trump money laundering grift grinding to a slow motion foundering in the public prints.
As Robert Mueller follows the money, in time we will find that The Trump Organization of interlocking grifts is held together with Russian oligarch money, just as Eric Trump admitted.
At the time, better relations with Russia sounded better than the several decades of neocon warmongering we have had to endure. To say nothing of the coarsening of our political discourse, and the re-embolding of an ignorant wing of white nationalists and alt-reich types whose presence could curdle milk.
When zero energy is devoted to unity or understanding and all energy is spent on division and demonization, war is inevitable. While Steve Scalise fights for life in a hospital bed, we are told that it is left-wing hatred that is out of control. Even Ivanka' feels were bruised by "a level of viciousness that I was not expecting," she told Fox News last week, adding that she was "blindsided" by the "ferocity."
Well.
Remember the wall-to-wall TV coverage and the prayers in the House, and the talk about unity and toning down rhetoric when Rep. Gabby Giffords took a bullet to the brain? Me neither. Let's review the bidding, shall we?
GOP House candidate Robert Lowry held a campaign event at a Florida gun range in October 2009, where he fired gunshots at a silhouette that had his opponent Rep. Debbie Wasserman-Schultz's printed on it.
"You know, if this Congress keeps going the way it is, people are really looking toward those Second Amendment remedies." – Sharon Angle
"If I could issue hunting permits, I would officially declare today opening day for liberals. The season would extend through November 2 and have no limits on how many taken as we desperately need to 'thin' the herd." -Brad Goerhing
"Get on Target for Victory in November. Help remove Gabrielle Giffords from office," read an advertisement for the event called "Shoot a fully automatic M16 With Jesse Kelly."
"Don't retreat, instead- RELOAD!" – Sarah Palin after circulating a map with crosshairs over lawmakers who supported the ACA
"You know but other than me going over there with a gun and holding it to their head and maybe killing a couple of them, I don't think they're going to listen unless they get beat." – John Sullivan
"If she gets to pick her judges, nothing you can do, folks. Although the Second Amendment people — maybe there is, I don't know." -Donald Trump
And leading the charge are the bleats, farts and other bodily emanations of one N. Leroy Gingrich, defender of all that is Good and Holy in western civilization, and soon to be know as Mrs. Vatican Ambassador.
A month ago, Gingrich tweeted that Mueller was "a superb choice" whose "reputation is impeccable for honesty and integrity." After it was learned that Mueller would look at potential malfeasance on Trump's part, Gingrich decided that Mueller is actually "the tip of the deep state spear aimed at destroying or at a minimum undermining and crippling the Trump presidency." Thus reversing himself on his opinion of Robert Mueller completely within 30 days.
And let's never forget he is a shameless opportunist who attempted to get his drug-addled wife to sign off on a divorce punch list as she lay in a hospital bed after cancer surgery. To cite Gingrich as an authority on anything except underwear stains is to reveal a lack of critical thinking. A consideration I deem as kind.
The episode with my erstwhile friend shows that the profoundly left can be as stupid and intractable as the drooling right. If the practical effect of your opinions makes you indistinguishable from a Breitbart troll, what good are your beliefs?
Politics is the art of half a loaf. It's the art of compromise. Hillary wasn't my first, second,or third candidate, and it took me a good long while of hostage negotiation with myself before I cast a vote for her. But if you don't believe she would have been a damned sight better than President* Stupid, and that the problems we would have had with her as President would not have been a damned sight better than the ones we have now, unfriend me immediately. And hit yourself in the head with a hammer for me on your way to the airlock.
True believers, Stein voters and single issue enviros keep relitigating the last primary and fighting the last war. Which by the way, people, we lost. In large measure because ever individuals and their feels are more important than a sense of working together for a common purpose.
Look forward, upward, and to the future. Work for change, but deal with reality. Failure to do so means more of what we have now. When you are hungry, half a loaf looks awfully good.
---
Surly1 is an administrator and contributing author to Doomstead Diner. Author of numerous rants, screeds and spittle-flecked invective here and elsewhere, he was active in Occupy. He lives in SE Viirginia with Contrary, the woman who now shares his old Virginia home and who, like he, will be disappointed to not be prominently featured on an Trump enemies list.