From the keyboard of Surly1
Follow us on Twitter @doomstead666
Like us on Facebook
---
Originally published on the Doomstead Diner on February 5, 2016
"First they came for the Socialists, and I did not speak out—
Because I was not a Socialist.
Then they came for the Trade Unionists, and I did not speak out—
Because I was not a Trade Unionist.
Then they came for the Jews, and I did not speak out—
Because I was not a Jew.
Then they came for me—and there was no one left to speak for me."
–Pastor Martin Niemoller
---
Our foreign policy requires an externalized enemy, as our economy requires a state of permanent war. Were peace to break out across the world, the US economy would shudder to a halt within 60 days.
Ever since Reagan announced "Morning in America" we have been tempted with the promise of returning America to the golden postwar era when white male colossi like Patton, Marshall and MacArthur strode like heroes astride a grateful world. And the corresponding postwar boom in which American industry sold everything it could make to a prostrate world. Who paid for it with money we lent them.
Trump's call to "Make America Great Again," prints nicely on red ball caps but is short on specifics. One example put in practice is the recently announced Muslim Ban, giving color of law to demonization of the Muslim "other." [Note: On Friday night, U.S. District Judge James Robart blocked the entirety of trump's de facto Muslim ban from taking effect. His ruling, which applies nationwide, froze all relevant provisions of trump's executive order.]
In a recent Harper's article, Lawrence Jackson ruminates about the leaders of the Atlantic-facing victors, usually known as "the West:"
The most arrogant inhabitants of these nations …understood themselves to be the ordained directors of human beings across the globe, across space and time. They were committed to civilization by the sword. Yet not even Reagan was mighty enough to reinstall the American militants who ached to battle the Russians and the Chinese. Reagan took to politics for what he couldn't achieve in his original profession, acting. He stood in the shadow of John Wayne, a cultural hero who… declared that the problem was that the values of white rule weren't being exported vigorously enough. Wayne's films gave audiences a steady dose of what historian Richard Slotkin calls "regeneration through violence." Both civilization and capitalist bonanza depend on violent encounters and imperial expansion. If the country is to be healthy, it needs some frontier populated by some brand of enemy.
After 9-11, to forestall a "peace dividend" breaking out, America's best minds concocted the Global War on Terror, a concept plastic enough to permit many interpretations, and unwinnable enough to guarantee the Permanent War Economy. Having recently defined that enemy as brown people planet-wide coming for our golfs and guns, now they have infiltrated our borders! Clear and present danger! Wearing hijab! Sharia Law in our streets! Can female genital mutilation for Barbie be far behind?
Enter trump. In our empathy-free times, we think little and care less about what such reckless decisions mean to individuals. Today I am going to challenge you to care.
Several weeks ago, I listened to a Ted Talk by Deeyah Khan, raised in Norway by an Afghan mother and Pakistani father. Khan recounted the rejection and isolation felt by Muslim kids growing up in the West, and the way they get squeezed between two worlds. At a time when executive action careens towards an unconstitutional ban on immigrants fleeing the very countries we bomb, this talk opened my eyes—and ears.
Khan recounted the story of how she had to subsume her own dreams for her life and take on those given her by her father. To be famous, he said, "it's either got to be sports, or it's got to be music." So he threw away her toys and dolls at age seven, and was given a ratty Casio keyboard. She practiced music for hours each day.
Khan started singing and playing, and became good enough to perform before growing audiences. Let her tell it:
I became almost a kind of poster child for Norwegian multiculturalism. I felt very proud, of course. Because even the newspapers at this point were starting to write nice things about brown people, so I could feel that my superpower was growing.
Until one day, she was headed into a store for candy, and found her way blocked by a man intent on making sure she understood who really ran things in Norway.
There was this grown white guy in the doorway blocking my way. So I tried to walk around him, and as I did that, he stopped me and he was staring at me, and he spit in my face, and he said, "Get out of my way you little black bitch, you little Paki bitch, go back home where you came from." I was absolutely horrified. I was staring at him. I was too afraid to wipe the spit off my face, even as it was mixing with my tears. I remember looking around, hoping that any minute now, a grown-up is going to come and make this guy stop. But instead, people kept hurrying past me and pretended not to see me.
So she learned that when faced with persecution of brown people, white people tend to not want to get involved. But her fellow brown people would have her back, right? Not exactly.
Some men in my parent's community felt that it was unacceptable and dishonorable for a woman to be involved in music and to be so present in the media. So very quickly, I was starting to become attacked at my own concerts. I remember one of the concerts, I was onstage, I lean into the audience and the last thing I see is a young brown face and the next thing I know is some sort of chemical is thrown in my eyes and I remember I couldn't really see and my eyes were watering but I kept singing anyway. I was spit in the face in the streets of Oslo, this time by brown men.
The threats continued and the oppression, this time from her fellow Muslims, got worse. And it took the edge that we often hear that the Islamic world visits upon women:
The death threats were endless. I remember one older bearded guy stopped me in the street, and said, "The reason I hate you so much is because you make our daughters think they can do whatever they want." A younger guy warned me to watch my back. He said music is un-Islamic and the job of whores, and if you keep this up, you are going to be raped and your stomach will be cut out so that another whore like you will not be born.
Her family realized they could no longer keep her safe, so they sent her to London. She resumed her music career, but with similar results.
Different place, but unfortunately the same old story. I remember a message sent to me saying that I was going to be killed and that rivers of blood were going to flow and that I was going to be raped many times before I died. By this point, I have to say, I was actually getting used to messages like this, but what became different was that now they started threatening my family.
Eventually after transitioning to work as a maker of films, she moved again, this time to the US. She makes this point:
What most people don't understand is that there are so many of us growing up in Europe who are not free to be ourselves. We're not allowed to be who we are. We are not free to marry or to be in relationships with people that we choose. We can't even pick our own career. This is the norm in the Muslim heartlands of Europe. Even in the freest societies in the world, we're not free. Our lives, our dreams, our future does not belong to us, it belongs to our parents and their community.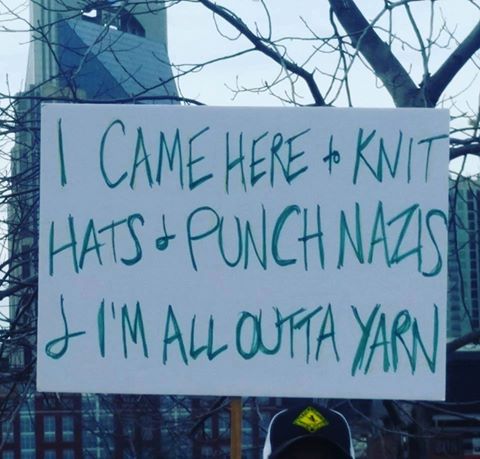 So this lack of freedom to choose personal autonomy is what we decry in our conflict with Islam: "Islam is a death cult." "Look how it treats women." Yet compare and contrast with the policies announced and espoused by the current trump/pence regime.
Denying women reproductive freedom has long been the Holy Grail of Christian Dominionists who have never gotten over The Pill. The Pill gave women the ability to control pregnancy, and with it far more autonomy over their lives. Couple these efforts with the assault on programs that combat violence agaist women, and you begin to trace the outlines of a program to re-chattelize women that sounds positively… Islamist.
Consider in the singular example of Deeyah Khan how Islamists treat women, and realize that this story is re-enacted across the world millions of times over. Then compare with announced trump/pence policies designed to deny women access to services won over decades of activism and legislation. It would appear that the difference is merely one of degree. Policies to repress the rights of women stem from the same shrunken root: an insecure manhood and a need for control. Women, beware short fingered vulgarians and the men who serve them.
---
Surly1 is an administrator and contributing author to Doomstead Diner. He is the author of numerous rants, screeds and spittle-flecked invective here and elsewhere, and once quit barking and got off the porch long enough to be active in the Occupy movement. Where he met the woman who now shares his old Virginia home and who, like he, is grateful that he is not yet taking a dirt nap, and like he, will be disappointed to not be prominently featured on an enemies list compiled by the incoming administration.
From the keyboard of Surly1
Follow us on Twitter @doomstead666
Like us on Facebook
Originally published on the Doomstead Diner on January 29, 2017
"Unless someone like you cares a whole awful lot,
Nothing is going to get better. It's not."
― Dr. Seuss, The Lorax."
---
The first full week of the Presidency of Donald J. Trump was both cruel and absurd. Nothing about this should be surprising. Trump is a singular example of the cult of personality, a manifestly unfit individual whose path to power has enabled a hidden phalanx of anti-democratic hedge-fund plutocrats and white supremacists to get their paws on executive power. These political apostates have funneled into the palaces where the wheels and gears of power are kept, like the mob storming Versailles, the better to finger the crystal and steal the silver.
The first week of the Trump administration marks the violent reassertion of the prerogatives of White Males against the legacy of Barack Obama and the Great Arc of History. This crowd's capacity for brutality is unimaginable by middle class Americans who grew up on the legacy of the New Deal and amidst the prosperity engendered by winning World War II. Truly, who among us ever thought we'd have to beat Nazis again in this lifetime?
The first realization of the coming kleptocracy dawned as Trump announced his cabinet choices, resembling nothing so much as the Dread Pirate Roberts naming the plunder all star team to crew a new pirate ship.
Now, the owners of this glittering casino and their gum-toothed spawn are clawing back their presumptive place at the top of a so-called "meritocracy" that rewards their gene pool with the sweet perks of "freedom" and "capitalism," which is political code for one class prospering off the suffering of another. The subsequent rewriting of laws then institutionalizes the grift and makes it like, official, dig?
If you've spent the week under a rock, here's a summary of week one executive actions:
"No hate! No fear! Refugees are welcome here!"
or a variant
"Say it loud and say it clear! Refugees are welcome here!"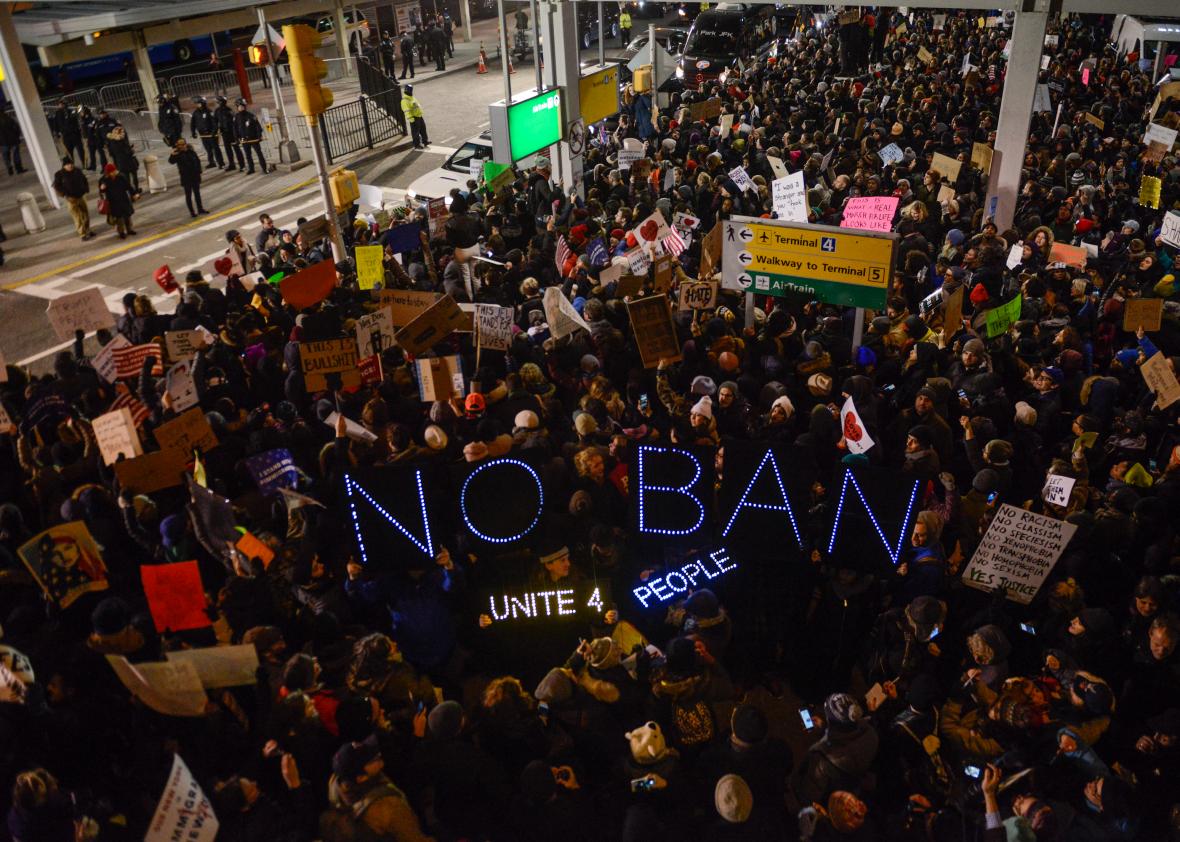 The order also bars legal permanent residents of the U.S. from returning home if they are now travelling overseas, even though they already went through "extreme vetting" procedures to get their green cards.
Late Saturday night, Federal Judge Ann Donnelly in New York issued a nationwide temporary injunction, halting the implementation of part of Trump's executive order on immigration and blocking the deportation of travelers with valid visas detained at airports. This in response to a suit brought by the ACLU.
The judge further ruled that the government must immediately stop deporting travelers from the named nations, including refugees who already went through a rigorous vetting process, and provide a complete list of all those detained. The Intercept published an update.
Suffice it to say that when Michael Moore, Dick Cheney, and the Pope are all on the same side of an issue, and you're on the other side, you've crossed the line: you're an asshole.
Hours after Trump signed this executive order heralding this global descent into barbarism, a mosque in Texas went up in flames.
The Islamic Center of Victoria was set on fire around 2 a.m. on Saturday, according to local reports.

Victoria Fire Marshal Tom Legler told the Victoria Advocate he had no theories about the cause of the fire, but he is seeking assistance from state and federal fire investigators.
Just week one.
While Bannon writes, Trump tweets and Washington burns, the left continues to squabble about assigning blame for the Trumpenkrieg to various Hillbots or Berniebots or Steinswine. This endless circular firing squad, which obtains any time three of more "progressives" share the same space, is why we can't have nice things. And why we have Trump.
One of the great shortcomings of the age derives from late stage capitalism. It is the keenness of focus on measurement at the expense of all other values. Remember working in businesses when profitability was enough? No more: now profitability must be maximized. How it works: most American industries are mature indistries, which over time become less profitable. These mature industries exist at a time of little real growth and the end of cheap energy. In this environment profitability comes from two sources: 1) squeezing more out of your current operation, and 2) stealing share from your competitors. Our "business leaders" conjure results from these two foci though spreadsheet worship, and concoct strategies by which they can wring the last erg of energy out of a workforce, all in the name of "efficiencies." Enter automation, Amazon, and subcontractors.
American political philosopher Richard Rorty saw this coming. In his 1998 book "Achieving Our Country," now much quoted in the New Yorker and around the internet, he observed our present circumstances:
"Members of labor unions, and unorganized and unskilled workers, will sooner or later realize that their government is not even trying to prevent wages from sinking or to prevent jobs from being exported. Around the same time, they will realize that suburban white-collar workers—themselves desperately afraid of being downsized—are not going to let themselves be taxed to provide social benefits for anyone else.

"At that point, something will crack. The nonsuburban electorate will decide that the system has failed and start looking around for a strongman to vote for—someone willing to assure them that, once he is elected, the smug bureaucrats, tricky lawyers, overpaid bond salesmen, and postmodernist professors will no longer be calling the shots. . . . Once the strongman takes office, no one can predict what will happen. "
No one can predict what will happen. But if Trump's first week is predictive of the future, the cruelty and absurdity of this week will continue until Robert Mercer and the Koch brothers determine he is too loose a cannon and needs to be impeached. Which will install President Pence. Remove Pence? There's Ryan. With Orrin Fucking Hatch in the on deck circle. Vote them out in 2018? Talk to your Republican governors about who will actually be allowed to the polls in 2018.
By 2020, don't be surprised if the franchise is not restricted to white male property owners with a net worth of $1 million. As God intended. And there are still assholes out there who will argue that voting doesn't matter.
---
Surly1 is an administrator and contributing author to Doomstead Diner. He has squeezed out numerous rants, screeds and spittle-flecked invective here and elsewhere, and once quit barking and got off the porch long enough to be active in the Occupy movement. Where he met the woman who now shares his old Virginia home and who, like he, is grateful that he is not yet taking a dirt nap, and like he, will be disappointed to not be prominently featured on an enemies list compiled by the current administration.