Off the keyboard of Surly1
Follow us on Twitter @doomstead666
Like us on Facebook
Originally published on the Doomstead Diner on March 22, 2015
"…In theory, "Net Neutrality" sounds great. As I understand it, the idea here is that everybody, from Individual Doomers like me to big Content Distributors like Netflix are all on the same playing field, all with equal opportunity for bandwidth… to distribute your content on the net. While certainly there are a lot of issues as far as Political Spin is concerned and Da Goobermint would like to Muzzle annoying websites like the Diner, the real underlying battle here is as usual, all about the MONEY."
–Reverse Engineer, March 4, 2015
---
As it is ever, and always.  Several weeks ago my friend and colleague RE  composed a Rant on net neutrality, from which the above quote is taken.  Several weeks later, the dust has begun to settle, and we have a better idea of what the FCC ruling means.  Lawsuits plus the beginning of the Telecom Lawyers Full Employment Act of 2015.
Who doesn't like the idea of a unfettered internet? The FCC finally got assertive in protecting the open web, which we agitators feel flush with victory. The idea that the Internet should be operated like a public road carrying all traffic ,with no discrimination against and no favor towards any traveler, seems unarguable. But what truly frosts the ISPs and big telecom is the notion that the Internet is a "public good," and thus should be regulated like other public utilities, like electricity, gas or water. That, and the notion that ISPs can't sell faster access to businesses willing to pay, which they argue stifles "innovation and legitimate commercial activity. Should a hospital system not be able to pay a fee in order to provide top tier medical information at a distance that might save lives? Right now that data competes for space with Uncle Dirty's hot porn downloads.
So what did the FCC ruling actually state?  Shelly Palmer is an industry analyst who publishes a daily newsletter and is a pretty keen observer of technology trends.  Here's his assessment:
The Noble Idea

No blocking. If a consumer requests access to a website or service, and the content is legal, your ISP should not be permitted to block it. That way, every player — not just those commercially affiliated with an ISP — gets a fair shot at your business.
No throttling. Nor should ISPs be able to intentionally slow down some content or speed up others — through a process often called "throttling" — based on the type of service or your ISP's preferences.
Increased transparency. The connection between consumers and ISPs — the so-called "last mile" — is not the only place some sites might get special treatment. So, I am also asking the FCC to make full use of the transparency authorities the court recently upheld, and if necessary to apply net neutrality rules to points of interconnection between the ISP and the rest of the Internet.
No paid prioritization. Simply put: No service should be stuck in a "slow lane" because it does not pay a fee. That kind of gatekeeping would undermine the level playing field essential to the Internet's growth.
Cometh the promised lawsuits.  It may well be that one of the reasons that ISPs so loathe Title II regulation is an implication tied to the potential "last mile" requirements. See below.
But before that, Shelly Palmer puts on his sorting hat to declare winners and losers:
Winners

President Obama and Net Neutrality Activists.  Philosophically, this group is looking for a government regulated "free and open Internet."  

Netflix and every other content provider – the goal of this regulation is to ensure that Comcast does not favor delivery of its own content over competitive content such as Netflix. 

Municipally Owned Broadband Systems, residents of those municipalities, specifically the good people of North Carolina and Tennessee.  As it turns out, ISPs and cable companies in these states have been using arcane regulations to prevent certain municipalities from building their own broadband networks.  While this could have been dealt with without regulating all ISPs in the US, Title II takes care of it nicely.

Amazon, Dropbox, Ebay, Facebook, Google, LinkedIn, Microsoft, Reddit, Tumblr, Twitter, Vonage Holdings Corp., Yahoo! Inc, and about 150 other companies that signed this letter in favor of Net Neutrality.  Less friction for consumers means better business for big tech.  

Lawyers, especially attorneys for… well, just about everybody involved.

Losers 

Big ISPs and wireless carriers such as Comcast, Verizon, AT&T, etc.  The bigger you are, the unhappier this makes you.

Alcatel-Lucent, Broadcom, Cisco, Corning, Ericsson, IBM, Intel, Nokia Solutions and Networks, Panasonic Corporation of North America, Qualcomm and 50+ other tech companies who signed this letter against Title II.
As noted, most Telecoms have come out opposed to Title II– and it goes beyond Verizon's "morse code" snark.
In case you missed it, in the wake of the FCC ruling, Verizon released a vituperative dissent. Spitting mad, Verizon dated its press release 1934 (the year the Communications Act was passed) to make the point that the FCC was taking us back in time.
Verizon was intent on making the point that Title II regs are a "net loss for innovation and consumers."  Of course, this is the same Verizon who has fulsomely used Title II to its benefit, both as a carrier for wireline telephone and mobile voice networks, and to help build its fiber network, which carries the FiOS bundle phone, TV, and Internet service. (Which, by the way, tends to be installed only in high-value neighborhoods.) And yes indeed, the very same Verizon that in 2012 claimed that net neutrality violates its First and Fifth Amendment rights.
So pardon us if we are largely unmoved by Verizon having a big hot sad over the "trampling" of its "rights." And pardon us if we find ourselves a wee bit suspicious that "innovation" translates to new and innovative ways to separate J6P from his hard earned FRNs, by metering favored (meaning baksheesh-paying) content and shunting alt-news blogs like your favorite Doomstead tipsheet off to digital Siberia.
---
The more I look into this the more complicated the issue gets, and depending upon the way you squint, in some ways it's not the usual Manichean view of Big Telecom versus the peasants. Broadband providers have a need to parse their data streams and continue to optimize for efficiencies. As long as this doesn't affect the end user, no problem, right?  But "net neutrality" is not likely to prove to be enough by itself. The experience of most of us with our internet provision is that it is both slow and shitty. Making it otherwise comes down to investment in "last mile" physical plant, investment which telecoms are loath to make. (See below.)
As we said, this gets complicated. Simplification or comparison by analogy does little to promote understanding of complicated underlying technical  issues. (For a good analysis, see The net neutrality debate and underlying dynamics: Research perspectives which provides a clear and unbiased view.) Verizon and other ISPs have an absolute need to do "reasonable network management" to keep data and content flowing in the most efficient way possible. It's just good business. Tech companies like ISPs are always parsing bandwidth in the hopes of reclaiming and reusing it. Yet what the ISPs really want is
to have more control over traffic and be able to create faster Internet lanes. Some companies assert that net neutrality requirements are unconstitutional, and their elimination will create more business opportunities. Supporters of the network neutrality principle disagree.
Yet business does not enhance its case by acting as "toll takers," in the words of Tim Berners-Lee.  Alan Murray, editor of Fortune magazine puts it thus:
But as an economic matter, I don't see why broadband providers should be denied the pricing flexibility allowed airlines or Uber or others. While the government has fair reason to worry about the duopoly that dominates broadband service to homes, rapidly expanding wireless services—not to mention efforts like Google's to provide broadband by hot-air balloons—suggest this is still fertile ground for innovation. Treating broadband providers as dumb pipes, of the sort contemplated by lawmakers when they regulated telecommunications more than 80 years ago, could throttle that innovation.
Our cynicism derives from the fact that so often, "innovation"  translates directly to the ability to innovate ways to separate users from cash.
---
Is the Internet a public good?  The Internet has become indispensable to public life, having arguably replaced  the mail man, phone company, TV tuner, record/CD player, catalog, book store, fax machine, DVD player, Maxim subscription,  et al. (We've already seen how the modifier "public" has roused the worst and least from their cages– more below.) The FCC Title II decision represents a defense of the very notion of a "public good" much out of character from these deregulatory times. Since the days of St. Reagan, the privatizers have been out in force seizing parts of the public infrastructure and selling them off for parts, in the absence of the ability to otherwise turn sufficient profit to slake the thirst of the sacred shareholders.  Therefore, any assertion of  "public" anything is anathema to the lickspittle servants of the 1%, who have been busy indeed.  It didn't take long for this creature to come scuttling out from under her rock: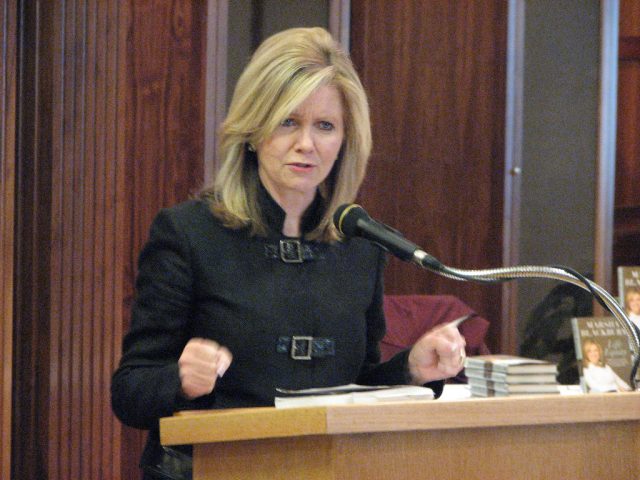 Republicans' "Internet Freedom Act" would wipe out net neutrality: Internet providers need the freedom to block and throttle Internet traffic.
US Politicians are quite a bargain these days, and can be had for a song. $80,000 buys Telecom giants a bill that will allow them to decide what you can see on the internet.
US Rep. Marsha Blackburn (R-TN) this week filed legislation she calls the "Internet Freedom Act" to overturn the Federal Communications Commission's new network neutrality rules.
The FCC's neutrality rules prohibit Internet service providers from blocking or throttling Internet traffic, prohibit prioritization of traffic in exchange for payment, and require the ISPs to disclose network management practices.
Rules anathema to your ISP.
These rules "shall have no force or effect, and the Commission may not reissue such rule in substantially the same form, or issue a new rule that is substantially the same as such rule, unless the reissued or new rule is specifically authorized by a law enacted after the date of the enactment of this Act," the Internet Freedom Act states.

The legislation has 31 Republican cosponsors.
The following is one of the most dishonest statements made by any public official, at any time, in the post-Orwell period, made by one of the industry's hired lackeys:
"Once the federal government establishes a foothold into managing how Internet service providers run their networks they will essentially be deciding which content goes first, second, third, or not at all," Blackburn said in an announcement yesterday. "My legislation will put the brakes on this FCC overreach and protect our innovators from these job-killing regulations."

In the latest election cycle, Blackburn received $25,000 from an AT&T political action committee (PAC), $20,000 from a Comcast PAC, $20,000 from a cable industry association PAC, and $15,000 from a Verizon PAC,according to the Center for Responsive Politics.
One marvels that she peddled herself so cheaply. But a good bargain for the industry.
---
Well in spite of all this back and forth, my internet is going to get better with unrestrained access guaranteed by Title II, yes?
Not so fast, Sparky.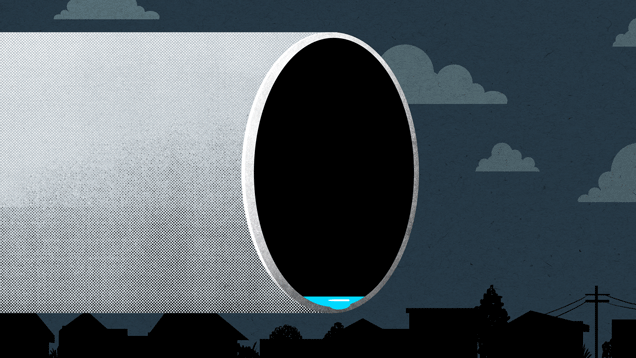 Adam Clark Estes penned this remarkable piece which describes the plumbing of the internet in as clear and precise prose as I've enver seen. First he makes this statement which is probably shared by many of us:
You may have heard that the internet is winning: net neutrality was saved, broadband was redefined to encourage higher speeds, and the dreaded Comcast-Time Warner Cable megamerger potentially thwarted. But the harsh reality is that America's internet is still fundamentally broken, and there's no easy fix.
Estes makes the point that "in order to comprehend just how broken internet service is, you first have to understand how the physical infrastructure of the internet works," which most of us would just as soon avoid, lest our hair burst into flames. Yet fear not, you're in the hands of a sure-footed guide.
Former Gizmodo contributor Andrew Blum described the underlying infrastructure wonderfully his book about the physical heart of the internet, Tubes: A Journey to the Center of the Internet:
In the basest terms, the internet is made of pulses of light. Those pulses might seem miraculous, but they're not magic. They are produced by powerful lasers contained in steel boxes housed (predominantly) in unmarked buildings. The lasers exist. The boxes exist. The internet exists…
He explains the Tier 1 and Tier 2 parts of the internet, which I will not.
Enjoy his splendidly written article
, which you should bookmark. Suffice it to say that the internet rides on light as your online version of
Gentleman's Bathroom Companion
 makes its way from Bangkok to Boston. It's when it gets to the "last mile," into your home and onto your tablet, that things get creaky:
Most of America's telecommunications infrastructure relies on outdated technology, and it runs over the same copper cables invented by Alexander Graham Bell over 100 years ago. This copper infrastructure—made up of "twisted pair" and coaxial cables—was originally designed to carry telephone and video services. The internet wasn't built to handle streaming video or audio.

When your streaming video reaches that troubled last mile of copper, those packets will slam on their brakes as they transition from fiber optic cables to copper coaxial cables. Copper can only carry so much bandwidth, far less than what the modern internet demands. Only fiber optic cables, thick twists of ultra-thin glass or plastic filaments that allow data to travel at the speed of light, can handle that bandwidth. They're also both easier to maintain and more secure than copper.

As consumers demand more bandwidth for things like streaming HD movies, carriers must augment their networks—upgrade hardware, lay more fiber, hire more engineers, etc.—to keep traffic moving freely between them. But that costs big money—like, billions of dollars in some cases. Imagine the cost of swapping out the coaxial cables in every American home with fiber optic cables. It's thousands of dollars per mile according to some government records.

And here's the kicker. The last mile infrastructure is controlled by an oligarchy—three big cable companies: Comcast, Time Warner Cable, and Verizon. You know this well. One in three Americans only have one choice for broadband service; most of the others only have two internet providers to choose from.
And Big Telecom likes it that way. Without competition, there's no incentive for internet providers to improve last-mile infrastructure. The obsolete and already-paid for infrastructure of Big Telecom creates a last mile bottleneck, for which your ISP can charge you exorbitant prices for sub-par service. Part of Big Telecom's dismay at the FCC's Title II ruling  is, perhaps, against the possibility that some future interpretation of the "public good" will oblige them to fix the shitty "last mile." The horror… the horror. Thus they all plan to sue the FCC over Title II to defend their monopoly, and trot out hired gunsels like Blackburn and Teddy Cruz to call it, "Obamacare for the Internet."
Look for telecom apologists to argue that the industry ought not put another dollar into anything other than maintaining than current infrastructure, and should begin design and build a new and better network with a new business model that would bypass the FCC.  Look for those quite content with having non-elected jurists create new law through Supreme Court rulings to carp that  that "Net Neutrality will Kill the Web with Government Regulation through the Non Elected Regulatory Body known as the FCC."
With apologies to H. Rap Brown, like violence, hypocrisy is as American as cherry pie.
---
Surly1 is an administrator and contributing author to Doomstead Diner. He is the author of numerous rants, articles and spittle-flecked invective on this site, and quit barking and got off the porch long enough to be active in the Occupy movement. He shares a home in Southeastern Virginia with his new bride Contrary in a triumph of hope over experience, and is grateful that he is not yet taking a dirt nap.
Off the microphone of RE
Follow us on Twitter @doomstead666
Friend us on Facebook
Aired on the Doomstead Diner on March 4, 2015
Discuss this Rant at the Podcast Table inside the Diner
Snippet:
…In theory, "Net Neutrality" sounds great. As I understand it, the idea here is that everybody, from Individual Doomers like me to big Content Distributors like Netflix are all on the same playing field, all with equal opportunity for bandwidth, and most critically, all charged low and affordable prices to distribute your content on the net.

While certainly there are a lot of issues as far as Political Spin is concerned and Da Goobermint would like to Muzzle annoying websites like the Diner, the real underlying battle here is as usual, all about the MONEY.

To look at the money problem of the Internet, you have to go all the way back to its beginnings with the Arpanet, which first came on line in the late 1950s and early 1960s. In those days, all the computers were at Universities and in Goobermint and in large Banks, but the banks at the time just used them for doing number crunching, not for communications.

What infrastructure was developed during these years all came on the Public Dime in some way, through research grants and so forth to the Universities, but the infrastructure was pretty small through those years.

It was only in the 1990s that the explosion of cheap personal computers made creating a vast Network a worthwhile thing to do, before that there just were not enough people who had a computer or even access to one to make such a vast network worthwhile to build…
For the rest, LISTEN TO THE RANT!!!
Off the keyboard of Surly1
Follow us on Twitter @doomstead666
Friend us on Facebook
Originally published on the Doomstead Diner on January 19, 2014
Discuss this article here in the Diner Forum.
A Week for the Ages . . .
"The problem with the world is that the intelligent people are full of doubts, while the stupid ones are full of confidence."  –– Charles Bukowski
"In my head, I hear "pomp and circumstance" being played on Vuvuzelas as the parade of derp that is America the Embarrassing makes its way along the large intestine that is our political system.                           I can almost smell it from here." –Peter Kaufman, on William Rivers Pitt's Facebook page
In the desert I saw a creature, naked, bestial,
Who, squatting upon the ground,
Held his heart in his hands,
And ate of it.
I said, "Is it good, friend?"
"It is bitter—bitter," he answered;
"But I like it "Because it is bitter,
"And because it is my heart."
– Stephen Crane, "In the Desert"
Having thought I would take the week off from another blog post due to travel in the heart of secession, Tea-Partydom, I find the events of this week scream for a resuscitation of that overwrought franchise, "This Week in Doom."
If ever a week's events heralded Full Doom sooner rather than later, this was it: a week seen best in the rearview mirror, heralding the arrival of more, worse, and sooner. It was a week in which a retired cop shot a theatre patron and the man's wife over texting the man's sitter, and a four year old shot another four year old; in which a neocon shill commemorated the 100th anniversary of  WW I by wiping his ass on Wilfred Owen's elegiac poem; in which we learn more about the TPP; in which the Senate failed to extend unemployment bennies for the poors and out-of-works, The US Appeals Court shreds net neutrality, and the President gives a speech on civil liberties suggesting you kiss them goodbye. A week which invites strong men to drink. In fact, a writer I admire, William Rivers Pitt, has suggested laying in a case of Jameson and buying it a brother— which is not a bad start.  (I suggest you read his linked article, in which he does it better and more stylishly.) Charlie Pierce is no doubt ordering up double Prestones for the boys in the bar, asking what the pundits in the back will have. You are, as always, free to choose your own poison. It's Manhattans here… although a fattie is not a bad idea…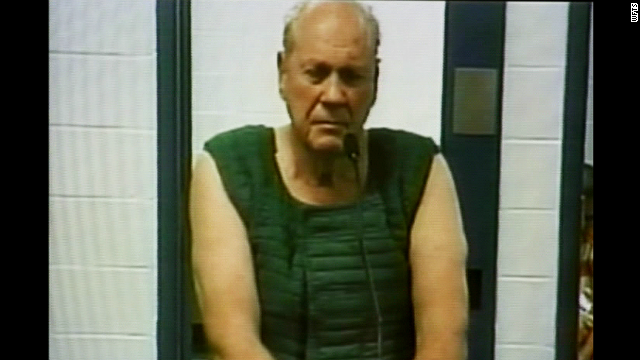 A retired police officer with a taste for confrontation shot and killed a 43 year old father. Chad Oulson and wounded his wife at a Florida theatre.  The shooting happened early Monday afternoon. Police retiree Curtis Reeves sat behind Oulson, and his wife,  according to authorities.
Oulson was using his cell phone during the previews before the film and Reeves told him to put it away, according to police and witnesses. The two men began to argue and Reeves walked out of the auditorium.
Police said Reeves was going to complain to a theater employee. When Reeves returned, witnesses and authorities said that Oulson asked him if he had gone to tell on him for texting.
Police said Tuesday that Oulson was texting his young daughter's babysitter. An argument then ensued, in which Oulson threw a bag of popcorn at Reeves, police said. And in response the former police officer took out a .380 semi-automatic handgun and shot Oulson, again according to police.
A report in the Tampa Bay Times portrays a shooter with two sides.
Reeves claimed self-defense, saying he was struck in the face with an unknown object. Deputies dispute that. They arrested him on second-degree murder. How did it get to this? Reeves' past offers hints, but answers have eluded friends, who both hope and assume that exonerating evidence will soon be revealed. The Tampa Bay Times spoke to a dozen of Reeves' former and current friends and co-workers, as well as Reeves' attorney, neighbors and pastor. His family did not respond to several attempts for comment. Friends describe Reeves as a proud, church-going man who spent much of his career in positions of authority, a strong leader who never had a problem telling people what he thinks.
Media speculation has it that Reeves will invoke the "stand your ground" law, because, uh, Florida. And freeeeeeedum.
In other news in responsible gun ownership a four year old shot and killed his four year old cousin in this report from Detroit's WXYZ.
Detroit police say two people are in custody after a 4-year-old was shot and killed by another 4-year-old on the city's west side.

Authorities say a male and female are being held on felony possession charges.

Early Friday 7 Action News was told the boy, who we are identifying only as Jamel, was shot by his cousin after she pulled out a long gun from underneath a bed at the home on the 7100 block of Tuxedo. 

As officers recover the weapon that took the life of the boy, parents in this neighborhood on Detroit's west side are thinking of those affected, and holding their own children a little tighter.

"I'm hurt." said Queensbury, "I'm hurting real bad for the family.
And then there is this that barely needs any exposition–"Responsible Gun Owner 'Second Amendments' Himself in the Face While Changing His Pants…" You simply can't make this stuff up.
A Tennessee man is alive after accidentally shooting himself in the chin as he was getting undressed Sunday night. Carter County Sheriff's Deputy David Caldwell told the Johnson City Press that William Rood apparently left a loaded .25 caliber Beretta pistol in his right front pants pocket (we gather he packs to the right) and as he placed the pants on his dresser, the weapon fired one bullet striking Rood in the nose and chin, finally lodging in his neck.

Pants kill.
In other news, this week marks the 100th anniversary of the beginning of "the war to end all wars," World War I. That obscenity of letters William Kristol, writing in the Weekly Standard, observed that
1914 saw the beginning of World War I, a calamity perhaps unmatched until then in the history of the West. We will be reminded many times this year in centennial commemorations of the war's terrible destruction, but also of its devastating political and cultural effects over subsequent decades, and of its continuing deep if often indirect contribution to today's demoralization of the West. 
What is this demoralization of which he speaks? It seems to be the fact that we are no longer able to wave the flag and get the poors to leap to the opportunity to wage overseas war with the alacrity that earlier, less educated generations leapt so willingly. In the process Kristol cites and perverts the words of Wilfred Owen, one of the best and brightest of a new generation of English poets coming of age during the second decade of the 20th century, and who, along with so many English, French, Germans and Americans, soaked the fields of Flanders with their blood. The poem is, of course, the luminous and transfixing "Dulce et Decorum Est Pro patria Mori," one of the most effective anti-war statements ever made. I take this somewhat personally, as I had to memorize this poem as a young man and found myself moved to imagine the sacrifices and sufferings of people I had never met and could scarcely conceive of… In perverting Owen's poem to his own war-shillery, Kristol reveals the completeness with which he has sold his soul to Satan, in this article in which he ratfucks David Frum:
Writing several years ago in this magazine about its seismic cultural consequences, David Frum quoted the concluding lines of "the most famous poem in our language about World War I":

If you could hear, at every jolt, the blood

Come gargling from the froth corrupted lungs,

Obscene as cancer, bitter as the cud

Of vile, incurable sores on innocent tongues,—

My friend, you would not tell with such high zest

To children ardent for some desperate glory,

The old Lie: Dulce et decorum est

Pro patria mori.

The Latin, which translates as "It is sweet and fitting to die for one's country," comes from an ode of Horace's. As Frum pointed out, Horace's line is one "that any educated Englishman of the last century would have learned in school." Those pre-War Englishmen would, on the whole, have understood the line earnestly and quoted it respectfully. Not after the War. Living in the shadow of Wilfred Owen rather than Horace, the earnestness yielded to bitterness, the respect to disgust. As Frum puts it, "Scoffing at those words represented more than a rejection of war. It meant a rejection of the schools, the whole society, that had sent Owen to war."
Recognizing the power of scoffery and ridicule to endanger those institutions which protect and honor his underserved position as a public intellectual, Kristol thus wrinkles his patrician nose. Fortunately, the aforementioned Charlie Pierce recognizes depravity when he sees it and took note of Kristol's insanity thus:
Given the author, and given the publication, I would like to propose that this is the most singularly obscene paragraph ever written.

Today, after all, we see the full consequences of that rejection in a way Owen and his contemporaries could not. Can't we acknowledge the meaning, recognize the power, and learn the lessons of 1914 without succumbing to an apparently inexorable gravitational pull toward a posture of ironic passivity or fatalistic regret in the face of civilizational decline? No sensitive person can fail to be moved by Owen's powerful lament, and no intelligent person can ignore his chastening rebuke. But perhaps a century of increasingly unthinking bitter disgust with our heritage is enough.

So saith the Moloch of the Green Room, from whose hands still drips the blood of Other People's Children.

Decent folk should spit on him. Daily.
Res ipsa loquitor.
In other news, Wikileaks revealed the  environmental section of the Trans-Pacific Partnership trade deal, also known as "NAFTA on steroids and meth and in a very bad mood." If you have not been following this monster, step up your game, because this surly bitch will be Coming Soon to a Theatre Near You. Brought to you by the same civic-spirited public servants who brought you NAFTA, CAFTA, and the other "free-trade™" agreements that resulted in the export of American manufacturing and millions of jobs, this "fast-track" (read minimal oversight or public discussion) treaty will trump national protections on a variety of fronts.
What observers conclude is that the deal says many nice things about protecting the environment, but contains almost no significant means to enforce the sentiments behind those happy burblings. "This draft chapter falls flat on every single one of our issues," Sierra Club president Michael Brune says, "oceans, fish, wildlife, and forest protections – and in fact, rolls back on the progress made in past free trade pacts." The fact remains that the negotiations continue to be shrouded in secrecy, while our elected solons have placed its execution of a "fast track." The coming vitiation of such scant environmental protections as exist (see West, TX and Charleston, WV) will no doubt thrill the residents of the Kanawha Valley, who drink replacement water from tanks filled with the same toxic effluent. You cannot make this shit up. While officials offer an "all clear," pregnant women are advised not to drink or use it, and meanwhile, the whole toxic blogs makes its way to the Ohio and then to the Mississippi. The gift that keeps on giving. Be sure to that your Repug lawmakers who are ever-so-helpful" to keep the regulations off the backs of the "job creators." Meanwhile, the toxin that has poisoned WV is utterly unregulated. Coal, you know.
And speaking of the US Senate, this week that world class deliberative body illustrated how the existing system exists only to serve the unelected, monied interests who have purchased it, which serves to illustrate the stark difference between Rs and Ds: "Republicans™" kick the working class in the balls, while the "Democrats™" merely hold their coats so the Rs can kick more freely.
Unemployment benefits for 1.3 million of the long-term unemployed — and millions more in the future — were imperiled on Tuesday after Senate efforts to reach accord on legislation to revive them collapsed in partisan finger-pointing.

After days of negotiations, Senator Harry Reid of Nevada, the majority leader, abruptly called a vote to end debate on two Democratic measures that would extend benefits for out-of-work Americans for at least three months, gambling that he could muster enough support from moderate Republicans to move on to final passage for at least one of the proposals.

But both votes failed, and the possibility of a bipartisan deal collapsed during procedural arguments, with Democrats and Republicans accusing one another of negotiating in bad faith.
I am "shocked . . . shocked" at allegations of gambling in Rick's Cafe.
Meanwhile, in a year where Time's Man of the Year staff  lost the slip of paper on which the name of Edward Snowden was written, our Glorious Leader gave a prononciamento on how you should just get the fuck over yourself and your memories of what used to be a Constitution. Here is BHO himself:
It is hard to overstate the transformation America's intelligence community had to go through after 9/11. Our agencies suddenly needed to do far more than the traditional mission of monitoring hostile powers and gathering information for policymakers. Instead, they were now asked to identify and target plotters in some of the most remote parts of the world, and to anticipate the actions of networks that, by their very nature, cannot be easily penetrated with spies or informants.
And it is a testimony to the hard work and dedication of the men and women of our intelligence community that over the past decade we've made enormous strides in fulfilling this mission. Today, new capabilities allow intelligence agencies to track who a terrorist is in contact with, and follow the trail of his travel or his funding. New laws allow information to be collected and shared more quickly and effectively between federal agencies, and state and local law enforcement. Relationships with foreign intelligence services have expanded, and our capacity to repel cyber-attacks have been strengthened. And taken together, these efforts have prevented multiple attacks and saved innocent lives — not just here in the United States, but around the globe.
Thus we are asked to accept on faith the speculation that the NSA has actually prevented attacks on US soil, rather than decide for ourselves the facts on the ground, namely that the Surveillance State is designed to observe and suppress any attempt to consolidate the prerogatives and power of the burgeoning Corporate State. Hoovering up your every text message, purchase record and porn search gives the State unlimited power to go back and re-create an ex post facto criminal record for anyone who becomes sufficient source of irritation. Here's Pierce:
The president's big speech on the NSA today was an extended exercise in running in place. The one thing it was not was an attempt to strike a "balance" between the current surveillance state and civil liberties "concerns." (You will note that the Bill of Rights is now apparently a Bill of Concerns.) There is very little question that the former is being asked to give up very little of its power — I decline to feel comforted by the fact that intelligence agencies have to submit requests to a secret court — while the latter are being asked to adjust their expectations to the reality of new and gathering threats.

Throughout this evolution, we benefited from both our Constitution and our traditions of limited government. U.S. intelligence agencies were anchored in a system of checks and balances, with oversight from elected leaders and protections for ordinary citizens.

Balls. COINTELPRO. CISPES. The McCarran Act. The Plumbers. Mossadegh. Arbenz.  The "U.S. intelligence agencies" were anchored in nothing but their own arrogance. The president should be ashamed to base his arguments in such plainly ahistorical balderdash.

Meanwhile, totalitarian states like East Germany offered a cautionary tale of what could happen when vast unchecked surveillance turned citizens into informers and persecuted people for what they said in the privacy of their own homes.

If the bar were any lower, you'd have to dig for it in China. . .

This is the government, in the person of this president, telling you what you have to give up in order to be safe. (As near as I can tell, the NSA is not being asked to stop doing much of anything, and the president's Bush-standard apocalyptics doesn't give me a lot of faith in whatever oversight he says he's put in place.) Perhaps the country is willing to live with the arrangement, but it is a lie to call it a balance.
Thus we are asked to accept the status quo by this president. And if you don't like it, citizen, go organize a protest using the internet. Heh, heh, heh….
Well, you may be saying, at least we have the internet. Uh… not so fast, did you read about the decision this week by the US Court of Appeals?
U.S. Circuit Judge David Tatel, writing for a three-judge panel, said that while the FCC has the power to regulate Verizon and other broadband companies, it chose the wrong legal framework for its open-Internet regulations.

"Given that the commission has chosen to classify broadband providers in a manner that exempts them from treatment as common carriers, the Communications Act expressly prohibits the commission from nonetheless regulating them as such," Tatel wrote.
Long story short, what this ruling means, if it stands, is that bandwidth providers will be free to favor some traffic and throttle others, all in the interest of commerce. The FCC has the option of appeal to the US Supreme Court, that bastion of the Federalist Society, or of reclassifying bandwidth provides as common carriers, which it was loath to do last year amidst a firestorm of opprobrium from some of Verizon's best friends (see R's and Ds, above). So if Verizon strikes a deal with, say, Amazon's streaming service to share profits, Amazon traffic can zip to the front of the bandwidth line while Netflix moves to the back of the line. And alternative news sites? Get them while the getting's good, citizen. You're on the clock.
Are you not entertained?
***
Surly1 is an administrator and contributing author to Doomstead Diner. He is the author of numerous rants, articles and spittle-flecked invective on this site, and has been active in the Occupy movement. He lives in Southeastern Virginia with Contrary and a shifting menagerie of adult children in various stages of transition.